Getting fraxel laser treatment in Seoul is one of the most popular, non-invasive dermalogical procedures. Fraxel laser treatment is the perfect solution for those who want to even out their skin.
This can be a good solution if you are suffering with skin problems such as acne scarring or fine lines and wrinkles. It offers the same results as more traditional and intensive laser resurfacing procedures. However it doesn't require the same amount of down time.
Getting Fraxel Laser Treatment in Seoul
Seoul is the self-proclaimed "beauty capital of the world". More than 400,000 people visit the Korean capital for medical tourism purposes every year.
People travel from far and wide for cosmetic or dermatological procedures. Fraxel laser treatment in Seoul is just one of those.
If you feel as though you have trialed almost every single lotion, potion, and miracle potion available to fix your skin complaints to no avail, it might be time to consider seeing a Dermatologist.
Opting to take Fraxel laser treatment in Seoul is an effective way to address our skin problems at the root. A specialist can give more targeted, expert advice for your specific skin care needs.
I had contended with acne and acne scarring for many years. There are so many incredible beauty treatments in Seoul.
As such, I knew that I wanted to finally get this issue resolved while I was living and teaching in Korea. Enter Dr. Julius Jon: the lead Dermatologist at the Teng Teng Clinic in Seoul.
I had a series of fraxel laser treatments at the Teng Teng Clinic. This finally helped me regain confidence with my skin so that I could comfortably go out without makeup on.
What Does Fraxel Laser Treatment Actually Do?
Fraxel laser treatment is a process to even out a person's skin tone. It helps to make your skin look altogether smoother, clearer, and blemish-free.
People seek Fraxel laser treatment for a number of different reasons. Everything from acne scarring to hyperpigmentation, age spots, and wrinkles can be improved with this treatment.
If you have mild to moderate acne scarring, then opting to have Fraxel laser treatment in Seoul is one of the most effective ways to even out your skin tone. The results are more noticeable and long-lasting.
This is especially the case when you compare fraxel laser treatment to other acne scar treatments like retinoids, moisturizers or facial scrubs. Lasers are able to get "deeper" into the skin.
They can break up the scar tissue and even out the skin. As such, they are able to go one step further than any form of topical treatment could ever go.
Fraxel Laser Treatment Vs Standard Laser Treatment
You have probably heard of traditional laser treatment a million times. However, you find may yourself querying what exactly is meant by "Fraxel laser treatment".
Fraxel laser treatment is essentially just a lighter version of the standard laser process. The treatment is non-ablative. Therefore, it doesn't penetrate or wound the skin in any way.
When you have Fraxel laser treatment in Seoul, the lasers are "lighter" and gentler in their effect on the skin. As such, the recovery time is much less.
If you have mild/moderate forms of acne scarring, you will find that Fraxel laser is less invasive but equally effective to the standard laser. Your skin will feel just a little sensitive and red. However, you will be able to go about your schedule as usual.
Conversely, if you have full laser treatment, your skin is more likely to scab. Many people who have a "full" traditional laser treatment report having to stay inside for days after the procedure.
The process makes their faces look red raw. It looks almost as if they have an incredibly serious sunburn.
You will typically need to have a series of Fraxel laser treatments before you start seeing any notable results. One session of this treatment is essentially just the beginning.
Your Dermatologist will make recommendations as to how many sessions you may need depending on the severity of your skin complaint. Your first trip to the Dermatologist is usually combined with a consultation and an in-depth discussion about what to expect.
If you have severe acne scarring such as deep ice pick scars, you may find that full laser treatment is the best option for you. Obviously, you should consult with a professional Dermatologist. However, Fraxel laser is usually reserved for surface scarring that is not too deep.
Visiting the Teng Teng Clinic, Seoul
Seoul is home to some of the world's most experienced medical professionals. Better still, the prices here are far more competitive than those in the UK or the USA.
I suffered from severe acne as a teenager. This left me with mild scarring across my cheeks and large, open pores across my face.
I could cover these things with makeup, and you could only really see the depressed scars under certain lighting. However, I always felt self-conscious about my skin.
My acne scarring made me never want to venture out without wearing foundation. I felt uncomfortable letting guys I dated see my natural face.
Have you seen that scene on 'Bridesmaids'? The one where she sets her alarm super early so that she can quickly do her makeup before he wakes up? I was like that.
Fraxel Laser Treatment in Seoul:
Finding a Dermatologist
I did a lot of research before booking my Fraxel laser treatment at the Teng Teng Clinic. Obviously, no cosmetic procedure is something that you want to take lightly. This is the case regardless of whether the procedure is invasive or not.
I eventually discovered that The Teng Teng Skin Clinic in Seoul was one of the most highly regarded skin clinics in Korea. Their clientele range from the middle class to the rich and famous.
Teng Teng's resident Dermatologist Dr. Julias Jon has received international acclaim for his work. So I made an appointment for a consultation with him.
There were various reasons for my decision to choose Dr. Jon over other Seoul skin clinics. First of all, it was important for me to have a Dermatologist that spoke English. I wanted to be able to easily communicate with the person doing my procedure.
Secondly, Dr. Jon had received a very high number of excellent reviews. I browsed through various forums and Dermatologists listing sites such as "What Clinic".
Dr. Jon's name came up time and time again. As such, his Teng Teng clinic in Seoul felt like the obvious choice to go with.
Fraxel Laser Treatment in Seoul:
The Teng Teng Clinic
The Teng Teng Clinic in Seoul clinic is conveniently located right next to Nakseongdae metro station. The premises have recently moved from their former location in Gangnam.
Teng Teng clinic was beautifully decorated and the receptionists were so nice and friendly. This was not the clinical environment that I had expected to be faced with at all!
All of the receptionists and nurses at Teng Teng Clinic spoke some level of English. However, Dr. Julius Jon was extremely proficient.
He has lived overseas for twenty years. Firstly, he obtained his medical license from the USA and then practiced Dermatology in London for five years.
Having a Consultation with Dr. Julius Jon
It was very easy to make an appointment for Fraxel laser treatment at the Teng Teng clinic. I simply contacted Teng Teng by email and their responses were very fast in order to help me set up an appointment.
Upon my arrival at the clinic, Dr. Jon discussed my skin concerns with me and what I was hoping to achieve. Prior to the consultation, I had wanted full laser treatment. However, I was concerned about the recovery time involved,
I knew that full laser treatment would cause my face to scab and peel. I was teaching English at this point so I didn't want to terrify my primary school students! Nor did I have the option to hide indoors waiting for my face to recover.
Dr. Jon recommended the mini Fraxel treatment. As mentioned, this a less aggressive laser and a procedure that resulted in minimal downtime.
The process took approximately one hour. Later that evening I was able to apply makeup as normal.
The main benefit of this procedure is the convenience. It is great that you can still achieve results by spreading the treatment over several appointments without disrupting your schedule with recovery.
What to Expect During the Procedure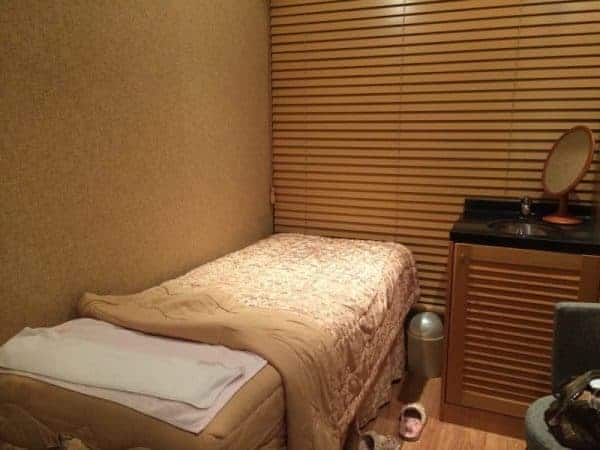 The process takes place in an individual room which is more like a cute little bedroom than a clinic. The nurse led me to the room and cleansed my face thoroughly.
Then, she applied a numbing anesthetic cream, wrapped my face in cling film, and dimmed the lights. I was left to relax for 20 minutes.
After the twenty minutes were up, my face was unwrapped, cleansed once more and eye guards were placed across my eyes. Then, Dr. Jon started the procedure.
Everyone's pain tolerance is different but it really didn't feel bad at all with the numbing cream. It was just a painless scratchy feeling across my face.
Once the process was over, the nurse applied an ice pack to my face to soothe it. After a short wait, she cleansed, toned, and moisturised my face before applying sunscreen.
Though I had the treatment for acne scars, the lasers work to improve overall skin appearance and texture. It is also a good choice treatment for tightening pores, reducing fine lines and wrinkles, and getting rid of age spots. If you make an appointment on the grounds of acne scars, you will likely see a huge improvement in your skin overall.
Caring for Your Skin After the Procedure
It is important that you keep applying sunscreen to your face after the procedure. Your skin is more sensitive during this time.
It should also be noted that your skin is susceptable to damage from UV rays even when it is not hot and sunny outside. Make sure that you have some sunscreen for your face before you book the procedure – or hop inside an Olive Young (Korean Sephora) en route.
My face was a little red and puffy for the rest of the day after I had Fraxel laser treatment in Seoul. It was quite sensitive to the touch and felt as though I had gotten a sunburn.
I didn't want to aggravate my skin with makeup or my normal skincare products. I used simple cleansing milk to wash my face.
The next day, my skin looked slightly better. It also felt a lot smoother and incredibly soft!
It would be unrealistic to expect immediate results. Expert Dermatologists themselves suggest that having multiple sessions (potentially 5-6) will offer a gradual and eventual improvement.
Pricing at the Teng Teng Clinic
A Dermatologist consultation at Teng Teng Skin Clinic costs 10,000₩. That's just £7 or $10.
Mini Fraxel Treatment costs 130,000₩ per session. This converts to £90 or $130.
Granted, this is still a lot of money. However, it is worth it in my opinion.
There are a plethora of Dermatologists in Seoul. You may wish to shop around, compare quotes, and review the various options available to you before you commit to a clinic.
Can you really put a price on restoring your confidence? Not to mention, solving skin issues at the root saves you money in the long run.
You will not feel the need to shell out on extra coverage makeup and miracle creams. From a total cost perspective, keep in mind that you may need to have several appointments to smooth out your skin.
As such, you should set aside approximately 500,000 KRW or $500 for this treatment. This is based on having 4-5 treatments.
Contacting the Teng Teng Clinic, Seoul
If you would like to go ahead and make a Fraxel laser appointment with the Teng Teng Clinic, the contact details are enclosed below. It is worth noting that it is completely fine to just make an appointment for a consultation first of all.
You are under no obligation to then have the Fraxel treatment (or any other treatments) if you are not certain about it. You can go away and have a think about it as you like.
Teng Teng Clinic Seoul Contact Details:
Address: Teng Teng Clinic, Bongcheon-dong, Gwanak-gu, Seoul,
Contact Email Address: [email protected]
Scheduling Treatment into Your Trip to Seoul
You may wish to schedule your laser treatment during your Seoul itinerary. Consequently, you might be concerned that you won't have enough time for all of the necessary sessions.
Fortunately, the short downtime involved with this procedure means that you can schedule several treatments into a short period (e.g. 1-2 weeks). The best thing to do if you are only going to be in Seoul for a limited period of time is to contact the Dermatologist in advance.
It is advisable to reserve an appointment slot before arriving in Seoul. Your Skin Clinic can advise you how many treatments they can do within your timeframe.
Many people travel to Korea for the specific purpose of having these types of procedures. Rest assured, skin clinics are used to having these types of queries.
Parting Words
Do you have any additional questions about getting Fraxel laser treatment in Seoul? Please don't hesitate to contact me.
Drop me a comment via the box below and I will get back to you as soon as I can. Annyeonghaseyo! Melissa
Disclaimer: I am in no way affiliated with The Teng Teng Skin Clinic. All views and opinions expressed throughout this article are my own. I paid for all of my own laser treatments.
---