As the Beauty Capital of the World, almost 400,000 people visit Seoul every year for cosmetic or dermatological procedures, and laser treatment in Seoul is just one of those.
For those of us who feel as though we have trialed almost every single lotion, potion and miracle potion available to fix our skin complaints to no avail, opting to take Fraxel laser treatment in Seoul is an effective way to address our skin problems at the root.  As someone who has contended with acne (and then the subsequent acne scarring that followed) for many years, I knew that I wanted to make an appointment for laser treatment while I was in Seoul.
What Does Fraxel Laser Treatment Actually Do?
Fraxel laser treatment is a process to even out a person's skin tone in order to make it look altogether smoother, clearer and blemish free. People seek Fraxel laser treatment for a number of different reasons – from acne scarring to hyperpigmentation, age spots, and wrinkles.
For those who have mild to moderate acne scarring like me, opting to have Fraxel laser treatment is a much more effective way to even out the skin than the use of other acne scar treatments like retinoids, moisturizers or facial scrubs. The lasers are able to get "deeper" into the skin in order to break up the scar tissue and even out the skin. They are able to go one step further than any form of topical treatment could ever go.
Fraxel Laser Treatment Vs
Standard Laser Treatment
You may have heard of laser treatment but you find yourself querying what exactly is meant by "Fraxel laser treatment". Essentially, Fraxel laser treatment is just a lighter version of the standard laser process. The treatment is non-ablative and therefore doesn't penetrate or wound the skin in any way. Because the lasers are "lighter" in their effect on the skin, the recovery time is much less.
For those with mild/moderate forms of acne scarring, Fraxel laser is less invasive but equally effective to the standard laser. After Fraxel laser treatment in Seoul, your skin will just feel a little sensitive and red, however, you will be able to go about your schedule as usual. If you have full laser treatment, on the other hand, your skin is more likely to scab.
With Fraxel laser treatment, typically you will need to have a series of appointments before you start seeing any notable results. One session of this treatment is essentially just the beginning. Your Dermatologist will make recommendations as to how many session you may need depending on the severity of your skin complaint.
Those with severe acne scarring such as deep ice pick scars that have been left behind from severe/cystic acne may find the full laser treatment more effective for them. (However, obviously, they should consult with a professional Dermatologist beforehand!)
Fraxel Laser Treatment in Seoul:
My Personal Reason Behind the Treatment
Home to some of the World's most experienced medical professionals and with prices that are far more competitive than those at home in the UK, or the States, I decided to pay a visit to a skin clinic to have a procedure that I had been wanting for a while in the UK: Fraxel laser skin resurfacing.
Since suffering from severe acne as a teenager, I've been left with mild scarring across my cheeks and large, open pores across my face. I can cover these with makeup and you can only really see the depressed scars under certain lighting but it's something that I have always been self-conscious about – never wanting to venture out without wearing foundation and feeling uncomfortable letting guys I date to see my bare face.
You know that scene on 'Bridesmaids' where she sets her alarm super early so that she can quickly do her makeup before he wakes up and he's like "Wow! You look so good first thing in the Morning!" Yeah, like that.
Fraxel Laser Treatment in Seoul:
Finding a Dermatologist
After much research, I discovered that The Teng Teng Skin Clinic in Sinsa-Dong was one of the most highly regarded in Seoul, with their clientele ranging from the middle class to the rich and famous. Teng Teng's resident Dermatologist Dr. Julias Jon has received international acclaim for his work, so I made an appointment for a consultation with him.
There were various reasons for my deciding to choose Dr. Jon. First of all, it was important to me to have a Dermatologist that spoke English, so that I could easily communicate with and who would understand my requirements. Secondly, Dr. Jon had received a very high number of excellent reviews and after browsing various forums and Dermatologist listing sites such as "What Clinic", his Teng Teng clinic in Seoul felt like the obvious choice to go with.
Fraxel Laser Treatment in Seoul:
The Teng Teng Clinic
The clinic is conveniently located right next to Sinsa station, in the heart of Seoul's stylish Gangnam district. It was beautifully decorated and the receptionists were so nice and friendly – it was not the clinical environment that I had expected to be faced with at all.
All of the receptionists and nurses spoke some level of English, but Dr. Julius Jon was extremely proficient. He has lived overseas for twenty years: obtaining his medical license from the US and having practiced Dermatology in London for five years.
Fraxel Laser Treatment in Seoul:
Having a Consultation with Dr. Julius Jon
It was very easy to make an appointment for Fraxel laser treatment at the Teng Teng clinic. I simply contacted Teng Teng by emails and their responses were very fast in order to help me set up an appointment. Upon my arrival at the clinic, Dr. Jon discussed my skin concerns with me and what I was hoping to achieve.
Prior to the consultation, I had wanted full laser treatment but I was concerned about the recovery time involved as I knew that this would cause my face to scab and peel and I would have to be out and about in this time, not hiding indoors waiting for my face to recover.
Dr Jon recommended the mini Fraxel treatment – a less aggressive laser and a procedure that resulted in minimal downtime. The process would take approximately one hour, and later that evening I would be able to apply makeup as normal. The main benefit of this procedure is the convenience of it: the fact that you can still achieve results by spreading the treatment over several appointments without disrupting your schedule with recovery.
Fraxel Laser Treatment in Seoul:
What Happened During the Procedure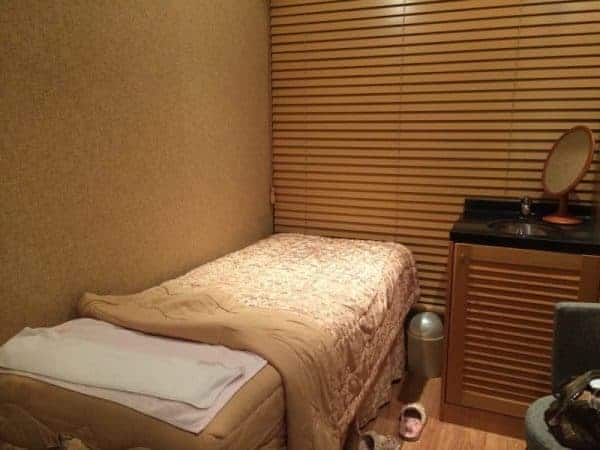 The process takes place in an individual room which is more like a cute little bedroom than a clinic. The nurse led me to the room and cleansed my face thoroughly before applying a numbing anesthetic cream, wrapping my face in cling film and dimming the lights to leave me for 20 minutes to relax.
After the twenty minutes were up, my face was unwrapped, cleansed once more and eye guards placed across my eyes before Dr. Jon started the procedure.
Everyone's pain tolerance is different but it really didn't feel bad at all with the numbing cream – just like small scratches across my face.
Once the process was over, the nurse applied an ice pack to my face to soothe it, and then cleansed, toned and moisturized my face before applying sunscreen.
Though I had the Fraxel treatment for acne scars, the lasers work to improve overall skin appearance and texture, so it is also a good choice treatment for tightening pores, reducing fine lines and wrinkles, and getting rid of age spots.
Fraxel Laser Treatment in Seoul:
After the Procedure
My face was a little red and puffy for the rest of the day after I had Fraxel laser treatment in Seoul. It was quite sensitive to the touch and felt as though I had gotten a sunburn. I didn't want to aggravate my skin with makeup or my normal skincare products so I used a simple cleansing milk to wash my face.
The next day, my skin looked slightly better and it felt a lot smoother and incredibly soft (I had to keep stopping myself from stroking it!)
It would be unrealistic to expect immediate results, and Dr. Jon has suggested that having multiple sessions (potentially 5-6) will offer a gradual and eventual improvement. I am dead set on clearing up my skin as much as possible whilst I am living in Seoul and treatment is available at a much more competitive price to the UK, so I will continue to see Dr. Jon for Fraxel laser treatment every fortnight for the next couple of months. When the time is up, I will share the results with you…
Fraxel Laser Treatment in Seoul:
Pricing at the Teng Teng Clinic 
A Dermatologist consultation at Teng Teng Skin Clinic costs 10,000₩ – that's just £7.
Mini Fraxel Treatment costs 130,000₩ per session, or £90.
Granted, it's still a lot of money, but worth it in my opinion, for restoring your confidence, and not to mention, saving you money in the long run on extra coverage makeup and miracle creams. Considering the fact that you may need to have several appointments for Fraxel laser treatment in Seoul, I would estimate that you should set aside approximately 500,000 KRW or $500 for this treatment.
Fraxel Laser Treatment in Seoul:
Contact the Teng Teng Clinic 
If you would like to go ahead and make a Fraxel laser appointment with the Teng Teng Clinic, the contact details are enclosed below. By the way, it is completely fine to just make an appointment for a consultation first of all. You are under no obligation to then have the Fraxel treatment (or any other treatments) if you are not certain about it.
Teng Teng Clinic Seoul Contact Details:
Address: Teng Teng Clinic, Bongcheon-dong, Gwanak-gu, Seoul,
Contact Email Address: [email protected]

Note: Teng Teng Seoul recently relocated its main office. The above address is the new location as of 2019. 
Fraxel Laser Treatment in Seoul:
Reflections Two Years Later 
I originally wrote this post on Fraxel laser treatment in Seoul back in 2016. Since then I have left Seoul and relocated to Greece. I took a string of Fraxel laser treatments at the Teng Teng clinic and though I noticed some differences, my skin has not cleared completely from mild ice pick scarring and hyperpigmentation left behind by acne.  More than likely, I will make an appointment for another series of laser treatments here in Europe.
It's important to note that everyone has a different experience with the treatment. While my ultimate outcome may seem somewhat disappointing, it's important to note that I DID see a lot more improvement in my skin texture and appearance after the Fraxel treatment, than I did after chemical peels, Retinoid creams, and various other "miracle" suggestions. I am optimistic that after another round of laser treatment, my skin will become even clearer.
Have any questions about the procedure at Teng Teng Seoul? Feel free to reach out to me below! You may also be interested in this guide to the best beauty treatments in Seoul.
Disclaimer: As always, High Heels & A Backpack believes in total transparency when it comes to writing reviews and documenting experiences. I am in no way affiliated with The Teng Teng Skin Clinic. All views and opinions expressed throughout this article are my own. 
---