Solo hiking is a topic that concerns a lot of people. That said, if you have followed my blog and my travels before stumbling across this post then you will know that I love to embark on trekking adventures and be out in the great outdoors. In fact, hiking alone is often the main draw of a destination for me.
I've been trekking in Bhutan, explored the trails of Cappadocia, conquered the monastery hike at Petra and camped in the blue mountains of Australia. Sometimes I meet other travellers to hike with and sometimes I go hiking alone.
I had a conversation recently with a friend after posting photos on social media about a solo hike in Cappadocia during the winter. There was genuinely no-one on the trail aside from me and it raised the discussion as to whether this was safe, sensible… or foolish?
Solo travel is becoming more and more commonplace but solo hiking? That's a completely different ballgame – especially as a solo female hiker. After all, you are purposely breaking many of the rules that have been drilled into us about traveling alone (ie don't venture off to remote places alone)
I am a firm believer in the notion that if you want to do something you shouldn't let a fear of the unknown deter you. I was afraid when I embarked on my first hike alone but now, with dozens of solo hikes under my belt, I feel like I have gained a lot of wisdom and experience that I can pass on to you guys.
This solo hiking guide will address any questions and concerns that you may have about hiking alone, suggest matters for consideration that you may not have thought of, and hopefully have you feeling filled with confidence and excited for your hiking trip.
Why Bother Hiking Alone?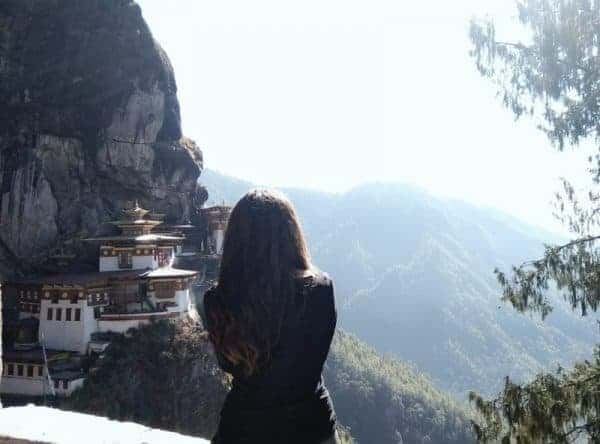 At the risk of sounding all fruity and la-di-da, I love hiking alone because I love the serenity and peacefulness of it just being me and nature. As in, there is so much chaos happening in the world right now but here I am sitting by this babbling brook, admiring the mountain view and collecting my thoughts.
For thoughtful, creative types, this time alone in nature is a great time to reflect and practice mindfulness. If you are feeling stressed or anxious about anything, this may be a nice way to put things in perspective.
Hiking alone, much like traveling alone really gives you the opportunity to build confidence in yourself and your self sufficiency. You are responsible for everything – planning the route, managing your time, packing your supplies, and that is not only exciting, it helps you grow as a person. Not to mention, if you're looking for ideas on how to stay fit on vacation, there truly is no better way than embarking on regular hikes!
My First Time Hiking Alone
My first time hiking alone was in Japan several years ago. I remember feeling anxious that there was nobody else around and that maybe I would encounter some weirdo lurking in the trees waiting to pounce. I had no such misfortune and I had a wonderful experience. Since then, I've done a lot of hikes by myself – both long and short in length/duration.
Considerations For Solo Hiking
When it comes to hiking alone, the most valuable tool that you can take with you is your common sense. Be aware of your surroundings, trust your intuition and don't push your limits too much.
Start Small
If this is your first time hiking alone then I can understand that you may want to push yourself, but don't go too extreme into organising a multi-day, long distance camping extravaganza on the Appalachian trail for example. (Not sure why I described that as an "extravaganza" but it just felt so right!).
Start small so that you can build up your comfort in being alone and your confidence in managing things by yourself. A well marked, signposted trail that takes a couple of hours in length is the perfect starting point for hiking alone.
On a short trail, you are likely to encounter other hikers also so you will never feel panicked or isolated if you encounter any problems. This helps you build up your solo hiking confidence gradually
Tell People Where You Are Going to be Solo Hiking
Share your solo hiking itinerary with friends and family at home. This is good practice when traveling solo anyway. Let someone at the hotel or hostel know where you are headed and when you expect to be back.
Some trails (particularly in the US and Australia) have log books at regular checkpoints so add your name to those so you are registered as being on the route.
…But Keep it Off Social Media
You should never share your precise location on social media. I get that you're excited that you've just conquered a peak by yourself or you've made it to that beautiful lake but honestly you never know what odd-bods are watching.
I once updated an Instagram story to a coffee place while I was in Istanbul and I had men finding me through the #Istanbul hashtag search and asking to come and meet me… Yeah. Fortunately, I never upload my stories until after I've left a location in real time. I would strongly you advise that you follow that same rule.
Go Armed with Supplies
When hiking and walking for extended periods of time, of course you are going to find yourself getting hungrier than usual so be sure to pack plenty of snacks and foods suitable for hiking. High fibre, slow energy release items like trail mix and cereal bars work wonders.
You should also work to keep up your blood sugar levels so that you don't start feeling faint or suffering from a headache on a trail. To this end, chocolate, Haribo, and hard boiled sweets are your friend (any excuse!)
Pack plenty of water when solo hiking also. The recommended amount per person per day is two liters but it doesn't hurt to take a little extra, especially if hiking in high temperatures.
Have Respect for the Environment
As important as it is for you to consider aspects of your own safety during your hiking trip, you should also familiarize yourself with the "leave no trace" concept which is essentially the unwritten rules of ethics for those in the outdoors.
There are some basic considerations for mother nature's great outdoors that you should keep in mind: not feeding the wildlife where you shouldn't, not leaving trash behind, clearing up after yourself properly and clarifying the national park's rules on fires and stoves.
Ensure That You Have a Comprehensive First Aid Kit
If you should feel unwell or have a small fall while out hiking alone there will be no-one around to help you so make sure that you have a decent stocked first aid kit. You can buy pretty good kits that contain the majority of the essentials but still have plenty of space for adding your own items too.
You want to ensure that your solo hiking medical kit contains bandages and band-aids, scissors, tweezers, painkillers, antihistamines, cortisone cream, insect repellent and any prescription meds that you usually take.
Don't Get Crazy and Acrobatic
We've all seen (or at least heard about) 127 hours, right? A lot of hiking accidents could be avoided by using common sense. I've actually been hiking alone and spotted people climbing onto the top of rocks to take selfies.
If you fall while hiking alone, you may not be able to get help so think twice about everything you do. If a pathway is particularly steep or unstable, look for a safer detour.
Be Thorough With Your Hiking Supplies
You would be surprised by how much you can fit into a small 5L backpack! Your first aid kit and snacks are two things to go in there. You should also pack a head torch (in case it starts to get dark), a poncho, a rain cover for your backpack and any maps/navigational items you may need. There are various hiking gadgets in the market that you may find useful. 
Make sure to do some research in advance as to the types of items that you may need on your hike so that you can compose a hiking packing list accordingly.
Check the Weather Reports
Websites like Accu Weather are incredibly useful for getting a multi-day forecast. It's imperative to check the weather reports before you venture off so that you know what you need to wear and pack, and whether the conditions are even suitable for hiking in the first place.
Make Like an Onion and Layer Up!
After checking the weather conditions, make sure you are prepared for the changing temperatures throughout the day. Even hot desert places can get cold in the evenings. I personally prefer to wear multiple layers, so I can easily add and remove as I need to, rather than ever feeling too hot or too cold.
(I personally love these three in one outdoor jackets like which I bought for hiking in the Himalayas. The bottom layer is fleecy and cozy, while the top layer is water and windproof. You can detach the two jackets if needed to wear one or the other).
Take an Actual Map (and Learn How to Read it!)

This is somewhat dependent on where you are and the actual trail that you are doing. However, even if your route doesn't stem too far from civilisation I would recommend that you take a printed map with you.
The route for your solo hike may be relatively well signposted but if it is comprised of a complex labyrinth of pathways and it leads you through forests and wilderness it's better to be safe than sorry.
Don't Be Freaked Out by Other Hikers
Some people hiking alone have the same attitude towards encountering other hikers as they would a hungry, angry bear. They hear a twig snap in the distance, see some American guy come bounding out of the trees in his North Face and assume they are going to be murdered.
Don't freak out about encountering other hikers in remote places. You don't need to be overly friendly – a simple hello and a nod is fine but logically most people aren't going to have sinister intentions.
If you do encounter a strange or creepy dude then never let on to them that you are alone. Make out as though you are with a friend or boyfriend that has gone on ahead or off to poop in the woods (when you gotta go, you gotta go, right?)
If you feel like someone is following you or loitering around you, hang back, and pretend that you are examining something/ taking a photo/checking your reflection for boogers, etc

Keep Your Electronics Charged
Ensure that your phone has full battery life before embarking on your hike and consider taking a power bank with you. When I'm hiking alone, I always keep my phone switched off to preserve the battery life and then turn it on if I need something.
You can download several useful hiking apps, including maps of the trail that you are on. I always use maps.me app when I'm travelling because the map works offline. When I was in Cappadocia, I was fascinated by the fact that my little icon kept moving on the map even in the middle of the remote Anatolian plains!
Consider Buying a GPS Locator
For extreme hikes and if you plan on being in the outdoors a lot you can actually buy incredibly strong and sturdy phones built for endurance like Snopow and Blackview so if you drop them or step on them (I'm not judging), they won't crack like your iPhone.
Replace the batteries for torches before heading off hiking alone and pack a few spares in your backpack. Remember that not everywhere has WiFi or a phone signal and so your phone isn't always going to be helpful which is why you could consider buying a GPS Locator like those offered by SPOT and Delorme.
If you're embarking on a super remote solo hiking trip and you're a little apprehensive about hiking alone this is a good shout. A SPOT device has satellite technology which tracks your location as you progress through a trail. (You can set it up to track where you are at regular intervals and even have it send your location to friends and family).
If you find yourself in danger, you can send your GPS location to the local emergency services with just one push of a button and so this contraption really could save your life.
Stay Away From the Road
It's actually safer for you to be walking along in the trees than it is to do so by the roadside. A lot of hiking problems are caused by people coming along in cars so avoiding walking by the road. If you are camping, pitch your tent away from the road also.
The most important thing is to enjoy yourself! If you worry about all the things that may or not happen then you will scare yourself half to death. Once you arrive at the trail, and it's just you and the footpath I am sure that you will be feeling excited and full of adrenaline.
Have you been hiking alone? What were your experiences solo hiking as a woman? Let me know in the comments below!
Alternatively, if you still have concerns about solo hiking, feel free to reach out to me. I will do my best to help and get back to you ASAP. Safe travels! Melissa xo
---