Is Medellin safe to travel to? Safety is perhaps at the forefront of your mind if you are planning a trip to Medellin (or Colombia in general).
After all, this is a part of the world that has not historically always been known as an ultra-safe tourist destination. But things are a lot different in the city of eternal spring today than they were 20 years ago.
Medellin has changed a lot since the days of Pablo Escobar and the Medellin cartel. It is almost a different city entirely.
In the past few years, Medellin and wider Colombia have really started emerging as up-and-coming travel destinations.
This is particularly true among Digital Nomads who see Medellin as a safe haven to base themselves for several months at a time. Is Medellin Colombia safe to travel to in 2023?
Yes, provided that you take precautions.
Visiting Medellin Colombia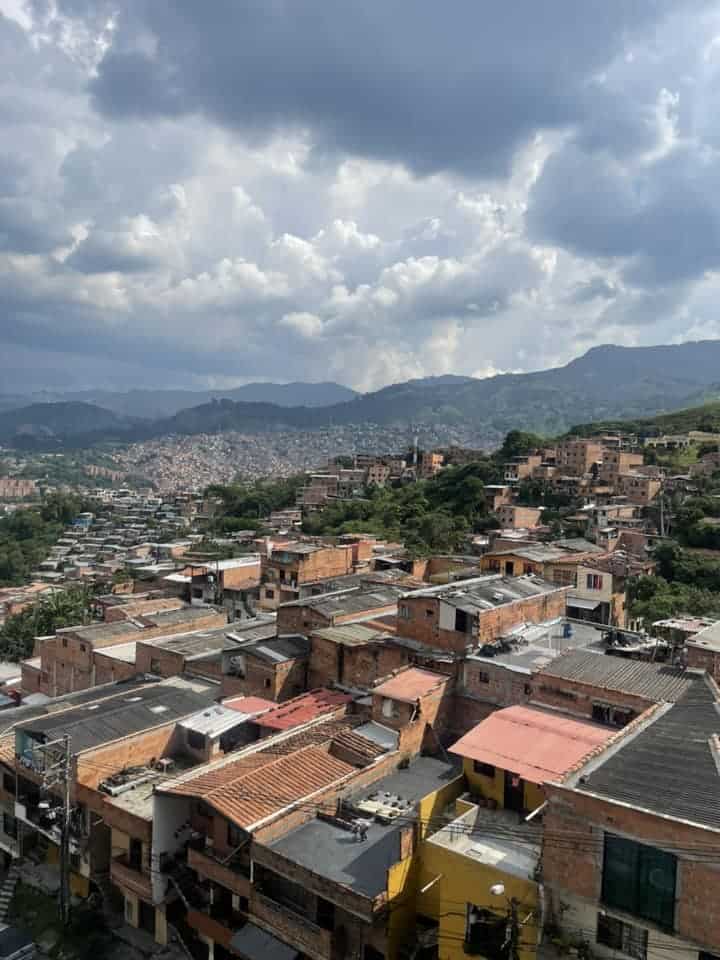 Medellin is the second-largest city in Colombia and the capital of the country's Antioquia region. It is affectionately referred to as the "city of eternal spring" on account of its mild but moderate climate.
(If you have been traveling around Latin and South America for a while and you want to escape to an area that is not so hot and humid, Medellin is a great choice!) Nestled in the Aburrá Valley and encompassed by the Andes mountains, Medellin is surrounded by beautiful nature.
Medellin makes a great place to base yourself for 3-4 days – whether you are visiting on a weekend break or as part of a wider Colombia itinerary.
Each of the city's neighborhoods is like a little town in itself, each with its own distinct personality. In Medellin, you can visit Comuna 13 – a place that was formerly one of the most dangerous neighborhoods in the world but is now filled with gorgeous street art that adorns every wall.
You can embark on scenic hikes through the jungles and waterfalls close to the city, take a Pablo Escobar tour to learn the city's dark past, and sample the local cuisine. Medellin is a wonderful city and best of all, it hasn't fallen victim to mainstream tourism or become gentrified as of yet.
Is Medellin safe?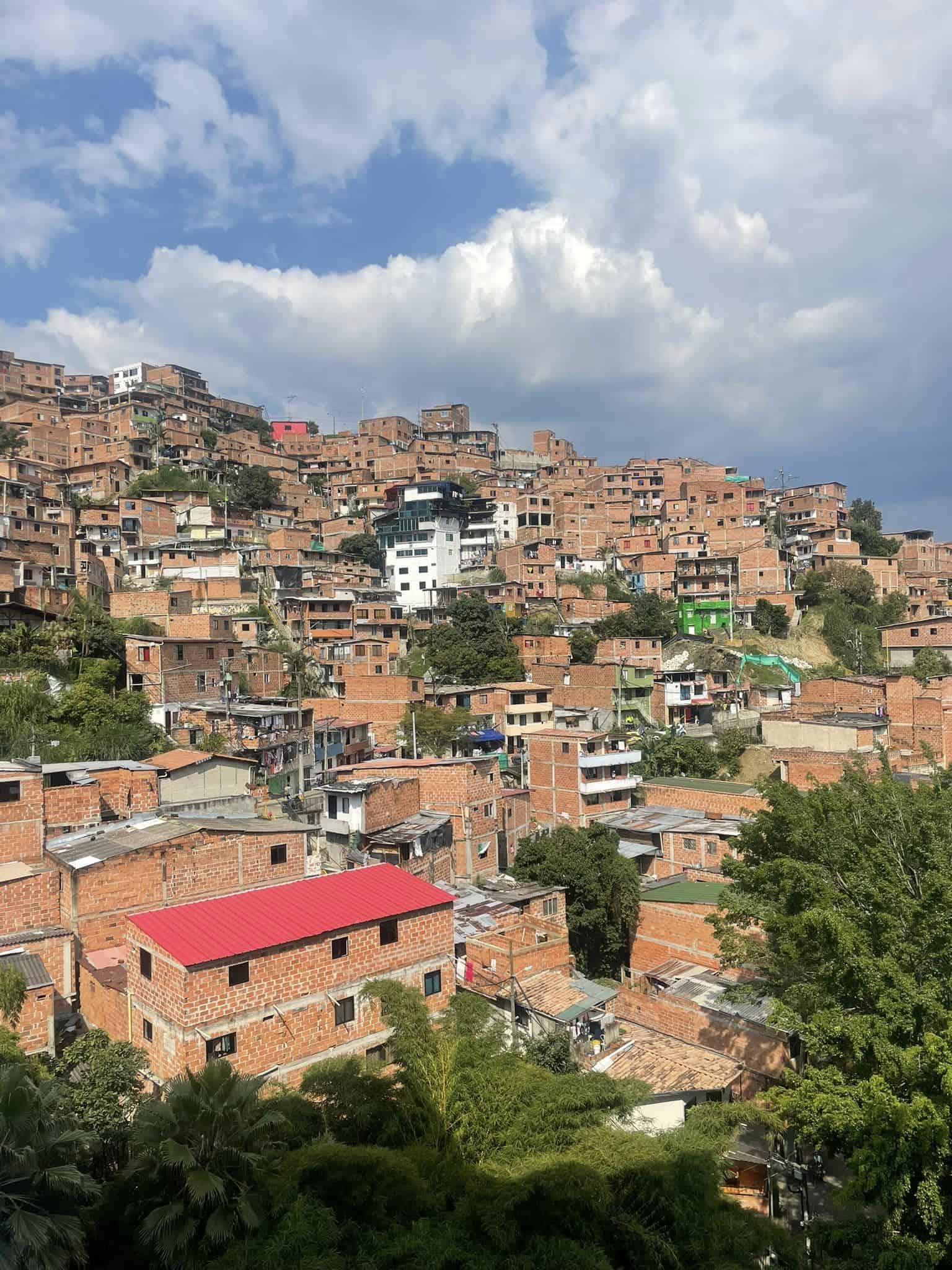 Medellin can be a safe place to travel to provided that you take precautions. But that depends on you taking the necessary measures for your safety during your trip.
In the early nineties, Medellin was the most dangerous city in the world. It wouldn't be wrong to describe it as a warzone.
During Pablo Escobar's reign as the King Pin of the Medellin cartel, Escobar essentially waged war on the people of Colombia – making violent threats and blowing up the homes and businesses of anyone that got in his way.
The homicide rate in 1991 reached 381 murders per 100,000 people. That is 40 times what the UN describes as "endemic violence".
People lived in fear and you definitely wouldn't even want to set foot here. But things changed as soon as Escobar was killed in December 1993.
The government and the people of Colombia went to great efforts to improve their homes and city. When you tell people that you are thinking of traveling to Colombia, they will probably yell at you about the violence and Pablo Escobar.
But that's not the Medellin you see today. Even if you look at your own hometown or at yourself, chances are that there have been a lot of changes over the past 20 years, right?
Safety statistics for Medellin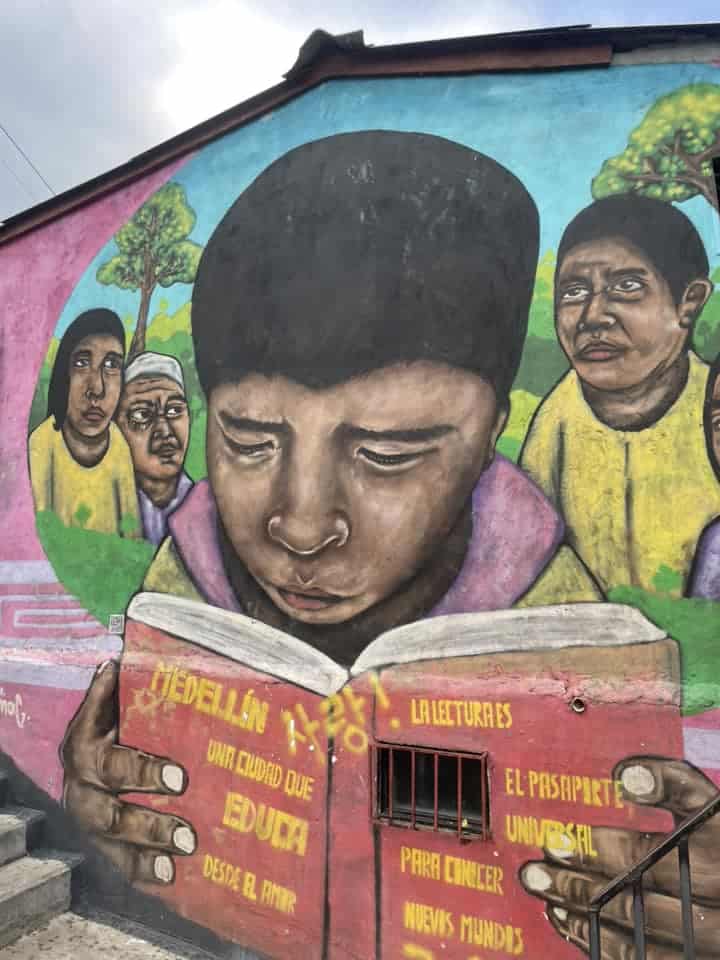 Although crime exists in Medellin, violent crime is decreasing. The city is getting safer and safer every year which is a big move in the right direction.
There has been over a 97% drop in homicides since Escobar's days. In 2022, the city saw 10.2 homicides per 100,000.
This is half the national average. Although things could get better, you are unlikely to be a victim of a violent crime in Medellin as a tourist.
Violent crimes in Colombia tend to affect people that are involved in things that they shouldn't be (trafficking, drugs, contraband, etc). If you don't go looking for trouble in Medellin, trouble won't go looking for you.
Violent crimes in Medellin are uncommon against tourists. However, armed robberies and muggings do happen and are usually opportunistic.
How to Stay Safe in Medellin Colombia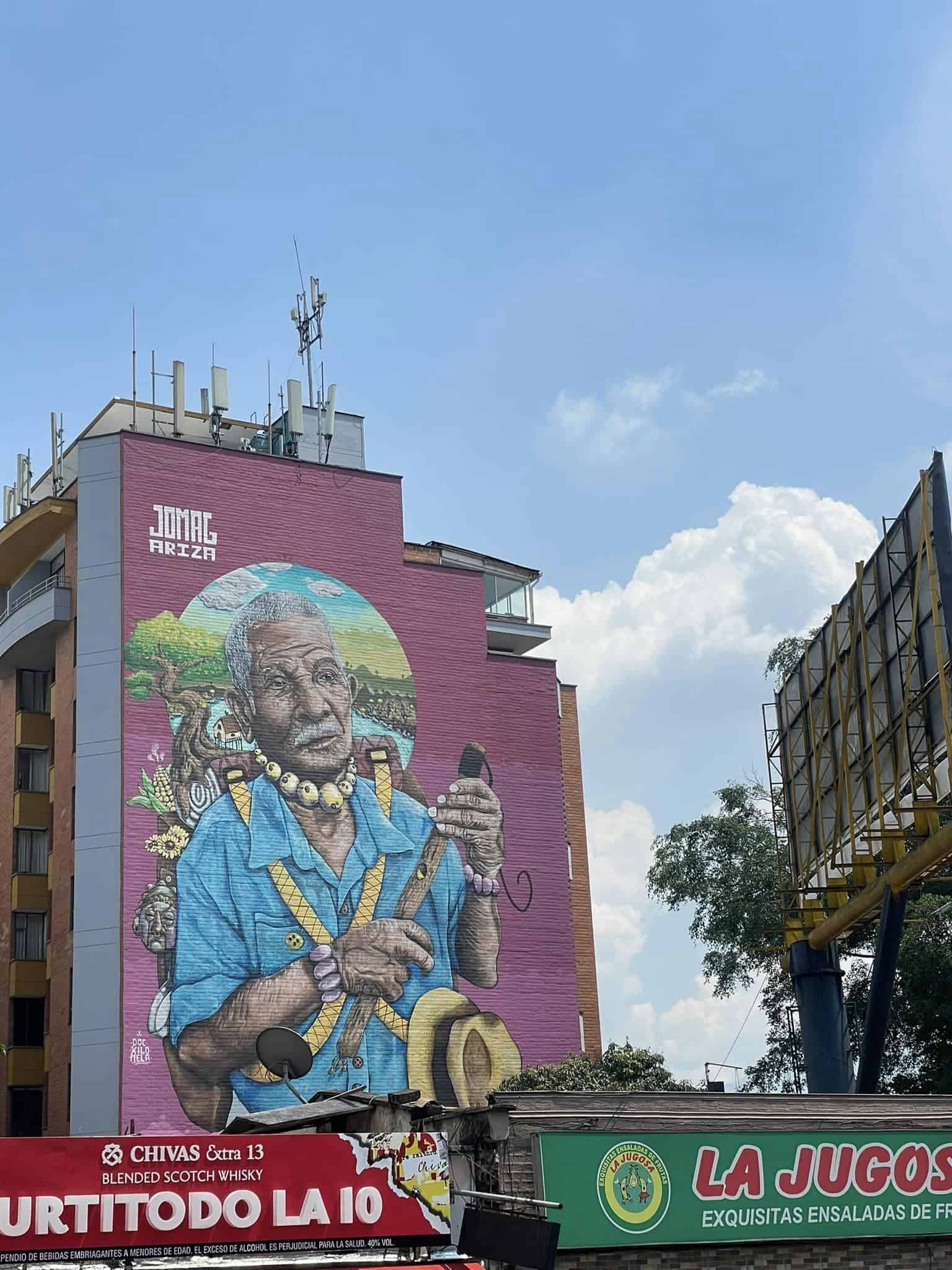 There are a few common sense precautions that you can take in order to stay safe in Medellin Colombia. These are good practices wherever in the world you choose to travel.
However, they are especially key if you are traveling in areas like Latin and South America.
Choose a safe neighborhood to stay in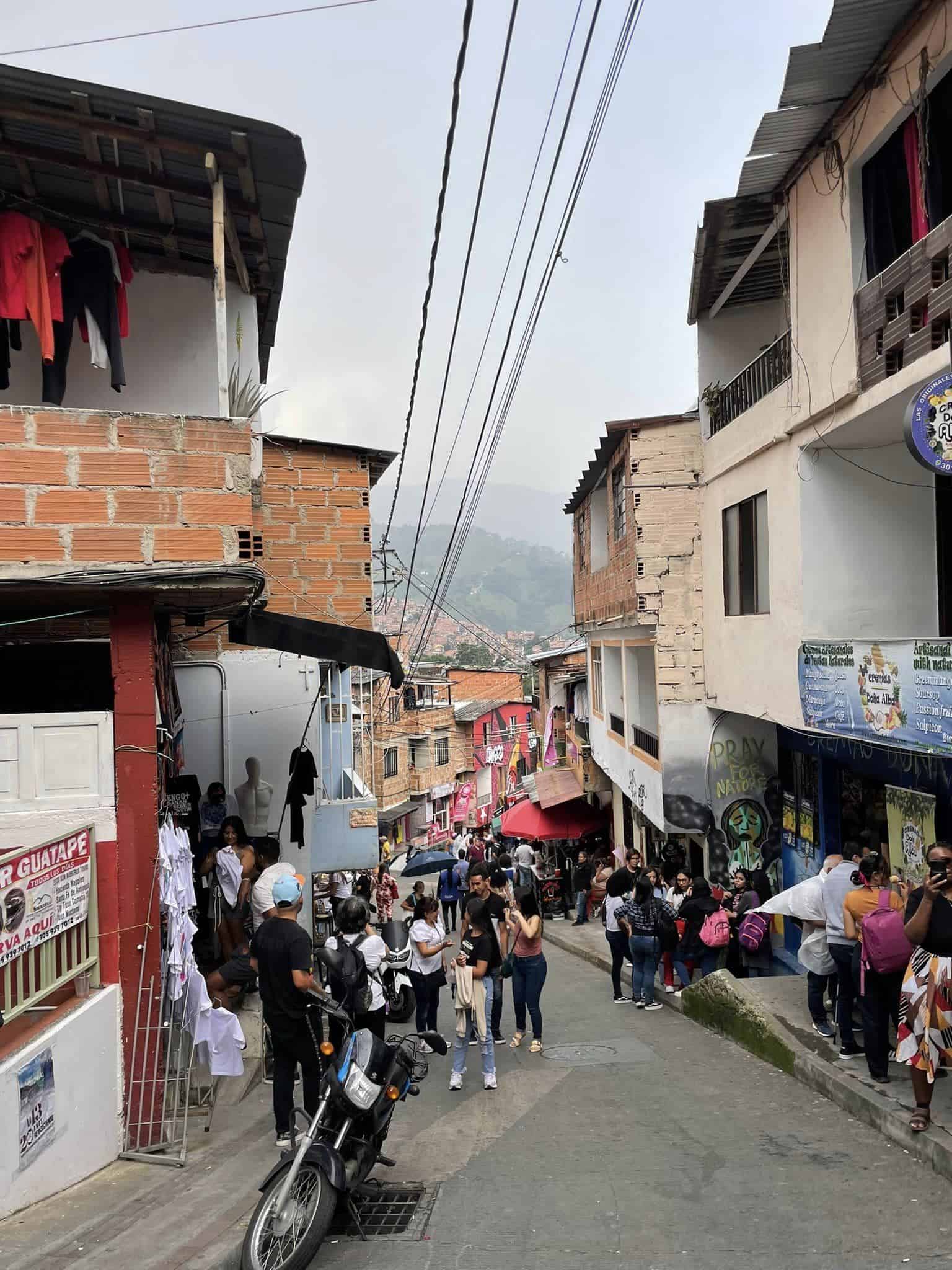 Staying safe in Medellin starts with choosing a safe area to stay in. It is not ideal to just book any random hotel that you find without first reading up on the area that it is located in.
El Poblado is one of the most popular places to stay in Medellin. The best of Medellin's nightlife can be found here, and the area around Parque Lleras is filled with quaint coffee shops, international eateries, and hotels to suit every budget.
It is a little bit touristic and you will see more gringos here than Colombians most of the time. But if this is your first time venturing to South America, it is not a bad shout.
If you are looking for something slightly quieter, Laureles district is a trendy area filled with cafes, independent art galleries, and chic cocktail bars. Envigado is a quiet but safe area nearby, while Belén is a residential area where you will find a lot of Airbnbs.
Check past reviews of the hotel/Airbnb you are considering before confirming your reservation.
Keep your valuables out of view
You need to keep your valuables out of sight at all times when traveling in Medellin. (And Colombia on the whole).
This means keeping your iPhone in your bag or pocket, not flashing wads of cash when you go to pay for something, and not wandering around with an expensive camera around your neck. The locals have a phrase for this which is "no dar papaya".
It translates to "do not give papaya" and suggests that you shouldn't give something "sweet" to tempt potential thieves. Your biggest risk as a tourist in Medellin is being the victim of a robbery.
These can happen in broad daylight and even in areas like El Poblado. If you travel around Colombia for long enough, you are likely to meet someone who has been robbed at gun/knife point.
This is terrifying, but if you are careful not to flash your belongings you ought to be ok. When you arrive in Colombia and see how many people are blase about their safety – leaving laptops unattended on tables, walking around with their $1200 iPhone in their hand, etc, you understand why there are so many robberies.
Don't walk around with airpods in or texting and checking the map on your iPhone.
If you need to send a message to someone or check where you are going, it is best to duck inside a coffee shop to check your phone. Unfortunately, like in many countries, poverty creates violence.
Your iPhone may seem like nothing to you but it is the equivalent of several months' salary for some people here.
If you get robbed, don't fight back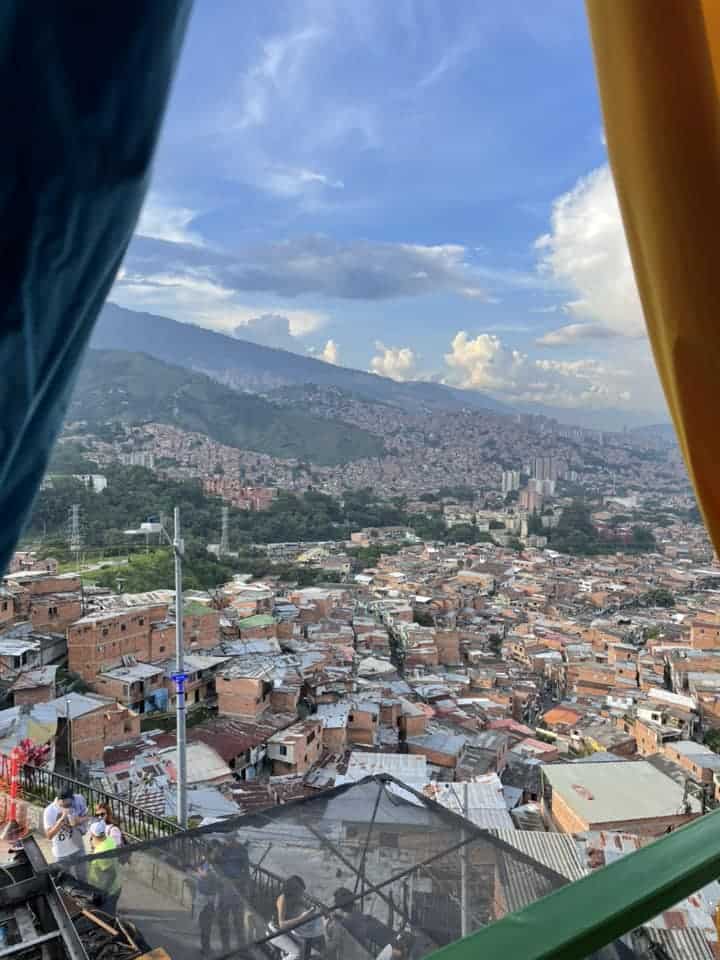 If you are asked to hand over your iPhone/wallet/bag/etc, just hand it over. It is not worth potentially risking your life or an injury for something that can always be replaced.
You never know if someone has a weapon or not, even if you don't see it in the first instance. Colombia also has some strict/obscure laws when it comes to self-defense.
Under Colombian law, if someone threatens you with a knife and tries to rob you, and you fight them off and they get some kind of injury, you are liable to be prosecuted.
Don't flash designer labels
On a related note to not walking around with your iPhone flailing around randomly in your hand, it is a good idea to dress modestly. Most people don't wear Designer labels and $400 sunglasses here.
If you do, you will be drawing additional unwanted attention to yourself and potentially making yourself a target.
Be mindful of who you meet and hang out with
The people are off in a highlight of traveling and that is definitely true of Colombia. Colombians are, on the whole, very warm, welcoming, and hospitable people. but good and bad people exist everywhere.
If you decide to meet people online via travel forums, Facebook groups, or via dating apps, be careful. All of your typical common sense precautions apply.
For instance, never leave your drink unattended, meet people in public places, etc. One major issue in Medellin is men being drugged with scopolamine after going on dates with local women.
Colombian women are beautiful and their appeal is obvious. Many men travel to Colombia for the purposes of finding a local girlfriend or dating local women.
Unfortunately, some unsavory types have caught on to this trend as a way to make some money from tourists. There is a terrifying drug called scopolamine that is sometimes used in Colombia.
A person may blow it into your face or drop it into your drink and from there, you become an obedient zombie. People drugged with scopolamine may be told to withdraw all of the money from the ATM accounts, hand over their valuables and cash, etc.
Scarier still, the person will have no recollection of it happening. It would appear that men using dating apps are the most likely to become victims of scopolamine attacks.
However, it could happen to anyone. If you are talking to someone in person or on a dating app and they seem extremely attractive and out of your league, do be cautious.
Get around using Uber rather than random street taxis
Uber is safe to use in Medellin. In much of Latin America, using this app (and another local ride-share app called Didi) is actually preferable to taking local taxis.
Depending on where you originate from, this may come as quite a shock. In some countries around the world, Uber is considered less safe.
In Colombia, there is more accountability when you take an Uber. For instance, you can see the driver's name, photograph, and license plate number. When you get into a random street taxi, you do not have that.
Of course, there is the additional benefit of uber being cheaper than regular street cabs. There have also been some issues with taxi drivers in Colombia that have scammed passengers.
On the more mild end of the spectrum, people may be taking on a roundabout route through town or charged more for their fare. On the more extreme end, express kidnappings do happen in this part of the world.
This happens when somebody enters a taxi, the taxi driver takes them around the corner, and several accomplices enter the vehicle. This armed group may make the tourists travel around the city withdrawing money from ATMs and handing over all of their valuables.
This is simply not worth the risk. So instead, you should always take an Uber or have your hotel receptionist or concierge organize a taxi for you. When your Uber arrives, always make sure the vehicle and license plate that you see correspond with the one detailed on the app.
Opt to take a walking tour to get your bearings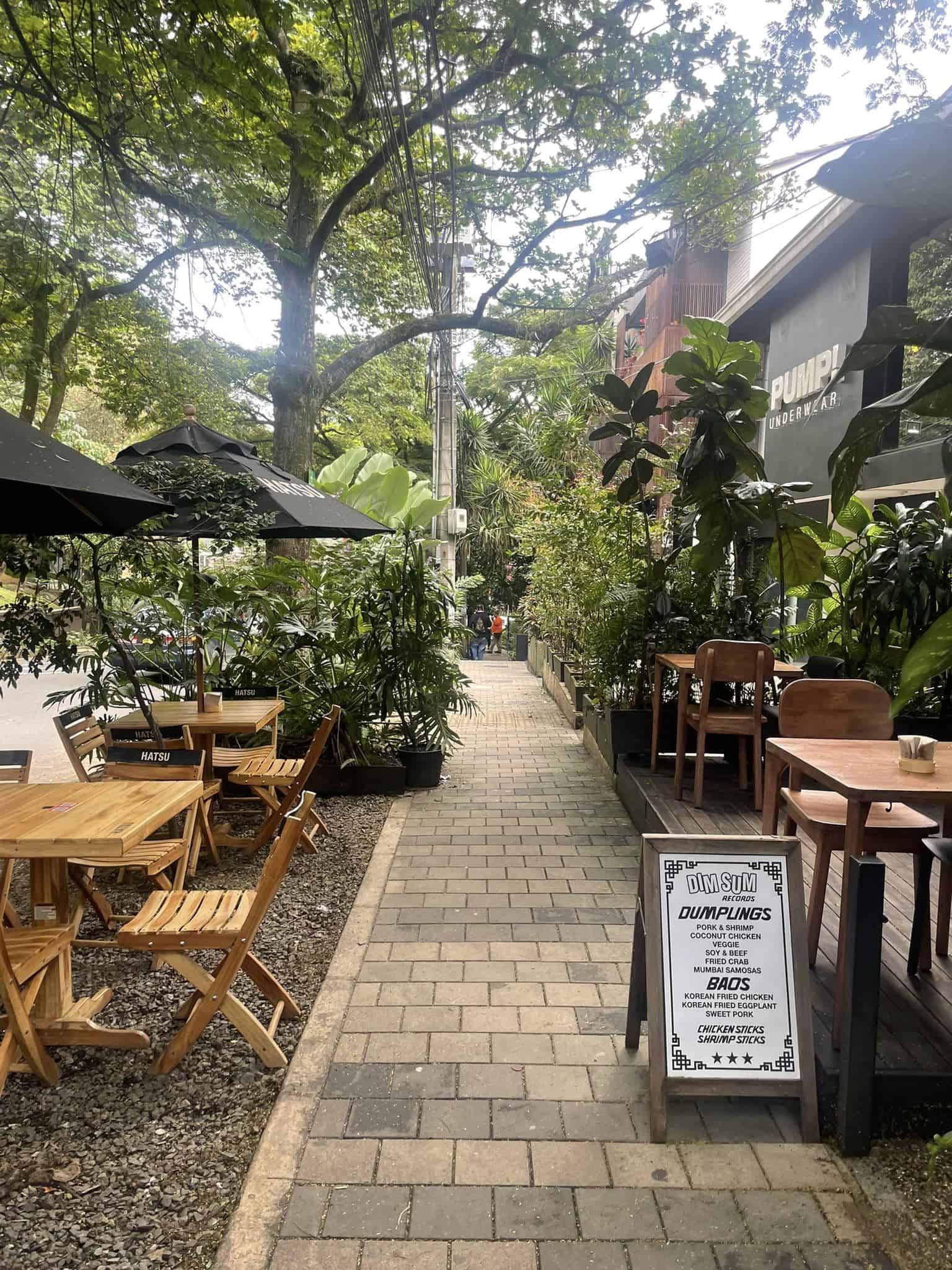 Opting to do a walking tour is a great way to get your bearings in a new city and the same rings true for Medellin. If you are nervous about being in Colombia for the first time, this can give you some confidence for venturing out and exploring the city.
Walking tours are underrated. Exploring the city with a local guide enables you to gain more history and context to the various sites that you see.
It also means that you have a Medellin expert on hand to ask for recommendations on the best places to eat, drink, and hang out while you're in town. A number of reputable Medellin tours is detailed below for your consideration.
Book online in advance to secure your place and avoid disappointment!
Recommended Medellin tours
Be mindful of where you walk
The main thing to keep in mind when walking around Medellin and other Colombian cities is that you cannot just randomly walk through the town. You need to research every neighborhood that you are venturing into to make sure that it is safe.
Generally speaking, El Poblado, Comuna 13, Laureles, Envigado, and Belén are the safest neighborhoods to explore during the day. (It is a different story at night.)
Downtown Medellin (la Candelaria) has some interesting sites but is arguably the most dangerous area. Explore with a guide if you decide to come here and definitely don't venture here at night.
Don't ask about Escobar
It is better not to ask questions about people's thoughts on Escobar and other drug lords when traveling in this part of the world. It is quite a controversial topic that many people still have strong opinions about.
Some people have been personally affected by Escobar and the Medellin cartel during his reign of violence against Medellin. Others look to him as a hero as he gave their families jobs and opportunities during their time of need.
If you decide to do a Pablo Escobar tour in Medellin (they don't glamorize him, don't worry!), you can learn about the cartel's impact on the city and you can save these questions for your local guide.
Is Medellin safe for solo travelers?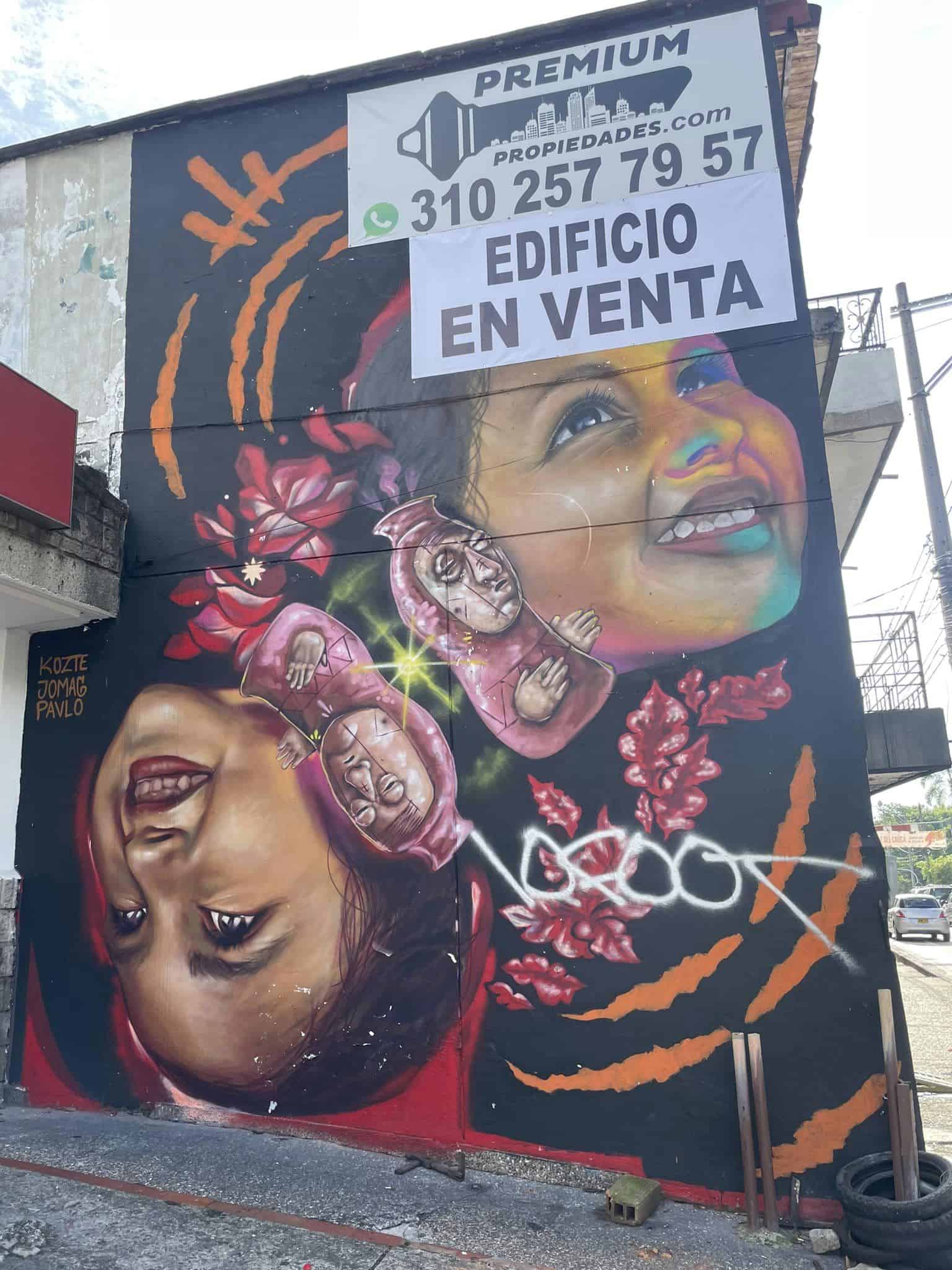 Medellin can be a safe travel destination for solo travelers. Of course, being by yourself can be more daunting than traveling with a group of friends.
However, in recent years, Colombia is becoming a more common backpacking destination and a lot of people move or travel here alone. So, as a solo traveler, you won't really find that you attract a lot of puzzled looks.
A few pointers for solo travelers in Medellin are detailed below.
Meeting other travelers in Medellin
Medellin has a very international social scene. There are several Facebook groups dedicated to expats in Medellin and backpacking in Colombia.
You will find that various social groups in the city frequently organize meetups and events here. There are also some WhatsApp groups for people of particular interests.
For instance, there are a group of people that meet regularly to try new restaurants in the city, a group of people that meet to go walking together, etc. Meetup.com and Couchsurfing are two platforms to have on your radar as great ways to meet fellow Travelers.
If you do go to an event for travelers and locals in Medellin, you should still be around aware of your surroundings and what's your alcohol intake. As friendly as other travelers and locals can be, remember that you are still around strangers and you cannot always know people's intentions.
Is Medellin safe for solo female travelers?
Medellin can be very safe for solo female travelers. This entire article has been written by an experienced solo female traveler who traveled across Colombia alone.
Still, travel is different for men and women. You may find that you experience some catcalling and male attention in Medellin.
Colombian men can be quite forward in approaching you to chat or to give you their phone numbers. While in the west men may whistle at women to get their attention, in Colombia, they often make an unpleasant hissing sound.
It is simply better to ignore cat callers and pretend that you haven't heard them.
You never really know somebody's mental state and it isn't worth confronting somebody. Equally, you should never let these things ruin your day.
Share your plans with family/friends but keep them off social media
If you are traveling solo in Medellin, it is understandable that you want to keep your concerned friends and family back home updated on your trip. While it can be exciting to share what you're up to each day while traveling, you should never post updates in real-time.
If you have a public social media account, do not geotag your location in your posts or your stories.
It is particularly important not to share details of which hotel you are staying in. Unfortunately, if your social accounts are public, you can never be sure who is watching them.
Save your social media updates for when you have left a specific location. One good way to share the details of your trip with your family and friends is to create a Google doc with your itinerary.
The doc should detail where you'll be each day and what you will be doing. You can set this to read-only and share it with several people via Gmail.
If you decide to make any changes to your itinerary, you can simply update the document here rather than having to contact multiple people. So, if people haven't heard from you in a few days and they are concerned, they can check the document and see exactly where you are.
Purchase comprehensive travel insurance before your trip
It is prudent to purchase comprehensive travel insurance before traveling anywhere in the world and the same applies to traveling to Medellin. Unfortunately, even if you are in the best health, you can never really know what is around the corner.
Needing medical assistance and help overseas can be expensive and Colombian public hospitals don't always meet the same quality standards that you may be used to at home. Look for a travel insurance policy that offers at least a million dollars worth of medical coverage.
A good policy will cover additional extras such as loss/theft of baggage and electronics, hiking and outdoor activities, and repatriation. Once you have purchased travel insurance, make sure that you make a note of your policy number or print out the first page of your policy.
If you need assistance overseas this will be the first thing that you are asked for.
Public transport in Medellin
Public transportation in Medellin is very good. It is also safe and affordable.
You just need to make sure that you keep your phone and wallet and other valuable items tucked away safely and out of view. The metro system is a great way to get around.
A one-way ticket costs just 2,550 pesos (US$0.69) per person. There is also a free cable car that you can take to Comuna 13 which offers incredible panoramas over the city.
How Safe is Medellin: FAQs
Is Medellin safe? Do you have any further questions or concerns about visiting for the first time?
The answers to some frequently asked questions on the topic are detailed below. Hopefully, you will find the information you are looking for there.
If not, feel free to reach out!
Is it safe to walk around Medellin at night?
It is not a good idea to walk around Medellin at night. If you are exploring certain areas that are popular with tourists such as El Poblado, some of the main strips are full of life even in the evenings.
If you are walking down a main road from one bar to another as a group, that is generally fine. But in general, you should avoid walking around at night, particularly if you are solo.
Do not get intoxicated if you decide to explore Medellin's nightlife as that will make you more of a target. You should always take an Uber or pre-ordered cab back to your hotel at the end of the night.
Is Medellin Colombia safe right now?
Medellin Colombia is safe to travel to in 2023, provided that you take the same precautions that you would when traveling anywhere else in the world. 2022 saw a massive improvement in crime statistics in Medellin. hopefully, things look set to become even better in 2023.
Is it safe to walk around Medellin?
It is safe to walk around Medellin to an extent. Medellin, like many other Latin American cities, has safe neighborhoods and sketchy neighborhoods.
The issue with traveling here is that you have to be constantly mindful of where you are going. You cannot just wander aimlessly across the city venturing into whatever neighborhood you come across. You could inadvertently step into a dangerous area.
Is it ok to wear shorts in Medellin?
Medellin has a relatively mild climate, with warmer temperatures during July and August. It never gets ultra hot here and you generally don't see locals walking around in shorts.
If you do wear shorts, you will definitely stand out as a tourist and you may draw unwanted attention to yourself. This rings true for both men and women.
It is somewhat frowned upon to enter certain restaurants and bars in shorts. Men can consider wearing longer more formal shorts at weekends when doing outdoor activities.
For instance, heading to the park, having a picnic, etc. You will find that most men in Medellin also wear fitted trousers or jeans.
It is fine for women to wear dresses in Medellin. You will often see Colombian women walking around in skirts or knee-length dresses.
In the evenings, people often wear very short skirts to go out to nightclubs and bars.
Is Mexico City or Medellin safer?
You may be interested in knowing how safety in Colombia compares to safety in Mexico. Crime statistics and safety surveys indicate that Medellin is safer than Mexico City.
However, the reality is actually more nuanced than that. There are indeed parts of Mexico City that you shouldn't travel to.
However, there are also parts of Medellin that you should avoid. In Mexico City, most people have smartphones and a lot of people are often very well-dressed, particularly in areas like Roma and Polanco.
However, in Medellin, you are more likely to be a victim of a petty crime because there is more extreme poverty. There is a lot to think about when comparing Colombia vs Mexico.
Is Uber in Medellin safe?
Uber in Medellin is very safe. Locals often prefer to use Uber rather than take random street taxis.
There is more accountability this way. If you are anxious about using Uber in Colombia, there are a few precautions that you can follow.
For instance, you can check your driver's rating, past reviews, and years of experience.
Is Comuna 13 safe in Medellin Colombia?
Historically, Comuna 13 Was one of the most dangerous parts of Medellin Colombia. However, thanks to clean-up initiatives by the Colombian government and attempts to help people in the poorest districts, this area has seen a complete transformation.
Comuna 13 is now one of the safest parts of Medellin. Its streets are laden with colorful artwork created by local designers, street vendors selling exquisite local delicacies like bandeja paisa, and pop-up bars where people dance and sing to music from around the world.
Is tap water safe to drink in Medellin Colombia?
Tap water is very safe to drink in Medellin. However, most hotels will also provide bottled water.
To be more environmentally friendly, it is a good idea to invest in a reusable water bottle such as a life straw. You can fill this up each day before sightseeing.
How safe is Medellin Colombia: final thoughts
Traveling to Medellin Colombia can be a safe and wonderful experience. Things have changed a lot here over the last decade and today, Colombia is one of the safest countries in South America. 
While it is important to follow safety pointers and take precautions for your personal safety, don't let your fear of the unknown deter you from visiting Colombia or enjoying your trip. You may also enjoy this post on safety in Cartagena.
Safe travels! Melissa
---