Travel to Bhutan is shrouded in magic and mystery. The little Himalayan nation is one of the least-visited countries in the world. Today, it is estimated that less than 30,000 visit little Bhutan each year. Up until the 1960s, Bhutan was a completely closed country.
Bhutan is known as "Druk", or "the Dragon Kingdom – a dramatic nickname fitting for a beautiful country whose landscapes would not look out of place in a JRR Tolkien novel. A deeply spiritual country, the Bhutanese consider tales of heroes riding through the skies on flying tigers and garudas as events in history, rather than myths or legends. Bhutan is a very special place.
About This Bhutan Travel Guide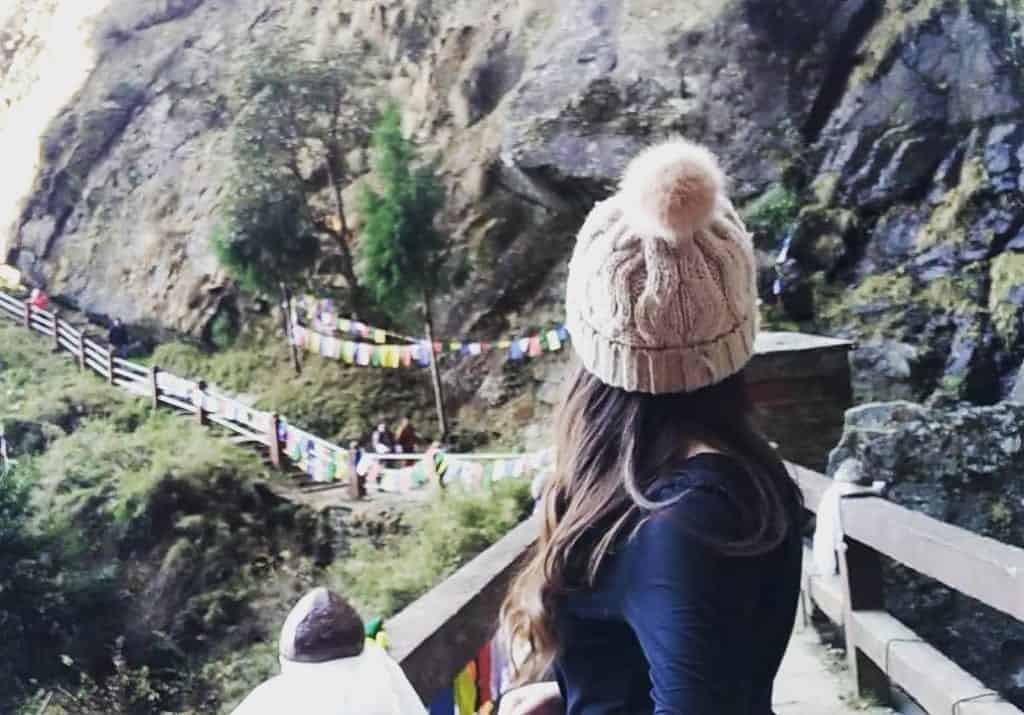 Since there is an element of uncertainty that surrounds numerous aspects of travelling to Bhutan, and a distinct lack of resources available to provide clarity on these questions, I've prepared this Bhutan Travel Guide in order to answer the most frequently asked questions about travelling to the mysterious Dragon Kingdom.
This guide answers the what's and the hows of organising your trip to Bhutan. It is fairly comprehensive, so feel free to use the Table of Contents to skip to the relevant sections.
A Little Background of Bhutan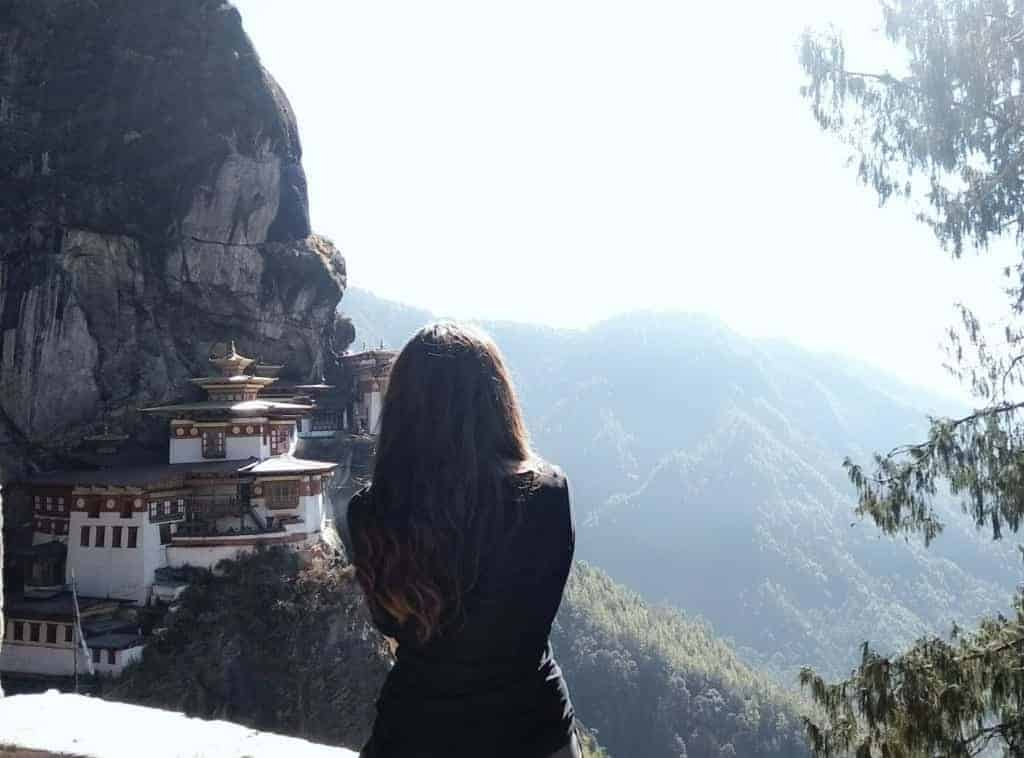 Bhutan is a little landlocked Buddhist country that sits between Nepal and India. The fact that Bhutan has remained very closed off from the rest of the world has helped the country to preserve its unique culture.
In Bhutan, happiness is measured.The country's "Gross National Happiness" Index helps to ensure the wellbeing of the people and is considered more important than GDP. Bhutan is comprised of 71% forest cover. It is the only country in the world that is not only carbon negative, but carbon neutral.
Religion
Vajrayana Buddhism is the main form of religion in Bhutan. 75% of the population are Vayrayana Bhuddhists, and approximately 25% are Hindu.
Language
The Bhutanese speak Dzongkha (aka – Bhutanese!) However you will find that the majority of people speak a good level of English. Kuzu Zangpo La is a popular greeting that you will hear from friendly locals – it means hello, and people will be thrilled if you say that back to them!
I mentioned to my guide that I was surprised at first that everyone seemed to know some English and he told me that it's compulsory to learn English from a very young age at school in Bhutan. Signs are always displayed in English, too. This makes navigating the roads and towns very easy.
Currency
The Bhutanese currency is ngultrum which is pegged against the Indian rupee. You can check the latest currency conversions here.
Travelling to Bhutan Checklist
Establish where you want to travel to in Bhutan and when


Understand the associated costs and fees for travelling to Bhutan


Identify an approved Bhutan Tour Company to travel with


Organise your visa, flights, and tour through your tour company


Confirm your trip and book your tour


Purchase travel insurance for Bhutan
Where to Travel to in Bhutan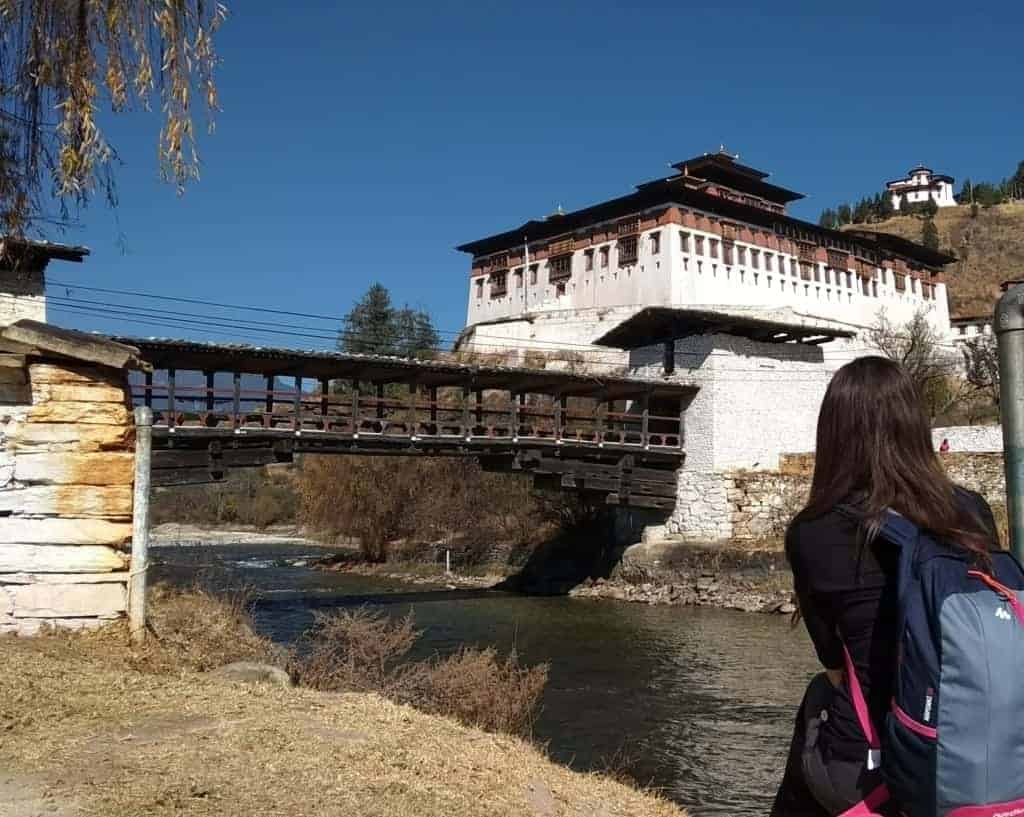 To travel to Bhutan, you must be accompanied by a Tour Guide. This means that once you pick a tour schedule that suits you, you will follow a somewhat set itinerary. A handful of beautiful places to consider incorporating into your Dragon Kingdom adventure are detailed below.
Thimphu
Thimphu is the capital of Bhutan. The city is a far cry from the crowded and congested capital cities that you may see in most countries. Thimphu is characterised by quaint, white-washed stone houses with red roofs that sit against a backdrop of idyllic county landscapes. Just 80,000 people call Thimphu home.
Most Western Bhutan itineraries dedicate a few days to exploring Thimphu. The Buddha Dordenma is one of the region's most iconic sights. This 51.5m bronze Buddha statue stands guard over the Thimphu valley, and is regarded by the Bhutanese as being the eight wonder of the world.
Paro
Paro is home to Bhutan's international airport. The town itself is rather small, and its entirety can be walked in just over an hour. The main draw for most people visiting Paro is of course, the Tiger's Nest Monastery (Paro Taktsang).
Punakha
Punakha is a large town in western Bhutan that is situated at the intersection of the Po Chhu and Mo Chhu rivers. The Punakha Dzong fortress that is located here is the largest of its kind in the country and was once the centre of all administrative and political activities in Bhutan.
There are many interesting villages and attractions scattered throughout the countryside close to Punakha. The nearby settlement of Wangdiphodrang is famous for its fertility temple (Chimi Lhakhang), dedicated to the divine madman of Bhutan.
Dochula Pass
Dochula Pass is a beautiful mountainous pathway situated between Thimphu and Punakha. You can enjoy breathtaking views over the Himalayas from here.
108 whitewashed memorial Chortens are scattered through the hillsides here in honour of the Bhutanese and Indian Soldiers that lost their lives in the 2003 war between the two countries. Every December, the vibrant Dochula Pass Festival is hosted here.
Eastern Bhutan
Bhutan is a pretty off the beaten path travel destination as it is. However, if you want to wander even further down the road less travelled, consider heading to Eastern Bhutan.
Eastern Bhutan is comprised of the regions of Trashiyangtse, Trashigang, Samdrup Jongkhar, Lhuntshe, Mongar, and Pemagatshel. It is less developed than the western part of the country and home to tribes and semi-nomadic yak herders (Brokpa). The Yonphula Lhakhang temple, the Ugen Ngag Choling Goempa , and the beautiful parks of Rangshikhar Goenpa are all worth adding to your East Bhutan radar.
Bhutan Trekking Adventures
The Snowman trek is one of the most challenging hiking trails in the world, and its footpaths traverse through the rugged wilderness of rural Bhutan. The trip is generally reserved for those more experienced hikers that are accustomed to trekking at high altitudes and in harsh conditions. It leads you over 11 mountain passes, to the remote region of Lunana.
Is Bhutan Expensive?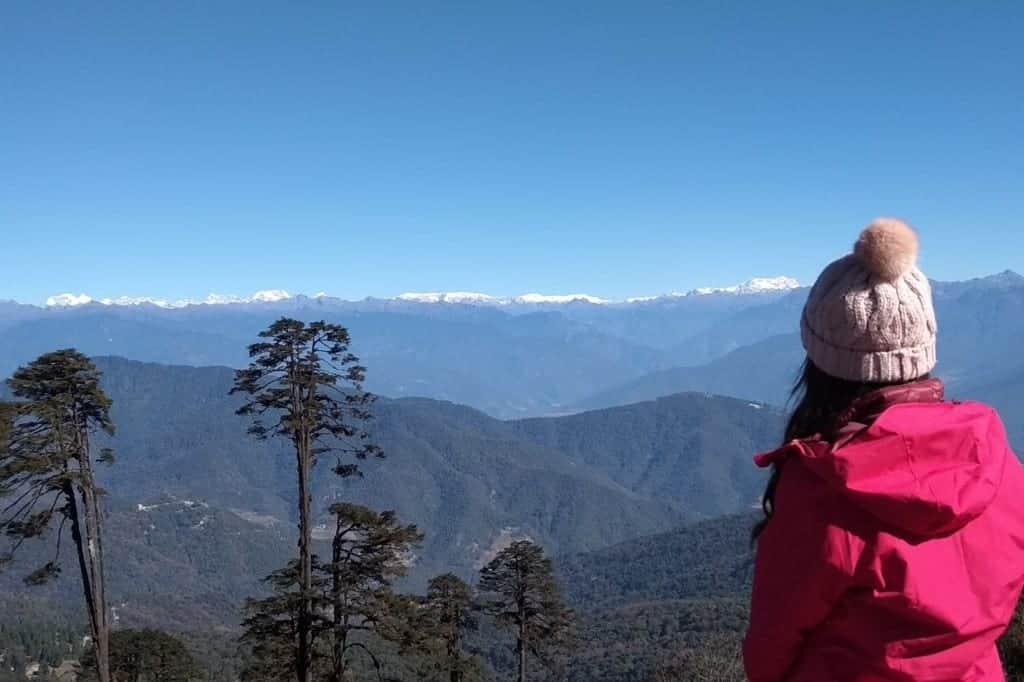 The cost of travelling is most people's concern when it comes to planning a trip to Bhutan. The Bhutanese government has decided to focus on "low impact, high value" tourism which is quite smart in many ways.
The ideology behind Bhutan's tourism strategy is to keep out the rowdy backpacker types and to protect the country against the negative impacts of mass tourism (as anyone who has travelled in South East Asia will attest to being a problem).
The daily fees associated with travelling to Bhutan may make the cost of travelling here seem exorbitant. However they are inclusive of virtually all aspects of your trip, so they are not as bad as they first appear. The Bhutan daily fee includes:
Accommodation at three and four star hotels
 
The use of a private Tour Guide and Driver


Three meals per day


Bottled water


Admission to most attractions


Sustainable development fee
The daily fee for travelling to Bhutan is $250 in the high season (Spring and Autumn), and $200 in the low season (Summer and Winter). When you consider everything that this includes, it isn't as expensive as it first seems.
A large portion of this daily fee is then invested in improving the well-being of the country's residents and into policies that commit to providing free healthcare, free higher education, and alleviating poverty.
Visa Fees
The daily fee for travelling to Bhutan is not all-encompassing. Remember that this fee is per person, per day. There are also additional costs to consider: single traveller supplement, flight costs, insurance costs, etc.
If you are travelling to Bhutan alone, an additional single supplement of $40 per day is due. If there are only two of you travelling to Bhutan, there is an additional supplement of $30 per day.
How Long Should I Spend in Bhutan?
Seven days is enough to get a feel for the culture of Bhutan. In an ideal world, you could spend 14 or 21 days exploring the mysterious Dragon Kingdom, but unfortunately the expense and daily fees may make this a little out of most people's budgets.
On a seven day tour of Bhutan, you will have enough time to fit 2-3 cities into your journey. Most travellers focus on the western part of the country so as to make the best use of their time and minimise time on the road getting from A to B.
If your finances and time permit, you can consider spending 14-21 days in Bhutan. This will give you the chance to explore the uncharted eastern regions, and tread in the footsteps of the nomadic Brokpa tribes.
Combining Bhutan and a Second Destination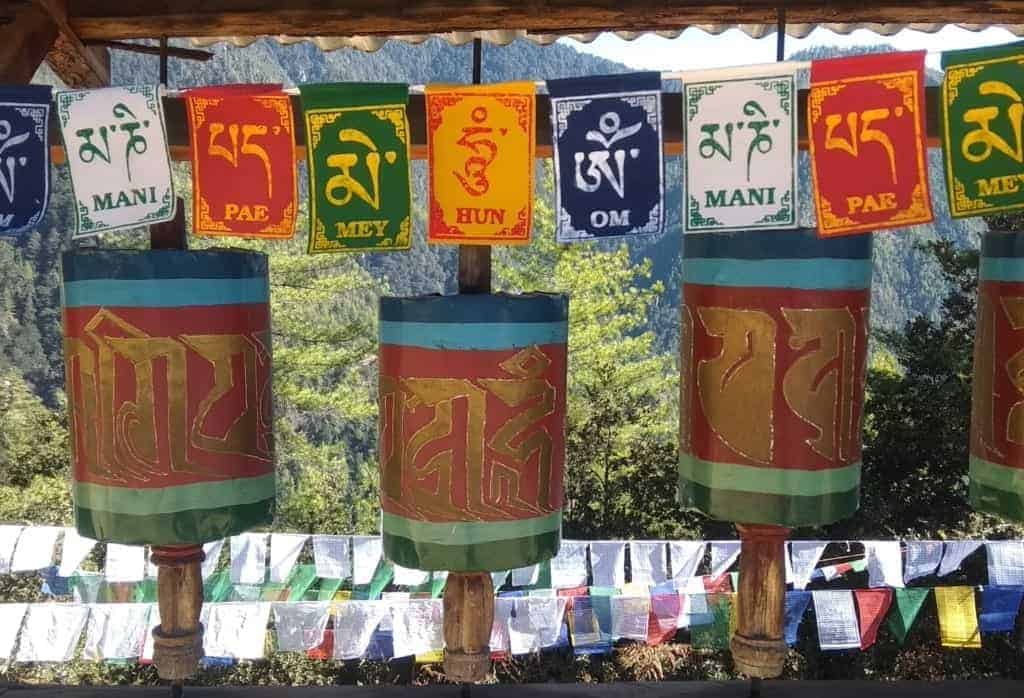 Bhutan is tricky to get to. There is no denying it. The fact that you can only fly to Bhutan from India, Thailand, Nepal, or Singapore can mean that you have an incredibly long journey from your home country to Paro International.
You may wish to consider breaking up your journey time by spending a few days in a specific place on either side of your Bhutan trip. For example, spend a long weekend in Bangkok and then fly to Bhutan from Bangkok, then spend a few days in Singapore on your return trip. I flew in and out of Bhutan via Singapore, and spent a week with friends in Singapore on either side of my trip.
When is the Best Time to Travel to Bhutan?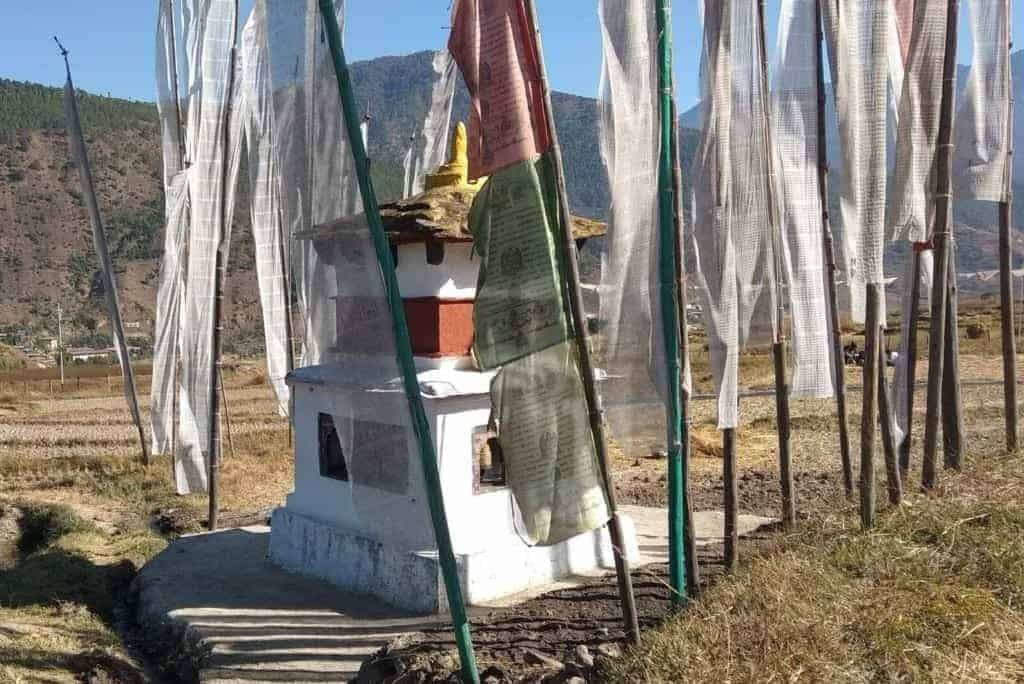 The best time to travel to Bhutan depends on your personal preferences. Costs may also be a factor, as the daily fees are substantially higher during the peak seasons. Do remember that the daily fee to travel to Bhutan is $250 per person during the high season, and $200 per person during the low season.
Spring
The months of March to May are a popular time to travel to Bhutan. The weather is warm and pleasant, and the valleys come alive with fragrant, colourful flowers.
The only caveat of travelling to Bhutan in the spring is that most tourists plan their trips during this season. Travelling in the low season enables you to have some tourist attractions practically all to yourself.
Daily Fee: $250
Summer
Monsoon season in Bhutan runs between June and August. Rainfall is heavy, and sometimes it rains all day. This season is probably best avoided.
Daily Fee: $200
Autumn
The Autumn months of September to November are a popular time to travel to Bhutan – especially if you plan on hiking or attempting the Snowman trek. Temperatures are still mild at this time of year, the air is crisp, and this season offers some of the best visibility over the Himalayas.
Daily Fee: $250
Winter
Winter is the low season for travelling to Bhutan. I travelled to Bhutan in December. The temperatures often drop below zero at night (in the morning it was minus 6 degrees centigrade!), but become quite mild in the day.
Snowfall is common in January and February, offering a beautiful canvas for photography. Sadly this also makes getting around a little trickier, as roads may be blocked, and diversions may be in place. If you are considering travelling to Bhutan in winter, it is preferable to travel in December.
Daily Fee: $200
Find an Approved Bhutanese Tour Company
To travel to Bhutan, you must organise your trip through a registered Bhutanese tour operator. You can find the list of recognised providers here. If you are reviewing using a company and they are not featured on this list then do not use them.
I travelled to Bhutan with Druk Asia and was very happy with them. My Tour Guide Tshering was part of the reason that my trip was so wonderful.
Do I HAVE to Take a Tour?
I can hear you wail "organised tour? But whyyy?" Unfortunately there is no route around this (with the exception of travellers from India, Bangladesh and the Maldives who can travel independently for now, though that is subject to change going forwards). Your visa issuance is dependent on the confirmed booking of a tour.
Fortunately, an organised tour in this context doesn't have to mean being lumbered with a group of strangers and trailing around following a guide with little flexibility of itinerary and schedule. If you choose to book through an independent tour company like the one I chose (Druk Asia) then your tour is completely privatised – meaning that it is only yourself/your group accompanied by a personal driver and guide.
The itinerary and schedule offered by these types of tours is more of a guideline than a stringent plan. As such, if you want to make any amendments to your itinerary, or you see anything that you'd like to stop and take a look at while travelling around then you absolutely can do that.
Organise Your Bhutan Visa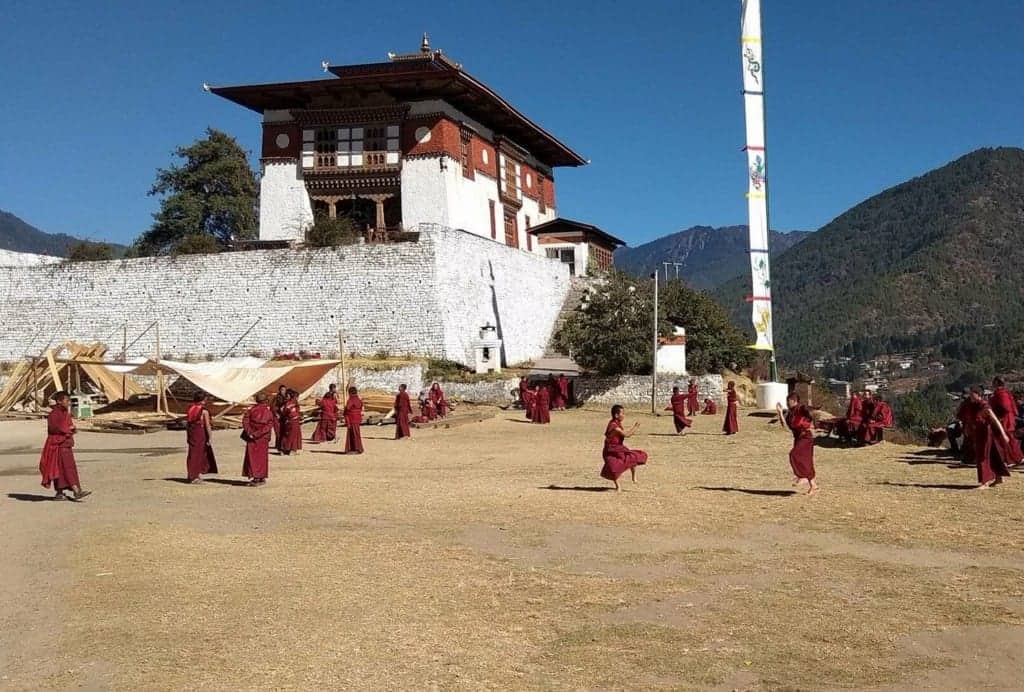 Travel to Bhutan requires a tourist visa to be issued by the Bhutanese government prior to your departure. However, the process is incredibly straightforward since this is organised entirely by your Bhutanese tour operator.
Are There Any Limits on the Number of Bhutan Visas Issued?
Contrary to popular belief, there is no cap on the number of tourists allowed to enter Bhutan each year (not sure where that rumor stemmed from but I hear it quite a lot!) Simply provide your passport details to your tour provider at the time of booking your trip, ensuring that you have at least 6 months validity on your passport and the tour company will liaise with the government on your behalf.
Your Bhutan visa will be issued at least two weeks prior to departure. I haven't heard of any incidents of a visa being declined so unless you're some international arms dealer, or you have a track record of being deported from foreign countries or overstaying your visas then I can't envisage you having a problem.
Book Your Flights to Bhutan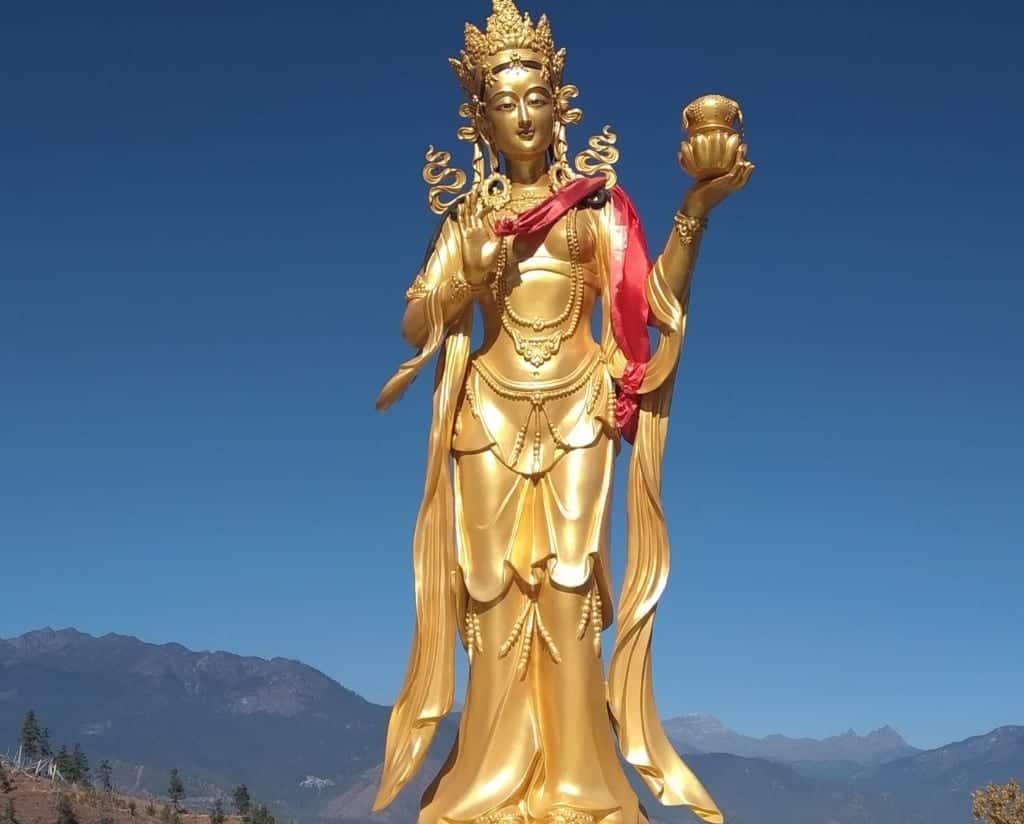 Druk Air is the only airline that offers flights to and from Bhutan. This is Bhutan's national carrier. You can book directly through the airline. However, your tour company will offer the option
There are only seven pilots in the world that are qualified to fly into Bhutan (more on that in the next section) and since only one carrier airline services the country, flights are extremely limited.
You can fly into Bhutan from Thailand (Bangkok), Singapore, Nepal (Kathmandu), Bangladesh (Dhaka) and India (Delhi, Kolkata, Bagdogra and Guwahati) only. Be aware that depending on your transfer airport, you may need a visa so check this in advance.
Do I Need Travel Insurance for Bhutan?
It is strongly advisable that you purchase a comprehensive travel insurance package for your trip to Bhutan. Buying travel insurance is good practice wherever you travel.
Try to purchase a travel insurance package with at least $1 million dollars worth of medical coverage. Comprehensive packages should also cover things such as theft or loss, cancellation, illness, or repatriation.
Check the small print of the policy that you are considering to see precisely what is covered. Some policies consider rafting, trekking, and sports as "dangerous activities" and these are not covered under their standard packages.
What to Wear
You should note that Bhutan is a very conservative country, and locals tend to dress modestly. Most Bhutanese people dress in traditional attire – gho for men, and kira for women.
You should try to dress modestly too while travelling in Bhutan. Most itineraries involve a lot of outdoor activities, so hiking and athletic wear tends to be the most appropriate attire. This guide on what to wear in Bhutan discusses what to pack by season.
What is Bhutanese Food Like?
Bhutanese food is very unique and probably quite unlike anything that you have sampled anywhere else in the world. The local cuisine does take some influences from the food cultures of nearby India, Tibet, and China.
A typical main dish in Bhutan is prepared with meat (commonly chicken or pork), and served with rice or buckwheat pancakes. The food is traditionally quite spicy and prepared with a lot of chilis, but you will find that a lot of touristic restaurants and hotels prepare milder tourist versions for travellers.
Popular dishes to look out for while in Bhutan are detailed below:
Momos – Dumplings commonly made with beef and eaten with spicy sauce


Ema Datshi – Bhutanese Chili Cheese – Served with practically every meal!


Chogo – Hard dried Yak's cheese eaten as a snack, often found at road stalls


Kewa Datshi – A spicy side dish made with melted cheese, potatoes, and chilies


Goen Hogay – Bhutanese cucumber salad


Jasha Maru – Spicy chicken stew, commonly served with red rice. 

Travelling in Bhutan with Dietary Restrictions
It is reasonably easy to travel in Bhutan with dietary restrictions. Many traditional Bhutanese main courses are meat-focused, however many Bhutanese people with strong Buddhist beliefs are vegetarian anyway.
Accommodation choices in Bhutan are limited, and most hotels tend to serve continental/western style buffet dining for each meal. If you have any specific dietary restrictions, you can also discuss these with your Bhutanese tour operator before you travel.
Assorted FAQs About Travelling to Bhutan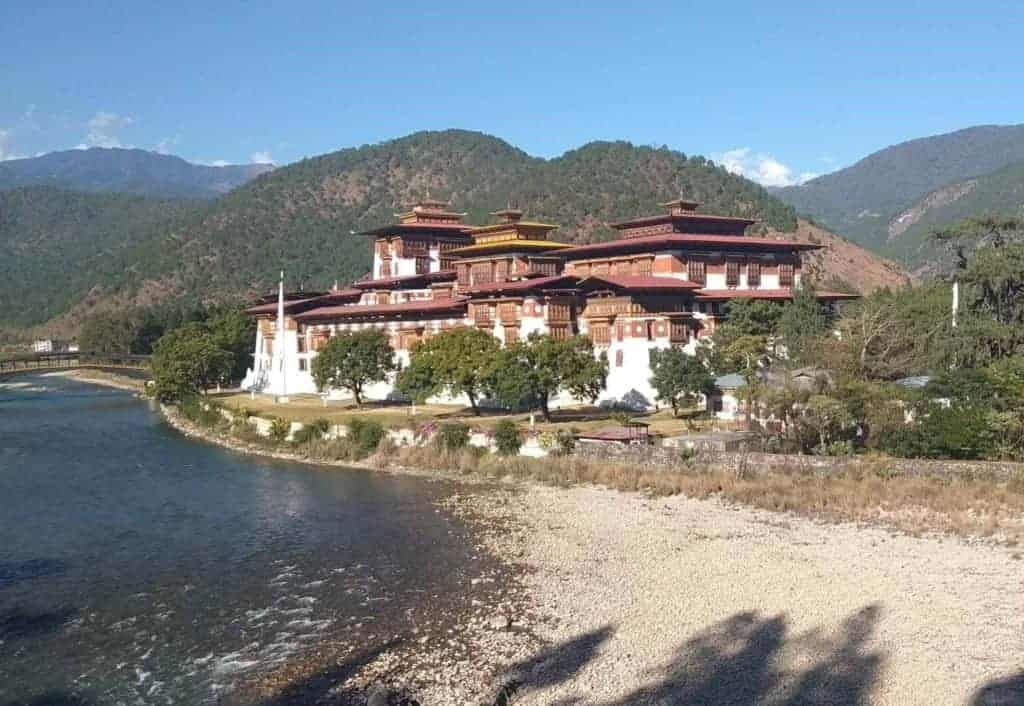 An assortment of questions and concerns that may be rolling around in your mind before you travel to Bhutan are answered below.
Is Bhutan Safe?
Bhutan is incredibly safe. I have travelled to almost 50 countries now as a solo female traveller and I would say that Bhutan is one of the places that I have felt most comfortable. I feel as though you could be wandering around Bhutan at any time during the day or night and you would never feel uneasy (not necessarily saying that you should do that – just an example!)
The only thing to watch out for is perhaps the stray dogs. I noticed that there were groups of them in both major towns and in rural areas. When I was walking in a village close to Paro I watched a group of dogs chase some guy on his bicycle! As someone who is terrified of dogs, that is something of a nightmare for me. You need to remember that these are wild animals, not domesticated pets so try to give them a wide berth.
Is Landing at Paro International Airport Dangerous?
Did you know that Park international airport is considered to be one of the most dangerous airport landings in the world? (I'm sure my mum really appreciated me calling to tell her that right before I flew to Bhutan!) There are just a handful of pilots (circa 7 or 8) in the entire world that are qualified to land there.
Landing here means weaving in and out of the Himalayan mountains and because this is so challenging, the pilots have to use manual techniques (i.e their eyesight and skills) to land instead of relying on any aviation technology as is typically the case.
Flights into and out of Bhutan must occur in the daytime. (My flight from Singapore to Bhutan departed at 3am in order to land before midday!) There are no documented incidents with Drukair however, so you should feel assured that you are in safe hands.
Is it Difficult to Acclimatise to the High Altitudes?
In Bhutan, you are going to be predominantly travelling amid altitudes that exceed 3000m. To be honest, everybody is different with regards to how this affects them. Typically your body takes a day or two to acclimatise and as such, your itinerary will likely adopt a slower pace during this time.
For me, the only time I really felt the impact of this was when hiking the Tiger's Nest in Paro and quickly ascending from elevations of 900m to over 4,100m. Due to the thin air, I found it more difficult to breathe and though I am someone who usually considers themselves as being quite physically fit, here I had to rest a little after every few paces.
I found that there were more pharmacists than I expected there would be in Bhutan (at least in large towns and cities) and most of them seem to speak a good level of English.
If you are concerned about the higher altitudes, you could always visit your Doctor prior to departing for Bhutan and get some altitude tablets "just in case", or alternatively, find them locally if you are feeling a little poorly. Herbal remedies for nausea such as ginger pills are also often a good call.
Is the Tiger's Nest a Difficult Hike?
The hike to the Tiger's Nest is challenging, but it is accessible for most people. During my ascent, I saw people of all ages hiking towards the monastery. You will probably be in amazement when you arrive and you see how many elderly monks are bounding along the stairs and completing the hike in record time, all while wearing full flowing robes!
There are two different trails that lead you to the monastery – one is longer in distance and leads you along a relatively flat, steady winding path. The other is a little steeper and requires an element of climbing but gets you there much faster.
Perhaps the most difficult part of the hike is the fact that you ascend quickly to high altitudes – the hike will see you hike from 900m up to 3,100m in a matter of hours. There is also a section of the trail that sees you descend down 400 steps, and then ascend up another 400. Rest frequently, drink plenty of water, and wear comfortable footwear, and you ought to be just fine. I have written a more detailed guide to hiking the Tiger's Nest here.
Is it Intrusive Having a Guide and a Driver?
Not at all! In fact, travelling with these two people felt more like being on a road trip with local friends than it felt as though I was constantly lumbered with strangers. So many travellers are always saying how they want to explore the places that they visit "like a local" – well Bhutan is your perfect chance to do just that!
I was really pleased that my guide was able to teach me so much about Bhutanese culture that I perhaps wouldn't have otherwise known, and that he could take me to his favourite beef momo restaurants and coffee shops in Thimphu.
Are the Facilities Okay? How is the Hygiene?
Facilities and cleanliness at hotels is generally very good. You will note that bathrooms at smaller, "local" restaurants or along hiking trails are typically squat style and toilet paper and soap may not be provided, For this reason, it is advisable to always carry tissue and hand sanitizer.
Is There Wifi Available in Bhutan?
Internet and WiFi is not as widely available in Bhutan as it is in most places and you should remember that Bhutan is still a developing country. Most hotels do offer wireless internet, however, the connection is generally not that strong and its reach is limited to the reception or communal areas of the hotel.
A few coffee shops and restaurants in major cities have WiFi but it's not the norm. You should look at your time in Bhutan as an opportunity to disconnect from the modern world and unwind.
Can I Get a Local Sim Card in Bhutan?
You can pick up a SIM card on arrival in Thimphu in order to stay connected to those at home while travelling in Bhutan. I picked up a Tashi Cell prepaid SIM card for 350 ngultrum. The price included local call time and 400mb of mobile data. The connection was relatively stable and good enough for checking emails and browsing social media.
How Much Money Should I Take to Bhutan?
The majority of your trip cost is covered within the daily fee, and so you will have very few additional expenses during your stay in Bhutan. It is generally recommended that you tip your guide and driver (optional, but highly recommended and polite of course!) So budget a little for that. Otherwise, your only other extra consideration is for souvenirs. For a week or two, I would say that approximately $100 USD worth of ngultrum would be sufficient.
Carrying and Converting Money in Bhutan
You will find a currency exchange upon arrival at Paro International Airport and another in Thimphu. The latter offers more competitive rates (ask your guide to take you there) but the former is not so expensive or inflated in its prices as compared to what you would typically find with airport kiosks.
Try to change a little currency at Thimphu as you will not find exchanges when you venture into the more rural parts of the country. Cards (either debit or credit) are not widely accepted in Bhutan and although there are some ATM machines scattered around, many do not accept international cards, or you may find that they are broken and out of service.
Cards are not widely accepted in Bhutan. You will find stores and hotels that accept credit and debit cards in the major cities but it is not commonplace and often means that you will incur an additional fee.
Can I Go to Bhutan Alone? As a Solo Female?
As above you cannot travel completely alone in Bhutan since the terms of your entry to the country specify that you must be accompanied by a Driver and a Guide. However, this travel style is perfectly suitable for independent travellers.
I travelled to Bhutan as a solo female and I felt completely safe for the duration of my time in the country, as well as comfortable in the presence of my guide and driver.
Bhutan Travel Guide:
Pin it For Later!
Have any further questions about travelling to Bhutan? Please don't hesitate to contact me. My trip to Bhutan has been one of my favourite travel adventures to date – so much so, that I am planning a return trip to the remote eastern plains in 2021. Safe travels! Melissa xo
Disclaimer: High Heels and a Backpack is in no way affiliated with any of the companies mentioned in this article. Thank you.
---