If you are looking for a Bhutan travel guide to help you plan your trip to the mysterious Land of the Thunder Dragon then look no further. This comprehensive guide hopes to assist you with all aspects of planning and booking your trip.
Bhutan Travel Guide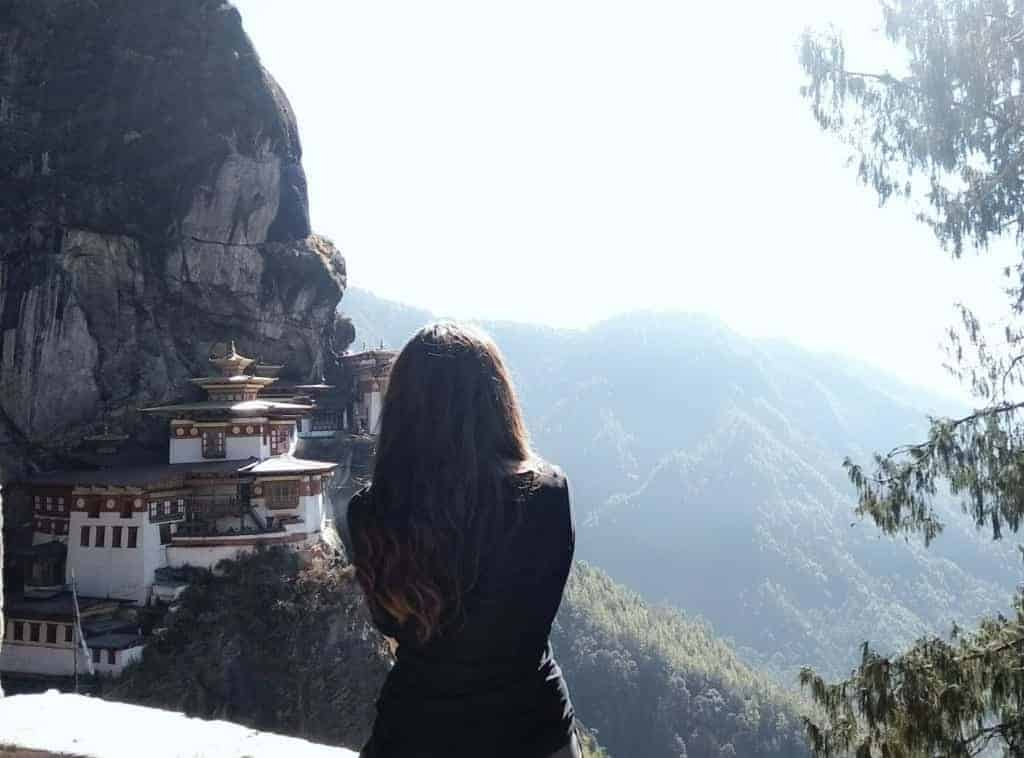 The little kingdom of Bhutan is a landlocked, mountainous country that is nestled deep in the heart of the Himalayas. It shares borders with China, to the north, and India to its east, west, and south.
This is one of the least-visited countries in the world, making Bhutan a wonderful travel destination if you enjoy venturing far off the beaten path. Up until 1974, Bhutan was a completely closed country.

Bhutan saw 71,807 international tourists in 2018 which was a growth versus the previous years. However, when you compare Bhutan to somewhere like France, which sees more than 207.3 million international arrivals, you gain a perspective about how untapped Bhutanese tourism is.

The little country closed its doors for over two years during the global pandemic and on the 23rd of September 2022, you can expect its much-anticipated re-opening. In light of the reopening, there are a few changes to expect.

The costs of travelling to Bhutan have increased by more than 300%. PCR tests are also required of all international visitors, whether they are vaccinated or not. Everything you need to know has been broken down in this post.
Planning your trip to Bhutan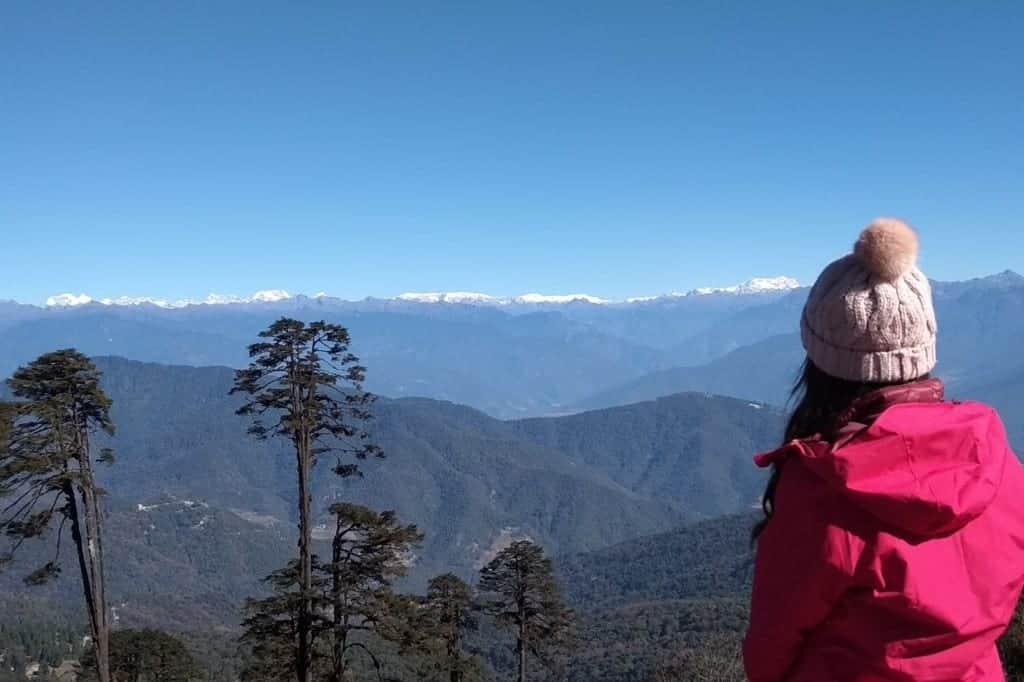 The fact that Bhutan has remained very closed off from the rest of the world has helped the country to preserve its unique culture. Traveling here provides an experience like no other.

Even if you have traveled to nearby Nepal or Tibet, you will likely find that Bhutan feels remarkably different in many ways. Bhutan has a population of 771,612 people, with more than 114,000 people living in the capital of Thimphu.
This is not a country where you can simply book flights and rock up to and travelling to Bhutan requires plenty of advanced planning. You must travel to the country with a tour company and you need to have your tourist visa approved well in advance of your intended departure. This section of this Bhutan Travel Guide will look at everything you need to consider when you are in the initial stages of planning your trip.
The cost of travelling to Bhutan & 2022 price increases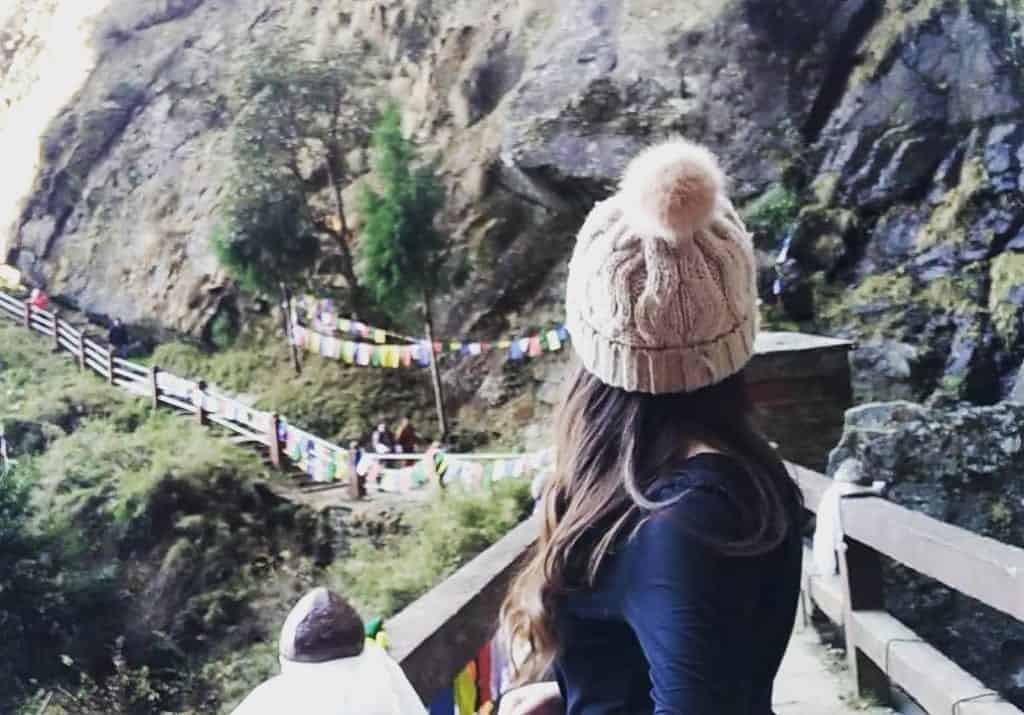 Any mention of travelling to Bhutan is synonymous with questions about the cost. Travelling to Bhutan is expensive and this is far from being a budget travel destination.

The Bhutanese tourism board focuses on high-value, low-impact tourism. In other words, they want to focus on tourists that spend plenty of money and have a positive impact on the country's economy. At the same time, they seek to mitigate the risk of over-tourism and the problems it can bring.

This is understandable and when you compare Bhutan with somewhere like Thailand or Vietnam, you can see the difference. Bhutan's unique culture has not changed in any way as a result of outside influences. There are no touristic restaurants here, scams, or markets selling tourist tat.

Still, this tourism strategy is not the most friendly for your wallet! Bhutan has always been known as an expensive travel destination but in 2022, costs have increased further.
Previously, all visitors to Bhutan had to pay a sustainable development fee (SDF) of $65 per person per day. As of 2022, this has been increased to $200 per person per day.

Similarly, previously, travelling to Bhutan meant having to pay a minimum daily rate of between $200 and $250 a day (depending on the season). This then included all hotels, meals, tour guide and driver services, and bottled water.

Things have changed in 2022 and this rate no longer exists. Instead, visitors to Bhutan have to pay for their accommodation, food and localised expenses themselves.
Exact costs can vary depending on your specific trip schedule. However, you can generally expect to see an increase of more than 300%. Solo travellers can expect to spend as much as $400 or $500 a day to visit Bhutan while couples should expect to pay around $350 a day per person.
Best time to travel to Bhutan
Bhutan is a wonderful year-round travel destination and there is arguably no such thing as a bad time to visit the country. Spring is a nice time to travel as the temperatures are mild and pleasant, and the valleys are filled with lush, verdant nature and fragrant, colourful flowers.
The only downside is that this is the most popular time of year to visit the country. This is reflected in flight prices being at their highest. While Bhutan is never crowded, you will see the most tourists at this time of year as compared to in winter when you will find you have some places virtually all to yourself.

The summer season runs between June and August and the rainfall can be heavy, with frequent showers. This season is perhaps best avoided if you can be flexible with your schedule.
The Autumn months in Bhutan are just as popular as during the spring season. Temperatures are mild, the air is crisp, and this season offers some of the best visibility over the Himalayas. This makes Autumn the perfect time to travel to Bhutan if you are planning on doing a lot of mountain trekking and hiking.
Winter is the coldest time of year to visit Bhutan and the period that sees the fewest tourists, but it is a period that should not be written off entirely. At this time of year, the temperatures often dip below zero at night but get milder during the day.

So, packing layers is essential! Hotels tend to have central heating and electric blankets so provided that you pack warm sleepwear, you should be cosy and snuggly when the temperatures drop. Snow is not unheard of in January and February, particularly in high-altitude areas.
Bhutan entry requirements for 2022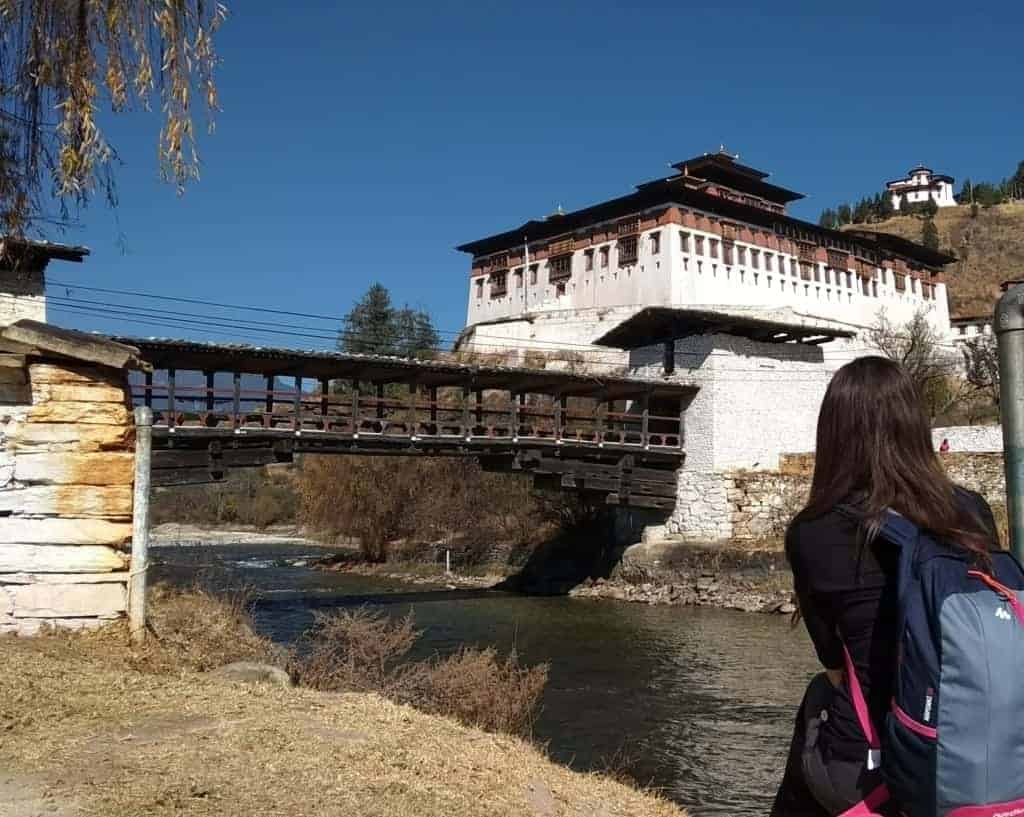 As of June 2022, visitors to Bhutan no longer need to show proof of a negative PCR test upon arrival. You may be required to show proof of vaccination upon entry. Your passport must have at least six months of validity after your intended departure date from Bhutan.

Visas are issued on arrival however they need to be applied for by your tour company in advance of your trip. Carry the confirmation about your tour operator in Bhutan just in case you are asked to show this.

You will be required to complete an immigration form at Paro International Airport when you land in Bhutan. It is a good idea to check any specific requirements that may apply via your government tourism website.

You can check the UK government travel advice for Bhutan here. The USA government travel advice for Bhutan is detailed here.
Organising a Bhutanese visa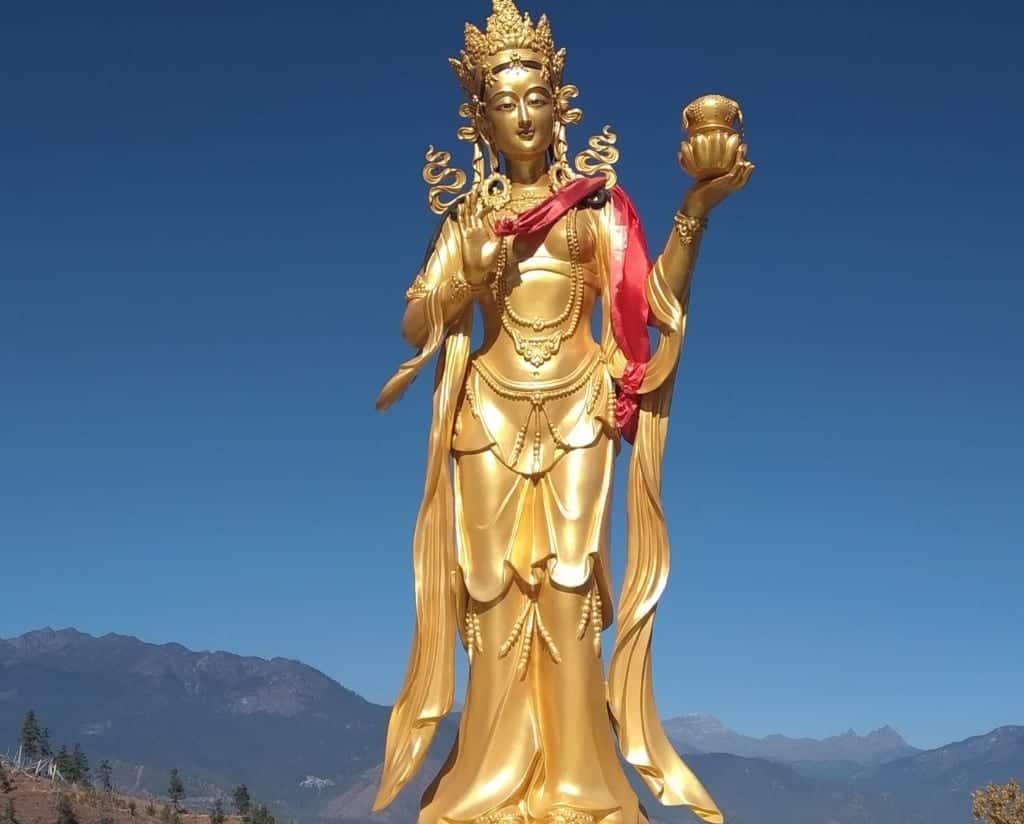 Travel to Bhutan requires a tourist visa to be issued by the Bhutanese government prior to your departure. However, the process is incredibly straightforward since this is organised entirely by your Bhutanese tour operator.
Once you have booked and paid for your tour, you will be asked for your passport information. You generally just need to provide your tour company with your passport number and expiry date but you may be asked to send a photo of the information page.
The tour company will then liaise with the government on your behalf. Don't worry if you don't hear anything for a while – you will usually receive confirmation that your visa has been approved two weeks before your departure date.

If you are worried about this, then rest assured, that it is extremely rare and unlikely for a visa to be refused for any reason. There is also misinformation floating around some travel forums and websites that state that only a limited number of visas are issued per year. This is completely false.
Finding a reputable Bhutan tour company
With the exception of travellers from neighbouring India who are permitted to explore Bhutan independently, all visitors to Bhutan must travel with a tour company. Travelling independently is not allowed.
In the future, rules may also change to affect Indian travellers' ability to travel to the country alone. So, now is the best time to visit! If you find a Bhutan tour company that you would like to travel with, double-check and make sure that they are on an approved list of Bhutan tour operators. If you do not see your tour company listed here, do not use them!
It is worth noting that although you may groan at the concept of having to travel with a tour company if you are used to travelling independently, Bhutan tours are private. In other words, you and your travel companions have the use of a local guide and driver entirely to yourselves.

It is not the case that you have to join a group of strangers and follow a group around. You may find that travelling with a guide actually adds to your experience. After all, you have a local expert on hand to ask for recommendations on the best places to eat, drink and hang out, and to enquire about local customs and traditions.
How long to spend in Bhutan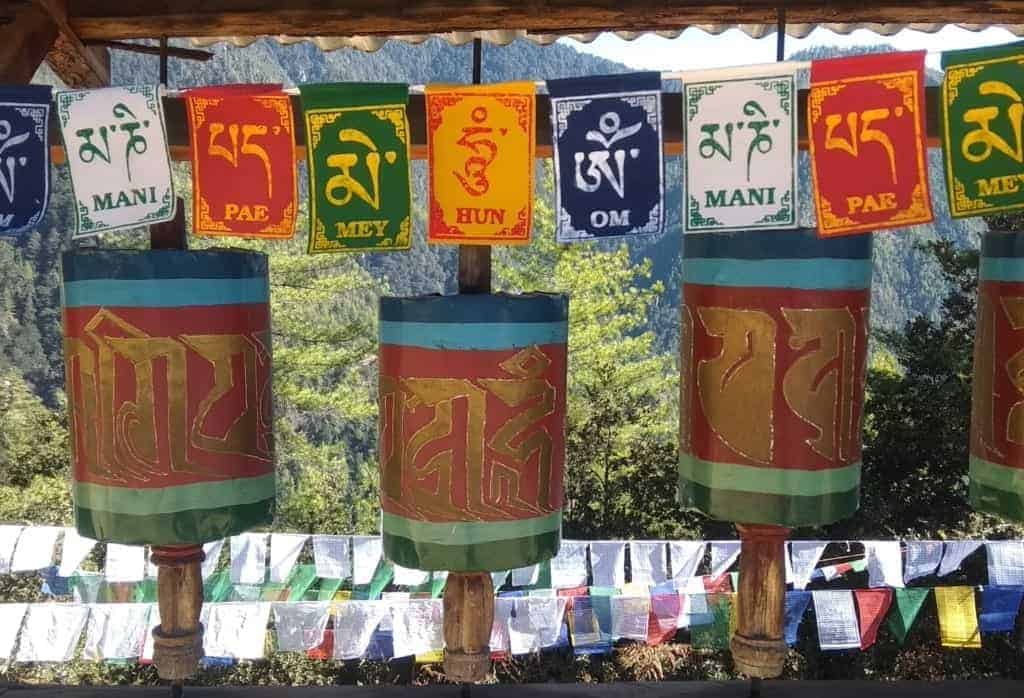 Most visitors to Bhutan tend to spend between 5 and 7 days in the country. This is largely due to the cost of travelling here.
However, this is also a good amount of time to get a feel for the country and its culture. Be prepared for a jam-packed itinerary with plenty of walking and outdoor exploration.
If you have more vacation time to spare, you may want to consider combining your Bhutan trip with a visit to other nearby countries with lower travel costs. For instance, India, Nepal or Singapore.
Drawing out a Bhutan travel itinerary
Paro is home to the only international airport in Bhutan so most Bhutan itineraries start and end here. Local tour companies will have a list of suggested itineraries on their websites, however many are also willing to work with you in order to help you craft your perfect itinerary.

Arguably the most common route starts in Thimphu, takes you to Punakha, and then ends in Paro with a hike to Paro Taktsang, the Tiger's Nest. Thimphu is the country's capital.

However, it is a far cry from being a congested Asian city and has a sleepy, small mountain town vibe about it. The city is characterised by quaint, white-washed stone houses with red roofs that sit against a backdrop of idyllic county landscapes.
You are likely to spend a few days in Thimphu as there is plenty to see and do here. The Buddha Dordenma is one of the region's most iconic sights.

This 51.5m bronze Buddha statue stands guard over the Thimphu valley and is regarded by the Bhutanese as being the eighth wonder of the world. You will also find the National Memorial Chorten here.

This is a whitewashed shrine built in honour of Jigme Dorji Wangchuk, the third King of Bhutan. From Thimphu, you will likely pass through the scenic Dochula Pass, and visit Punakha Dzong – the largest fortress in the country. Back in Paro, you will hike to the infamous Tiger's Nest before rounding off your trip.
Venture further off the beaten path in Bhutan
Not that many people visit Bhutan anyway. However, a lot of those that do, do all follow a similar route. (Paro – Thimphu – Punakha – Thimphu).
If you want to go really off the beaten path, you can consider visiting Eastern Bhutan. This is made up of the regions of Trashiyangtse, Trashigang, Samdrup Jongkhar, Lhuntshe, Mongar, and Pemagatshel.

It is less developed than the country's main cities and is home to several indigenous groups and nomadic tribes. The Yonphula Lhakhang temple, the Ugen Ngag Choling Goempa , and the beautiful parks of Rangshikhar Goenpa are all worth adding to your East Bhutan radar.
Visiting Eastern Bhutan is an amazing experience but do keep in mind that you will have to take internal domestic flights to reach this part of the country. In general, an itinerary here necessitates spending 10-14 days in Bhutan at least, which can quickly make your travel costs add up.
Booking your flights and getting to Bhutan
Druk Air is the only airline that offers flights to and from Bhutan. This is Bhutan's national carrier. You can book directly through the airline.

However, your tour company will offer the option of organising this for you too. Economy and business class seats are available.

There are only seven pilots in the world that are qualified to fly into Bhutan because the flight landing here is challenging and requires weaving between narrow mountain passes. Since there is only one airline that flies to the country, flights are extremely limited.
You can fly into Bhutan from Thailand (Bangkok), Singapore, Nepal (Kathmandu), Bangladesh (Dhaka), and India (Delhi, Kolkata, Bagdogra, and Guwahati) only. Be aware that depending on your transfer airport, you may need a visa for the country that you transit through so so check this in advance.

Flights into and out of Bhutan must occur in the daytime. So, you may find that you must depart Thailand, Singapore, or India very early in the morning. (i.e. 3, 4, or 5 am!)
Check for events that take place during your trip
Tsechus or masked dance festivals are a large part of Bhutanese culture. They are one of the best reasons to visit Bhutan in themselves!
These are ancient dance festivals whereby dances are performed to the backing of live, traditional music by Buddhist monks in elaborate dress. They date back as far as the 16th century and were often performed to shun evil spirits.

There are a few exceptions where the dances are performed by the Bhutanese army rather than Buddhist monks. For instance, the Druk Wangyel festival takes place every December at the Dochola pass and remembers those who lost their lives in the wars between Bhutan and India.
If you have some flexibility with your travel dates, it is worth booking your trip so that it coincides with a masked dance festival. You can ask your tour operator to recommend to you the best festivals to attend.

There is usually something going on every month. You can also check the Bhutan event schedule here to search events by month and region.
Selecting your accommodation in Bhutan
There are a limited number of hotels in each tourism destination in Bhutan. The government has ruled that only hotels with ratings of three stars and above can serve tariff-paying tourists (i.e. the majority of international tourists).
Typically, when you book your Bhutan tour, your tour company will choose your hotels for you based on whatever three and four-star hotels are available. However, if you do your own independent research and find hotels that you prefer in each destination, you can communicate your preferences with the tour company.

Generally speaking, the further in advance you book, the more availability and flexibility if you have. If you book your trip close to your intended departure dates in the peak season, you may find that your hotel places you wherever they can. There are a couple of five-star hotels in Bhutan which of course, come with a higher price tag.
Bhutanese currency and money matters
The Bhutanese currency is the ngultrum (BTN) which is pegged against the Indian rupee. You can check the latest currency conversions here.

As of August 2022, one British pound equates to 93.92 Bhutanese Ngultrum. One US dollar equates to 79.83 Bhutanese Ngultrum. One Indian rupee equals one ngultrum and rupees are widely accepted here.
You will probably find it difficult to exchange money into Bhutanese Ngultrum from outside of the country. If your local currency exchanges are able to get hold of this currency at all, they will likely have to order it in, meaning that you have to wait several weeks.

So, the best thing to do is to exchange any money that you need when you arrive in Bhutan. The rates at Paro International are not competitive so you are better to exchange money in Thimphu.

US Dollars are widely accepted in Bhutan and you may find that people accept them as a form of currency in artisanal markets, certain stores, etc. It is easy to change US dollars, euros, British pounds, Australian dollars, Canadian dollars, and other major currencies here, though some currencies from smaller regions may not be accepted.

Keep in mind that you do not have to carry a lot of money with you to Bhutan as you pay for about 95% of your expenses in advance, before departing from your home country.
Using your ATM cards in Bhutan
Cards are not widely accepted in Bhutan. There are a couple of ATMs in Thimphu that accept international visas and MasterCard but outside of that, it is difficult to find ATMs. You may find a lot that are broken or out of order. Cards are not widely accepted here.
Do notify your bank in advance of travelling to make sure that your transactions are not blocked. It is a good idea to open a borderless bank account through Wise, Revolut, or Charles Schwab in advance of your trip to reduce international banking fees.
Purchase comprehensive travel insurance ahead of your trip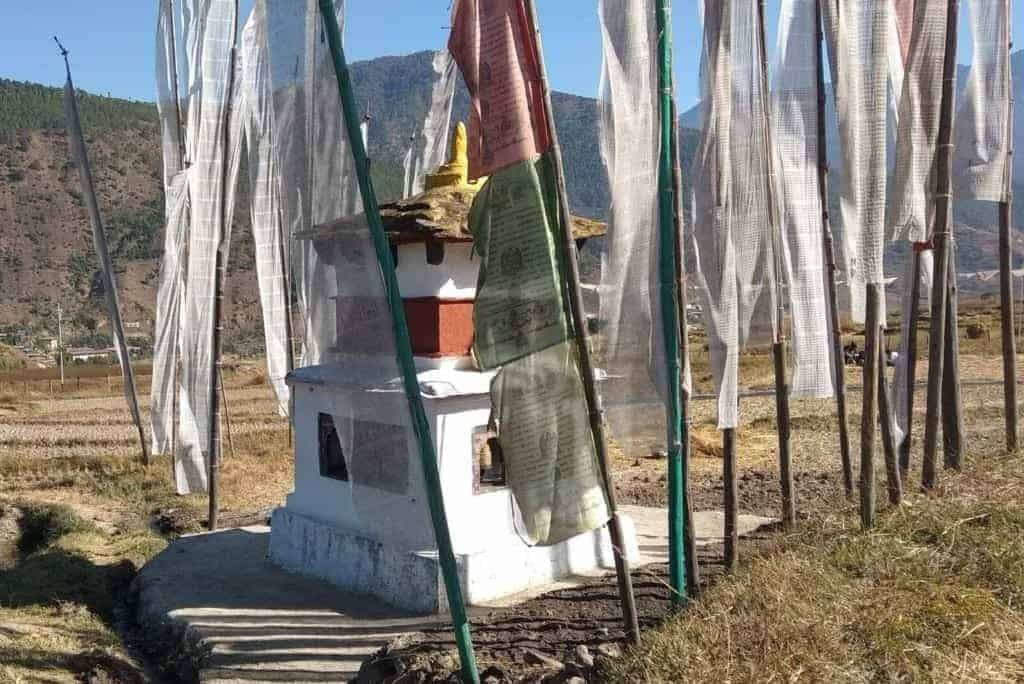 It is prudent to purchase comprehensive travel insurance before travelling anywhere in the world and the same is true when visiting Bhutan for the first time. Unfortunately, despite the best will in the world, you can never know what is around the corner.

Be sure to purchase a comprehensive insurance plan ahead of your trip that includes at least $1 million US dollars worth of medical coverage. Make a note of your reference number and policy details.
If you need assistance in Bhutan, this will be the first thing you are asked for. Comprehensive packages should also cover things such as theft or loss, cancellation, illness, or repatriation.
Check the small print of the policy that you are considering to see precisely what is covered. Some policies consider rafting, trekking, and sports as "dangerous activities" and these are not covered under their standard packages.
Packing for Bhutan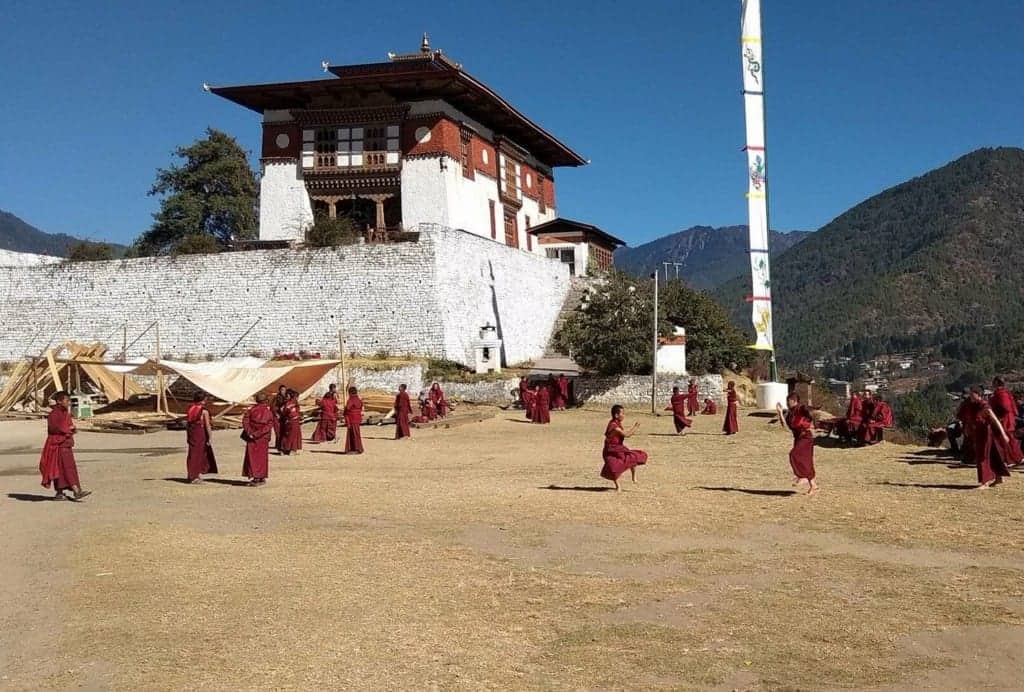 You should note that Bhutan is a very conservative country, and locals tend to dress modestly. Most Bhutanese people dress in traditional attire.
This is a gho for men and Kira for women. The men's gho is a knee-length robe that is tied at the waist, whereas the women's Kira is an ankle-length skirt.

Bhutanese people are very warm and welcoming. However, it is a good idea to try to dress modestly while travelling here too. Very short shorts and skirts are not appropriate and may attract a lot of stares.
Most itineraries involve a lot of outdoor activities, so hiking and athletic wear tend to be the most appropriate attire. This guide on what to wear in Bhutan discusses what to pack by season.

Packing comfortable walking sandals or hiking boots (depending on the season) is imperative. You will spend a lot of time exploring on foot in rugged terrain.

Layers are crucial in Bhutan, particularly in the winter when it can be very cold during the early mornings and evenings and then warmer in the day. When hiking in areas of high altitude, you will note changes in the temperature so it is a good idea to pack layers that you can add or remove as necessary.
Prepare for high altitudes and pack a comprehensive medical kit
Bhutan is situated at a higher altitude than you are probably used to but still, you are unlikely to experience sickness or feel the effects of the altitude most of the time. When you land at Paro International airport, you are greeted with an initial altitude of 2200 meters.
Most valleys and cities are at altitudes between 2,000 and 2,500 meters. The highest altitudes that most tourists here experience are at the Tiger's Nest, which takes you to an altitude of 3,100m.

For that reason, it is a good idea to leave the hike until the end of your itinerary, rather than the beginning, so that you are already somewhat accustomed to being in the mountains. When hiking the tiger's nest, you may find that you get out of breath faster, and it feels more difficult to hike even short distances.

Other symptoms of altitude sickness and sensitivity include headaches and lightheadedness. It is a good idea to carry paracetamol or whatever other pain meds you prefer, just in case you get a headache.

You can also take altitude tablets, which can be purchased from pharmacies in Bhutan. Herbal remedies such as ginger, are often a good call too.
Exploring Bhutan
Landing at Paro International Airport
Did you know that Park international airport is considered to be one of the most dangerous airport landings in the world? There are just a handful of pilots in the entire world that are qualified to land there.
Landing here means weaving in and out of the Himalayan mountains. Because this is so challenging, the pilots have to use manual techniques (i.e their eyesight and skills) to land instead of relying on any aviation technology as is typically the case.
Flights into and out of Bhutan must occur in the daytime. However, there are no documented incidents with Drukair so you should feel assured that you are in safe hands.
Safety in Bhutan
Bhutan is a very safe country and crime, including petty crime such as bag snatching and petty theft, is very rare. Still, you should take the same precautions for your safety and use the same common sense that you would when travelling anywhere else in the world.

In other words, always watch your belongings, don't walk alone at night, particularly not down secluded, dimly lit streets, etc. It should be noted that there are a lot of stray dogs around Paro, Thimphu, and in rural areas and they often wander around in packs.
Remember that these are wild animals, not domesticated pets, so give them a wide berth. You might want to consider investing in a theft-proof backpack to ensure the safety of your things when you travel. These come with TSA-approved locking systems and are both slash and waterproof.
Religion in Bhutan
Vajrayana Buddhism is the main form of religion in Bhutan. 75% of the population are Vajrayana Buddhists, and approximately 25% are Hindu. 
In Bhutan, you will often hear religious stories that sound obscure. However, as far as the Bhutanese are concerned, these are factual things that actually happened.
For example, one of the most revered figures in local Buddhism is a Tibetan monk known as Drukpa Kunley. He is said to have fought off enemies by zapping them with a lightning bolt shot from his genitals!
Similarly, Guru Padmasambhava is said to have found the site of the Tiger's Nest monastery when he flew there on the back of a flying Tigress. Do be respectful when locals share these stories with you.
Language
The Bhutanese speak Dzongkha (aka – Bhutanese!) However you will find that the majority of people speak a good level of English. Kuzu Zangpo La is a popular greeting that you will hear from friendly locals – it means hello, and people will be thrilled if you say that back to them!
In Bhutan, it's compulsory to learn English from a very young age at school in Bhutan. Signs are always displayed in English, too. This makes navigating the roads and towns very easy. 
Tipping in Bhutan
Now that the minimum daily spend fee in Bhutan has been waivered and you have to pay dining costs locally, it is important to be aware of tipping etiquette. Most local cafes and restaurants now add a 10% service fee to the bill to cover tips to the staff. If you want to add more, that is at your discretion.
Tipping your guide and driver in Bhutan is discretionary. However, most tourists tend to tip and it can be awkward if you don't. As a rule of thumb, a "good" tip is between 200 and 500 ngultrums per day each for your driver and your guide. That is between $2.50 and $6.50.
Sample all the Bhutanese food you can eat!
Bhutanese food is very unique. The local cuisine does take some influences from the food cultures of nearby India, Tibet, and China. 
A typical main dish in Bhutan is prepared with meat (commonly chicken or pork), and served with rice or buckwheat pancakes. The food is traditionally quite spicy and prepared with a lot of chilis.
However, you will find that a lot of touristic restaurants and hotels prepare milder tourist versions for travellers. Popular dishes to look out for while in Bhutan are detailed below:
Momos – Dumplings commonly made with beef and eaten with spicy sauce


Ema Datshi – Bhutanese Chili Cheese – Served with practically every meal!


Chogo – Hard dried Yak's cheese eaten as a snack, often found at road stalls


Kewa Datshi – A spicy side dish made with melted cheese, potatoes, and chilies


Goen Hogay – Bhutanese cucumber salad


Jasha Maru – Spicy chicken stew, commonly served with red rice.

Travelling in Bhutan with Dietary Restrictions
It is reasonably easy to travel in Bhutan with dietary restrictions. Many traditional Bhutanese main courses are meat-focused. However many Bhutanese people with strong Buddhist beliefs are vegetarian anyway. 
Accommodation choices in Bhutan are limited, and most hotels tend to serve continental/western style buffet dining for each meal. If you have any specific dietary restrictions, you can also discuss these with your Bhutanese tour operator before you travel.
Pick up a local sim card 
You can pick up a SIM card on arrival in Bhutan. A Tashi Cell prepaid SIM card costs 350 ngultrum.
This price includes local call time and SMS messages, as well as 400mb of mobile data. The connection is relatively stable and is generally good enough for checking emails and browsing social media.
Solo travel in Bhutan
You cannot travel completely alone in Bhutan since the terms of your entry to the country specify that you must be accompanied by a Driver and a Guide. However, this travel style is perfectly suitable for independent travellers.
I travelled to Bhutan as a solo female and I felt completely safe for the duration of my time in the country. My Guide and Driver were both male but I felt very comfortable in their presence.
If you are a solo female traveller and you specifically want a female guide, you can communicate this with your tour company in advance. Travellers from all countries, cultures, and backgrounds visit Bhutan.
Tour companies often encounter solo travellers. Rest assured, nobody will be judgemental.
Facilities and hygiene in Bhutan
Facilities and cleanliness at hotels are generally very good. You will note that bathrooms at smaller, "local" restaurants or along hiking trails are typically squat style. Toilet paper and soap may not be provided, For this reason, it is advisable to always carry tissue and hand sanitizer. 
Is wifi available in Bhutan?
Internet and WiFi are not as widely available in Bhutan as they are in most places and you should remember that Bhutan is still a developing country. Most hotels do offer wireless internet. However, the connection is generally not that strong and its reach is limited to the reception or communal areas of the hotel.
A few coffee shops and restaurants in major cities have WiFi but it's not the norm. You may want to purchase a local sim card with a data plan as a way to stay connected.
Bhutan Travel Guide FAQs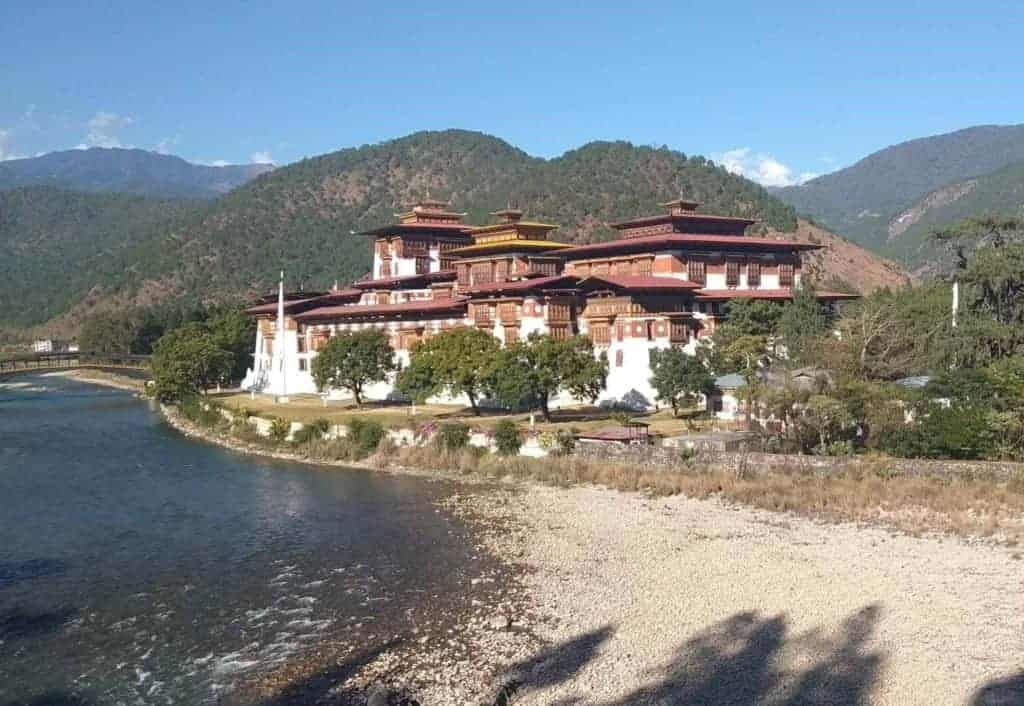 Do you still have any burning questions about planning a trip to Bhutan that this Bhutan travel guide has left unanswered? Hopefully, you will find the information you are looking for below. 
Is the Tiger's Nest a Difficult Hike?
The hike to the Tiger's Nest is challenging, but it is accessible for most people. You will see people of all ages hiking towards the monastery.
You will probably be in amazement when you arrive and you see how many elderly monks are bounding along the stairs and completing the hike in record time, all while wearing full flowing robes! There are two different trails that lead you to the monastery.
One is longer in distance and leads you along a relatively flat, steady winding path. The other is a little steeper and requires an element of climbing but gets you there much faster. 
Perhaps the most difficult part of the hike is the fact that you ascend quickly to high altitudes. For instance, the hike will see you hike from 900m up to 3,100m in a matter of hours.
There is also a section of the trail that sees you descend down 400 steps, and then ascend up another 400. Rest frequently, drink plenty of water, and wear comfortable footwear, and you ought to be just fine.
There is a restaurant about halfway along the trail. So, if you want to give the hike a try but you reach a point where you feel you can't go any further, you can always stop here.
How much will a trip to Bhutan cost?
A single traveller can expect to spend around $2400 for 6 days in Bhutan in terms of accommodation, meals, and local tour guide and driver services. This excludes any extra money you may need for souvenirs, tips, and other local purchases.
For a week in Bhutan, $80-$100 in additional spending money should be sufficient. Flights are another expensive concern.
The exact amount you can expect to pay varies depending on your departure airport and the time of year that you travel. Expect to pay between $900 and $1100 for economy class return flights from Singapore to Bhutan.
If you are flying from India, a return flight from Delhi to Bhutan costs around $605. Keep in mind that you will also have the costs of flying from your home country to India, Thailand, or Singapore for your Bhutan flight, if applicable. All in, you are looking at $4,500 – $5,000 for a week in Bhutan.
What is the best month to visit Bhutan?
The spring and autumn months are the best time to visit Bhutan weather and scenery-wise. In other words, between March and May and between September and early November.
Is Bhutan safe to travel to?
Yes, Bhutan is a very safe country to travel to. While it may seem remote and off the beaten track, you don't have to worry about anything when travelling here.
How many days are enough in Bhutan?
6-7 days are enough to get an initial feel for Bhutan. If you want to visit the remote eastern parts of the country, you should allow 10-14 days.
Bhutan Travel Guide:
Pin it For Later!
Have any further questions about this Bhutan travel guide? Please don't hesitate to contact me. My trip to Bhutan has been one of my favourite travel adventures to date. Safe travels! Melissa xo
---