The Sool Gallery in Seoul (전통주갤러리) opened several years ago. It was introduced as part of an initiative by the Korean tourism board. Following a temporary closure and a change to a new location, it reopened in 2023 and the gallery is ready to receive tourists again.
The idea behind the Sool Gallery has always been to introduce Korean alcoholic beverages to the world. The gallery is dedicated to spreading the cultural context and historical significance of Korean alcohol, making the gallery "a one-stop destination for all things liquor and wine."
The Sool Gallery Seoul
The Sool Gallery (South Korea, Seoul, Jongno-gu, Jae-dong, 54-5 1층) awaits in Jongno-gu, close to Anguk metro station in central Seoul. It has recently moved from its former location in Gangnam
Very little is known about Korean alcohol internationally which is a shame. Everybody knows about Japanese saki or Greek alcoholic beverages like ouzo but when you ask them about traditional Korean alcohol they draw a blank.
Many Korean beverages such as soju and makgeolli are flavourful and suited to a western palette. They are widely available in the bars and restaurants of Seoul.
However, if you have never tried them before, ordering something unknown can be a little intimidating. That's where the Sool Gallery comes in.
If you ever find yourself in Jongno-gu, you will have the opportunity to sample an array of traditional Korean wines and liquors at the Sool Gallery. This initiative is free!
Korean Drinking Culture
If you have spent any amount of time in Korea, you will certainly have noticed that drinking is a large part of the culture. Soju 소주 is a regular guest at dinner tables, social gatherings, and parties.
The commonly consumed drinks of soju, makgeolli (Korean rice wine), and somaek 소맥 (Soju mixed with Korean beer) are extremely cheap and cheerful. You can buy bottles of soju and makgeolli for just a few dollars in Korean convenience stores.
So it is easy for your first impression of Korean drinking culture to be that the beverages here are restricted to the cheap plastic bottles of makgeolli and soju that you find in 7/11. Interestingly, a lot of Koreans think the same.
Very few locals know much about the country's traditional alcohols. Locally, Korean alcohol is not known for being elegant, or of high quality.
This is why initiatives like The Sool Gallery are being introduced by the Korean Government. There is a hope of raising awareness about the various Korean drink options and putting Korea on the map as a quality alcohol producer.
Visiting the Sool Gallery in Seoul
When you arrive at the Sool Gallery in Seoul, you will be greeted by a Korean Sommelier. They will provide you with a bit of background info on the initiative and then speak you through the production process for making various Korean alcohols.
Firstly, they will talk you through the process of making Korean wines.
It is interesting to learn about the ingredients used and the processes followed. Many Korean beverages use seasonal ingredients that are only found at certain times of the year.
Korea sees some fairly extreme climates. It has hot, humid, monsoon-like summers and cold, harsh winters.

This means that Korean alcoholic beverages are also seasonal, and many can only be produced at certain points of the year.
Tastings at the Sool Gallery
After the tour, we tasted a selection of traditional Korean alcohol. The curators select 10-20 new tipples each month, all surrounding a particular theme.
This is so as to keep the selection interesting, and fresh for any alcoholics repeat visitors. We sampled Makgeolli 막걸리, Yakju 약주, traditionally distilled soju 소주, and Korean wines.
Soju, Makgeolli, and Yakju – Oh My!
The traditional soju 소주 weighs in at 40% proof. It tasted completely different from the green bottle of soju that you see in stores and bars around Korea.
The taste reminded me somewhat of a scotch whiskey and was so strong that it made my eyes water! Apparently, the translation for soju is "burning alcohol". This ought to give you a little pre-warning about the kick it gives!
Makgeolli 막걸리
Makgeolli 막걸리 is Korean rice wine. This is considered the most refreshing Korean alcohol to drink due to its short fermentation time.
Makgeolli's fermentation period is kept short in order to preserve the flavours. This is far and above a favourite Korean alcohol of many.
If you are new to Seoul, you should consider heading to one of the traditional Makgeolli houses in Insadong. Here you can experiment with many different types from the local breweries.
Makgeolli is served alongside Korean street food snacks like kimchi jeon and other treats.
Yakju 약주
Yakju 약주 is a filtered Takju and comes from the Korean word "Yak" meaning medicine. It is infused with various aromatic herbs and has a somewhat spiced taste. This was previously the preferred drink of Korean nobles.
A New Era of Korean Liquor Production
Many Korean producers are now branching out from traditional processes and methods. More and more companies are experimenting with more Western-style wines.
We trialed an absolutely delicious strawberry-infused grape wine, and an omija 오미자 (Korean berry) wine. Korean wines are very sweet-tasting. They are not too dissimilar to European dessert wines.
The Sool Gallery is a really beautiful space and the store within offers many ornate-looking bottles of wine and drinking accessories. The tour and tasting took a little over an hour. They are completely free as part of a government incentive (#mykindagovernment).
Additional Information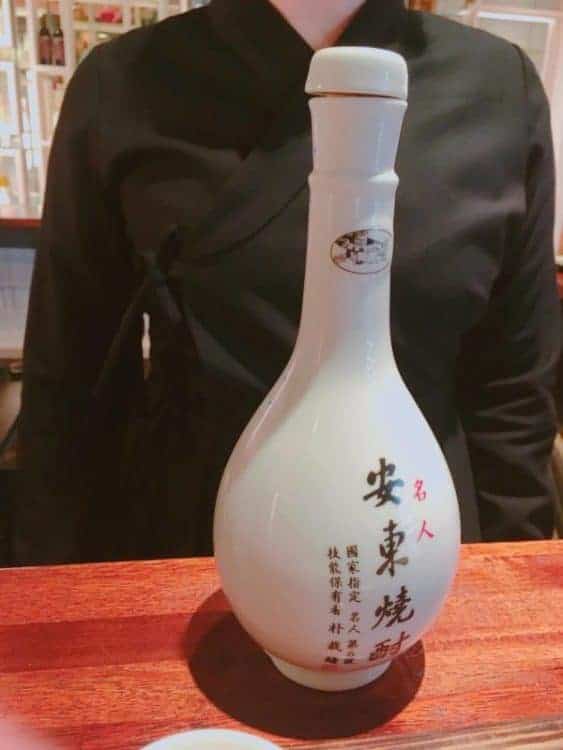 The Sool Gallery has recently moved locations for the third time in the past 7 years. Check the address before you travel as many online resources still refer to the gallery's old address.
They previously only had a Naver blog website. However, with their new dedicated webpage, you can make a reservation online in advance via their online booking system. (You can also call or send an email if you prefer).
Address: South Korea, Seoul, Jongno-gu, Jae-dong, 54-5 1층l (서울특별시 종로구 재동 54-5 1층) [Anguk station]
Website: click here
Email: [email protected] (Korean, English, Japanese, Chinese)
Contact Number: 02-555-2283 (Korean, English, Japanese, Chinese)
Opening Times: Open 10 am – 8 pm Tuesday – Sunday. [Please note, a forward reservation is required via email for the tour and tasting, but if you just want to wander around the gallery and take a look alone then you can just drop by]
Tours: English tours are available at 2 pm, or 4 pm daily.
Final thoughts
A visit to the Sool Gallery can be a highlight of any Seoul itinerary or wider Korea itinerary. Better yet, it's free and provides excellent insight into Korean culture and traditions.
Have you tried Korean liquor before? What did you think?
Have a wonderful time travelling around South Korea. Annyeonghaseyo!
Disclaimer: High Heels and a Backpack is in no way affiliated with The Sool Gallery.
---