Trying to find out how to get from Athens to Rhodes? This guide discusses every single option available to make the journey, its cost, and its duration. That way, you can easily determine which transportation method is easiest for you. 
Fortunately, it is very easy to get from Athens to Rhodes. The two destinations are a popular Mediterranean travel pairing and both ferries and planes run frequently.
Visiting Rhodes, Greece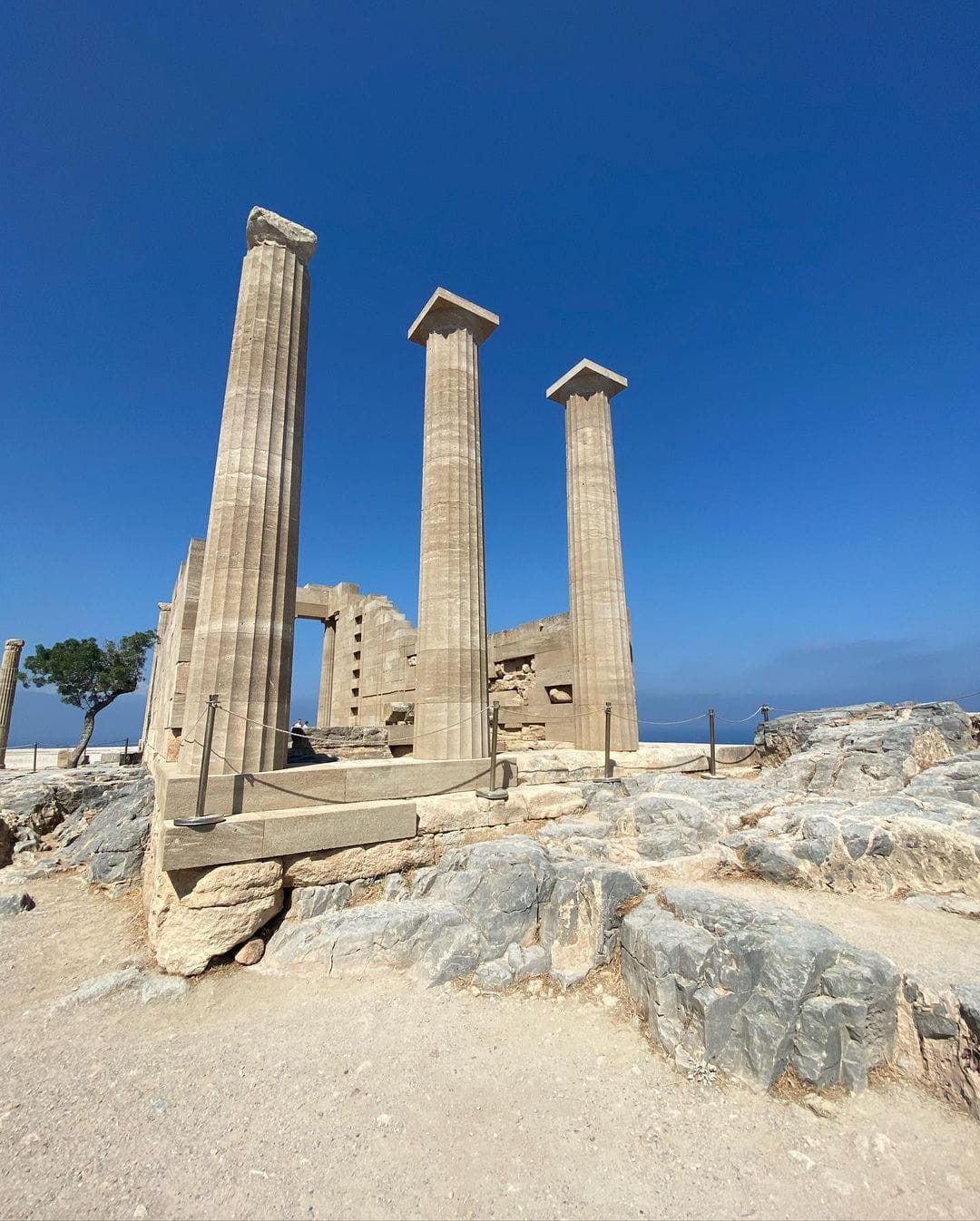 Rhodes is a highlight of any Greece travel itinerary. This is the largest island in the Dodecanese island group and very-deserved of a week's itinerary in itself.

The island's capital, Rhodes's old town, is one of 18 UNESCO-protected sites in Greece. It is widely regarded as being one of the best examples of a fortified Mediterranean town in Southern Europe.

The old town is special because it is very much a mishmash of different architectural styles. Here, you will find Ottoman bathhouses nestled between Italian houses and Gothic castles.

Various civilisations have ruled over the island over the centuries and each has left its mark. Look out for the 7th century Palace of the Grand Master of the Knights of Rhodes (Kastello).

This is one of just a handful of Gothic structures in Greece. From Rhodes's old town, the Acropolis of Lindos is not to be missed. 

Of course, no trip to a Greek island is complete without spending time relaxing on white-sand beaches and swimming in crystal-clear turquoise waters. The charming little Anthony Quinn beach is a place of unparalleled natural beauty, although it does get quite crowded during the Greek summer months. 
If you are looking for peace and seclusion, fortunately, there are plenty of stunning stretches of coastline where you can escape the crowds. However, do keep in mind that it is necessary to rent a car to get to some offbeat Rhodes beaches. Petrokopio beach in Fourni, Limni Beach, and Fokia Beach in Pefkos are just a few spots to add to your radar. 
How to Get from Athens to Rhodes 
There is a distance of approximately 377 miles (607 km) between Athens and Rhodes. You can opt to take the ferry or fly from Athens to Rhodes.
Obviously, flying is the faster option, even when you factor in time spent waiting at the airport. Because of the sheer amount of distance between Athens and Rhodes, a ferry takes between 13 and 24 hours and usually necessitates spending a night on the boat.

There actually isn't that much difference in prices between the two options either. If you purchase your plane tickets several months in advance of travel, you can secure very good deals.
Fly from Athens to Rhodes
Flying from Athens to Rhodes is usually the most convenient option for getting from A to B. You can usually find a one-way flight for as little as €50, though do keep in mind that adding baggage and other additional extras do bump up the price of your ticket.

Sky Express, Aegean Airlines, and Olympic Air service this flight route. There are usually multiple departures a day, even in the Spring and Autumn months.  
If you are traveling in the peak summer months (e.g. July, or August), it is a good idea to secure your tickets online in advance. It is not unheard of for flights to completely sell out during this time and the closer to your departure date you leave it, the more expensive the tickets become! 
Reaching Athens airport 
Athens' Eleftherios Venizelos international airport is located 20km south of Athens. It is easy to reach the airport via bus or metro.

To take the bus, board the X95 bound for the airport from Syntagma Square. A one-way ticket costs €6 per person with concessions available. If you are in Piraeus, you can take the X96 bus.

If you prefer to take the metro, you need to take the blue line all the way to its final destination (the airport). Keep in mind that some services do require a Doukissis Plakentias. An Athens and airport metro ticket is valid for 90 minutes and costs €10. 
Arriving at Rhodes airport
Rhodes Diagoras International Airport is located on the west side of the island. It is around 9km from Rhodes old town

A public bus connects Rhodes airport with the old town and runs at frequent intervals throughout the day. A one-way ticket costs €2.20 and the journey takes approximately 35 minutes.  
Athens to Rhodes ferry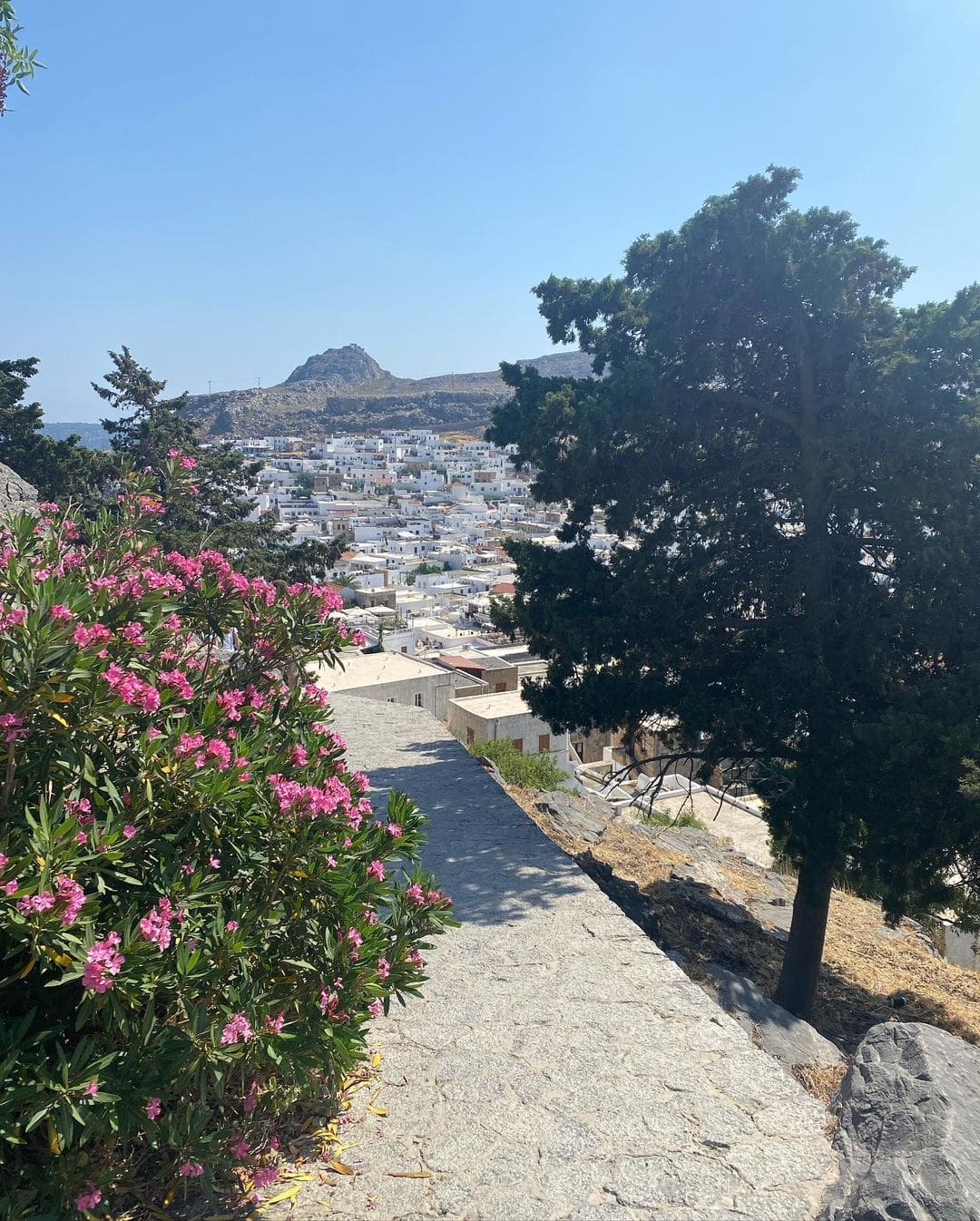 An Athens to Rhodes ferry runs daily during the summer months, with several services a day. Hellenic Seaways and Blue Star Ferries both service this route.

Prices vary depending on the specific service that you are traveling on and the season. You can expect to pay anywhere between €70 and €90 for a standard one-way ticket.

Spaces for taking your car on board and private cabins do cost more. However, arguably it is worth paying for a cabin on overnight journeys for a little additional comfort and space.

Cabin prices tend to start from around €120 and up and some contain multiple beds, perfect for if you are travelling as a group/family. Bathroom and shower facilities are also available. 
Purchasing your Athens to Rhodes ferry ticket 
It is a good idea to purchase your Athens to Rhodes ferry ticket in advance where possible. Use Ferryscanner to check the latest departure times, schedules, and prices and purchase your tickets online.

Oftentimes, you will find that free cancellation is available up until a certain date. Concessions are available for certain passengers – including pensioners over the age of 65, and families with small children.

You can select the appropriate concession that applies when purchasing your ferry tickets online. However, do keep in mind that you may be asked to show identification when boarding the ferry. 
Arriving at Piraeus Port 
Athens is actually home to three different ports. The Athens to Rhodes ferry departs from Piraeus, the city's main and largest port.

There are ticket offices at the port where you can purchase your ticket from. However, this is best avoided where possible during the summer as lines can be extremely long. Always purchase your tickets online when you can.
Most Athens to Rhodes ferry departures leave from gate E1. This is where most Dodecanese-bound boats depart from.

However, do double-check. Your departure gate will be printed on your ticket.

Try to arrive at Piraeus port at least an hour before your scheduled departure time, or more if you need to buy a ticket at the port. The port often gets so crowded that it is hard to determine where the queue for one boat ends and the next one begins! 
You are usually permitted to start boarding your boat as much as 30-40 minutes before the departure time. There are also a handful of coffee shops and cafes scattered around the port entrance where you can wait with a traditional Greek coffee or a Freddo espresso. 
Amenities onboard the Athens to Rhodes ferry 
There is a cafe on board all ferries departing from Athens to Rhodes. Here, you can purchase light bites like sandwiches and small dinners, Greek pastries, baked goods, and pre-packaged snacks. 
Island hopping in the Dodecanese
Rhodes makes a great starting point for a wider Greek island hopping adventure around the Dodecanese. From here, you can continue onwards to Symi, Kos, Kalymnos, and Karpathos.

It is important to note that ferries do not run between all Dodecanese islands so you need to be strategic about the route that you plan. If you are exploring the Dodecanese with the view to play it by ear and book ferries as you go, it is always a good idea to purchase your ferry tickets to each destination at least a few days in advance of travelling. 
Final thoughts
Have you traveled from Athens to Rhodes? What is your preferred means of transport?
Have a wonderful time in Greece! Geia sou! Melissa xo
---