Greece in December is far from the most common time of year to visit this gorgeous Mediterranean country. However, choosing to travel in this period can be a rewarding experience.

For starters, when you travel to Greece out of season, you don't have to contend with the hordes of tourists that you see in July or August. You can visit archaeological sites and museums without having to wait in line or pre-book tickets in advance, and if you travel outside of the main tourist destinations, you will often find that you have entire sites virtually all to yourself.

Better still, accommodation and flight prices can be as much as 50-60% cheaper during this time. This is great if you are trying to travel on a budget.
Greece in December Weather
Greece is not a year-round summer destination. However, the country does see quite mild winters. So, if you want to escape the blistering cold winters in your own country, Greece and other Southern European travel destinations can be a good shout.

The country is actually quite vast, and the further south you go, the warmer the temperatures get. That means that Athens, Attica, and other parts of the southern mainland, as well as the Cyclades and Crete, are among the warmest parts of the country at this time.

Ioannina, Kastoria, and other parts of Northern Greece see the coldest temperatures. Snow is not unheard of, particularly in the north of the country. For the last couple of years, every winter has brought snow.
In Athens in December, the average daily temperature ranges between 8° and 15° Celsius. In the northern city of Thessaloniki, you can expect daily averages between 2° and 11°.

Pack layers and bring a coat. Despite the cooler temperatures, Greece sees 250 days of sunshine a year so you will usually still have blue skies rather than grey clouds and rain.
Rain showers are usually brief and the rain does not last all day. Greece is not London! Just pack an umbrella, just in case.
Where to Travel in Greece in December
There is arguably no such thing as a bad place to travel to in Greece in December. Some of the best places to visit during this time are shortlisted below.
Athens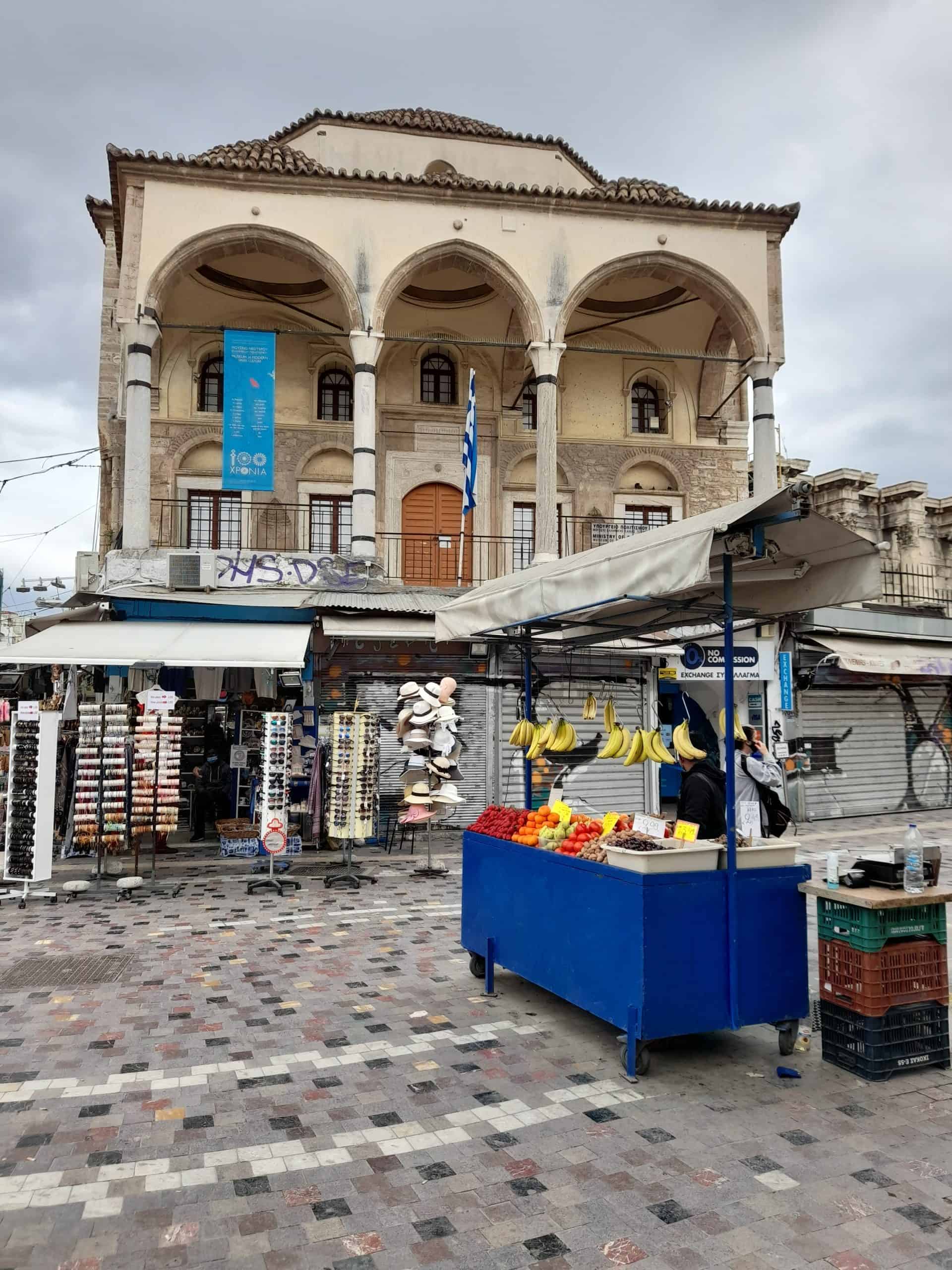 December is a great time to visit Athens. The festive season sees the Greek capital become more magical than ever.

Twinkling Christmas lights decorate the length of Ermou street and Syntagma Square in the city centre and a giant tree is set up by Syntagma station. On various nights of the week, live shows and musical performances that are free to watch are hosted in the square.

Ice rinks start popping up around the city in late November. Many are set in absolutely breathtaking locations that overlook iconic Athenian landmarks such as the Ancient Acropolis and the Ancient Agora. Unfortunately, European Christmas markets are not really a "thing" in Athens yet, but there are a few festive bazaars that take place in December.

Most notably, the bazaar at St. Paul's Anglican church has been a tradition since 1953. This is a great time of year for visiting Athens' main churches, historical sites, and museums.

Places are far less crowded than usual and you can enjoy reduced winter admission rates on certain days of the month. Of course, Athens also makes a great base to take day trips out to places like Delphi, the Athenian Riviera, and Piraeus.
Lake Kerkini and Serres
Lake Kerkini in Northern Greece is one of the best birdwatching destinations in Europe. This is actually a manmade lake that was created to address an issue with local water supplies.

However, the lake is one example of an instance where human intervention has actually had a very positive impact on the environment. Today, the lake is home to more than 300 species of birds, 1300 plants, and dozens of species of fish.

December in Greece is actually one of the best times of year to travel to this part of the country. It is at this time that you may be able to catch a glimpse of the rare dalmatian pelican. These majestic creatures come to the lake every winter to breed.

Travelling here is a great experience for birdwatchers and aspiring nature photographers. Because it gets so cold, the lake often freezes over too, adding to the magic.

Even if you are not massively into birdwatching, you can still enjoy Kerkini. There are many charming villages scattered around the region.
In the village of Vironia, you can hang out in traditional tavernas that were once frequented by the former Greek Prime Minister Eleftherios Venizelos. In Hrisohorafa, try kazan dibi and other local Greek desserts and sweets prepared with buffalo milk that are native to this region.
Karpenisi
Karpenisi is a gorgeous town in the Evritania region of Central Greece. This region is often referred to as the "Switzerland of Greece" on account of its jaw-dropping natural scenery.

Here you will find quaint stone villages surrounded by dense forests, dramatic mountain ranges, and winding roads that hug the sides of cliffs. This is one of the best places to go hiking in Greece with many incredible footpaths and cycle trails leading through the woodlands here.

Opt to base yourself in a woodland cabin or in an idyllic guesthouse in central Karpenisi. What could be a more magical winter experience than staying somewhere where you have your own wooden log fireplace and you can look out your window to views of snow-capped mountains?

While Karpenisi is the main town in the area, there are several other beautiful villages nearby that are very worthy of your time. The village of Gavros is packed full of bustling tavernas that serve sumptuous traditional Greek food.

Proussos village is home to just 15 elderly residents and sits beside the namesake Proussos monastery. The precise origins of the monastery are unknown but it is believed to date back to the 12th or 14th centuries and is the only one that remains out of hundreds that once existed in the area. Today, it is one of the most important monasteries in Greece.
Metsovo
The village of Metsovo is relatively unknown on an international scale, but it is a popular winter getaway destination for Greeks. This little settlement is perched high in the Pindus Mountains in the northern part of the country.

You can easily take the bus here or drive from Ioannina, though doing so involves travelling along narrow mountain roads that are perhaps not for the faint of heart! The culture and architecture here is very different to that in other Greek villages, mostly because Metsovo is a Vlach settlement.

Vlach people are an ethnic group that resides in mountainous parts of Greece and other Balkan countries. They speak the local dialect of Vlach/Aromanian, in addition to modern Greek.

The village is filled with uniform little stone houses that boast red-tile roofs and this region is known for various delicacies that will delight foodie travellers. It is particularly renowned for its barbecued meats and smokehouse restaurants.
Stop by Τα 5 ΦΦΦΦΦ at Averof 1 to sample kontosouvli – slow-roasted pork cooked on a spit over a charcoal fire pit. Other must-try delicacies that are particularly good in this part of the country are country sausages, lamb served with cauliflower, and boiled cauliflower.
Metsovo is a great choice if you like hiking. From here, you can embark on the Ursa trail: a 40km circuit that leads you from Metsovo, through the Grand Forest, the meadows of Politsoara, and the ski resort of Karakoli.
This trail is often recognised as being one of the very best in Europe. There are also many shorter, less intensive hikes that take you to secluded monasteries and churches.
The Peloponnese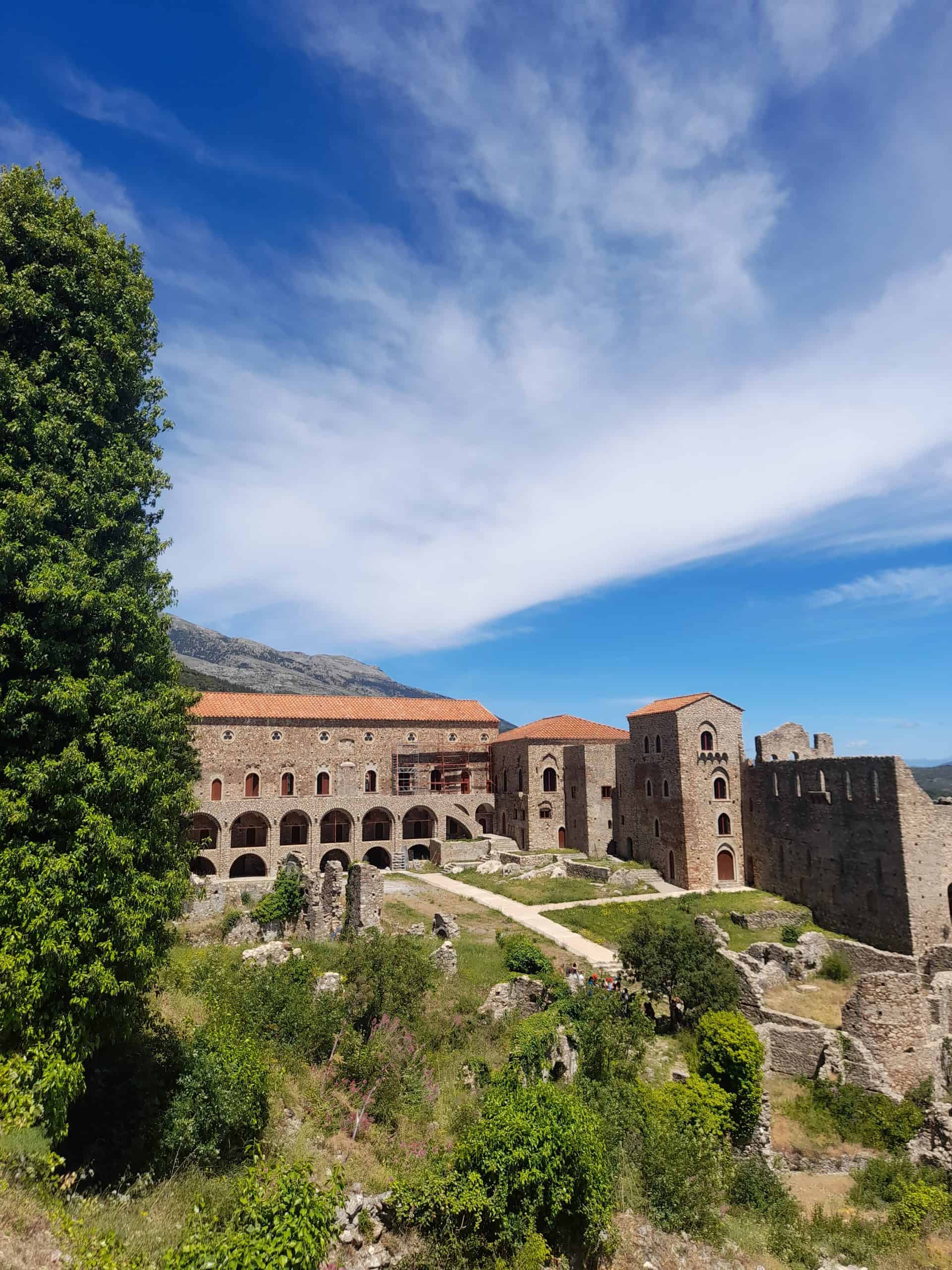 Greece in December is a wonderful time to embark on a great Greek road trip around the rugged Peloponnese. Opting to rent a car in Greece is not as daunting as it may sound, and gives you a lot more freedom and flexibility in your schedule.
Start by spending one or two days in Athens, pick up your car, and then start to head northwest towards Nafplio. This city was once the capital of Greece and there are plenty of things to do in Nafplio to keep you occupied for a long weekend.
Sip a strong Greek coffee in the city's cobbled plazas, window-shop in the boutiques of Vasileos Konstadinou street, and sail across to the old Venetian fortress (Bourtzi). Nafplio also makes a good base to drive out to the ruins at Epidaurus and Mycenae, and the Corinth canal.
From Nafplio, head west to the Lakonia region of Greece. Sparta is the capital of this area and is home to just over 35,000 people.

Despite the historical significance of Sparta and the infamy of the Spartans, little remains of the once spectacular Ancient city. The ruins of Ancient Sparta are free to enter but they are badly preserved and aside from a partial amphitheater, there is little more here than piles of bricks.

Nearby, you will find a tomb that is supposedly the final resting place of King Leonidas. Spend a morning exploring modern-day Sparta and continue on towards the Byzantine towns of Mystras and Monemvasia.
Santorini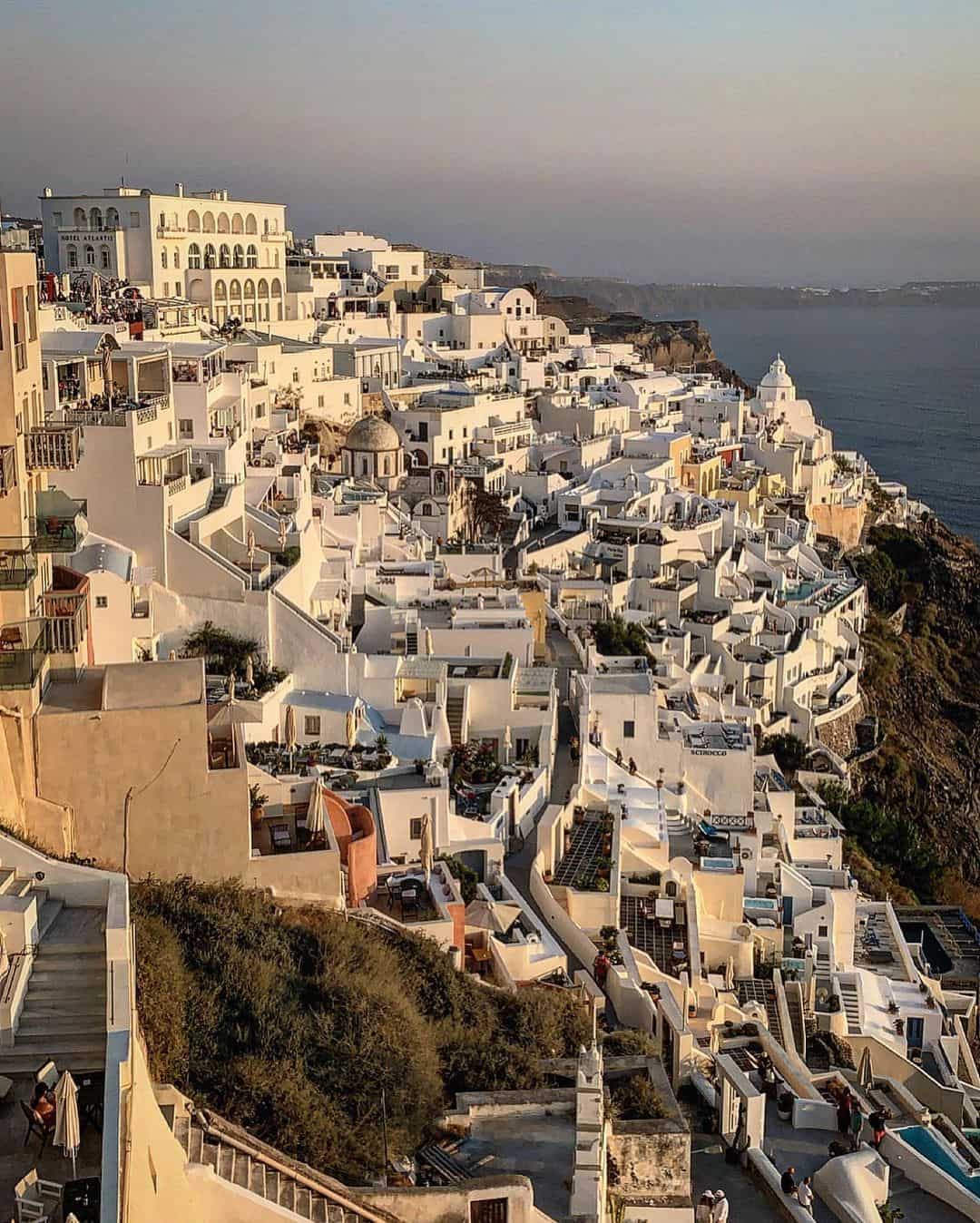 Santorini ranks high on most people's Greece bucket lists and for good reason: the island is gorgeous. No matter how many times you may have seen it photographed on social media, nothing compares to travelling here and seeing it firsthand for yourself.

December is a wonderful time to travel to Santorini. Of course, some touristic businesses and restaurants are closed during this time as the tourist "season" only runs from May to late October.

However, people do live on the island all year round. So, you will find that ferries from Athens to Santorini still run frequently and that you can still find direct flights to Santorini from various European airports during this period.
Visiting Santorini in December is not about lounging on beaches and hanging out in infinity pools, but you can enjoy taking photos, having lunch in Ammoudi Bay, and conquering the infamous Fira to Oia hike without the crowds. Venturing to different spots each night to watch the world-famous Santorini sunsets is a must.
At this time of year, you can really appreciate the island's beauty and you can take photos without having 10,000 people crowded in the back of them. Santorini also makes a good base for island hopping to other Greek islands and seeing what life on a Greek island is really like when the tourists leave.
Ioannina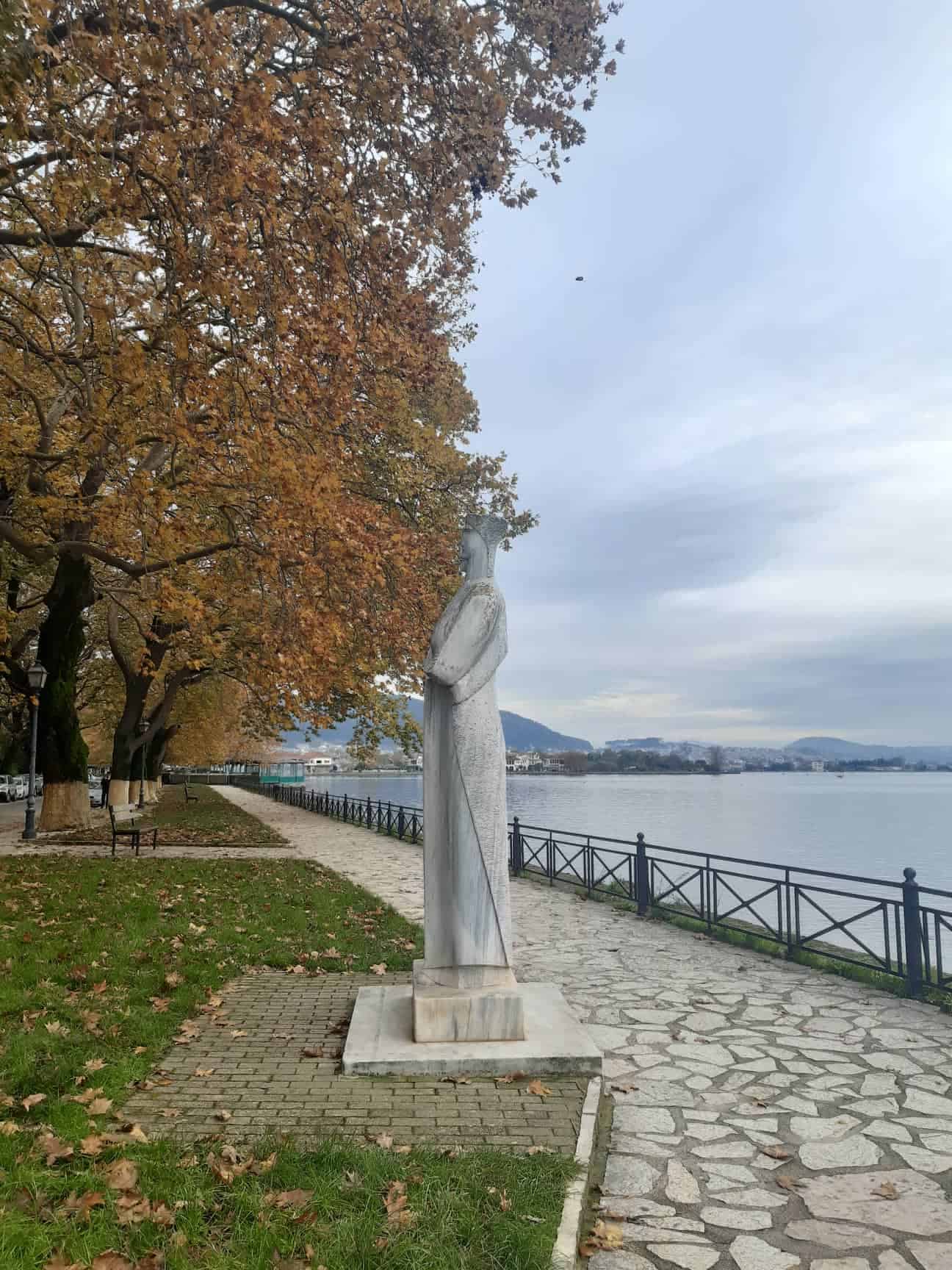 The leafy student city of Ioannina is the stunning capital of the Epirus region in Northwestern Greece and a great alternative destination for a city break in Europe in November or December. The picturesque city sits on the banks of the Pamvotida river, against the dramatic backdrop of the Pindus mountains.
Few international tourists take the time to visit Ioannina and those that do only pass through briefly on route to Zagorahoria. That's a shame as you could easily dedicate an entire week solely to exploring Ioannina.

The city has played a prominent role in Greek history and dates back to the 9th century. It thrived during the Byzantine and Ottoman eras.

The Ottoman Turks ruled over Ioannina for hundreds of years and one of their most notorious leaders, Ali Pasha, ruled over the city for a period. The eerie Pamvotida lake which is often shrouded with mist and fog was where he would drown any that disagreed with him by tying weights to their legs.
A small, nameless island can be found in the centre of the lake and it is inhabited by a small number of people. You can walk around the island on foot in just a matter of hours and you will find many walking paths and abandoned monasteries as you go.
Quiet Greek islands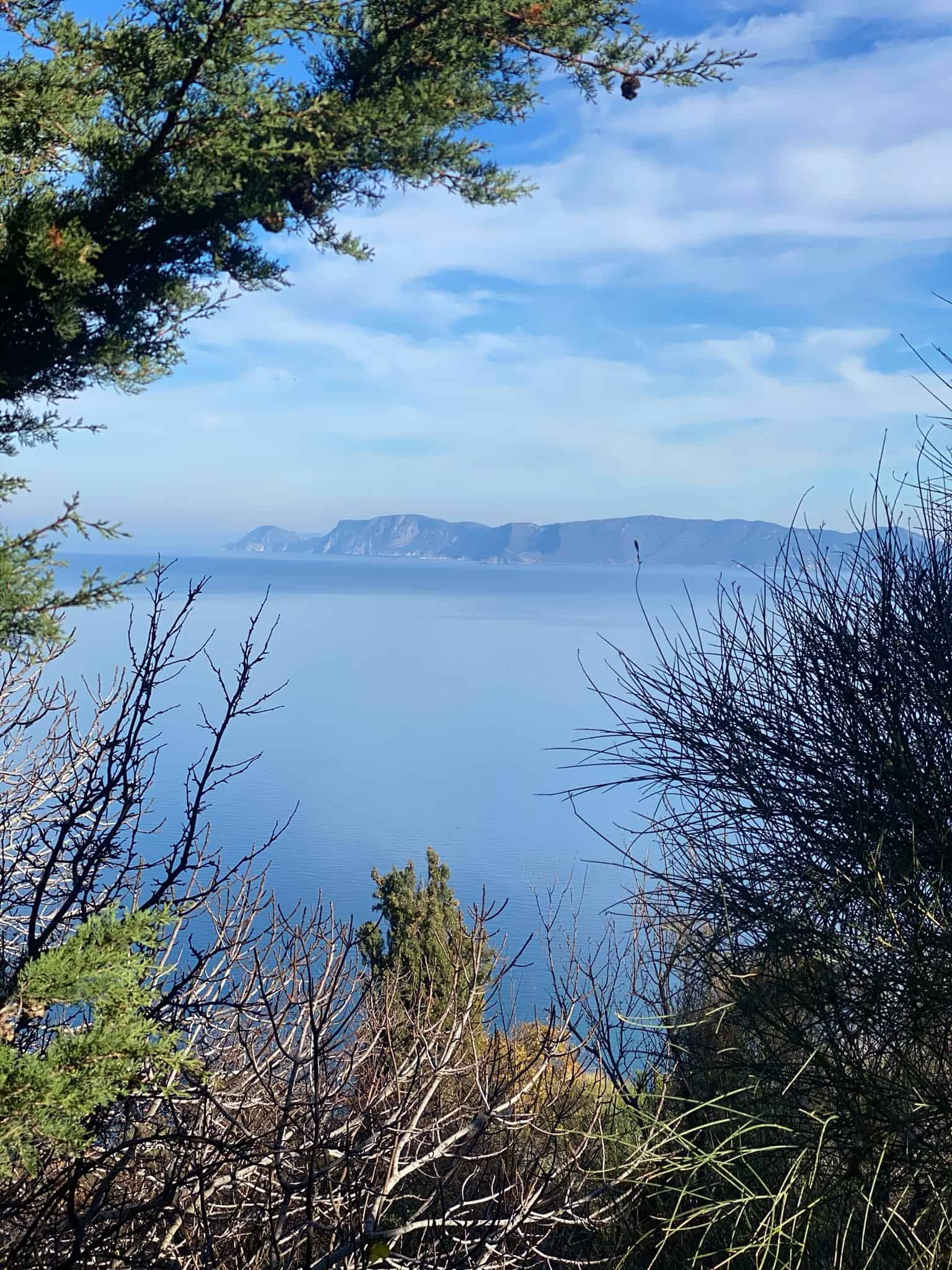 Most tourists to Greece tend to stick to the same few island destinations: Santorini, Mykonos, Milos, and Zante. However, there are many quiet Greek islands that see just a fraction of the tourists and give a more authentic glimpse into life in Greece.
If you visit Greece in December, these islands are quieter than ever and some are practically deserted. This can be a great experience if you want a peaceful getaway somewhere where you can enjoy wrapping up warm and taking long walks along the coast, or you want to while away your days drinking ouzo and other Greek alcohol with the locals in ramshackle tavernas.
The island of Skopelos in the Sporades archipelago becomes something of a ghost town in the winter season. Most locals head back to the mainland until summer rolls around again and you can drive across the island for an hour without seeing anyone.
That can either be nightmarish or perfect, depending on your travel style. If you like the peace and quiet, it can be incredible to follow Skopelos hiking trails to old monasteries, or stop by sleepy villages and pick up Greek pastries without another tourist in sight. Many Greek islands are like this in the winter months and it can feel like you are living in a storybook.
Arachova
Arachova is a gorgeous mountain town close to the ancient city of Delphi. For Greeks, this is one of the best places to travel to in Greece in December.

There are three different ski resorts here that are situated on the slopes of Parnassus mountain. Whether you are an experienced skier or you have never tried your hand at skiing before, you can enjoy Arachova, rent equipment, and have a ski lesson or two.

Winter sports aside, many people come to Arachova simply for the charm and culture of the town itself. From here, you can also take day trips out to the lovely villages of Itea, Galaxidi, and Nafpaktos.
Greece in December Festivals and Events
December in Greece obviously marks the start of the festive period. Christmas is a big deal here and most Greeks follow the Orthodox faith.

Festive decorations and outdoor ice rinks start popping up around the country in mid-November. From December, you will find marketplaces selling Christmas decorations and festive treats hosted in Aristotelous Square in Thessaloniki, and bakeries start to sell seasonal goodies like melomakarona (Greek honey cookies) and kourabiedes (Greek shortbread with almonds).
Christmas in Greece
Christmas in Greece is a day to be spent with family, much like anywhere else in the world. Most businesses around the country close on this day. So, if your Greece itinerary runs over this date, be sure to make dinner plans for this day in advance.

Christmas in Athens is a particularly magical experience. Many luxurious hotels and restaurants offer Christmas menu options although advance reservations are required.
Failing that, you will find that some businesses around Syntagma, Plaka, and Monastiraki are still open. So, even if it is not the most traditional choice of Christmas dinner, you will be able to find souvlaki and gyros. It is not the case that you won't be able to find anywhere to eat!
New Year's Eve in Greece
Most Greeks spend a portion of their New Year's Eve with their families. They eat a giant feast of traditional food with their parents, aunts, uncles, cousins, grandparents, etc.

Then, they will cut into a vasilopita – a special cake that is eaten at the turn of the New Year. A traditional vasilopita is made of sweet bread and is similar to the Easter bread "tsoureki", although variations of the cake are available, and a chocolate version is very popular.

A small coin is hidden inside the cake and whoever finds it is said to be guaranteed good fortune in the year ahead. You will be able to pick up a vasilopita at any Greek bakery in December and January. Sharing one with your travel companions can be a fun Greek experience!

After the New Year's Eve feast is done, people often head out into the bars and clubs of their town or city to celebrate until the early hours of the next day. For the wildest New Year's Eve parties, you can head to Gazi in Athens or Ladadika in Thessaloniki.
Suggested packing list for visiting Greece in December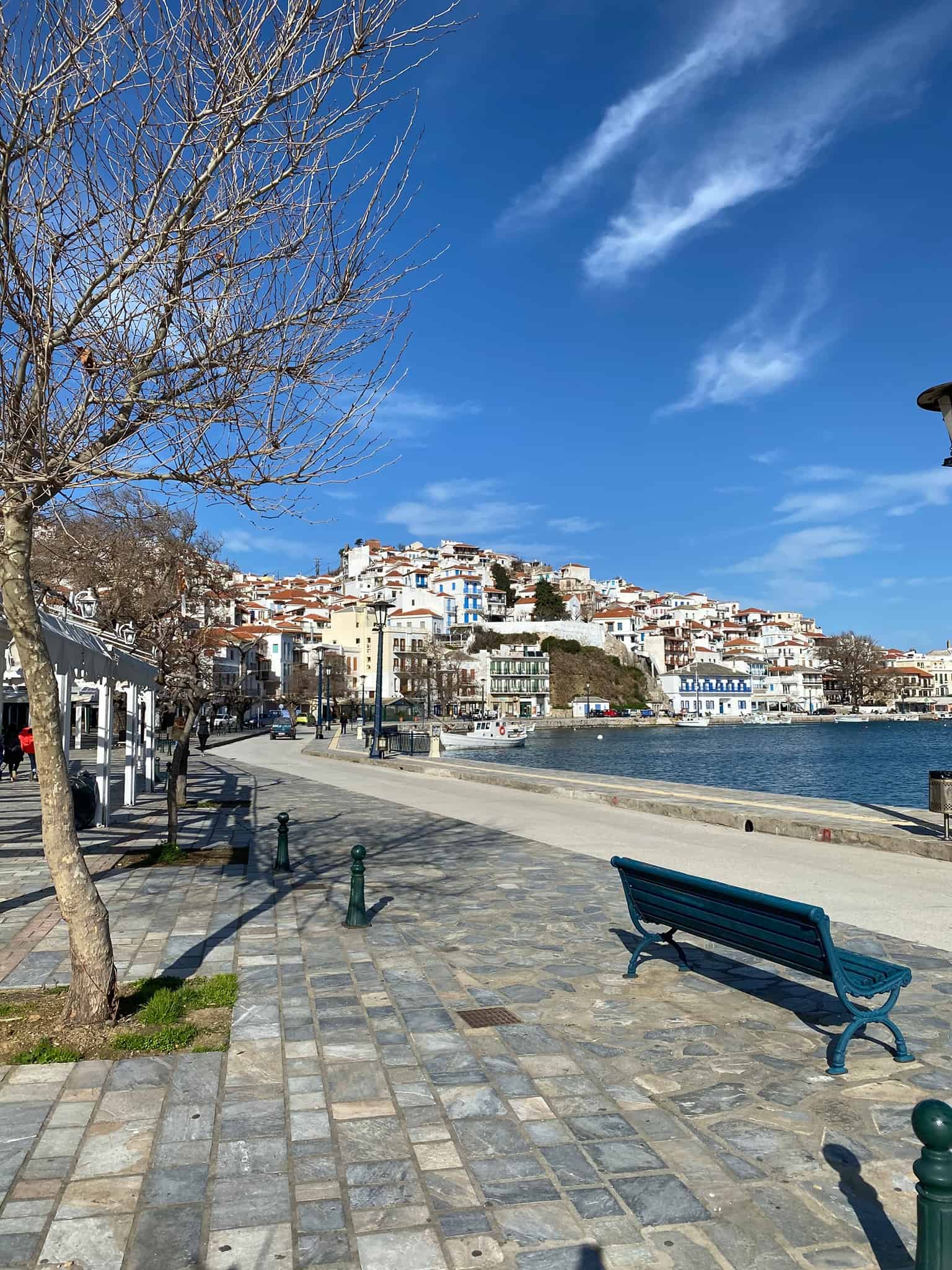 Not sure what to pack to visit Greece in December? The most important thing is to take layers.

It can get chilly outside although a lot of restaurants, museums, and coffee shops have their heating on at full blast. A suggested Greece packing list is provided below.
Compression bags – So that you can fit more layers and sweaters into your suitcase without them taking up too much space!


Packing cubes – To better organise your luggage


A theft-proof backpack – a secure backpack that is slash-proof, water-proof, and has a TSA-approved lock system


Winter coat


Cardigans and sweaters


Jeans or trousers


Skirts/dresses paired with stockings (for women)


1-2 "nice" outfits for evenings out


Comfortable shoes for walking


Flip-flops or other slip-on shoes for meandering around the hotel


Underwear and sleepwear


Thick, snuggly socks


Umbrella and light, portable rain mac
Greece in December FAQs
Is it a good time to visit Greece in December?
December is a very good time to travel to Greece if you are interested in exploring Greek cities and experiencing Greek culture. However, keep in mind that Greece is not a winter sun destination and the country does not see hot weather all year-round. This is not the best time of the year to visit the islands.
Is Greece still hot in December?
Greece is not hot in December, although you can expect milder conditions here than in the rest of Europe. Temperatures vary from one part of the country to another and it gets colder the farther north you go.

In Athens, the average daily temperature ranges between 8° and 15° Celsius. In the northern city of Thessaloniki, you can expect daily averages between 2° and 11°.
Is Greece worth visiting in winter?
Experiencing Greece in the winter is a wonderful experience and winter tourism here is massively underrated. While most tourists only visit Greece during the summer months, locals will often plan winter getaways.

Ski resorts like Velouchi in Karpenisi and Parnassous near Athens, are popular. Many Greeks also like to book cosy cottage getaways with their friends and partners.
Final Thoughts
Have you travelled to Greece in December? What did you think?

Have a wonderful time in Greece! Safe travels, geia sou! Melissa xo
---