Is Cartagena Colombia safe? Safety is probably at the forefront of your mind if you are planning a trip to Colombia in general.

While Cartagena can be a safe destination to travel to, there are absolutely certain precautions that you need to take while planning a trip here. Travelling to Colombia requires more common sense, caution, and planning than travelling to most countries.

Cartagena is perhaps the most popular tourist destination in the entire country. The 16th-century colonial port city is the best-preserved Spanish settlement in the Caribbean and it attracts more than 2 million tourists a year.

However, with tourists come toots, street vendors, and people looking to make a quick buck ripping tourists off. With that in mind, you need to be just as cautious in Cartagena as you would be in any other Colombian city. Arguably even more so as you are more likely to encounter scam artists and experience constant street harassment in Cartagena than say, Medellin.
I am an experienced solo female traveller and Travel Writer that has spent the last 12 years travelling the world, visiting 52 countries in the process.
I spent July 2022 in Cartagena and while I agree that the city can be safe to visit, I feel that many resources online massively underplay some of the risks you need to be aware of. So, I decided to create this in-depth guide to answer the question "Is Cartagena Colombia safe?"
Is Cartagena Colombia safe?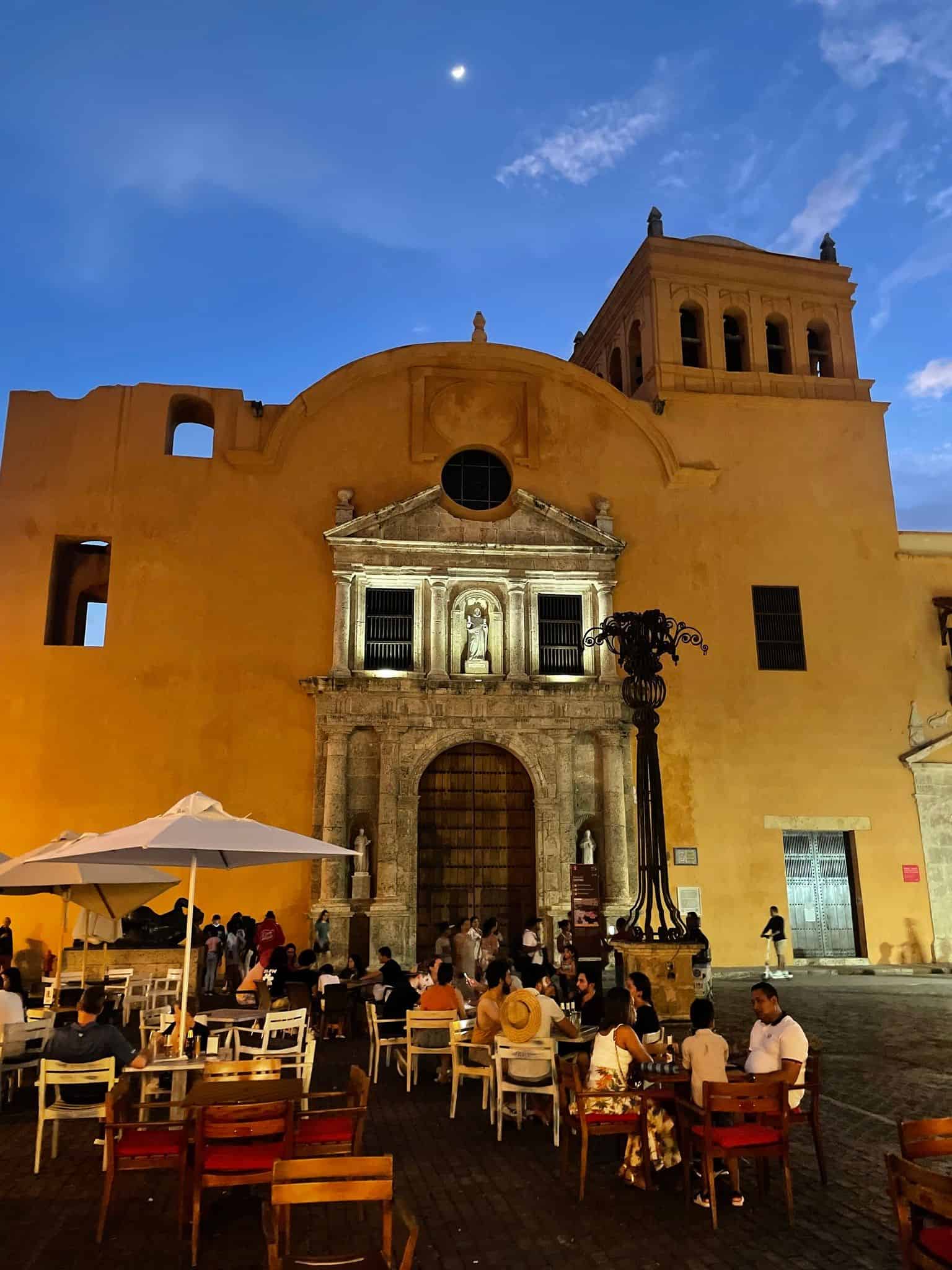 Cartagena Colombia is one of the safer cities that you can visit in Colombia. It was also one of the first parts of the country that started attracting tourists.

Even several decades ago when much of Colombia was considered incredibly dangerous, Cartagena was one of the few places that were deemed safe to travel to. Then and now, Cartagena has been an extremely popular travel destination for both Colombian domestic and international travellers.
Tips for staying safe in Cartagena Colombia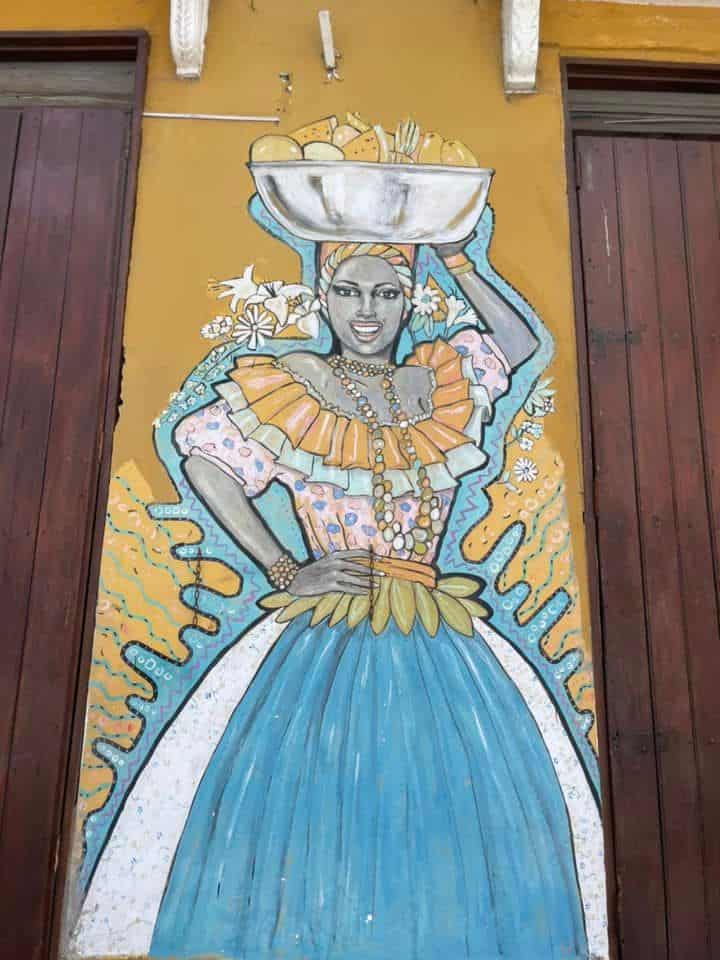 Brace yourself for constant street harassment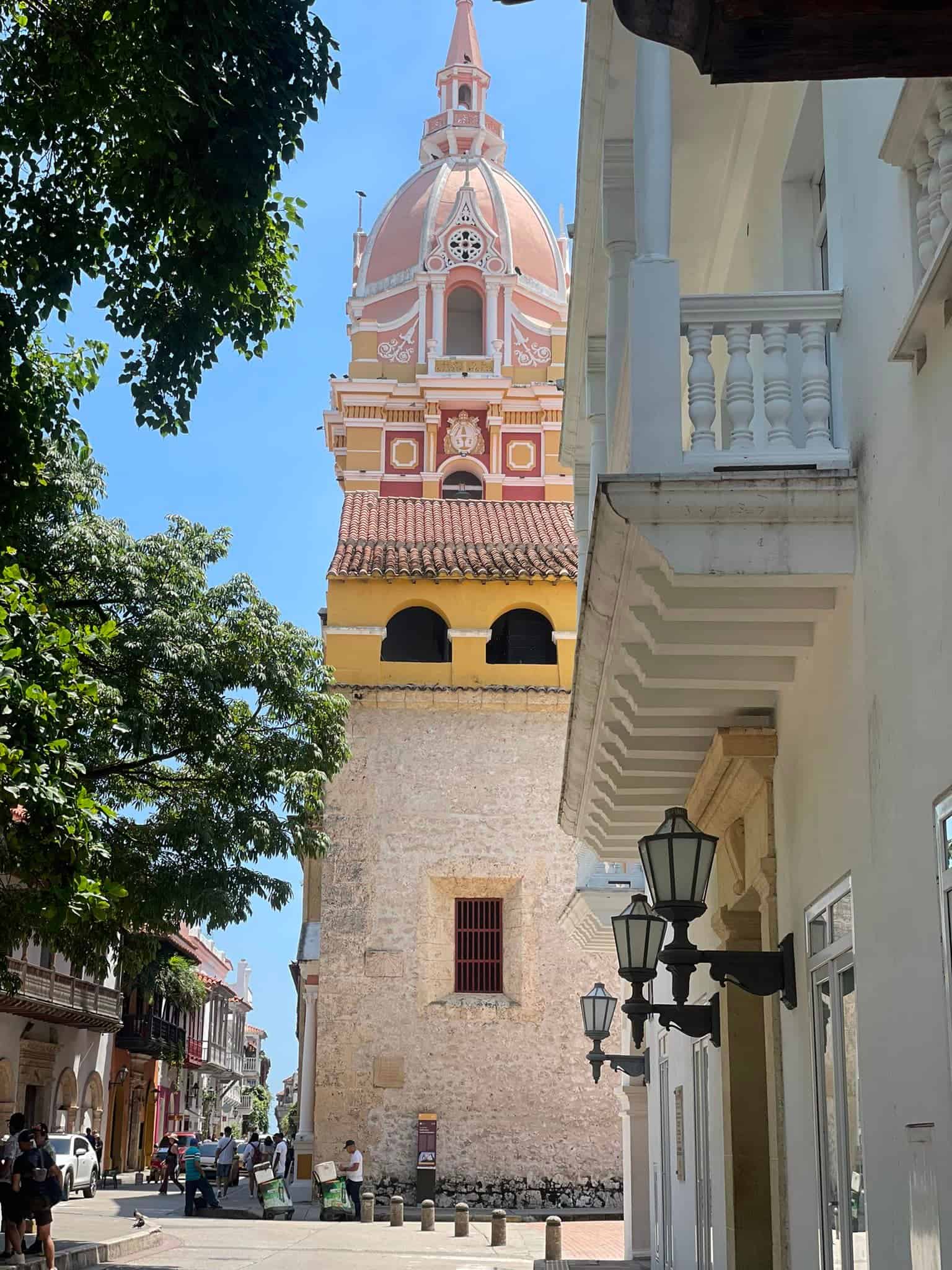 There is a lot of poverty and a huge disparity of wealth in Colombia and there is nowhere where that is more evident than in Cartagena. The gorgeous walled old town is encompassed by developing neighbourhoods where people struggle to afford to eat on one side, and Bocagrande on the other, home to Colombia's rich and famous.

The tourism sector currently contributes around 2% of GDP to Colombia's economy. And although the ever-increasing traveller numbers in Cartagena provide jobs for the locals, there are still plenty of people without reliable work. So, these people do the understandable thing and turn to trying to make a living from the many tourists that pass through the city every month.

However, for you as a tourist, this can be frustrating. Being harassed to purchase things on the street is incessant and it becomes tiring to say "no gracias" some 40-50 times a day.
You can empathise and understand that for street vendors, the difference in a sale can dictate whether they eat well that day or not. However, many of the vendors become aggressive, verbally abusive, and hurl insults when you do not want to buy what they are selling.

As a solo female traveller in Colombia, I was constantly hearing vulgar, graphic sexual remarks from these men. When someone has made disgusting lewd comments about me or my body, why would I then want to purchase something from them? 
Be polite but firm. Say "no gracias" and be on your way.

It is just important to be aware of this. Arguably since the pandemic, this harassment has worsened. If someone is really bothering you head inside a store or a restaurant.
Beware the massage ladies at the beach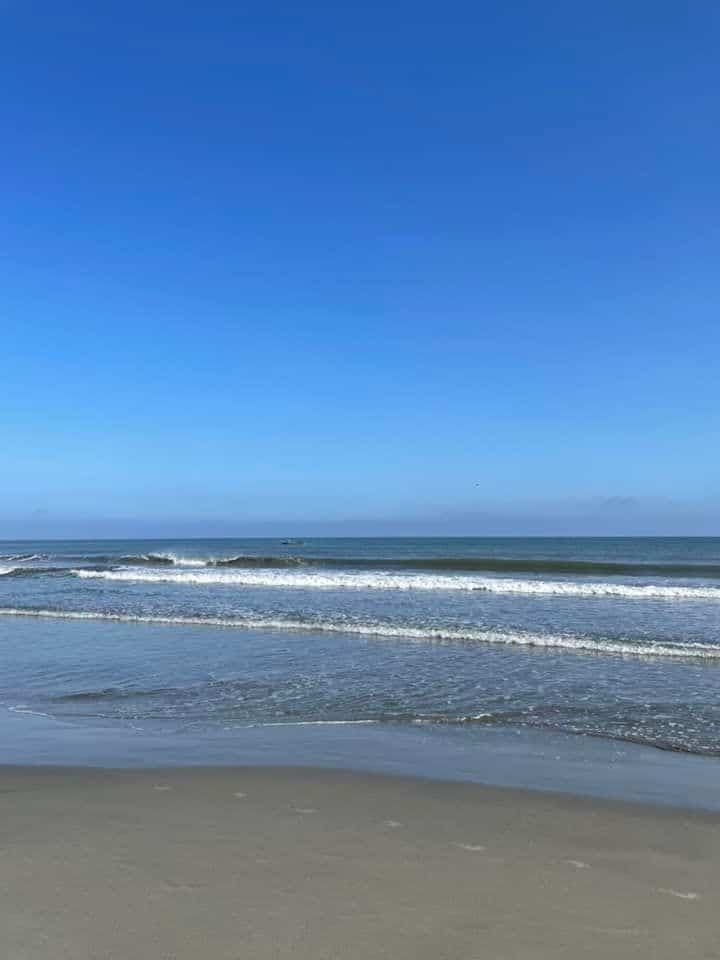 In a similar vein to the street vendors in Cartagena's old town, there are scams and harassers in the coastal areas that you should be aware of. Unfortunately, a relaxing day at the beach is not guaranteed here and you can pretty much expect vendors to approach you every 5 minutes trying to sell you something.

Even if you pretend to be asleep, they will often stand over you waiting for you to acknowledge them. Most walk away when you politely decline a few times.

However, the women offering massages are something to be mindful of. They will plonk themselves down beside you and start grabbing your body parts and massaging them or slathering oil on you even when you have been blunt in your refusal.

Then, if you insist you don't want a massage or you try to get up and start walking away, they will cause a fuss stating that they have given you a massage (when they have groped you non-consensually for 40 seconds) and demand payment. This is extremely unpleasant to deal with and unfortunately, there is no security or police presence at any of Cartagena's beaches.
But if you see one of these "masseuses" approaching you, at least you will be aware. If you want a massage, you should negotiate the price as these women are trying to charge profound rates.

For instance $50 USD for a 5-minute massage. You are generally better off avoiding them at all costs and organising a professional massage at your hotel or a spa if you really want one.
Reconsider visiting some of the beaches
Cartagena's location on Colombia's Caribbean coast means that there are a couple of beaches nearby. However, they are a far cry from being anywhere near the most beautiful in Latin America.

Bocagrande is the nearest beach. It is backed by glittering skyscrapers and towering hi-rises and is known as the "Little Miami" of Colombia.
You can reach Bocagrande in just 5 minutes by Uber or public bus. While it may not be a spectacular beauty, it serves a purpose if you just want to have a beach day.
There are plenty of restaurants and kiosks where you can rent a sunbed and an umbrella for the day for just a few pesos. However, you can expect to be harassed by an abundance of vendors here.

La Boquilla is a more remote beach and fishing village east of Cartagena's old town and past the airport. A couple of organised tours around the Cartagena area stop here and unless there is a group of you or at least you are a couple that speaks decent Spanish, this is perhaps better for your safety. Scams abound at La Boquilla and here you are in a more remote location with fewer people around to ask for help than at Bocagrande.
The Rosario Islands are an archipelago of tropical islands that sit off the coast of Cartagena. According to legends, pirates would hang out here when they were plotting their attacks!
Head to the more remote Rosario islands and stay overnight if you can. Alternatively, you can do an excursion that takes you to multiple islands in one day.
Isla Baru and Playa Banca are perhaps the most popular. As they have begun to attract a lot of tourists, they too have now become hotbeds for harassment and are best avoided.
Know it is worth paying extra for safe and secure accommodation
Accommodation in Cartagena doesn't have to break the bank if you are travelling on a budget. There are plenty of great backpacker hostels to choose from if you want to be social, as well as a range of decent mid-range hotels.

However, it is important to research your accommodation options carefully. Read up on the area where the hotel/hostel/Airbnb you are considering is located and read past reviews.
Ideally, you should choose a place that has 24-hour security. It is a good idea to stay in either Getsemani, the old city, or Bocagrande.
Check the accommodation´s location on the map to make sure you're not out in the sticks and that you have amenities nearby. A selection of reputable Cartagena accommodation options is detailed below for your consideration. There is something here for every budget.
Never walk with expensive electronics on display
Arguably the golden rule when travelling in Colombia is to keep your electronics and valuables out of sight. The locals have it saying for it – "no dar papaya" meaning "Don't give papaya".

Papaya is a metaphor for something sweet to tempt potential thieves. While it may sound somewhat victim-blame-y, it is a good rule to abide by.
Look, when you read articles about traveling safely in Colombia, it seems that everyone knows someone who has been robbed. That can terrify you into thinking that being the victim of petty crime is inevitable but that is simply not true.

Just make sure that your valuables are put away out of sight. That means no wandering around aimlessly with your $1200 iPhone in your hand, no DSLR swinging around your neck, no flashy jewelry or expensive designer sunglasses and accessories.
By all means, take photos and check Google maps to see where you are going as and when you need. Just be sure to put it away when you are done.
Because Cartagena is quite touristy, you will see streets filled with crowds of American tourists and it seems like everyone has a camera around their neck, an iPhone in their hand, or a go pro flailing around in their arm. Remember that to some locals, your $1200 iPhone can be worth several months' wages and the opportunity to just grab one out of someone's hand and run off is very fruitful.
When you see tourists showing little regard for the unwritten "no dar de papaya" rule, although they obviously don't deserve to be robbed, you can kind of understand why petty crime rates in Colombia are high. Take care of your things here.
Consider buying a local SIM card
It is a good idea to pick up a local sim card while traveling in Colombia. Sometimes when you travel it is nice to detach from constant phone notifications but in Colombia, it is good to always have access to the internet so that you can call Ubers when you need them, quickly check something online, contact your hotels, etc.
Better yet, a local number comes in useful if you need to make a reservation at a local restaurant or something similar. There are three main mobile networks in Colombia: Movistar, Claro, and Tigo.
A Colombian CLARO sim card is a good shout. You can pick these up at Cartagena airport kiosks and from street vendors. There is also a Claro store in the Mall Plaza just outside the old city walls (Av. Pedro de Heredia Cra 13 # 31-45 Locales 108-109 y 117, Provincia de Cartagena, Bolívar).
You are looking at approximately $10 for 9GB of data and unlimited social media use for 20 days. Most restaurants, bars, and cafes have free wifi in Colombia.

A lot of large cities in Colombia have areas of free public wifi but Cartagena does not. Similarly, the wifi at Cartagena Rafael Nuñez airport is glitchy at best. It is better to invest in a SIM card to be safe.
Use Uber rather than street cabs
In much of Latin America, locals prefer to use Uber rather than street cabs and Colombia is no different. In some countries, people associate Uber with being less safe – after all, you are getting into a car with a random right?

But that is not the perspective here. Obviously, when you order a car via Uber, you have the driver's details and license plate.
Using Uber in Cartagena
The app knows your pickup and drop-off locations and you can share your journey details with friends and family. So there is more accountability than when you get into a random street cab.
There are additional precautions that you can take too. Always click the driver profile and make sure that they have done a fair few rides (1000 and up).
Don't use drivers that have low ratings (look for 4.8/4.9 and up). If a new driver with low ratings accepts your fare, cancel it quickly. Uber will search for another driver at no cost. When your Uber arrives, make sure that the driver and number plate you see correspond to what you have on the app.
Street taxis in Cartagena
Street taxi drivers the world over are often a law unto themselves. If you get into a random street car in Cartagena, you may very well be ripped off and the taxi driver will make up whatever fee they feel like and assume that you do not know the going rate.

Taxis in Colombia also do not have meters so it is hard to gauge how much you should be paying. (If you ever happen to take a street taxi, agree on a price before you get in.) Ideally, get your hotel or accommodation provider to order it for you or recommend a driver they trust.
So basically, the most minor thing that may happen to you if you use a street taxi in Cartagena is that someone may rip you off. But on the more sinister side of things, "express kidnappings" are a thing in Colombia and much of South America.

This happens when you enter a taxi and the taxi driver drives a little distance. Then, their friends/accomplices get in the vehicle and force you to hand over your valuables at gun/knifepoint.
They then drive you around to different ATMs and force you to withdraw the maximum amount of cash each time. This is not as common in Cartagena as in Bogota, Medellin, and other parts of the country but it is not a risk you want to entertain, no matter how small.

The general aim of the thieves is just to make as much money as possible as quickly as possible rather than harm tourists. But it is still a traumatic experience that you don't want to have if you can help it!
Always watch your bag and your personal belongings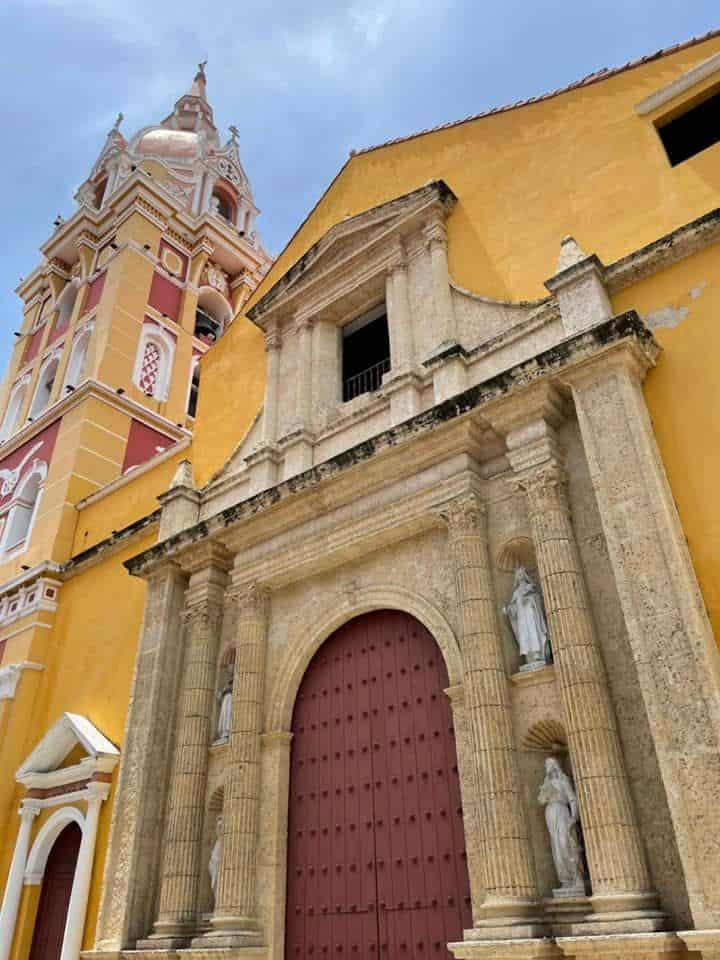 Always keep an eye on your things in Colombia. If you are travelling with a backpack, don't leave it on your back behind you, especially not in crowded marketplaces.

It is a good idea to hook your bag on one shoulder and hold it in front of you, especially in busy areas. That way, someone could never come up behind you and slash your bag or open it without you noticing.

Always have your eyes on your bag. Similarly, never leave your things unattended, not even briefly. Don't leave bags with cash and valuables alone at the beach while you go off swimming and don't ask a random person at a coffee shop to watch your things while you go to the bathroom.
Organize your transfers in advance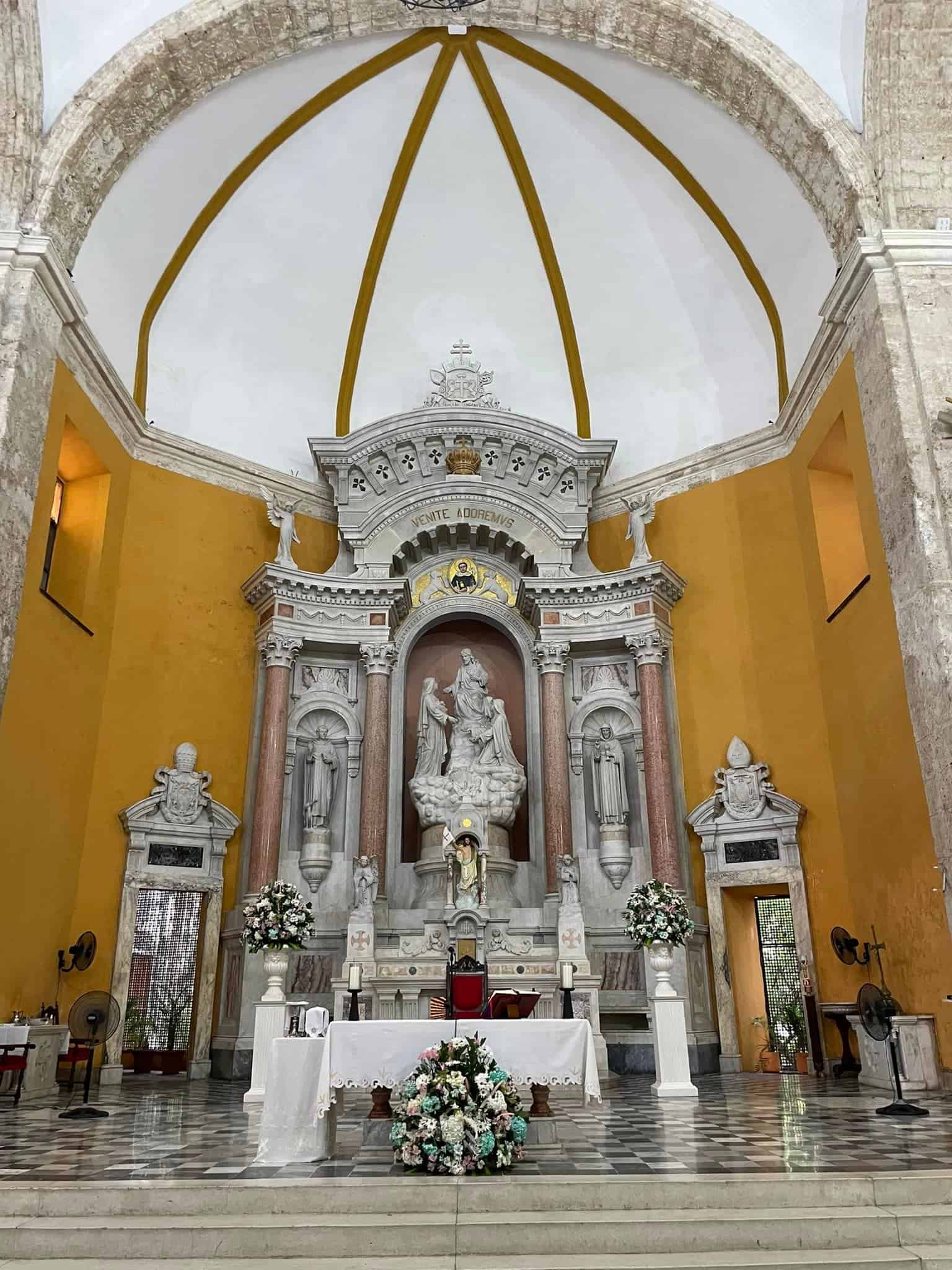 In Latin America, it is a good idea to organise your transfers in advance, especially if you are traveling somewhere for the first time, traveling solo or arriving at night. You can organise a Cartagena airport transfer for just $15 and that way, you know that you have someone waiting for you on arrival at the airport.

A private transfer in Cartagena does not cost any more than grabbing an airport cab. In fact, it probably works out cheaper and less stressful when you factor in that the airport cabbie is probably going to try and rip you off. If you are a solo traveller, especially a solo female, it is just good to know that you are getting into a car with someone trustworthy.
Be careful at night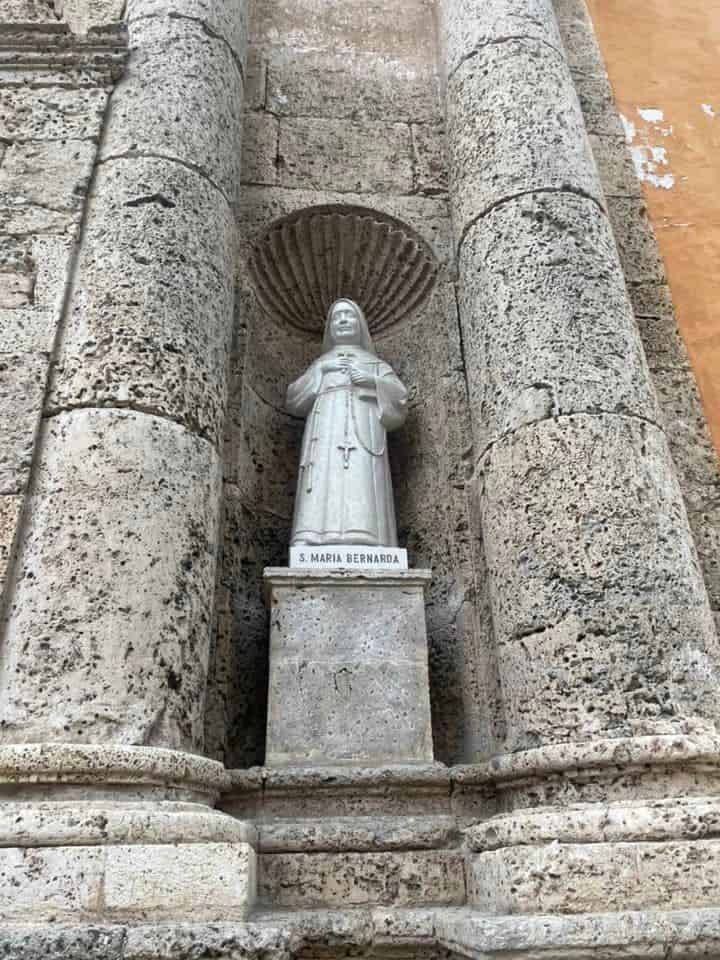 You should not walk alone at night through random Cartagena streets and alleyways but at the same time, the city does have a buzzing, vibrant nightlife scene. In the old town, many of the streets are so alive with tourists and locals heading to bars and restaurants at night, that you feel as though you are in New Orleans or some other eclectic place.
Having so many people around gives you some sort of sense of security. So, if there are a few of you, you can comfortably walk around the main streets and to bars in the evenings.

Even as a solo female traveller, I at least felt comfortable walking from my hotel in the old town to restaurants and cafes nearby. But be careful and use your common sense.
Stick to well-lit crowded streets and don't venture down random quiet side streets, especially not if you are alone or intoxicated. Walking from A to B within the old town is ok but don't go walking long distances home – i.e. from the old town to Getsemani, cutting through parks, or walking into areas you don't know.

Ubers are cheap and alternatively, most Cartagena restaurants are happy to order a cab for you if you need one. Never take risks where your safety is concerned. Because the old town gets so crowded at night, it is doubly important to watch your bag and your things.
Never fight an attacker, nothing is worth your life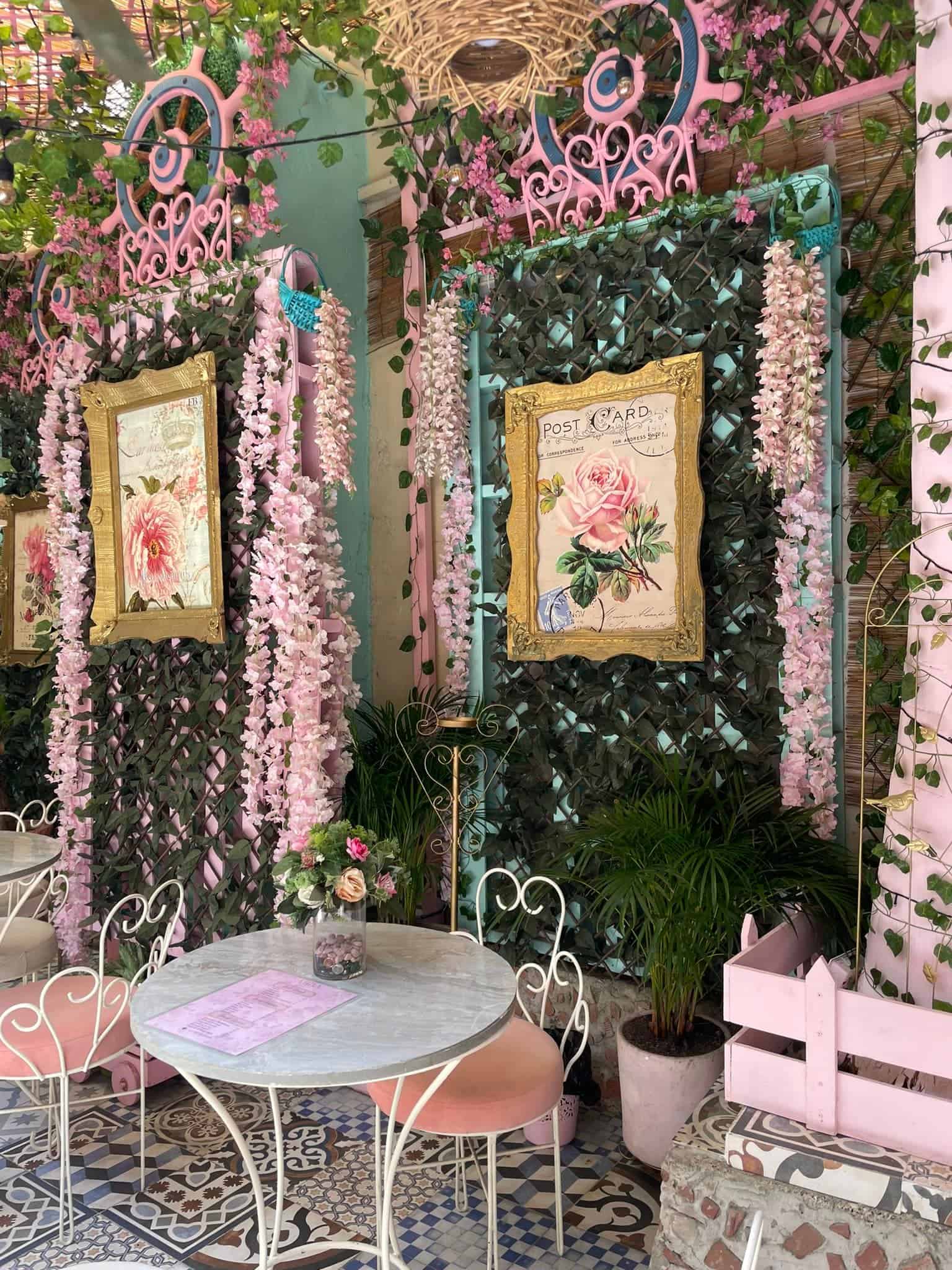 If you are attacked or approached by someone who demands that you hand over your phone/wallet/bag, etc., it is better to just give in to their demands. It is unfortunate to lose something, but you never know when a petty robbery can turn violent.

Tourists being robbed at gun/knife point is arguably less common in Cartagena than in Bogota or Medellin, but still, it cannot be ruled out. Even if someone just approaches you and doesn't appear to have a weapon, you don't know whether they may have something that is concealed.
Nothing is worth your life. Similarly, you should never try to fight your attacker.

Colombia actually has some fairly obscure rules when it comes to self-defence. Basically, if someone attacks you with the intent to rob, cause you harm, or whatever, and you defend yourself and harm your attacker, your attacker can sue you for injuries. It sounds ridiculous but it happens.
Contact the police if you get into trouble
If you get into trouble, feel threatened or unsafe, or need assistance, you can always try and contact the police. There are also usually police stationed around the centre of old Cartagena that exist to protect tourists.

You don't have to walk far to find the police. There are usually quite a lot close to the Cartagena main city gate that leads out towards Centenario Park (Monumento Torre del Reloj). A lot of police in Colombia are corrupt, but most will try to help you.
Learn a little Spanish if you can
Very few people in Colombia speak English, even in tourist businesses and hotels. It helps if you are able to learn a small amount of Spanish in advance of your trip.
Obviously, it is not as straightforward as simply knowing that you are traveling somewhere and then suddenly mastering a new language right before your trip. Learning Spanish is not the easiest feat in the world.

However, even if you are able to pick up just a few useful words and phrases, it will go a long way. Duolingo is a great, free app that you can download before you travel. It is also useful to have Google Translate on your phone. That way, even if you are in a situation where you are struggling to communicate, you can type out what you want to say in the translator and either hold it up to show the person or play the translated audio.
Consider taking tours and excursions to get your bearings
Organised tours and excursions are a great way to get your bearings and grow your confidence when you first arrive somewhere. If you are nervous about arriving in South America for the first time, there is no shame in taking tours for your first couple of days until you feel more confident exploring independently.

There are several free (tip-based) walking tours that you can take around the old town. The Cartagena free walking tour departs from Parque Fernández de Madrid Monday to Saturday at 9:00 am.
It lasts for approximately 3 hours and the guide speaks both English and Spanish. It is important to note, however, that you must reserve your place on the tour in advance.
The tours take you around all of the main points of interest in the old town and give you more information and context on their background and history. You don't go into the various churches and museums on these tours, however, so be sure to go back and do so independently later.
Free walking tour aside, there are several other great tours and excursions that you may be interested in visiting. For secluded, paradisical Caribbean beaches away from the crowds and toots, consider reserving a place on a Rosario island tour.
Alternatively, visit San Basilio de Palenque, an off-the-beaten-path town that few tourists make an effort to visit. The town was the first free African town in the Americas.

Did you know that during the Spanish colonization of Cartagena, more than 1.1 million African people were displaced and sold into the slave trade? In 2005, UNESCO declared Palenque " a Masterpiece of the Oral and Intangible Heritage of Humanity."
It is a good idea to reserve all Cartagena tours in advance of your trip as many do sell out, particularly if you are travelling during the peak season. A selection of reputable and interesting tours that you may want to consider are shortlisted below.
Recommended Cartagena Tours
Rosario Islands catamaran tour with lunch and snorkel


Getsemani highlights and graffiti walking tour


Private Getsemani highlights and graffiti walking tour


Cartagena sunset cruise with an open bar


Cartagena: private boat tour around the islands


Guided Cartagena city tour with La Popa and San Felipe Castle


Private rum-tasting tour in Cartagena
Look out for restaurant scams
Cartagena is a gourmand's paradise and there are a lot of excellent restaurants here that serve exquisite cuisines from around the world. For the most part, Cartagena restauranteurs are very honest and not tourist traps as you may expect in a city that is so popular with travellers.

However, there are always tricksters in every tourist city so be mindful of eating at restaurants that seem over touristy with their plastic menus with printed images. In particular, be wary about the restaurants that hire toots to stand out on the street hassling people to get them to dine at their restaurants. Just always check the price that is displayed on the menu and make sure that it corresponds with what price appears on your bill at the end.
Be careful with your money
Be mindful of your money in Colombia, just as you are mindful of your electronics and personal belongings. Don't carry a huge amount of cash with you – just enough for what you will need for the day.

It is a good idea to open a borderless bank account if you don't have one already. Wise, Revolut, and Charles Schwab are all good choices depending on which country you are coming from.
Having a borderless bank account means that you will not be charged international transaction charges when you withdraw money overseas. This is important, as international charges can be expensive and they quickly add up!

Better yet, this means that you don't have to withdraw huge amounts of money each time you go to the ATM in Colombia. It is a good idea to travel with multiple bank cards and don't carry them all with you at all times.

Then if you lose one, you have another one safe back in your hotel room. Keep your alternative bank cards and an "emergency" amount of funds of around $50-100 or so hidden deep in your luggage and lock your bag.
Consider purchasing a theft-proof backpack
One way to reduce the risk of being a victim of a petty crime in Cartagena is to invest in a theft-proof backpack or money belt. These are a little pricier than your average travel daypack, sure.
But they come with a plethora of additional safety features. Theft-proof backpacks, like those offered by Pacsafe, are waterproof, slash-proof, and come with a TSA-approved locking system.
They can be purchased in stylish designs so you would not suspect that they were any different from a regular backpack. Many come with multi-year warranties.
Be wary of over-friendly strangers
When you are questioning "Is Cartagena Colombia safe?" know that a little common sense goes a long way. If you wouldn't do something at home, don't do it in Colombia.

Be wary of overly friendly strangers, particularly in bars. A lot of Colombians are extremely friendly and welcoming and it sounds awful to be constantly on guard and assuming that everyone is out to get you.

But there are a lot of scam artists around and it is important to be vigilant at all times. The majority of "friendly" strangers approaching you in the street probably want to sell you something or charge you for their time in showing you something of interest.
When your read the UK and US government safety advice for Colombia, you will see a lot of mentions of the drug scopolamine or "devil's breath". The drug can be placed in someone's food/drink or blown into their face.

The victim becomes ultra-obedient and does anything that they are ordered to do which is low-key terrifying. Worst still, they have no recollection. When you hear about this, it sounds extremely scary but scopolamine use is not common in Cartagena.

It is not the case that people go around blowing it into people's faces at random. For the most part, it is straight men in bars that are likely to be victims of these attacks. Always watch your drink and if you are male and you are approached by an extremely attractive female stranger, be cautious.
Know which areas to avoid
Cartagena is pretty touristy but it is still a living, breathing Colombian city with approximately a million inhabitants. Many residents are living below the poverty line and there are definitely certain areas that you want to avoid.

The San Diego part of Cartagena is fine in the day but can be sketchy at night so do not walk alone here in the evenings and avoid wandering around at night if you can. It sits within the old city walls but it is essentially on the outskirts of anything of interest. A few budget hotels and hostels are located here.

Sector La Magdalena, La Maria, El Paraiso, Olaya, and El Pozon are all areas that are best avoided. They offer little interest to tourists anyway.
The Bazurto market on the outskirts of the city is a relative distance away from the old town and is not a touristic market. It is a traditional Colombian mercado where locals come to shop for fresh fruit, veg, and groceries.

This can be an extremely interesting place to see if you haven't spent a lot of time in Latin America or experienced a traditional Colombian mercado before. If you visit, it is best to explore with a local guide who knows the area and can help you interact with the vendors. If you visit the market independently, be mindful of your possessions in this extremely crowded local market.
Consider buying an alarmed door-stopper
An alarmed door stopper is a handy thing to include in your Colombia packing list. You can buy them for a few dollars online.

Then, if someone tries to force their way into your Airbnb or hotel room, an alarm will sound, hopefully scaring away any intruder and giving you fair warning.
That is by no means to say that this is necessary for Cartagena because your room is likely to be broken into, it is just an additional safety measure that you may want to take when travelling anywhere. This is particularly true if you are travelling alone and/or staying in self-catered apartments.
Make sure that you buy comprehensive travel insurance
Comprehensive travel insurance is an essential thing that you need to purchase for travelling anywhere, including Cartagena Colombia. Unfortunately, with the best will in the world, you never know what is around the corner and it is better to be safe than sorry.

Should you get into an accident or fall sick overseas, medical treatment can be extremely expensive. A good insurance policy includes medical coverage up to around $1 million US dollars.
Consider purchasing a policy that comes with additional extra – for instance, repatriation, theft/loss of luggage, and sporting activities. Always read the small print for any plan that you purchase as many insurance providers consider things like walking and hiking as "adventure sports" and so you may have to pay extra.

World Nomads is a great adventure travel insurance provider – perfect for visiting somewhere like Colombia. If you travel frequently, you may find it more economical to purchase an annual insurance plan as opposed to a single trip cover.

Write your policy number and details down, store them as a note on your phone, and keep them safe. Should you need aid in Colombia, this is the first thing you will be asked for, before you are offered any help.
Do not get involved with drugs
Do not get involved with drugs in Colombia. Not only do you not want to support the drug trade in the country, but it is also dangerous to take substances here.

Scam artists and toots are found in abundance here. Hypothetically speaking, if you bought something from a dealer here, you don't know what it could be laced with and you are putting yourself in danger.

Drug-related punishments in Colombia are severe and this is not the place you want to take risks. It is also important to be aware that corrupt police often work in cahoots with dealers and scam artists. It is not unheard of for them to work together to scam tourists and then get them to pay a bribe.
Don't be afraid of experimenting with street food
Experimenting with local cuisine is a highlight of traveling anywhere, including Colombia! A lot of people seem to have unnecessary reservations about eating from street food vendors but you are missing out on a huge part of the Colombia travel experience if you don't experiment with street food!
A good rule of thumb to take is to look out for vendors that are surrounded by locals waiting to be served. If somewhere is busy, it is generally a good indication that the food is good!
Use the same common sense that you would with food anywhere – if meat, fruit, and veg have been sitting out a long time or it has flies buzzing around it, don't risk it! There are several delicacies that you should try in Cartagena, several of which originate from this part of Colombia.
Arguably the most famous regional treat is an arepa de huevo. This snack is so popular that there is even a festival dedicated to its existence!
The arepa de huevo is a deep-fried corncake that is stuffed with eggs. You will see a lot of vendors frying it on the side of the road in the old town and around Centenario Park. Look out for the thick, deep-fried circular treats!
Carimañolas are half-moon-shaped fritters made from yuka and filled with cheese and ground beef. They are enjoyed in Colombia and nearby Panama. Of course, there is also the option of booking a place on a Cartagena street food tour to sample numerous dishes at once and find street food markets that most tourists are unaware of.
The water in Cartagena is safe to drink
It is safe to drink the water in Cartagena. However, most hotels will usually provide you with a couple of complimentary bottles of water in your room each day too.

You do not need to worry about having ice in your drinks here as it is perfectly safe to consume it. You may want to consider purchasing a reusable water bottle to use during your trip.

That way, you can fill up your water bottle each day and minimize your plastic waste. Better yet, certain water bottles, like those offered by Lifestraw keep your water cool throughout the day. If you purchase a Lifestraw water bottle, every purchase made provides a year's worth of clean water to a child in a developing nation.
What to wear in Cartagena Colombia
Cartagena has a hot, humid, tropical climate. So, lightweight, breathable fabrics are a must. Think cotton, linen, silk, and wool.
It is a good idea to pack comfortable walking shoes as you will likely be doing a lot of exploring and walking during the day. Take a small 5-litre day pack to carry your essentials with you while you are out and about and be sure to pack a sun hat as the heat here is intense.

For men, lightweight shirts and long shorts are perfect for the tropical climate. Female travellers should of course be able to wear whatever they want and are more comfortable in.

You will see plenty of people (including Latin women) walking around wearing shorts, tank tops, crop tops, and sun dresses. However, since the harassment from men here is quite bad, you may prefer to wear long trousers, especially if you are travelling alone as a woman.

Long, lightweight jumpsuits paired with tops or maxi dresses are the perfect outfit choice for travelling to Cartagena. You will also find a lot of wonderful boutique stores around the old town that sell gorgeous, one-of-a-kind pieces with tropical designs that are quintessentially Colombian and unlike anything you would find elsewhere.
Many of the restaurants and bars in the old town are quite classy. During the evening it's nice to dress up and head out in Cartagena. The temperatures cool down a little when the sun sets but remember that this is still humid, tropical heat.
Make use of your government's travel advice
The UK and USA government travel advisory pages are sternly worded and come across as intimidating. However, they are good sources of up-to-date information on any country that you are planning to visit.

It is worth checking their Colombia travel advice pages in the days leading up to your trip. They are updated frequently with everything from entry requirements to details on the current political/safety situation.
Is Cartagena Colombia safe for solo female travellers?
Cartagena Colombia can be a safe destination for solo female travellers but it is a good idea to be aware of the situation that you are going into. Many articles that discuss the question of "Is Cartagena Colombia safe?" have been written by men.

Either they are completely ignorant of the differences and challenges that come with travelling in South America as a female or they are simply clueless. It is important to note that the harassment from street vendors here can be pretty bad, and it can be a shock to experience it, even if you are well-travelled.
If you have never travelled to Latin or South America before, you might want to consider travelling to Mexico first, as a nice introductory taster to the culture. (Read this review that compares traveling to Mexico vs Colombia for the first time).
Consider meeting other travelers if visiting Cartagena alone
If you are visiting Cartagena alone, the adventure can be made more fun if you find travel buddies to share it with. Better still, it makes you stand out less.

Obviously, you have every right to have some "me time" and explore independently and you can have a perfectly safe and enjoyable time in doing so. However, if the harassment gets a bit too much, you may prefer to meet other travellers.

Obviously, hostels and walking tours are a good place to meet other travellers. If you don't like the idea of staying in a hostel, you can find a hostel with a private room so that you have all the comforts of being in a hotel yet in a more social environment. If you prefer not to be in a hostel at all, you can stay elsewhere and still visit hostel bars or attend the events that they host.
Alternatively, there are several Facebook groups dedicated to travelling and backpacking in Colombia. You can simply make a post in one of the groups and see if anyone is around and wants to grab lunch/coffee/some drinks.

Some Colombia travel Facebook groups to be aware of are:
You can also check Meetup.com and Couchsurfing to see if there are any events going on. Nowadays you have to pay a small monthly fee of a couple of dollars a month to use Couchsurfing but there are still a lot of active users.

The Couchsurfing "hangout" function uses GPS (like a platonic Tinder!) to show you travellers in your area. You can start a hangout and meet up with other travelers in the area to walk around, take a day trip together, grab dinner, etc.
Keep your family and friends informed but keep your plans off social media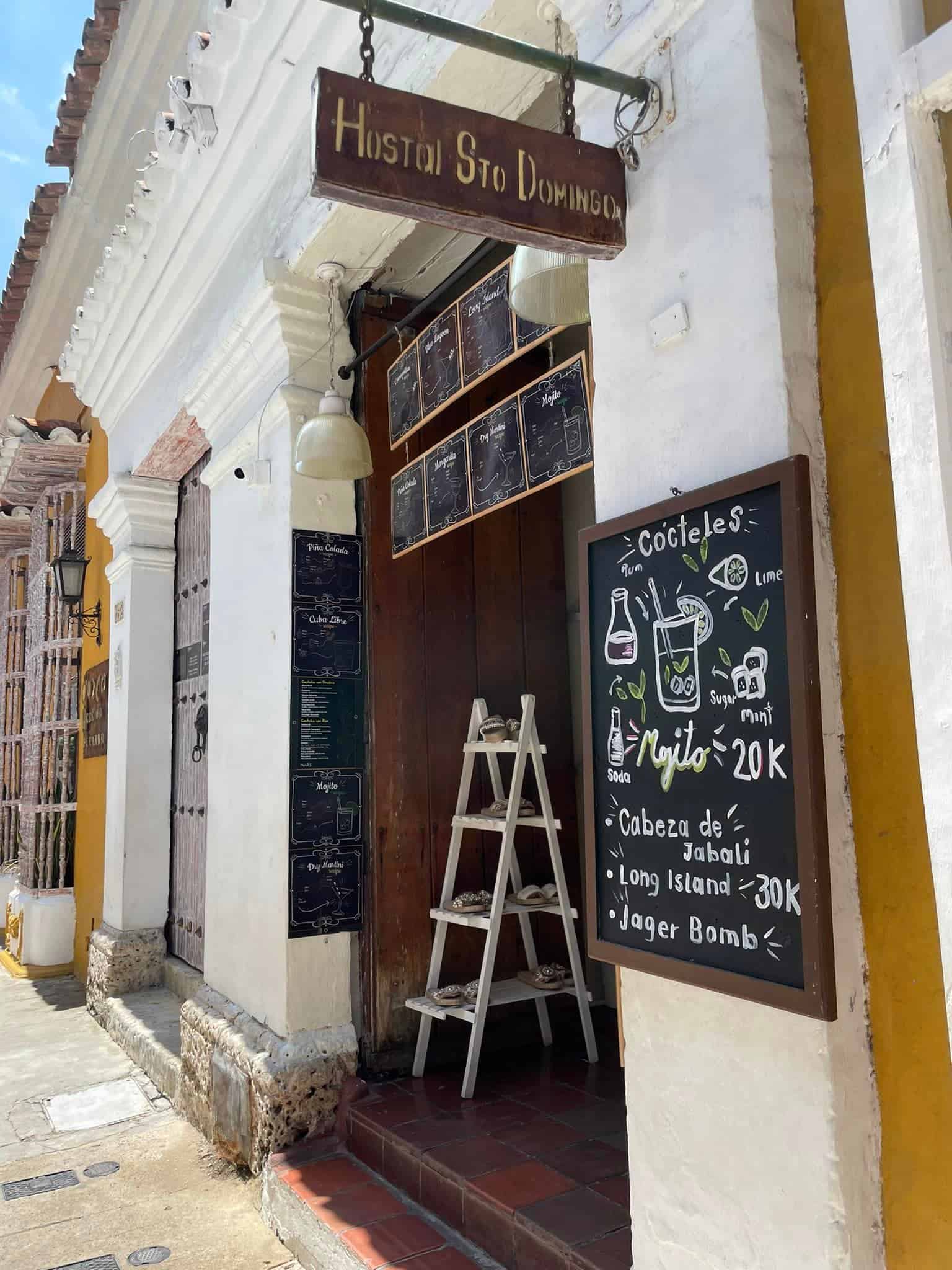 Never post your detailed travel itinerary on social media, especially if you are travelling alone and especially if you have public social media profiles. Unfortunately you never really know who is watching what you do and if you are female, there absolutely are Colombian men that find women through hashtags and geotags on Instagram and use the platform as if it is some kind of dating app.
Similarly, don't post anything that gives away your location in real time. Save everything in your drafts folder and post it when you have left that specific area.

A great way to share your plans with your friends and family is to create a shareable Google Doc with your itinerary written down. Set it to "view only" so that you are the only one who can edit it (and family members cannot accidentally delete sections!)

They will be able to see where you are on each day of your trip. If you decide to change your schedule somewhat, you can simply edit the doc rather than having to text a ton of people about your change of plan.
Parting words
Are you still concerned about whether Cartagena Colombia is safe? Have you travelled to Colombia?

Some aspects of this article may sound offputting but it is important to be aware of the situation and prepared for every eventuality. You can have a wonderful travel experience in Colombia provided you take the right precautions!
Have a wonderful trip! Buen Viaje! Melissa xo
---