Solo female travel in Colombia is not the most common or usual travel choice. But Colombia has started to become an increasingly popular destination in recent years.
Over the past decade, Colombia has started to reinvent itself from its formerly dangerous reputation. Today, Colombia is rapidly emerging as a worthwhile stopping point on any South America backpacking route.
Solo Female Travel in Colombia: A Complete 2023 Guide
When you tell people that you are a woman traveling alone to Colombia, you will typically be met with responses that fall into one of two categories.
On the one hand, there are people that will gasp in horror and tell you that Colombia is a dangerous place for anyone let alone a woman alone. These people still have a perception of Colombia as it was during the 1990s and the days of the Medellin cartel.
They probably haven't even been to the country themselves and it should go without saying that you should never take travel advice from someone that hasn't even been to a place. On the other hand, you will find a lot of people that will say that you could just as easily get pickpocketed or robbed in Europe as you could in Colombia and that traveling there is perfectly safe for savvy travelers.
Honestly, the best approach is somewhere between the two. Colombia is definitely not the no-go, drug-addled narco-state that it once was. Today, tourism is a much bigger part of Colombia's GDP than drugs.
Peru actually exports more cocaine than Colombia these days. And you never really hear of people being afraid to hike to Macchu Picchu because of the drug trade do you?
Visiting Colombia as a woman traveling alone
At the same time, poverty is rife here and everybody knows that poverty creates violence. Not only are pickpocketing, theft and other petty crimes not unheard of, but they are also definitely more likely to happen here than in Europe.
After all, this is a part of the world where your iPhone is the equivalent of a three or four-month salary to someone.
What I am trying to say here is that you should definitely not terrify yourself out of going to Colombia if it's a destination that interests you. However, at the same time, it is also a country where you need to take extra precautions.
People that tell you that you could just as easily get mugged in Europe are usually well-intentioned. However if you go around with a doe-eyed Bambi of the world that everywhere is safe and there are "no strangers only friends you haven't met yet", you are going to make yourself a potential target.
I spent three weeks traveling solo through Colombia last year. I started in Medellin, flew to Cartagena, visited Santa Marta and Bocagrande, and then flew to the Yucatan from Bogota.
So, although I may not be a Colombia expert, I can give some perspective on what solo female travel in Colombia is like. This guide will look at all the things you need to know before you go, how to stay safe during your trip and the best destinations in the country to consider.
Basically, it's the solo female travel in Colombia guide that I wish I had had when I planned my own trip.
Is Colombia safe for women traveling alone?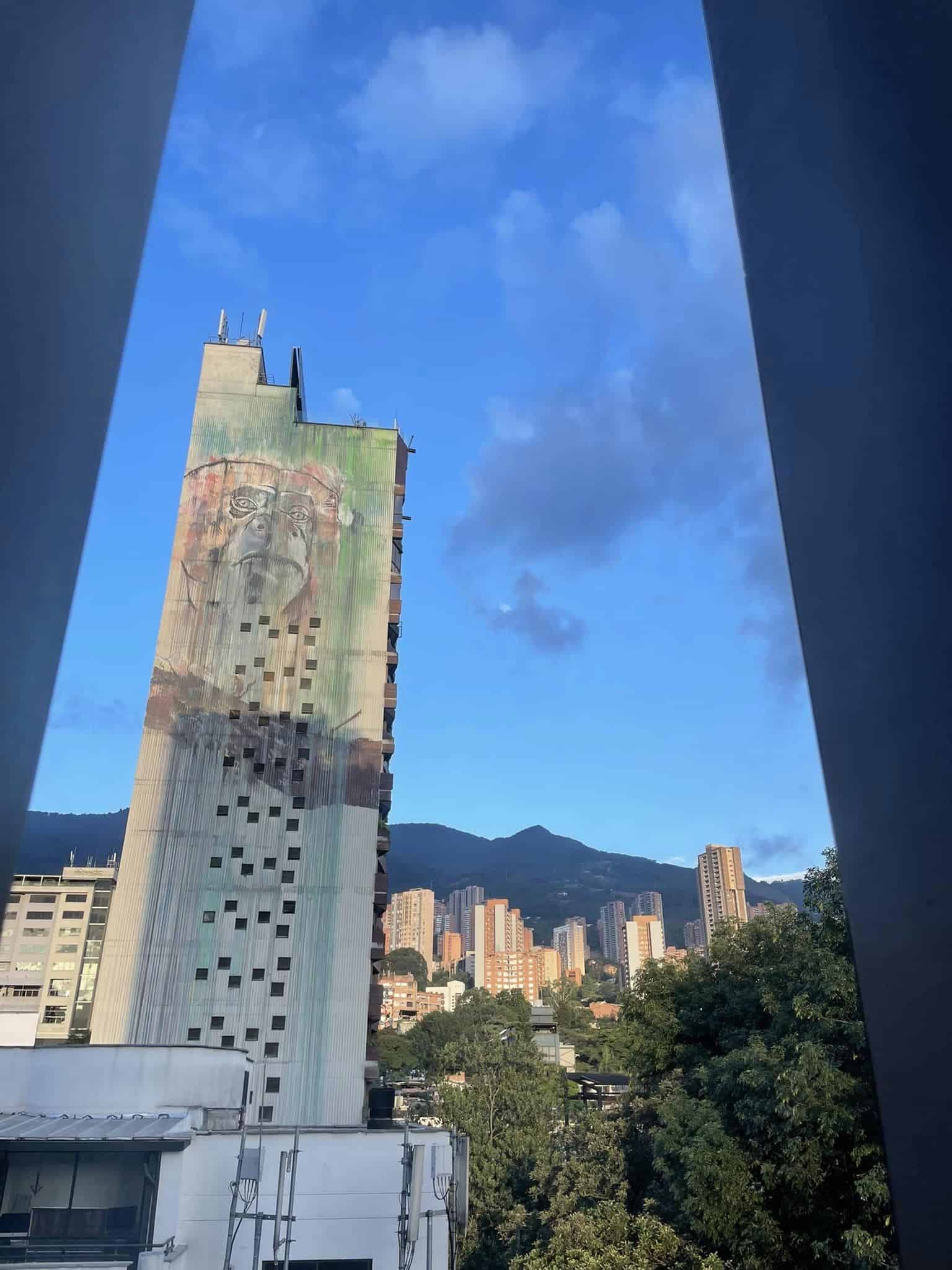 Colombia can be safe for women traveling alone as long as you take precautions. It is worth noting that this is a trip that is perhaps best reserved for people who have at least some prior experience traveling by themselves.
Few people speak English in Colombia and it can be tricky to get around if you cannot speak Spanish. Plus Colombia is a place where you have to be constantly mindful of where you are going, the safety of which neighbourhood you are wandering into, etc.
Not everyone enjoys this type of travel where you feel like you are always looking over your shoulder. It might be too much if you haven't traveled alone before.
In that case, traveling somewhere like Southeast Asia, Spain, or Greece solo where it is safe and there is a well-established backpacker route can be a good way to get your solo travel legs, so to speak. You could even do a short solo trip in your own country to see how you feel traveling by yourself.
Solo Female Travel in Colombia: Things to Know Before You Go
Some useful safety tips for solo female travellers heading to Colombia for the first time are detailed below.
Keep your valuables hidden from view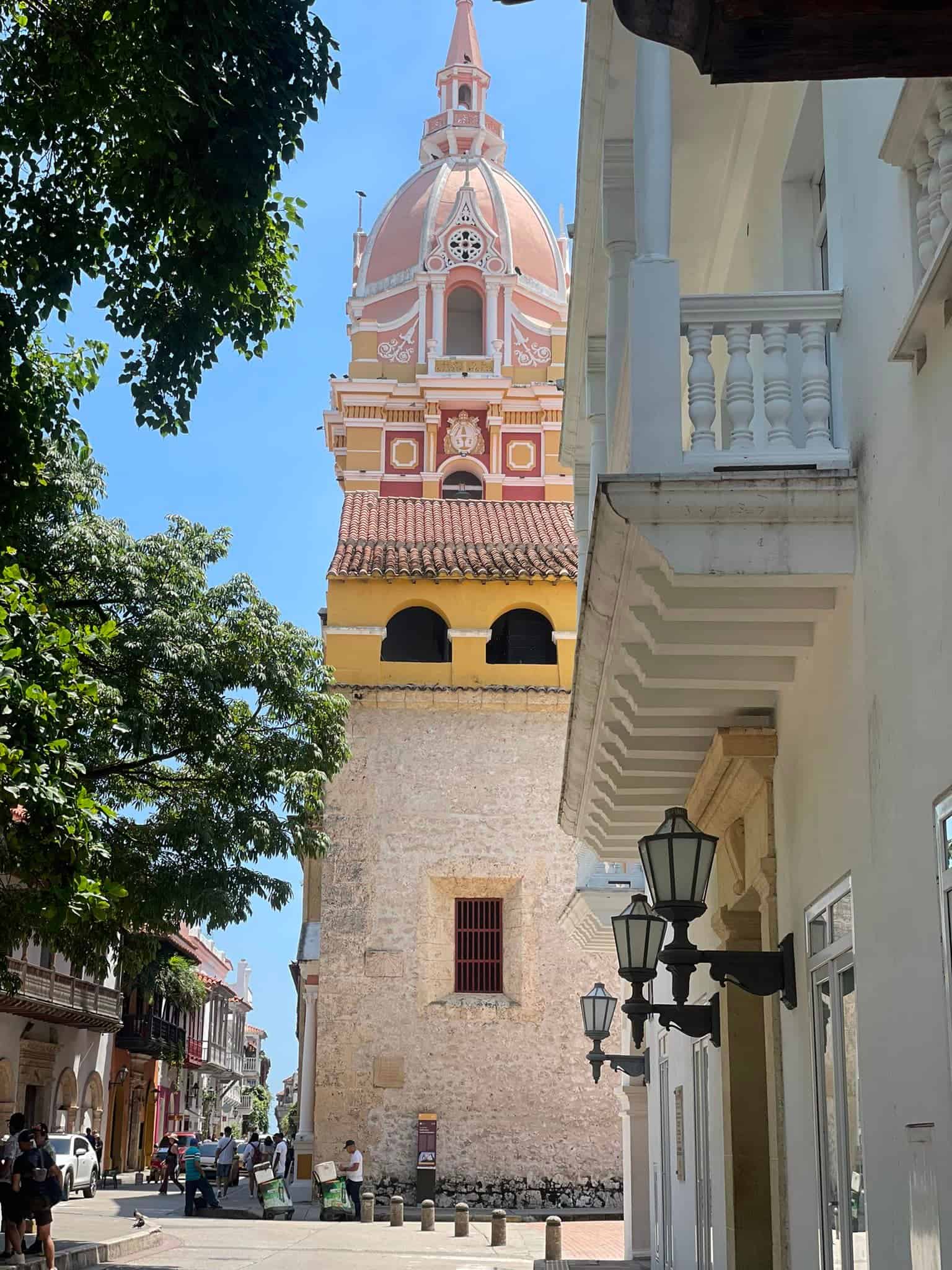 If you are traveling alone in Colombia, it is a good idea to dress modestly and keep your expensive items and electronics out of view. The locals have a saying for this "no dar papaya".
It literally means "don't give papaya" and essentially suggests that you shouldn't have anything "sweet" on display to lure potential thieves, etc. Wherever you travel, it's good practice to not walk around with airpods in or with an expensive DSLR camera swinging around your neck – especially in Latin America.
But in Colombia, due to the sheer frequency you hear of people being mugged or pickpocketed, it is better to take extra precautions. Keep your phone zipped up in your pocket or away in your bag whenever you are walking around.
Only take it out when you are in a busy restaurant/store/cafe and when you head back out into the street, put it back into your bag. If you spend any amount of time in Colombia, you will quickly find that virtually every other person that you meet has a story about someone they know getting robbed at gun or knife point.
It is terrifying to hear about and it can make you paranoid about your own safety. But wander around old town Cartagena and El Poblado, Medellin and you will see countless people walking around with Go Pros tucked under their arms or $1500 iPhones in their back pockets.
Fortunately, I felt completely safe and fine in Colombia – to the point where I had to remind myself that I was in Colombia. Just don't get complacent and you will be okay.
There are sketchy areas to avoid but you hear of people getting mugged in broad daylight in tourist areas too so always be alert.
Never fight back if someone tries to rob you
Hopefully, your solo trip to Colombia will be enjoyable and trouble-free. But if you are unfortunate enough to be a victim of a petty crime, it is better to just comply.
Obviously, you don't want to just hand over your expensive phone/laptop/purse/etc. But you can never be sure of someone's mental state or whether they have a weapon.
Nothing is worth your life. Memories can be more valuable than possessions so make sure that you have all your photos, videos and contacts backed up to the cloud/Google Drive before your trip too.
You should also note that Colombia has obscure laws when it comes to self-defense that could be a nightmare for tourists. Basically, if you are involved in any kind of altercation where someone attacks you and you fight back/fend them off and injure the person, you could be slapped with a substantial fine or even prosecuted.
It's daft, but you hear of a lot of incidents where someone got mugged and then inadvertently hurt their attacker and got arrested. Just one more reason to be careful with your belongings, but not get into a fight over an object.
A little Spanish can help you a lot
English really isn't widely spoken in Colombia. You might encounter a few helpful people at hotels and tourist restaurants in Medellin and Cartagena that can speak it but for the most part, it can be a struggle to communicate – even in airports, etc.
Obviously, it isn't realistic to expect yourself to become fluent in a completely new language just before a trip. But a few phrases of Spanish will really go a long way here.
Even if you can just point to food on the menu at restaurants and say "Yo quiero" (I want…), it will come in handy. Duolingo is a great, free app to help you master a few phrases before your trip.
You should also consider downloading Google Translate on your phone. So then if you're ever in a situation where you're trying to communicate with someone and you can't get what you're trying to say across.
Useful Spanish phrases for your trip to Colombia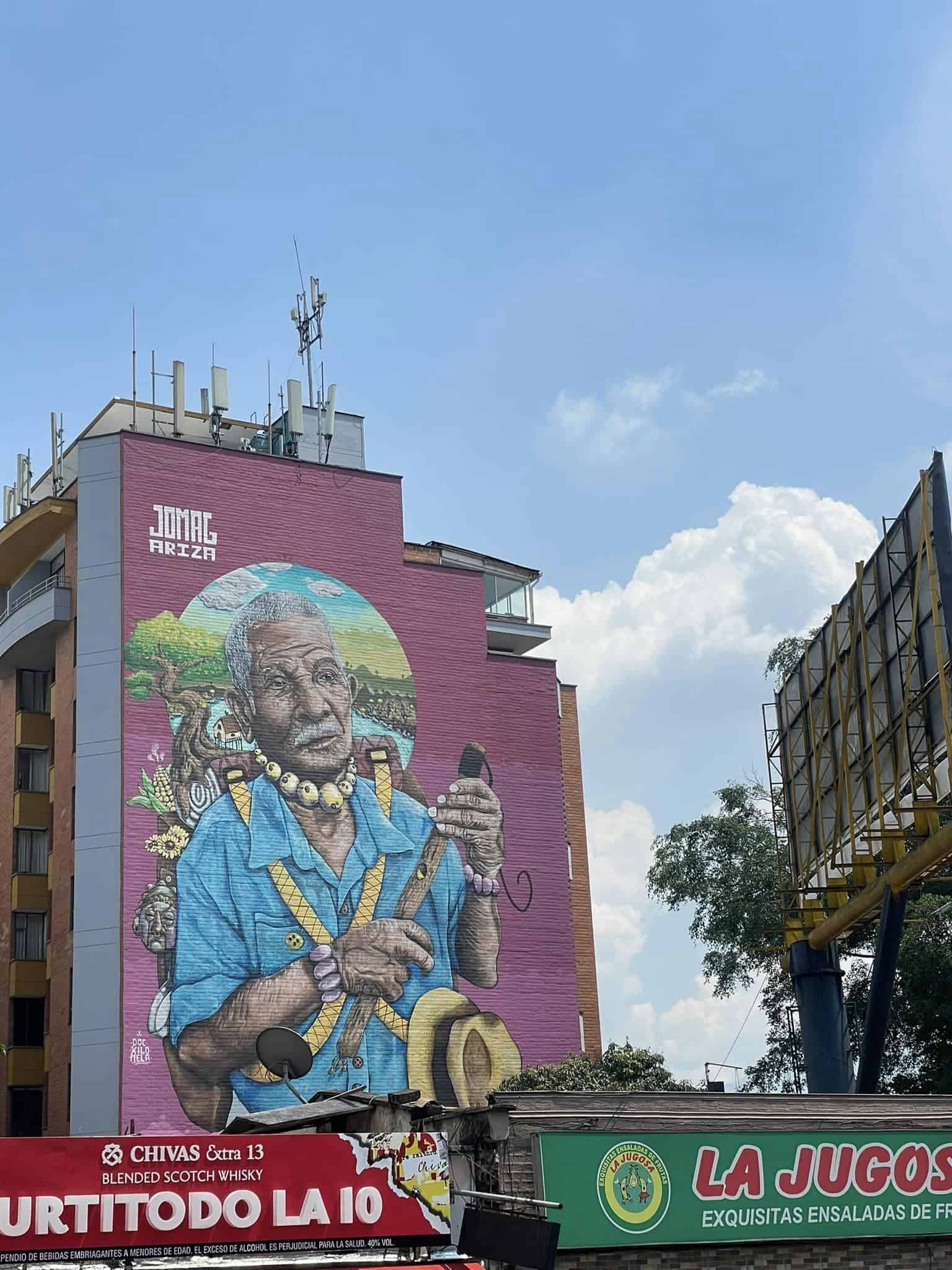 Some handy basic Spanish phrases to try and memorise for your trip to Colombia are detailed below.
Yo tengo una reserva – I have a reservation


Mi nombre es – My name is


Lo siento, no entiendo – Im sorry, I dont understand


Disculpe – Excuse me


Yo quiero – I want (useful for ordering food)


La cuenta por favor – The bill please


Quanto es – How much is it?


Buenos dias – Good morning!


Buenos tardes – Good afternoon!


Buenos noches – Good night


Hasta luego – See you later


Una mesa para uno/dos/tres – A table for one/two/three…


Dónde está – Where is…


Gracias! – Thank you


Tienes wifi? – Do you have wifi?


Necesito ayuda – I need help


Habla Inglés?


Lo siento no puedo hablar español – Im sorry I cannot speak Spanish

Consider doing a walking tour or two to build up confidence
My trip to Colombia was my first foray into South America. I have travelled to 52 countries (mostly solo) and have travelled extensively across Mexico. I also speak Spanish fairly fluently but I was incredibly anxious before my trip to Colombia.
(That's partly why I decided to write this guide – because I know what it's like if you're worried or uncertain about whether you are going to be safe somewhere. I read every guide to solo female travel in Colombia I could find about eight times and felt like I didn't have enough info or reassurance.)
The "dangerous" reputation the country has had in the past, plus people telling you it's crazy to want to travel to Colombia alone is enough to worry anyone. Since I didn't know anyone personally that had travelled solo to Colombia and I didn't know what I was getting myself into, I did a couple of walking tours when I arrived.
They helped me build up my confidence and get my bearings. Once I had a feel for the country, I then felt confident taking buses and metros by myself, exploring solo, etc.
I did a Pablo Escobar tour in Medellin on my first day. Then I did a tour of Comuna 13 – a neighborhood in Medellin that was once the most dangerous in the world.
You will also find some free (tip-based) walking tours that depart each day from most major Colombian cities.
Recommended walking tours in Medellin
Numerous reputable tour companies operate in different cities across Colombia. They offer a wide variety of private and small group tours that can help you learn more about the local history and culture.
A selection of great walking tours in Medellin is detailed below. Get them while they're hot!
Recommended walking tours in Cartagena
A selection of great walking tours in Cartagena is detailed below. Book your place online in advance to avoid disappointment!
Recommended walking tours in Bogota
Walking tours in Bogota can be a great way to meet new people as a solo traveler. Some of the best options are detailed below for you to consider.
Ignore catcalls and hisses
Catcalling is an annoying byproduct of being a woman traveling alone anywhere in the world. Some Colombian men fancy themselves as casanovas and will try and pick up your bill in restaurants as they slide their phone number over to you on a napkin, or they will approach you on the street to chat or make comments.
It is better to just ignore this or say a polite but firm "no gracias" if you're not interested. In Colombia and Latin America, men don't whistle at women, they make hissing noises like a deranged snake.
This somehow manages to seem even more unpleasant. Obviously, as women, we should be able to wear and go wherever we pleased without being pestered or harassed but unfortunately, that isn't the world we live in sometimes and we cannot control the actions of people around us.
Again, you can never really know someone's mental state so it is better to just ignore catcallers and carry on walking. If someone says something lewd or gross, try and move past it.
Don't let one or two gross people ruin your trip and dampen all the other wonderful experiences you will have in Colombia.
Research the best areas to stay
When booking your hotels, hostels, and Airbnbs in Colombia, you need to put a little more thought into which areas you choose to stay. In Medellin, El Poblado, and leafy Laureles are the most common places for tourists to base themselves.
Envigado and Belen are two more nice options if you want to go a little more off the beaten path. These are both residential areas, but they are safe and there are plenty of lower-cost Airbnb and apartment rentals here if you want to stay in Colombia longer term.
There are plenty of hotels in Centro/La Candelaria, although you have to be a little careful here at night. Barrio Trinidad and Prado are two hotspots for drugs, and La Sierra is generally best avoided.
Most hotels tend to be centered around the "safe" tourist areas but the point here is that when it comes to booking accommodation, you need to check where your hotel is on the map. Sense check whether it looks like a good area to stay and look up the neighborhood name if you can.
I'm using Medellin as an example here but the same rules apply in every city. There are safe areas and then there are sketchy ones. It's not like staying somewhere like Athens where you can just book a hotel in any part of town and you'll be fine.
Prepare for pushy vendors in Cartagena
Cartagena is a gorgeous city on Colombia's Caribbean coast. It's pretty touristy and is often crowded with more Americans than Colombian locals, but for its colonial charm, gorgeous old churches and buildings, and history, it is an essential stopping point on any Colombia itinerary.
If anything, being somewhere with a ton of tourists can feel reassuring in some ways. As a solo female traveler here, you sort of blend in, and nobody is gawping at you in disbelief that you are traveling alone.
2-3 days here is enough for an initial trip but if your schedule allows, you could stick around here a little longer. Cartagena makes a great base for exploring Palenque, the first "free" town for former African slaves in the Americas, and the gorgeous Rosario islands.
The only downside to Cartagena is an abundance of pushy street vendors. Of course, these people are just trying to make a living and things are hard for a lot of people in Colombia and wider South America.
But after you have said "no gracias" 75 times in an hour, it can be annoying and overwhelming – to the point where it actually puts you off being there. Some vendors make gross, lewd comments.
You really cannot sit in peace for 2 minutes at any cafe or restaurant and it's worse on the beaches which have no security/police presence. Sometimes people will physically grab your bag/your arm to get your attention. This isn't a danger per se, but it's worth mentally preparing yourself for this.
Beware the masseuses in the Colombian Caribbean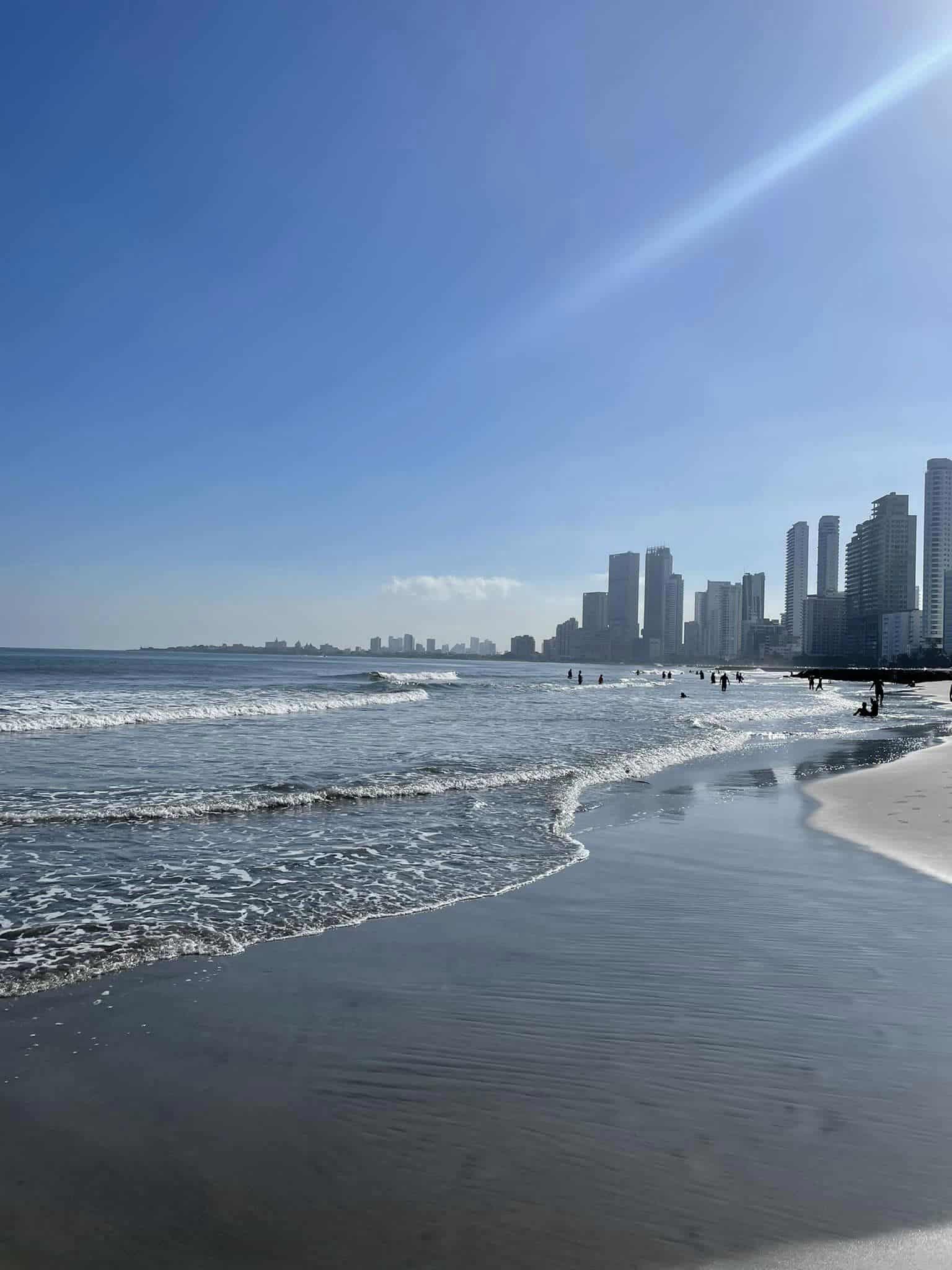 In a similar vein to the pushy street vendors in Cartagena, you should also be aware of a particularly annoying breed of vendor: the beach masseuse. There are a lot of women peddling massages on the beaches near Bocagrande.
They will plop their beach chairs down beside you and start lathering oil over your legs or grabbing limbs without your consent. When you try and walk off, they will follow you or demand money.
If you read the reviews of these beaches on Tripadvisor and other similar platforms, they are rife with people having these types of experiences. Unfortunately, I wouldn't really recommend going to Bocagrande or Playa Blanca because you simply cannot relax there and as a woman alone, you seem to be more of a target.
Take Ubers rather than street cabs
In Colombia and much of Latin America, Uber, and other ridesharing apps are often considered safer than street cabs. That can be a totally different mindset from what you might be used to in your own country.
But when you think about it, it makes sense. When you order a taxi via Uber, there is more accountability than if you get into a random car on the street.
After all, you have the driver's name, license plate, and vehicle info. All of this is recorded on your phone and via the app should something happen to you.
You simply don't have that when you get into a street cab. You can also see the price and the route upfront so there are no scams or surprises.
Plus Ubers generally tend to work out cheaper than street cabs so that's an additional bonus.
In Latin America, there is a real risk of being the victim of an "express kidnapping" when you get into a random taxi on the street. An express kidnapping happens when an unsuspecting tourist gets into a street cab.
The driver may travel a short distance before their accomplices and to the vehicle. The tourist is then driven around in a circle and forced to hand over all of their valuables and money before being made to withdraw the maximum amount of cash from each of their debit and credit card at various ATMs.
The objective is for the tricksters to make some quick cash not to harm you. However, that would be a traumatic experience to go through.
For this reason, it is better to stick to Ubers.
Consider booking transfers in advance
It can be reassuring to know that someone is waiting for you when you first touch down in Colombia. That way, you don't have to deal with the stress of figuring out how to navigate local buses and trains after an international flight or worrying about how to get to your hotel.
You can organise airport transfers in Cartagena, Medellin, and Bogota for less than $15-$20. A driver will be waiting for you in the Arrivals lounge of the airport holding a sign with your name, and they will transport you to your accommodation safely in an air-conditioned vehicle.
Ubers usually work out cheaper than transfers and it is possible to grab an Uber from the airport. But, like in many countries, taxi drivers in Colombia are unhappy about Uber taking their fares.
If you order or wait for an Uber here, you might be pestered. Plus it means having to wait around outside the airport after your flight.
It is generally a good idea to get a pre-booked transfer from the airport to the city, and then you can get an Uber back from the city to the airport on your return. If you really want to get an Uber both ways, it's a nice idea to sit next to the driver (if you feel comfortable doing so).
That way, you can just tell any bothersome taxi drivers that ask you that your friend is giving you a lift from the airport.
Use Facebook and travel platforms to meet other travellers
Since Colombia is emerging as a South American backpacking destination, it is easy enough to meet fellow travelers here. Staying in hostels is always a great way to meet people but if that's not your scene, you won't be isolating yourself by staying in hotels either.
Couchsurfing is fairly active in larger cities. The platform is best known for offering people a way to stay in a city for free by staying on a local's couch, but one of the best things about it is its hangouts function.
Couchsurfing Hangouts helps you find other travellers in the same area as you. You can create a hangout saying that you want to grab dinner, go to a museum, etc and people can respond.
Since it's so active, you can usually find someone to meet up with you within 30 minutes/an hour. There are also a few Colombia Facebook communities where you can post to see if anyone wants to travel to a particular place, etc.
Since there are so many members in some of these groups though, it's a good idea to make a post a few weeks before you actually travel. That way you can see who is going to be around on the same dates.
Colombia travel Facebook groups
Some useful Colombia Facebook groups are:
What to wear as a solo female traveller in Colombia
Ultimately, you should wear whatever you feel most comfortable in during your time in Colombia. You don't have to dress overly modestly and cover yourself up like a frumpy sack of potatoes so as not to draw attention to yourself and there is definitely a lot of incorrect advice to this end online.
It is a good idea to look at what the local women are wearing as a frame of reference. But in cities like Medellin and Bogota, you will be just fine wearing sun dresses, cute skirts, tops and stockings, and fitted trousers or jeans – basically whatever you prefer.
You probably don't want to be walking around local markets in the cities in hotpants or short shorts if you don't want creepy looks from local men – but you can probably deduce that for yourself. In coastal areas like Cartagena and Santa Marta, you will see plenty of tourists and local women wearing shorts, tank tops, sun dresses, and general summer attire.
Scopolamine is worth being aware of but…
One of the scariest things that you can read about traveling in Colombia is the existence of a drug called scopolamine. This drug, also nicknamed "Dragon's Breath" has been used to scam tourists.
A trickster may blow it into an unsuspecting tourist's face or drop it into their drink. From there, it turns them into an obedient zombie that will do anything they are told – transfer money, make withdrawals, and hand over valuables.
Creepier still, they will have no recollection of it! That is low-key terrifying. (Or let's be honest, it's just plain terrifying – nothing low-key about it.)
However, most of the victims of this tend to be men who go to Colombia to meet younger women or escorts. That's not to say that it's unheard of for female travellers, but it's less likely.
Not to victim blame but most of the time when you hear horror stories about Colombia, the people involved were often involved with drugs and women. It is not the case that people randomly walk around blowing scopolamine into tourists' faces.
Still, if you plan on going on any Tinder dates while you're in Colombia, or meeting locals and strangers via different social apps, always be on alert.
There is a sleazy undertone to parts of Medellin
Escorting is legal in Colombia and a lot of men travel here with a greater interest in the local women than in having any type of travel experience. Each to their own you could say.
While there is nothing wrong with two consenting adults agreeing to spend time together for whatever reason, some of the hotels in El Poblado and other parts of Medellin can feel a bit uncomfortable because you see a lot of American businessmen bringing escorts back.
I stayed at the five-star Marquee Medellin and was asked to sign a form when I checked in to say that I wouldn't bring any escorts back to my room! (First time I've been asked to sign such a form but I guess there's a first time for everything!)
Still, people were bringing escorts back and I heard a couple of arguments between the women and their patrons. This seems to happen more at upscale hotels rather than hotels with a more backpacker vibe so it's arguably why it's worth you should check past reviews before you stay anywhere.
Be careful with your money and bank cards
It is better not to carry a ton of cash around with you in Colombia. You should keep a maximum of around 200,000 – 400,000 Colombian pesos ($45-$90 USD) on you at any given time.
Because of inflation, 4534 Colombian pesos are just $1 USD. It is a good idea to separate out your cash and only carry what you need for the day in a little coin purse.
Most businesses, restaurants, etc accept credit and debit cards but there are still many businesses that are cash-only. Some places also seem to have difficulty with processing foreign bank cards so it's always handy to have a small amount of cash.
Sometimes there are huge queues for ATMs in Colombian cities and a lot of ATM machines look sketchy. Try to use ATMs that are built into banks rather than standalone ones that are more likely to have been tampered with.
When you go to withdraw cash in broad daylight, there is often an armed guard standing outside which is intimidating, but reassuring. Don't use ATMs at night and always be aware of your surroundings when making withdrawals.
Keep a spare bank card and some emergency cash (even if it's just $20 or so) tucked away in your suitcase just in case you should lose one.
Try not to be paranoid and enjoy your trip
A lot of staying safe in Colombia comes down to following the same common sense precautions as you would at home or anywhere else in the world. That means not walking alone at night or in sketchy areas, being wary of over-friendly strangers, watching your alcohol intake, and always having an eye on your possessions.
Don't be naive, but don't be so paranoid that you are so worried about being in Colombia that you forget to have a good time during your trip.
Final thoughts on solo female travel in Colombia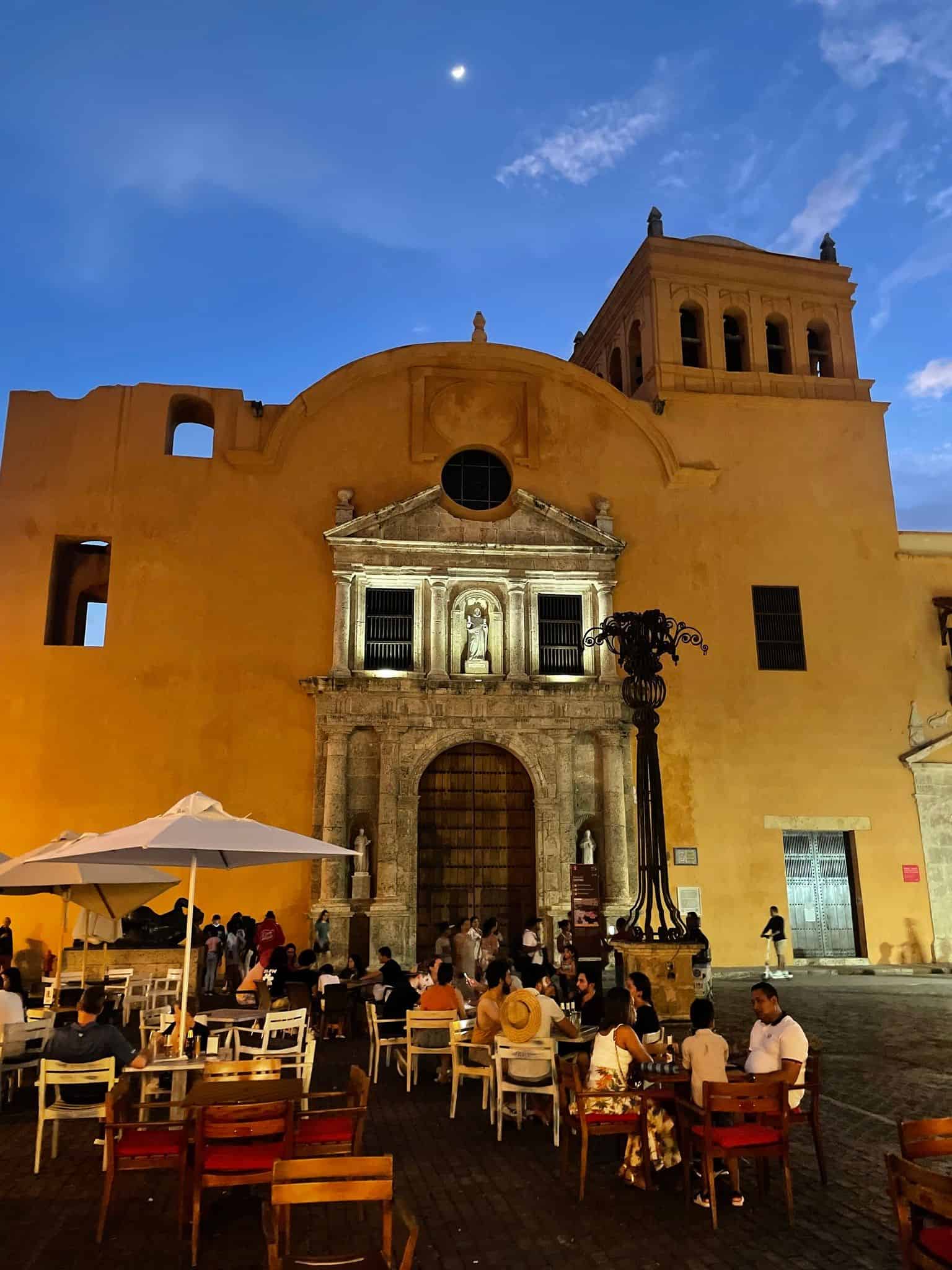 Solo female travel in Colombia can be a great experience. Colombia definitely isn't the violent, dangerous country that it was twenty years ago, but it still has a ways to go before being completely "safe".
So, this is still a part of the world where you need to be aware of your surroundings and practice increased caution. As long as you are assertive and streetwise, you ought to be fine.
Hopefully, this post does not come across as overly negative. But if you are concerned about traveling to Colombia alone as a woman, you are probably worried about these various things so I felt it was important to tell you everything you need to consider.
Have any questions? Feel free to connect with me on Facebook or Instagram.
You might also enjoy this post on safety in Medellin or this post on safety in Cartagena. If it's your first time travelling alone, you might also like these tips for solo female travelers.
Have a wonderful trip and enjoy Colombia! Melissa xo
---