There are plenty of movies about Greece to watch to help you get in the mood for a trip to the Mediterranean. In fact, it has been romantic Greek movies set on Cycladic islands, with whitewashed houses and handsome actors that have been the source of inspiration for many people who have suddenly decided to up and go to Greece.
Similarly, if you are not able to get over to Greece right now, your trip has been postponed, or anything else, you can live your dream Greece itinerary via one of the many movies set in this gorgeous country. The movies about Greece shortlisted here are broad.
Some are romantic comedies, designed to help your daydreams about someday moving to a remote Greek island, and falling in love. Others focus on Greek history or mythology.
Movies About Greece to Watch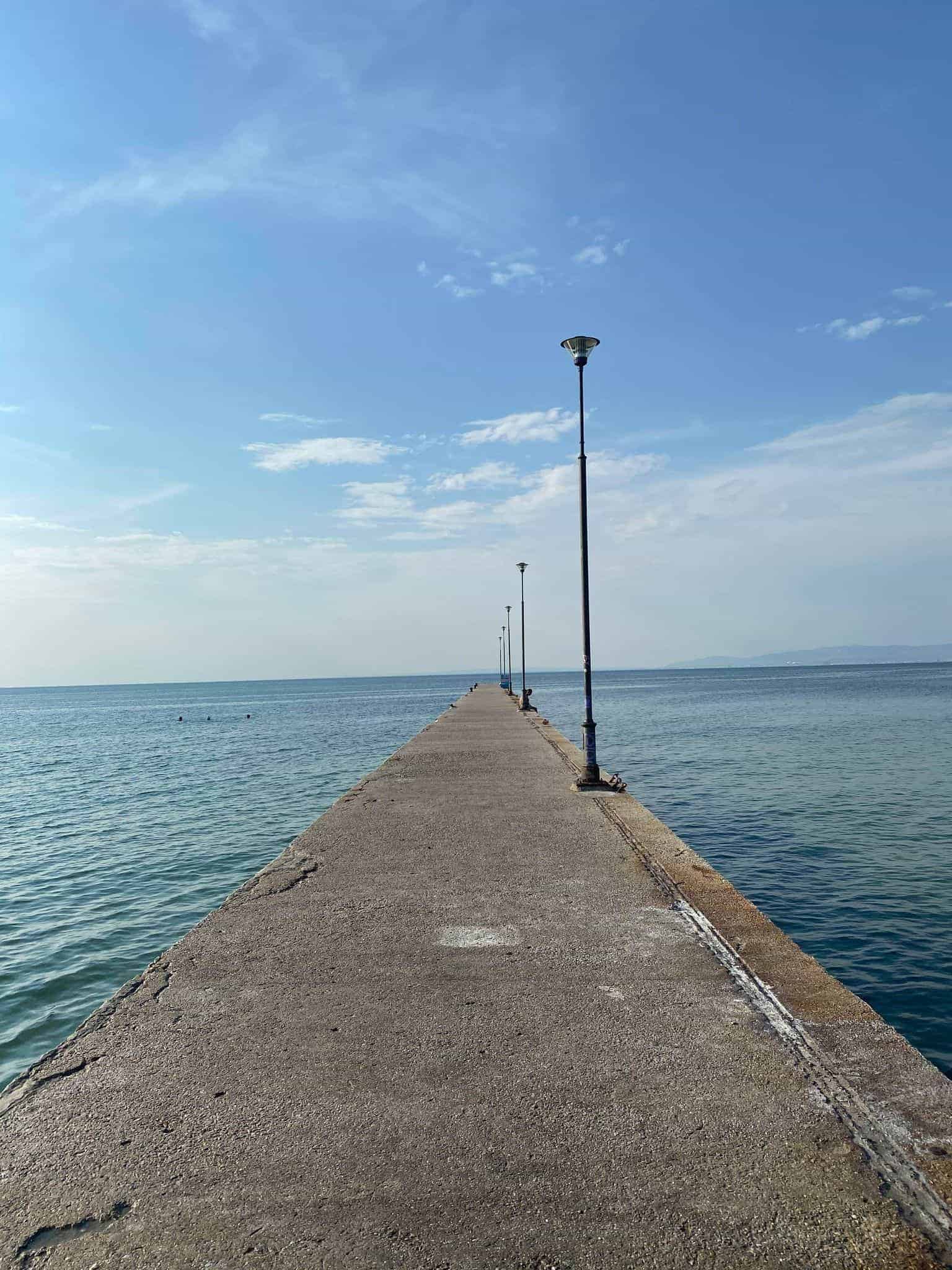 A diverse selection of movies about Greece is shortlisted below for your perusal. These are perfect for when you feel like enjoying your evening entertainment with shouts of ¨oppa!", plate smashing, and loud folk music. 
Shirley Valentine
A few decades ago, Shirley Valentine was the movie that inspired droves of women that they must up and pack their bags and travel to Greece immediately. The movie follows the story of Shirley, a bored housewife from Northern England.
Unhappy with her mediocre life and marriage, she travels to Mykonos, the Cyclades, and meets a dashing local named Kostas. Will Shirley stay in Mykonos or be lured back home by the great British rain? 
This short movie is witty and lighthearted. It may be particularly enjoyable for you if you are also British.
Some of the humorous portrayals of British people, the way they act abroad, and their dry, sarcastic sense of humour are spot on, even to this day. One of the Mykonos beaches where the movie was filmed has been informally renamed as ¨the Shirley Valentine beach¨ 
Mamma Mia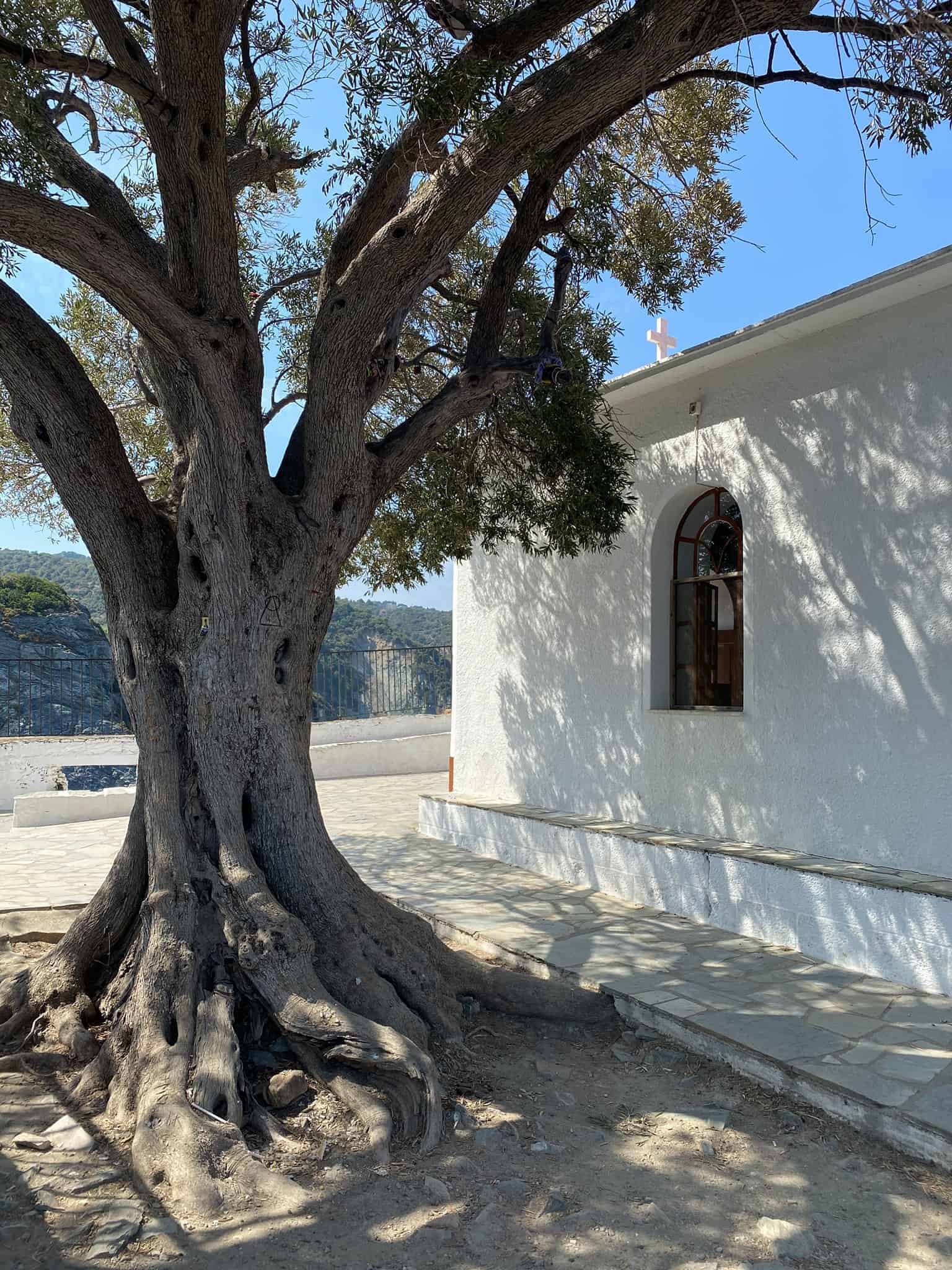 If it was Shirley Valentine that inspired women to travel to Greece in the late eighties and early nineties, it was Mamma Mia! That followed suit in the noughties. The Hollywood Blockbuster is the movie adaption of the broadway musical of the same name.
Mamma Mia tells the story of Sophie (Amanda Seyfried) and her mother (Meryl Streep) as they prepare for Sophie's wedding. The only issue?
Sophie does not know who her father is and there are three possibilities. So, she invites them all!
The movie is set on the fictional island of kalokairi. The real-life location of this is the little island of Skopelos in the Sporades.
Hollywood movie directors scoured dozens of Greek islands looking for the perfect setting before settling for Skopelos. The island, with its pristine beaches and awe-inspiring nature and hiking trails, is the greenest in the Mediterranean.
It is possible to visit all of the Mamma Mia filming locations while in the area. The film was shot at various locations across Skopelos beaches, Skiathos town, Volos, and Pelion. Arguably the most famous location is the clifftop church of Agios Ioannis Kastri in the northern part of the island.
My Big Fat Greek Wedding
My Big Fat Greek Wedding follows the life of Toula (Nia Vardalos), a Greek-American waiter living in Chicago. Toula is constantly a disappointment in her very traditional Greek parents' eyes on account of the fact that she is over 30 and not yet married or a mother.
This disapproval only increases when she meets a non-Greek partner (John Corbett). The movie is very funny, particularly as it discusses the cultural differences between Greeks and westerners. 
You may find it especially relatable if you are of Greek heritage, or you are someone dating a Greek man or woman. There is also a sequel to the movie: My Big Fat Greek Wedding 2. This movie follows Toula and her husband Ian as they adjust to life with kids.
300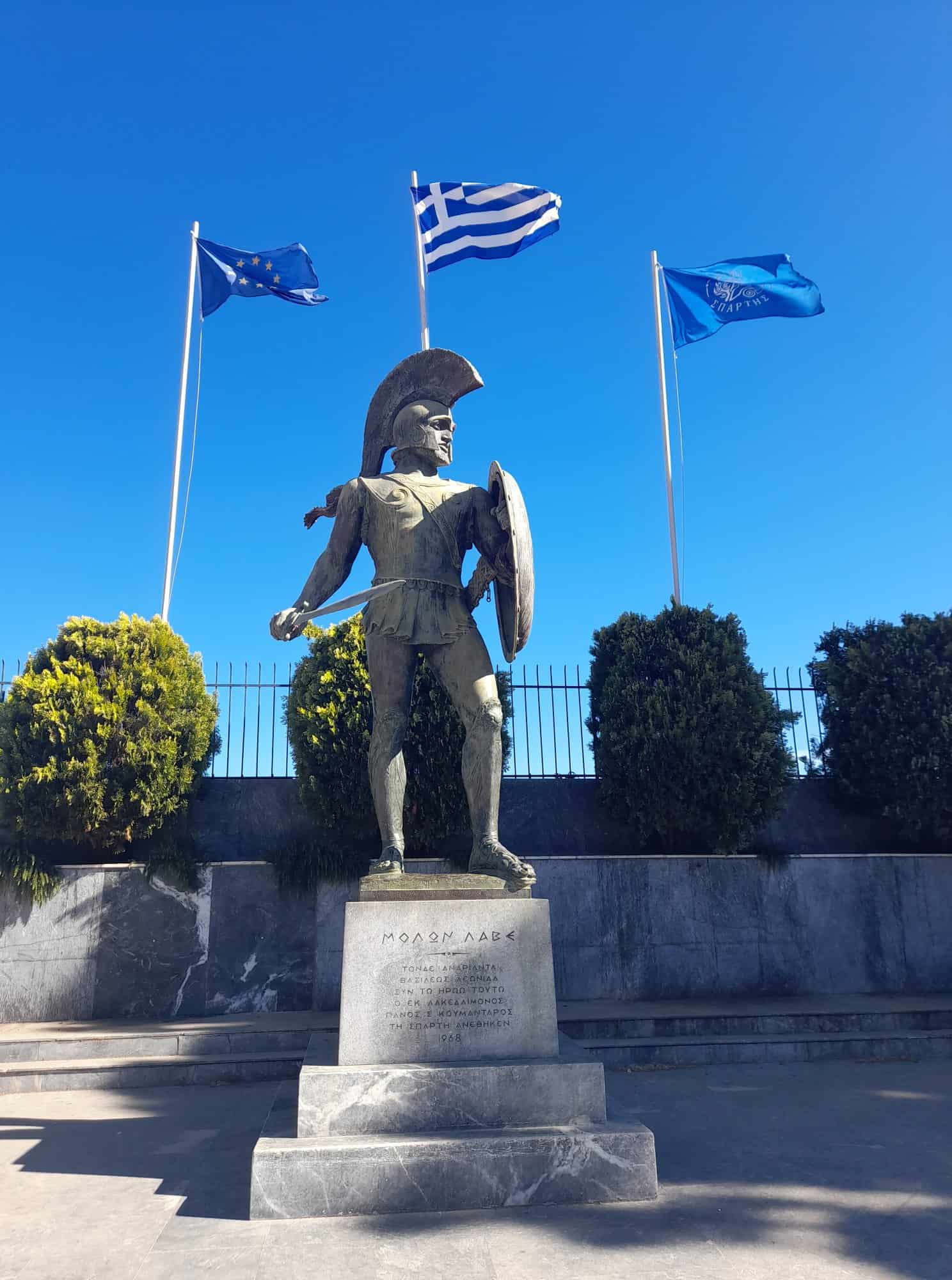 ¨This. Is. Spartaaaa.¨ 300 is the shockingly inaccurate Greek history movie that followed King Leonidas and the Spartans during the Battle of Thermopylae. While the Battle of Thermopylae was indeed a real battle that took place in Ancient Greece in 480 BC, the movie is not true to historical facts.
It is based on the comic of the same name by American Comic Book Artist Frank Miller. Regardless, it is gory, action-packed, and engaging to watch.
Better yet, it inspired new generations to learn more about ancient Greek history and travel to the country's historical sites. The city of Sparta in Lakonia, Peloponnese was the home of the Spartans. Although it is unfortunately not so well preserved today, there are numerous archaeological sites and museums around the city that are worth visiting if you should find yourself in the area.
Zorba the Greek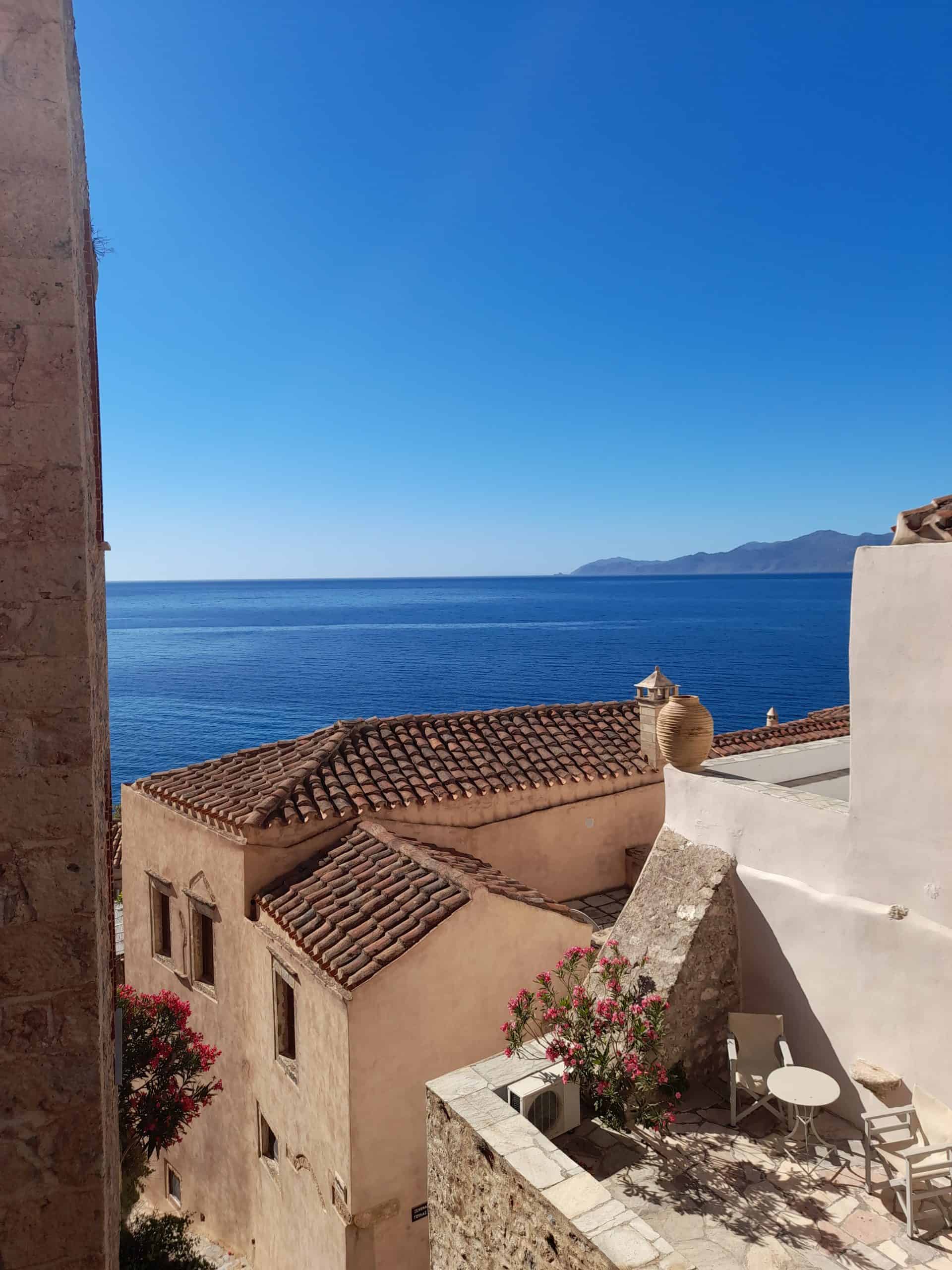 Zorba the Greek is a timeless classic. This award-winning movie filmed in 1964 follows the story of an English Writer that travels to Greece, befriends an elderly local man, and falls in love with a local woman.
Despite being shot in black and white and now being somewhat dated, this should be high on your list of classic movies about Greece to watch when planning your first Greek adventure. The movie is particularly famous for its theme music ¨sirtaki¨.
Even if you haven't heard of or seen this movie, you have most likely heard sirtaki. This instrumental music starts off slowly and gradually gets faster and faster. 
Today, the associated dance is one of the most renowned Greek dances. However it was actually created specifically for the movie! The music is regularly played at Greek tavernas, and in touristic districts like Plaka, Athens, or Thissio. 
Zorbas the Greek was set and filmed in Crete. Notable filming locations include Chania, Kokkino Chorio village, and Stavros beach, Akrotiri.
Clash of the Titans
Despite all of the weird and wonderful Greek mythology stories out there, there are shockingly few movies that tell them. One movie that changed that was the 1981 Clash of the Titans.
The movie loosely (very, very loosely) tells the story of Perseus. The Greek hero ventures across Greece to kill the Kraken, a giant mythical sea monster.

The movie was actually filmed on location in Spain, Malta, and at movie studios in London, UK. However, regardless, it was the movie that inspired many to learn more about Greek myths.
Today, some of the CGI and makeup effects are both dated and comical. In its day, some of the characters in the original Clash of the Titans movie, particularly the snake-haired Medusa, terrified younger generations. 
The Clash of the Titans is still very worth a watch. In 2010, the movie was remade, and the remake essentially follows the same story.
Wrath of the Titans
Wrath of the Titans was released in 2012 as a sequel to the Clash of the Titans remake. It once again joins Perseus as he ventures into the Underworld to save Zeus who has been captured by Hades and Ares. In doing so, he hopes to save Mankind.
There are many mythological inaccuracies in this movie. It has essentially taken the names of Greek mythology figures and nothing more.
So, if you are an avid follower of Greek myths and legends, you may be disgruntled or downright irritated. Sadly, the movie also received fairly negative feedback and reviews.
This is not a terrible movie to watch if you just want some easygoing, action-inspired viewing. It's something you can have on in the background without having to concentrate too much. 
Like its predecessor, Wrath of the Titans was not filmed in Greece. It was filmed mostly in Tenerife and Wales.
Troy
The 2004 Troy movie directed by Wolfgang Petersen is based on Homer's ¨The Iliad¨. For many Grecophiles, literary aficionados, and history buffs, reading the Iliad is something of a right of passage.
The movie ¨Troy¨ deviates massively from Homer's writing. This meant that the movie was heavily criticised and disappointing for many.
Troy tells the story of the 10 year Trojan war, with Brad Pitt playing the hero ¨Achilles¨. Regardless of its imperfections, it is an enjoyable action movie about Greek wars.
Greed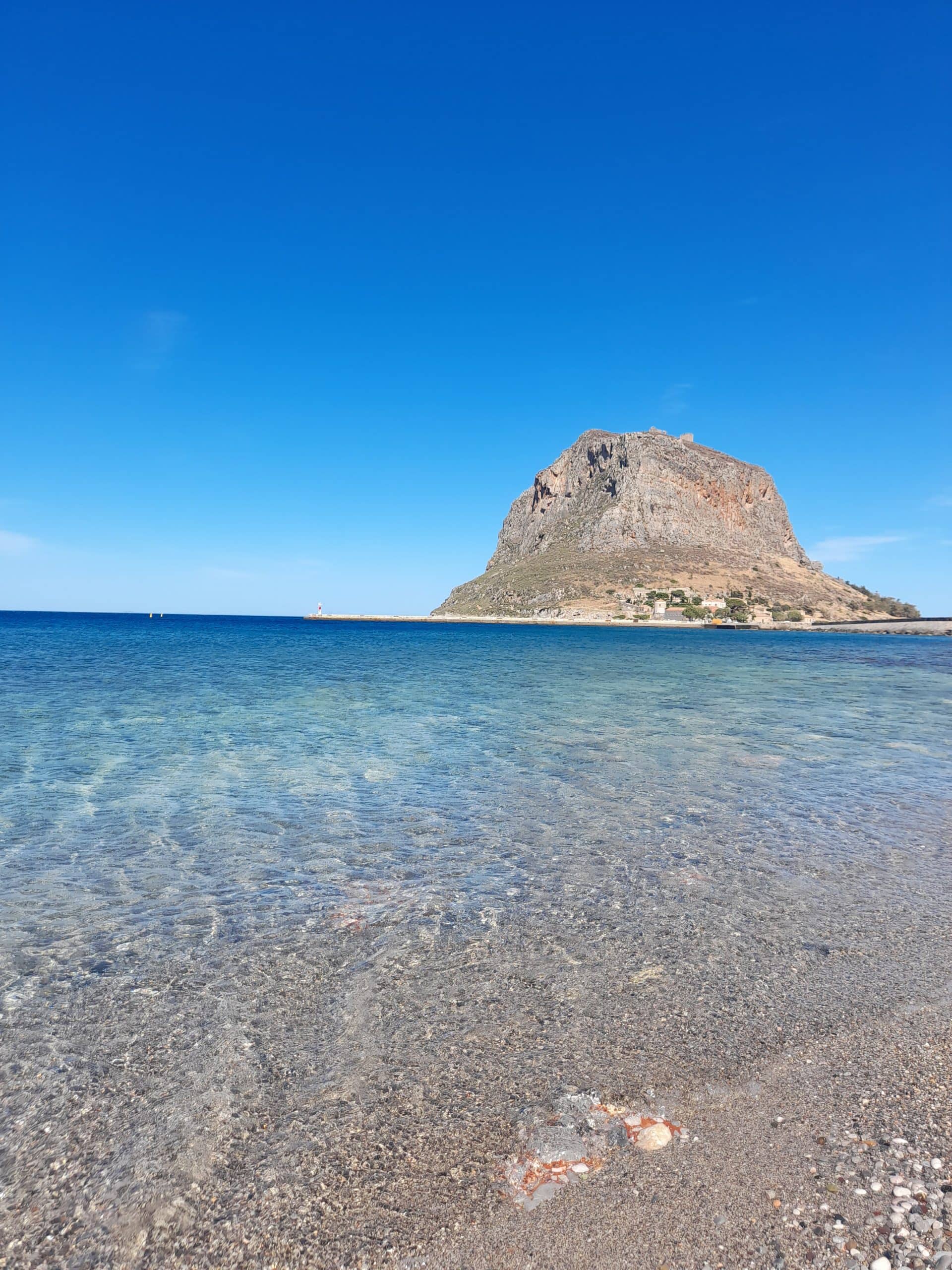 2019 movie Greed is a British satirical comedy. It follows a billionaire fashion tycoon as he throws a yacht party in Mykonos designed to help him improve his reputation.
The movie has aspirations of light-heartedly questioning capitalism, the existence of billionaires, and the lifestyles of the super-rich. Although in parts, it seems a little unsure as to the direction it is following. 
Regardless, it's an amusing watch, and it stars a number of notable British Comedians and Comedy Actors. Not to mention, Mykonos, displayed in all its glory, is a spectacular backdrop. 
My Life in Ruins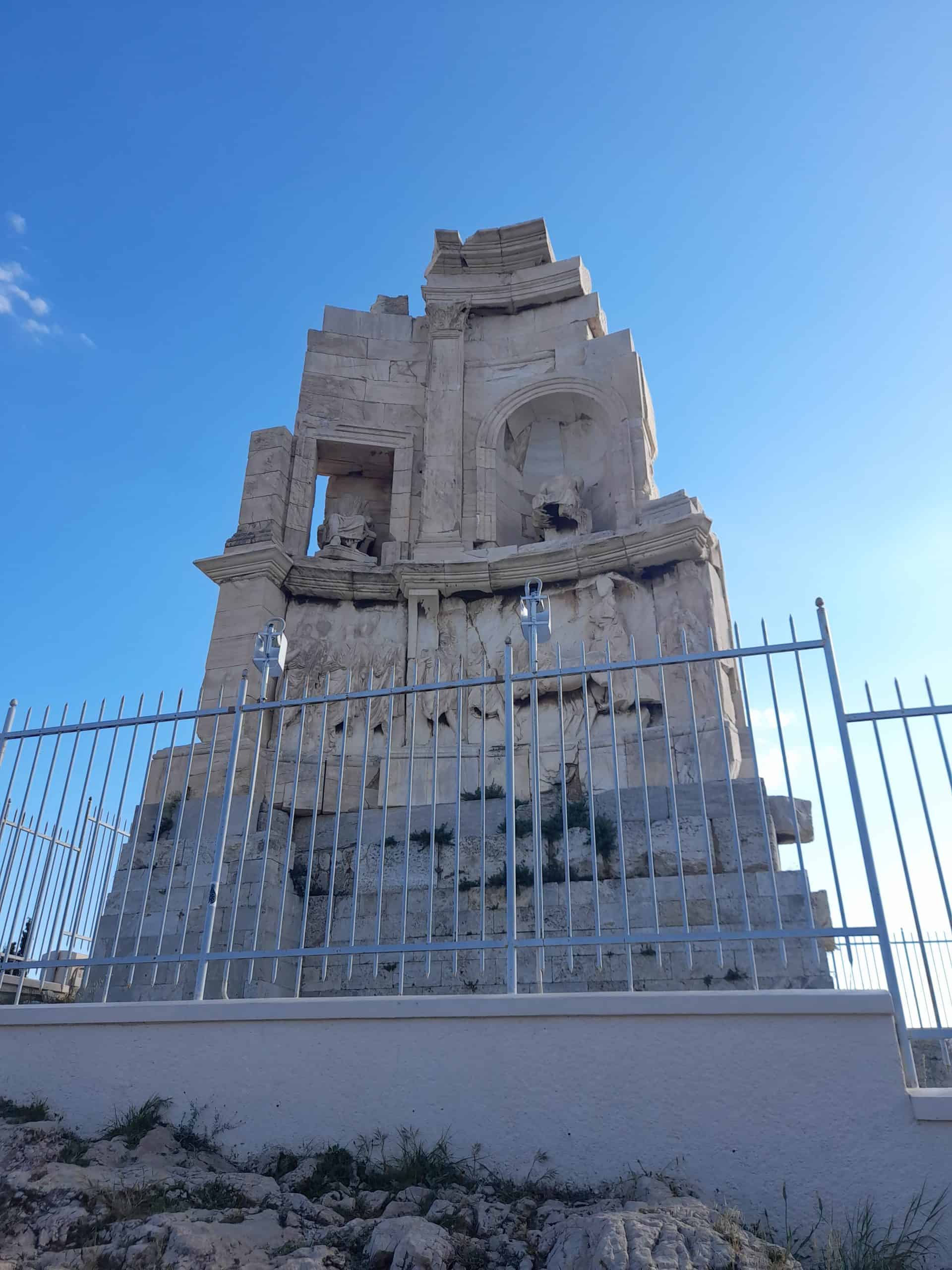 My Life in Ruins is a romantic comedy set in Greece starring Nia Vardalos, of ¨My Big Fat Greek Wedding¨ fame. Vardalos plays tour guide Georgia who is tired of showing obnoxious tourists around the Acropolis, the Agora, and other touristic sites of Greece.
That is until she meets a handsome Greek bus driver that changes her perspective. Not only is the movie uplifting, light-hearted, and fun to watch, but it also showcases some of the very best landmarks in Greece. 
If you have just booked a trip to Greece and you want to see a movie that will get you in the mood to go, My Life in Ruins is undoubtedly one of the best movies about Greece.
Mamma Mia 2: Here We Go Again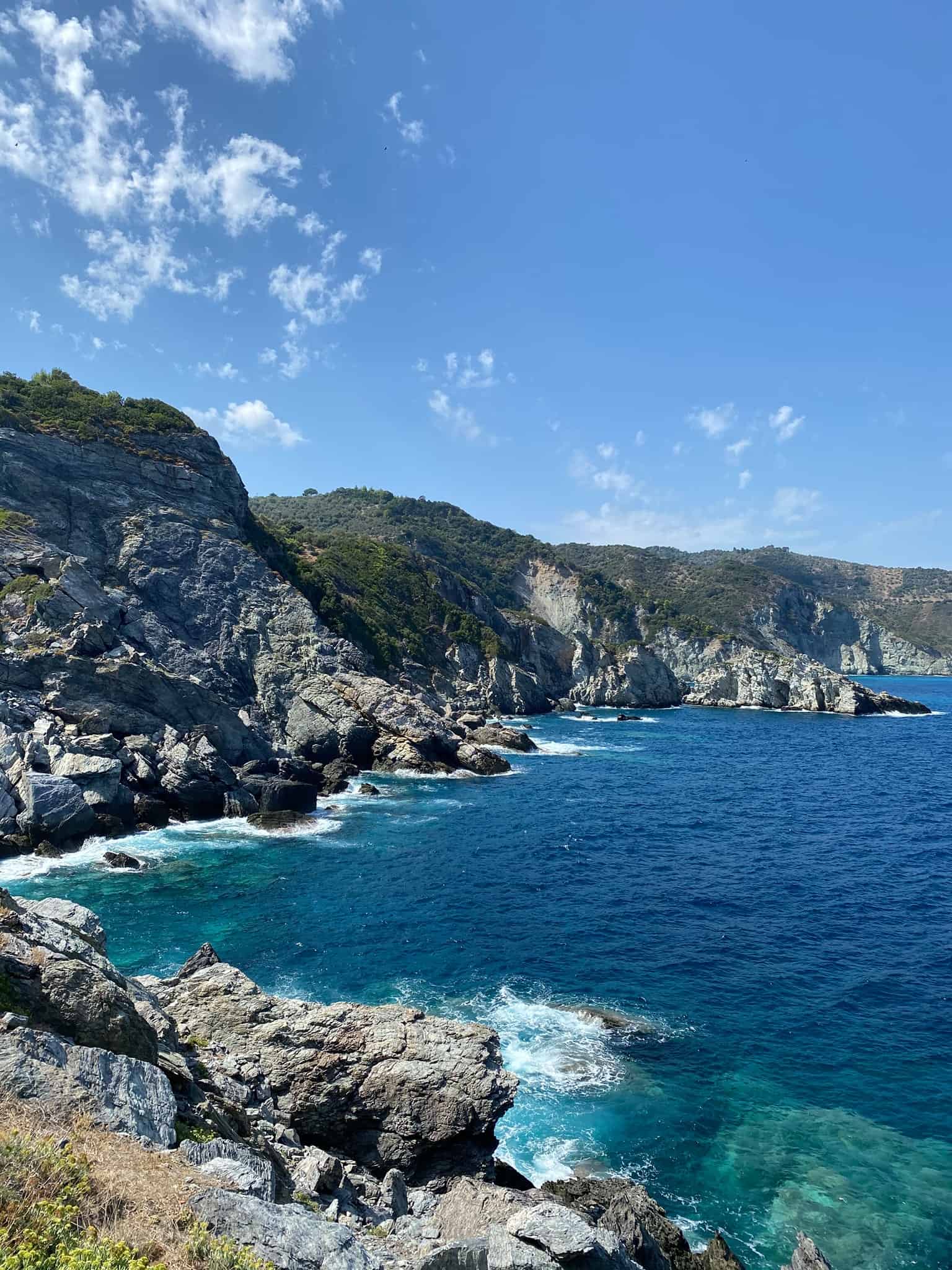 Mamma Mia ¨Here we go again¨ is the second installment of the Hollywood Blockbuster ¨Mamma Mia¨. It is simultaneously a prequel and a sequel to the first movie.
In this movie, Sophie (Amanda Seyfried) is expecting her first child while struggling to run her mother´s guesthouse. The film alternates between the present day and flashbacks to her mother's younger life. 
While Mamma Mia 2 is set once again on the fictional Greek island of Kalokairi, it was actually filmed in Vis, Croatia. The movie directors cited Greek bureaucracy, costs, and taxes as the reason for the move.
The Big Blue
The 1998 movie ¨The Big Blue¨ is an English-language movie by French director Luc Besson. It was originally released with the French title ¨Le Grand Bleu¨ and is based on the true story of two childhood friends Jacques Mayol, and Italian Enzo Maiorca. 
The friends try to compete and outdo each other at free-diving in different destinations around the world. Although the movie has been heavily hyperbolised from the true story, it is still one of the best deep-sea diving movies in existence. 
The Big Blue was filmed at a number of gorgeous locations around the world, including the little Greek island of Amorgos. In the background of some of the scenes, you can see Agia Anna and the monastery of Panagia Hozoviotissa.
At the time, The Big Blue was a huge box office hit and encouraged thousands of French tourists to vacation in the Cyclades and go Greek island hopping. Aside from that though, Amorgos remains relatively off the beaten track. It is a great island to visit if you prefer quieter islands.
Rembetiko
Rembetiko (Ρεμπέτικο) is a 1983 Greek film produced by Costas Ferris and Sotiria Leonardou. It was filmed in Greek but has English subtitles and is essentially a Greek history movie with a twist.
While other Greek history films may focus on Greek wars, the struggle for independence, or Ancient Greece, Rembetiko follows the stories of musicians called Rembetes.
Rembetiko could be described as being the Greek version of the Blues. Today, it is still possible to enjoy Rembetiko. 
Some tavernas and restaurants around the country host live musicians to entertain their patrons as they dine. Similarly, you will often find it played out over loudspeakers in a lot of bars and eateries.
The movie follows the events in Greece that took place between 1917 to 1956. It provides a great glimpse into Greek culture, while simultaneously allowing you to enjoy Greek music and dancing.
Boy on a Dolphin
In 1957, Italian screen goddess Sophia Loren and a team of American producers and directors flew to Greece to film ¨Boy on a Dolphin¨. This was the very first American movie to ever be filmed in Greece.
Sophia's character Phaedra is an impoverished Greek sponge diver who finds a statue of a boy riding a dolphin while diving in the Aegean sea. After her discovery, she is torn between giving it to a man that wants to sell it, and a man who wants to give it as a gift to Greece.
This movie was filmed throughout Greece, and various beautiful destinations act as the backdrop – including the little island of Hydra in the Saronic Gulf, and notable museums of Athens. While watching, it is interesting to see how much these Greek destinations have changed throughout the last few decades.
Sophia Loren was open about her love of Greece. She would often vacation in the upscale region of Vouliagmeni and the Athens Riviera in its early days. Upon arrival in Greece to film the movie, she was met with huge crowds.
Alexander
Alexander (2004) is a historical drama that aims to tell the story of the life and conquests of Alexander the Great. The real-life Alexander III of Macedon was born in the city of Pella, Northern Greece. 
He ruled over Macedonia for less than 13 years. However, he certainly made an impact during his rule.
Alexander the Great conquered and invaded a vast amount of countries – from Macedonia and Greece to Egypt and India. In doing so, he spread Hellenistic culture across the world.
His birthplace, Pella is a wonderful place to visit on a day trip from Thessaloniki. Despite its historical and cultural significance, the Central Macedonia region of Greece is often overlooked by tourists, who prefer to see the historical sites of Athens, Delphi, and Olympia.
The Alexander movie emphasises why this region, and this particular ruler, were so important in shaping Greece's history. Colin Farrell, Angelina Jolie, and Jared Leto star in this movie. However, sadly, it was an international flop – owing in part to its many historical inaccuracies.
Before Midnight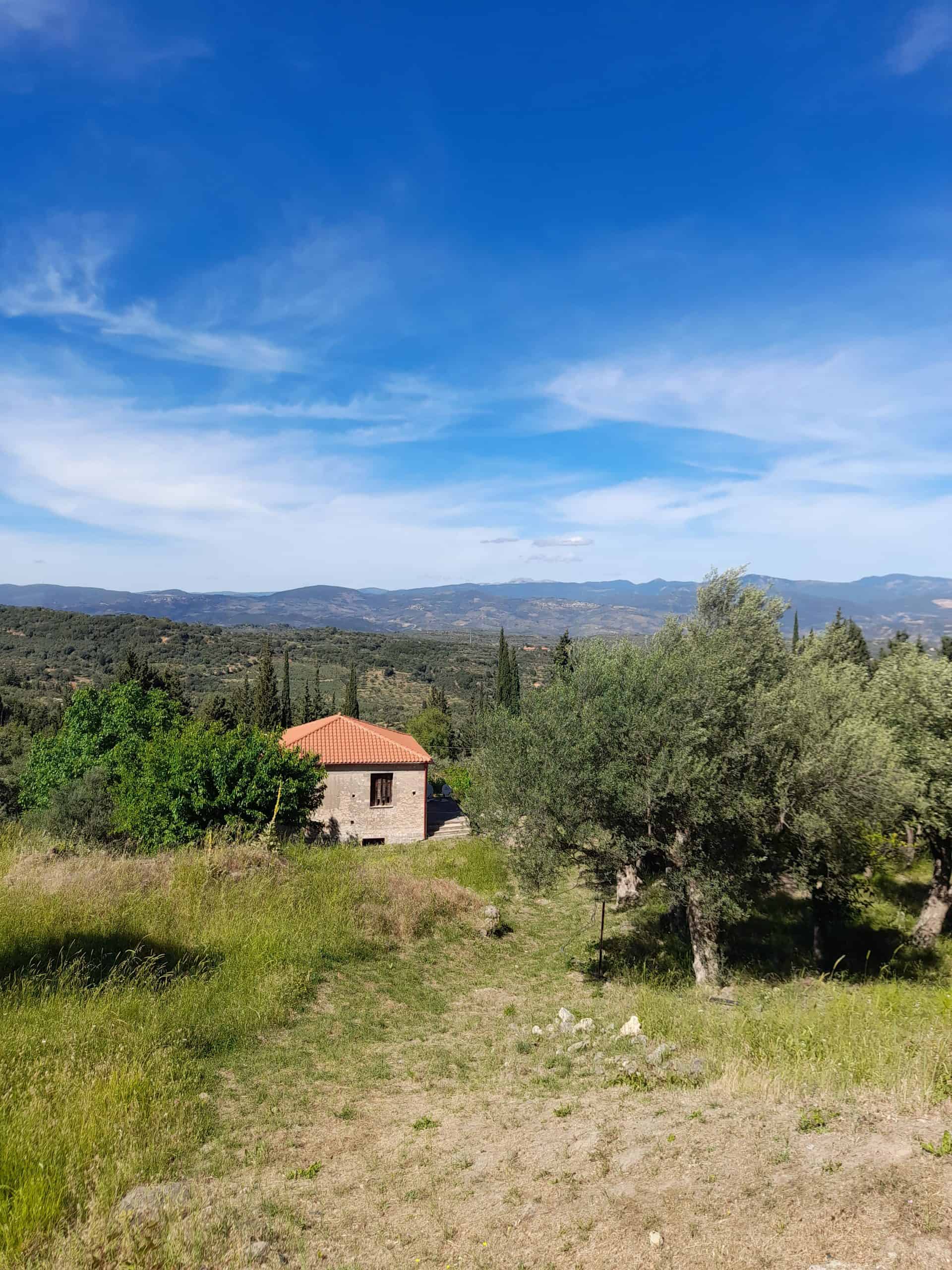 Before Midnight is the third movie in a trilogy of romantic movies. It is preceded by ¨before sunrise¨ and ¨before sunset¨.
Each movie is set and filmed nine years after its predecessor. The movies tell the story of a married couple spending their vacation days in the Peloponnese with their children.
The rugged Peloponnese is one of the wildest, and most underrated parts of Greece. It doesn't receive the attention it deserves globally. 
However, many that visit fall in love with the villages of Lakonia, the castle towns of Mystras and Monemvasia, and the breathtaking Mani peninsula. This is one of the best movies about Greece that provides some inspiration for visiting this stunning region.
Never on Sunday
Never on Sunday (Ποτέ την Κυριακή) is a Greek romantic comedy that was filmed in 1960. The movie sees Ilya, a Greek escort, meet Holmes, an American Scholar.
It was filmed throughout Athens and gritty neighbouring Piraeus. The film is in Greek, However, it's possible to get versions that contain subtitles in a variety of languages, including English. 
Ilya is played by the late Melinda Mercouri. She was an acclaimed Greek Actress who pivoted her work so as to get involved with activism and Greek socialist issues.  
Parting Words 
Do you have any questions about these movies about Greece? Perhaps you have some additional suggestions that you'd like to share?
Feel free to comment below. I'll get back to you as soon as I can.
Safe travels! Geia! Melissa xo
---