Thinking of heading to Athens in December? Perfect!
While this may not be the most common time of year to travel to the Greek capital, it is actually an excellent time to visit. Most people associate Greece with being a summer travel destination and don't realize all the opportunities that visiting during the winter months can present.
First of all, travelling to Athens out of season can actually save you a lot of money. Most tourists flock to Greece in July and August every year and forget about the country outside of that period.

Out of season, you can expect prices to be as much as 50-60% lower than during the peak summer months. Better yet, you can experience the city without the crowds and get a more authentic look into what the life of an Athenian looks like.

Most European cities feel extra special when you are travelling during or before Christmas and Athens is no different. In Athens in December, you can expect to see streets decorated with nativity scenes and elaborate Christmas trees, fairy lights that illuminate landmarks and ruins, and bars and clubs redecorate their interiors to follow a festive theme.
Athens in December weather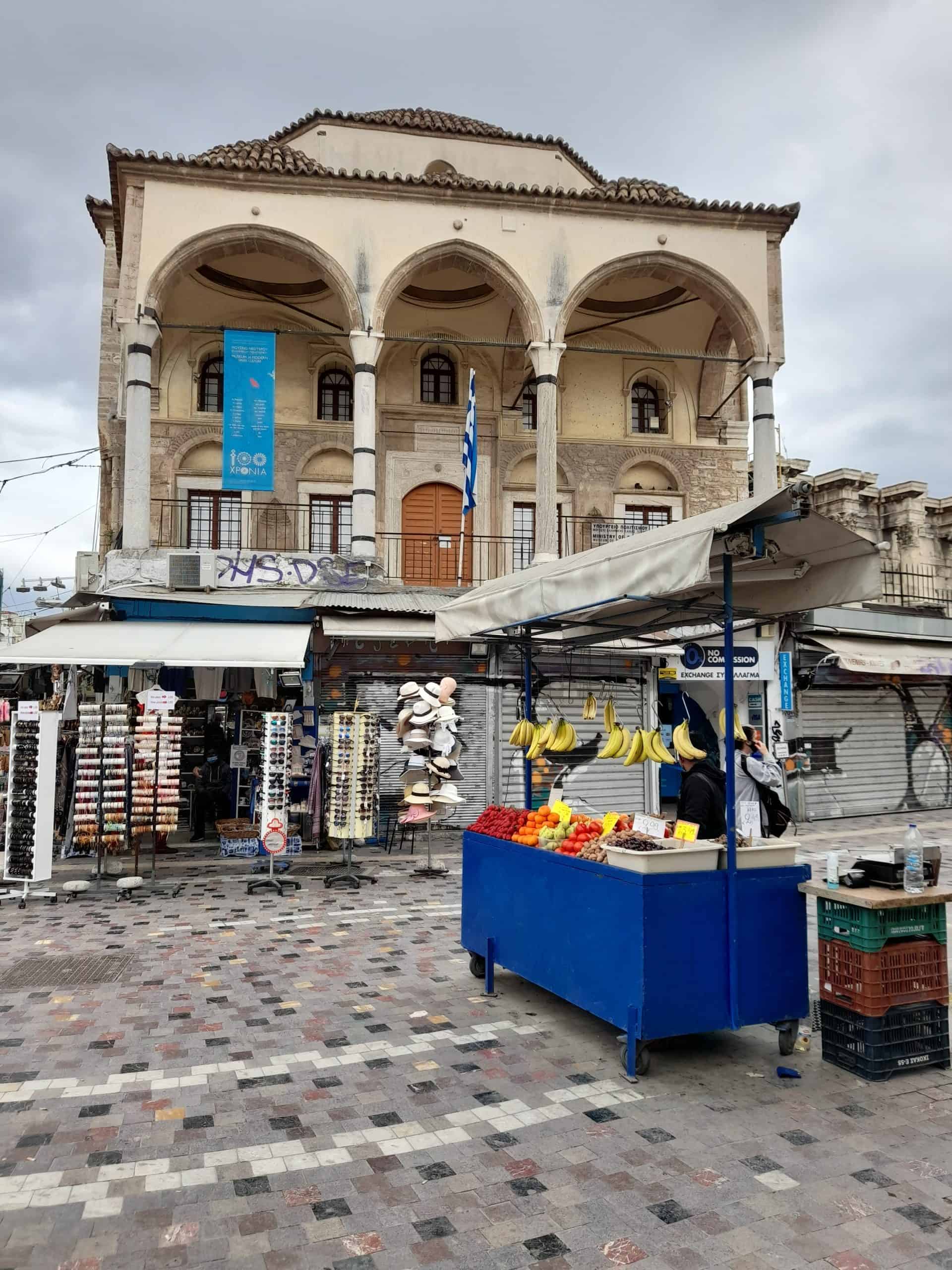 A common misconception about Athens (and Greece in general) is that the country sees year-round sunshine and hot weather. While conditions here are generally much milder than in many other European countries, Greece is definitely not a winter sun travel destination.

Athens in December weather usually sees daily averages between 8 and 15 degrees Celsius. So, it is important to pack plenty of layers, cardigans, and a coat so that you can wrap up warm when the temperature drops.

Early mornings and evenings are particularly chilly, but fortunately, most restaurants, tavernas, and hotels have heating inside. The nice thing about travelling to Greece in the winter is that even when it is cold, it still seldom rains. 
It is a good idea to still pack an umbrella and a light rain mac "just in case". However, generally, Athenian winters just mean crisp, cold temperatures and a clear blue sky.

If it does happen to rain during your trip, showers are usually brief. They don't drag out for the entire day so you don't have to worry about them ruining your trip.
Things to do in Athens in December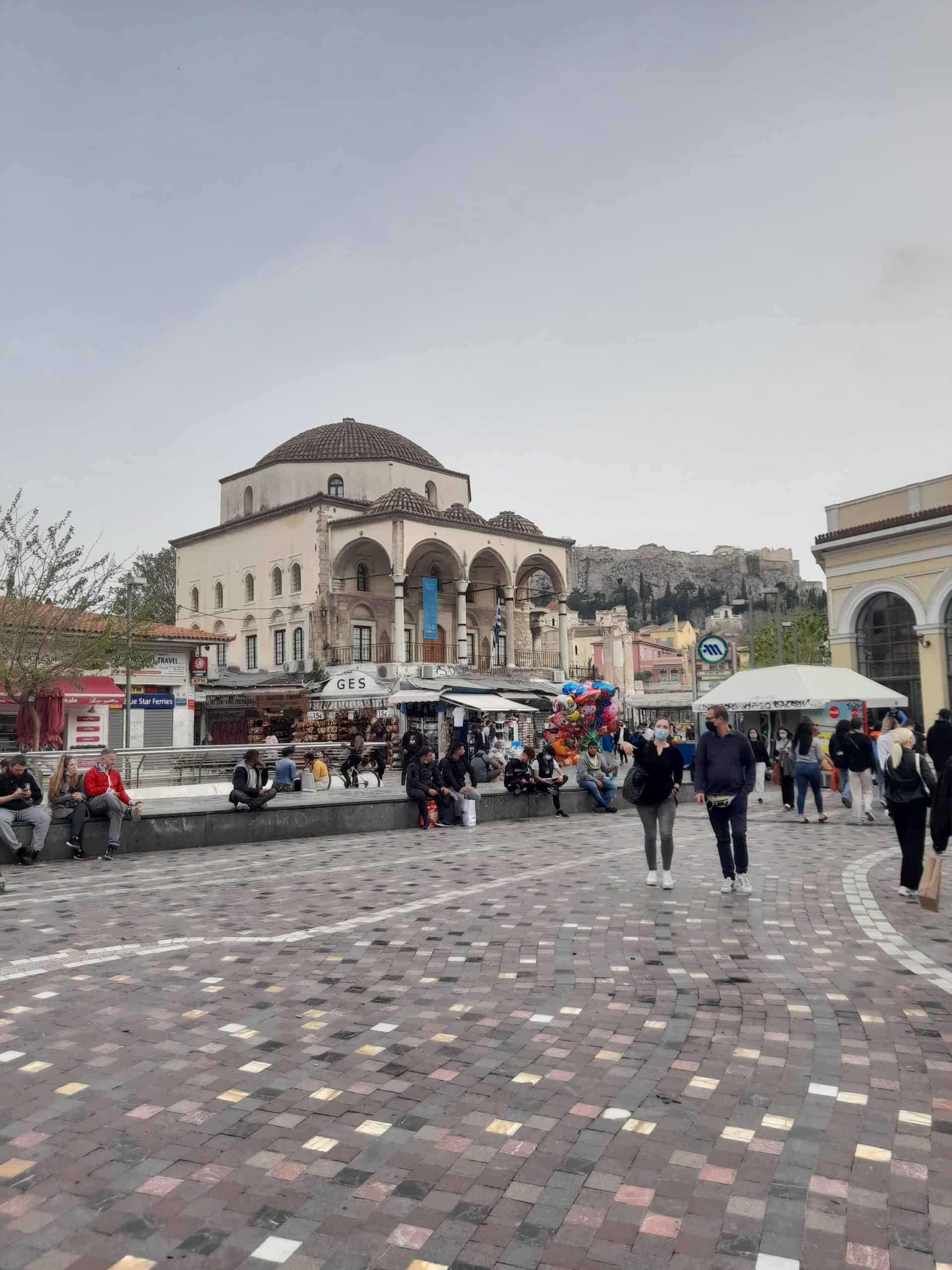 There are plenty of things to do in Athens in December. Truthfully, Athens is such a historically and culturally rich city that whatever time of year you choose to visit will never be detrimental to your experience.
You could easily spend the entire month of December here and still find that you have not had the opportunity to see and do everything you sought to do! Christmas time also means that there are seasonal events and activities that pop up at this time that you don't see at other points throughout the year.
Take an Athens walking tour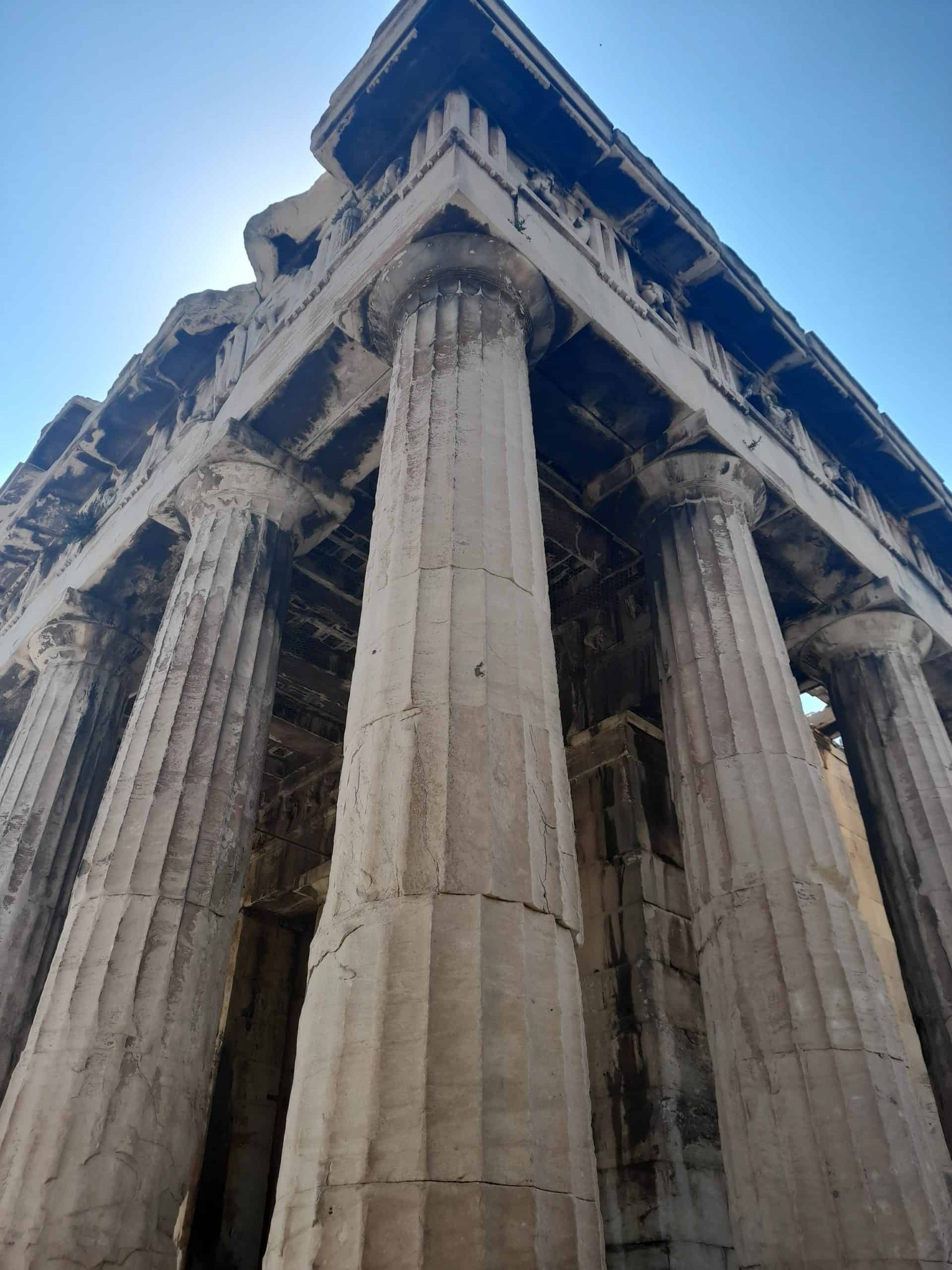 Opt to take an Athens walking tour so that you can get your bearings when you first arrive in the city. At first glimpse, Athens feels like a chaotic, sprawling megalopolis so it is nice to explore with a local, discover the various neighborhoods, and learn how to get around.

There a plethora of reputable local companies that offer Athens walking tours. Many focus on a particular area or theme.

For instance, a Greek street food tour, an Athens street art tour, etc so you can choose the specific tour that interests you. Better yet, exploring the city with an Athenian means that you have a local expert on hand who you can ask for recommendations on what's going on in the city in December, where to eat, where to grab a coffee, etc.

A number of reputable Athens walking tours are detailed below. It is a good idea to book online in advance to secure your place!
Go Christmas shopping in Athens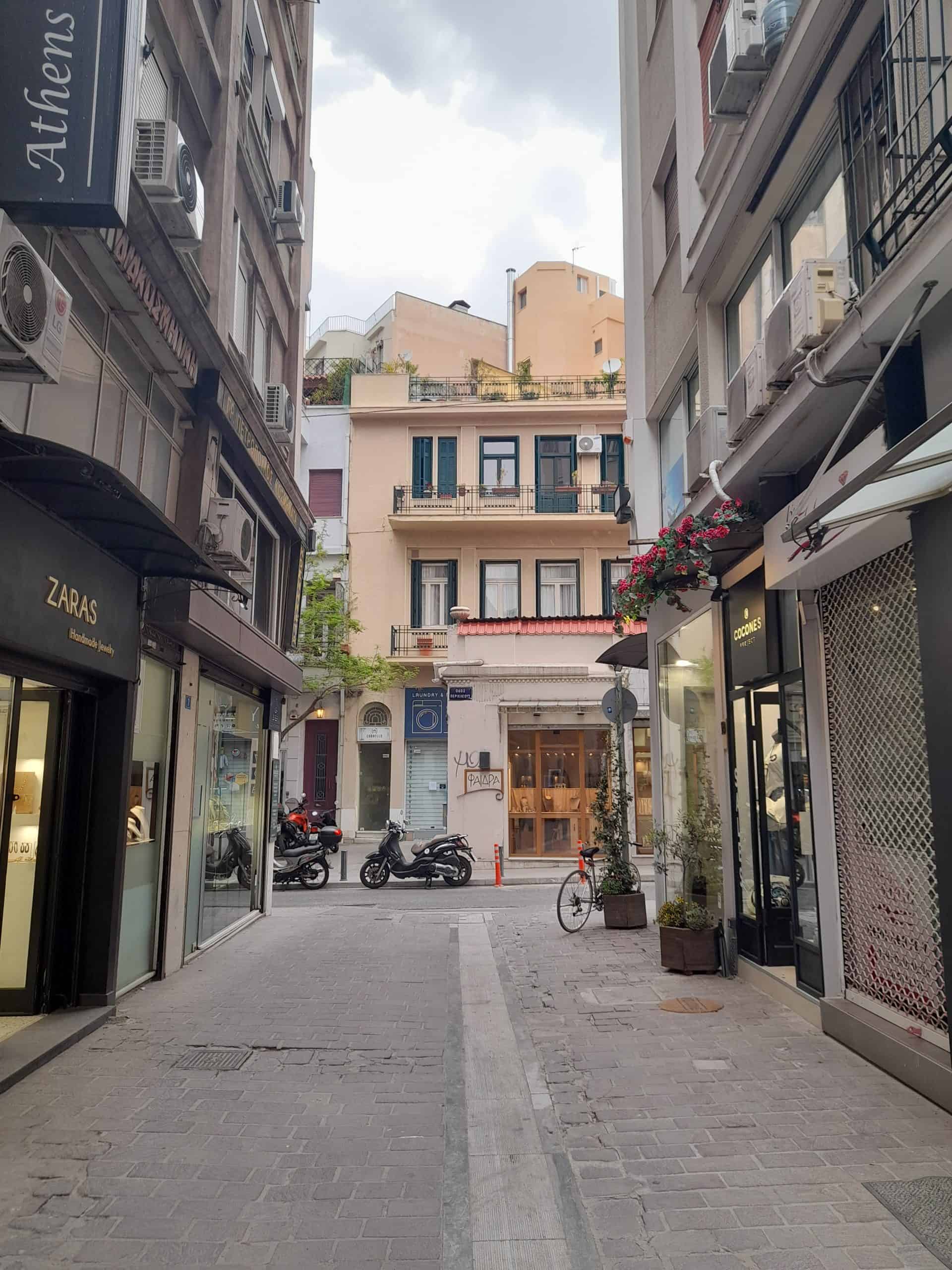 Christmas shopping is one of the necessary evils that most of us have to contend with during the winter. Dealing with crowded streets and malls in your hometown might be a headache. But shopping in a new place where you can discover charming new stores, artisans and designers can be fun.
Athens is actually a great place to go shopping. If you have Grecophiles in your life, there are some wonderful places scattered around the city centre where you can pick up unique and quirky gifts and souvenirs.
Ermou street is the main shopping street in the city. This is to Athens what Oxford Street is to London.

You will find many renowned high street stores here – Zara, H&M, etc. However, there are also a lot of boutiques owned by independent Greek designers where you can pick up some lovely one-of-a-kind accessories, handbags, and clothing items.

For quintessentially Greek gifts, head to the Monastiraki flea market. Among the chaos, you will find some really unique finds.

For instance, komboloi beads, which are essentially the Greek Orthodox version of the Catholic rosary, Karagiozis puppets, or backgammon boards. Greek coffee makes a wonderful gift for any coffee-loving friends and relatives that you may have and close to Thissio, you will find ramshackle stores selling traditional coffee-making apparatus and intricately-designed little coffee cups. 
Visit the Acropolis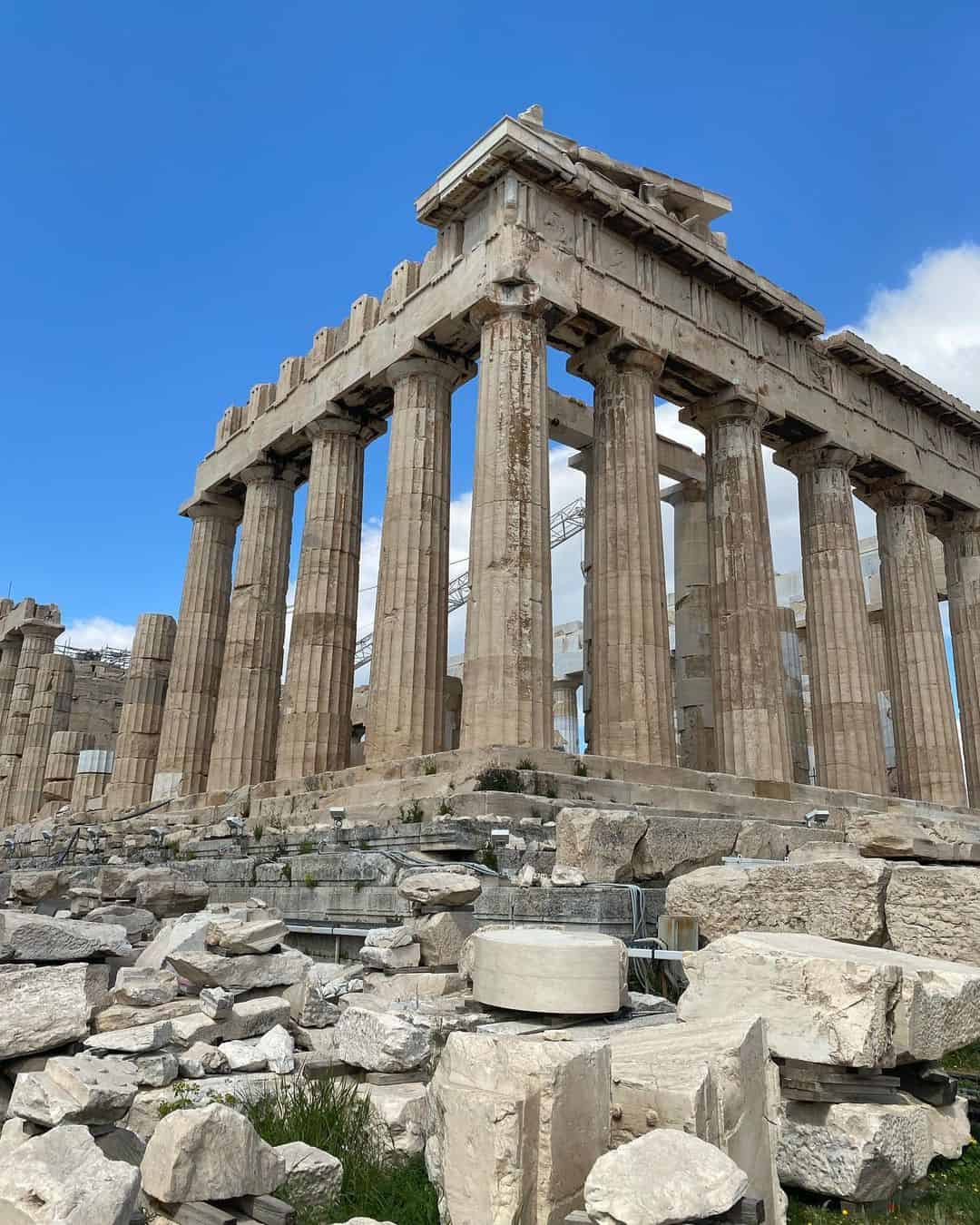 No Athens itinerary is complete without a visit to the Acropolis and its magnificent Parthenon. If you visit Greece in the summer months, you have to arrive here first thing in the morning to beat the crowds.
Fortunately, travelling to Athens in December means that none of the historical sites are half as crowded as they are in July/August so you can stop by any time you like. Do allocate at least 2-3 hours for exploring the site.

The Acropolis complex is far more crowded than you may realise and the site is made up of various shrines, temples, and theaters. In particular, look out for the Propylaea – the grand colonnaded entryway to the site, and the temples of Athena Nike, and Athena.

The Odeon of Herodes Atticus is one of the more "modern" structures within the complex. It was built in 161AD during the Roman Era.

Atticus built the site in dedication to his late wife. Even today, festivals and musical and theatrical performances are still hosted here, most notably during the Epidaurus festival.
The piece de resistance is, of course, the Parthenon. Construction on the site started in 447 BC and the building served as a temple in honor of the Goddess Athena.
Do note that admission to the Acropolis is €20 per person. You can buy an Athens combination ticket that includes entrance to the Acropolis and multiple other sites (including the Ancient Agora and the Temple of Olympian Zeus) for just €30.

This is well worthwhile. You only have to visit one other site to get your money's worth.
Recommended tours of the Acropolis
Admire Athens' other key historical sites and attractions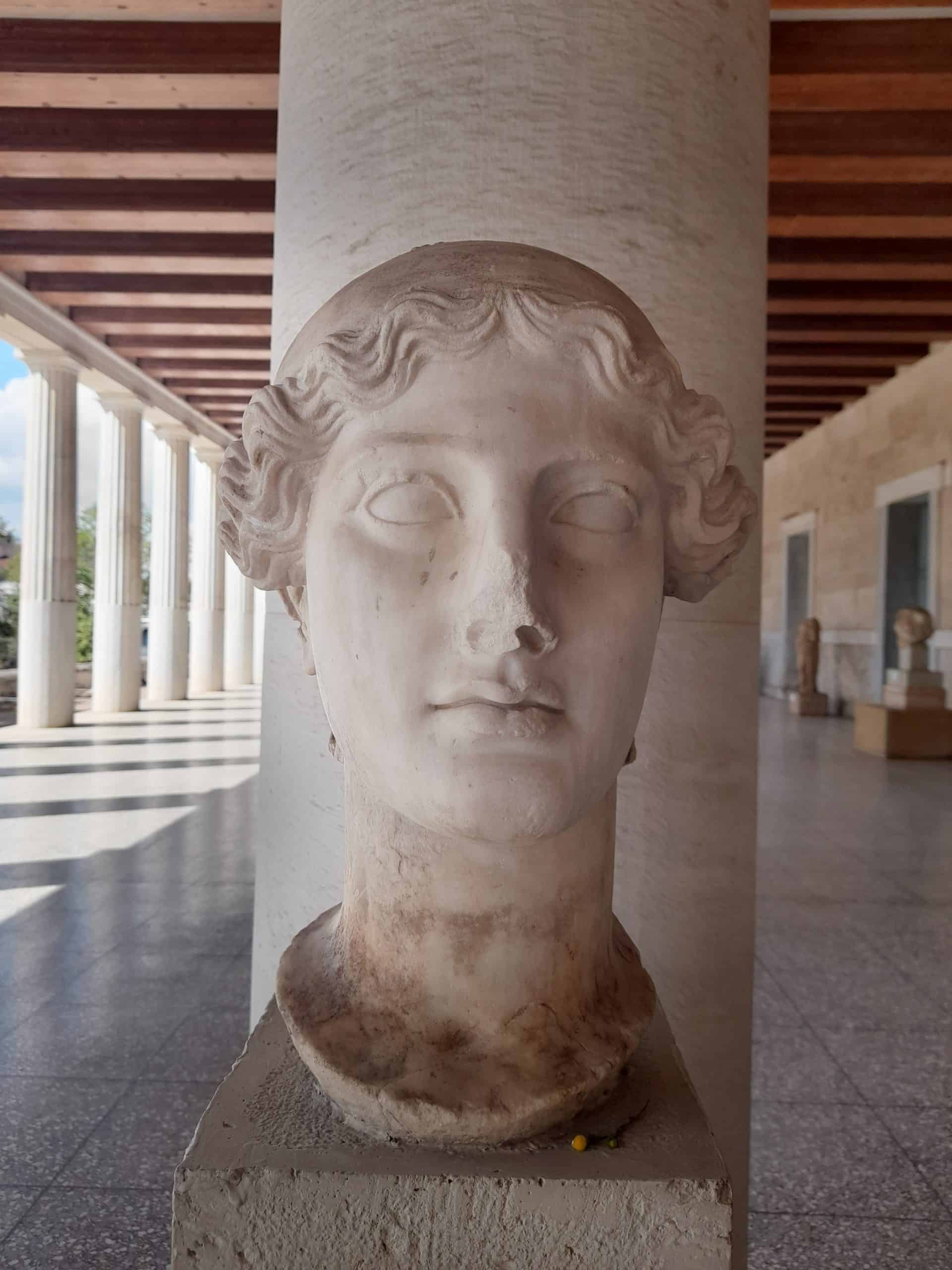 The Acropolis may well be the most famous Athens landmark but it certainly isn't the only one worthy of your time. Nearby, you should also make the time to visit the Ancient Agora.

In both Ancient and Modern Greek, "Agora" means "marketplace". However, the Ancient Agora's function was predominantly civil.

This was a popular rendezvous point among Athenians during the Classical Age of Greece. Speeches and important addresses to the public were often given in the main square, and even Greek Philosophers such as Socrates would wander through here imparting their wisdom to anyone that would listen.

There are two main things to look out for in the Ancient Agora. The grand, white colonnaded building on your left after you enter is the Stoa of Attalos – a former marketplace that once housed more than 40 stores.

Today, this structure contains the Agora Museum. Its various exhibits display artifacts that have been recovered from this area in chronological order.

You will also immediately notice an impressive temple on a hilltop whose appearance is somewhat similar to the Parthenon. This is the Temple of Hephaestus.

It was built around the same time as the Parthenon and is considered to be the best-preserved Doric temple in the Greek world. The temple is dedicated to Hephaestus, God of crafts and fire, and Athena Ergane, Goddess of Pottery. 
See the changing of the guards in Syntagma Square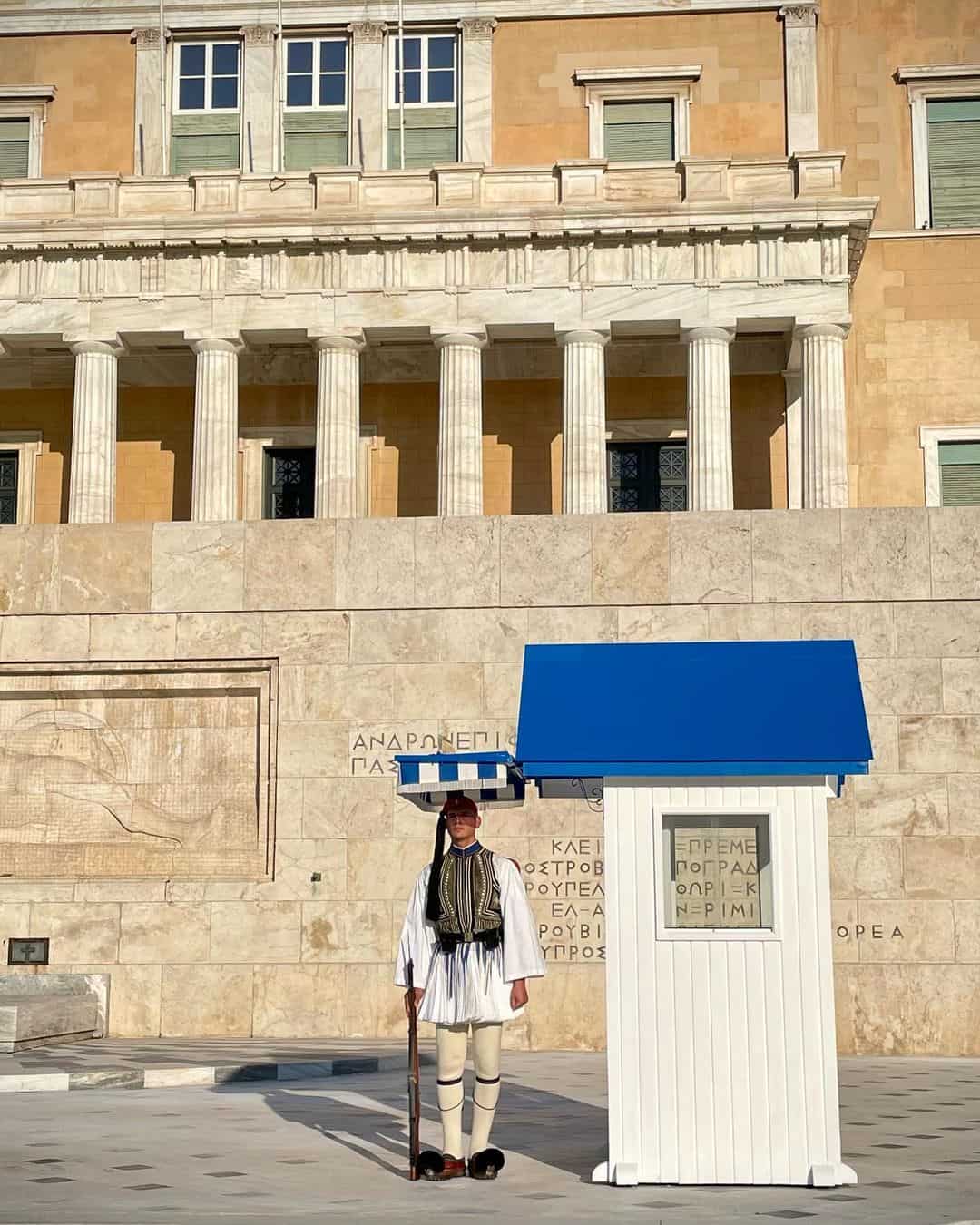 Syntagma Square is Athen's central square. Its metro and bus stations connect central Athens to the Airport, Piraeus, the Athenian Riviera, and other outer suburbs.

You are likely to pass through here multiple times during your time in Athens. Look out for the pastel yellow neoclassical building at the top of the stairs opposite the square.

This is the Hellenic Parliament Building and the former home of King Otto and Queen Amelia. An elite group of Athenian soldiers known as Evzones guard the Tomb of the Unknown Soldier in front of the building.
They are immediately recognisable by their distinct clothing.Evzones wear a white, long-sleeved shirt paired with a ruffled blue skirt known as a foustanella and traditional shoes with pom-poms known as tsarouchi.
If you happen to stop by on the hour (at any hour), you can watch the changing of the guard ceremony. There is a particularly elaborate ceremony that takes place on Sunday mornings at 11 am.
Check out a live musical performance in Syntagma Square
During Athens in December, Syntagma Square is even more magical. It is here where Athens' giant Christmas tree is set up, while the trees and store facades are decorated with garlands and fairy lights from the middle of November in Athens.
There are often live musical performances and shows hosted here almost every night of the week in December. Check the local news listing or ask your hotel receptionist/Airbnb host what is going on during the dates of your visit.
Experience New Year's Eve in Athens
Experiencing New Year's Eve overseas is a great experience and that is definitely true of being in Athens for the occasion. Most Greeks will spend a large portion of the evening with their families indulging in traditional Greek food and catching up with relatives.

As the clock strikes midnight, fireworks ignite the night skies and erupt over the Acropolis hill, and Mount Lycabettus. Then, everyone heads out to the bars and clubs of Athens to drink and dance until the early morning.

Gazi is Athens' main entertainment and nightlife district, and this area is home to some of the most raucous clubs in town. That being said, there is something for everyone here.

There are also a lot of chic, sophisticated rooftop bars where you can ring in the new year surrounded by a well-heeled crowd. Do double-check if you need reservations for the specific place that interests you.

Couleur Locale (Normanou 3) in Monastiraki is a local favourite rooftop cocktail bar. To escape to a local place that locals aren't aware of, head to Skyfall (Mark. Mousourou 1) by the Mets district.
Watch the sunset from Mount Lycabettus 
Looking for the best sunset view in Athens? Look no further than Mount Lycabettus.

This hill is the city's tallest peak. The quaint little whitewashed church of Agios Georgios sits at the top and the view from up here is one of the best in Southern Greece. On a clear day, you can see all the way out to Piraeus and the Saronic Gulf islands from up here.
The Orizontes restaurant at the peak is one of the best Athens restaurants for fine dining. It serves traditional recipes that have been prepared with a contemporary, modern twist.

After climbing to the top of Lycabettus, reward yourself for your efforts with a sumptuous meal and a warm glass of oinomelo (Greek honey wine). It is worth noting that the ascent to the top of Lycabettus only takes around 30 minutes and is generally suitable for people of all ages and hiking abilities. However, you can also drive or take a taxi to the peak, and there is also a funicular that takes you to the top
Ice skate beneath world-famous historical sites
Athens in December sees various ice skating rinks pop up around the city. What could be a more memorable experience than pirouetting across the ice beneath the Acropolis? (Or at least, skidding along the ice and trying not to fall)

One of the largest and most popular Athenian ice rinks is the one at the Athens Concert Hall. 2022 marks its sixth year in existence. The ice rink is covered by a large awning, meaning that you can still enjoy it even during bad weather.
Another beautiful option is the outdoor ice rink beside Kotzia Square, just across from Athens City Hall. The square is encompassed by half a dozen illuminated Christmas trees, making the area a true winter wonderland when you come here at night.
FAQs about visiting Athens in December
Do you still have any burning questions about visiting Athens in December? Hopefully, you will find the answers you are looking for below!
Is December a good time to visit Athens?
December is a very good time to visit Athens. The cost of traveling are very reasonable during this period and there are some very special festivities that you can bear witness to during the Christmas period.
Is Athens worth visiting in winter?
Yes. It never gets so cold in Athens that exploring historical and archeological sites, or going on hikes outside becomes unbearable.

Most Athens attractions can be enjoyed all year round. Christmas lights, festive shows, ice rinks and winter markets make Athens in winter a very magical time.
Does it snow in Athens in December?
Snow is not unheard of in Athens in December, although it is far from a guarantee. We have experienced snow in several recent years – in winter 2018, 2020, and 2021. The entire city looks more magical than ever when it is covered under a blanket of snow!
Is December a good month to visit Greece?
December is a very underrated time to visit Greece. You can experience a magical Christmas in Athens or Thessaloniki, and enjoy Greek winter tourism.

Many Greeks will take winter getaways to cosy cabins in quaint mountain villages during this time. Arachova, Metsovo, Karpenisi and Zagorahoria are popular destinations that you may want to consider.
Are restaurants and stores open on the 25th December?
Most businesses across Athens and wider Greece will close their doors on the 25th of December. However, you will still be able to find a few places open in Psyri, Plaka, Monastiraki, and Syntagma.
Athens sees tourists all year round after all! Many luxe Athens hotels offer traditional Christmas day dinners but you do need to make a booking in advance.
Otherwise, you can always find places open where you can get gyros or souvlaki. Sure, it may not be the typical Christmas dinner that you wanted but it will likely be a Christmas to remember nonetheless!
Parting Words
Do you have any additional questions about visiting Athens in December or at any other time of year? Have you experienced the festive period in Greece before? 

I am always happy to help out with any questions that you may have. I have lived in Greece since 2017 and have explored the country extensively during my time here.
Safe travels! Geia sou! Melissa xo
---