A 7 Day Bhutan itinerary is the perfect amount of time to spend in the mysterious Dragon Kingdom during your first visit. During this time, you can get an initial feel for the country's culture and see most of the main attractions and cities.
Nestled deep within the high Himalayas, Bhutan is one of the least visited countries in the world. It sits between India and China and is visited by only the most intrepid adventurers.
If you like venturing off the beaten path and experiencing unique cultures, Bhutan is a great destination for you. With its mesmerising masked dance festivals (tshechus), its breathtaking nature, and its many spiritual sites, it is easy to fall in love with the little nation.
70% of Bhutan is made of lush green forests and woodlands. This is the only country in the world that is not only carbon neutral but carbon negative.

Instead of measuring Gross Domestic Product (GDP), Bhutan measures Gross National Happiness. It is a very special place.
Visiting Bhutan
There are a few important things to note before you start planning your Bhutan itinerary. Primarily, you should note that you cannot travel to Bhutan independently unless you are a resident of India or Mauritius.
You must book your trip through a tour company. And while that may sound restrictive, there are actually a lot of advantages to this.
Your tour operator will help you in organising your flights and your visa. You will have your own tour guide and driver for the duration of your Bhutan itinerary and although this may seem imposing, it is actually a great opportunity to interact with locals.
After all, you will have a Bhutan expert on hand to ask any questions that you want to ask. The tour guide and driver are only for you and your travel companions.
It is not the case that you are lumbered in with a big tour group of people. You also have complete flexibility over your trip. You can book a certain tour itinerary but you do have the freedom to make alterations or take detours to certain places, as you prefer.
Getting to Bhutan
There is only one airline that services Bhutan and that is the country's national carrier: Druk Air. Only a select number of locations offer routes to Bhutan.
You can reach Bhutan from Thailand (Bangkok), Singapore, Nepal (Kathmandu), and India (various locations). Depending on where you are travelling from, you may want to consider having a layover in one of these countries prior to starting your Bhutan itinerary
Bhutan Itinerary Days

1 & 2: Thimphu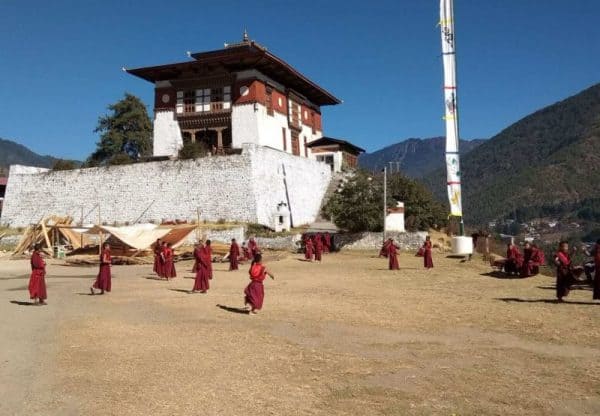 All international flights to Bhutan land at Paro international airport. The excitement begins before you even leave the plane; the views over the snow-capped peaks of the Himalayas while you are coming into land are unparalleled.
Your tour guide and driver will be waiting for you on arrival. So, after you have cleared immigration, head to Thimphu, Bhutan's capital.
Paro international airport is close to the phenomenal Tiger's Nest monastery. However, since it takes most people a few days to get accustomed to the high altitudes of Bhutan, it is better to leave this activity until later in your trip
It takes approximately 45 minutes to get from Paro international to Thimphu. 100,000 of the country's 700,000 strong population live here and despite the fact that this is the capital, Thimphu has a very small-town feel about it.
It is characterised by its whitewashed houses built in traditional Bhutanese style and adorned with red roofs. Narrow streets and passageways twist and turn through the city and open out into charming cobbled plazas and squares.
A tall clock tower with four faces marks the beating heart of Thimphu. The square adjacent to it is a popular rendezvous point for Bhutanese locals.
You will find regular street performances here as well as street vendors selling everything from dried yaks cheese to momos (Bhutanese dumplings). The cafes that encircle the square make a great place to hang out in the evenings and people-watch with a warm cup of coffee.
The Buddha Dordenma
The Buddha Dordenma should be the first stop on your Bhutan itinerary. This is a towering 51m Shakyamuni Buddha statue that was built in celebration of the fourth king of Bhutan Jigme Singye Wangchuck.
It was made from bronze and gilded with gold and is said to emanate an aura of peace and happiness to people across the globe. As far as the Bhutanese are concerned, the statue is essentially the eighth wonder of the world.
Not only is the structure impressive in itself, but the views of Thimphu and the valleys that surround it from up here are also unparalleled. Buddha Dordenma is one of the largest Buddha statues in the world.
Its interior is decorated with vibrantly coloured frescoes and 125,000 miniature gold statues of Buddha. 25,000 of these figures are 12 inches tall, while the remaining 100,000 are 8 inches tall. Figures of various gold-gilded deities that are important in Bhutanese Buddhism encircle the Buddha Dordenma.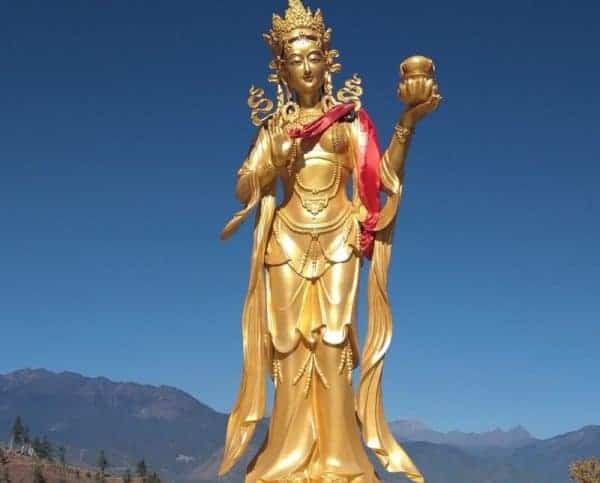 The Memorial Chorten
Next, stop by the whitewashed Memorial Chorten. This is a place of daily worship for many Thimphu residents and a visit here is said to ensure that you receive good karma in your next life.
The chorten, which has come to become one of the most important in the country, was built by Thinley Norbu Rinpoche in 1974 in memory of Jigme Dorji Wangchuck. When you enter, you will see a lot of elderly Bhutanese locals spinning prayer wheels and chanting with prayer beads.
These beads, essentially the Bhutanese answer to the rosary, are known as Trengwa. The elderly usually visit the temple to pray for the younger generations in their families and express their wishes that they will live a good, fortunate life.
They usually consider that they themselves are too old to receive a blessing. So, they selflessly visit the temple each day praying for the wellbeing of their younger relatives.
Falling in love with Thimphu City
When you arrive in the city of Thimphu, make a beeline straight for the Centenary market. Here, farmers from across the country come to the capital to sell their produce.
Among the veggies and jams, there are some weird and wonderful items to behold. For instance, the strings of hardened yaks cheese that you will become accustomed to seeing hanging everywhere, or the entire yaks legs that you can purchase (with the hoof still attached).
This is by far the largest market of its kind in Bhutan. Visiting provides a great opportunity to chat to locals and to take some photos, but do be sure to ask peoples permission if you want to photograph them.
A narrow pedestrian footbridge, Kuendeyling Bazaam takes you to a small bazaar where locals sell colorful wooden masks, prayer flags, handicrafts, and apparel. The Lung Ta prayer flags are a particularly interesting item to look out for.
Each flag represents a different deity or wish. (For instance, the wish to have a long, healthy life, the wish to be successful, etc).
They are usually then fixed in high places with the hope of the wish coming true. However, the flags also make great souvenirs and gifts for your loved ones back at home!
Sample the local cuisine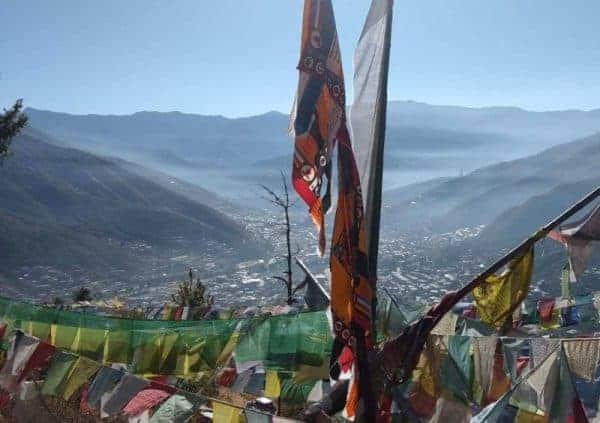 ‌Bhutanese food shares some similarities with the cuisine of nearby Nepal and Tibet. For lunch, locals often enjoy hearty meat stews and curries served with rice.
Jasha Maru (chicken stew) is a local favourite. So too is Phaksha Paa, a melt-in-the-mouth pork stew created by slowly simmering strips of meat on high heat until tender.
Typically, Bhutanese food is very spicy so many restaurants do try and produce milder versions for international travellers. If you can handle your spice and you want to eat just like the locals do, let your server know.
Savoury buckwheat pancakes and ema datshi (essentially the national dish of Bhutan) are served as an accompaniment to virtually every meal.
Ema datshi is the Bhutanese version of chili cheese. It consists of chopped chillies served with melted yaks cheese. As obscure as it may sound, you may find the dish as much of a highlight of your trip as the seeing of the sights (well, almost!).
Catch an archery game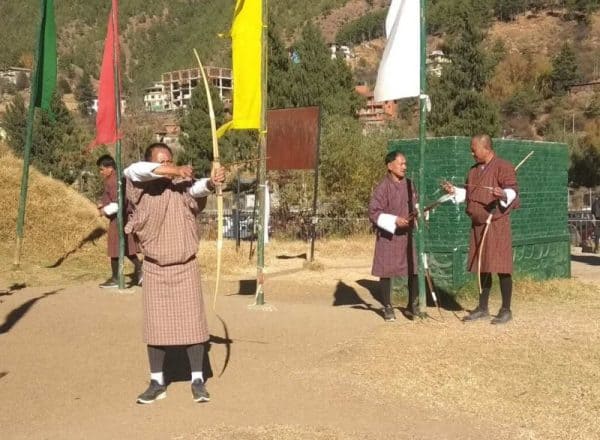 Try and stop by one of the many archery fields while in Thimphu. Archery is the national sport of Bhutan and you will find the fields packed full of locals hosting tournaments, particularly at weekends.
Local men, dressed from head to toe in gho, the traditional robe-like attire of Bhutan will head to the archery fields every weekend to socialise with their friends. Bhutanese archery differs from traditional archery as the range is 145 meters long.
Two teams play each other, with 15 men on each team. They take it in turns to shoot and the first team to reach 25 points wins, though the local rules are very complicated.
Locals are pretty happy for you to stand and watch. They may even let you have a go! When someone scores or wins a round, that team performs a special victory song and dance.
Bhutan Itinerary Day 3:
Punakha
Depart from Thimphu today and head towards Punakha. The drive from here takes approximately two hours.
En route to Punakha, you can break up the journey by stopping firstly at Dochula Pass and then at Wangdiphodrang for the infamous Fertility Temple. There are several idyllic and luxurious accommodation options available in Punakha.
Stop at Dochula Pass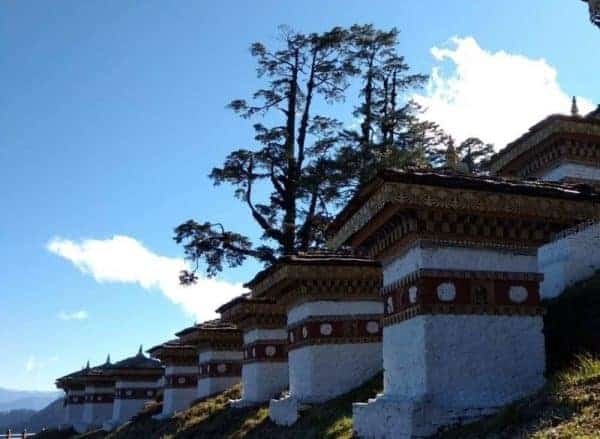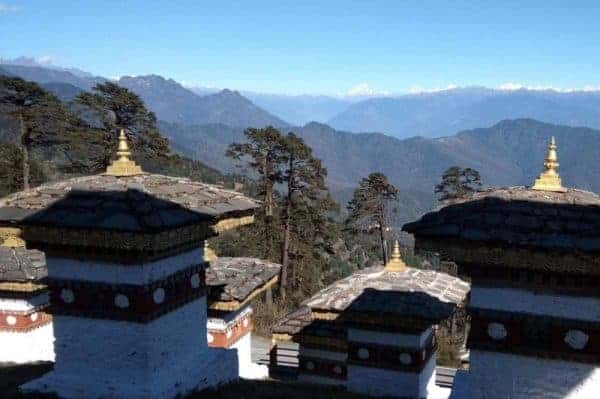 Dochula pass was the site of the 2014 war between Bhutan and India in which Bhutan was victorious. There are 108 memorial chortens here, each one built to represent a life lost.
The site mourns and honours the fatalities on both sides of the battle. This is something that is relatively unique since usually, countries only mourn the loss of their own soldiers in a war. It perfectly epitomises the compassion of the Bhutanese.
The goemba (temple) here is relatively newly built. However, it sits amid a beautiful backdrop of the snow-capped Himalayas.
Every December, Dochula Pass is the site of the Druk Wangyel festival. Here, masked dances are performed by the Royal Bhutanese Army to celebrate the nation's victory in the war.
Visit Wangdue Phodrang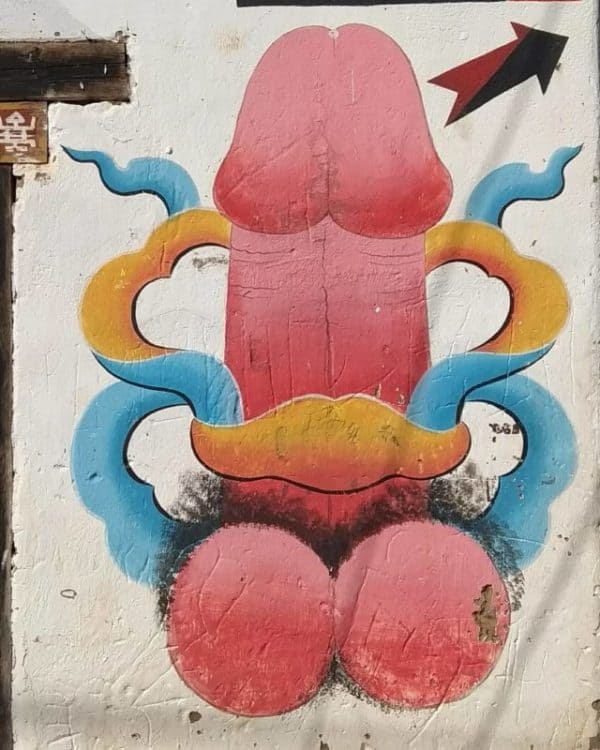 Wangdue Phodrang is the name of a small village some 16km south of Punakha in Thedtsho Gewog. The settlement name sounds full of innuendos and while that may not have been intentional, it is certainly fitting.
The town is best known for its fertility temple (Chimi Lhakhang) and appreciation for Drukpa Kunley, the Divine Madman of Bhutan. Kunley is one of the most obscure, yet beloved figures in Bhutanese history.
He was a Tibetan Buddhist monk that based himself in this region on a quest to fight off evil spirits. He was unconventional in his practices and not like other monks.
Kunley was a notorious drinker and womaniser and is said to have repelled enemies with a thunderbolt from his magical penis. Whether you believe the legends or not, the village here is unlike any other you will have experienced.
The exteriors of the houses in Wangdue Phodrang are decorated with ejaculating phalluses. This is a symbol of good luck. It is said that when a phallus is painted on a wall, it will deter gossipers from spreading rumours about the resident inside.
Stop by Chimi Lhakhang, the fertility temple
The Chimi Lhakhang fertility temple in Wangdue Phodran is not only famous in Bhutan, but across the world. It has become something of a pilgrimage site for local and international couples who are struggling to have children.
Even famous couples are said to have gotten pregnant after visiting the temple. Namely, the British Prince William and Kate, King Jigme Khesar Namgyel Wangchuck, and Queen Jetsun Pema of Bhutan.
The temple is relatively modest-looking when compared to other, more grandiose Buddhist temples in the country. Its main draw is the fascinating legends and stories behind it.
Explore Punakha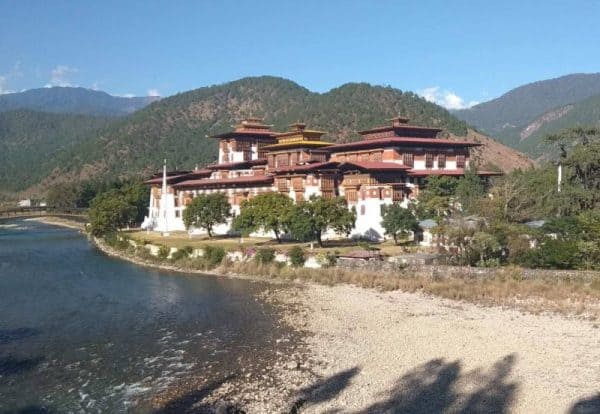 Punakha is home to Bhutan's highest and largest suspension bridge. This rickety rope bridge is decorated with beautifully coloured prayer flags and leads the fearless traveller over a scenic, water-filled canyon towards the colourful Punakha Dzong.
Your visit to Bhutan may seem littered with visits to Dzongs (fortresses) but each one is important and beautiful in its own unique way. Punakha Dzong was the former centre of all administrative activity and is the largest of its kind in the entire country.
Punakha Dzong, built strategically at the intersection of the Mo Chu Pho Chu rivers, dates back to 1637. It was built by Zhabdrung Ngawang Namgyal as the main administrative seat of the region.
Sadly, various natural events have rocked the fortress throughout the years – including fires and earthquakes. The dzong as it stands today has been heavily restored, but it is still every bit as spectacular as it was when it was first built.
Bhutan Itinerary Day 4:
Attend a masked festival
If you can, it is a good idea to schedule your Bhutan itinerary so that your travel dates correspond with the dates of a masked festival (tsechu). There is something going on virtually every single month so this should not be tricky to do.
These are ancient dance festivals whereby dances are performed to the backing of live, traditional music by Buddhist monks in elaborate dress. They date back as far as the 16th century and were often performed to shun evil spirits.
Bhutanese Royalty and Prime Minister Lotay Tshering are often in attendance and you may fortunate enough to catch a glimpse of them. You can review the full schedule for masked dances here.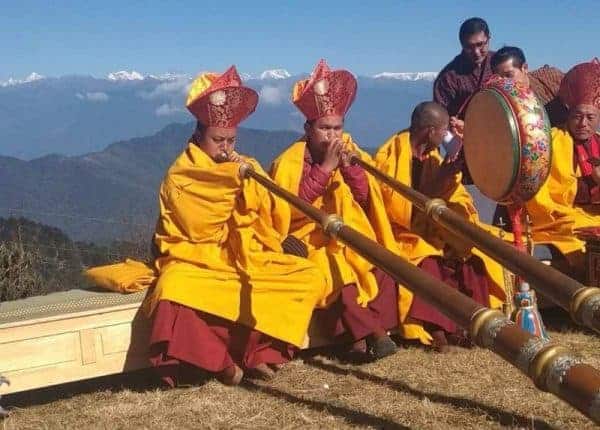 Bhutan Itinerary Day 5:
Paro
Though it is classified as a city, Paro is relatively small. Its entire length can be walked in an hour or so.
First of all, stop by the Rinpung Dzong. This is a distinctive fortress with huge buttressed walls that are visible throughout the entire valley. In the city centre, the high street is filled with markets selling local handicrafts and quaint boutique stores and restaurants.
While you are in the region, hike to some of the smaller farming villages that surround Paro. These settlements give a completely different glimpse into traditional life in Bhutan.
Bhutan Itinerary Day 6:
Hiking the Tiger's Nest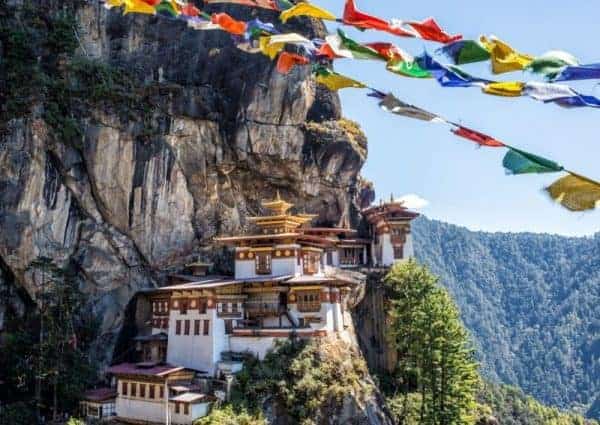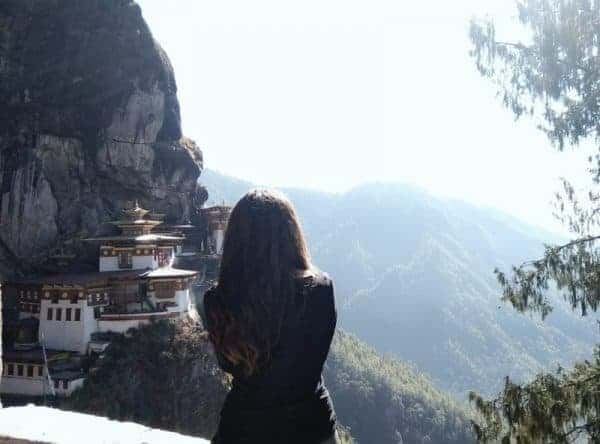 Perched on the edge of a 4200m cliff, the mysterious Tiger's Nest is a highlight of any Bhutan itinerary. For many people, this is the entire raison d'etre that they want to visit Bhutan in the first place!
Bhutan is a land of magic and mystery and that is perfectly epitomised in the Tiger's Nest. There is a fascinating tale behind the site's creation, as is the case with most spiritual places in Bhutan.
Guru Rinpoche, the Tibetan monk that introduced Buddhism to Bhutan is said to have flown to this location on the back of a flying tigress in the 7th century AD. Then, he meditated in the nearby caves for three years in order to subdue the evil spirits lurking in the region.
A clifftop temple was built in the location of the cave in 1692. To reach it today, you must follow a woodland trail that takes about 2-3 hours to complete.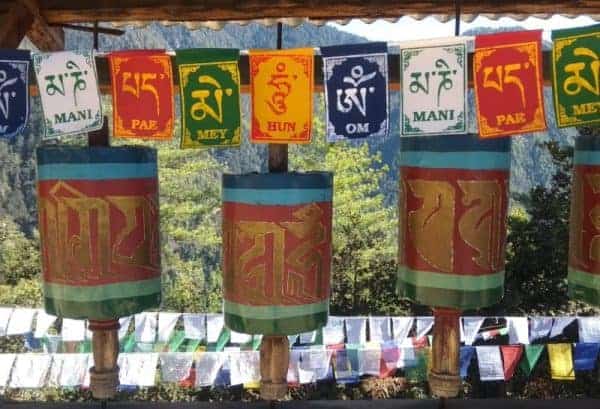 People are often concerned about this hike and its potential difficulty considering the high altitude. However, provided that you are in generally good physical health, it should pose no problems.
Bhutan Itinerary Day 7:
Departure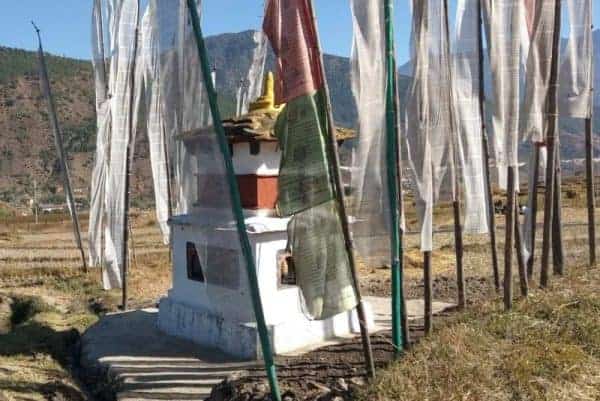 It's time to say goodbye to the mysterious dragon kingdom. Due to the difficult conditions at Paro International Airport, it is likely that your departure will be early in the morning. Sip one last butter tea at breakfast and get ready for your Druk Air flight.
Bhutan Itinerary FAQs
Do you still have any burning questions or concerns about planning a Bhutan itinerary? Hopefully, you will find the answers that you are searching for below.
How many days do we need in Bhutan?
5-7 days is enough to get a feel for the culture of Bhutan on an initial visit. This will allow you enough time to see the main cities and sites.

For instance, Thimphu, the Tigers Nest, Paro, and Punakha. Obviously, if your schedule and budget permit you to stay longer, you can definitely find plenty to do here to warrant a 2-3 week stay.

If you want to travel to the off-the-beaten-path eastern part of the country and engage with the nomadic tribes that live there, you should allow at least 2 weeks in Bhutan. Getting to this region requires long domestic journeys.
What is the best month to go to Bhutan?
Spring and Autumn are the best times to visit Bhutan. In other words, the months of March and April or October and November.

At this time, the weather is crisp, warm, and pleasant and the conditions are perfect for hiking and spending extended periods of time outdoors. The summer season sees a lot of monsoon-like rain, whereas winters can see snow that interferes with travel plans.

Of course, you see more tourists in the country during these times. However, since Bhutan is a very off-the-beaten-path destination anyway, you never find that anywhere is especially crowded.

Spring is particularly beautiful. At this time, the valleys and woodlands of the country come to life with countless colourful fragrant flowers and rhododendrons.
Can we cover Bhutan in 4 days?
Four days is not an ideal amount of time to spend in Bhutan. Most tours are at least 5-7 days long and if you only have 4 days to spare, your trip is likely to be incredibly rushed.

It would be a shame to travel all that way and have to see everything hurriedly. However, if you have no flexibility, you can at least make time to explore Thimphu and the Memorial Chorten, then head to Paro and the Tiger's Nest.
How do I plan a trip to Bhutan?
Planning a trip to Bhutan can be overwhelming. The best way to start is to do some research and read about the country to see which regions interest you.

Since you have to visit on a tour anyway, that takes some of the stress out of managing the logistics yourself. Browse various Bhutan tour company websites and look for a Bhutan itinerary that interests you.

Your tour operator will help you with organising your visa and your flights. They will also be able to answer any questions you have about accommodation, costs, etc.
Which is Better Paro or Thimphu?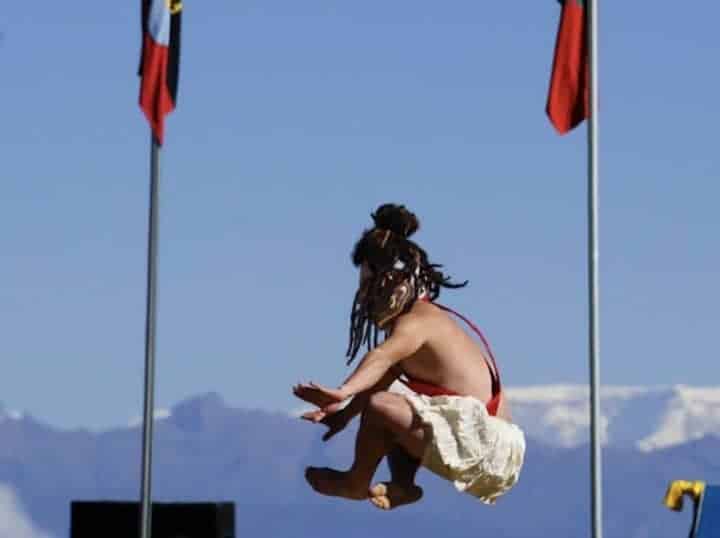 Paro and Thimphu are two Bhutanese settlements that each have their own individual charm. Paro is more rural, and its main attraction is the spectacular Tigers Nest.

Thimphu is the country's capital. As well as the Buddha Dordenma and the Memorial Chorten, this is the best place to experience local life.

Venture into one of the quaint cafes and coffee shops close to the Thimphu clock tower and treat yourself to a steaming cup of cocoa and a doughnut as you people-watch. Try momos (Bhutanese dumplings) at Momo Point (23A & 23B Gongdzin Lam) or Momos & Noodles (12 Wogzin Lam).
Generally speaking, there is much more to see and do in Thimphu. It is this city that is more deserving of your time.
Final Thoughts
Have any questions about this Bhutan itinerary or visiting the Dragon Kingdom in general? You might also find this Bhutan travel guide useful.
Have a wonderful trip! Melissa xo
---