The Athens to Mykonos ferry is one of the most popular (and convenient) ways to reach the Cyclades from southern Greece. Services between the two destinations run daily, with more frequent ferries operating during the summer months.
Athens to Mykonos Ferry
The Athens to Mykonos ferry departs from Athens daily. Typically, there are at least two services a day and the boats depart from both Piraeus and Rafina ports.
Mykonos is one of the most important gateways to the Cycladic islands as a whole. In the summer, ferries here run even more frequently.
Athens to Mykonos Ferry Options
The sailing time to reach Mykonos ranges between 2.5 hours and 5.5 hours depending on which service you choose to travel on. Blue Star Ferries, Minoan Lines, and Seajets all service this route. The "slower" boat that takes approximately 5 hours is the car ferry.
Meanwhile, it is a high-speed hydrofoil that takes you from Athens to Mykonos in 2.5 hours. But which option is better?
Honestly, it may seem like the better choice to get to Mykonos as quickly as possible and minimise your transit time. However, the "slow" ferry is arguably a better choice if you are prone to seasickness.
There are also significant price variations between the two services which are worth keeping in mind. The "fast" Athens to Mykonos ferry costs around €70-80 per person. Meanwhile, the "slow" ferry costs around €40.
If you opt for the car ferry, you can choose to sit inside within the boat's cafe, or outside on its various terraces overlooking the sea. However, the "fast" hydrofoils are closed. In other words, you cannot go outside for safety reasons.
Seating within the hydrofoils is airplane style and you are given an allocated seat. Both ferries have onboard cafes serving an array of Greek coffees, snacks, and refreshments.
Purchasing Athens to Mykonos Ferry Tickets
You should use Ferryscanner to both purchase your Athens to Mykonos ferry tickets, check the latest fares and timetables, etc. It is also possible to purchase tickets in person at the specific Athens ports, or from various touristic kiosks around the city.
However, keep in mind that third-party travel companies may add a commission to the total cost of the ticket price. Similarly, it is better to purchase your tickets online in advance in order to guarantee your seat on a specific service.
This is particularly true if you plan on exploring Greece in July or August. Athens to Mykonos ferries run frequently but it is not unheard of for popular early morning departures to sell out.
Athens to Mykonos Ferry Ports
Athens to Mykonos ferry services depart from both Piraeus and Rafina ports. The best option depends a lot on where you are coming from.
If you are planning to take the Athens to Mykonos ferry immediately after arriving at Athens airport, try and book a ferry from Rafina port. This is the closest port to the airport and booking a boat from here saves a long journey through Athens to Piraeus port.
Alternatively, if you are exploring Athens for a few days, you should try and book yourself on a ferry that departs from Piraeus. It is very easy to get to Piraeus from Athens city centre.
How to Get from Athens and Athens Airport to Piraeus Port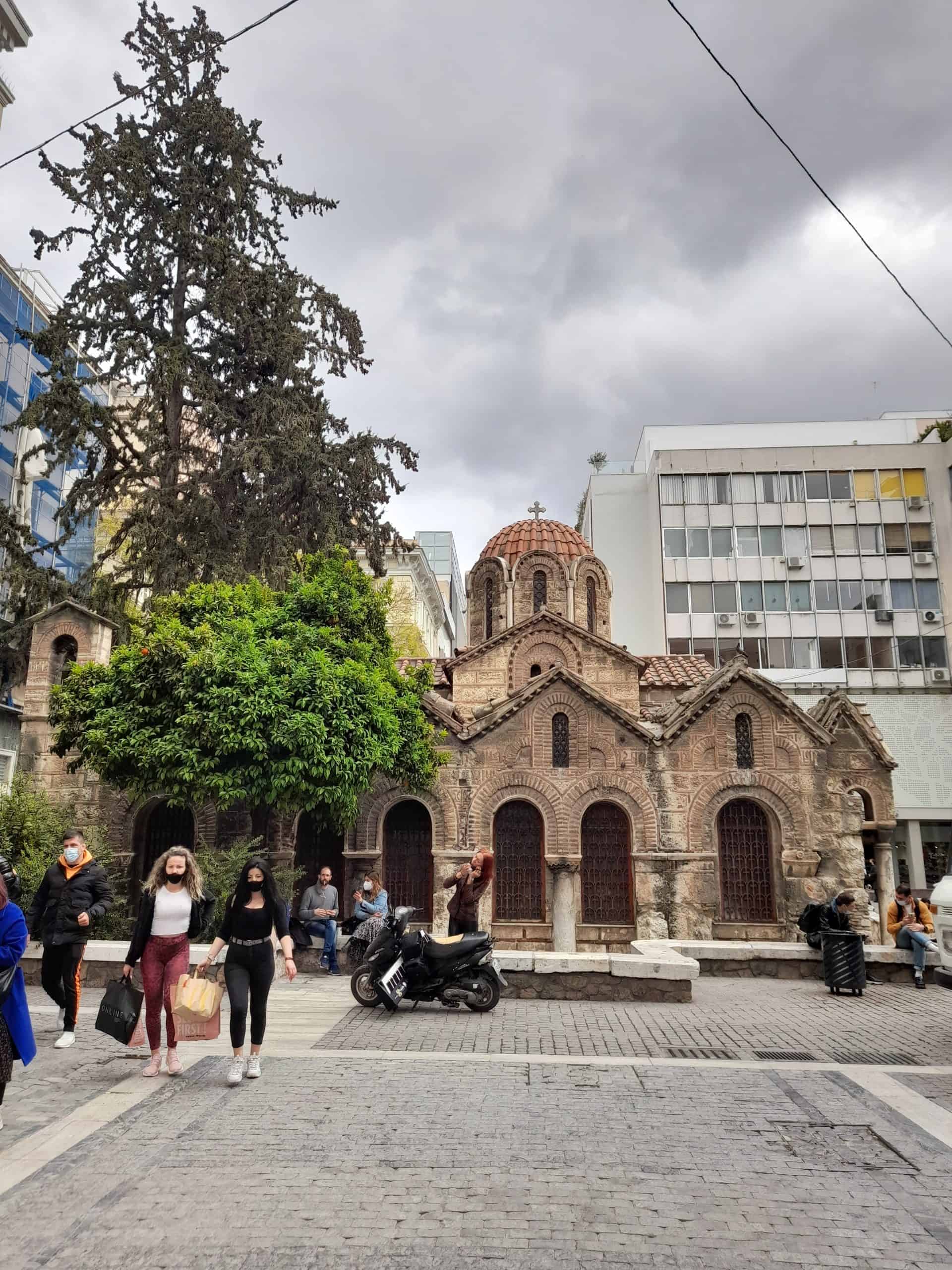 You have several options for getting from Athens and Athens airport to Piraeus port. Public transport in Greece is generally pretty good.
Services are modern, convenient, and clean. If you're travelling on a budget, you can opt to travel to Piraeus port by bus or metro.
Alternatively, you can take a cab or organise a private transfer. We don't have Uber in Greece.
You can technically download and use the app but you will only see licensed cabs operating on there. The main taxi app in Greece is one called Taxi Beat.
Again, you will only find licensed cars here. However, ordering a cab this way helps you to avoid getting tricked or scammed (unfortunately still relatively common in Athens). You will be able to see the price before getting in the car.
Reach Piraeus Port by Bus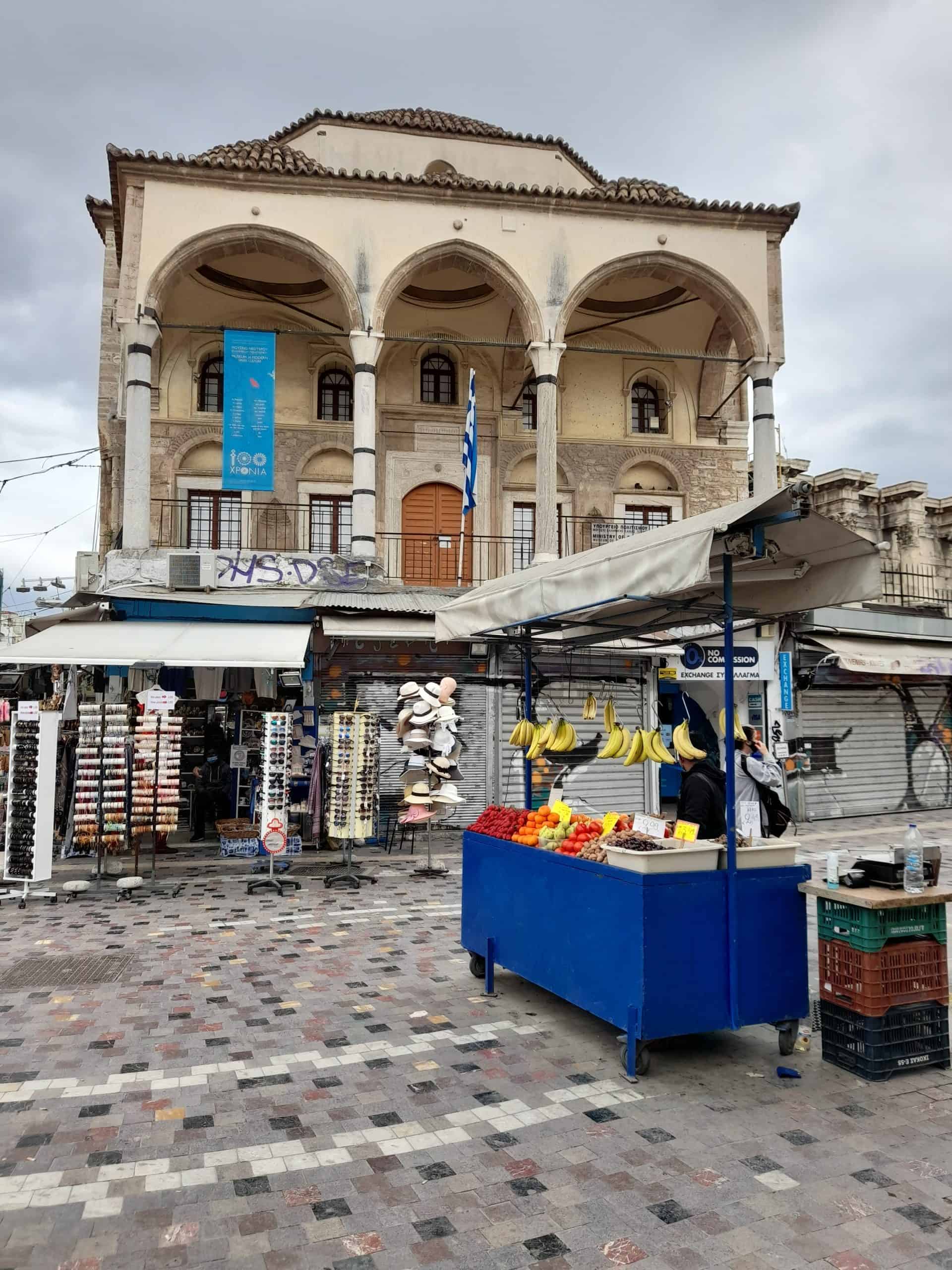 The X96 connects Athens Eleftherios Venizelos Airport with central Athens and Piraeus. It stops close to Megaro Moussakis station (for Kolonaki) and Syntagma Square before continuing onwards to Piraeus port.
If you are in one of the neighbourhoods in Central Athens, the most convenient bus stop for you is likely the one at Syntagma Square. You can't miss it but if you need assistance, just ask one of the local kiosk owners.
From Athens Airport, the X96 bus departs outside the arrivals terminal. The bus runs every 20-40 minutes depending on the season.
There are 31 miles between Athens airport and Piraeus port. This journey can take approximately 90 minutes, traffic dependent.
Reach Piraeus Port by Metro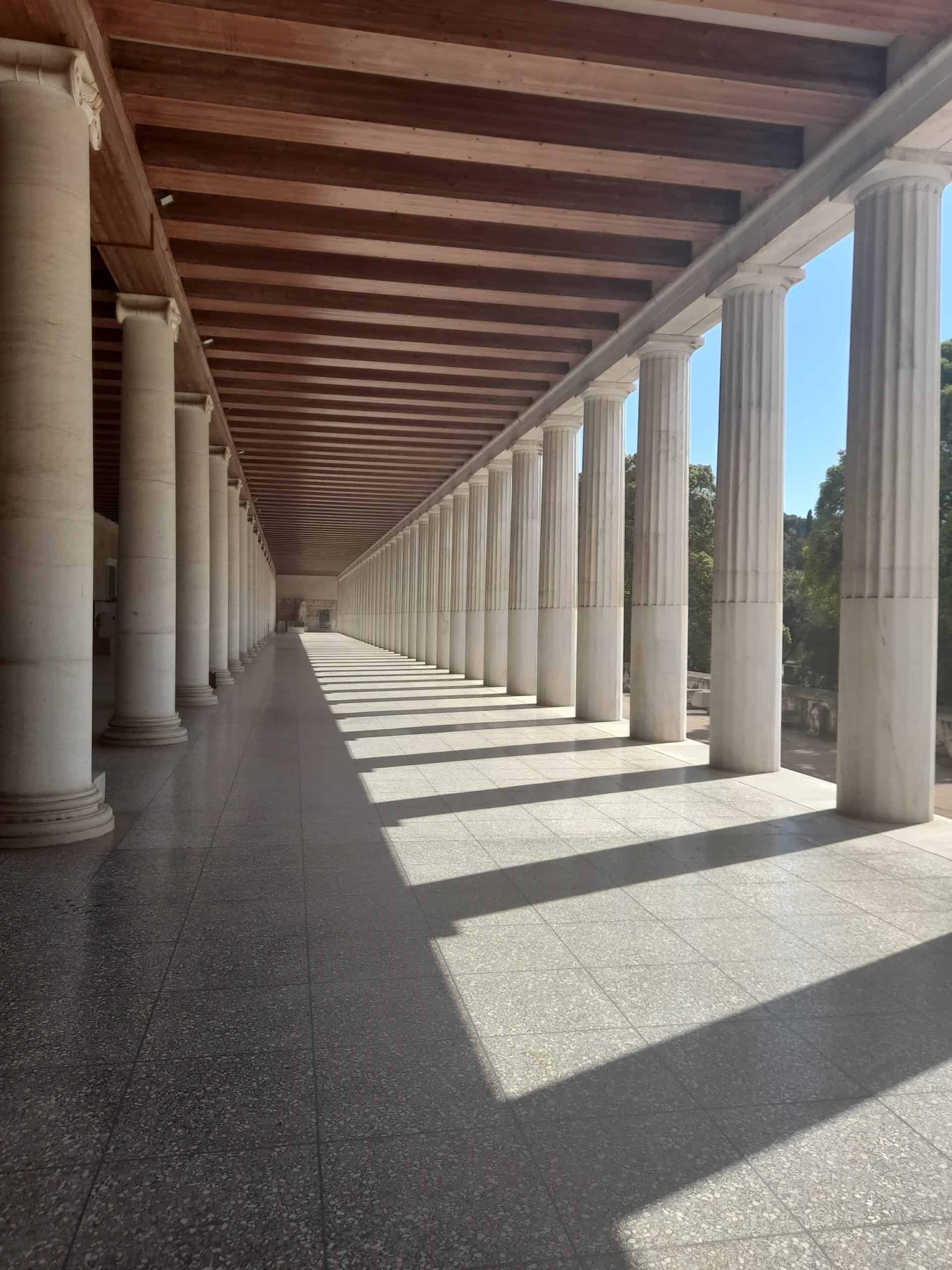 Travelling to Piraeus port by metro is simple and convenient if you're in central Athens. However, there are changes involved if you're starting out from the airport, in which case taking the bus is preferable.
There is a direct metro line (green line #1) from Monastiraki and Omonia. Piraeus is the final stop and the train will take you all the way there in less than 40 minutes.
If you're in Syntagma, you need to first take the blue line metro (or walk) to nearby Monastiraki. There is only one metro stop between the two stations.
Riding the metro all the way from the airport to Piraeus is also possible. First, take the metro from the airport all the way to Monastiraki. Then, switch to the green line and continue on to Piraeus.
Reach Piraeus Port by Cab
Taking a cab or private transfer to Piraeus port for your Athens to Mykonos ferry can take a lot of the stress out of getting to the boat. A cab from central Athens should cost no more than around €12-15.
The standard day rate for a taxi from the airport is €54. Meanwhile, the night rate is €70.
This may be more convenient for you, particularly if there are several of you travelling together. If you want the comfort of knowing that someone will be waiting for you at the airport on your arrival, you can also organise a private transfer. These typically do not cost that much more.
Important Piraeus Port Information for Mykonos Departures
The Athens to Mykonos ferry typically departs from Piraeus gates E8 and E9 but double-check to be sure. There is a short walk from the Piraeus port metro exit to the embarkation gate so make sure you allow plenty of time.
If you arrive early, you can stop for food or coffee at one of the waterfront cafes. The ticket office staff are usually happy to let you leave your bags there for an hour or two while you wait for your ferry.
How to Get from Athens and Athens Airport to Rafina Port
Rafina port is the closest port to Athens Airport. It is also easy to get to.
There is a KTEL bus that runs hourly from the airport to the port. A one-way ticket costs just €3 per person and the journey takes under 20 minutes.
Children under 6 travel for free and concessions are available. You can purchase the ticket on board from the driver, or from the ticket kiosk outside Athens airport arrivals.
If you prefer, you can also organise a private transfer or travel from Athens to Rafina by cab. There are standard day rates and night rates.
A day rate from Athens airport to Rafina is typically around €38. Meanwhile a night rate averages at €54.
You can get a taxi from outside the airport. However, ordering one via the BEAT taxi app is always a better choice, particularly in order to avoid being overcharged.
Rafina Town
If you have a little time to spare before your Athens to Mykonos ferry, Rafina town is a charming place to explore. Some of the best Athens beaches can be found in this area and Athenians will often hang out here in the summer months.
Behind the harbour, there is a large square ("plateia") that is lined with excellent tavernas, coffee shops, and local stores. Nearby, there is also the spectacular whitewashed church of Agia Marina (Αγια Μαρινα ραφηνας).
Its white and blue exterior is something that you would expect to see in the Greek islands, rather than on mainland Greece.
Athens to Mykonos Flights
An alternative way to get from Athens to Mykonos is to fly there. You might want to consider this if you get seasick.
It takes just an hour to get from central Athens to the airport (and vice versa). Despite the fact that you will have to wait at the airport a while before you fly, this is generally the fastest option.
The average flight time from Athens (ATH) to Mykonos (JMK) is just 45 minutes. Sky Express, Olympic Air, and Aegean all serve this route.
Contrary to popular belief, it is not really any more expensive to fly to Mykonos than it is to take a ferry. You can buy tickets for as low as €30 each way in the low season, and €50 each way in the high season.
You can use flight search engine websites like Skyscanner to find the best Athens to Mykonos flights. If you have some flexibility on your travel dates, opt to search for flights across the course of an entire month. You will be surprised by how much price variation there is from one day to another!
In the summer, there are more than 15 daily flights from Athens to Mykonos! Try and book your tickets at least a couple of months in advance if you can to secure the best prices.
Arriving at Mykonos International Airport
Mykonos International Airport is very small. Despite that, it is also the tenth busiest in all of Greece!
There are only a few Greek islands that have airports on them. Mykonos and Santorini are two of those. So, they become incredibly busy during the summer with everyone flying here in order to travel onwards to their respective island getaways.
If you're passing through here in July or August, it can get very crowded. Allow enough time to pass through customs and baggage claims.
Onward Travel from Mykonos International Airport
Mykonos Airport is just 2.5 miles south of Mykonos town. The journey there takes just 10 minutes.
Taxis are always lined up outside Mykonos airport arrivals. It costs approximately €29 to get from Mykonos Airport to Mykonos town.
If you are staying farther out – perhaps you are renting accommodation close to Lia/Fokos beaches, it should not cost more than €40. Renting a car in Greece is also a good idea.
Opting to do so provides you with a lot more freedom and flexibility. Driving here is not as chaotic as you may think.
Public transport wise, there is a bus that connects Mykonos airport with the town. This is the cheapest option and a one-way ticket costs just €1.60.
The bus terminates at Mykonos' Fabrica bus station in the centre of town. From here, you can travel onwards to your accommodation.
The bus does not run frequently and only operates during the summer months. If you're flying to Mykonos in July/August, you may find that the buses get full. You can check the Mykonos bus timetables here.
Parting Words
Do you have any additional questions about getting the Athens to Mykonos ferry, island hopping in Greece, or other aspects of drawing out a Greece itinerary? Please don't hesitate to contact me and I'll do my best to help ASAP.
Geia sou! Melissa xo
---