An Edinburgh 2 day itinerary offers the perfect amount of time to get a first glimpse of Scotland's historical capital. Despite its big-city status, Edinburgh has something of a small-town air about it.
Edinburgh's narrow winding streets and cobbled passageways seemingly transport you back in time hundreds of years ago. The historic centre is relatively compact.
It is by no means overwhelming, intimidating, or impersonal as you may have come to expect European capitals to be. You can explore much of the city centre on foot in a matter of hours.
Edinburgh is bursting at the seams with culture, history, and gastronomy. It makes a nice stopping point on any Scotland itinerary.
Over the centuries, historic Edinburgh has gained several nicknames. It is often affectionately referred to as "The Athens of the North" – a nickname awarded in the 18th century on account of the city's links to intellectualism, high culture, history, and the arts.
It is also known as "Auld Reekie". This nickname means ¨old smokey¨ in Scottish. Historically, the smoke from peat fires and coal-burning would linger over the city.
Today, this loving nickname refers to Edinburgh as being a homely, down to earth place free from pretension. It is a name that perfectly reflects the personality and charm of Edinburgh.
Edinburgh Tours
If you are only in town for a limited amount of time and want to get the most out of your Edinburgh itinerary, it is understandable that you may feel more comfortable on a tour. Exploring the city with a local guide can help you uncover places and restaurants that you may not have found alone.
Furthermore, some Edinburgh tours focus on a particular theme. For instance, Harry Potter walking tours, nightly ghost tours, etc. A number of reputable local tours are shortlisted below for your consideration,
Two Day Edinburgh Itinerary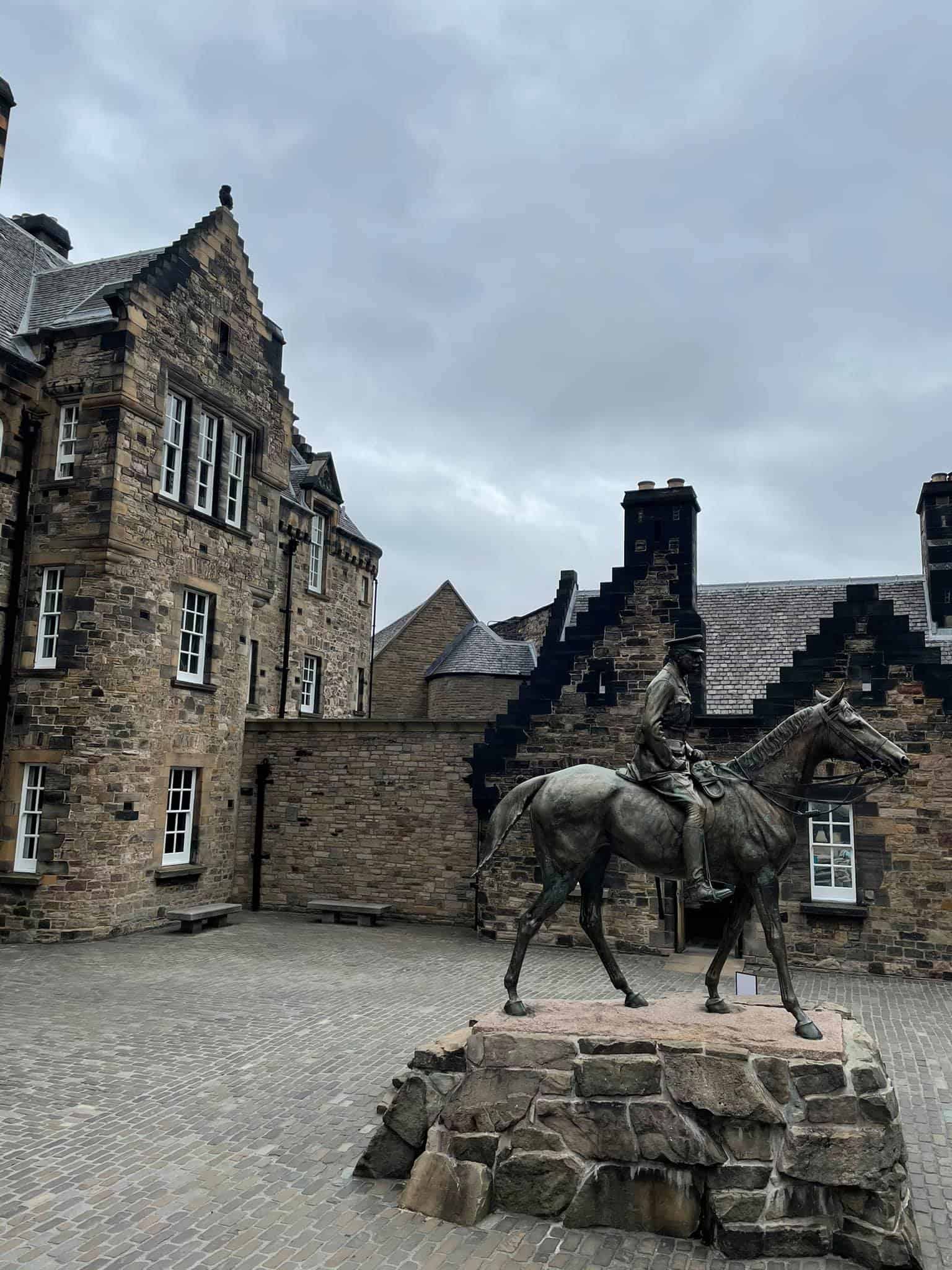 This two day Edinburgh itinerary concentrates on seeing the city's cultural and historic highlights in a short space of time. Suggested extensions are also provided.
Edinburgh Itinerary Day One
Opting to stay in a central neighbourhood such as the Old Town, the West End, or Fountainbridge acts as a perfect base for this Edinburgh itinerary. Fortunately, the city centre is relatively compact.
You can essentially walk from one side of the city to another within 30 minutes. Start the day with a traditional Scottish breakfast and a strong cup of coffee. Then, prepare to head to our first stop on this Edinburgh itinerary: Edinburgh castle.
Edinburgh Castle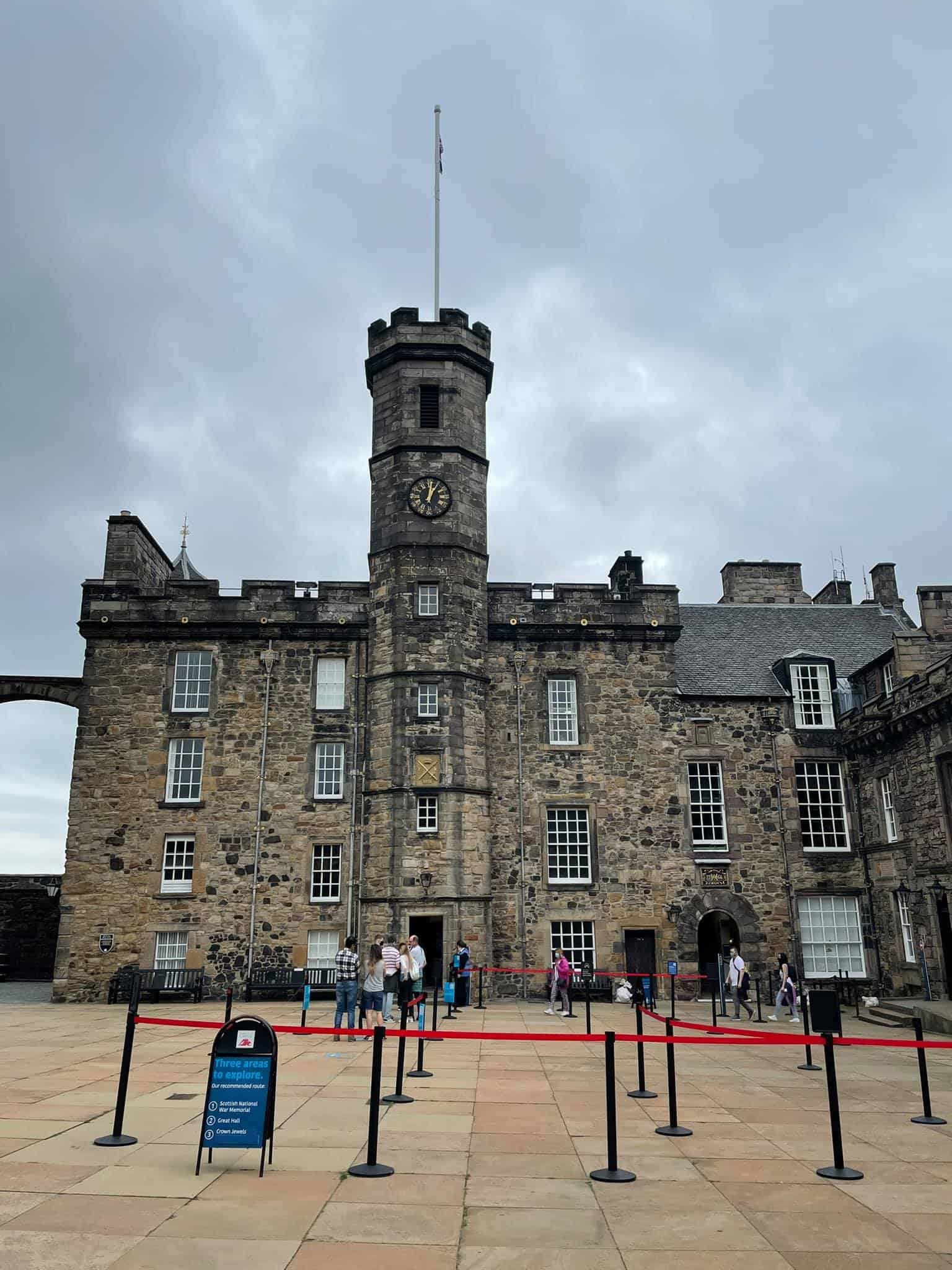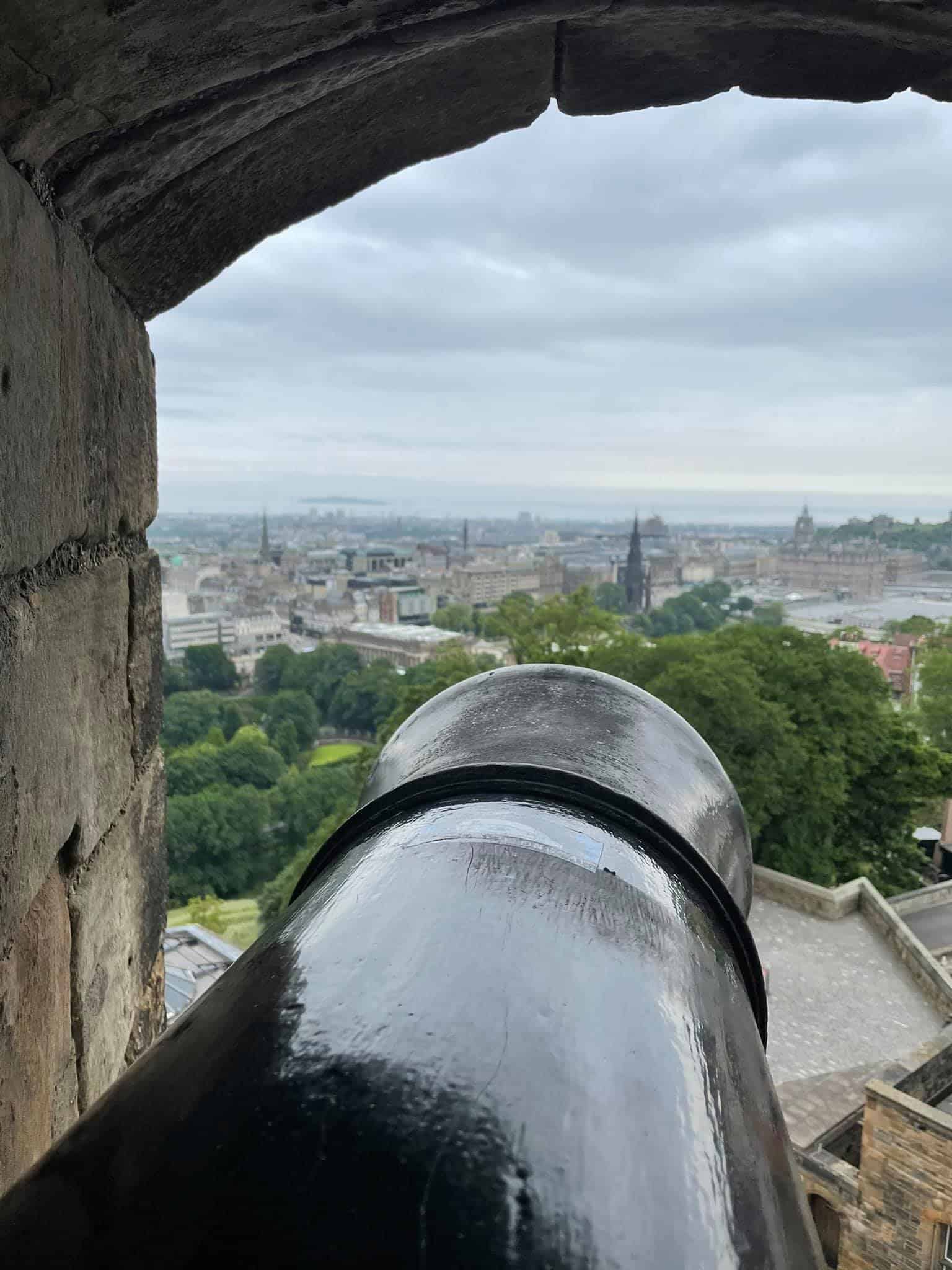 Edinburgh Castle is a good starting point for exploring historic Edinburgh. Better still, some of the best views of the city can be enjoyed from up here. On a clear day, you can see all the way out to the waterfront at Leith.
The site opens at 9.30 am. Get here as early as possible to avoid the crowds, and be sure to purchase your ticket online in advance to save time queuing on arrival.
The ancient castle can be seen from virtually all corners of the city centre. It sits, 130 metres above sea level, on the remains of an extinct volcano. The volcanic rock here is around 350 million years old.
Edinburgh Castle is important because it was the very first place in Edinburgh that was inhabited. The first residents arrived here some 3,000 years ago.
Since then, the Scottish capital as we know it today has grown around the defensive site. You should dedicate at least two hours to exploring the site and its various buildings and annexes.
Be sure to see the Crown Jewels, the Royal Chambers, and the prisoner of war cells. The latter consists of a labyrinth of vaults deep beneath the castle that was used between 1757 and 1814. Today, they have been recreated to look exactly as they would have done, all those centuries ago.
Edinburgh Castle Viewpoints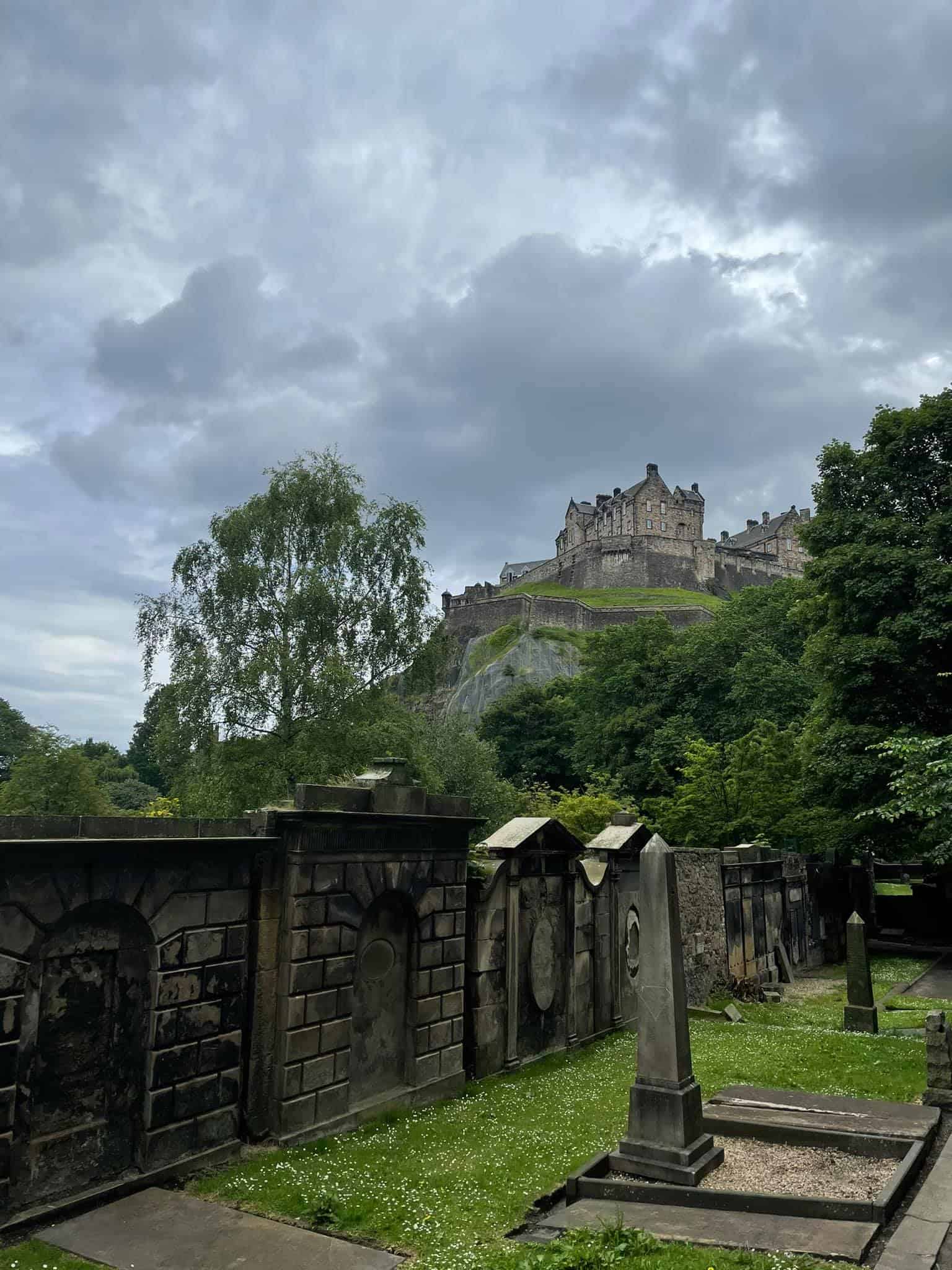 Looking for the best Edinburgh castle photography viewpoints? Consider the below.
St Cuthbert's Churchyard


Princes St Gardens


The Vennel


Salisbury Crags


National Museum of Scotland Rooftop
Walk the Royal Mile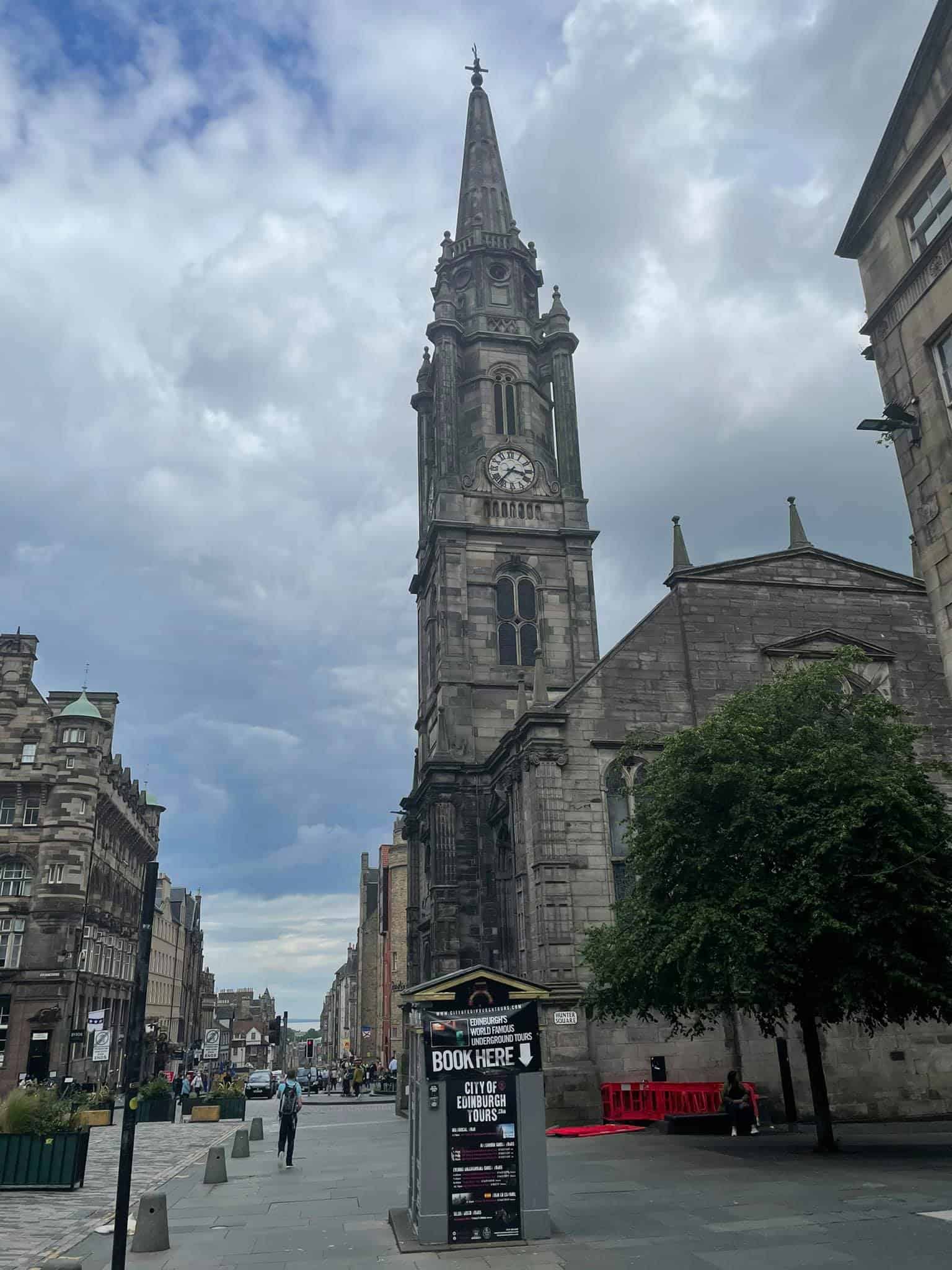 The Royal Mile is a mile-long stretch through historic Edinburgh that runs all the way from Edinburgh Castle at one end, to Holyrood House at the other. Numerous interesting attractions and stores are scattered along its length.
So, while walking down a mile-long street may seem like something that can be done quickly, the reality is that you could spend hours here exploring the various little side streets, churches, quirky stores and museums. Notable sites to look out for?
Don't miss St Giles Cathedral, the Writers Museum, Mary Kings Close, the Museum of Edinburgh, and the Tron Kirk. If you are looking to buy quintessentially Scottish souvenirs as reminders of your trip, many of the little stores here sell shortbread, Scotch, fudge, and other delights.
The Scottish Parliament building awaits at the foot of the Royal Mile. This was designed by Enric Miralles in 2004.
Admire Picturesque Victoria Street
Victoria street is a colourful Edinburgh promenade lined with pastel-coloured houses. It was the inspiration for JK Rowling's ¨Diagon Alley¨" in Harry Potter and upon arrival, it isn't difficult to see why.
The brightly coloured houses sit against a backdrop of church spires and gothic religious buildings. The scene is simply magical.

Many coffee and brunch spots line Victoria street. The street makes a great place to stop for an alfresco lunch. It was designed by Architect Thomas Hamilton and dates back to around 1829-34.
Delve Underground at Mary Kings Close
The Real Mary King's Close is Edinburgh's only preserved 17th-century street. The attraction awaits underground just off the Royal Mile.
It is a rabbit warren of streets and alleys hidden beneath the surface of the modern city. A Scottish ¨close¨ is a very narrow street flanked by towering old buildings.
When you explore the supposedly haunted Mary Kings Close, you are led around by a character tour guide that tells you about the lives of those that once lived here. Not only is the close remarkably well preserved, it has also been set out as a ¨living museum¨ to appear as it did all of those centuries ago.
Interestingly, Mary Queen of Scots once spent a night down here. Similarly, masked plague doctors operated in the area, treating sufferers of the bubonic plague.
See the Scotts Monument and Have Coffee at Princes Street Gardens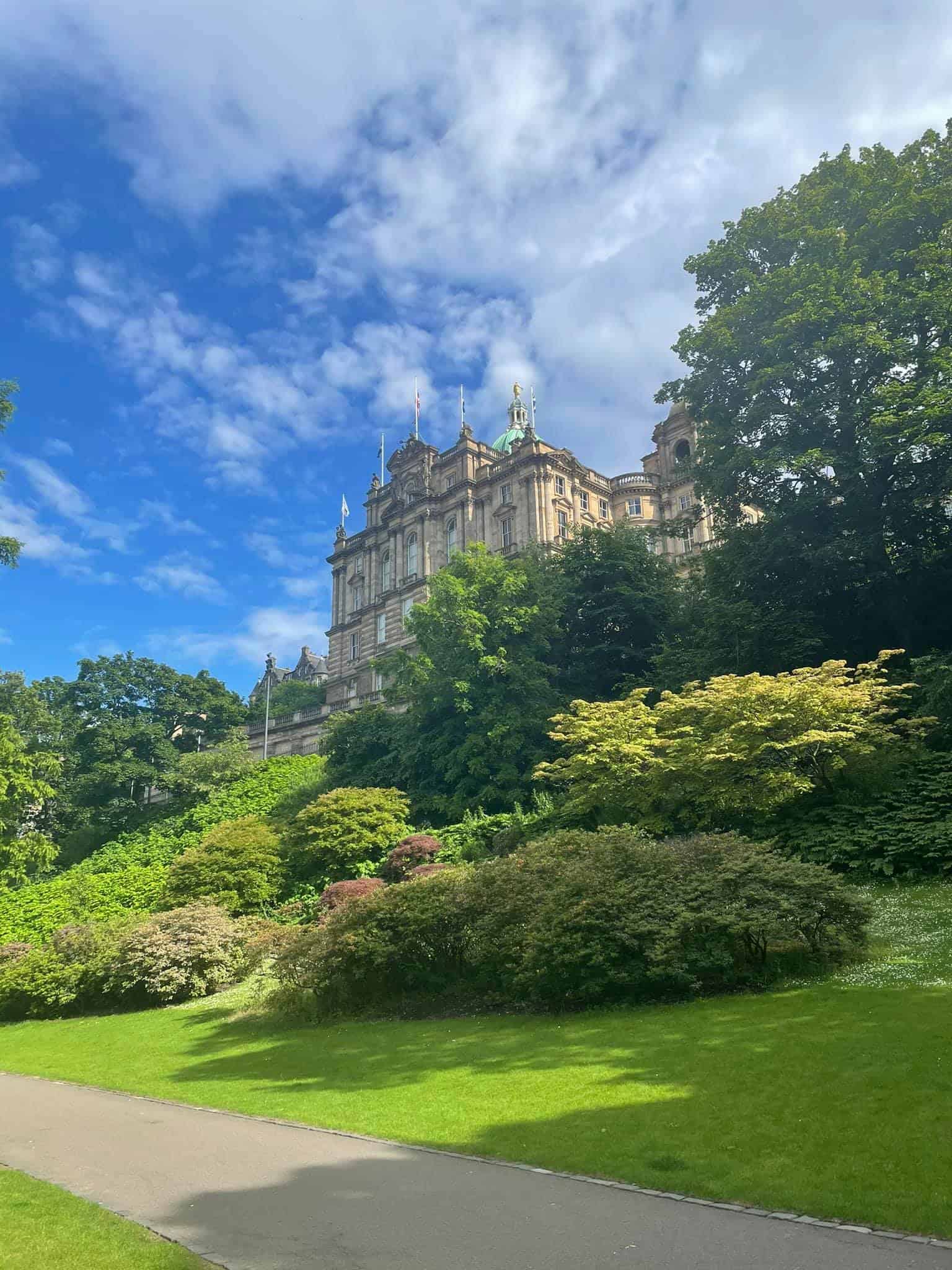 The Scots Monument is one of Edinburgh's most iconic landmarks. It was built in honour of Scottish Writer Sir Walter Scott and sits proudly within the Prince's gardens.
To the Scottish, Walter Scott was far more than just a writer. He is recognised for raising awareness of the beauty and culture of Scotland, and the issues faced by the country, on a global scale.
The monument was designed by George Meikle Kemp shortly after Scott's death in 1832. Today, the Prince's street gardens and green fields that surround the Scotts monument are popular rendezvous points among locals. It is one of the most famous Scotland landmarks.
On a sunny day, you will see locals and university students having picnics on the grassy banks here. It's a nice place to take a short stroll, and sit and enjoy the view with a cup of takeout coffee.
Edinburgh Museums
Considering Edinburgh's long and tumultuous history, it should come as no surprise that the Scottish capital is brimming with museums and art galleries. You could easily dedicate days to browsing museum exhibitions alone.
Spend the afternoon of your Edinburgh itinerary exploring an Edinburgh Museum of your choosing, based on your interests. The Scottish National Gallery is particularly enjoyable, especially if you have an affinity for art.
The gallery sits adjacent to the Prince's gardens and contains an array of old pieces by Scottish and European artists. Alternatively, the National Museum of Scotland contains a mishmash of industrial and natural history exhibits, displayed in a modern, bright and airy building.
Learn the Story of Blackfriars Bobby
Head towards the Greyfriars Kirk to discover the true story behind one of Scotland's most charming tales. The graveyard itself is an interesting place to walk through, as macabre as it may sound.
If you have seen or read the Harry Potter books, you may recognise many of the names on the graves here. McGonagall, Tom Riddle, Scrymgeour, Cruikshanks.
JK Rowling would wander through the graveyard when she was seeking inspiration for her writing. She named several of her characters after those buried here.
Of course, Tom Riddle, an unsuspecting man that passed away in Scotland in the 18th century became Lord Voldemort. He who must not be named. If you decide to take a Harry Potter tour of Edinburgh, you will likely start here.
As for the blackfriars bobby? This loving and loyal Skye Terrier spent 14 years guarding his owner's grave after he passed away in the 19th century.
Numerous books and movies have been written about the little dog. A statue dedicated to him sits outside the churchyard and he is buried nearby.
Enjoy an Evening in Edinburgh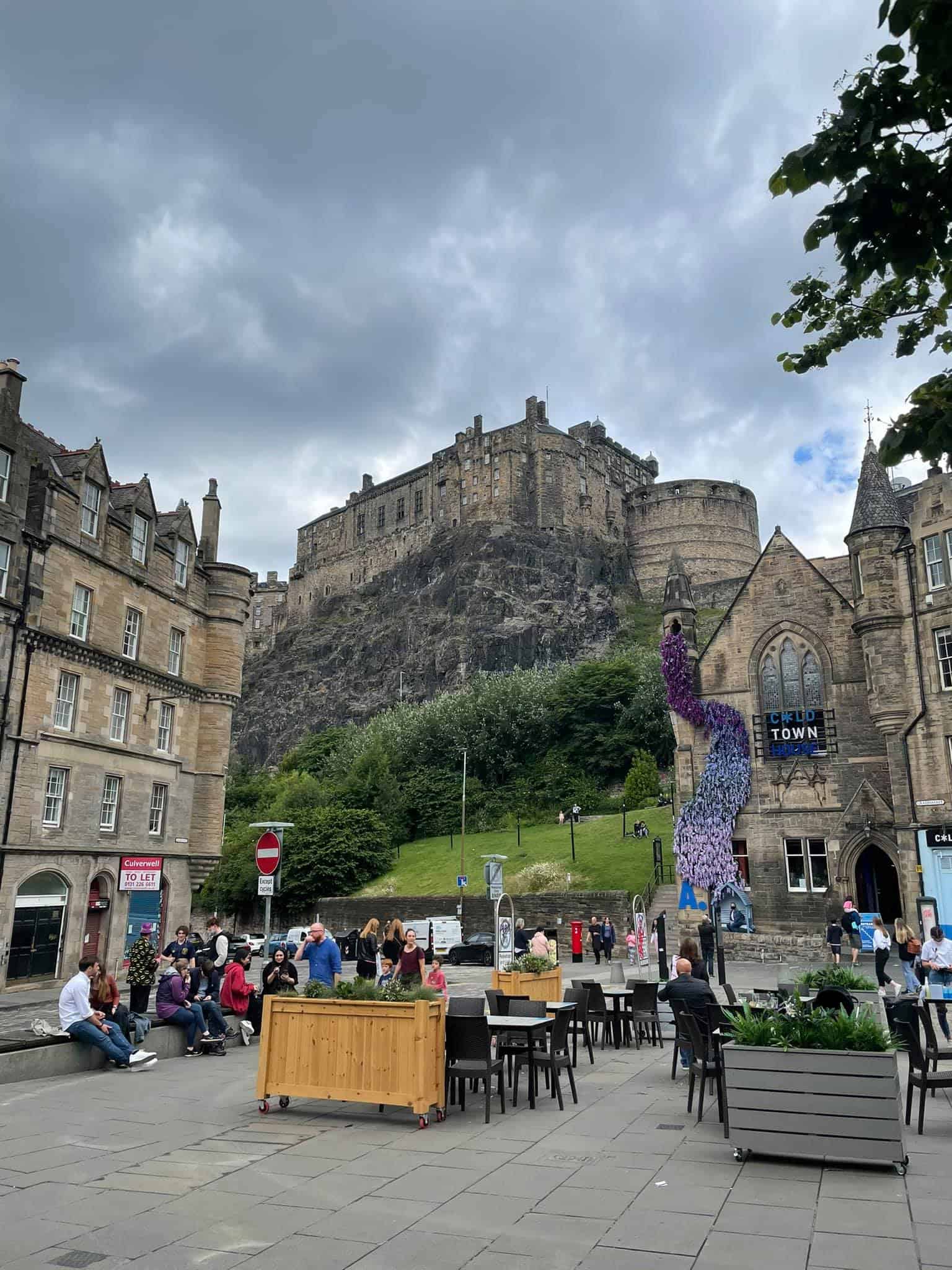 Edinburgh's Grassmarket has been a prominent city entertainment district – ever since the days of public hangings! This area was originally a marketplace for horses and cattle, hence the name.
There is something for everyone in this district – from artisanal coffee roasters and contemporary restaurants to cosy pubs and real alehouses. Beehive Inn and The Last Drop are particular local favourites if you're looking to sample real ale.
For something a little unusual, head to Frankenstein. This local haunt is housed across three floors in a historic 19th-century church. Everything in this gothic setting – from the decor to the drinks menu, is monster-themed.
Edinburgh Itinerary Day Two
Day two of this Edinburgh itinerary focuses on the gorgeous green areas that provide a slice of peace and tranquillity in the heart of the Scottish capital. Start your day with breakfast and coffee and then head towards Arthurs Seat.
Hike Up to Arthurs Seat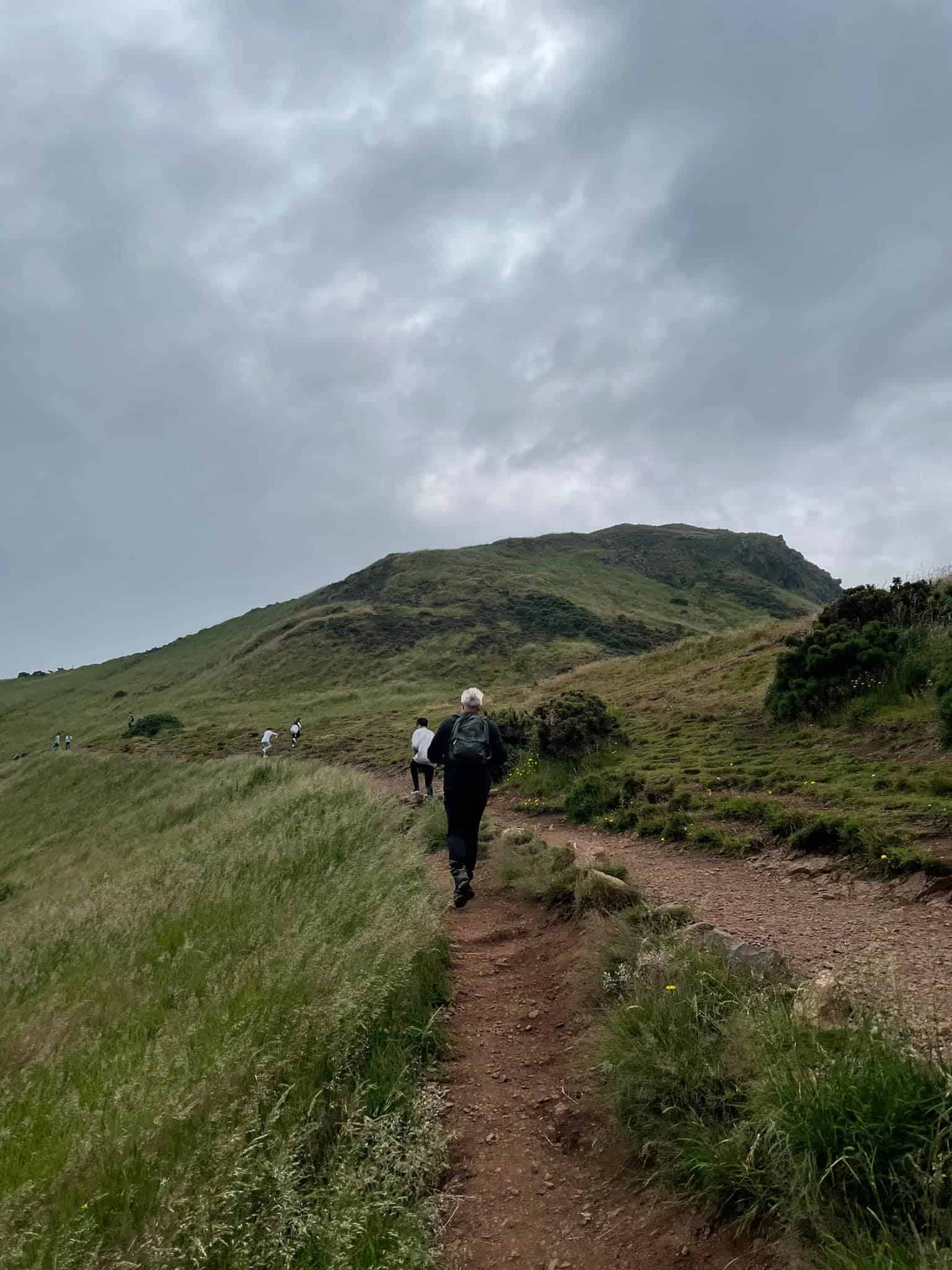 Arthurs Seat is an ancient, dormant volcano that sits 251m above sea level in Holyrood Park, on the outskirts of Edinburgh city centre. The ascent to the top is relatively steep but it takes just over 45 minutes to reach the peak.
On a clear day, the views over Edinburgh from here are second to none. Unfortunately, this is Scotland, and there are often cloudy skies or layers of mist that obstruct the view.
Regardless, this is a pleasant walk, and even if it is misty, it somewhat adds to the mysterious ambience of the jagged cliffs and rock formations up here. While you can easily get up and down Arthurs Seat in around an hour and a half, consider dedicating more time to the area.
There are other trails and paths that weave around Holyrood Park. It is pleasant to pack a flask and some snacks and then sit and admire the view from up here.
You could dedicate several hours to walking around the circumference of the park. Dunsapie Loch, Dr Neil's Botanical Garden, Duddingston Loch, St. Margaret's Loch, and Saint Anthony's Chapel Ruins are notable spots to look out for.
Visit the Palace of Holyrood House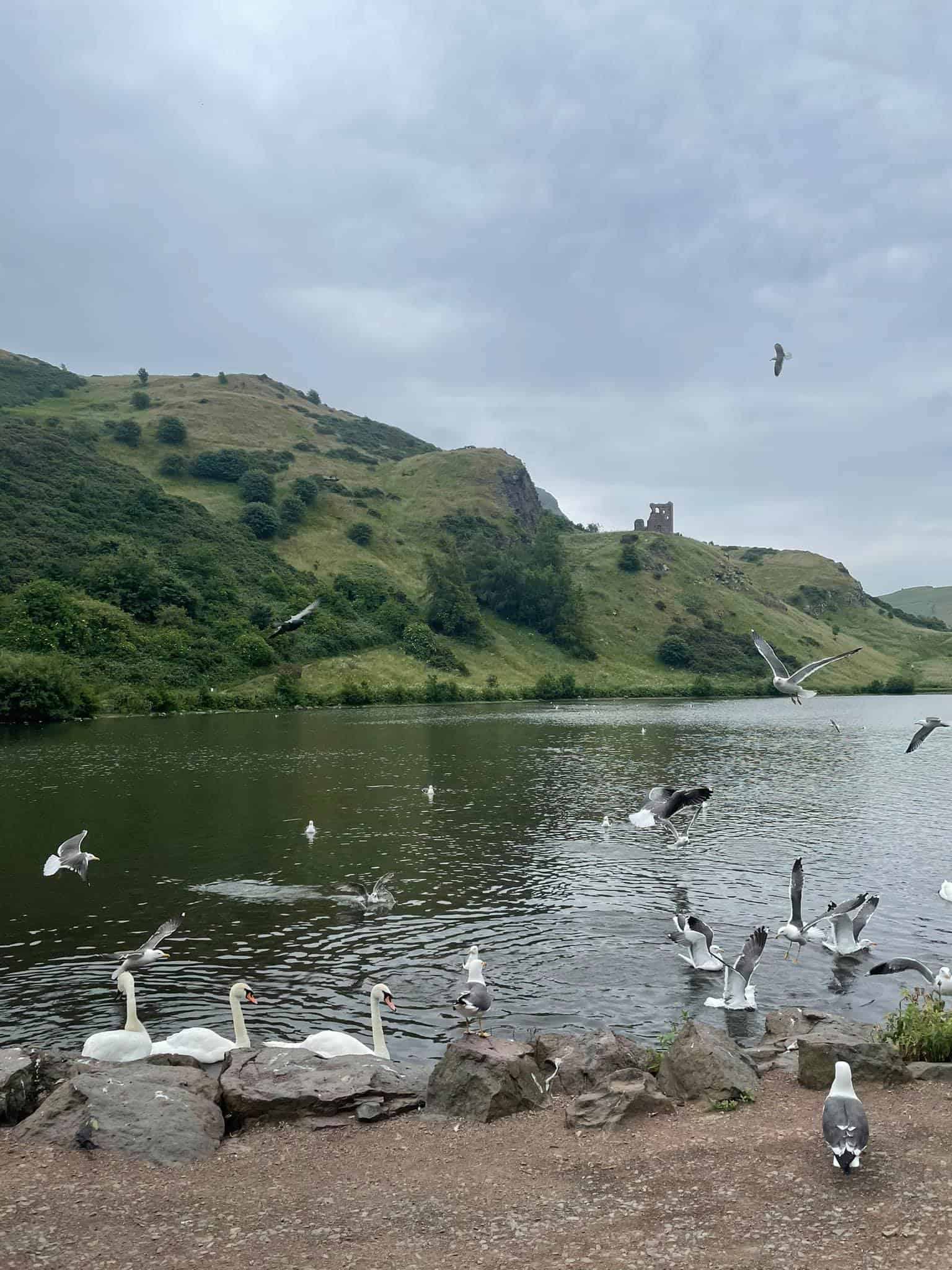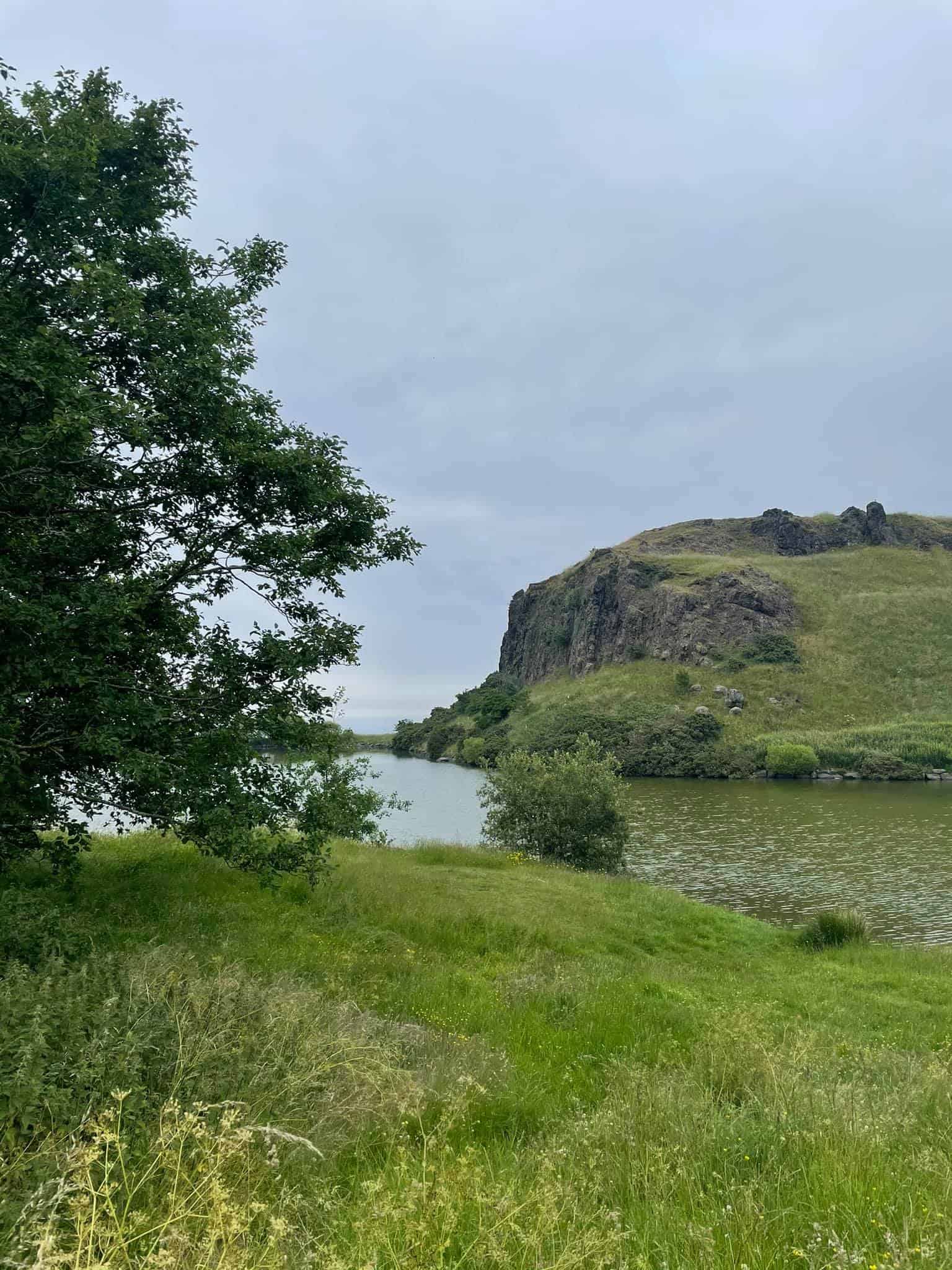 The Palace of Holyrood House is the official residence of the Queen and the Royal family when they visit Scotland. It is very worthwhile to book tickets to explore the interiors of the palace.
In doing so, you have the opportunity to explore Holyrood's throne room, Great Gallery, gardens, and former chambers of Mary Queen of Scots. The ruins of the 11th century Holyrood Abbey are part of the Holyrood House complex. Unfortunately, they are temporarily closed.
Visiting Holyrood provides a wonderful chance to learn about prominent figures in Scottish Royal history, Most notably, Bonnie Prince Charlie, and Mary Queen of Scots.
Have a Traditional Afternoon Tea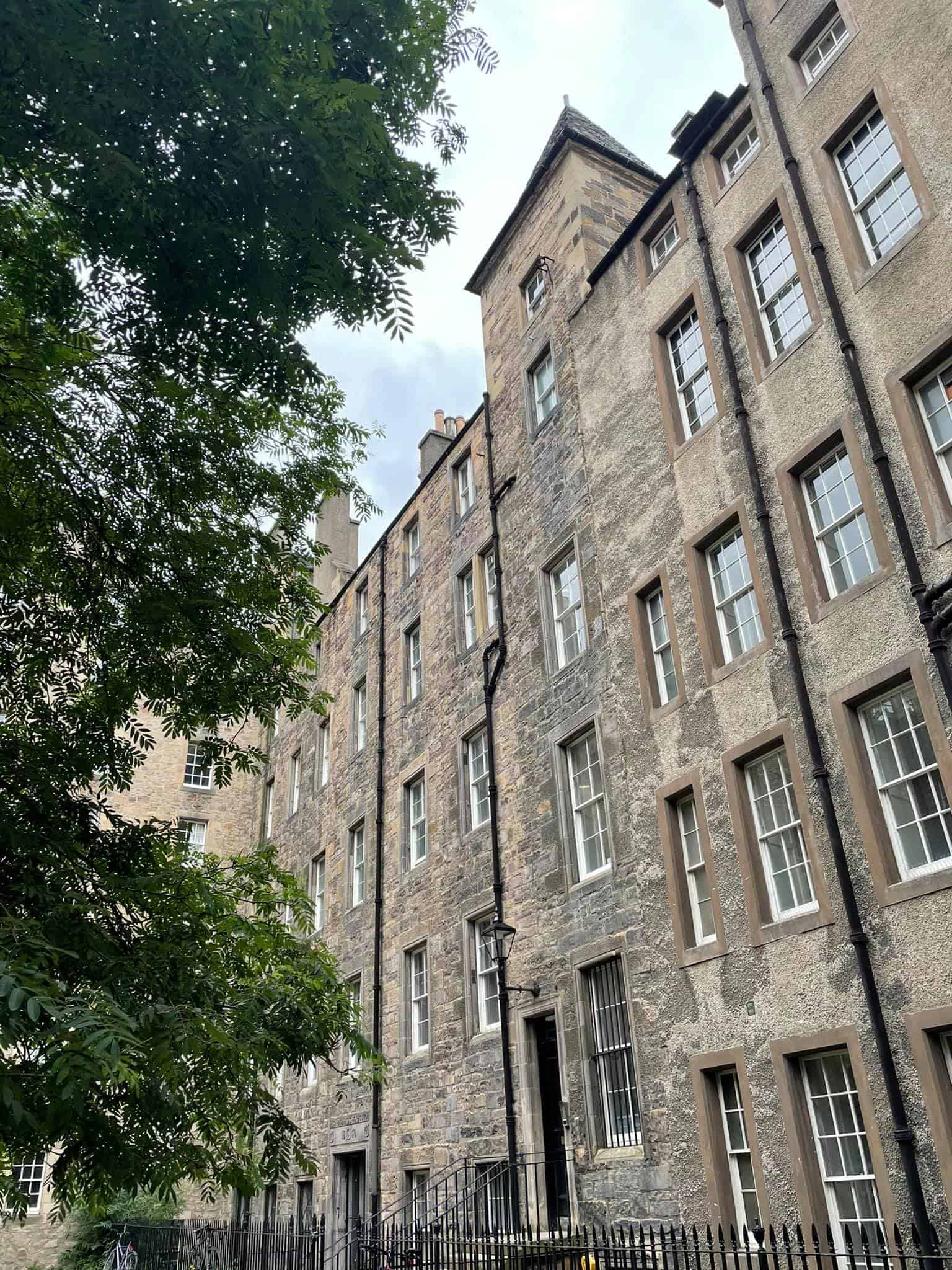 After a Royal palace visit, what could be better than a Royal dining experience? There are several excellent places around Edinburgh where you can enjoy a traditional afternoon tea.
If this is your first time doing so, afternoon tea is an old fashioned upper-class British class tradition. The tea consists of a selection of small sandwiches, cakes and pastries. This is typically served with a pot of tea, jams and clotted creams and occasionally, champagne.
Mews Courtyard (98 Canongate, Royal Mile) serves a daily afternoon tea close to Holyrood House. The Dome (14 George Street) is an especially chic spot to enjoy afternoon tea during your Edinburgh itinerary.
This elegant establishment serves its afternoon tea in a chandeliered Georgian Tea Room. Tea is presented in silver teapots along with fresh crisp white linens.
Fall in Love with Dean Village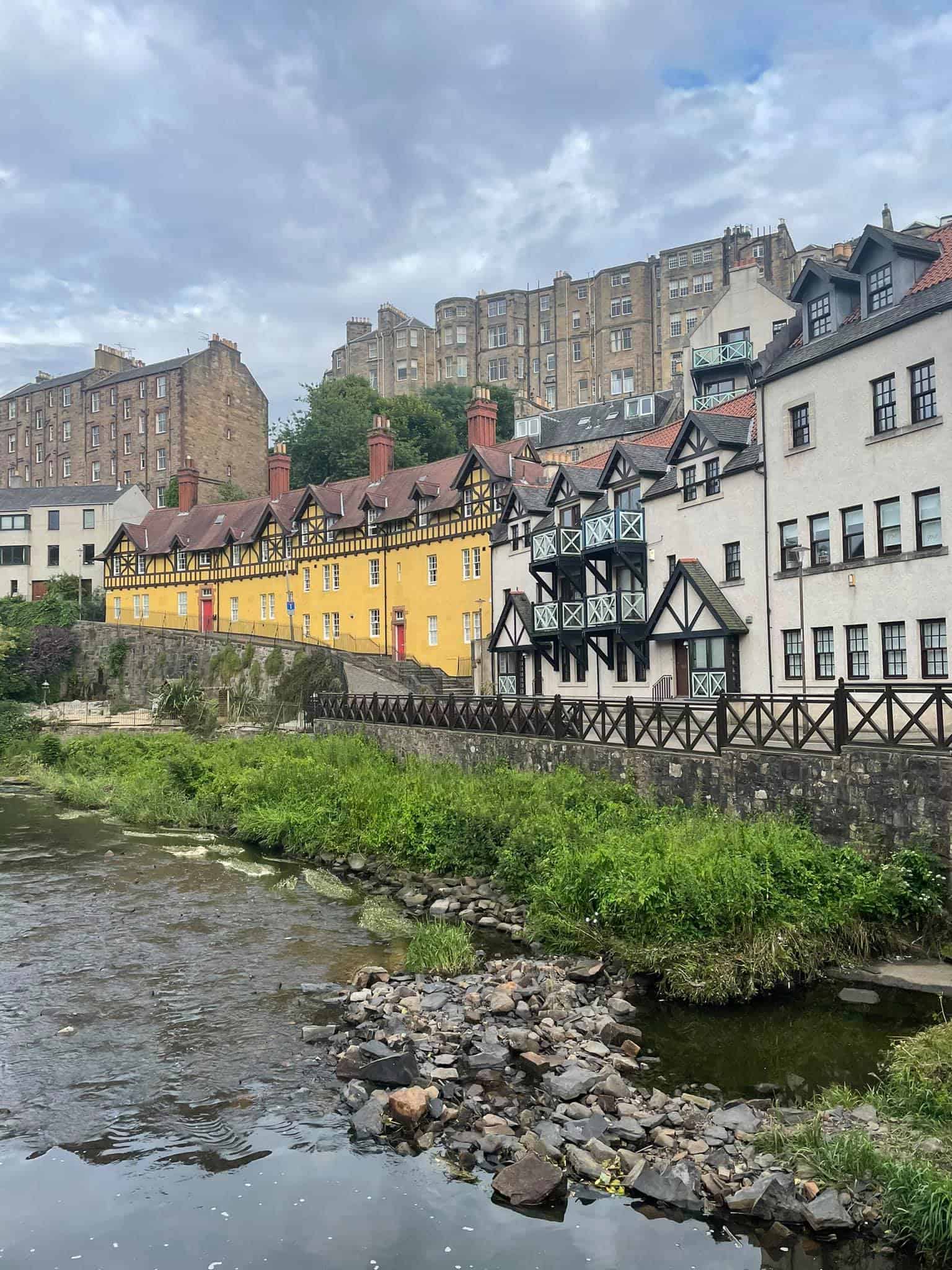 Dean Village is a picturesque village and UNESCO protected site in the heart of Edinburgh. Seemingly frozen in time, it sits on the banks of the River Leith
This was a successful grain milling area for more than 800 years. Numerous indicators around the village point to its industrial past – ancient plaques and signs displaying bread and pie-making can still be found on some of the houses. Similarly, a few old mills still exist on the waterfront.
Keep an eye out for St Bernard's Well (1789). Supposedly the water from this well can heal ailments such as arthritis, aches, and pains.
With more time to spare, you could follow the waterfront path that runs alongside the River Leith. It leads you through Dean Gardens to Canonmills and the Royal Botanical Garden of Edinburgh.
Stroll Through New Town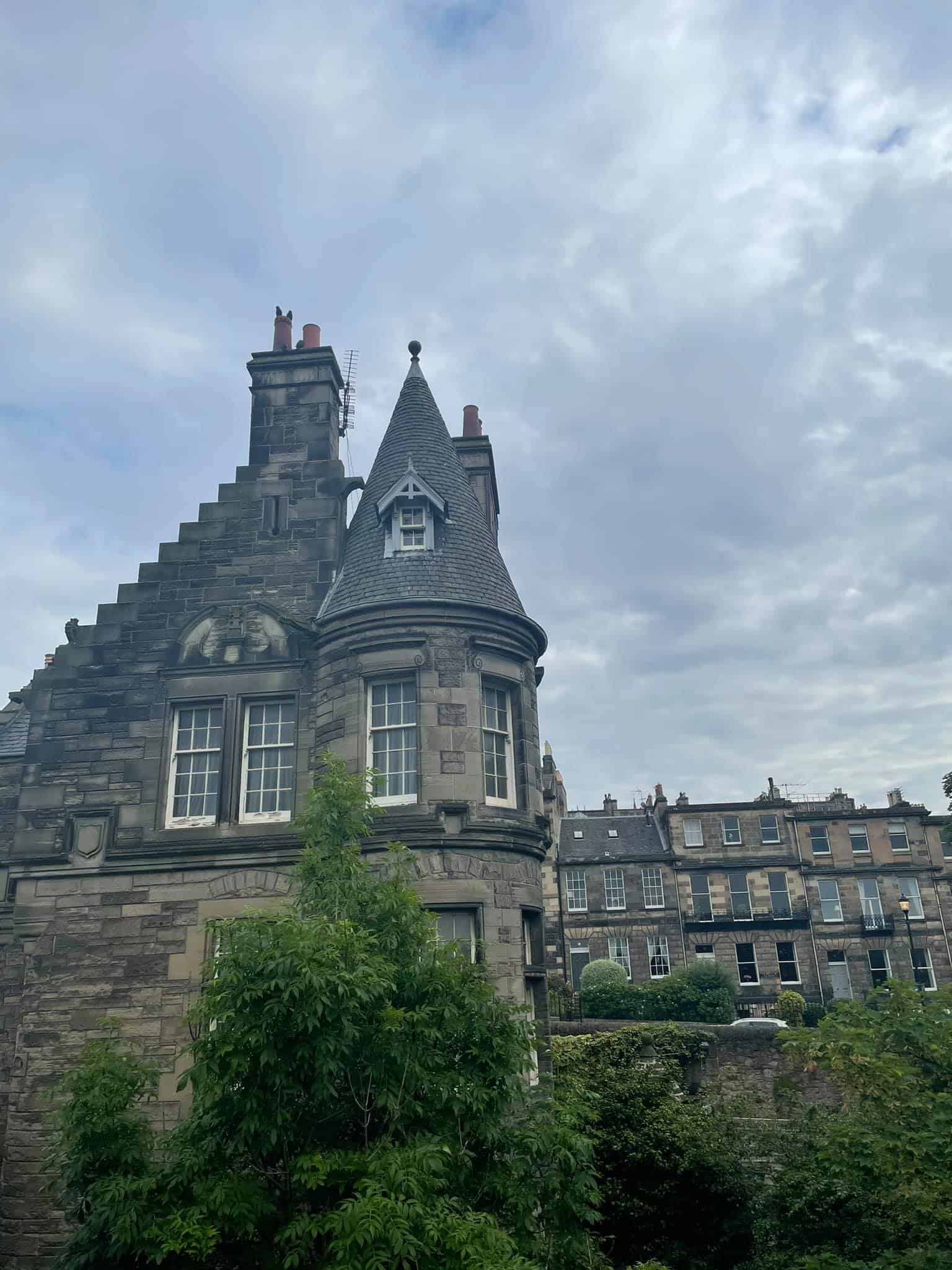 The ¨New town¨ of Edinburgh can be found just a short walk away from Dean Village. It was constructed gradually between 1767 and 1850.
Its streets are lined with elegant Georgian townhouses. Today, many have been converted into apartment complexes, office buildings, and sophisticated eateries.
One obscure thing to look out for is the windows that have been blocked over. ¨Window tax¨ was imposed in England and Scotland between 1696 and 1851.
This meant that the more windows people had, the higher tax they had to pay! So, many people started blocking off their windows with cement to reduce their taxes. Supposedly this is where the phrase ¨daylight robbery¨ came from.
Today, these buildings are listed buildings, meaning that no modification of them is permitted. This is unfortunate for those who live within them and have to accept the blocked up windows!
Where to Stay in Edinburgh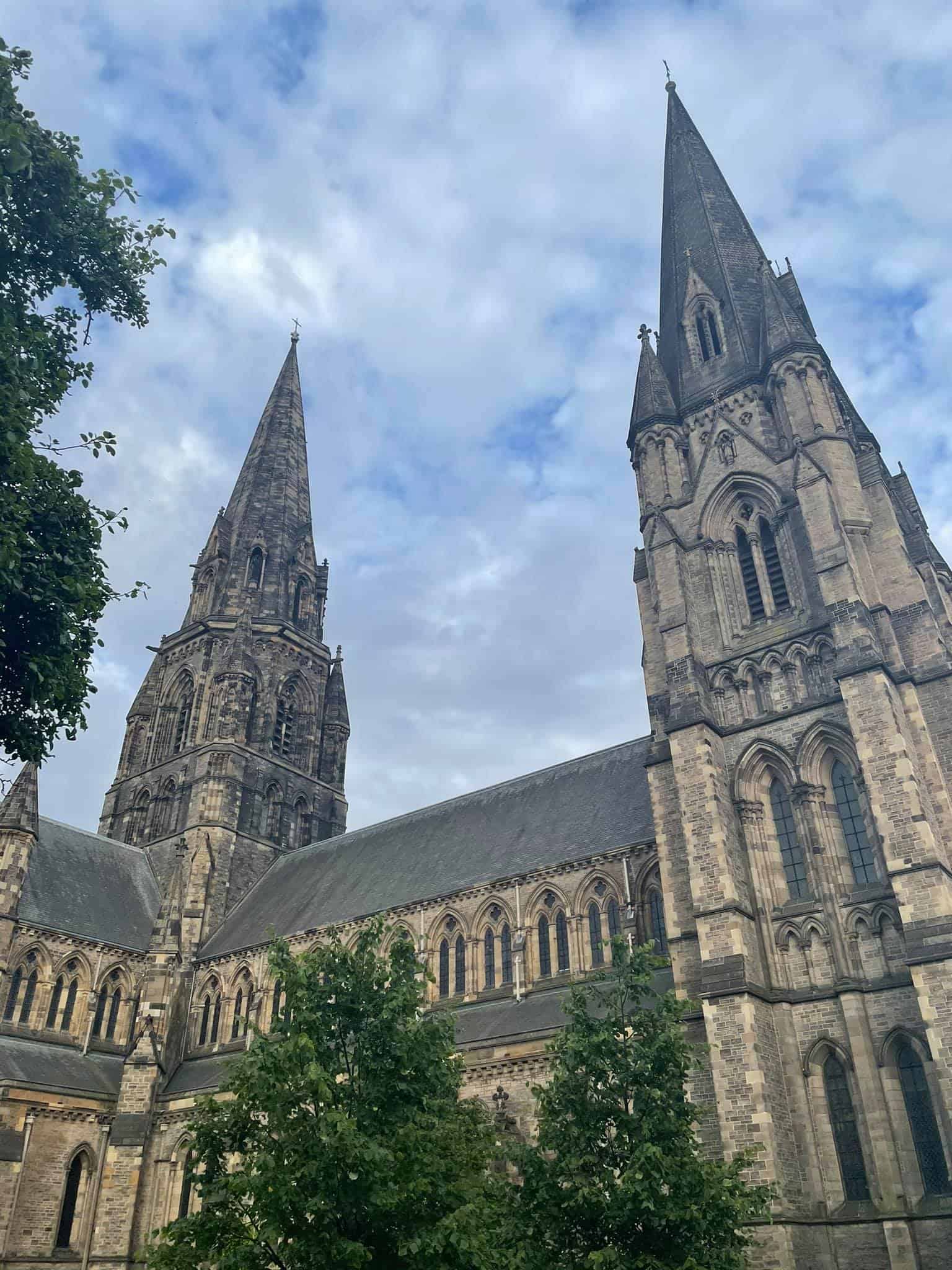 Accommodation wise, Edinburgh has something for every budget and travel style. A few options that you may want to consider are detailed below.
Moxy Edinburgh Fountainbridge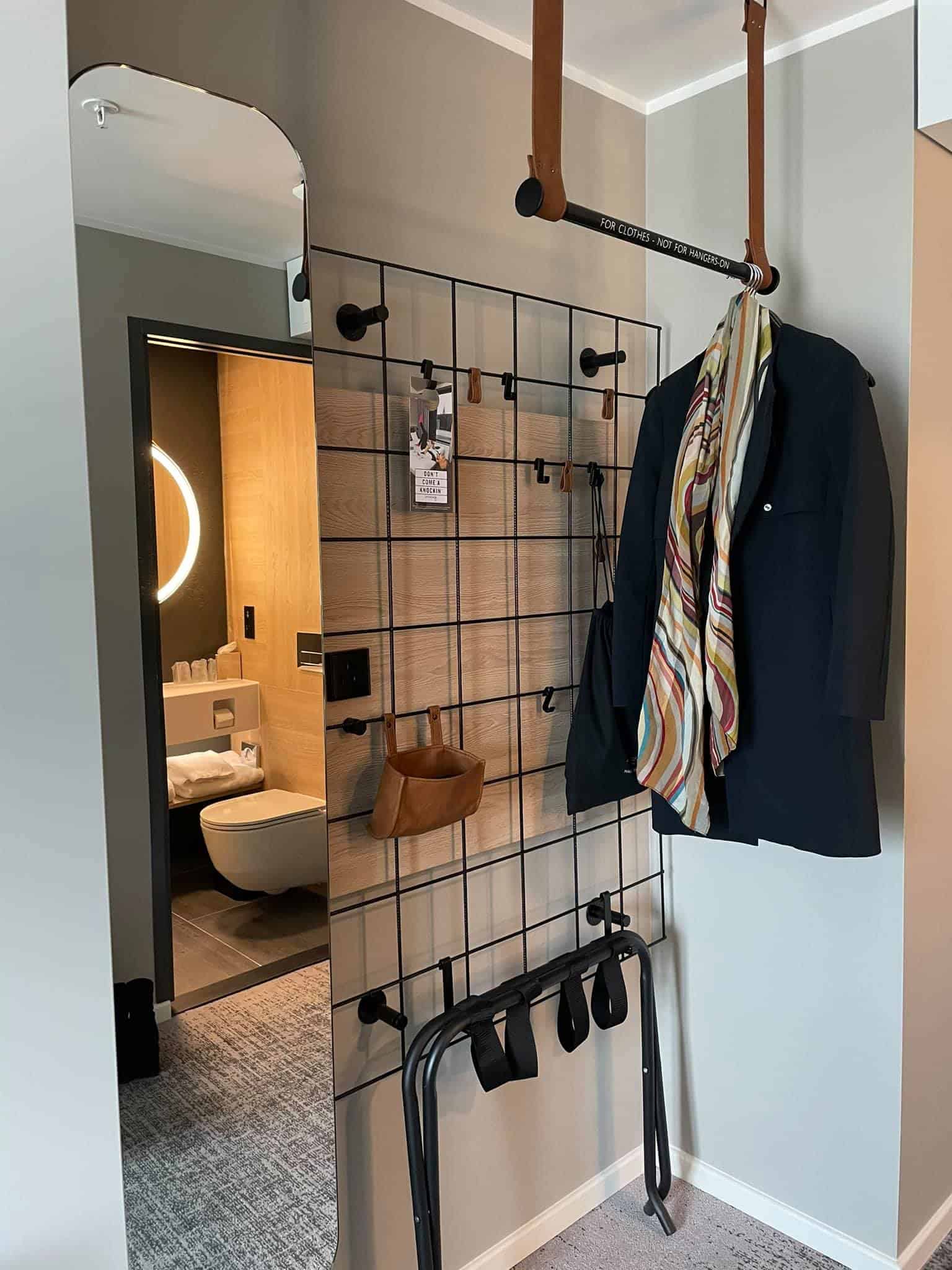 Where: 2 Freer Gait, Edinburgh EH3 9FR
Moxy Edinburgh Fountainbridge is a contemporary new hotel that opened up in Edinburgh in February 2021. It is part of the Moxy sub-brand of Marriott hotels.
Essentially, the brand offers comfort and luxury without the luxury price tags. The design of the rooms and communal areas is quirky and provides a little something different to your typical ¨cookie cutter¨ hotel.
All guests are greeted with a complimentary welcome cocktail. The hotel is just a five-minute walk away from Edinburgh Castle and the Old Town.
Rooms start from just £50 per night. You can check the latest prices and availability here.
The Scotsman Hotel
Where: 20 North Bridge, Edinburgh EH1 1TR
The Scotsman Hotel is the definitive luxury choice in Edinburgh. This four-star property, originally built in 1905 boasts spectacular views over Carlton Hill and Princes Street Gardens.
From here, you have all of Edinburgh's main attractions right on your doorstep. Rooms are tastefully decorated with plush modern furnishings and a beige colour palette.
Each of the rooms and suites gives a subtle nod towards the building's former use as a publishing house. You can check the latest prices and availability here.
Getting to Edinburgh
Reaching Edinburgh is easy. The city is very well connected, both internationally, and with other parts of the UK.
Getting from Edinburgh Airport to the City
Edinburgh Airport is located in the Ingliston area of the city, some 6 miles outside of the centre. There are excellent public transport links from the airport to the city centre. You can easily travel into the city by bus, tram, or cab.
Notable bus services are detailed below. You can purchase tickets from the driver.
Airlink 100 bus to St Andrew Square and Princes Street


200 Skylink bus to Clermiston, Blackhall, Drylaw, Muirhouse, Newhaven and Ocean Terminal


Skylink 300 bus to Edinburgh Park, Saughton, Slateford, Fountainbridge and Bread street


Skylink 400 bus to Edinburgh Park, Fairmilehead, Royal Infirmary, Oxgangs and Fort Kinnaird

In addition to the above, tram services run every 7 minutes between Edinburgh airport and central train stations. Uber also operates here.
Parting Words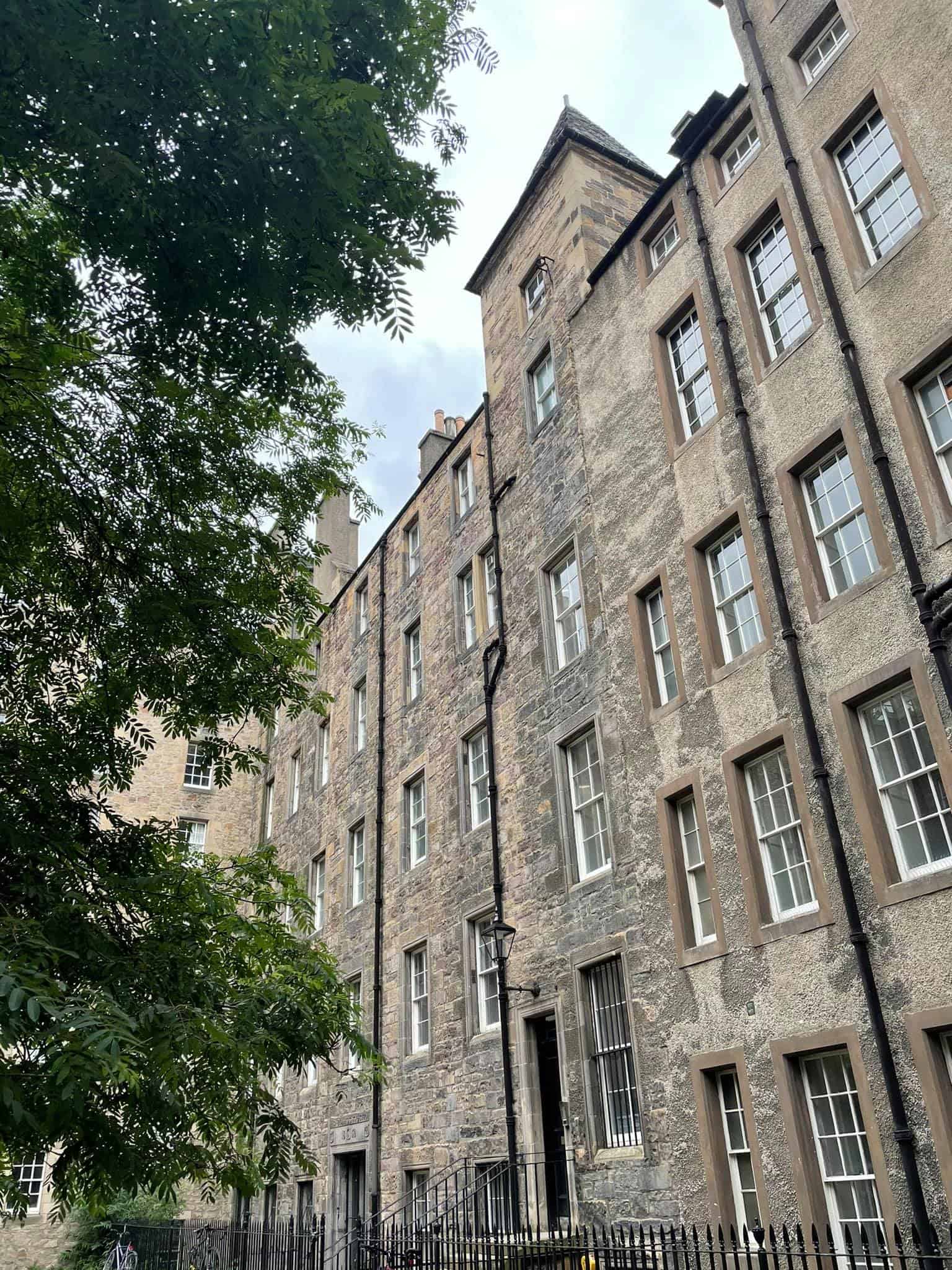 A trip to the Scottish capital is a great shout as either a weekend Edinburgh itinerary or as part of a wider Scottish travel itinerary. Edinburgh is, without hesitation, one of the best places to visit in Scotland.
It captures the hearts of even the most well-travelled adventurer. If you have any questions about planning your trip to Scotland, please don't hesitate to reach out.
Drop me a comment below and I'll get back to you ASAP. Safe travels! Melissa xo
---