This Kyoto itinerary is perfect for first-time visitors to Japan. Here, Geishas scurry through the winding alleyways of Gion as they hurry from one appointment to another.
As you meander through Kyoto's backstreets, you can hear an array of mysterious sounds coming from the citys countless temples. Listen on as Buddhist monks hum and chant while they complete their morning prostrations.
Here, in the heart of Japans Kansai region, old traditions are embraced as a part of modern culture. Parts of the city make visiting Kyoto feel like taking a journey back in time. Kyoto is best explored as part of a wider Japan itinerary. 
Many travellers to Japan only visit Kyoto on a day trip from Tokyo. However, the city is best savoured and enjoyed at a slow pace. As the former capital of Japan, and with over 1,600 temples scattered throughout the region, there is enough to do in Kyoto to keep you occupied for as much as a week or so.
Though your schedule and budget likely do not permit unlimited, infinite exploration of Kyoto, three or four days in the region is ample time to see both Kyoto's highlights, and delve a little deeper into the Kyoto that the locals love. This four day Kyoto itinerary offers you a perfect cultural immersion during your Japanese adventure.
Note: If you are pressed for time when you visit Kyoto that's fine – you can cherry-pick days/activities from the Japanspiration below and create your own Kyoto itinerary accordingly!
Related Article: Why Japan is a Perfect Place for Independent Female Travellers
Kyoto Itinerary:
When to Visit Kyoto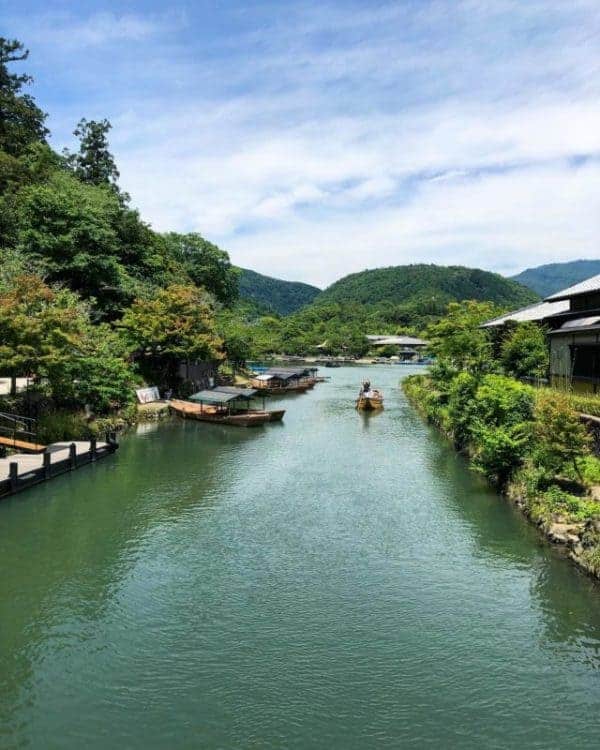 Kyoto sightseeing is possible all year around. The most suitable time for your Kyoto trip depends largely on your personal preferences when it comes to weather and climate. Fall and Spring are considered the best times to visit Kyoto, however, they are also the most crowded. During the fall, the beautiful foliage and mild temperatures make for pleasant conditions for travel. With spring comes the opportunity to experience the beautiful cherry blossoms.
If you want to avoid the tourist hordes (and potentially take advantage of cheaper accommodation), plan to venture on your Kyoto itinerary during the shoulder season.
Not sure what to pack for the cherry blossom season? Take a peek at this post on what to wear in Japan in Spring.
Kyoto Itinerary:
How to Get to Kyoto From Tokyo
You can easily get to Kyoto by taking a shinkansen (bullet train) from Tokyo Shinagawa station. The journey takes approximately 2 hours and 20 minutes and costs 13,910 Japanese yen (approximately $110). You can check the timetables for the shinkansen here.
Kyoto Itinerary:
How to Get to Kyoto From Kansai Airport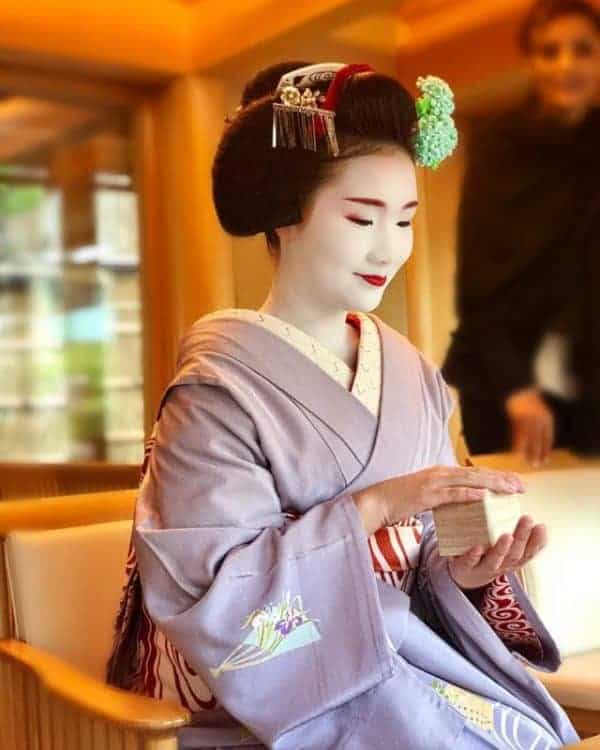 If you are not travelling to Kyoto as part of a wider Japan itinerary that commences in Tokyo then it may be most convenient for you to fly first into Kansai airport and then travel directly to Kyoto. Fortunately, it is very easy to get from Kansai Airport to Kyoto (and public transport in Japan, in general, is very efficient).
You can make this journey by bus or by rail. You can find a detailed step-by-step guide to this process here.
Kyoto Itinerary:
Where to Stay in Kyoto
To save time, your best bet is to opt for a centrally located hotel in Kyoto. This allows you more time for visiting temples and Kyoto tourist spots and less time wasted on train transfers and trying to navigate your way around.
I recommend the Solaria Nishitetsu Hotel Kyoto Premier in Downtown Kyoto which is within walking distance of Gion and situated in a quiet location that overlooks the Kamogawa river. Alternatively, if you are not on a budget, Gion Hatanaka is a beautiful high-end Ryokan in Kyoto's Gion district that offers beautiful traditional Japanese style accommodation. Some hotels have their own Japanese onsens which are perfect for a little R&R after a long day of sightseeing
Getting to Kyoto:
The JR Rail Pass
I am a firm believer that you do not need to purchase a JR Rail Pass when travelling in Japan unless you plan on taking a lot of journeys via Shinkansen. For around 2-3 weeks in Japan, it actually works out cheaper for you to buy independent train tickets rather than opt for a JR rail pass. 
What to Eat in Kyoto
Just like okonomiyaki and takoyaki are the traditional Japanese dishes to try while travelling in Osaka, Kyoto also has its own delicacies like Kyo-ryori cuisine.
Kyo-ryori cuisine is representative of Kyoto's status as the former imperial capital of Japan and was eaten by nobles and aristocrats. The cuisine is served in a traditional setting – by kimono-wearing waitresses as you are seated on a tatami mat and enjoy course after course of exquisite food. For some of the best Kyo-ryori in Kyoto, head to Minoko restaurant in Gion.
Kyoto Itinerary Day One:
Embracing Nature
Arashiyama Bamboo Forest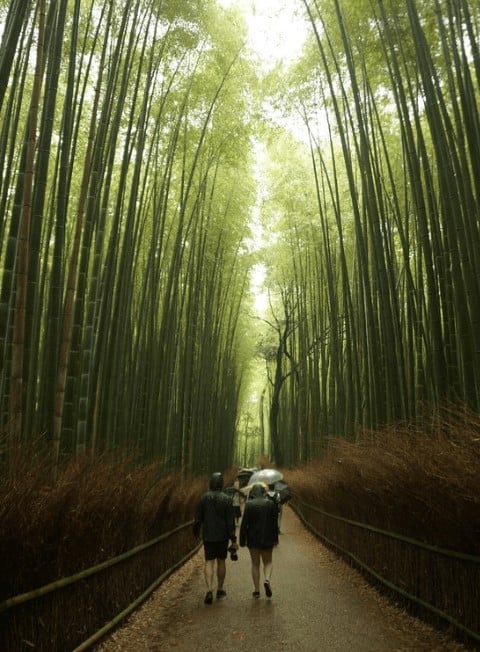 The ancient capital of Kyoto is surrounded by incredible natural beauty. No site demonstrates that better than the Arashiyama bamboo forest.
Standing among the towering stalks of bamboo feels almost otherworldly – ethereal even. Arashiyama Bamboo Forest is one of Kyoto's most photographed sites and biggest tourist attractions. However, for every Instagram photo you see of the place, nothing compares to being there yourself and wandering amid a forest that is unlike any other.
Explore Wider Arashiyama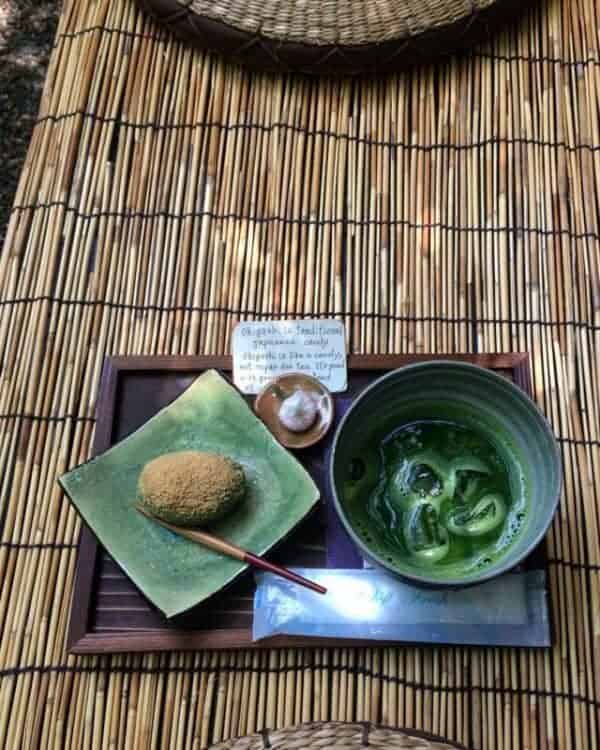 Many tourists simply hop on the metro to Arashiyama, snap a few photos at the bamboo forests and head back again, but Arashiyama itself is filled with several notable attractions that are worth popping into while in the area. Don't miss the Tenryu-Ji Temple – a Zen Buddhist Temple that houses what are arguably some of the best zen gardens in Japan and offers incomparable views of the Arashiyama mountains. From Tenryu-Ji, pay Okochi-Sanso Villa a quick visit and sip on a cup of hot matcha tea before exploring the gardens.
How to Get to Arashiyama Bamboo Forest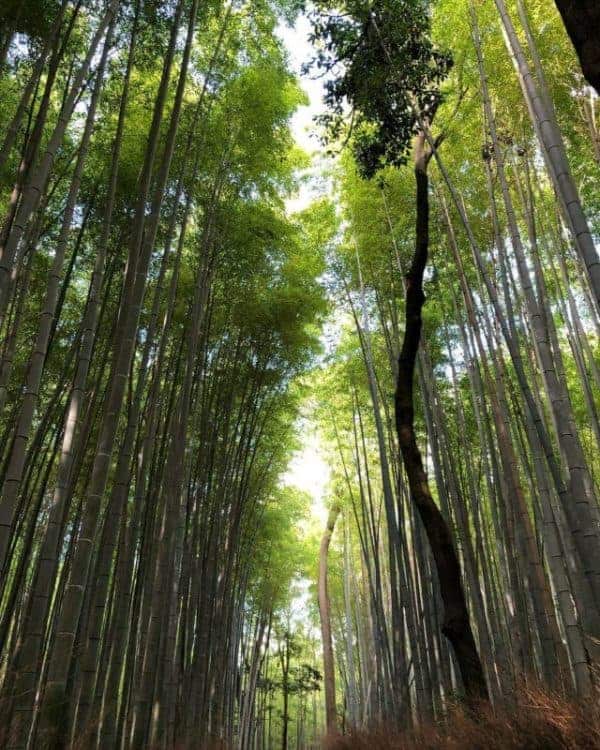 Fortunately, it's relatively easy to get to the Arashiyama Bamboo Forest via public transport from Kyoto. You need to ride the JR Sagano/Sanin line to Saga-Arashiyama station.
The journey takes just 15 minutes and costs 240 yen. From Saga-Arashiyama station, it's a 5-minute walk to the Arashiyama Bamboo Forest.
Visit Gio-Ji Temple & Moss Gardens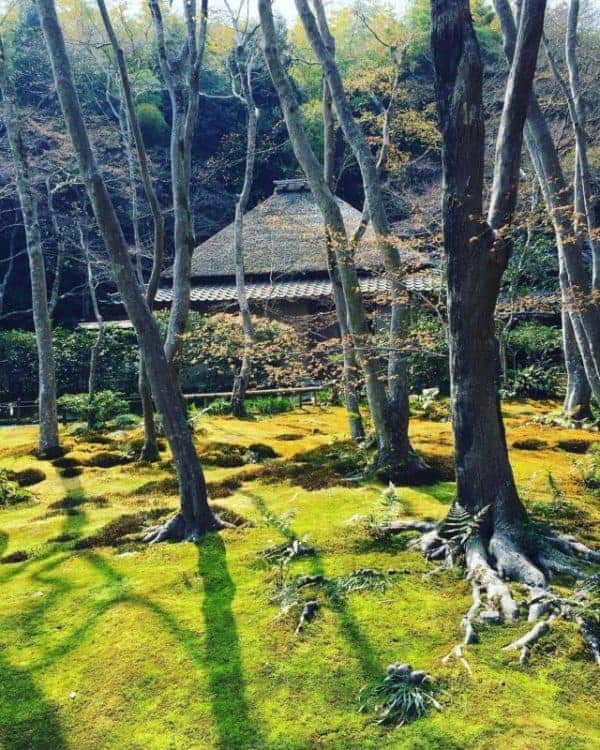 Gio-Ji Temple is often overlooked but is certainly deserved of a place on your Kyoto itinerary.
The main hall of Gio-Ji Temple may not be what you expect to see at a Japanese temple. With its little thatched roof, it looks like something straight out of a fairytale!
There is not much to see inside the temple hall but it is the exteriors that make this place beautiful. The deep green mossy gardens that encapsulate Gio-Ji are a magical sight.
Gio-Ji can be reached in a 20-30 minute walk from Saga – Arashiyama Station
Address: 32 Kozaka, Saga Toriimoto, Ukyo-ku, Admission: 400 yen
End the Day at Kinkaku-Ji Temple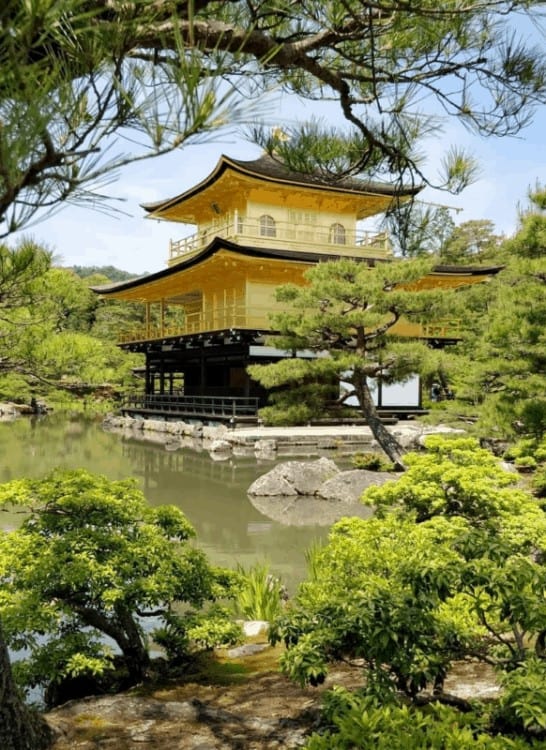 There are over 1,600 temples in the Kyoto area but the golden temple of Kinkaku-Ji is one of the most renowned and is a must-see while in Kyoto. The top two floors of the temple are covered entirely in gold leaf!  
The only drawback to visiting Kyoto's most iconic site is that (understandably) it is usually packed full of tourists. Visiting Kinkaku-Ji just before it closes at 5 pm (as this Kyoto itinerary will help you to do) will aid you in missing most of the other tourists.  
Address: 1 Kinkaku-Ji-Cho, Kita-Ku, Admission: 400 yen
Kyoto Itinerary Day Two:
Ancient Japanese Traditions
Cross the Sanjo Ohashi bridge, where locals sit on the banks chatting and drinking sake and head towards Gion. Gion is one of Japan's only remaining Geisha districts and one of the best places for catching a glimpse of the mysterious creatures.
Along the winding cobbled streets of the ancient district, inside the wooden machiya houses, the geishas venture from one appointment to another as they entertain guests. Geisha perform traditional dances, tea ceremonies and musical performances at ochayas – traditional tea houses.
Officially, you cannot simply waltz into an ochaya and gain an audience with a geisha without being formally introduced or having a connection that refers you (or you are willing and able to drop a large sum of money) but fortunately, there is an alternative for tourists – Gion Corner theatre. Although a little touristic, Gion corner offers daily showings that introduce tourists to the best of the Japanese Arts.
Watch Geishas Dance at Gion Corner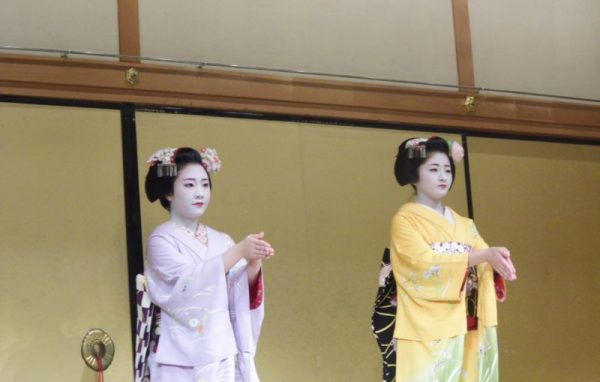 The show at Gion corner includes watching Geisha and Meiko (trainee geisha) perform dances, observing the weird and wonderful Bunraku (traditional Japanese puppetry), listening to the eerie rhythms of Gagaku (music of the imperial courts) and trying to decipher Kyogen (Japanese stand up comedy).
The shows are a little pricey at 3,150 yen per person, but absolutely worth it for a unique experience during your Kyoto trip itinerary and an understanding of what the locals like to do for fun.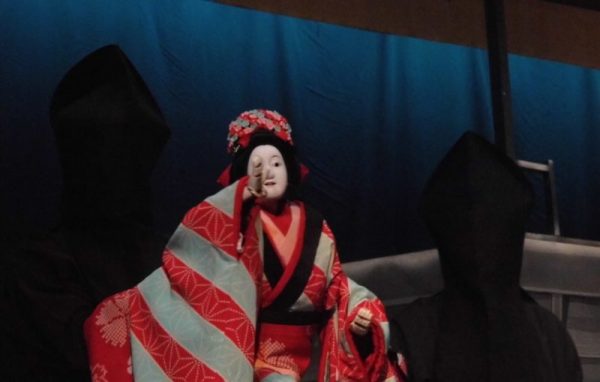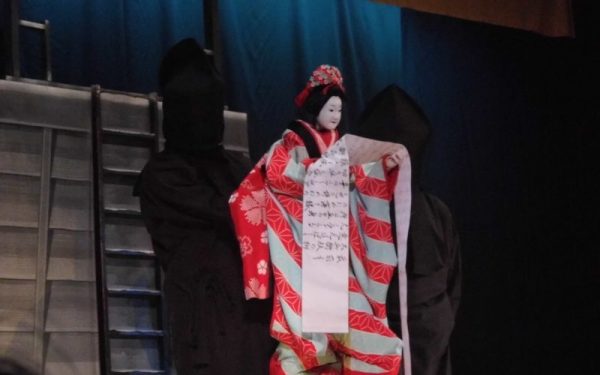 Address: 605-0074 Yasaka Hall 570-2, Gionmachi Minamigawa, Higashiyama-Ku, Kyoto
Admission: 3,150 yen
Note: You cannot buy tickets for the Gion Corner shows in advance or online, you must arrive at the theatre around 30-40 minutes prior to the show commencing. You can check the schedules and details here.
Sample Japanese Cuisine at Ninnen-Zaka
When you start to feel a little hungry, venture to the streets of Ninnen-Zaka and Sannen-Zaka which are perhaps some of the most picturesque in Kyoto lined with tearooms, tiny restaurants, and quirky artisanal stores where you can buy unique Japanese handicrafts and souvenirs.
Kyoto Itinerary Day Three:
Kyoto Temple Hopping
Hike Fushimi Inari
Make an early start and head towards Fushimi Inari – an important Shinto shrine dedicated to the God Inari, the Shinto God of rice. The thousands of vermillion-coloured Torii gates lead the way to the top of Mount Inari, past smaller Shinto shrines, a bamboo forest, and stunning woodland.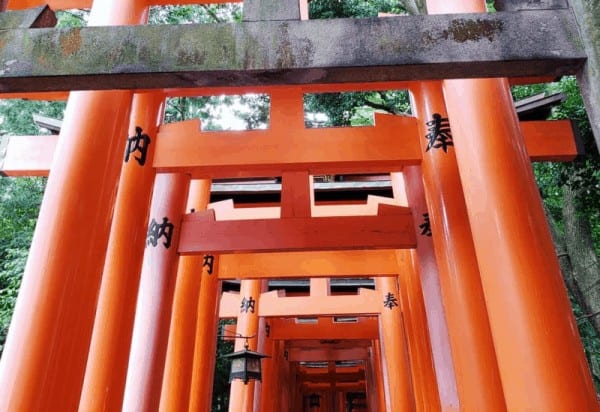 It is important to realise the scale of Fushimi Inari since it is far more than just a shrine – it is actually spread over an entire mountain (Mount Inari) and is comprised of lots of different mini shrines, with the main shrine being situated at the top.
It is possible to spend around half of your day hiking at Fushimi Inari, especially if you plan on ascending to the top. The view and the shine at the peak are stunning.
There is also a viewpoint (Youtsutsuji Intersection) and rest stop approximately ⅔ of the way up the mountain. You can stop here if you do not wish to go whole-hog. You should allow 2-3 hours to reach the peak. 
Address: Fushimi-Ku, Kyoto  Admission: Free!
Pay Your Respects at Sanjusangendo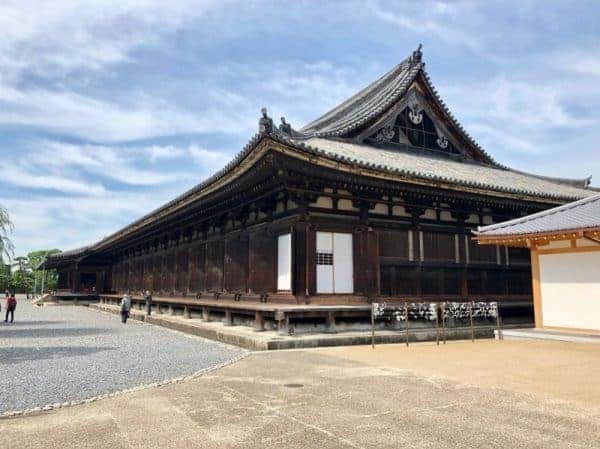 From the outside, Sanjusangendo doesn't really look like much in comparison to the other temples in Kyoto, and actually, if I was walking past it, I may have carried on walking had I not known what was inside.
This temple was recommended to me by a friend who was living in Kyoto and had visited a large number of temples here during his time, yet referred to this as his favourite by far.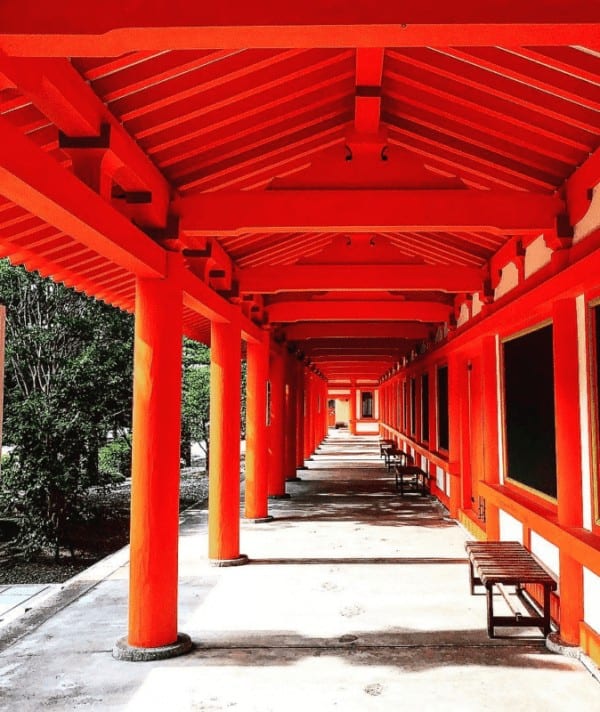 Inside Sanjusangendo is a large hall, home to 1001 depictions of Kannon, Buddhist Goddess of Mercy. The statues were carved in the 12th and 13th century and this is the only remaining hall of its kind.
Each statue has 42 arms, displayed in rows of ten. As you can imagine, seeing all 1001 of these in a dimly lit hall, with incense burning and the oriental music of the Koto makes for a wonderful experience.
Sadly you are not permitted to take photographs inside the Kannon hall – to the extent where there are guards positioned throughout the hall watching you like hawks… so I guess you have to go and discover its beauty for yourself.
Address: 657, Sanjusangendomawari, Higashiyama Ward, Kyoto      Admission: 600 yen
Visit Kiyomizu-Dera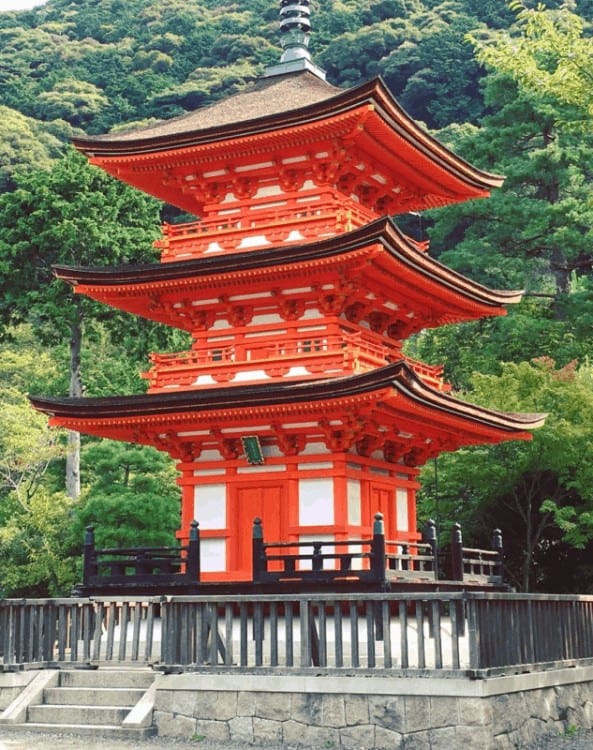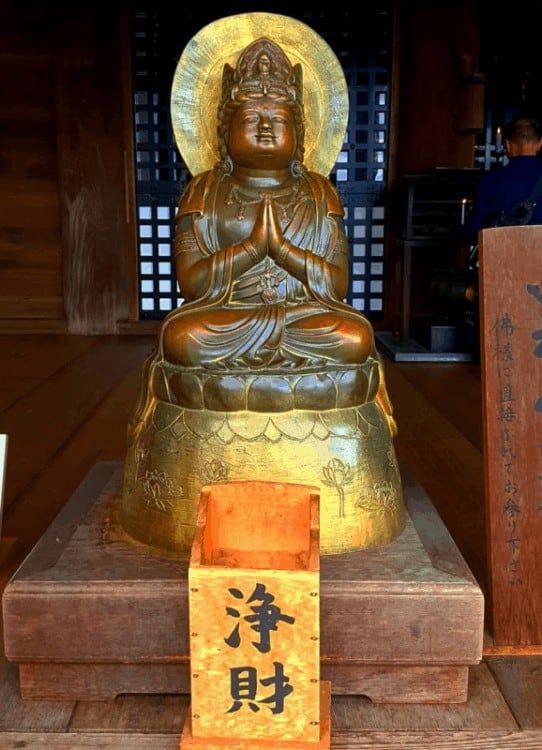 Kiyomizu-Dera is known as the "Pure Water Temple". This is because the site was literally built on top of a waterfall.
You can see Kiyomizu-Dera from afar floating amongst the trees. The temple dates back to 780 AD and is one of the most important religious structures in Kyoto.
A particular highlight of this place is the love shrine – walk from one stone pillar to another blindfolded and if you make it, you'll find true love!  It's amusing to watch people stumble around as they attempt this.
Sidenote: Sadly, until 2020, construction work is now taking place at Kiyomizu-Dera. You can check for updates on this here.
Address: 294, Kiyomizu 1-chome, Higashiyama Ward, Kyoto    Admission: 400 yen
Drop by Shore-In Temple
Shore-In Temple was recommended to me by Hidemi, my Japanese host in Kyoto. It pretty much bypassed by tourists. It's simple, but still very beautiful.
Shoren-In is located at the foot of Kyoto's Higashiyama mountains. It has beautiful gardens and a trail leading up to a tea room and shrine.
You can walk freely around the temple and its adjoining buildings and the drawing-room makes a nice, peaceful place to sit on a tatami mat, look out at the lake and just reflect…
Address: 69-1, Sanjobocho, Awataguchi, Higashiyama Ward, Kyoto       Admission: 400 yen
Kyoto Itinerary Day Four:
Final Sayonara to Kyoto
Marvel at Gingkaku-Ji
Gingkaku-Ji (The Silver Temple) dates back to 1482. It is often linked with Kinkaku-JI. To be honest, I much preferred this one – there were fewer crowds of tourists and the gardens and grounds were much more expansive and beautiful. The temple here isn't actually made of silver mind you, it is just given that name because of the colours of its exterior.
Address: 2 Ginkakujicho, Sakyo Ward, Kyoto        Admission: 500 yen
Tread the Philosopher's Path
Tetsugaku no michi or "The Philosopher's Path" is a pleasant walkway that runs from Gingkaku-ji temple and leads you to Nanzen-Ji. It transports you along the edges of a gentle stream surrounded by fragrant cherry trees and is named after Nishida Kitaro, a famous Japanese Philosopher. Kitaro walked daily along the route while meditating and strolling to and from Kyoto University.
There are plenty of cute tearooms and restaurants along the pathway so when you decide to stop for lunch or a  break, you are not short on options. At the conclusion of this walk, visit Nanzen-Ji Temple – the head temple of Rinzai Zen Buddhism and one of the most important temples in all of Japan.
Relax at the Heian-Jingu Shrine
Heian-Jingu is a beautiful water-side temple that seemingly floats atop a pond. If you have watched memoirs of a Geisha, it is the site where Sayuri strolled across the bridge to reflect when she was feeling down. Heian Jingu is famous for its huge red gate but it's the Japanese gardens that make this place.
Address: 97 Nishitenno-cho, Okazaki, Sakyo-ku;
Admission: The shrine is free, but the gardens are 400 yen (and worth every penny)

Want to visit Kyoto and have questions about my Kyoto itinerary? Feel free to reach out to me via the comments below! Alternatively, if you followed an alternative Kyoto trip itinerary and have some other insights and suggestions then please do share.
Travelling as a family? Check out this alternative Kyoto itinerary for travelling to Kyoto with kids.
Disclaimer: This post may contain affiliate links. This means that if you choose to purchase something via the links displayed here I will get a small amount of commission at no extra cost to you. Thank you.
---