Greece in April may not be the most common time to travel to this beautiful Mediterranean country. However, you may be surprised at just how pleasant it is to travel here out of season.
Travelling to Greece in April allows you to avoid the summer tourist hordes. It also comes with the added bonus that everything is generally cheaper when you travel out of season – from the hotels to flights and local excursions.
It is important to note that Greece does not see hot temperatures all year round. The weather in Greece in April is typically pleasant – with warm, sunny days, blue skies, and an absence of rain.
But it isn't really beach weather. If your Greece plans entail lounging on the beaches of idyllic Greek islands, you are better to wait until late May to travel.

However, if you enjoy hiking, exploring the great outdoors, or wandering around archaeological sites, Greece in April is the perfect time to visit. This is also a good time to visit places like the Meteora Monasteries, Monemvasia, and Mystras before it becomes too hot to spend an extended period of time outside.
Weather in Greece in April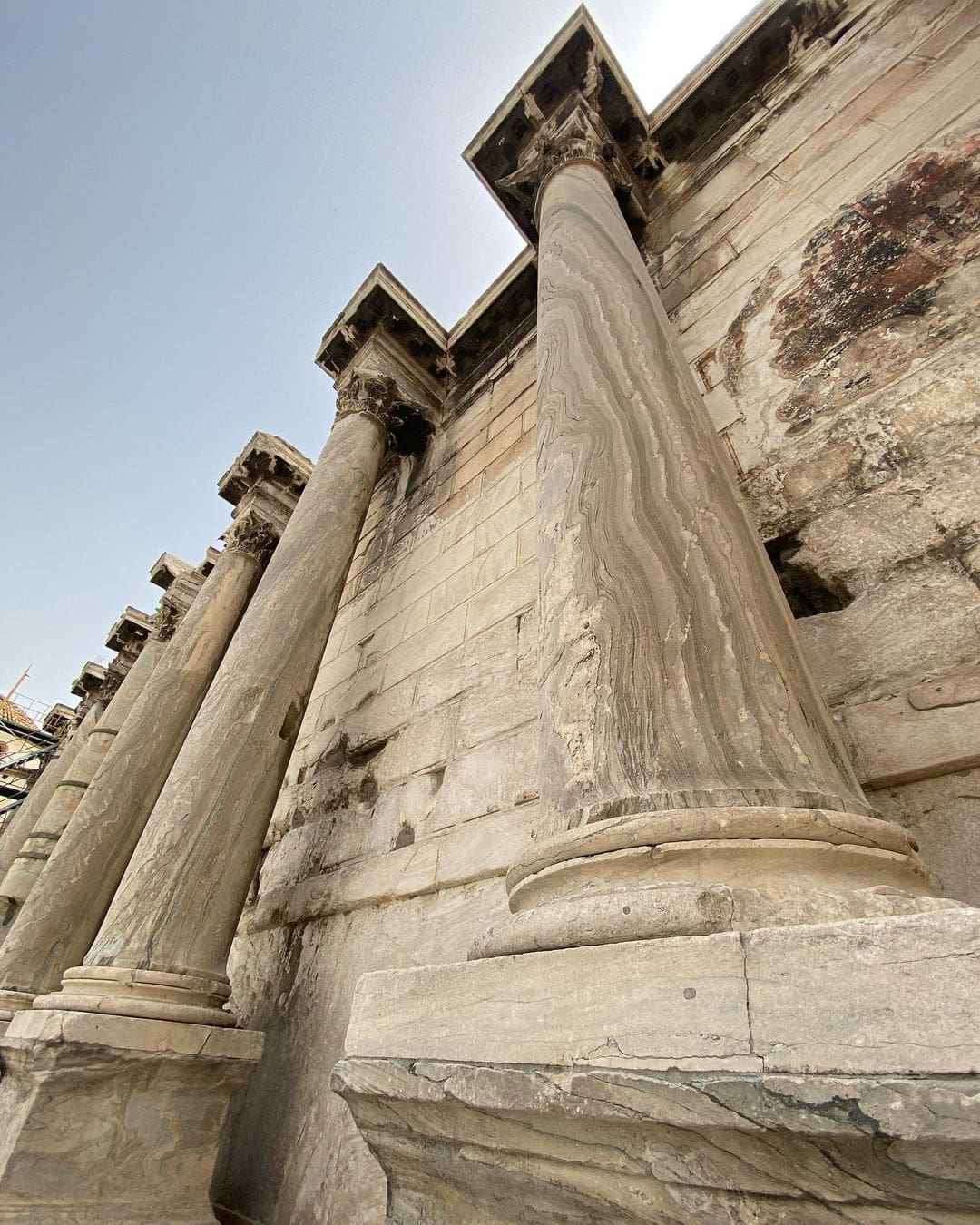 The weather in Greece in April is usually warm and dry. Rainy days are pretty uncommon.
Greece is one of the sunniest countries in the world and sees on average more than 250 days of sunshine a year! That being said, freak rain showers do happen occasionally so do pack an umbrella just in case.
If you do decide to travel to Greece in April, you can typically expect average daytime temperatures of around 15 degrees Celsius. Daytime temperatures typically range between 11 and 20 degrees Celsius.

It does get cooler at night, so be sure to take a cardigan or a light jacket for evenings out, as well as some comfortable sleepwear. Summer dresses, shorts, and jeans and t-shirts are all comfortable clothing options for exploring Greece in April.

Technically you can go swimming at Greek islands if you want to. Local people do (in fact you will even see them going for a quick swim in January or February on some islands).

It is just that it is not that hot yet, and Greece in April certainly doesn't see the same weather conditions as it does between July and September. Greece is a larger country than some seem to realise.

It boasts 14,000km of coastline and there are six different Greek island groups that surround the mainland. Weather conditions often vary from one part of Greece to another.
For instance, the farther south you go, the warmer it gets. Athens, the Cyclades, and Crete often see warner conditions than the north of Greece. So, if you are chasing the sun, you may opt to choose somewhere like Crete, Santorini, Mykonos, Naxos, or the Saronic for your April trip rather than the Sporades or North Aegean islands.
Greek Islands in April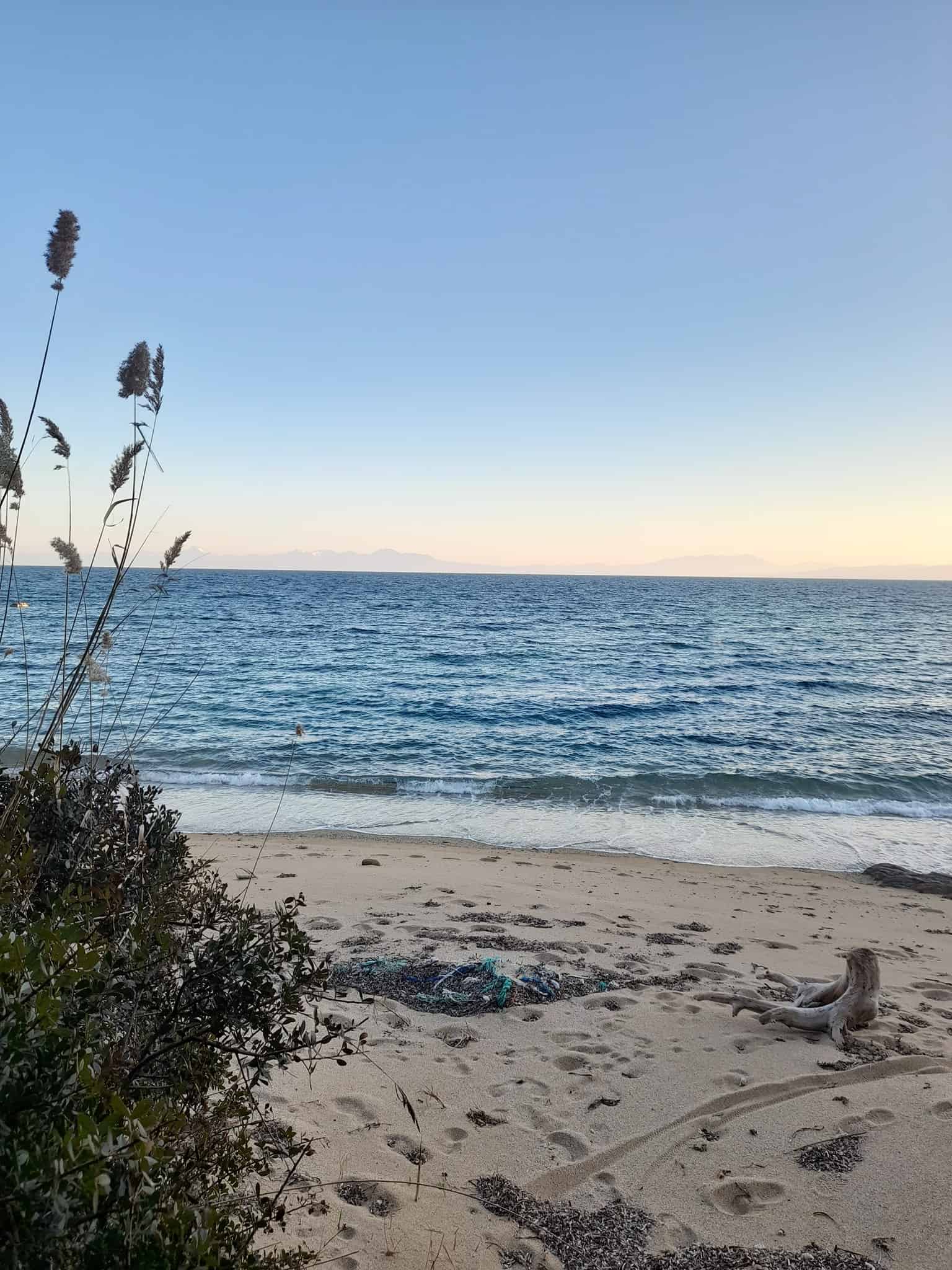 227 of Greece's thousands of islands are permanently inhabited. People live on the islands year-round.
However, the atmosphere on them is extremely different if you choose to visit in April rather than during the summer months. Businesses on most Greek islands are seasonal.
They open between late May and early October to cater to both Greek domestic and international tourists. Outside of those periods, a lot of restaurants, stores, and coffee shops close for the winter.
If you visit Greek islands in April, you may see a lot of local business owners painting their storefronts, fixing up their hotels, and generally getting everything ready for the summer season. This is actually a nice time to travel.

On some islands, you will find that you have entire beaches and coastlines to yourself. While Greece in April is not exactly a time for topping up your tan, it is still pleasant to stroll along the beaches, sit and write and reflect, etc.
This is also a good opportunity to see what living on a Greek island is really like. With the absence of tourists, you will have a better chance to meet and converse with locals.
Some of the islands offer excellent hiking trails which are pleasant to conquer while its cooler. Skiathos, for example, boasts 26 stunning trails.

Similarly, the Corfu trail in Kerkyra (Corfu) and the Samaria Gorge in Crete are two of the best hikes in Europe.
Where to Travel in Greece in April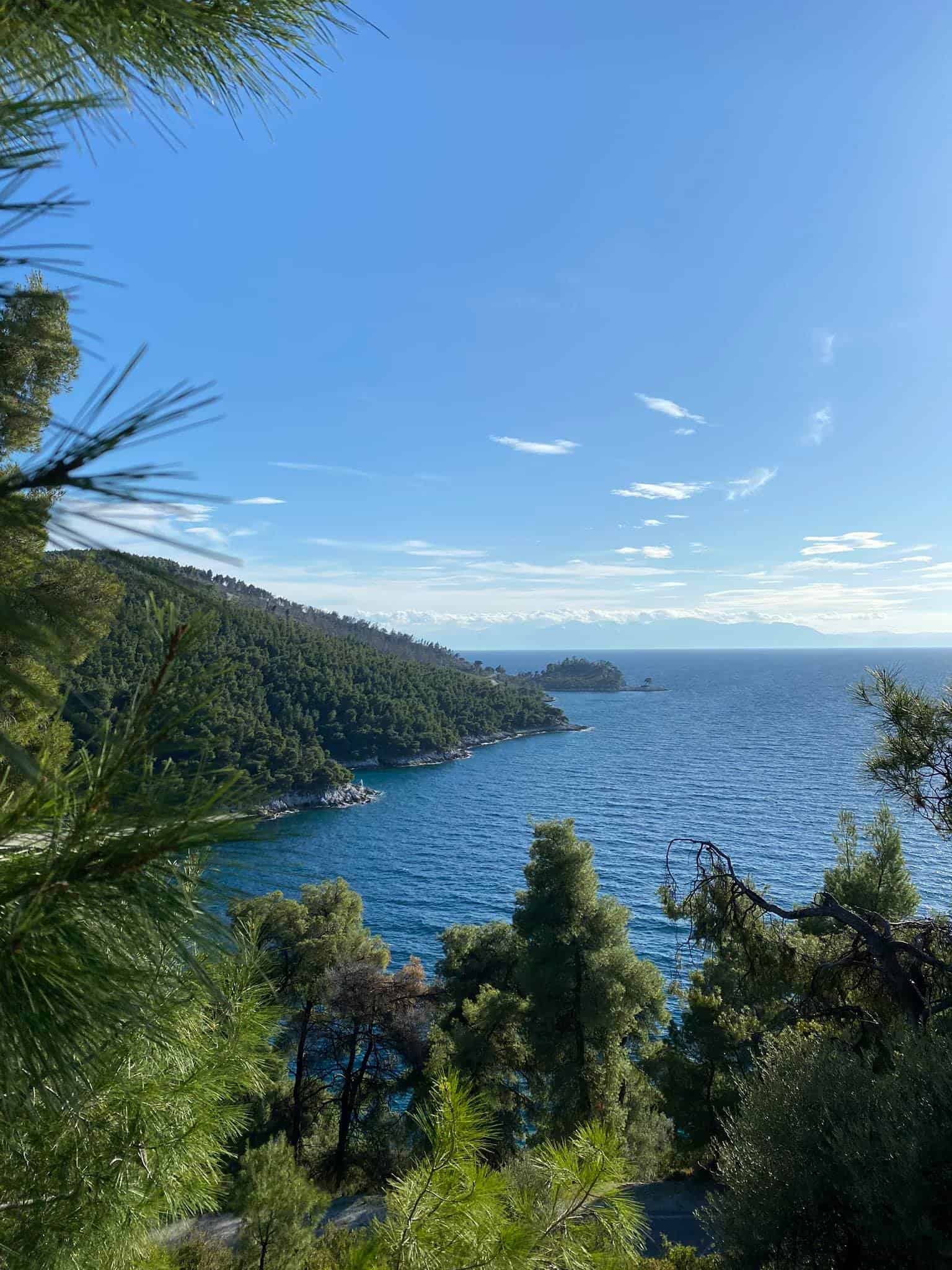 Pretty much anywhere in Greece is nice to explore in April. In particular, this is a good time for a cultural Greek city break, or a road trip around mainland Greece and the Peloponnese.
Athens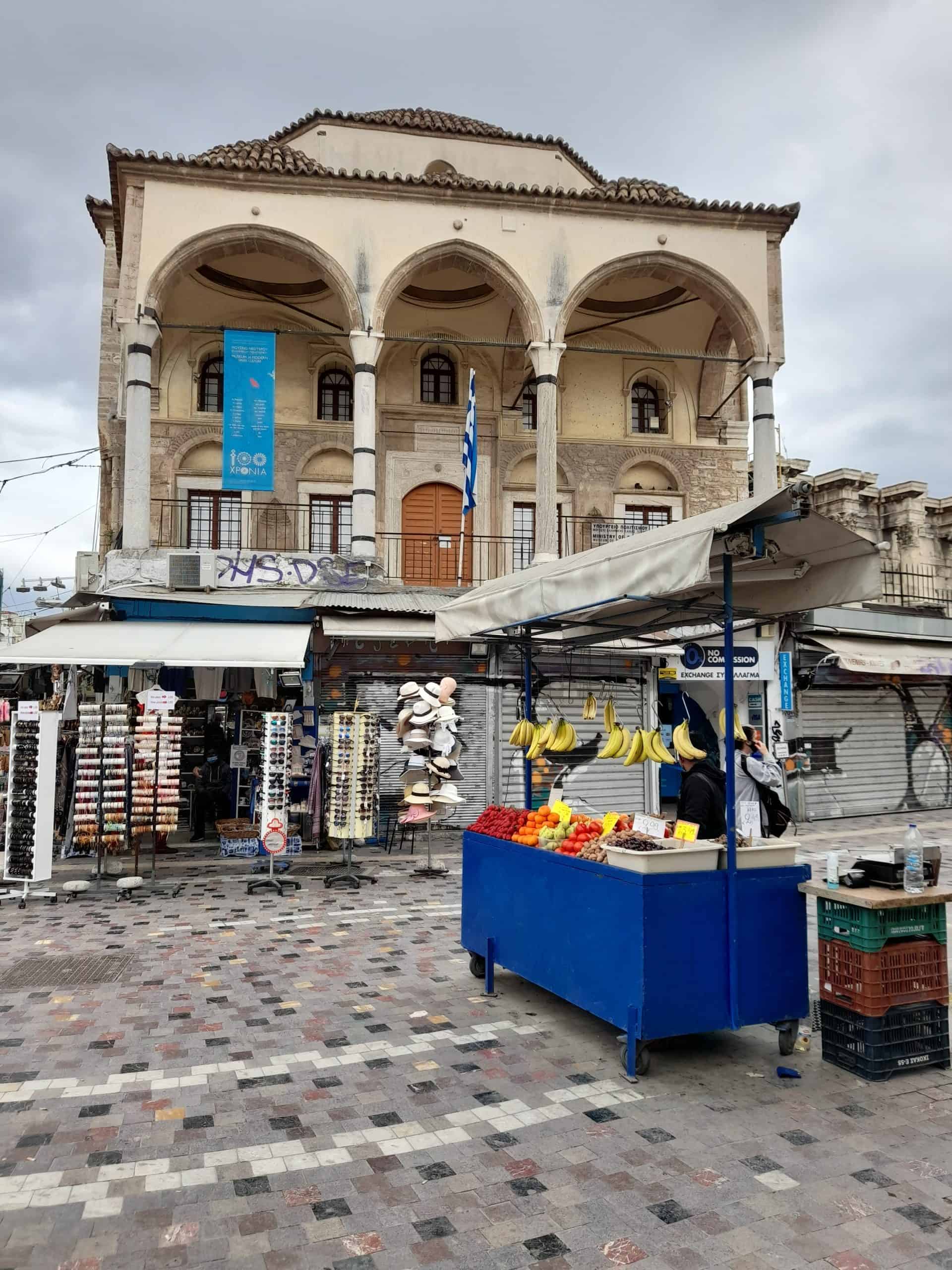 The Greek capital is the perfect place for a European city break, or as a starting point for a wider Greece travel itinerary. This is one of the oldest cities in Europe and some neighbourhoods date back over 2,500 years.
Dedicate a day or two to exploring Athens' most historical sites. Check out Acropolis hill and its magnificent Parthenon, the Roman Agora, the Ancient Agora, the Temple of Olympian Zeus, and Mount Lycabettus.
Part of the charm in exploring Athens is not just seeing the sights. It is found in the various Athenian districts, each of which have their own charm and character.
Climb Lycabettus to enjoy sweeping vistas over the city. On a clear day, you can see all the way out to the port of Piraeus from up here.
When you descend, stop for cocktails in chic Kolonaki. Jazz in Jazz (Dinokratous 4) and Minnie the Moocher (Tsakalof 6) are particular local favourites.
Plaka is one of the oldest parts of the city. During the days of the Ottoman Empire, this was Athens' Turkish district and indeed, some old mosques and madrassas still remain from this time period.

Enjoy Greek alcohol (perhaps some ouzo or tsipouro) at one of the bars on the Plaka steps (Mnisikleous 22). A lot of the establishments here sell meze plates.
These are small dishes intended for sharing that can be compared to Spanish tapas. Order some smyrna meatballs and melitzanokeftedes and thank me later.
Thessaloniki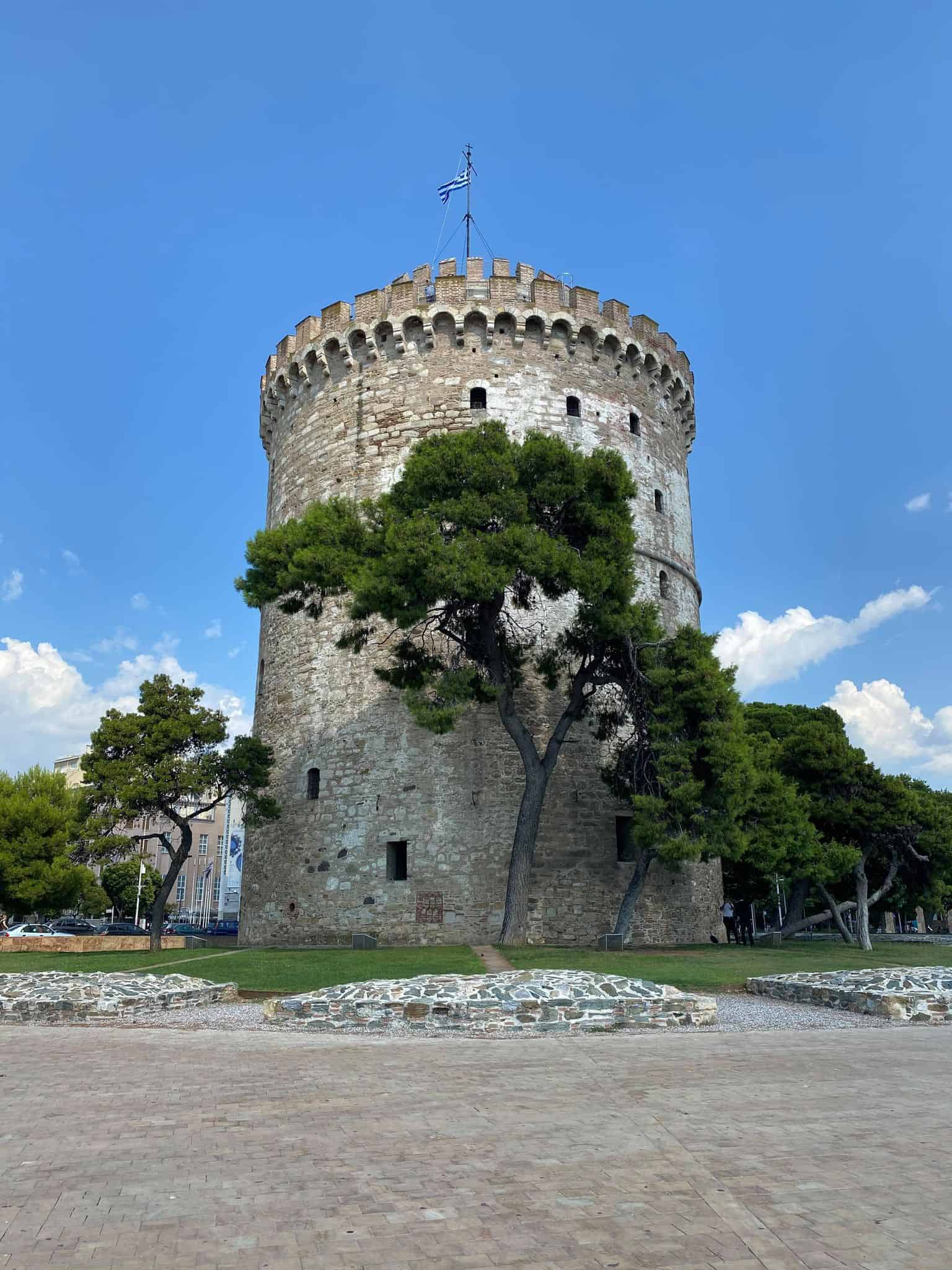 Thessaloniki is Greece's second city. You could easily dedicate as much as a week to exploring the Macedonia capital.
There are also a lot of great day trips from Thessaloniki that you can take in the area too. For instance, from here you can visit Kerkini Lake, explore the rural villages around Serres, or spend a day at Edessa and the Pozar thermal baths.
The White Tower is one of Thessaloniki's most iconic landmarks. It was built in the 15th century to bolster the city's defenses.
Today, you can get a great view of the Thermaic Gulf from the top. Inside, you will find a mini-museum containing photographs and local artifacts that tell the story of Thessaloniki through the centuries.
Leof. Nikis is the seafront promenade that runs up to the White Tower. There are lots of great coffee shops and bars here and this is a great place to stop and grab a Greek coffee while you people watch.
The Peloponnese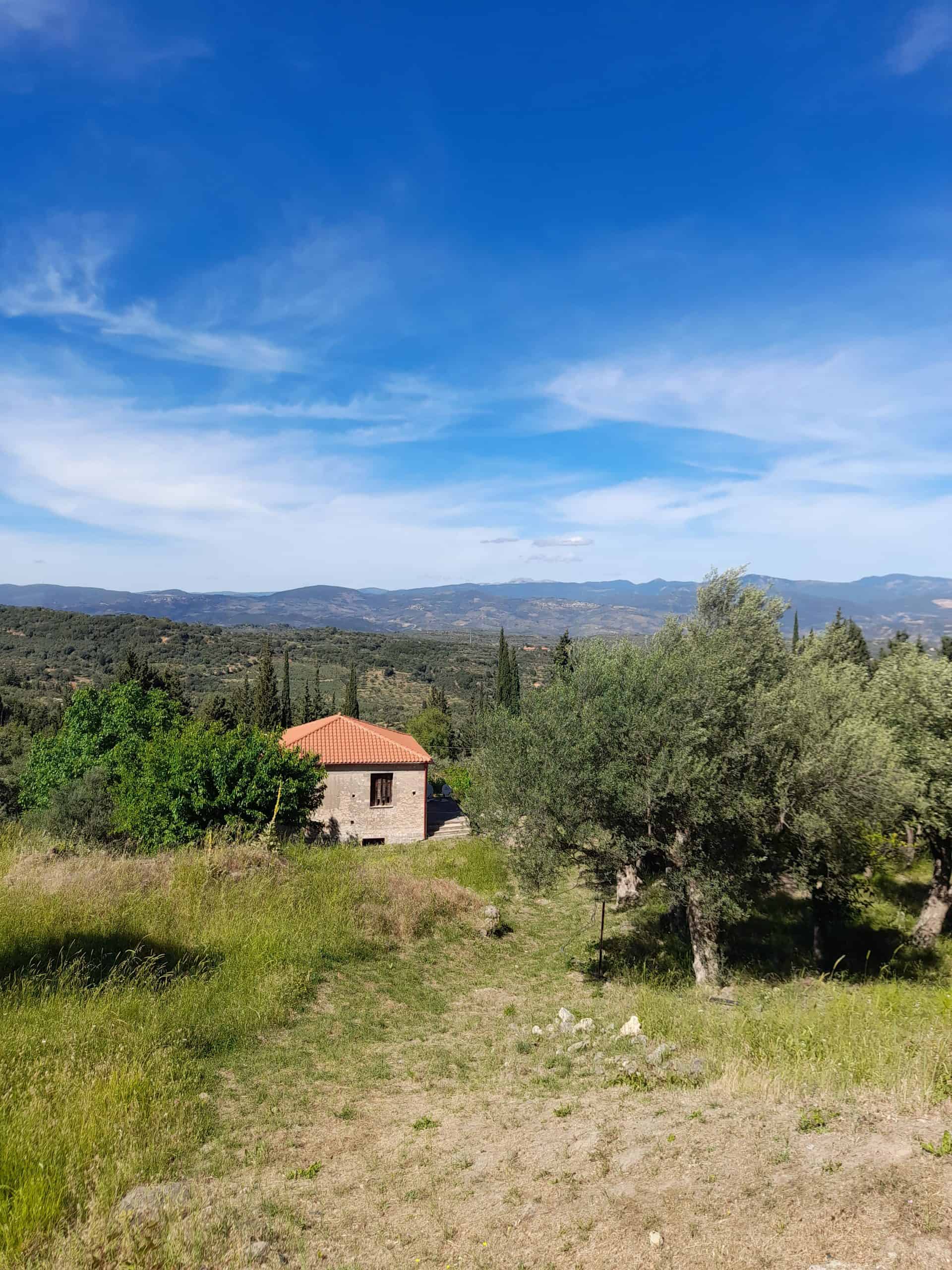 The Peloponnese is arguably Greece's wildest region. Despite all of the beautiful nature, secluded beaches, and charming villages in this area, this is a part of the country that is frequently overlooked by international visitors.
Public transport is virtually nonexistent in some parts of the Peloponnese and so renting a car is a must. You should have at least a week to spare if you are visiting this area.
Make charming Nafplio your first stopping point. This city has a population of just 33,000 people. However, prior to 1834, this was the capital of Greece.

Window shop at the charming boutiques of Vasileos Konstantinou street, have coffee at Syntagma Square, and revel in the views from the top of Palamidi castle. Nafplio also makes a good base for exploring Epidaurus.

This is one of Greece's 18 UNESCO world heritage sites. After Nafplio, continue onwards to Lakonia and Mani.
Lakonia is one of seven prefectures that make up the Peloponnese. Most notably, it was the home of Ancient Sparta.
Modern-day Sparta is a nice town to stop at for some lunch or an Ellinikos kafes in a local kafenion. Unfortunately, the ruins of Ancient Sparta are very poorly preserved but worth a brief visit nonetheless.
The main draws of visiting this area? The Byzantine settlements of Mystras and Monemvasia, and the seaside town of Gytheio.
Crete
Crete is one of the warmest places to visit in Greece in April. Since the daytime temperatures are often as high as 19 or 20 degrees celsius, you may even be able to fit some pleasant beach days into your agenda.
Crete in April is a good time to visit Minoan ruins, history museums, and archaeological sites. It is a nice time to go hiking before it becomes too hot to do so.
Crete is the largest of the Greek islands and extends over 3219 square miles. You should think carefully about your Crete itinerary to make the best use of your time.
Instead of opting for a cross country itinerary, you may want to concentrate your travels to either the East or West part of the country. In the west, you have charming Chania and Rethymno.
Meanwhile, in the East, you have Heraklion and the little town of Agios Nikolaos. The little island of Spinalonga is a former leper colony and is well worth your time. However transport to the island is somewhat limited out of season.
Santorini
Santorini in April can be a nice time to visit Greece´s most photogenic island. This is one of the most popular travel destinations in the country and visiting Santorini in July or August means that everywhere is extremely crowded and hotels are often charging exorbitant prices.
Those world-famous Santorini sunsets are just not quite the same if you are sharing them with thousands of other travellers crowded in the background. Santorini in April is still the low season.
A lot of businesses and hotels have not opened up for the season yet. However since there are many people that live on the island all year round, there are still plenty of dining options to choose from.
You will also be able to find some incredible flight deals to Santorini in April. You can sometimes find flights from Athens to Santorini for as little as 20 euros each way.
Corfu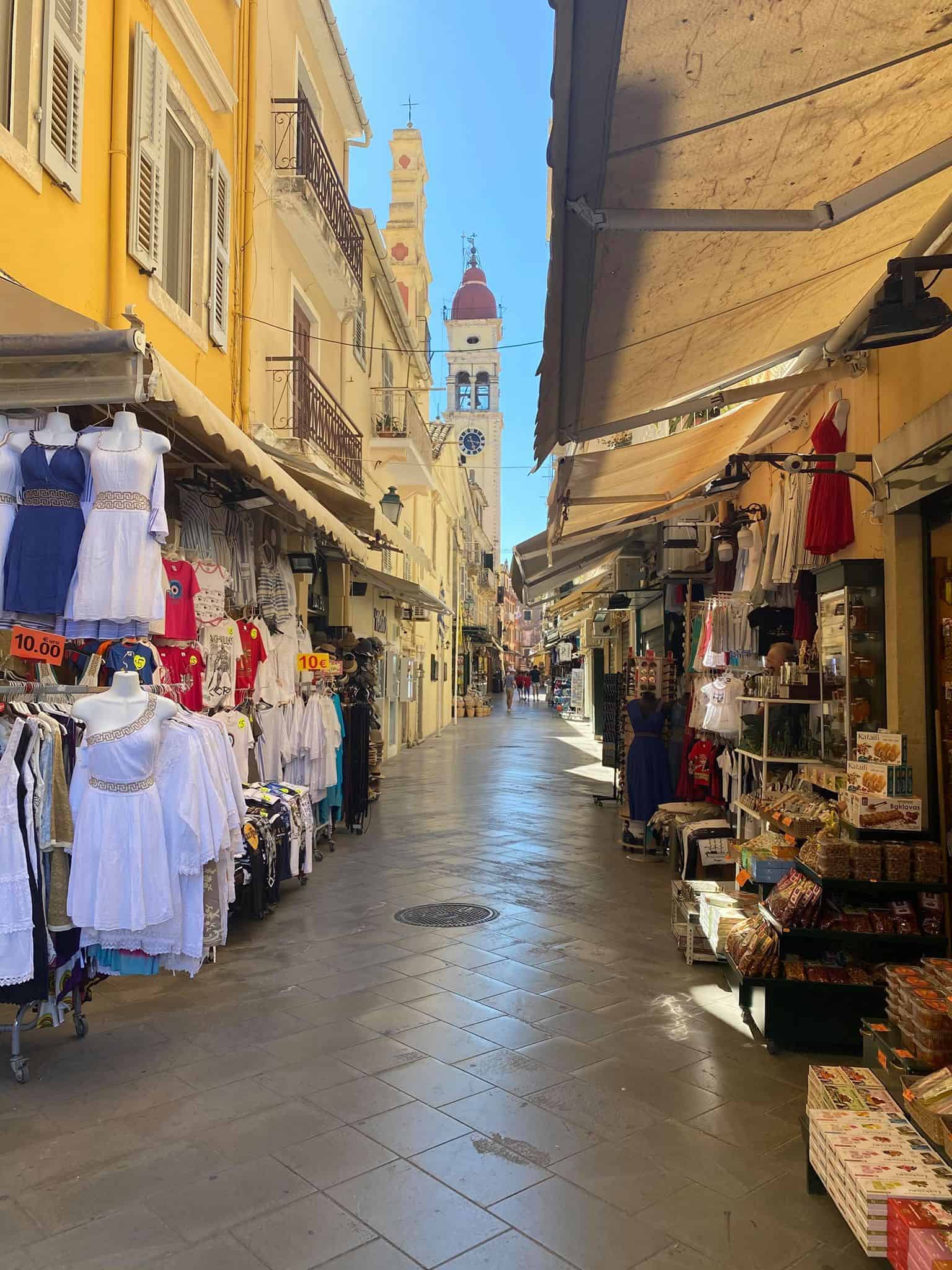 Corfu in April sees mild temperatures as per the above. However, rainy days are likely and this is not necessarily a good time to plan your Corfu trip if you want to enjoy the island's beaches.
That being said, there are other reasons to visit this gorgeous island. Corfu old town is a UNESCO-protected site.
The town was ruled by the Venetians for centuries and this is clearly evident from its architecture and culture. Some of the narrow winding streets are more reminiscent of something you would expect to see in Italy than in Greece.
If you visit Corfu in April, you can enjoy exploring the old town, whatever the weather. You can also indulge in Corfiot delicacies that are not readily available elsewhere in Greece.
For example, beef sofrito. This is a classic Corfiot dish made from tender cuts of veal lightly dredged in flour and then sauteed with fresh herbs, wine, garlic and onion.
If you are a keen hiker, you may want to attempt to conquer the Corfu trail. This hiking route was established in 2001 and covers the 200km length of the island.
It takes you through jaw dropping natural scenery along a route that most visitors to the island seldom see. You will pass through a diverse range of scenery along the way – from rugged gorges to secluded beaches, olive groves, and dense forests.
What to Pack for Greece in April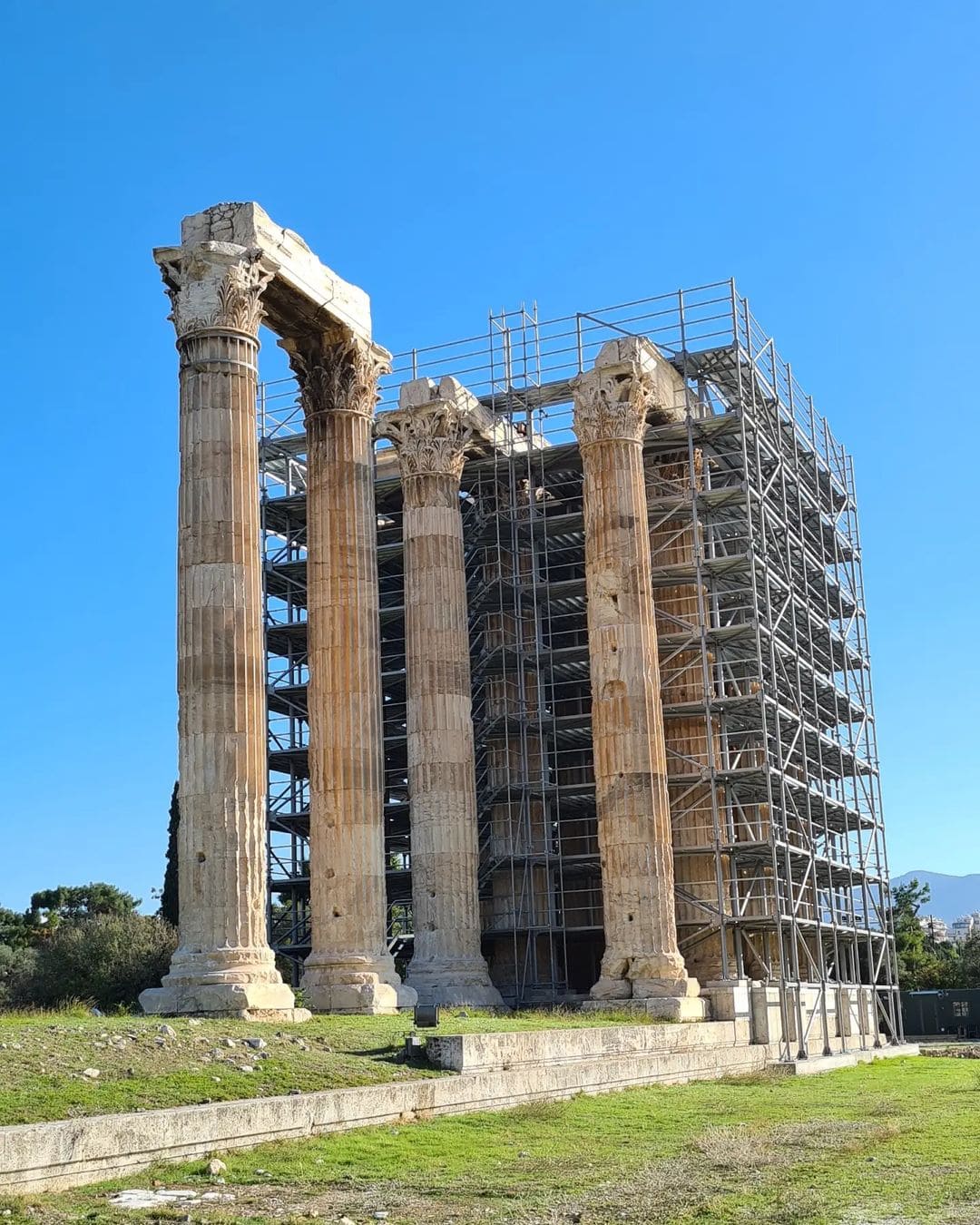 Heading to Greece in April means packing a few extra layers than you would take with you during summer in Greece. A suggested Greece packing list for April is provided below.
7 x underwear


7 x socks


Umbrella


Sunglasses


2-3 sundresses (for women)


2-3 pairs of cargo shorts (for men)


3-4 t-shirts


2 outfits for evening wear


Flip Flops/slippers to wear around the hotel


Comfortable walking shoes


Heels/dress shoes for going out


Sandals/wedges


Light cardigan


Light jacket for cooler days


1-2 pairs of jeans


2 swimsuits (1 to wear while the other is drying)


Umbrella for rainy days


Phone and charger


Camera and tripod
Events in Greece in April
The vast majority of Greeks are Orthodox and so Easter in Greece is celebrated as per the Orthodox calendar. It falls on different dates to Christian/Catholic Easter.

Obviously, Orthodox Easter dates vary each year. However, they always fall between April 4th and May 8th.

This means that if you visit Greece in April, you are likely to have the opportunity to spectate or join in on some Orthodox Easter celebrations. A lot of Greeks are very religious and so, Easter here is as much of a big deal as Christmas.
In the days leading up to Easter Sunday, Greek families will buy sweet bread (tsoureki), dye eggs red, and buy the ingredients for that all-important Easter Sunday dinner. The dinner is usually enjoyed with extended families.
This is usually an entire lamb or goat cooked on a spit, served with patates fournou (Greek lemon roasted potatoes), soutzoukakia, and Greek pastries. Most Greeks attend church on the Saturday before Easter Sunday.

Candlelight processions march through the streets of Greek towns and cities. The church service ends just before midnight when locals cheer ¨Christos anesti¨ (Christ is risen!)
In 2022, Orthodox Easter falls on Sunday, April 24th. Go along to a service at one of Athens's churches if you can.
Parting Words
Do you have any additional questions about travelling to Greece in April or planning a Greece vacation in general? Feel free to reach out below.

I'll get back to you as soon as I can. I have lived here since 2017.
Safe travels! Geia sou, Melissa xo
---