Solo female travel in Oman has been one of my favourite travel experiences so far. Though, I can appreciate that if you asked me about wonderful places for solo female travel, you probably wouldn't expect me to say the Middle East.
Solo Female Travel in the Middle East
Generally, I would say that solo travel in the Middle East is reserved for the more seasoned traveller. The countries here require more patience, assertiveness, and cultural awareness than in other parts of the globe. However, Oman is something else entirely.
Solo female travel in Oman was one of my very best experiences in travelling alone. That is saying something. I have spent the last ten years travelling solo and have visited 51 countries in the process!
Falling in Love with Oman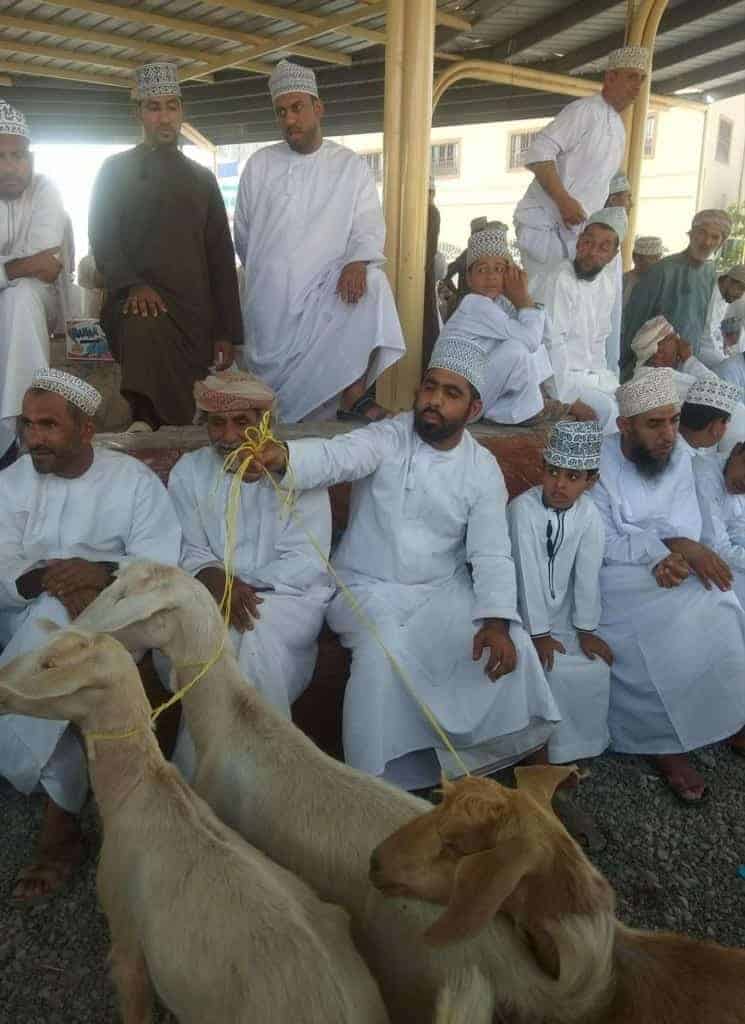 Oman is like an Arabian Nights fairy-tale come to life. Solo female travel in Oman comes without any of the chaos you may expect in a country in this part of the world. When I've walked through souks and market places, nobody hassled or pestered me.
Oman is a conservative Muslim country so women travelling here should dress modestly. However before I arrived I still worried.
This is because when dressing modestly in places like Jordan and Egypt I attracted lots of stares, unwanted attention, and questions about the whereabouts of my non-existent husband. This happened even though I was covered from head to toe in what I believed to be the frumpiest attire known to mankind.
On the contrary, Omanis are used to western expats and business people walking among them. Nobody even looked up at me most of the time.
Even in the most random villages where I was the only woman among dozens of Arab men, nobody stared or made me feel uncomfortable. Yes, I dressed conservatively, but people were extremely welcoming, friendly, polite, and respectful.
Safety in Oman:
The Statistics
Oman is a very safe country. Crime in Oman is low and offenses against women are incredibly rare/virtually non-existent.
Omani Safety Statistics
This is not just me telling you that Oman is safe for solo female travel in Oman. It is statistically proven!
According to a report by the World Economic Forum, Oman is the THIRD safest country in the world. Furthermore, Oman scores a big fat ZERO risk in the World Terrorism Index.
Respect is Deeply Ingrained in Local Culture
Having respect for others is a notion that is strongly ingrained into Omani culture. As you travel around the country, you will notice that Omanis often leave their doors and cars unlocked.
This is pretty much unheard of in London! This should speak volumes about the safety of Oman.
To my surprise, when I spoke to Omanis about other travellers they have met, they told me that the majority of them have been solo females! So, if you want to travel somewhere culturally rich and a little off the beaten path without compromising your comfort and security then I strongly recommend travelling to Oman.
My Solo Trip to Oman
I arrived bleary-eyed in the Omani capital of Muscat at 4 o'clock on a Sunday morning. My cab driver bought me a cup of Omani tea, and we whizzed along dusty roads past magnificent mosques and the illuminated seafront of the Corniche. I knew immediately that mysterious Oman was going to be a place that I would fall in love with.
I spent several days of my Oman itinerary exploring the higgledy-piggledy layout of the Omani capital with Omani locals before travelling onwards. I visited the ancient capital of Nizwa, the beachfront city of Sur, and dozens of ramshackle villages and ruins in between.
I hiked mountains and visited stunning sites of nature alone in Oman, navigating the country mostly solo by 4×4. A woman alone in the great outdoors may ring alarm bells for many but I never felt fearful for my safety in Oman.
Highlights of Solo Female Travel in Oman
Every moment of my solo female travel to Oman was wonderful! If I had to summarise some of the highlights though, they would be as follows.
Having the chance to drive out across the desert on the open road


Discovering some of the most beautiful nature in the Middle East


Exploring abandoned ghost towns and ruins around Muscat and Nizwa


Interacting with locals


Meeting young Omani women through Couchsurfing and hearing about their lives in the Middle East


Watching locals haggle over livestock at the fascinating Nizwa Friday Market


Enjoying the incredibly diverse range of foods available in Oman – from Yemeni dishes to Indian food.
Where to Travel During Your Solo Female Trip in Oman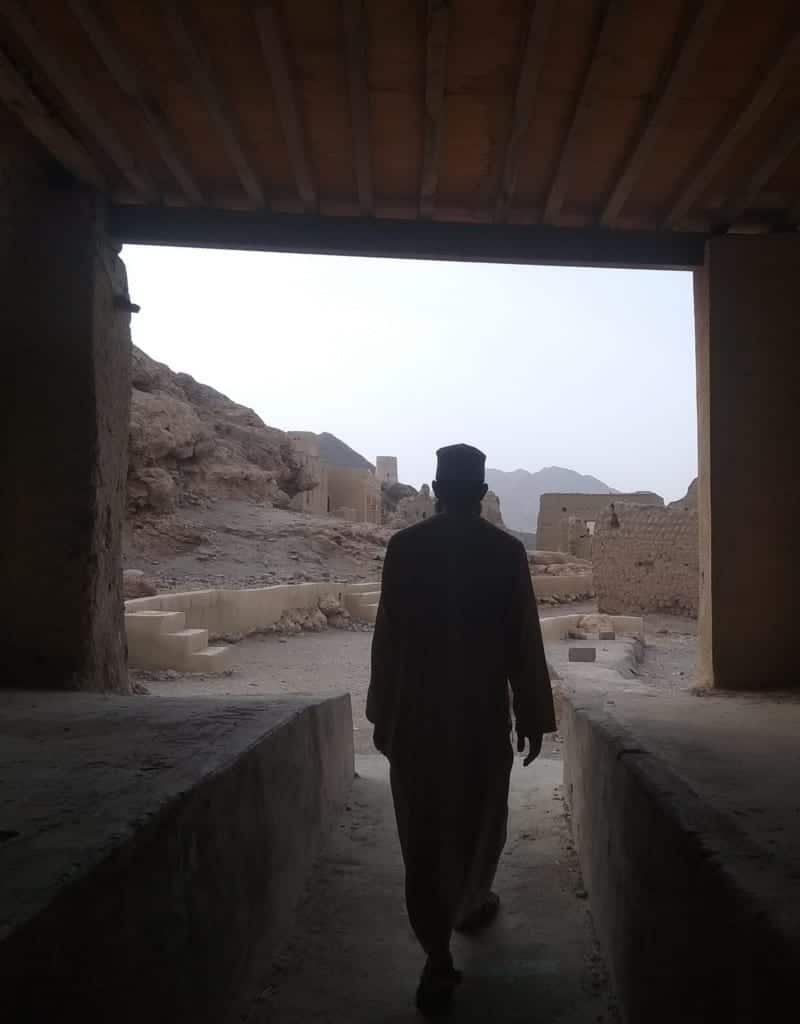 A great starting point for solo female travel in Oman is Muscat, the country's capital. There are enough cultural and historical sites in Muscat to keep you occupied for a day or two.
However, the true highlight of travelling in Oman is the incredible nature that the country is packed with. Some of the most notable and inspiring places to visit in Oman are summarised below.
Muscat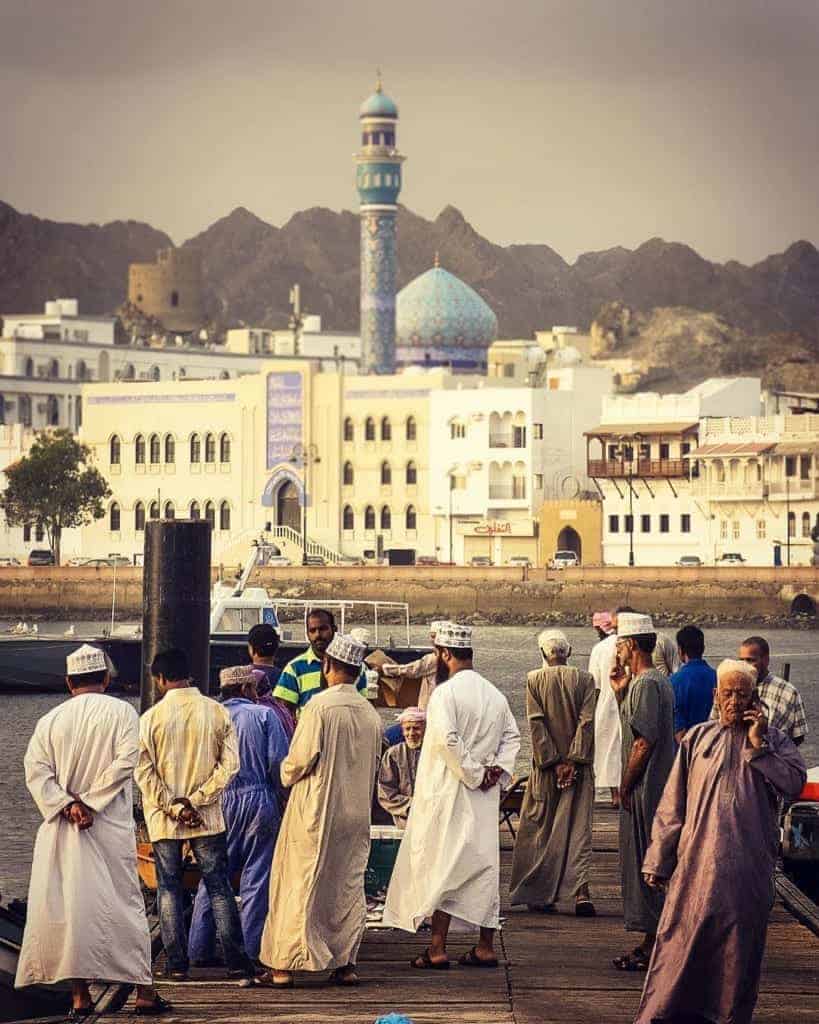 Muscat is Oman's capital city. Though it is somewhat sprawling and difficult to navigate, plenty of charm is tucked away in its crevices.
Wake up early and head to the magnificent Sultan Qaboos Grand Mosque before the morning prayers mean no access to tourists. The interiors of the mosque are decorated with incredible hand-loomed rugs and carpets and grand chandeliers and windows.
At one point, the Sultan Qaboos Mosque boasted the largest hand-woven carpet and largest chandelier in any mosque. That is until the minds behind Abu Dhabi's Grand Mosque took the measurements and topped the record!

Spend a day in Muttrah, Muscat's Old City. The Muttrah fish market in the old port is a fascinating place to watch locals haggle with fishermen over the prices of the day's freshest catches.
Window shop at the Muttrah Souk. Then, ascend the steps to the top of Muttrah fortress for incredible panoramas across the port as the sun begins to set.
Nizwa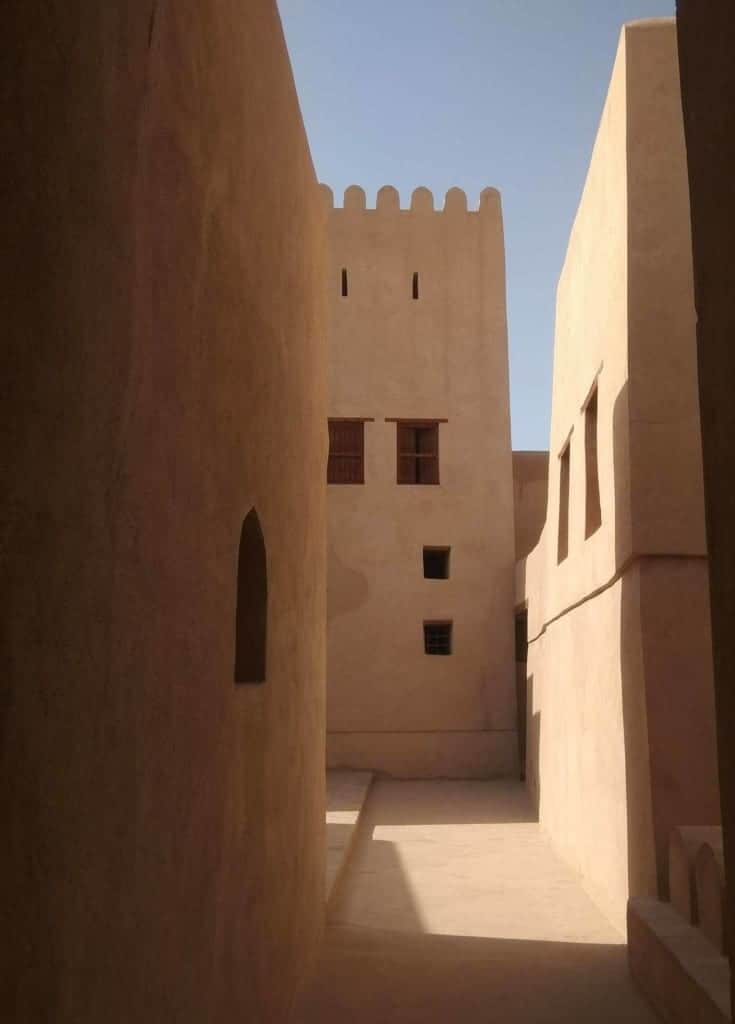 Nizwa is one place that should not be missed during solo female travel in Oman. The city limits are relatively compact. However, it is the smaller towns, villages and historical sites surrounding Nizwa that are a major draw of the area.
If you are renting a car in Oman, Nizwa is a good place to stay for a few days while taking day trips out to different parts of the region. Alternatively, many tour guides can be found locally in Nizwa to help plan excursions.
Nizwa Highlights
Spend a day exploring Nizwa proper. Wander around the sprawling complex that is the Nizwa fort and check out the gruesome traps that awaited intruders here centuries ago. These include tomb-raider-style spike traps and strategic holes where hot date juice was poured down onto people's heads!
The Nizwa souk is a great place to pick up souvenirs and edible treats such as candied dates, nuts and spices, and traditional Omani fragrances. If you are able to stop by on a Friday, you will have a unique experience witnessing the Nizwa Friday livestock market.
Other Attractions in the Region
Nizwa makes a wonderful base to explore surrounding towns and villages. Be sure to venture out to the historical town of Misfat Al Abriyeen, the crumbling eerie ruins of Al Hamra ghost town, and Oman's most majestic natural attractions such as Jebel Shams and Jebel Akhdar.
Salalah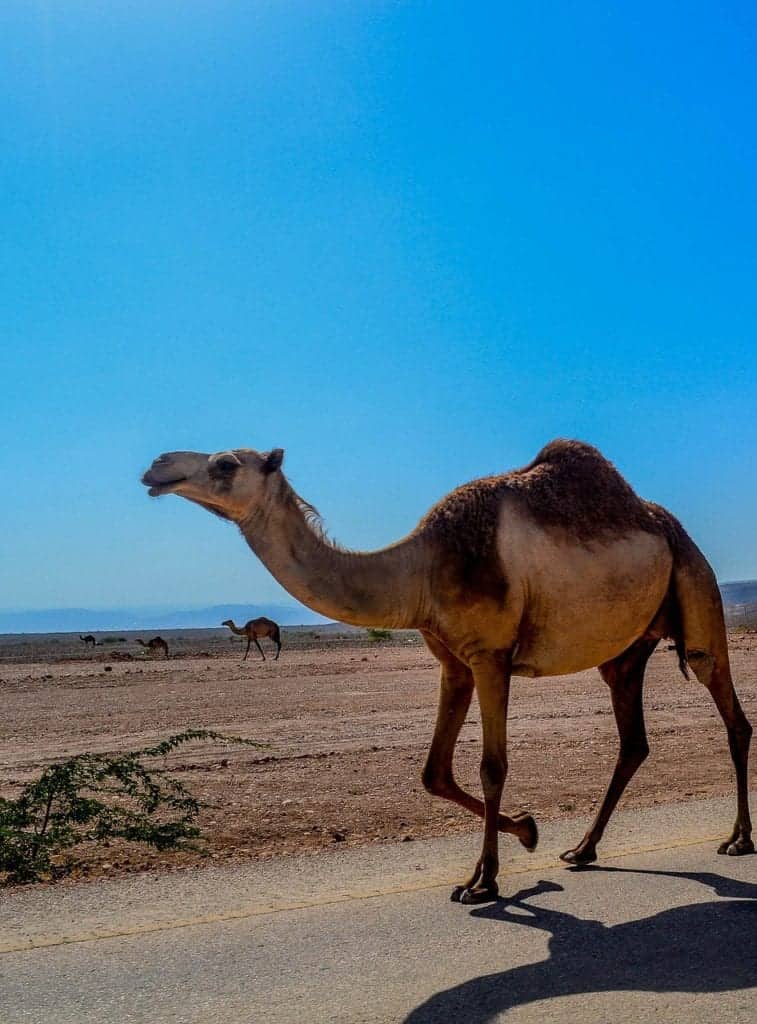 Salalah is a region in the Southwest of Oman. It has a tropical climate and a culture that is quite unlike the rest of the country.
Many Omanis travel to Salalah during the summer months. This way they can escape the intense, dry heat of the cities and the desert. Here, you can find lush rainforests, beautiful oases, and quaint traditional villages.
Wahiba Sands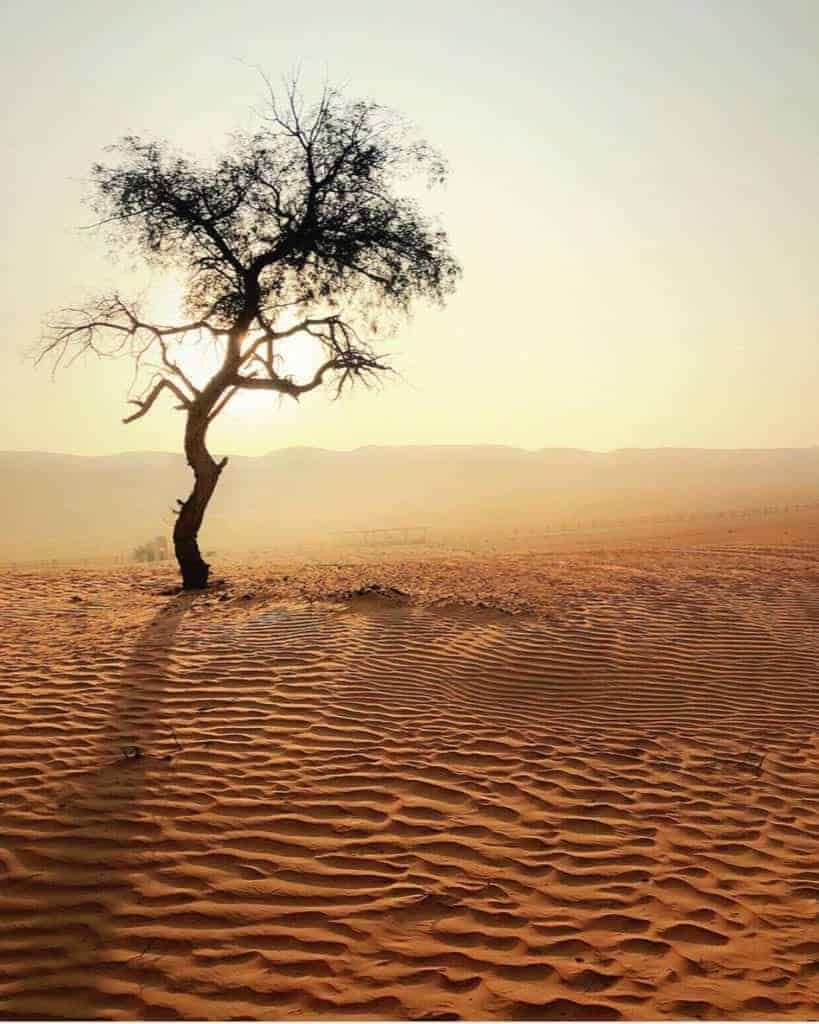 The Wahiba Sands is Oman's answer to the Sahara. This vast desert is comprised of 180km of sand dunes that extend across the country from north to south.
Plenty of activities await in the desert. You can consider hiring a Bedouin guide to lead you through the sand dunes on a camel, go dune bashings, or sleep in a local campsite while gazing at the stars.
Sur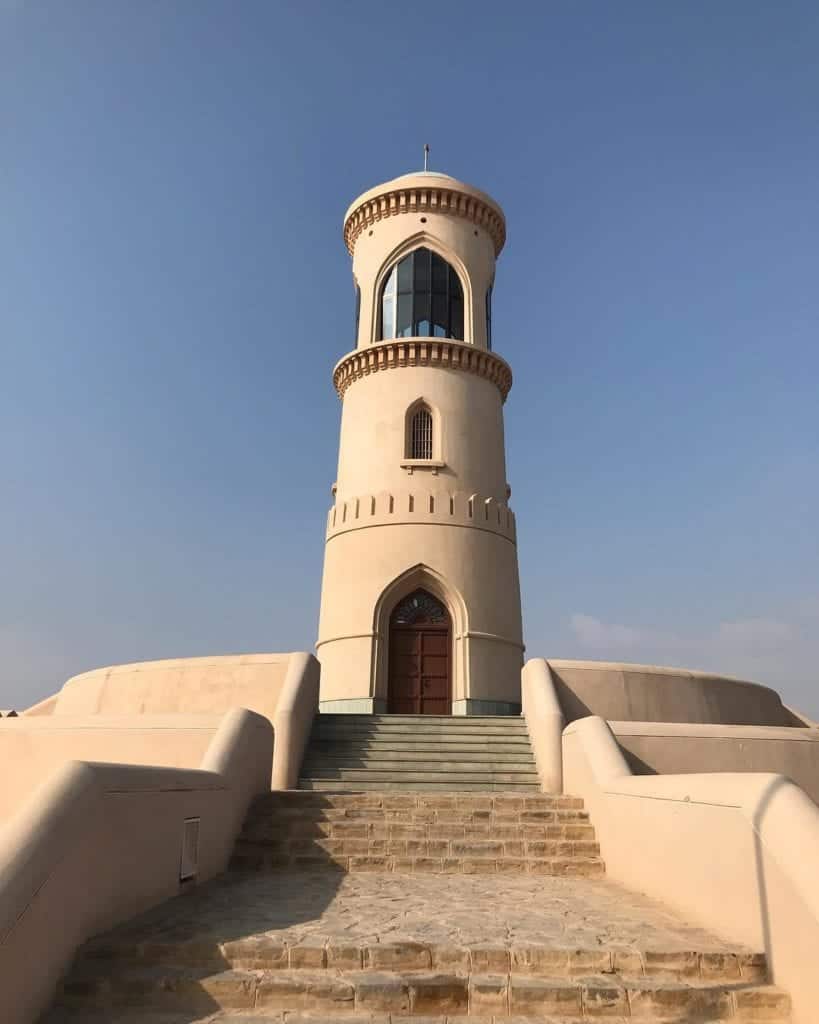 The tranquil seaside town of Sur makes a peaceful change of pace from your typical large city. This is a great spot for solo female travel in Oman.
Sur may not have any obvious tourist attractions. However, it was one of my favourite stops on my Oman itinerary.
This is a pleasant place to sip Omani tea by the seafront as you look across the ocean. Sur is also a great base for visiting the nearby Ras Al Jinz turtle reserve.
The fictional sailor Sinbad was rumored to be from Sur. You will see traditional wooden boats (dhows) being built as you walk along the corniche..

The drive from Muscat to Sur can be broken up by making stops along the way. Stop at the Bimmah Sinkhole, Wadi Shab, Wadi Bani Khalid, and Fins beach during your journey.
You can free camp anywhere in Oman. If you feel comfortable doing so, you may even want to camp at the beautiful Fins beach overnight before continuing on to Sur.
Misfat Al Abriyeen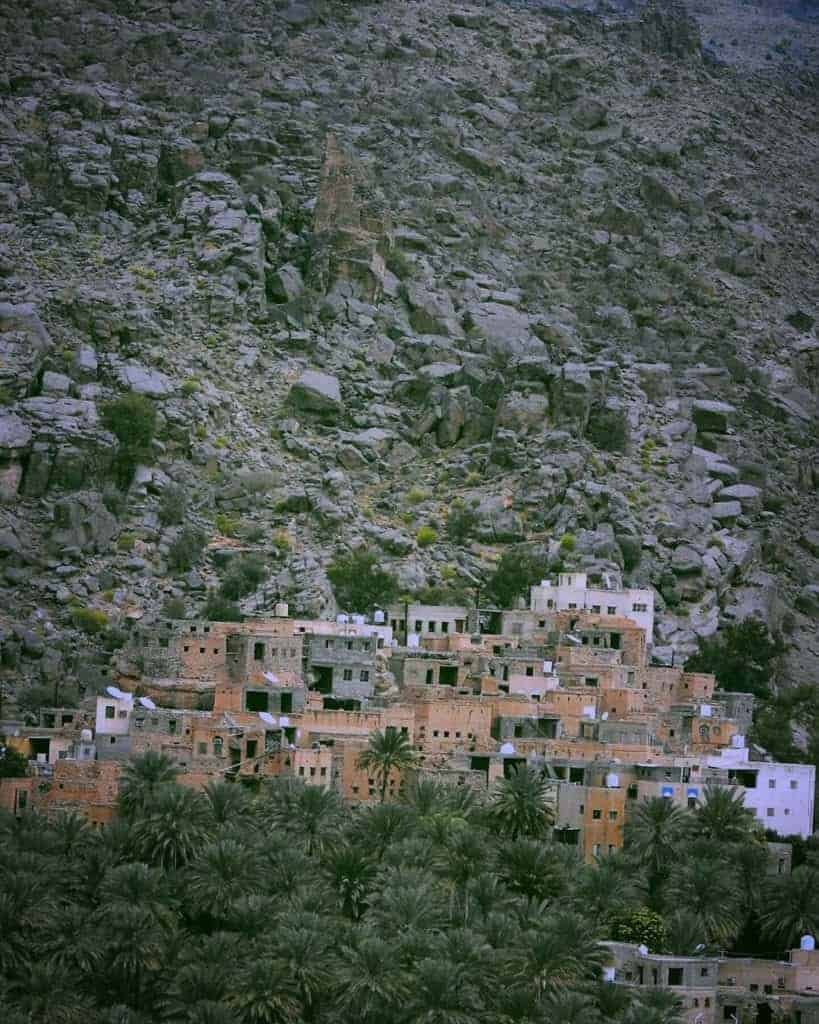 Misfat Al Abriyeen is a quaint farming village that can be reached within a few hours' of driving from Nizwa. Venturing here is like taking a journey back in time.
The locals of Misfat reside in ramshackle mud-brick houses that are perched precariously on craggy rocks. Most of the people here work on traditional farms growing pomegranates, papayas, bananas, dates, and other tropical fruits.
Misfat Al Abriyeen provides a glimpse into life in Oman before the oil money. Base yourself in Nizwa and take a drive out here during the day, or stay at one of the quaint, traditional guesthouses.
The Hajar Mountains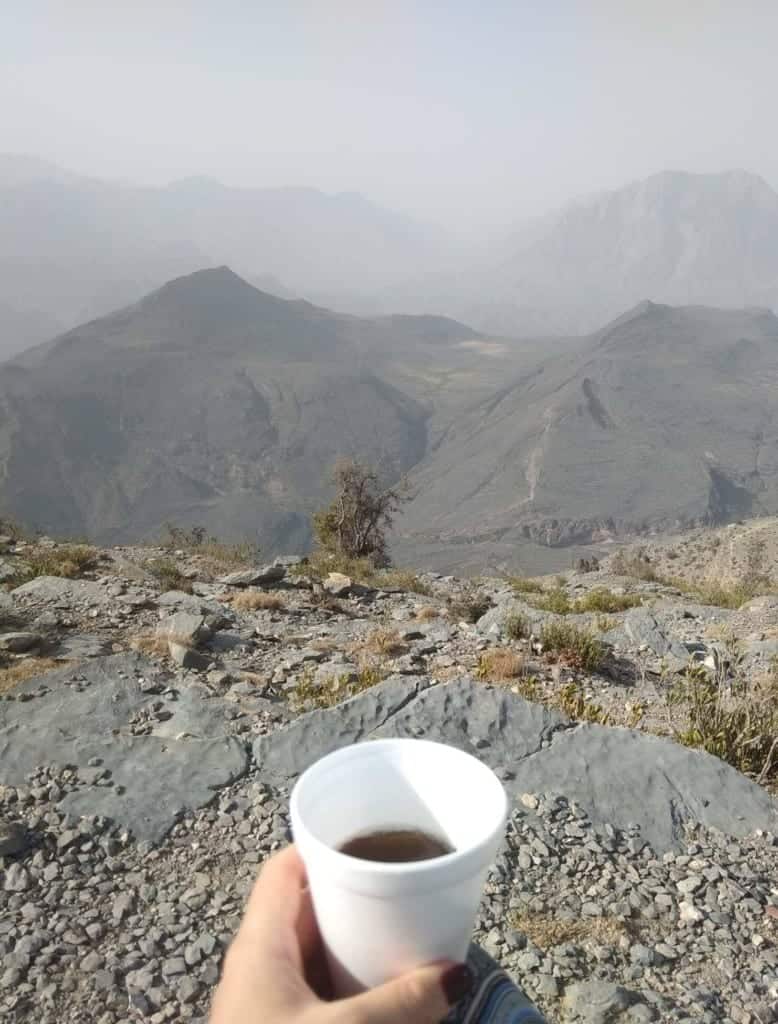 Arguably the best thing about travelling in Oman is nature. The tourism board established the tagline "beauty has an address" for Oman, and that is certainly fitting. Who knew that a tiny country in the Middle East was home to so many canyons, desert wadis, mountain trails, and beaches?
The Hajar mountains are a great place for camping and getting back to nature. The temperature is much cooler up here too.
One of the most notable spots within the Hajar range is Jebel Akhdar – the "Green Mountain". This may well be one of the most beautiful places I've ever seen.
You can free camp here if you are trying to do Oman on a budget. That might sound intimidating as a woman. However, the area is always busy with local families.
Travel Insurance for Oman
You should ensure that you purchase comprehensive travel insurance before embarking on solo female travel to Oman. This should be the case when you travel anywhere.
Try to purchase a travel insurance package that provides at least $1 million worth of medical coverage. If you have an accident in Oman, the local costs of treatment are extremely high. When you purchase an insurance package, you should also consider the fact that many providers DO NOT cover activities like hiking.
For that reason, I strongly recommend booking travel insurance with World Nomads as their cover is very comprehensive. Additional considerations such as theft/loss, repatriation, and accidental damage are covered in their policies.
Travelling Around Oman Alone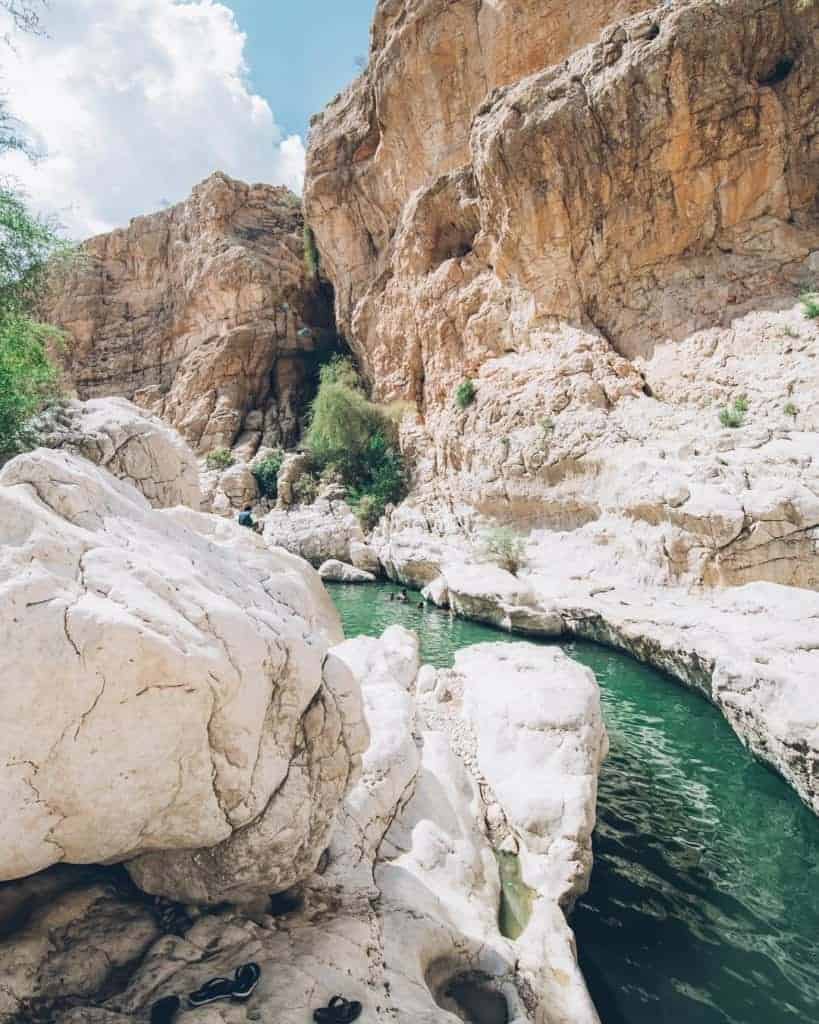 I'll be honest with you and say that when I first started planning my trip to Oman, I had no idea what to expect. I thought that independent travel in Oman was going to be much more difficult than it was. I thought that it would be "safer" to hire a guide to take me around.
Hiring Tour Guides in Oman
Private guides in Oman are not cheap due to the lack of demand and low tourism in the country. You can expect quotes of £100-£400 per day for a guide depending on the specific itinerary.
However, that being said, there are a number of excellent local companies that operate small group tours. They frequently run day trips around Muscat, Nizwa, and some of Oman's most famous natural attractions.
This can be a good introduction to the country if you are nervous about solo female travel in Oman. It enables you to meet fellow travellers and better still, you will have an Omani local on hand whom you can ask for their recommendations on the best things to do, places to eat, etc.
A handful of recommended Muscat tours are detailed below for your consideration. Tours may run more frequently during the peak travel season.
Muscat is Home to a Wonderful Couchsurfing Community
I decided to go with the "let's wait and see what happens when I get there" approach when I travelled solo to Oman. I was lucky in that I met locals both by chance and by Couchsurfing. These wonderful people took it upon themselves to show me around and make sure I had the best possible introduction to Oman.
I travelled in the off-season (July). At this time, there were virtually no other tourists crazy enough to travel to Oman and brave the 47-degree temperatures! If you travel in the peak season (October – March), you are more likely to meet fellow travellers.
Travelling Alone in Oman:
How to Dress in Oman
Oman is a conservative Muslim country. Consequently, modest dress is expected for both males and females. You should ensure that you dress accordingly and respect the local culture so as not to cause offense.
Dress Modestly and Respectfully
Omanis are incredibly kind people. However, if you are dressed like you're headed to the beach in Ibiza, you may be approached by local people and police and asked to change. This is much like in Dubai and the UAE.
It is not necessary for women to cover their hair or wear an abaya. Provided your legs and shoulders are covered and your clothes are not too tight then that is fine. I simply wore long floaty Aladdin-style trousers and a loose cotton shirt most of the time.
Muscat is home to a lot of expats. As such, you will often see westerners wearing more casual clothes here. This is also the case in the touristic sites such as Wadi Shab or the Bimmah Sinkhole.
However, it is advisable to always err on the side of modesty wherever you are in Oman. Not only is it more respectful, but you also don't want to dress in a way that draws more attention to yourself.
Attitudes to Women in Oman
In Omani culture, there is no such thing as dating/non-marital relationships. Sex outside of marriage is illegal. Most Omani women are married at the age of 22-23 and most men marry by the time they turn 25.
Most Omanis Have an Awareness of Other Cultures
As a single western traveller in her late twenties, I am a bit of an oddity when compared to Omani standards. You may assume that I attracted a lot of attention, looks, or inquiries as to the whereabouts of my non-existent husband but that wasn't the case in Oman at all.
I've travelled extensively around the Middle East. While I speak highly of places like Jordan and Egypt, people in those countries were simultaneously baffled by the fact that I wasn't married.
I found Omanis to be more understanding and educated about other cultures. Most of those that I encountered were very respectful and well-travelled. They never commented or pried into my personal life.
Ignore Advice to Wear a "Fake Wedding Ring" When You Travel
Some travel sources may suggest that women should wear a fake wedding ring when travelling alone in Oman or the wider Middle East. I don't think that is necessary here at all.
Encounters with Omani Men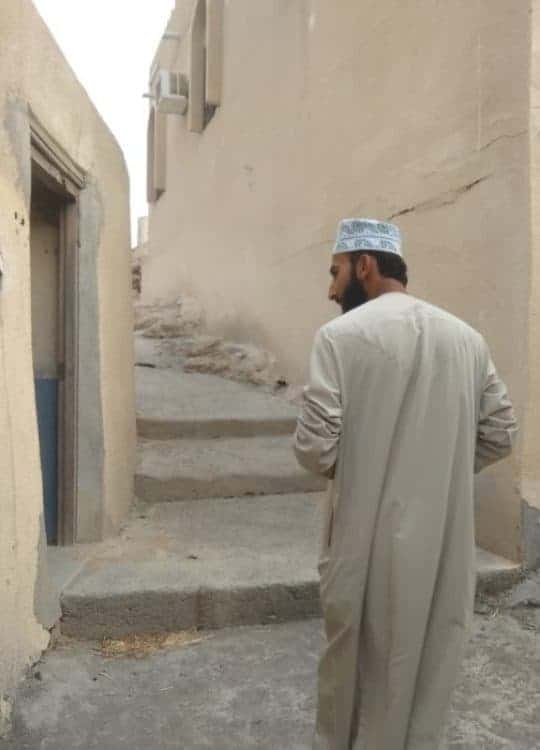 Oman has a very strict code for behavior and causing offense can land a person in jail. That may sound scary, however, it should be seen in a positive light, because respect towards others is so deeply ingrained within Omani culture.
I was never approached by men in Oman, flirted with, or approached in a fashion that made me feel uncomfortable (wholly different to my almost comical encounters with Turkish men!) I genuinely found the Omani men I encountered to be true gentlemen.
Solo Female Travel in Oman:
Gender Segregation in Oman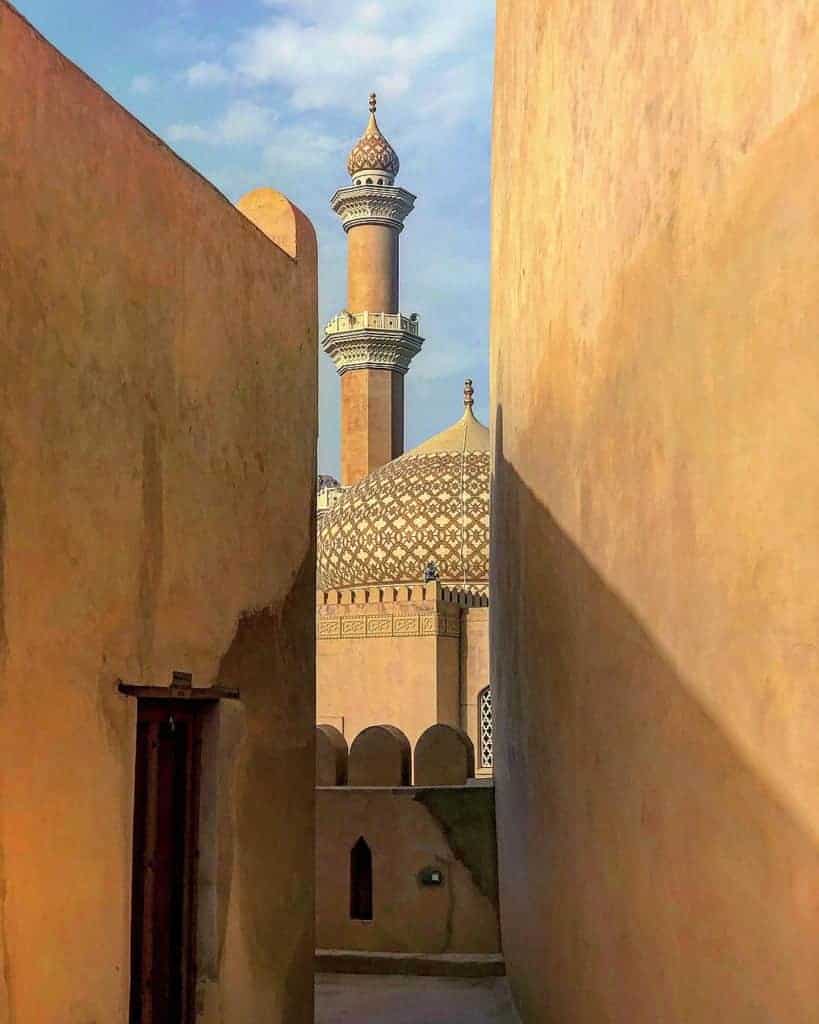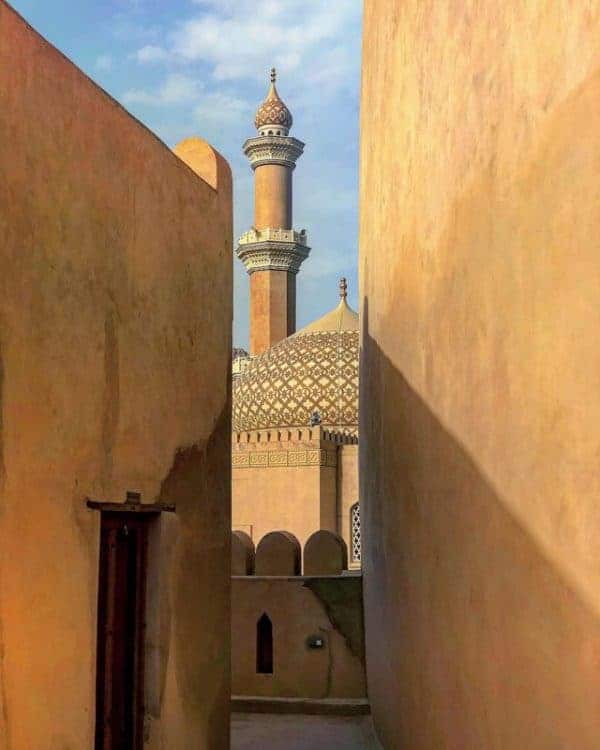 The people in Oman are not segregated by gender as they are in say, Saudi Arabia. However, gender segregation still exists here and there. As an example, sometimes women are seated in "women and family" sections in restaurants, and on public transport, women sit at the front.
I didn't find this unpleasant. In fact, I found it more respectful towards women.

What a welcome change it was to be sitting in a private booth at restaurants in Oman as compared to being gawped at by local males in a lot of other destinations. When I queued at transport hubs, airports, and border crossings, people often let me go first because I was a woman.
Solo Female Travel in Oman:
Encounters with Omani People
Omani people are without a shadow of a doubt among the friendliest I have met in the world. People in Oman were consistently going out of their way to be nice and welcoming to me with no expectation of anything in return.
A Friendly Cabbie in Muscat
As an example, when I first arrived in Muscat, it was around 3.30 am and I took a cab from the airport to my hotel in Mutrah. The cab driver was raving about Omani Karak tea and how I should try it before he abruptly did a U-turn and speeded off towards a tea room.
"Here we go again," I thought to myself expecting the taxi meter to be incredibly expensive, and for the tea room to be his friend's bazaar where I was expected to buy something. On the contrary, almost sensing my nervousness he promptly switched off the taximeter and bought me a cup of tea.
Omanis are Friendly and Welcoming!
In Muscat, Nizwa, and Sur, I met Omani locals via Couchsurfing who took great pleasure in showing me and other travellers around their country and sharing their food and culture. I am usually quite apprehensive about Couchsurfing and will only meet females.
However, in Oman, I met some really kind-hearted and hilarious Omani guys who were very respectful. They were one of the main reasons that my trip was a wonderful experience it was.
Final Thoughts on Solo Female Travel in Oman
I felt very safe during my time in Oman, even though I was often in off-the-beaten-track places and the only tourist around. As with anywhere though, you should always exert basic common sense when travelling alone. Be wary of over-friendly strangers and don't walk around alone when it starts to get dark.
In conclusion, though Oman does not necessarily seem like a suitable solo female travel destination, it is certainly a place for a rewarding independent travel experience.
If you have any questions about exploring Oman (as a woman or in general) then please do not hesitate to reach out to me via the contact form below. Safe travels! Melissa xo
---