Budget travel in Oman: an oxymoron? The Sultanate Kingdom of Oman in the Middle East is a beautiful destination that is best known for its warm hospitality, its centuries-old desert fortresses, and its breathtaking natural scenery, beaches, and wadis.
But unfortunately, it is also somewhat renowned for being quite an expensive place to travel to. But is Oman really as expensive as people assume? Is taking a trip here that doesn't break the bank possible?
The reality is, that it is entirely possible to see Oman on a modest budget or even an ultra-tight backpacker budget. Since Oman is a relatively untapped travel destination, the main reason that there was not an awful lot of information on budget travel here before, was purely because there was very little information about travelling to Oman online in the first place.
Most people that travelled to Oman were rich expats living and working in nearby Dubai. They would take trips across the border to Oman, stay in luxury hotels in Muscat, and since they were the main demographic that visited the country, the online advice reflected that.
But Oman is finally starting to emerge as a culturally rich travel destination. Travellers of all different backgrounds are starting to visit the country and as such, more tourism businesses to suit every budget are starting to emerge.
Oman is still new to tourism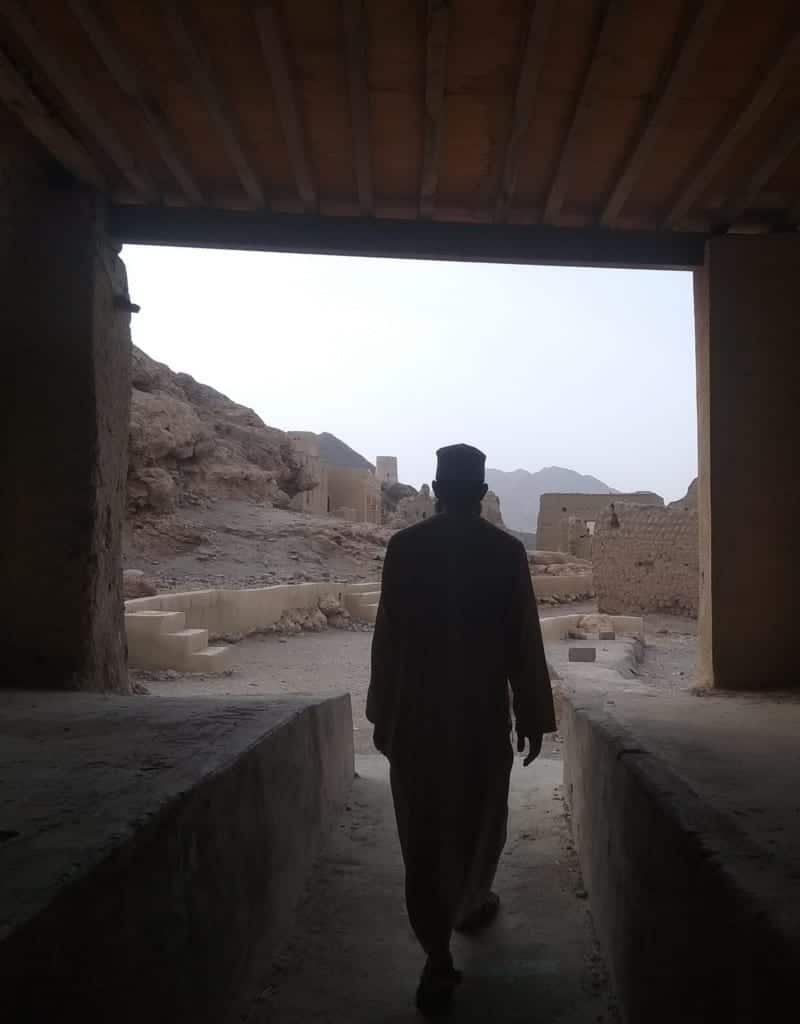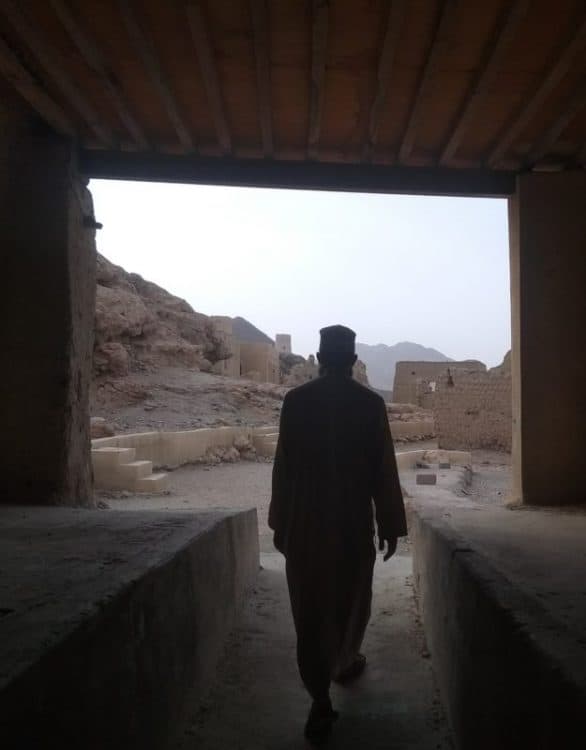 Oman is a land of stunning natural beauty. It is no coincidence that the tourism board chose the phrase "beauty has an address" as its tagline.
Oman's largest cities can seem relatively nondescript. However, the beauty of Oman lies off the beaten path.
One of the key things to remember when looking at visiting Oman on a budget is that Oman is still relatively new to tourism. As such, the country's tourism infrastructure isn't well set up yet.
For instance, there are no rail lines in Oman, and there are an extremely limited amount of intercity buses. Finding scheduling information on the buses that do run is sometimes tricky.
It is mostly migrant workers that take buses in Oman, and public transport is not marketed to tourists, nor is the information translated into various languages and shared in an easy-to-use manner online. Since there is not an abundance of people that come to Oman and hope to go on tours of markets and fortresses like in other countries, there are very few group tours and excursions.
The demand simply isn't there yet, so most Oman tour guides offer only private services. This obviously works out a lot more expensive than doing a small group tour that is only $20 per head.
As people start to discover Oman, this will likely change in the future.
Tips for visiting Oman on a budget
With a few mindful decisions, you can easily visit Oman on a budget that doesn't make your eyes water more than chopping an onion. A handful of money-saving tips are provided below.
A lot of these are also good practices to follow wherever in the world you choose to travel.
Consider travelling out of season
The peak season for travelling to Oman is between the months of October and April. This is mostly because the temperature here can be incredibly hot during the summer months, so it is better to travel in autumn, winter, or spring if you can.
Whatever time of year you choose to travel, you are not going to be met with an abundance of crowds and tourists. Oman is not an ultra-common travel destination.
However, prices will be higher during the peak season, as is usually the case in every country. If you are willing to travel in the shoulder season, you can save as much as 50-60% on your accommodation, flights, and car rentals.
If you travel in May and early June, it is still not too hot, provided you try and do most of your daytime exploration before midday. In July and August, temperatures can reach as high as 45°C/113°F during the day, although this is the cheapest time to travel.
Search for low-cost flights
With a few simple tricks, you can potentially save a lot of money on your flights to Oman. Use a flight comparison website such as Skyscanner to search for flights in the first instance.
Flight prices can vary significantly from one day to another so it pays to be slightly flexible with your travel dates. For instance, flying on a Monday might be 25% less than flying during the weekend.
The search tool on Skyscanner enables you to search for flights across an entire month. A number of low-cost carriers offer frequent routes to Muscat.
Economy Middle Eastern airlines Pegasus and Salaam air boast direct flights from a number of major cities across Europe. It is completely possible to get a return flight ticket to Oman from within Europe for around £200 – £250 if you shop around.
Enjoy hiking and free activities in Oman
Although some Omani attractions and fortresses can have steep entrance fees, a lot of them are free to enter. Better still, there is an abundance of things that you can do in Oman that come with zero cost.
Spend your days exploring towns and villages like Misfat Al Abriyeen, Fanja, and Al Hamra on foot. There are also more than 20 stunning designated hiking trails in Oman which are completely free and are a highlight of any visit here.
Consider trekking in the foothills of the Hajar Mountains, attempting the Jabal Shams summit trek, or walking through the Musandam Mountains. Most days, your expenses in Oman only need to be food and accommodation. (And your rental car if you choose to rent one).
Be aware of the entrance fees to historical sites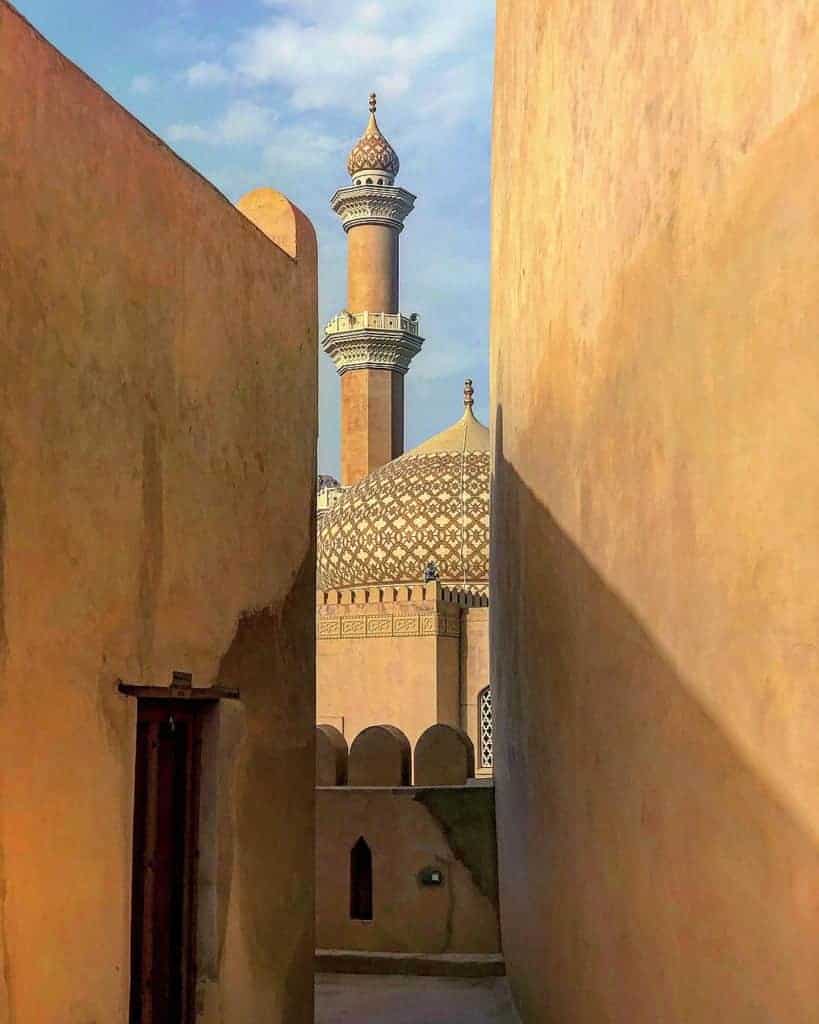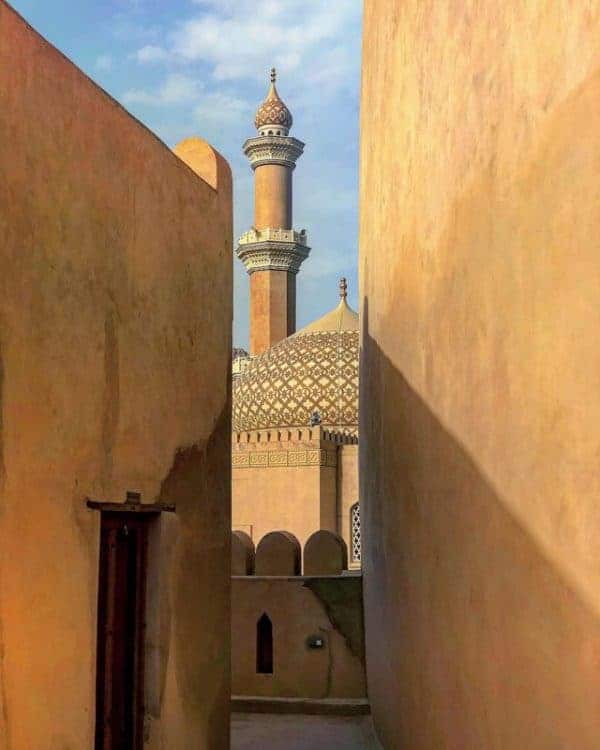 The only major attraction that you have to pay to enter in Oman is the Nizwa fort. This is abnormally expensive at 5 OMR (£10) entrance.
However, the fortress – with its boobie traps and panoramas over the city, is well worth your time. It would be a shame to travel all the way to Nizwa and not visit the fortress.
Just make a mental note of this admission cost when planning your budget, and know that you will not have to pay steep entry fees everywhere you go.
Understand Omani currency conversions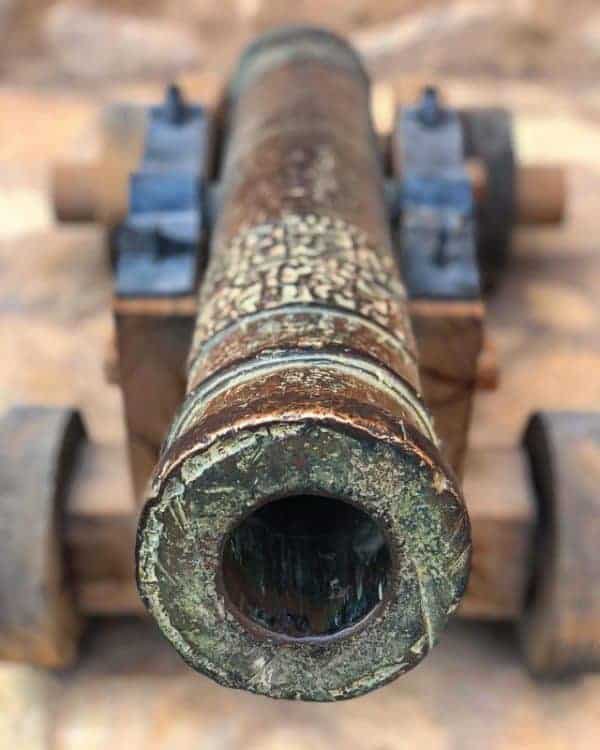 Omani Rial is the legal tender in Oman and the local currency is very strong. The rial, like all global currencies, sees many fluctuations throughout the course of a year.
You can use currency exchange websites like xe to check the specific up-to-date exchange information. In January 2023, Oman was ranked as having the third-highest currency in the world.
Kuwaiti dinars came in first, with an exchange rate of approximately $3.27 for 1KWD against the dollar. 1KWD equals $3.27 USD.
The Bahrain Dinar came in second. Its exchange rate sits at $2.65 USD for 1BHD. Omani rial comes in third.
1 Omani riel is $2.60USD as of January 2023. The fact that Oman has such a high-rated currency is one reason that budget travel in Oman is often seen as a challenge.
The important thing is to remember what the currency conversion is and make a note of how much you are spending during your trip. Things may be more expensive than you realise.
Exchanging and withdrawing money
It is a good idea to buy a small amount of Omani Rial before your trip. That way, you don't have to hurry around looking for an ATM when you land in Muscat.
Generally, though, you will get a much better rate on your currency exchange if you decide to withdraw rial at an ATM in Oman, rather than at an exchange kiosk. If you decide to buy rial before your trip, shop around as rates can vary a lot from one exchange to another, including at banks.
Make sure that you choose an exchange with 0% commission. If you need to visit a currency exchange in Oman, you should avoid exchange offices at airports, hotels, and close to major tourist attractions as they generally offer terrible rates.
Withdrawing local currency from an ATM in Oman on arrival is always preferable. When you input your card and choose the withdrawal amount, you will be asked whether you want the ATM to charge you in your own currency or the local currency.
Always decline the machine's conversion. This is not competitive and can result in you losing more money.
Do keep in mind that outside of Muscat, Nizwa, Sur, Salalah, and other major towns and cities, ATMs are fewer.
Use a borderless bank account
In smaller businesses in Oman, particularly in rural areas, you may find that people prefer to do transactions in cash. However, most major debit and credit cards are widely accepted in Oman.
Virtually every business has a POS device. It is a good idea to open up a borderless bank account prior to your trip to reduce withdrawal and foreign transaction fees.
Charges on foreign purchases of $2 here and $3 there can quickly mount up. If you are in the UK or elsewhere in Europe, you may be eligible to open a borderless bank account with Revolut, or Wise.
If you are in the US, you can open a borderless bank account with Charles Schwab.
Travel independently rather than on a tour
Some Travel Bloggers may tell you that you are better off paying for a place on a group tour in order to experience Oman. Remember that those Travel Bloggers likely had their trip sponsored by said tour companies.
Exploring the country independently is the far cheaper option. If you are anxious about organising an Oman itinerary yourself, you should feel assured of the fact that Oman is very safe. Statistics show that it is one of the safest countries in the world.
If you are travelling solo, you will easily be able to meet Omani locals or fellow travellers once you arrive. You can do so through platforms like Couchsurfing or local Facebook travel groups.
Do day tours for hard-to-reach destinations
Private day tours in Oman can cost anywhere between £150 and £400 depending on the specific agenda. Of course, if you did this every single day, it would soon add up and make your trip very expensive.
However, as a one-off, a day tour to visit a place that is tricky to get to independently, or to an area where you would learn a lot from having a knowledgeable local by your side can be a wonderful experience. Places like Wadi Bani Khalid, Wahiba Sands, and Bimmah Sinkhole can be hard to get to alone if you don't have a car.
It is better to treat yourself, pay for a day tour, and have that experience than miss out. After all, it's not every day that you get to go to Oman.
Suggested Oman Day Tours
A handful of reputable Oman day tours are detailed below. Many of these start from just $30 per person and are a good option if you want to explore Oman on a budget but with the aid of a local.
Use Couchsurfing to meet locals and other travellers
Couchsurfing is a platform that connects travellers with locals all around the world. Its principal purpose is for the people involved to enjoy a sort of cultural exchange.
You can find free accommodation through the app. (The idea is that you stay on the couch or in the spare room of a likeminded stranger's house)
It may come as a surprise to hear that Oman has a very active Couchsurfing community, particularly in Muscat and Nizwa. The people involved meet regularly to go for hikes or brunch.
If you don't want to use the platform for finding accommodation, you can use it to find and host social events (for free) or to meet other travellers. If you want to do a private tour somewhere, or you want to rent a car but you are concerned about gas prices, you can meet like-minded people to share the trip and the cost with you.
Do note that you are more likely to find other travellers on the app between October and April (the peak travel season), rather than during the super hot summer months.
Rent a saloon car rather than a large SUV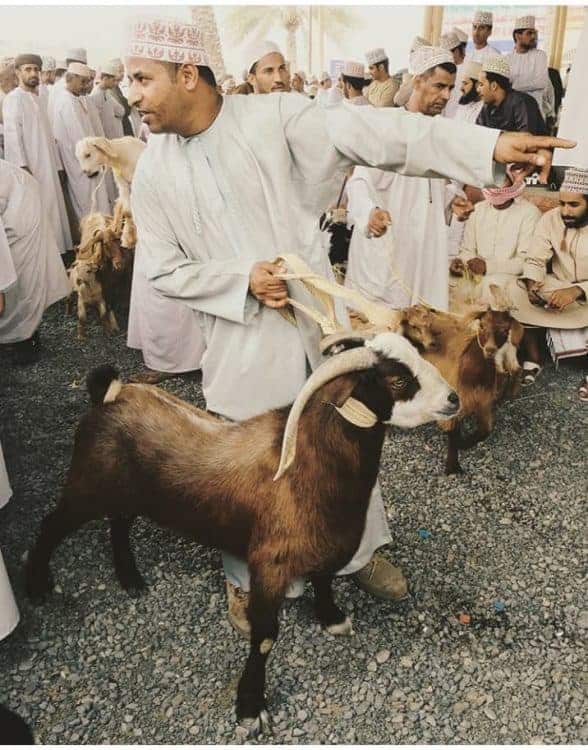 The best way to get around Oman independently is to rent a car. This rings true for travel within Muscat and Oman's other large cities, as well as inter-city travel.
Public transportation around Muscat runs infrequently and does not cover all parts of the city. Though links between cities are beginning to be developed, they run only between large cities and do not have services to tourist sites or towns.
The price of renting a car in Oman can vary significantly depending on the specific option you choose. You may choose to rent a 4×4 or a regular saloon car.
Many tour and car rental companies in Oman insist that you must have a 4×4 to navigate Omani roads since the country's landscape consists largely of deserts and dirt roads. It all depends on you and your itinerary.
To get to some of the sites like Jebel Akbar and Jebel Shams, it is imperative that you have a 4×4 since dirt tracks make the route inaccessible for regular vehicles. There are even policemen that operate in these regions that will stop anyone trying to access the sites without a 4×4.
But for the most part, a saloon car is fine for getting around Oman. There are only one or two places that are tricky to reach without a 4×4.
If you visit them, you can either hitchhike, take a cab or walk the rest of the way when the road ends.
Be aware of additional fees for car rentals
It is important to note that you will be allocated a certain number of miles to use when renting a car in Oman. If you exceed this allowance, supplemental fees quickly accumulate.
Always check the fine print and review a number of Omani rental companies before making a decision.
Gas prices are low in Oman
One major benefit of driving in Oman is that gas prices here are very cheap. You can purchase a liter of gas for around 0.25 OMR.
That converts to around 60 cents! Being close to the source in an Arabian oil country certainly has its perks!
Hiring a private driver is convenient but costly
Perhaps you can't drive, or you feel uncomfortable at the prospect of driving around in the desert and that's completely fine and understandable. Upon arrival in Muscat, you will be faced with plenty of options for hiring a driver.
Again, shop around as quotes can vary significantly. As with anything in the Middle East, it's okay to haggle on this. It is expected that you would not take the first price quoted.
You can expect to pay anywhere between £150 – £200 per day to hire a private driver in Oman. That is not cheap.
However, if there is a group of you, or you are able to recruit fellow travellers to pitch in and share the cost then it isn't bad. Particularly when you consider that you will get to see something that you really want to see that is otherwise inaccessible.
Take buses between major cities
If you plan only to visit cities in Oman, then you are covered by public transport. Buses run (infrequently) between Muscat and Nizwa as well as Sur and Salalah. Tickets are cheap, and the buses are airconditioned and modern.
Domestic flights in Oman are cheap
Domestic flights from Muscat and Salalah are low-cost when purchased in advance. It is not uncommon o find a return ticket for less than £60.
It is easy to eat out on a budget in Oman
Eating in Oman is relatively inexpensive. The majority of restaurants and cafes are owned and operated by migrant workers – predominantly from the Indian subcontinent or neighbouring Yemen.
You can find sandwiches and small snacks for just a couple of dollars. Delicious Indian curries or simple Arabic dishes (like the national Omani lamb "shuwa") will never set you back more than 5 or 6 dollars.
It's quite difficult to find authentic Omani food since Omanis do not work in the services industry. You can order the national dishes at local restaurants of course.
But since the dishes are prepared by foreign residents, your Omani friends will tell you that there is a slight difference in taste to what they eat at home.
There are a handful of Omani-run restaurants in Muscat and Nizwa. Be prepared to pay upwards of £20 per person for the experience of dining here.
Muttrah is a very touristic area and restaurants here should be avoided unless absolutely necessary. You can wind up paying £10 for simple shawarma.
Always haggle in marketplaces
Shopping and browsing the labyrinth-like passageways of Oman's souks and marketplaces means only one thing: haggling. The first price that you are quoted in Oman is always inflated so never accept it straight up.
As a general rule of thumb when travelling in the Middle East, try to push for 30% of what the vendor is requesting. Then, you will meet somewhere in the middle.
Consider taking an Omani friend with you that will know the going rates and help you.
For souvenirs, spices, fabrics, and other interesting Arabian goods, venture into the souks. Avoid the Muttrah souk as it is expensive and aimed at tourists. Nizwa souk is a good place since it is actually frequented by locals.
Look for homestays or Airbnbs to cut accommodation costs
Accommodation in Oman was previously restricted to luxury hotels and resorts. Fortunately, the country is expanding its accommodation options to welcome the more budget-conscious traveller.
Today, Oman accommodation options also include homestays and Airbnb. You can also couchsurf to eliminate all accommodation costs – just make sure that you check your host's references beforehand.
The costs of renting apartments and rooms in Oman may still be a little more than in other countries. However, they are not sell-your-kidney-in-a-black-market-to-fund-your-trip expensive.
You can find rooms on Airbnb in Muscat and Salalah from as little as £15, and apartments from £30. Nizwa is a little more expensive.
There are very few hotels and apartments for less than £100 a night here, even during the low season. However, if you are open to renting a room from an Omani local, you can expect to do so for between £20-£40.
There are no hostels in Oman at present. However, this is set to change in the future as tourism in the region grows.
Use hotel booking sites that offer loyalty discounts
There are a few tricks that you can use to get your accommodation as cheap as possible when planning your budget travel in Oman. Some ideas are detailed below. These techniques can be implemented wherever in the world you travel.
Use a hotel booking site with loyalty discounts like Booking or Agoda


Book your hotel on the day of travel when properties slash their prices


Travel in the shoulder or off-season


Stay a little out of town (if you have a car)

Free camp in Oman
One great thing to know if you are trying to explore Oman on a budget is that free camping is possible anywhere. If you have a tent and a sleeping bag, you are free to set up camp wherever you like and sleep beneath the stars.
Exploring Oman is all about immersing yourself in nature and there are few better ways to do this than by camping. There are a number of stores in Muscat that enable you to rent equipment if you do not have your own.
Fins beach, Jebel Akhdar, Sharafat al Alamayn, and the Wahiba Sands are among the best places to camp in Oman. Free camping in a country that you are travelling to for the first time may sound daunting.
Even solo travellers can feel comfortable camping here. You will often see Omani families and couples out camping for the weekend as you make your way around the country.
FAQs about visiting Oman on a budget
Do you still have any burning questions or concerns about visiting Oman on a budget? Hopefully, you will find the answers you are looking for below!
How much money should I take to Oman?
Realistically, you are looking at a budget of around $100 a day in Oman. This covers your hotel/accommodation costs, food bills, and some public transport/attraction admission costs.
Of course, if you opt to stay in more luxurious hotels, you can expect to pay more. Meanwhile, if you are very careful with how much you spend – opt to stay in spare rooms via Airbnb, eat at budget places and prepare a lot of your own meals, you may be able to cut your expenses down to $70 a day.
Still, it is always better to accommodate for a little extra. That way you are prepared if something costs more than you thought, or extra expenses come up during your trip.
How much does a meal cost in Oman?
You can get a meal in Oman for just 2 OMR ($5) at a cheap restaurant. In a mid range place place, you should expect to pay around 5-6 OMR for three courses per person (circa $15-$16)
Is Oman affordable?
Oman can be affordable, provided that you make mindful travel decisions. Opt to travel out of season, stay in budget hotels or Airbnbs and focus your itinerary on doing free activities.
How much is a bottle of water in Oman?
It is around 0.22 OMR for a 1.5 liter bottle of water in Oman. That equates to around 60 dollar cents.
Do you need cash in Oman?
It is always good to carry a small amount of cash with you wherever you travel. Try and keep a minimum of $50-$100 cash on you when travelling in Oman, ideally in smaller denominations.
That way, if you happen to be somewhere that doesn't accept cards, or your card isn't functioning for whatever reason, you won't be scrambling around looking for an ATM.
Final Thoughts on Visiting Oman on a Budget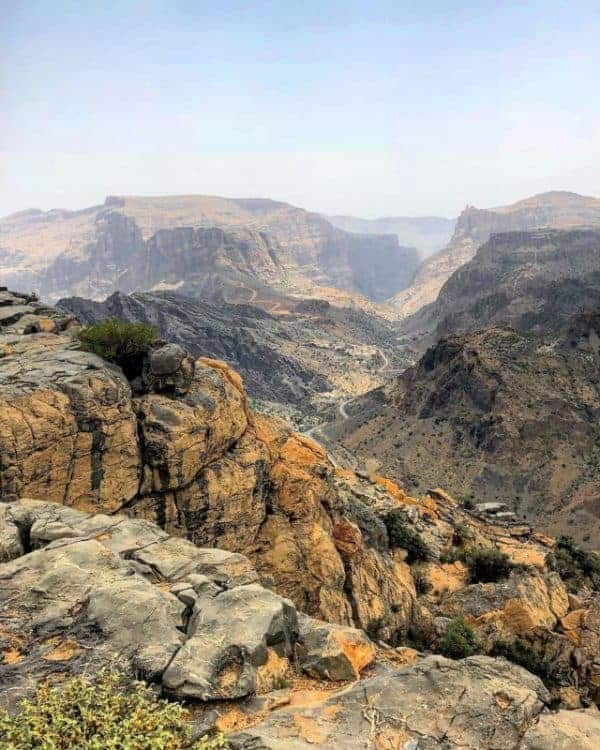 Have any questions or queries about travelling Oman on a budget? Let me know in the comments below!
I travelled solo through Oman in 2018 and it was one of my best travel experiences to date. I am more than happy to assist you if you have any concerns about planning your own trip.
---