The Nizwa Friday Market (also known as the "Nizwa goat market") is a worthwhile thing to see if you find yourself in the northern Oman city of Nizwa. It provides a wonderful glimpse into local traditions and culture. While the market is not a tourist attraction by any means, it can be a highlight of any Oman itinerary.
The Nizwa Goat Market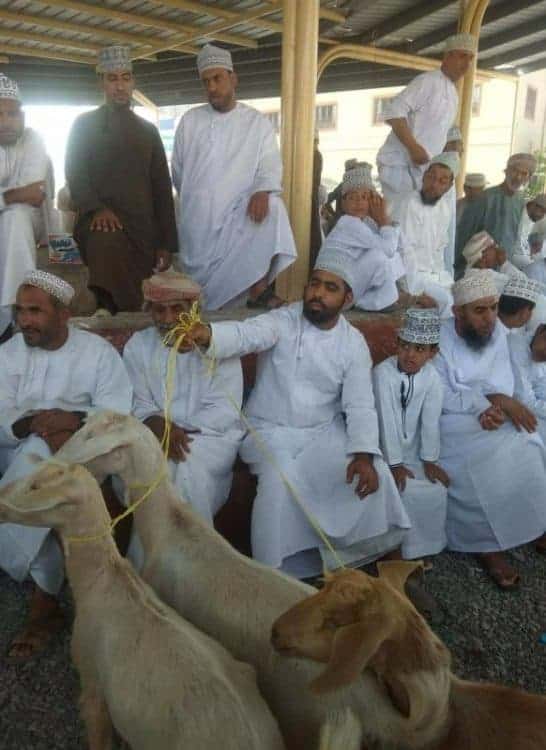 The Nizwa goat market has been a local tradition for several centuries. Farmers from all over the Ad Dakhiliyah region of Oman travel far and wide to auction off their animals and to sell the results of their latest harvest.
The main attraction of the market is the cows, goats, and sheep that are displayed and then auctioned off. However, you will also find many other stalls here selling everything from fruits and vegetables to small domestic pets.
The Nizwa goat market is perhaps the most well-known market of its kind in Oman and it is not uncommon to see tourists in attendance. However, it is far from being the only such market.
You will find traditional livestock markets like this are still hosted all over the country. In some more rural areas, even camels are sold. (They are often used as a transport method to carry heavy goods, but they are also eaten for their meat here).
Nizwa, home to just 72,000 people, is usually quite a sleepy settlement. But you will notice a buzz in the atmosphere as the weekend creeps closer and the Nizwa Friday market approaches.
In the days leading up to the market, you will note that the parking lot in the town's commercial center is jam-packed full of trucks filled with livestock, and boxes upon boxes of fresh produce. Passing by here as you make your way to the Nizwa fort and other local attractions is interesting in itself.
Attending the Nizwa Friday Market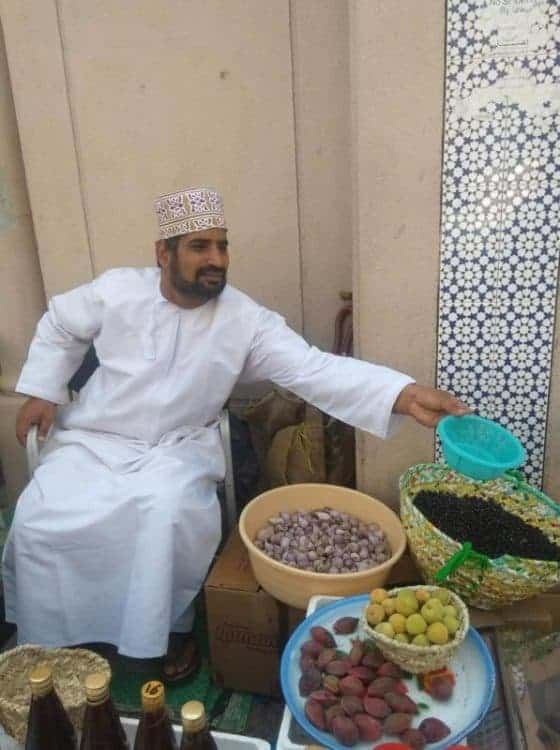 The Nizwa Goat market starts very early on a Friday morning. By 6 am, things are already in full swing – crowds have already gathered and the livestock auctions are beginning.
You will find that, due to the intense desert heat, most Omanis run all of their errands and go shopping in the very early hours of the morning. Afternoons are for siestas and hiding inside air-conditioned buildings and then the city streets come alive again at night.

So, if you were wondering why the market takes place so early, you have your answer as to why. During the day, temperatures soar as high as 45 degrees Celsius and the conditions are simply too hot for both the animals and the attendees.
What happens at the Nizwa goat market?
As the market begins, locals gather around a small, sanded area that is something of an amphitheater but for livestock. You could perhaps best describe the event as a sort of animal catwalk!
Farmers led their animals around by rope in a circle. Interested parties such as restaurateurs and breeders wave them over to express their interest and start to enquire about the animal.
They will then ask questions to help them determine the health and quality of the animal. For instance, they will pry their mouths open to check their teeth, they will ask questions about the animals' diets, etc.
Haggling is customary in Oman and this is something that you will see happen at the livestock market. The vendor will quote a price, the interested buyer will make a lower offer, and they will go back and forth until the two parties find a middle ground price that they both agree on.
For Omanis, these markets are as much of an opportunity to catch up with friends as they are a chance to buy new livestock. You will notice that many attendees have no intention of buying anything but seize the opportunity to share a pot of Karak tea with their friends from out of town.
Cow Gate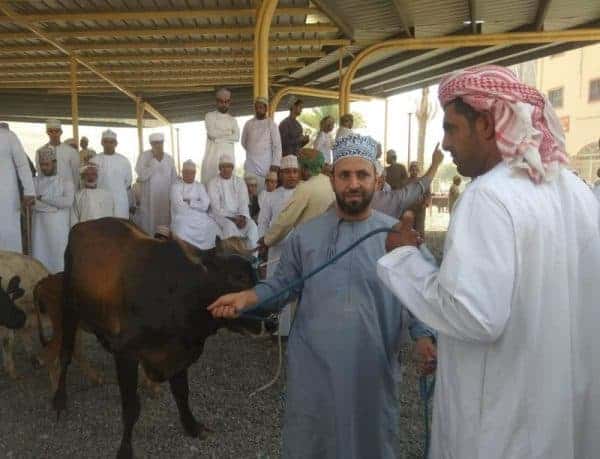 All animal auctions here are pretty interesting, but things get pretty chaotic when the cow and bull auctions roll around. The farmers try to lead their cows around the podium area in the same orderly manner as the goats and sheep but the cows often have other ideas in mind.
Some of them tried to mount their cow crushes for a bit of lovin'. Bulls have tried to run at the audience.
Chaos. Strangely, no one seems phased by the raucous bulls. This is just a typical weekly sight at the Nizwa goat market!
My Omani friend told me that once or twice, cows have made a bid for freedom and tried to run off through the souk. Apparently, the farmers have had to jump onto the cows to stop them a number of times. That must be quite a sight to see!
Browsing the Nizwa Souk
As the last rambunctious cow was sold on to its new owner, and they smiled at each other like the Buyer wasn't going to cook him for dinner, the crowds gradually disperse. Once you have watched the animal auctions, you can dedicate another hour or two to exploring the rest of the market.
Nizwa souk is in operation every day of the week. It opens from 5 am until 1 pm, and then again from 4 pm until 10 pm.
However, additional stalls are set up for the Nizwa friday market. If you are going to be in the area for a few days, it makes sense to wait until Friday to visit the souk so that you can see it at its most lively.
Street vendors in the Middle East often have a reputation for being pushy but that is simply not the case in Oman. You will not be hassled or pestered to buy anything and you will find that plenty of vendors simply welcome the opportunity to chat with tourists.
Stalls to look out for at the Nizwa Goat Market
Many vendors will offer you free cups of Omani Karak tea or snacks to try. Head to the date market, where you can sample and purchase a vast array of candied and seasoned dates.
These are delicious to try even if you are not someone that usually loves dates. They are flavoured with all manner of syrups and spices and make great souvenirs or gifts for loved ones at home. From there, continue onwards to the fruit and vegetable markets.
One section of the souk is dedicated to selling small animals for pets such as birds and cats. You will find a lot of older children and teenagers manning these stalls.
Omanis will tell you that the logic behind this is to get younger generations into the business mindset from the offset. The indoor section of the souk sells all manner of weird and wonderful items from meats to household ornaments.
One passageway was dedicated to selling guns and ammunition. Shooting is a much loved hobby among guys in Oman, and carrying a big gun is something of a status symbol.
Useful Things to Note

about the Market

A few useful pointers that you should keep in mind when attending the Nizwa goat market are detailed below for your consideration. It may also be worth noting that if you are vegan, vegetarian, or easily shocked by spectacles involving animals, this market may not be you.

The animals are generally handed respectfully but ultimately, they are still being sold for farming and meat purposes. Remember that this is a part of Omani culture. Try to remain open-minded and respectful.

You will often find one or two tourists watching the market and Omanis are used to seeing people come to see the show. If you want to take photos, do be respectful. Do not take photos of individual people without first asking for their permission.
Arrive at the market early. The "goat market" section is situated just behind the indoor souk. The event starts around 6 am and finishes by 8.




It is free to watch the animal auctions and explore the market



Nizwa souk is open daily. If your visit to Nizwa doesn't coincide with the Nizwa friday market, don't worry. You can still visit the various other stalls on the other days of the week. It is only the livestock market that runs on Fridays only.
Final Thoughts
Have any questions about the Nizwa friday market or Oman travel in general? This is a far more authentic market than those geared to tourists that you may see in Muscat and Muttrah during your time in Muscat.
---