In the heart of the Middle East there is a special place where an adventure always awaits. A place where locals lead traditional lifestyles, where scenic coastlines and paradisiacal desert oases make for wonderful walks among nature and where the rugged Hajar mountains and the abandoned villages among them call out to the intrepid adventurer. That place is Oman and this Oman itinerary will help you to discover its treasures.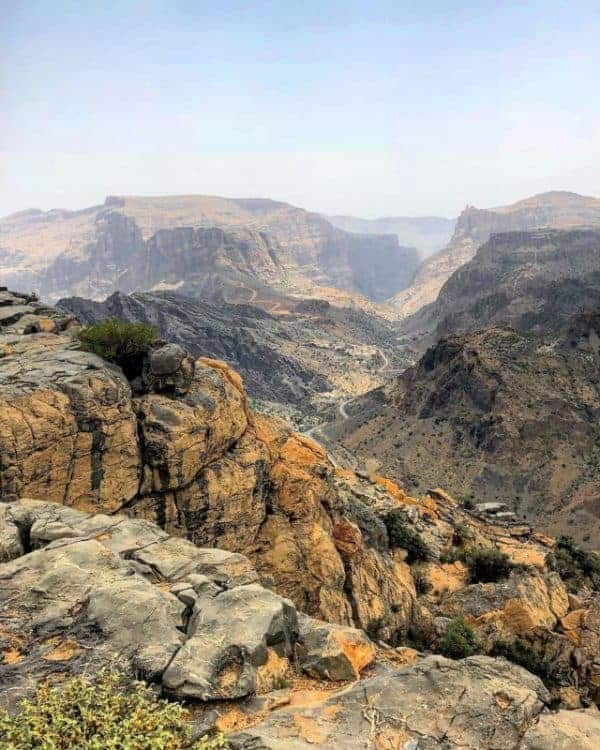 Where is Oman?
Situated right in the centre of the Middle East, Oman borders with Saudi Arabia, Yemen and the United Arab Emirates. Oman's location may have you drawing up some conclusions about what the situation in the country is like, however Oman could not be more different to the typical Middle East stereotype – neither grandiose and extravagant, nor war-torn and falling, Oman is quite unlike anywhere else in the world.
Ruled by Sultan Qaboos bin Said al Said since 1970, Oman is one of only two countries in the world that are still ruled by Sultans. Forget anything that you have been told about the Middle East being predominantly desert. Oman, encapsulated by the clear, cerulean waters of the Persian gulf, and miles of unblemished coastlines is one of the most beautiful countries in the world.
Safety in Oman
I realise that there is a certain stigma attached to the Middle East that makes even the most experienced travellers apprehensive about visiting the region. It is prudent to remember that the Middle East is a vast region with a diverse array of cultures within it. No two Middle Eastern countries are the same, just like no two European countries.
Solo Travel in Oman
I have travelled the Middle East extensively as a solo female and the majority of my recent adventures have taken place in Islamic countries. With that said, Oman was my first time visiting a highly conservative Muslim country and prior to my trip, I did not know what to expect. Now though, I can genuinely say that after travelling to over 40 countries, I felt safer in Oman than I have in the majority of places. In fact, I would even put it on an equal level to Japan for solo travel friendliness.
Crime and General Safety
Crimes in Oman like petty theft and violence are very, very uncommon and violent crimes like murder or rape are exceptionally rare. I travelled through the country completely alone and often had to depend on the assistance of male strangers while I was in off the beaten path places. I never once feared for my safety.
I met a lot of Omanis through Couchsurfing, and often I noticed that they just got out of their cars and left their keys and personal belongings inside while they wandered off which should speak volumes about the safety of travelling in Oman. With all things considered, Oman is a very safe country, but as with travelling anywhere else in the world, exert basic common sense and do not go wandering around alone after dark.
Terrorism
There is no terrorism in Oman. I know that the mention of the Middle East is almost synonymous with terrorism so let me just repeat that one more time: There is no terrorism in Oman. None. Nada. Period. Oman is an ethnically diverse and multicultural country with a longstanding history of tolerance of other religions and cultures.
There is not a single documented case of an Omani joining ISIS, nor a single case of an Omani being radicalised and going to join the terrorist efforts in Syria and Iraq. This article provides an interesting insight into the lack of radicalism in Oman and should reassure you about your adventures.
When to Travel to Oman
October to April
Arguably the best time to visit Oman is during the Autumn and Winter months due to the milder temperatures during this season. This is Oman's peak tourist season so try to book accommodation in advance and be advised that the prices will be at their highest during this time. That said, Oman is still a relatively undiscovered travel destination (for now) and the country sees far less tourists than other parts of the globe.
May to September
It is typically recommended to avoid travelling to the majority of Oman during the Summer months as the temperatures are scorching hot (often reaching as high as 50 degrees celsius). I travelled to Oman in July, much to the horror of the locals who would frequently stop me in the streets and ask if I was crazy (ha!).
The plus side was having touristic sites virtually all to myself, and lower prices at the hotels. If you hope to visit the southern city of Salalah, this is the best time to visit. Unlike the rest of Oman, Salalah has a tropical climate and its annual monsoon transforms the region into a lush rainforest paradise.
Getting an Omani Visa
Until recently, it was possible to obtain an Omani visa on arrival, however the introduction of the Omani e-visa  has made it a prerequisite to apply for a visa before landing for most nationalities. Fortunately, this change in process has made the visa cheaper for those travelling to Oman for a shorter period.
You can opt for either a 10-day Omani visa at 5 OMR ($10) or a month-long Omani visa for 50 OMR ($100). The process for getting a visa is relatively straightforward. Officially it can take up to 3 days to receive your Omani visa confirmation, however I received mine a matter of hours after applying.
Travel Insurance for Oman
You should ensure that you have comprehensive travel insurance coverage before travelling to Oman. The cost of medical treatment in Oman is much higher than in the western world – even when compared to the USA. If you get yourself into an accident, do not have insurance, and cannot cover your medical bills, you will be prohibited from leaving Oman until you have settled the bill and you could even be jailed.
Notes About This Oman Itinerary
This Oman itinerary is concentrated around the eastern part of the country using the capital of Muscat as a base point. It enables you to see a blend of the country's highlights (Arabian cities, beautiful Omani nature and historical sites) with relatively short distances between each point so that you don't have to endure hours and hours in the car.
This Oman itinerary is the route that I followed during my solo trip through Oman. I did this Oman tour independently without booking a tour or a guide in order to keep my costs as low as possible. I would recommend that you do the same.
Independent Travel in Oman
Oman is relatively new to international tourism and as such, the Oman tourism infrastructure isn't very established yet. There is no public transport that runs to the notable places of interest and hiring guides can be expensive. Hiring a car is pretty much the only option for independent travel in Oman so if you cannot drive or do not feel comfortable doing so it could hinder you. However, if you arrive with an open mind, you can easily meet other travellers and locals to help you get around or to share your trip with.
Organised tours are expensive. Yes, they organise everything on your behalf, but they are definitely slapping a hefty price tag on doing so. Some Travel Bloggers may advise you to take a tour but bear in mind that those Travel Bloggers are likely sponsored by that tour company in question.
Driving in Oman is easy and pleasant. The majority of the roads are paved and in very good condition. As you may expect from Oman being an oil country, petrol is very cheap here – to the tune of just 40p/$0.60 per litre!
Getting from Muscat International Airport to Muscat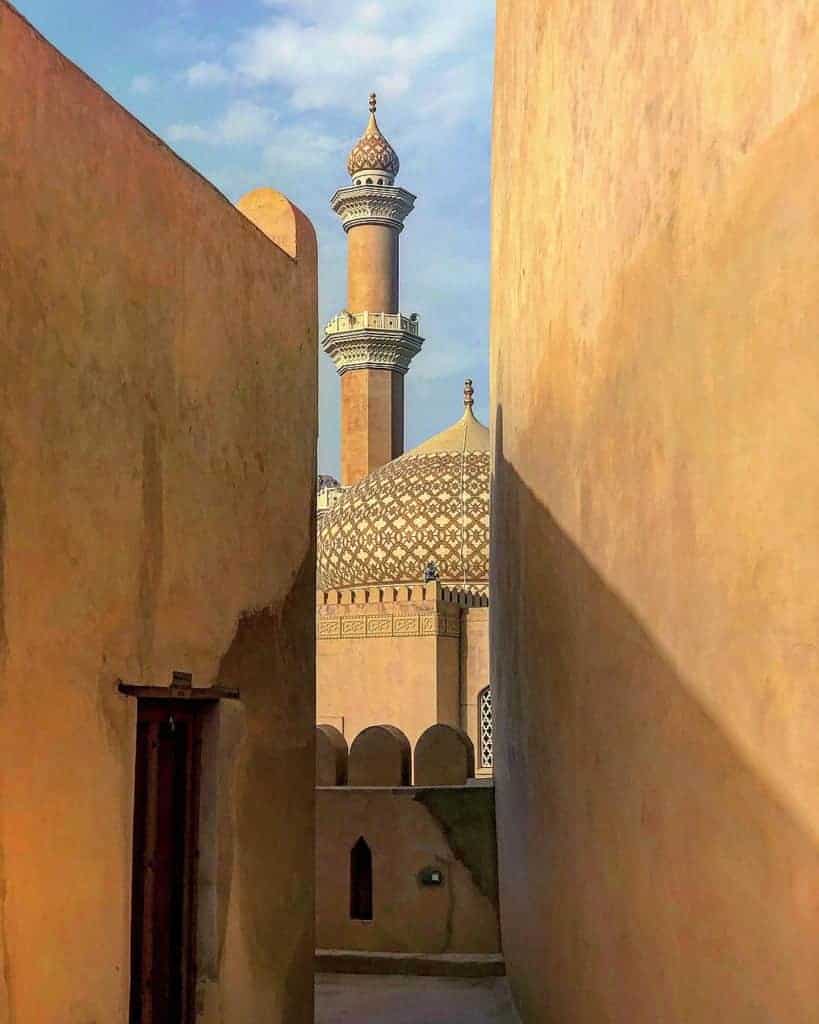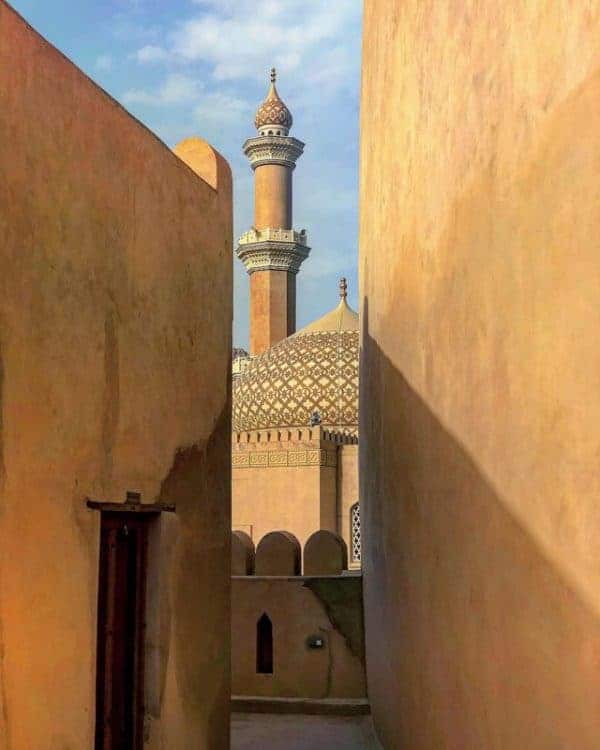 After touching down at Muscat International Airport, grab a cab and head to your hotel. The blue and white airport cabs are expensive but ultimately, they are the best way to get into the city. The cabs run on a meter and from my experience, Omani cab drivers are straight and will not try to trick you.  Alternatively, you can board the mwasalat bus to the central station in Ruwi and change buses from there.
7 Day Oman Itinerary
Oman is a beautiful country and you could easily dedicate a lot longer to exploring its mystical desertscapes. That said, not everyone has the time and financial freedom to spend an extended period travelling in Oman and for that reason this 7-day Oman itinerary is the perfect introduction to the unique culture of the Sultanate nation.
Oman Itinerary Day One: Muscat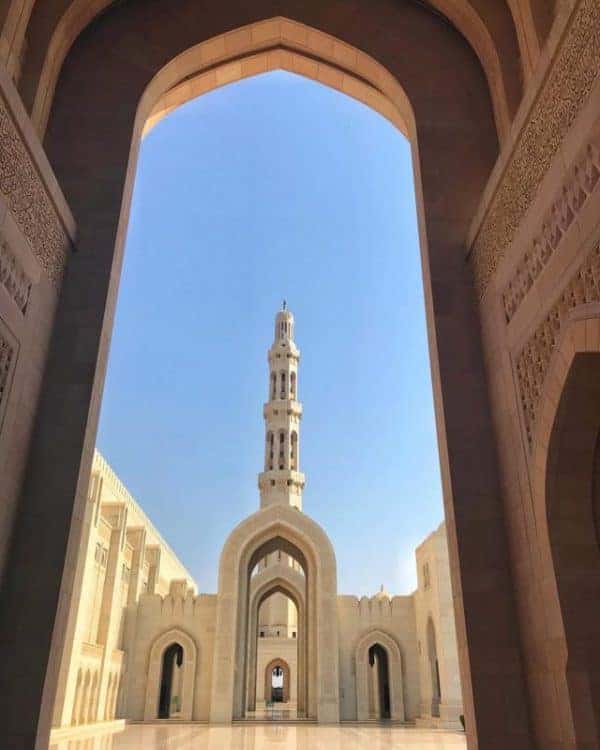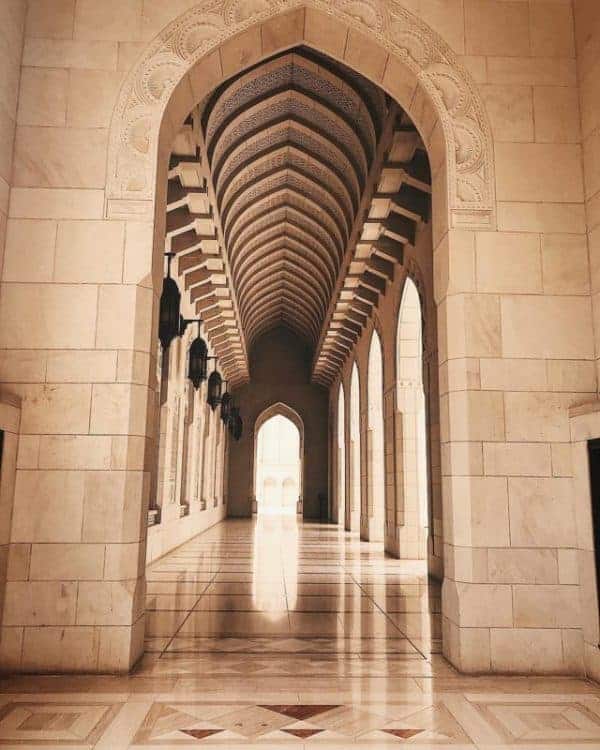 Spend your first day in Oman visiting the city's cultural highlights – starting first at the awe-inspiring Grand Sultan Qaboos mosque and heading on to historic Muttrah and a peaceful walk along the waterfront of the Corniche. I have already written a separate, detailed itinerary for visiting Muscat.
Oman Itinerary Day Two: Wider Muscat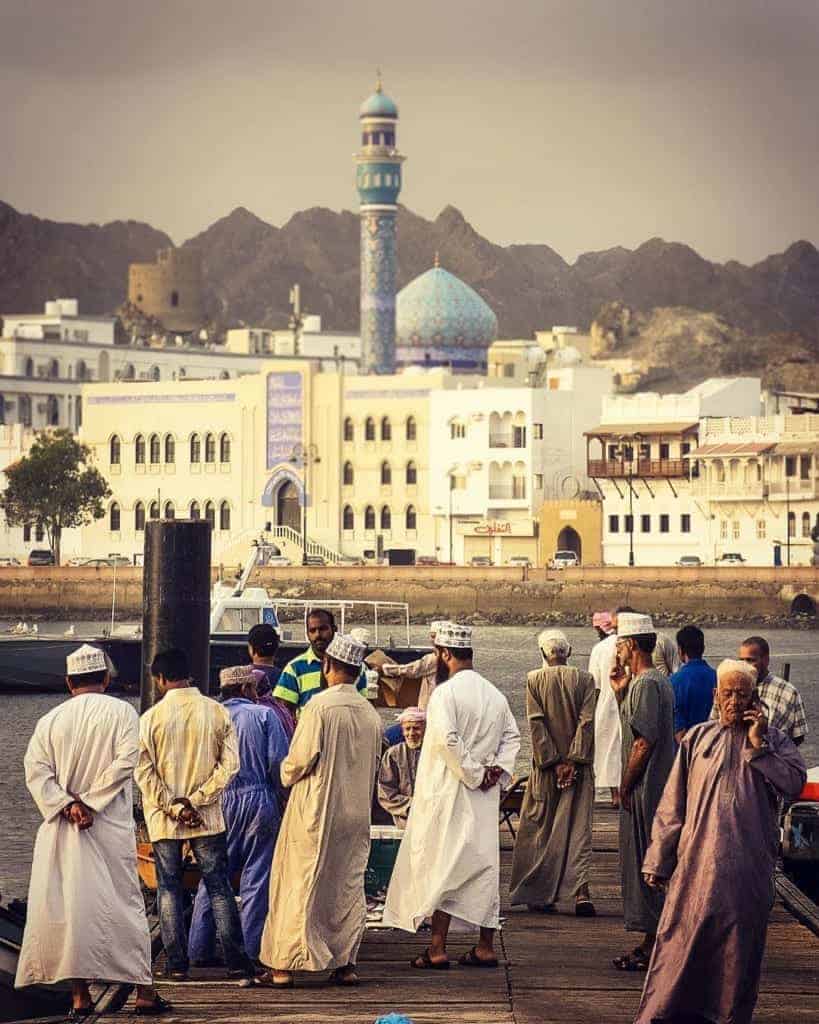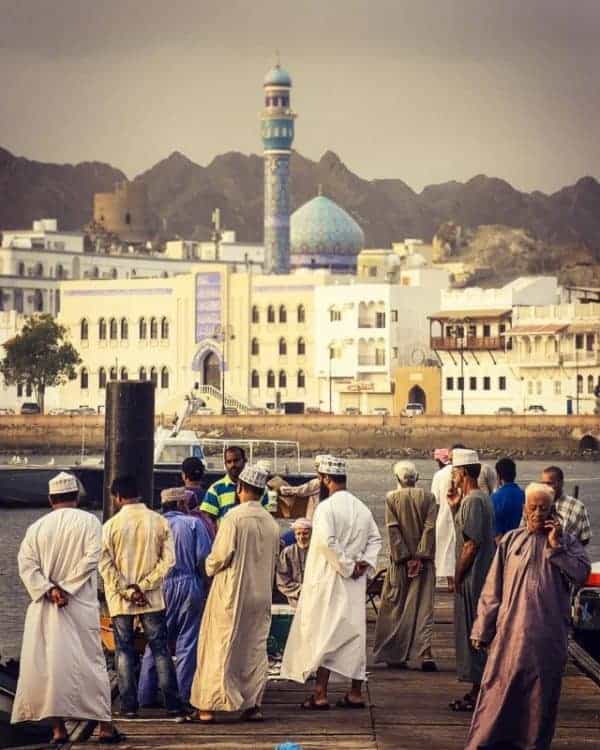 Day two of your Oman itinerary will be spent exploring the abandoned towns and settlements that surround Muscat.
Oman used to be quite a poor country up until a few decades ago. The people lived in mud houses in the middle of the mountains but later abandoned them in favour of moving to Muscat for work. Now, when you're travelling around Oman there are dozens of abandoned villages scattered all over the place. Sometimes when you're driving along from afar you can't really tell if somewhere is going to be a be a ghost town or it's going to be populated. Spooky, huh?
Explore the Ruins of Fanja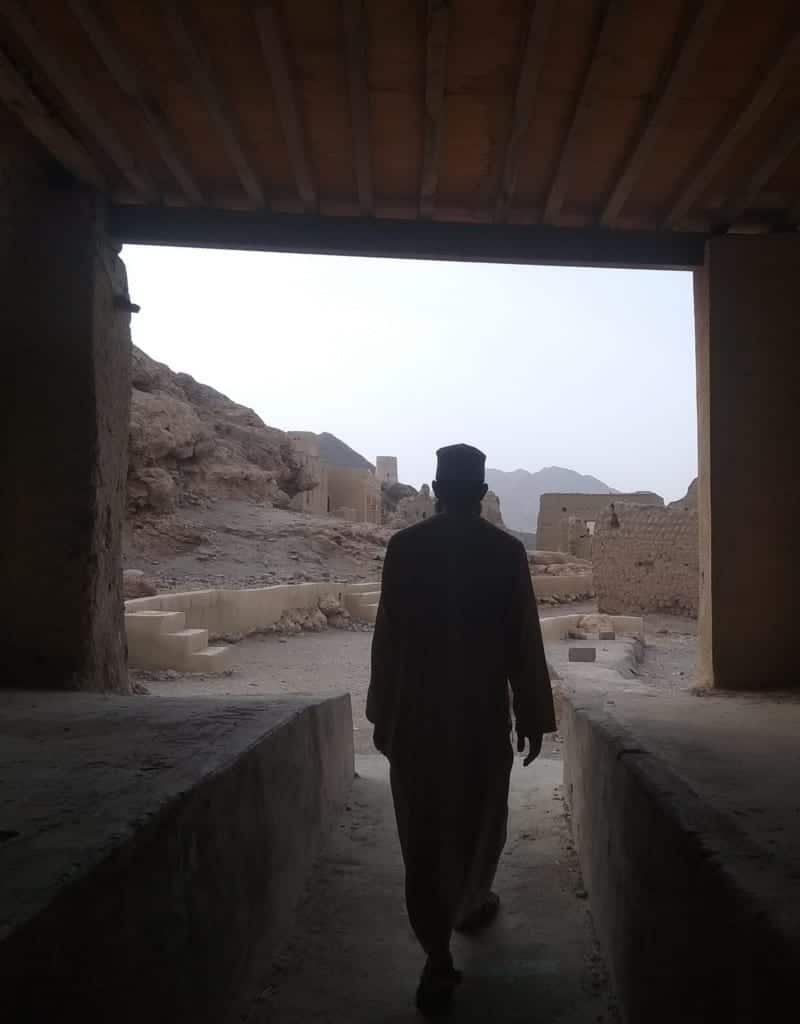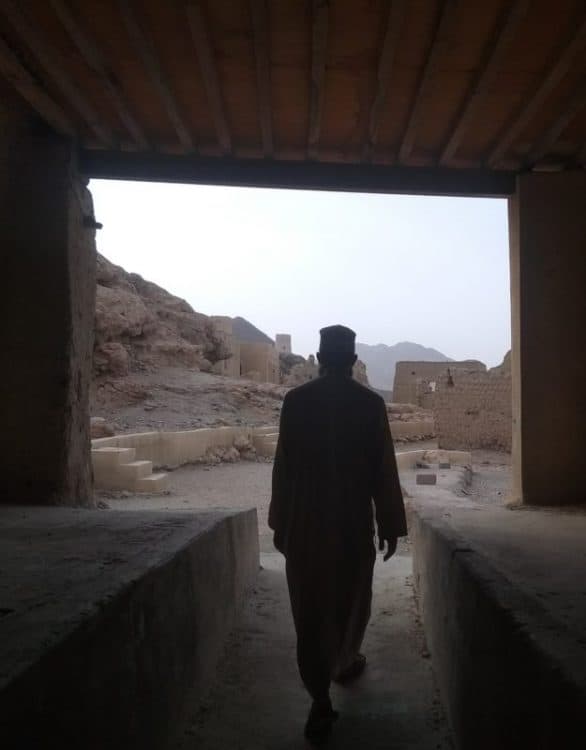 The village of Fanja lays abandoned in a state of ruin in the mountains 25km from Muscat, Oman. With its ancient fortresses and cannons still scattered around protecting the region, it is quite an eerie place to explore. Some old people still live in the collapsing houses, too stubborn to move. During Eid celebrations, Omanis come here to shoot guns into the air and fire the rusting cannons. As a traveller you will have difficulty finding this place unless you can speak Arabic or befriend locals since it does not exist on maps and lies at the end of an unmarked desert road.
From Muscat, you can follow the signs to Fanja. A short distance from the ruins, the "new" town of Fanja has been built and hosts an interesting local produce and handicrafts market several days a week.  If you struggle locating the path to the ruined town, a friendly local will no doubt be happy to assist you.
Explore the Villages of Ibra and Al Minzifa
From Fanja, drive on to the villages of Ibra and Al Minzifa and wander through traditional souks, date plantations and ruins. Ibra and Al Minzifa are situated at the gateway to the Sharqiya region of Oman and were once some of the most luxurious and aristocratic parts of the country during the period that Oman ruled over Zanzibar and traders would send their money back home to invest into luxury properties. The beautiful watchtowers that used to protect the villages during the colonial period still stand guard here and are a wonderful sight to behold.
Swim in the Pools of Wadi Bani Khalid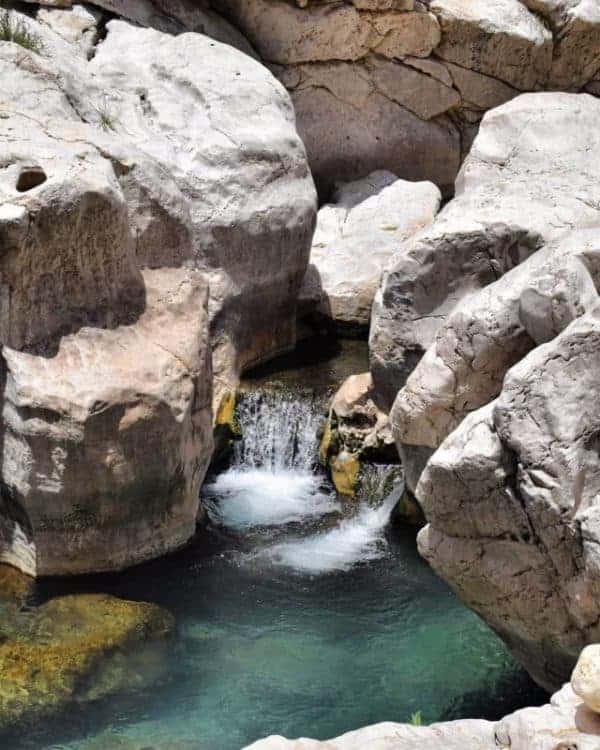 In Arabic, a "wadi" is a desert oasis – a space of translucent waters and lush greenery in the middle of an otherwise unwelcoming arid desert. Wadi Bani Khalid, with its palm tree lined pools and intricate eroded rock formations is a perfect spot for a late afternoon swim and a picnic. If you want to experience the Omani desert, from here you can travel onwards to Wahiba Sands.  Alternatively, consider camping close to Wadi Bani Khalid, or head back to Muscat for the evening.
Oman Itinerary Day Three:
The Omani Great Outdoors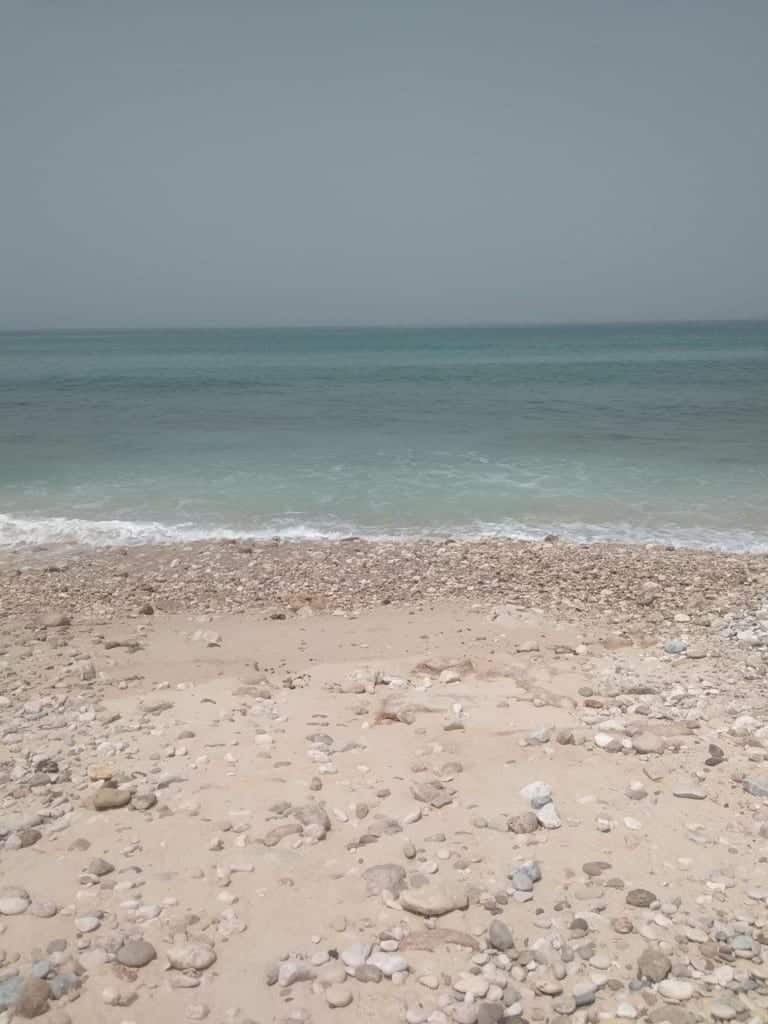 The towns and cities of Oman provide an interesting insight into Omani culture and heritage, but the beauty of Oman is to be found in the nature and the great outdoors. One of the best things about travelling in Oman is that the majority of these places are free to enter, and also that you can "free camp" pretty much anywhere you please. If you rent your own car and pack some camping equipment, you can completely alleviate your accommodation costs if travelling Oman on a budget.
Make a Scenic Pit Stop at Fins Beach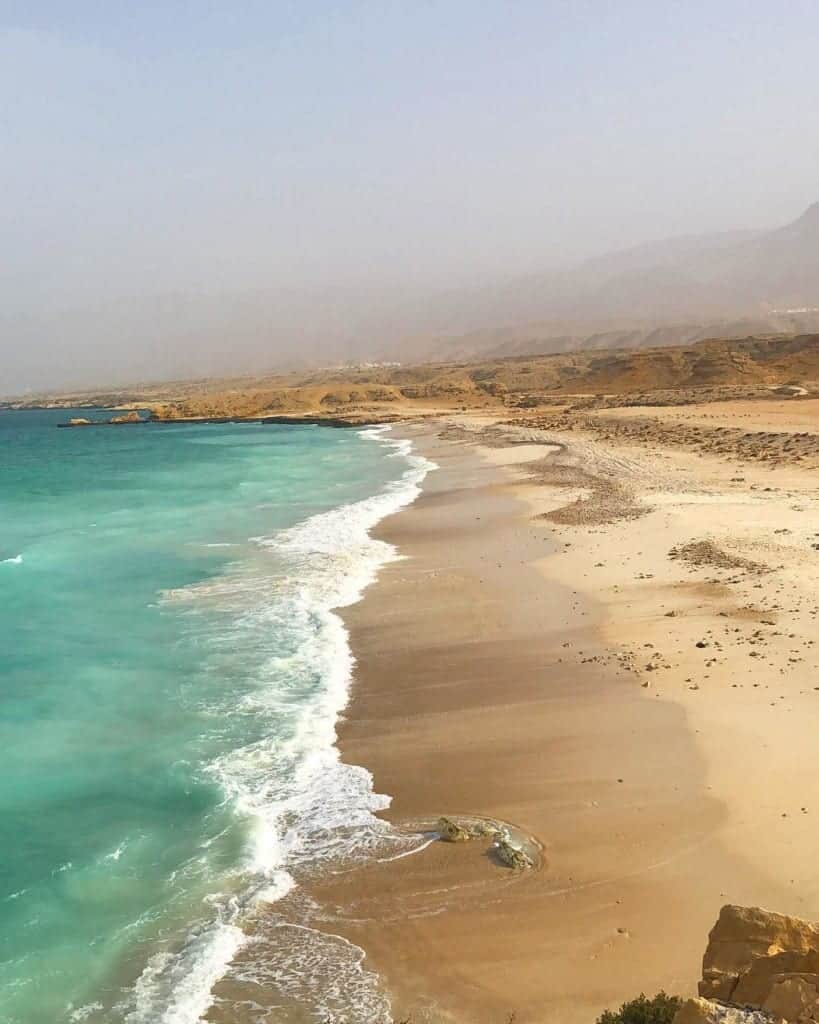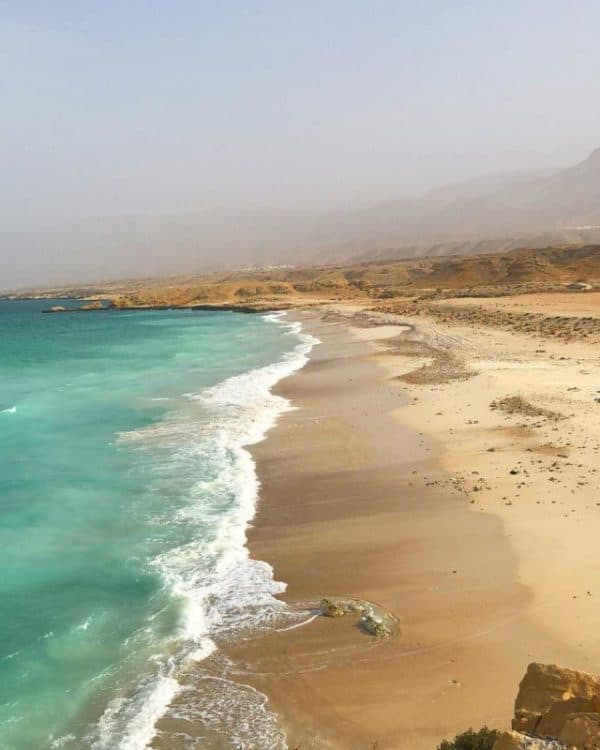 Today's journey consists of a lot of driving, but frequent scenic stops en-route break up the journey. Approximately one hour from Muscat, Fins Beach is the personification of unspoiled paradise. On the way here, you will pass by many small villages and settlements. Pack some Yemeni black tea, and some sandwiches and enjoy a late morning picnic at Fins as the waves crash against the shore.
Plunge into the Bimmah Sinkhole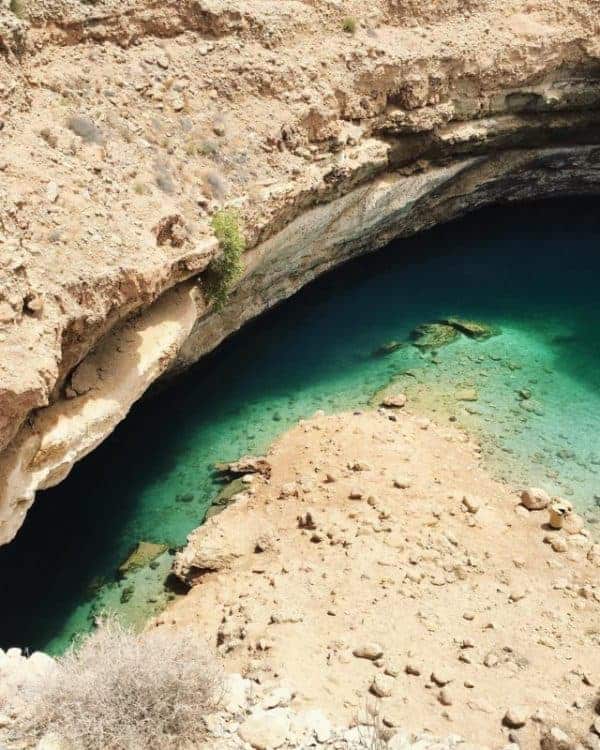 A somewhat unsuspecting site from the outside, Bimmah sinkhole is a UNESCO listed wonder of nature. It exists in the form of a turquoise and light blue body of water surrounded by craggy rock and has been awarded the title of being the world's most beautiful sinkhole (who on earth is responsible for comparing international sinkhole beauty?)
Geologists claim that the sinkhole was formed as a result of erosion, but a more poetic local legend has it that the sinkhole was created when a star fell from the sky – hence its name in Arabic of "Hawaiyat Nam" meaning "falling star".
Beneath the surface of the water exists an intricate network of caves that lead all the way out to the sea. It's possible to dive from the rocks into the sinkhole but be cautious as the water in the centre is 20 metres deep.
Tread Along the Pools at Wadi Shab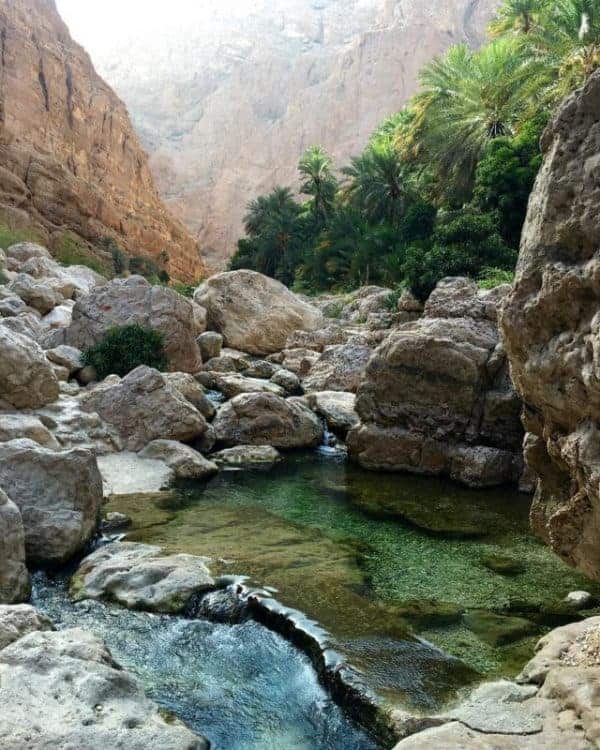 From Bimmah Sinkhole, it is just a short 20-minute drive to Wadi Shab where you can spend the rest of the afternoon. Wadi Shab is comprised of numerous pools of water, natural waterfalls and pleasant hiking trails that lead you along rocky cliff faces.
It is possible to camp at Wadi Shab so if you prefer, this is a pleasant place to watch the sunset. Alternatively, travel onwards to Sur.
Note: If travelling during the summer months, depart from Muscat early in the morning (maybe 7 or 8am) to miss the height of the sun's intensity. Some places detailed in this Oman itinerary become unbearable in the heat – particularly Wadi Shab and Bimmah Sinkhole where there is no shade or escape from the sun.
Oman Itinerary Day Four:
The Sailors of Sur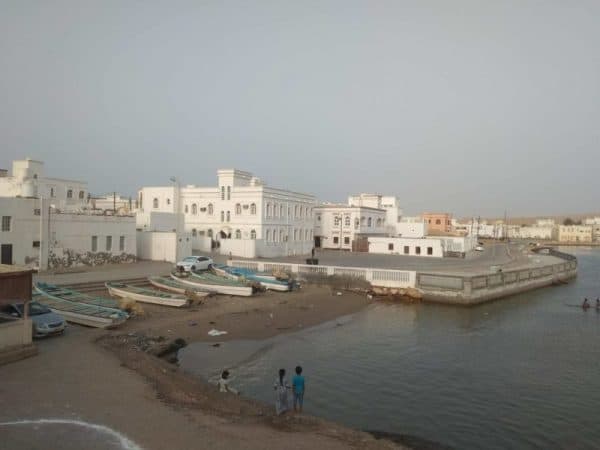 The picturesque port city of Sur is far from touristic, yet it was my favourite city spot on this Oman itinerary. Life moves at a slower pace here. The culture of Sur is altogether different to Muscat, Nizwa, and other Omani cities. Over the years, Oman has seen a large influx of people migrating from the Indian and African subcontinents and the majority of that population are concentrated in Sur, creating an altogether unique cultural atmosphere.
Though it is a city that is not so well known internationally, Sur is the birthplace of (the fictional) Sinbad the Sailor. Boats for trade, fishing and tourism are still built using wood, and the locals are more than willing to show you the process for this at the local workshop. From Sur, it is possible to take a short boat trip to the nearby uninhabited islands. While away a lazy afternoon in Sur, or head to Ras Al Jinz turtle's beach. When the sun begins to set, explore the old town of Ayjah and the old Merchant's houses then watch the sun dip below the clouds over the horizon from the white-washed lighthouse.
Oman Itinerary Days Four to Six:
Nizwa and Surroundings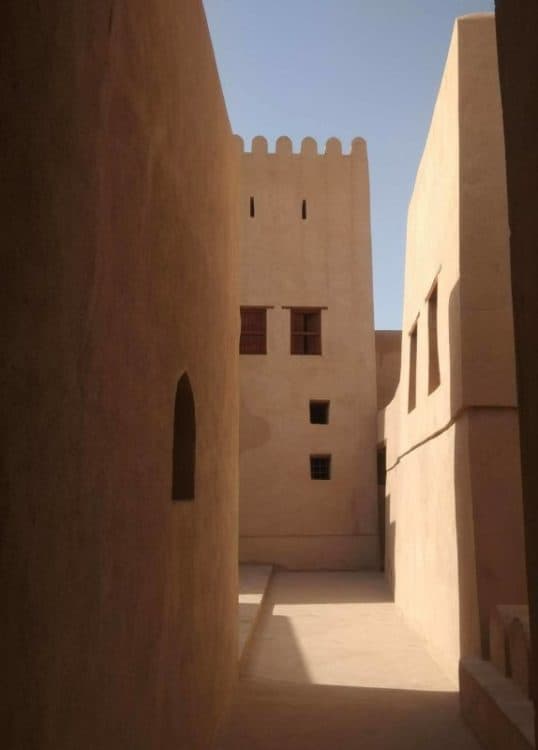 Depart Sur and head back northwards to Nizwa. Nizwa was the ancient capital of Oman and arriving here is almost like stepping back in time. The locals in Nizwa lead altogether more traditional lifestyles and the culture is more conservative. After your long drive to Nizwa, spend the first day becoming acquainted with the area at a relaxed pace, spend one day exploring Nizwa proper and another visiting the gifts from mother nature that surround Nizwa and are no doubt the region's highlight.
Things to Do in the Nizwa Area
Practice Haggling at the Nizwa Souk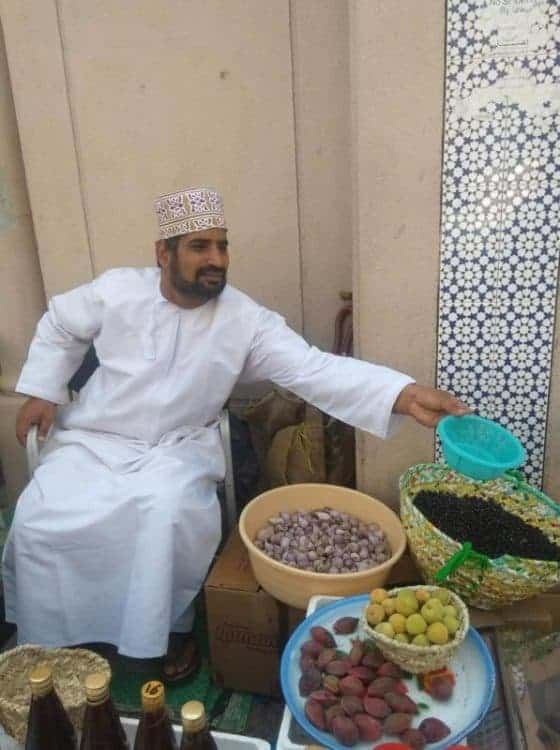 Nizwa souk is far more than a touristic bazaar that sells overpriced rugs and lanterns. It is a bustling commercial hub that is also frequented by locals as they buy their meats and vegetables for cooking. Every day of the week, vendors and farmers take to the streets to set up their stalls and demonstrate the best of their haggling abilities. Virtually every item imaginable can be purchased here – from pets to AK47s (shooting is a popular hobby in Oman and a large part of the culture with firearms being seen as status symbols – the Middle Eastern equivalent to wearing a fancy rolex, perhaps?).
Witness the Nizwa Friday Goat Market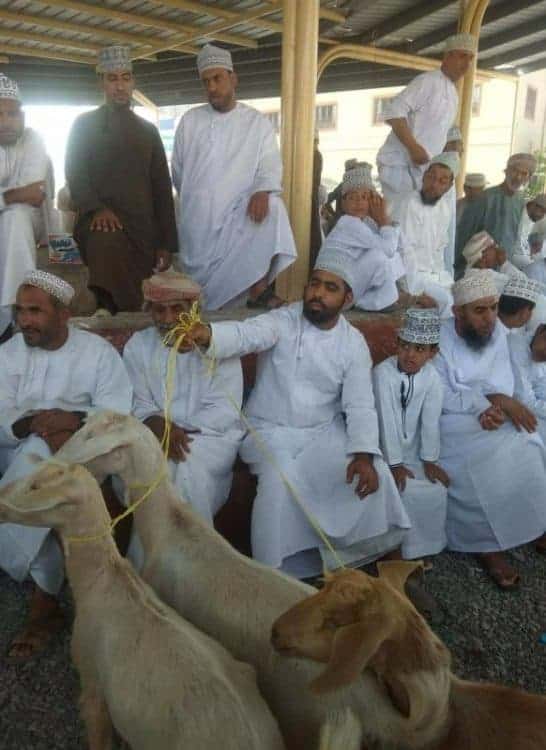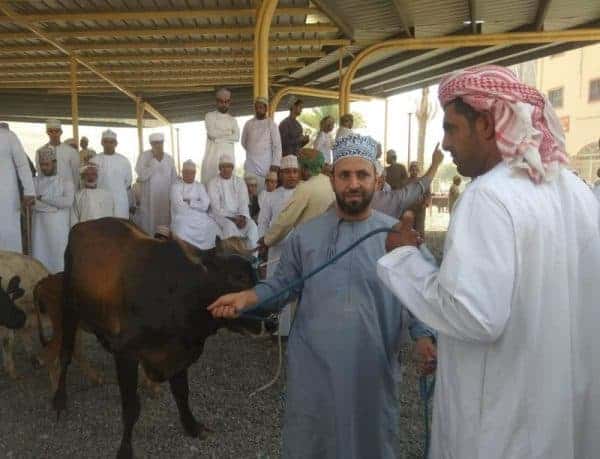 Early every Friday morning, something quite unusual takes place in Nizwa. Local farmers travel from miles around to sell livestock at the Friday market. One by one, the farmers lead their livestock around the marketplace auctioning them off to the highest bidder. Goats, sheep and cows are for sale, with potential buyers inspecting the animals and negotiating ferociously to ensure that they obtain the best deal. All was well and calm until the farmers bought out the cows and bulls and some of the animals tried to run away. It's an unusual attraction for sure, but an interesting insight into Omani culture.
Learn the Gruesome History of Nizwa Fort and Castle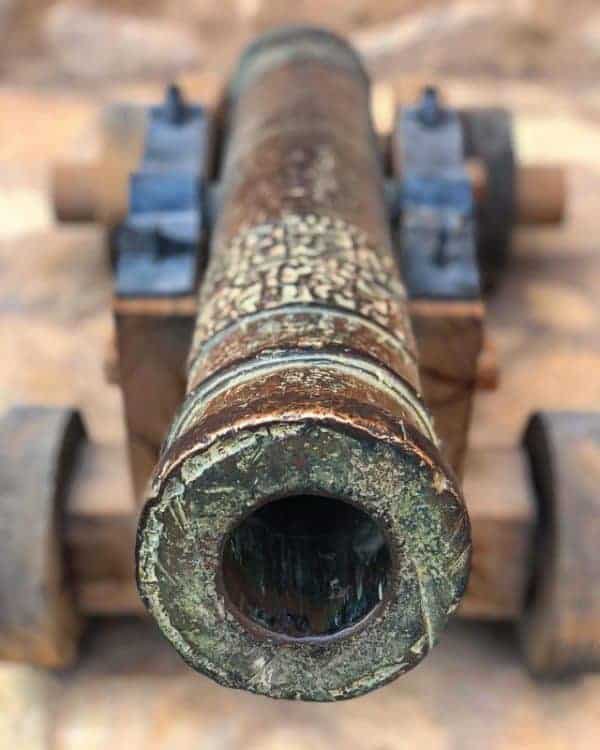 Nizwa fort is Oman's most visited site and a highlight of any Oman itinerary. If you had visited here 400 years ago, it would have also been the deadliest. The defense mechanisms used at Nizwa fort were far more gnarly than most during the medieval era. The entire fort complex is booby trapped to ensure that intruders have the most gruesome deaths possible. "Murder holes" are scattered throughout the fort which are essentially holes in the ceilings where soldiers would pour boiling hot date juice on their enemies. If that didn't finish them off, the heavy anvils dropped on their heads certainly would.
The corridors and passageways are filled with false floors that give way when stepped upon for intruders to fall down sheer drops or into tomb raider style spikes. Ouch. The floor traps have now been covered with Perspex glass, but I strode right over them just to be sure…
Nizwa Castle is separate to Nizwa Fort, though the two are adjacent. Exhibits and displays demonstrate what life was like in ancient Nizwa.
Marvel at the Omani Grand Canyon
Jebel Shams is Oman's answer to the Grand Canyon. The views from up here are breath-taking. It is possible to walk around the rim of the canyon, though there is no hiking trail down to the base unlike its American counterpart. It should be noted that the roads to Jebel Shams are rocky dirt trails and are not accessible without a 4×4. As a matter of fact, Omani police operate in the area checking to ensure that people are driving with the appropriate vehicles.
Roam the Eerie Streets of Al Hamra
Of the abandoned towns and villages that are scattered around the Omani countryside, Al Hamra is one of the most well preserved and expansive. Situated at the foot of the Al Hajar mountains, this is also one of the oldest villages in Oman. The two and three storey mud houses are constructed in traditional Yemeni style. Decades ago, before Oman became a wealthy country, the different settlements within the country were occupied by various rival tribes. People from each village would lock the gates at night and stand guardat the watchtowers for any potential intruders. The towers and gates remain in place today, perfectly preserved and transporting you back in time.
With an intricate network of labyrinth style passageways and narrow alleyways, it is easy to get lost here. Al Hamra has also been the setting of various horror movies. When I visited, renovations were underway to repair parts of the town and transform them into guesthouses and gift shops. Though it's great that the town will be preserved, no doubt Al Hamra will lose its eerie edge once it becomes renovated which is another reason to visit Oman now before it becomes a popular travel destination.
Head into the Al Hajar Mountains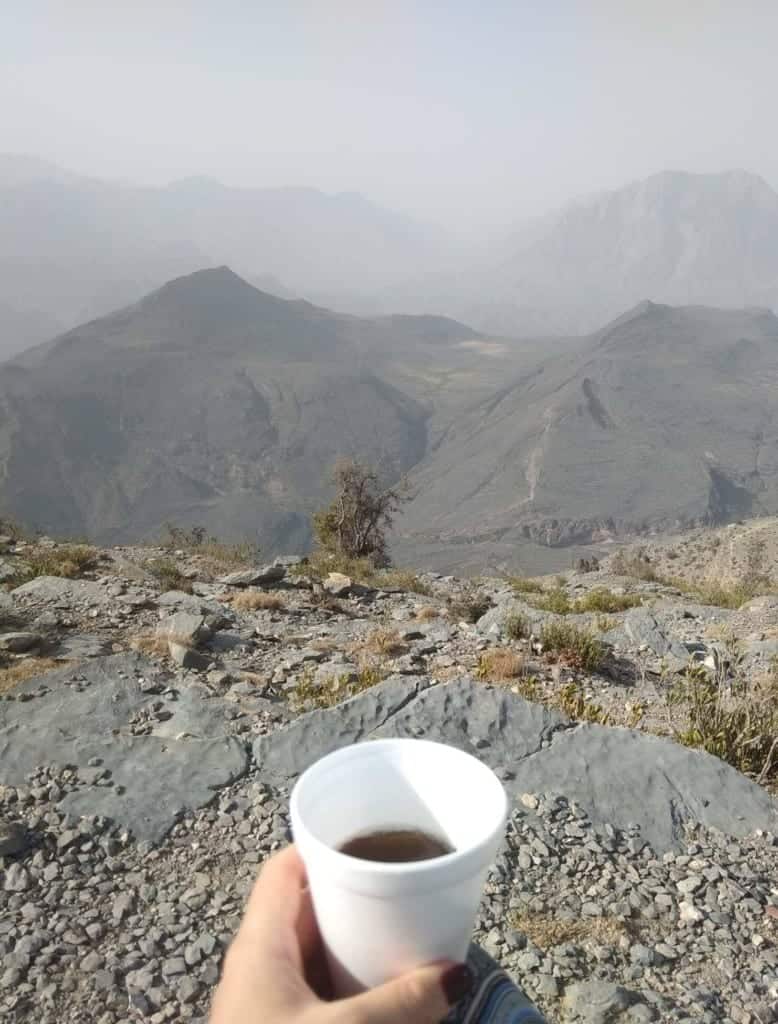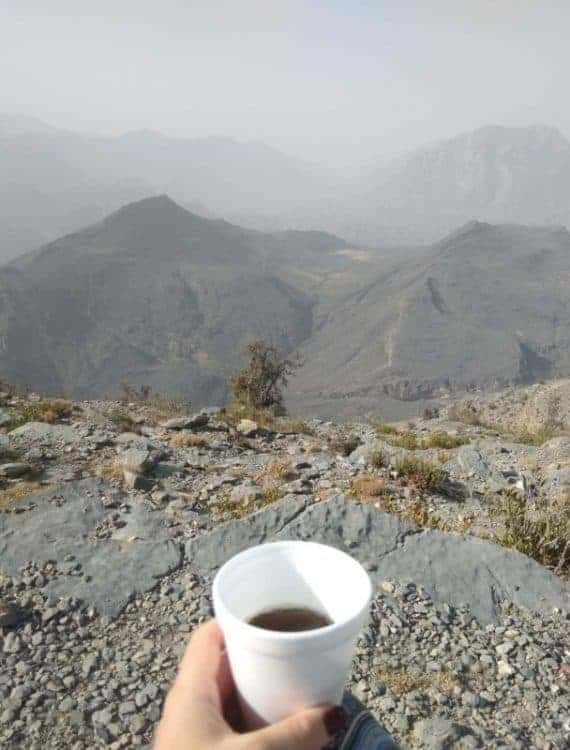 The mountain range that encompasses the Nizwa region offers pleasant hiking routes with scenic villages carved seamlessly into the rock faces. It is possible to dedicate an entire day to exploring this region. Start by exploring the ramshackle houses and traditional farms of the village of Birkat al Mauz before driving up into the mountains. Jebel Akhdar (the Green Mountain) is the highest peak and offers unparalled views of Nizwa valley below. Hatt mountain is also pleasant and if time permits or you are able to add another day or two to your Oman itinerary, consider hiking between the villages of Al Aqr to Al Ayh.
As the sun begins to set, stop by the village of Misfah – one of the oldest and most  picturesque in all of Oman. Carved into the rock face of the mountains, Misfah seems to balance precariously over a steep slope. Where other mud villages have been abandoned in favour of modern alternatives, the longstanding residents of Misfah refuse to move and still depend upon agriculture for their livelihoods, farming and selling mangoes, bananas, papayas and citrus fruits.
Oman Itinerary Day Seven:
Muscat
Head back to Muscat ready for your departure from Muscat International Airport. Depending on the time of your flight, this is your opportunity to pick up a few souvenirs, or make any last-minute stops that you may have previously missed during your first few days in Muscat. Grab a last cup of karak chai, a last plate of shuwa and say your goodbyes to the Sultanate of Oman.
Alternative Suggestions for this Oman Itinerary
Salalah, situated in the southernmost part of Oman is a highlight for many. It has a tropical climate, lush dense rainforests and is altogether different to the rest of the country. The only downside is that it is situated so far from the stops on this Oman itinerary, that you really need to buy a longer visa and spend more time in Oman to make the trip worthwhile. It takes 11 hours to drive from Muscat to Salalah and 9 hours from Nizwa. It is also possible to find a cheap domestic flight from Muscat to Salalah that should not set you back more than $60.
Have any questions about this Oman itinerary or travelling in Oman in general? Feel free to let me know in the comments below!
Disclaimer: This Oman itinerary is not sponsored. I paid for my trip to Oman myself, and organised everything independently. 
---