Embarking on an Oman itinerary is a great way to discover one of the most underrated destinations in the Middle East. Little Oman attracts the attention of only the most intrepid adventurers.

It borders the Arabian Sea, and the countries of Saudi Arabia, Yemen, and the United Arab Emirates. Officially known as the Sultanate of Oman, the little nation boasts something for every type of traveller.

Here, you will find beautiful mosques with grand glittering domes, breathtaking beaches and coastlines, abandoned villages, and magical desert oases known as "wadis". Oman's tourism tagline is "beauty has an address" – something that is reflective of all of the spectacular natural scenery that the country has to offer.

When most people think of the Middle East, they think of sleek, ultra-modern cities such as Dubai, Riyadh, or Doha. It may come as a surprise then, to learn that Omani cities remain more traditional and that the highlight of a visit here is actually the natural scenery, the mountain ranges, and the hiking trails.
Your Perfect 10-Day Oman Itinerary for 2023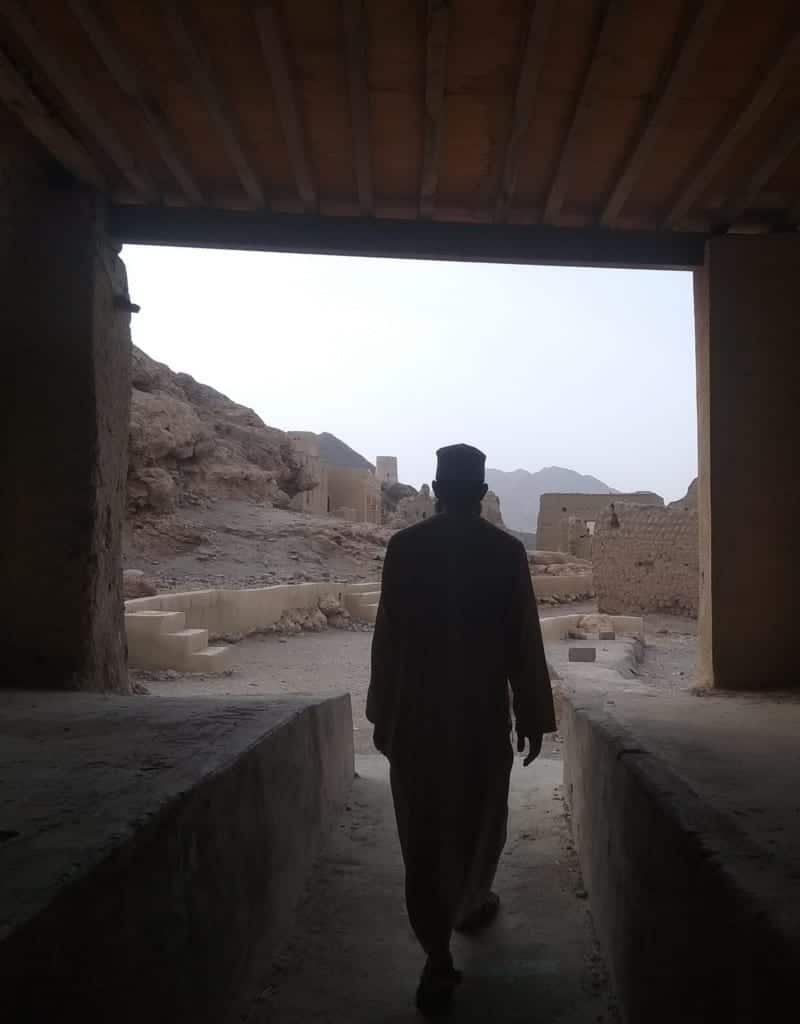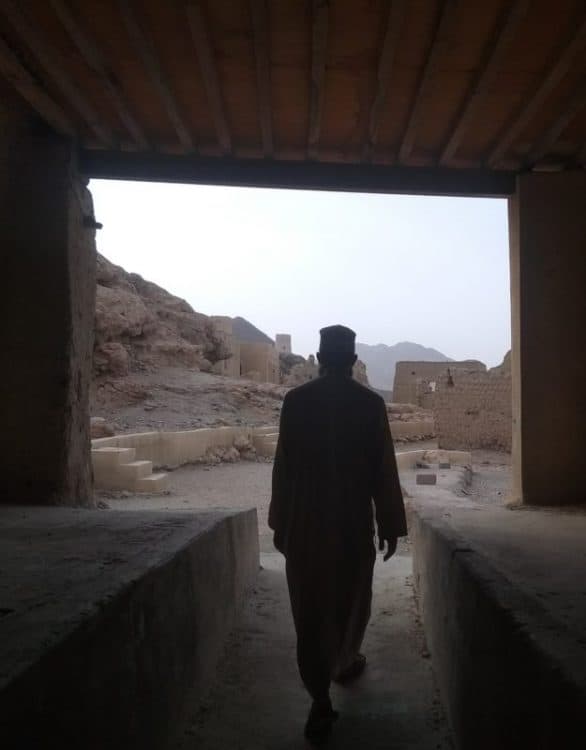 A ten-day Oman itinerary is enough to get an initial feel for what the country has to offer. If you have more time to spare, you can consider extending your stay in each city, exploring at a more laidback leisurely pace, and breaking up the journey times across the country.
Since Muscat International Airport (MCT) is the main airport in Oman, it makes sense to start and end your itinerary in Muscat. You can opt to do this Oman itinerary by bus or by rental car, though the latter gives you a lot more flexibility and makes getting around the country a lot easier.
Start your adventure in the magnificent capital of Muscat and venture down the coast to the city of Sur. Then, backtrack to the Omani capital before continuing onwards to Nizwa and tropical Salalah.
Oman Itinerary Day One: Muscat
Dedicate day one of your Oman itinerary to getting your bearings in the Omani capital of Muscat.
Getting from Muscat airport to the city center
You can take the airport shuttle bus to the city center for $2.60 if your hotel/accommodation does not offer a complimentary shuttle service.

However, the easiest way to make the journey is to take an airport taxi. The journey is likely to cost you between $20 and $40 but your driver will get you to your hotel in less than 30 minutes.

The blue and white cabs are the official airport taxis. Despite being a little pricy, the drivers are generally straight and trustworthy and will not try to trick you.

Alternatively, you can download the Mwasalat app to order a metered cab. (Uber and Careem do not work in Oman).
Exploring Muscat
Muscat is a large, sprawling beast of a city and its layout is somewhat similar to that of Dubai, or of American cities like Atlanta Georgia. It is not a walkable place and the main points of interest are spread out.

Renting a car in Oman or opting to participate in an organized tour is the best way to get around. Alternatively, you can take local taxis and buses to get from A to B, but do keep in mind that taxis in Oman are pricy, whereas public transport runs infrequently. It all depends on your personal preferences.
The Sultan Qaboos Grand Mosque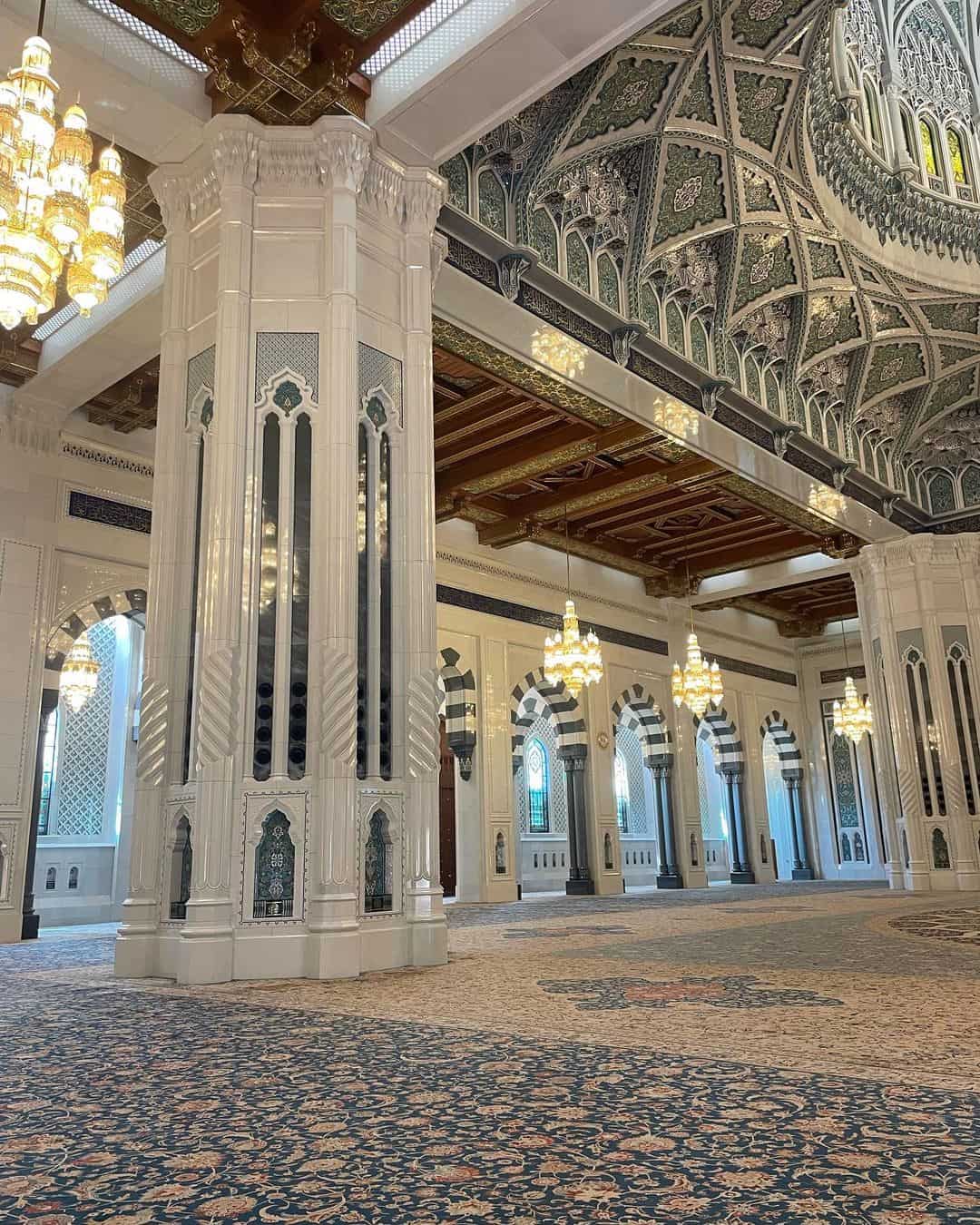 Start your day by visiting one of the city's most important landmarks: the Sultan Qaboos Grand Mosque. Whatever your religious affiliation may be, you can still appreciate the mosque's beauty.

This may well be one of the most impressive places of worship in the entire Middle East. Designed by Edgard Bali and Mohamed Makiya and completed in May 2001, the contemporary Islamic building boasts five minarets and a huge central dome.
The mosque interiors are just as impressive as the exterior and they are embellished with stunning blue and green mosaics. The intricately designed carpet and the glittering chandelier here were once the largest in the world. That is, until Emiratis and Qataris came along, took measurements, and stole the title for themselves!

Oman is a very conservative Muslim country and women wear headscarves whereas men wear a long tunic known as a dishdasha or kandura. As a tourist, you are not expected to wear these items of clothing, but you should dress modestly, cover your shoulders, and legs, and not display any cleavage.

Female travellers should be prepared to cover their hair with a scarf or a pashmina. The Sultan Qaboos Grand Mosque is a huge site extending over 416,000 square meters. Entrance is completely free, and tourists can visit between 8.00 and 11.00 am.
Stop by the Royal Opera House Muscat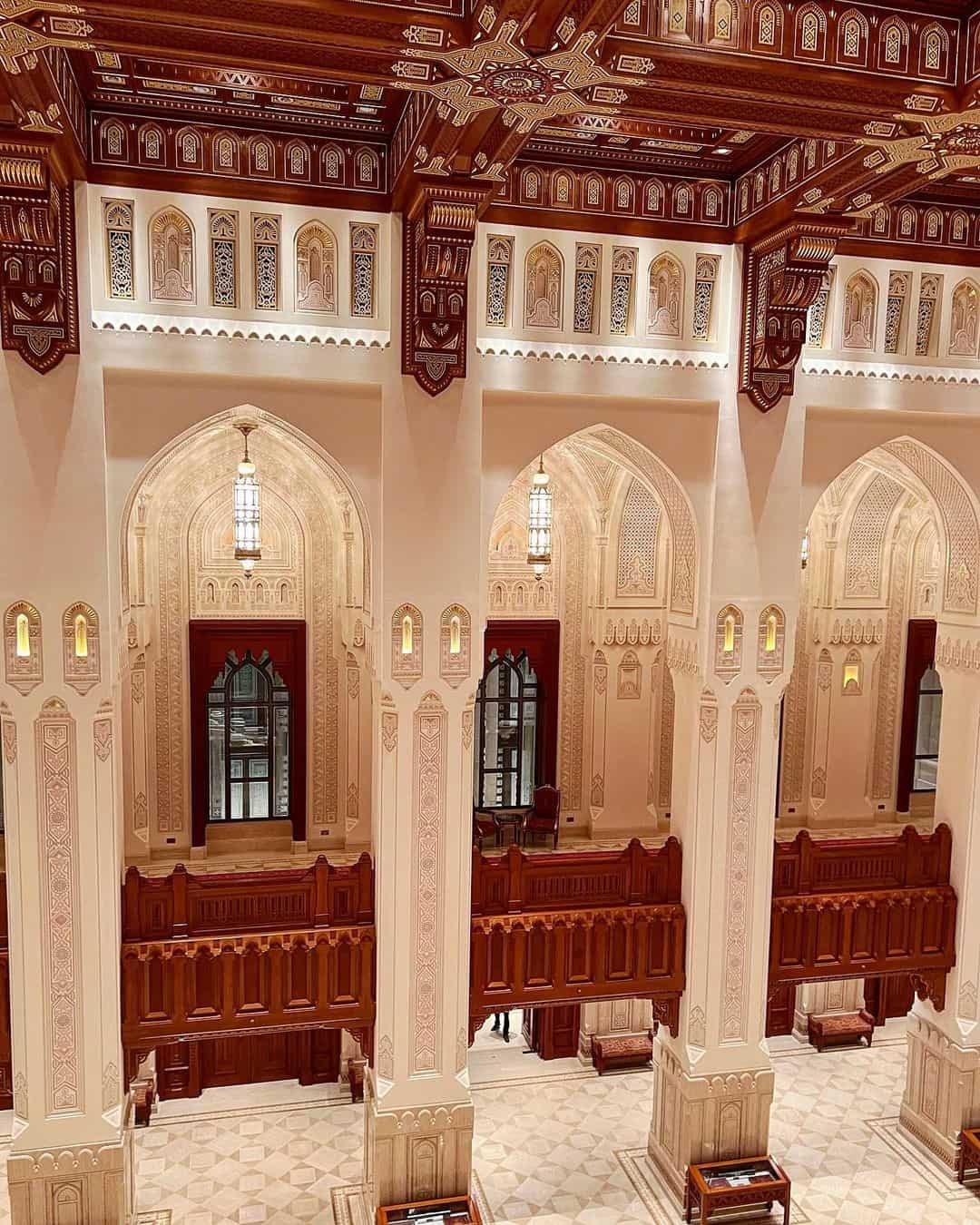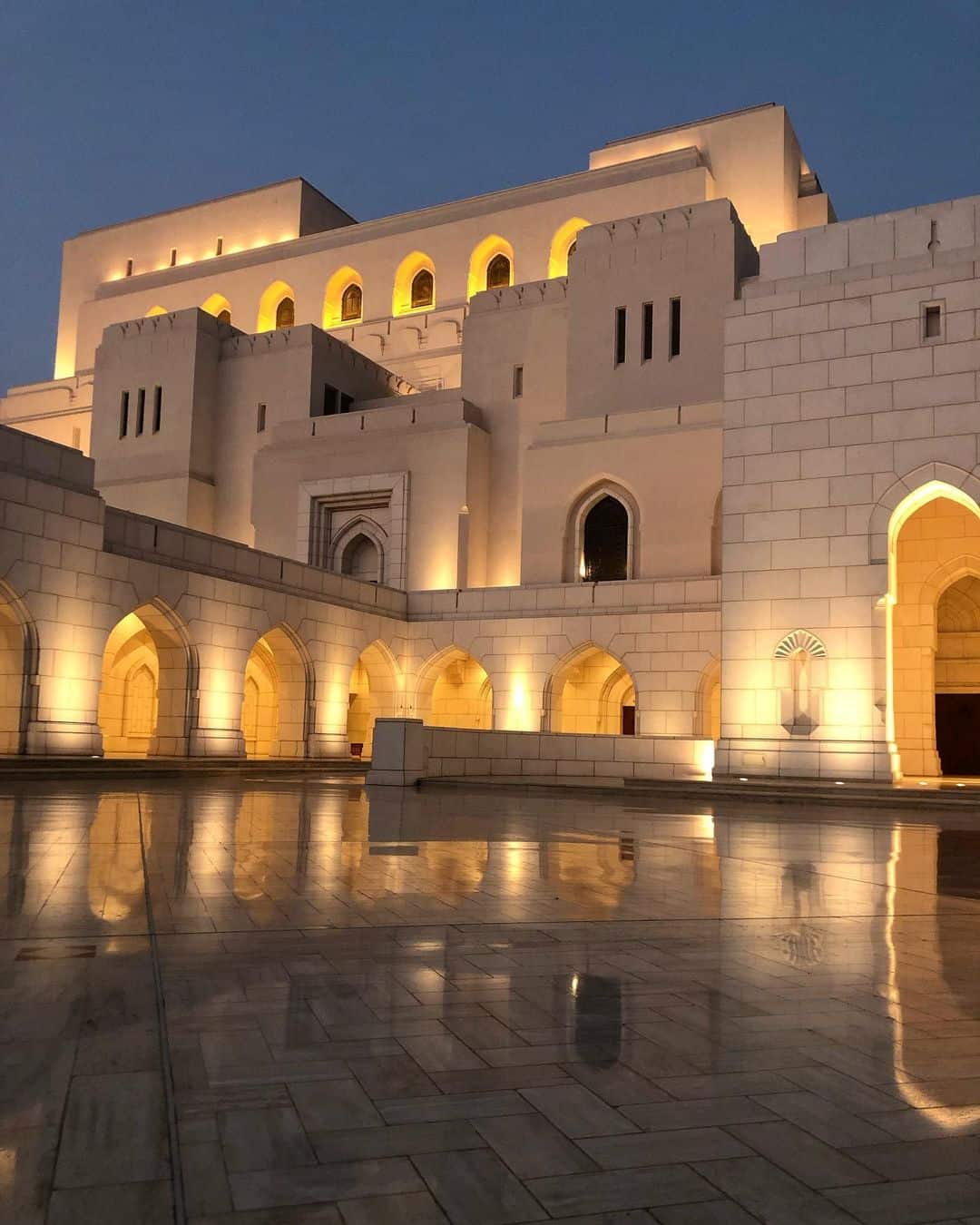 The Royal Opera House in Muscat is a beautiful example of contemporary Arabian architecture that meets Italianate style. Construction on the site started in 2007 and the building was designed by London architects Wimberly Allison Tong and Goo.
Today, the opera house hosts musical and theatrical performances from all different cultural backgrounds. For instance, in the winter of 2022, operas such as La Cambiale di Matrimonio, L'Elisir D'Amore, and Le Nozze di Figaro will be performed in Italian, by Italian opera singers.

At the same time, shows like Hansel und Grettel will be performed by German opera groups. There is always something taking place here, whatever time of year you stop by.

It is worth checking the schedule via the official website here to see if there is anything that interests you that coincides with your travel dates. Alternatively, you can take a tour of the grand premises during the day.
If you neither want to pay for a tour nor attend a show, you can explore the grounds and the main hall of the opera house for free. The beautiful structure makes a great backdrop for photos.
Walk along the Muttrah Corniche
Muttrah is technically a separate city from Muscat and the oldest settlement in the area. However as time has gone on and the borders of Muscat have expanded, it is difficult to see where Muscat ends and where Muttrah begins!
The Muttrah souk (marketplace) is one of the oldest in Oman and dates back over 250 years. Today it predominantly caters to tourists, but you will find many interesting and ornately carved handicrafts on display.

Everything from bedouin jewelry to traditional Omani clothing, Kuma hats, and colorful pottery and ceramic goods is up for sale. If something catches your eye, remember to haggle and never take the first price that you are offered.

The Muttrah Corniche is a nice place to go for a late morning stroll before it gets too hot. Admire the scenery and the contrast of the quaint-looking whitewashed Arabian buildings against the backdrop of the rugged Hajar mountains.

Muttrah fort is also open for tourists. It is believed to date back to 1507 and has been fortified by the Portuguese during their occupation. From here, you can enjoy unparalleled views over the Gulf of Oman.
Indulge in traditional Omani cuisine
As you meander around Muscat and Muttrah, you will note that it isn't all that easy to find authentic Omani food. Most Omanis are white-collar workers and very few work in restaurants or the service industry.

So, you will find that most restaurants around the city are predominantly owned by people from the Indian subcontinent and sell mostly curries, Indian, and Bangladeshi food, or fast food. If you know where to look, you can also find some Omani eateries owned by Yemeni people.

A few of the spots along the Muttrah corniche are tourist traps, but a good one to look out for is Bait Al Luban (Harat a'Shamal street Muttrah corniche). If you want to try something typically Omani, order yourself an Omani shuwa.

Lamb Shuwa is the national dish of Oman. To make it, lamb is marinated with black pepper and slow-cooked underground. It is then served with rice and a selection of sauces and sides.
The traditional Omani/Yemeni way to eat food is by hand while sitting on the floor. However, rest assured, if you find it difficult to eat with your hands or you wind up throwing rice all over the place, you can always ask for cutlery!
Recommended Muscat Tours
If you prefer to avoid renting a car while you are in Muscat, and you want to take some of the stress out of managing the logistics of how to get from A to B within the city, a guided tour can be a good idea. You can opt to do a small group or guided tour.

Doing so doesn't actually work out any more expensive than trying to get to all the sites independently, especially when you consider how much taxis in Muscat cost! A selection of some of the most reputable Muscat tour options is detailed below for your consideration. It is a good idea to reserve your place online in advance to avoid disappointment!
Oman Itinerary Day Two: Wider Muscat Area
Day two of your Oman itinerary will be spent exploring the abandoned towns and settlements that surround Muscat. As you meander around the country, you will undoubtedly pass by several abandoned settlements.
Some of them look occupied from a distance but when you drive past, you realise that they are ghost towns. But why are they abandoned?
Several decades ago, many Omanis grew up in traditional rural villages where they lived in mud huts. As Muscat developed into the thriving economic hub that it is today, many people started to move to the capital for work opportunities and a better life.

So, slowly but surely, many rural areas started to become abandoned. One of the most interesting and well-preserved abandoned settlements near the Omani capital is Fanja.
Explore the ruins of Fanja
The village of Fanja lies abandoned in a state of ruin in the mountains 25km from Muscat, Oman. From Muscat, you can follow the signs to Fanja.
The "new" town of Fanja shares the same name as the abandoned settlement. Accessing the abandoned site is not easy as it is not marked on any map and awaits at the end of an unmarked desert road.
So, it will take some trial and error of driving in the area to find it. Most locals do not speak English but if you have difficulty finding the abandoned town, you can use Google translate on your phone to ask for directions.
In old Fanja, rusting old cannons, defensive walls, and the sunbleached remnants of an old fortress. Some old people still live in the collapsing houses, too stubborn to move.
During Eid celebrations, Omanis come here to shoot guns into the air and fire the rusting cannons. There is little information about the site online, and few tourists are aware of its existence.
So, you are very likely to have the area entirely to yourself. Several days a week, a produce and handicrafts market is hosted in the "new" town of Fanja which is well worth a quick browse for the people-watching opportunities alone.
Explore the villages of Ibra and Al Minzifa
From Fanja, drive on to the villages of Ibra and Al Minzifa and wander through traditional souks, date plantations, and ruins. Ibra and Al Minzifa are situated at the gateway to the Sharqiya region of Oman.
Once upon a time, they were some of the most luxurious and aristocratic parts of the country. They thrived when Oman ruled over Zanzibar and traders would send their money back home to invest in luxury properties. The beautiful watchtowers that used to protect the villages during the colonial period still stand guard here and are a wonderful sight to behold.
Swim in the pools of Wadi Bani Khalid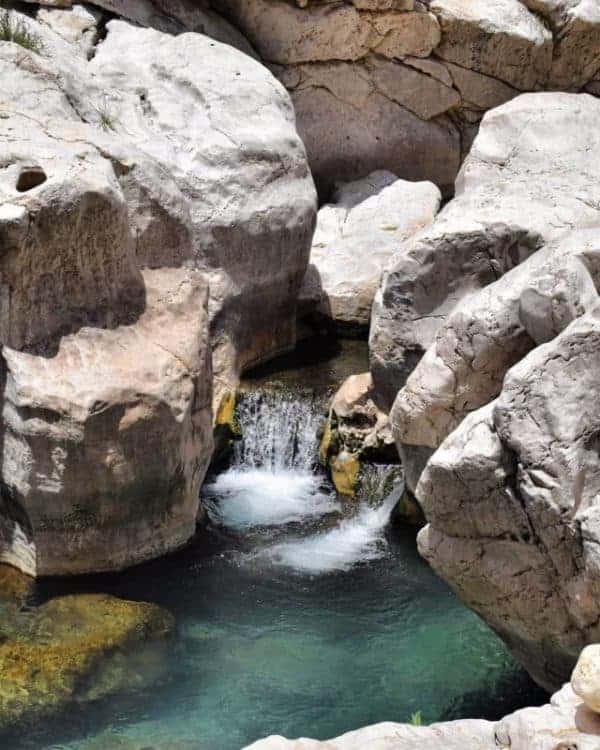 In Arabic, a "wadi" is a desert oasis. It is a space of translucent waters and lush greenery in the middle of an otherwise unwelcoming arid desert.
Wadi Bani Khalid, with its palm tree-lined pools and obscure rock formations, is a perfect spot for a late afternoon swim and a picnic. If you want to experience the Omani desert, from here you can travel onwards to the Wahiba Sands. Alternatively, consider camping close to Wadi Bani Khalid, or head back to Muscat for the evening.
Oman Itinerary Day Three:
The Omani Great Outdoors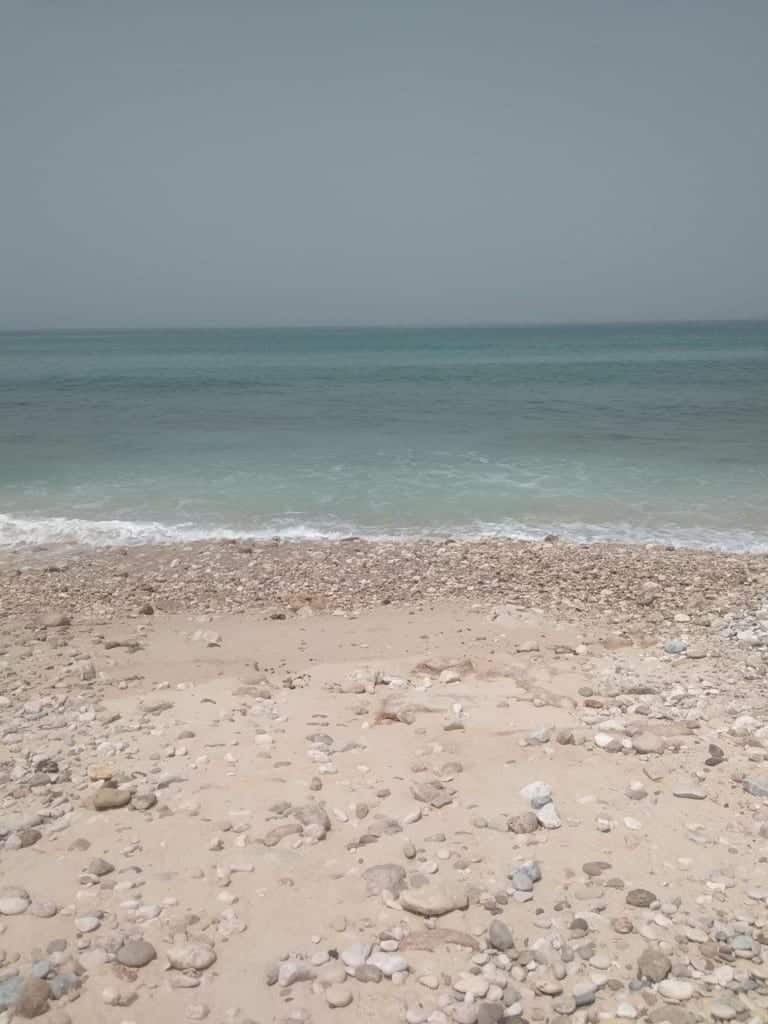 The towns and cities of Oman provide an interesting insight into Omani culture and heritage. However, the beauty of Oman is to be found in nature and the great outdoors.
One of the best things about embarking on an Oman itinerary is that you can "free camp" pretty much anywhere you please. Many of the best things to see here are natural attractions that are completely free! If you rent your own car and pack some camping equipment, you can completely alleviate your accommodation costs if travelling Oman on a budget.
Make a scenic pit stop at Fins beach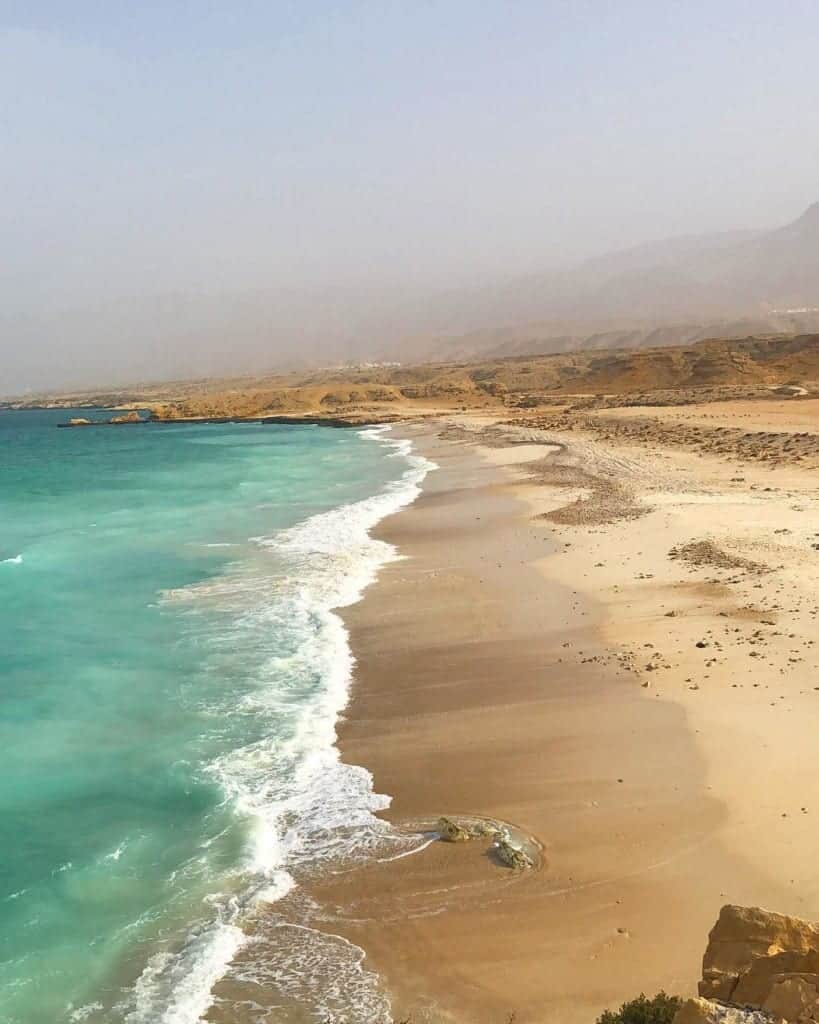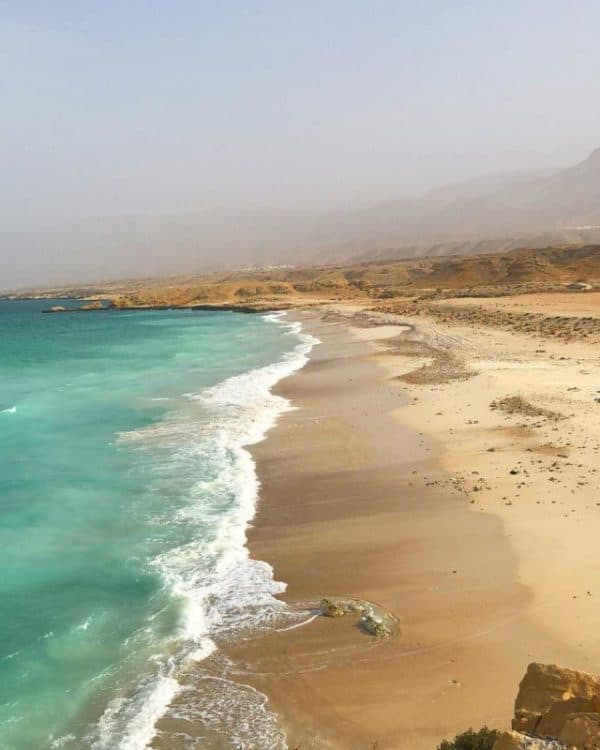 Today's journey consists of a lot of driving, but frequent scenic stops en route break up the journey. Approximately one hour from Muscat, Fins Beach is the personification of unspoiled paradise.
On the way here, you will pass by many small villages and settlements. There are no amenities in the direct vicinity of the beach so you need to pick up food before leaving Muscat. Pack some Yemeni black tea, and some sandwiches and enjoy a late morning picnic at Fins as the waves crash against the shore.
Plunge into the Bimmah Sinkhole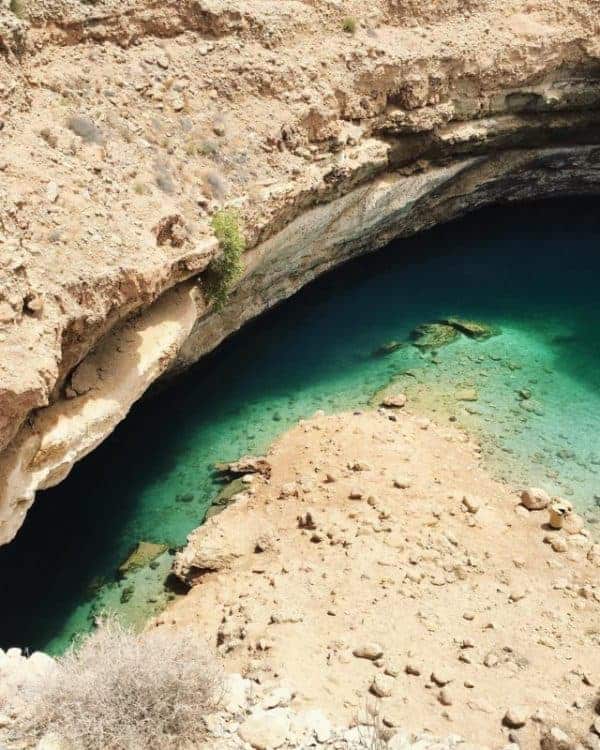 The Bimmah sinkhole is a highlight of any Oman itinerary. A sinkhole is a water-filled depression that is formed as a result of a weakness in the earth's surface.
The Bimmah sinkhole is 50 m by 70 m wide and approximately 20 m deep. If you have ever travelled to Mexico, you could draw some comparisons between the Bimmah sinkhole and some of the cenotes in the Yucatan peninsula.
The water at the Bimmah sinkhole is translucent and turquoise. It has recognised as being the world's most beautiful sinkhole. Beneath the surface of the water exists an intricate network of caves that lead all the way out to the sea.
Despite the scientific explanation as to how sinkholes are formed, Omanis tell their own legend as to how the Bimmah sinkhole came to exist. In Arabic, the site is known as "Hawaiyat Nam" meaning "falling star". As the name suggests, locals will tell you that the sinkhole was formed when a star fell right out of the sky.
The Bimmah sinkhole has gained a lot of attention and popularity in recent years thanks to social media. Many people visit here on a day trip from Muscat and each day, you will see tour buses full of people stop by.
To avoid the crowds, try to get here as early in the morning as possible. If you are travelling to Oman during the summer months, you want to avoid being in the water in the middle of the day when the sun is at its most intense and being outside becomes almost unbearable.
Visit Wadi Shab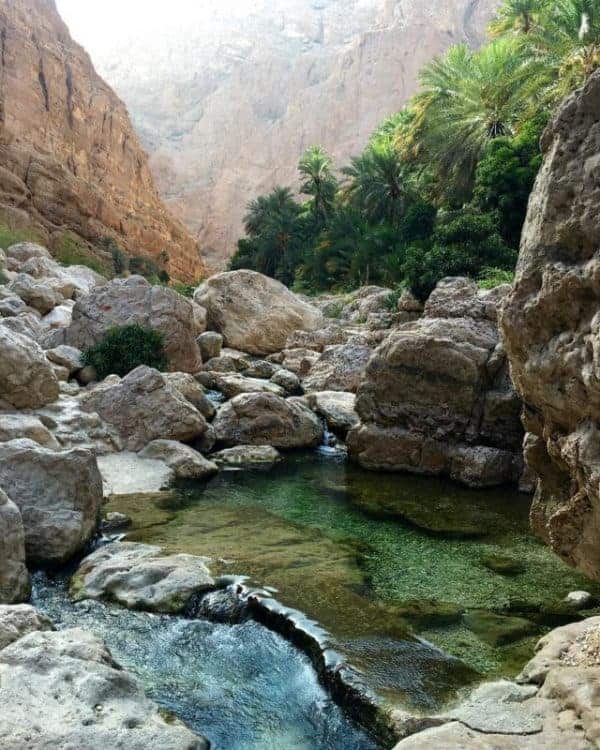 From Bimmah Sinkhole, it is just a short 20-minute drive to Wadi Shab where you can spend the rest of the afternoon. Wadi Shab boasts crystal clear blue pools of water, natural waterfalls, and pleasant hiking trails that lead you along rocky cliff faces.
Some of the waterfalls here are hidden away inside caves and take a bit of effort to get to. It is possible to camp at Wadi Shab. So, if you prefer, this is a pleasant place to watch the sunset. Alternatively, travel onwards to Sur and spend the night in a local boutique hotel.
Oman Itinerary Days 4 & 5: Sur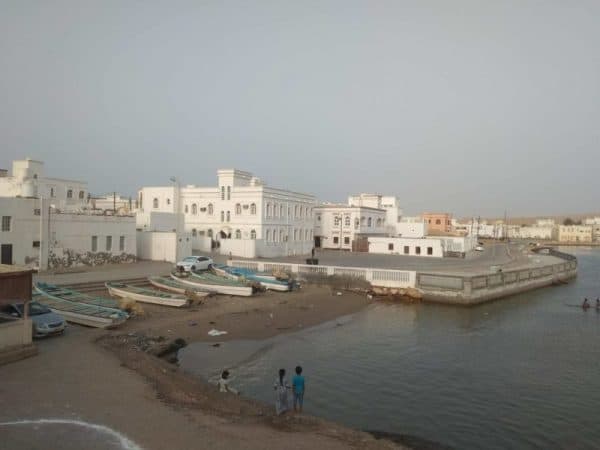 The picturesque port city of Sur is the capital of the Ash Sharqiyah South Governorate in the southeastern part of Oman. It is far from touristic and has a completely different vibe from most other Oman cities. Visiting Sur provides a wonderful authentic glimpse into what life in Oman is really like.
Over the years, Oman has seen a large influx of people migrating from the Indian and African subcontinents, and the majority of that population is concentrated in Sur. This helps to create an altogether unique cultural atmosphere.
Few people have even heard of Sur, Oman internationally. However, the city is the birthplace of (the fictional) Sinbad the Sailor.
Boats for trade, fishing, and tourism are still built using wood, and the locals are more than willing to show you the process for this at the old-fashioned boat workshop that sits near the port. There are a number of notable landmarks and monuments to look out for here. Bilad Sur Castle, As Sinaysilah Castle, Al `Ayjah Castle, Fanar Ras Al Meel, and Ras Al Hadd Castle are all worth adding to your radar.
From Sur, it is possible to take a short boat trip to the nearby uninhabited islands. Spend a laid-back afternoon wandering along the seafront, sipping Omani tea, and enjoying the local cuisine in Sur, or head to Ras Al Jinz turtle's beach.
When the sun begins to set, explore the old town of Ayjah and the old Merchant's houses. Then, watch the sun dip below the clouds over the horizon from the white-washed lighthouse.
Two days in Sur is a perfect amount of time. Although you can add an additional night here if you want to spend some more time hanging out on the secluded beaches nearby and visiting Wadi Tiwi.
Oman Itinerary Days 6 & 7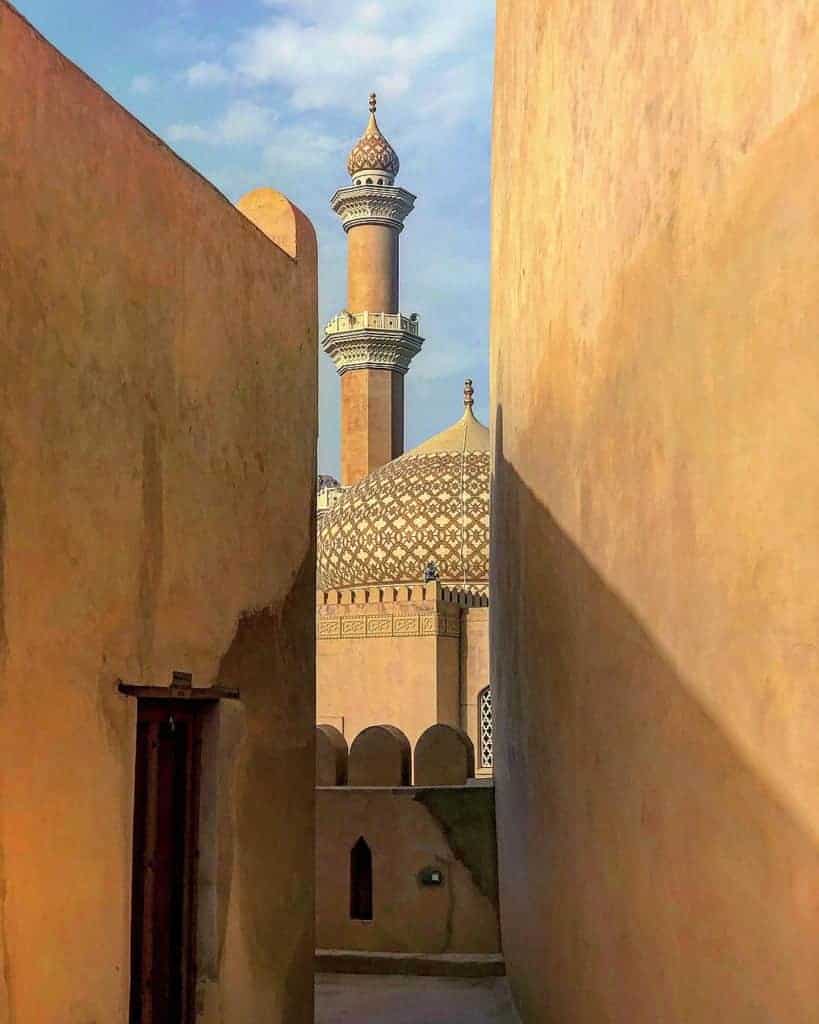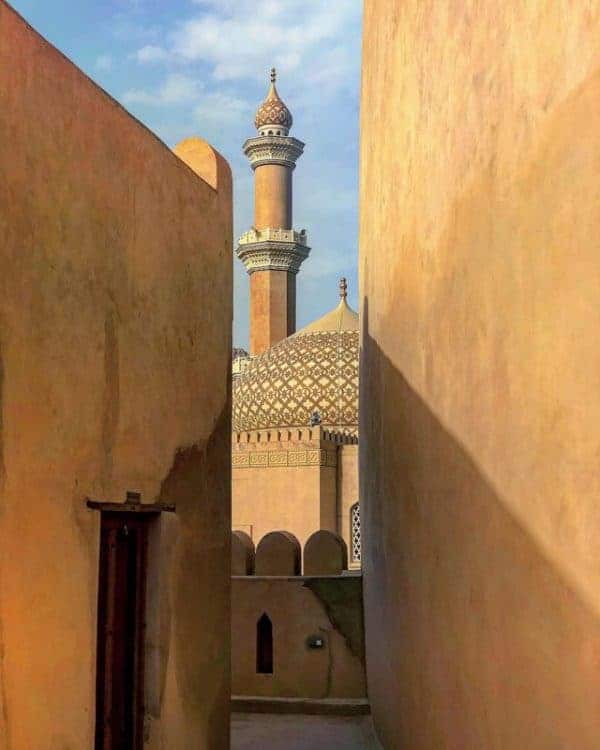 Depart Sur and head back northwards to Nizwa. Nizwa is the capital of the Ad Dakhiliyah region of Oman, surrounded by seasonal rivers and palm plantations. was the ancient capital of Oman and arriving here is almost like stepping back in time.
The city is famous for its handicrafts and agricultural products, most notably its silver jewelry which is considered as being the best in the country and arguably, the entire Middle East. During the 6th and 7th centuries AD, Nizwa was the capital of Oman.
Oman did not become the country's capital until 1793. Several historic mosques can be found around the city, many of which are centuries old. The Sultan Qaboos Jama (Friday mosque), the So'al Mosque, the Ash-Shawathinah Mosque in Uqr, and the Ash-Sharja Mosque are all worth a visit.
The locals in Nizwa lead traditional lifestyles and the culture is more conservative. Dedicate one day of your Oman itinerary to exploring Nizwa central, and one day to visiting the other attractions around Ad Dakhiliyah.
Oman Itinerary Day 6: Nizwa city centre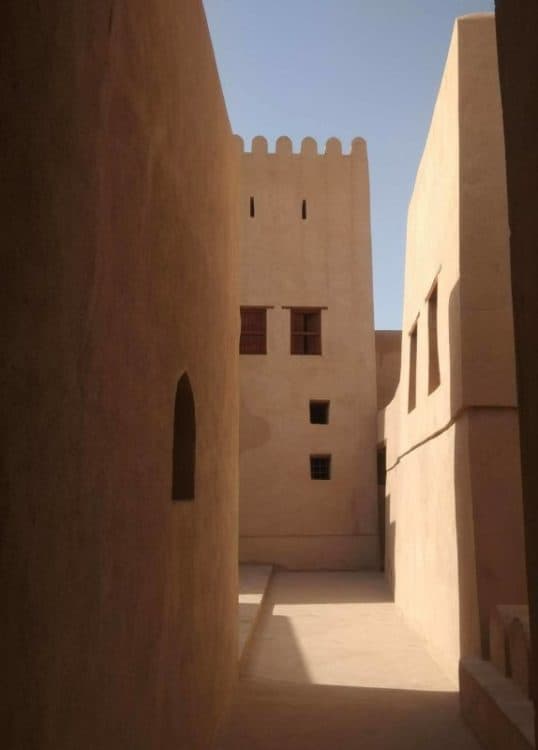 Start your day with a visit to the Nizwa souk. You will note that since the temperatures in Oman are so dry and scorching hot, most people wake up very early here and they are already out and about by 7 am.
At this time, the Nizwa souk is already bursting with life. Every day of the week, vendors and farmers take to the streets to set up their stalls selling fresh fruits and vegetables.
The Nizwa Souk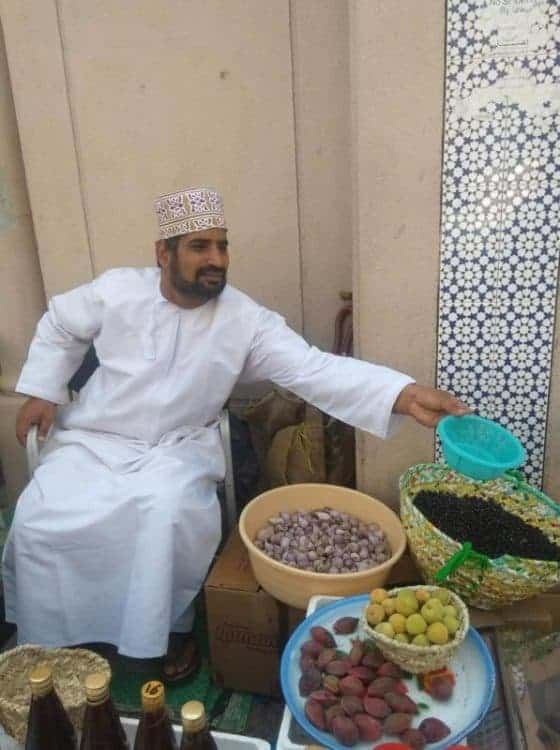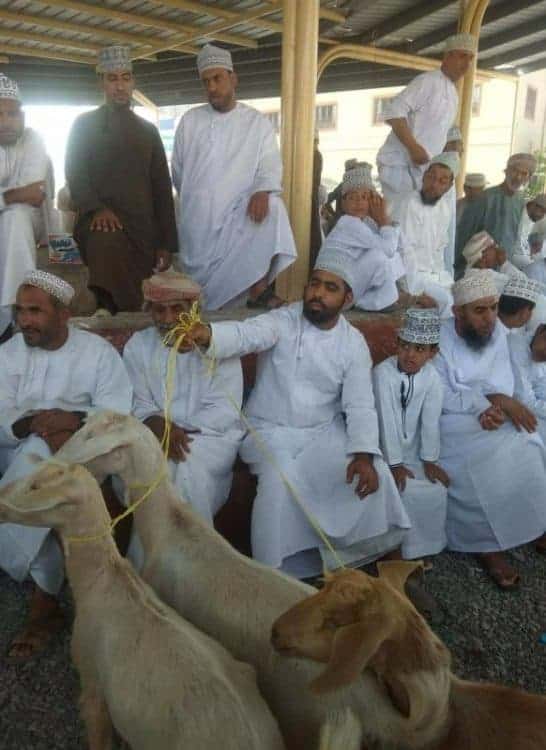 This marketplace is far from a touristic bazaar and is mostly frequented by locals. It is a lot different to the Muttrah souk.
Virtually every item imaginable can be purchased here – from pets to AK47s and ammo. Shooting is a popular hobby in Oman. Having a fancy firearm is considered something of a status symbol.
If you happen to be in the city on a Friday, you will be able to catch the Nizwa goat maket. Every week, farmers travel from across the state to sell cows, goats, and chickens.
One by one, the farmers lead their livestock around the marketplace auctioning them off to the highest bidder. It is an interesting spectacle to behold, and for Omanis, this is as much of a social event as it is a shopping opportunity.
Many people will come and watch the goat market, which feels like something of an animal catwalk, without any intention to buy anything. They will sit catching up with their friends from out of town and sipping cups of milky tea and it is a great thing to be a part of.
The vendors here tend to be friendly and inquisitive rather than pushy. They will offer you complimentary cups of tea to enjoy while you browse their wares.
Look out for the candied and seasoned dates, flavoured with various different syrups and sugars. One section of the souk is dedicated to selling small animals for pets such as birds and cats.
Many of these stalls are operated by teenagers and young adults. Omanis will tell you that this is because it is important for parents to teach their children a business mindset from a young age.
Learn the Gruesome History of Nizwa Fort and Castle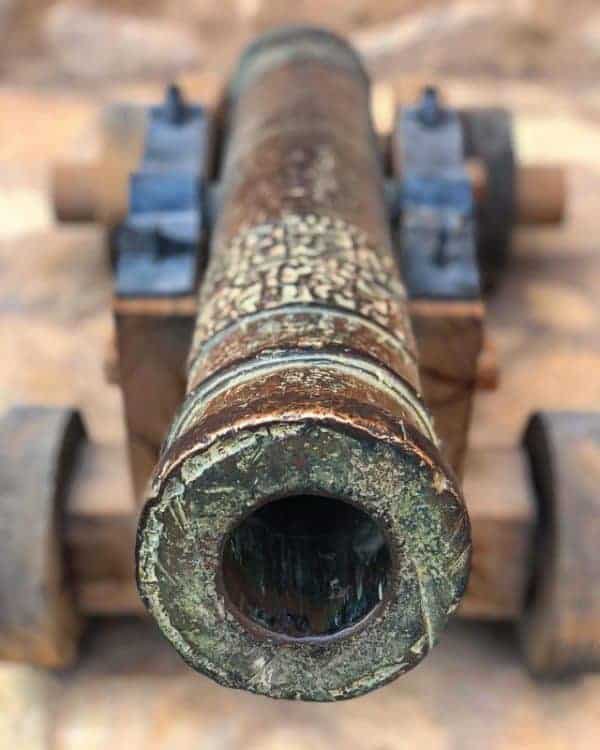 Nizwa fort is Oman's most visited site and a highlight of any Oman itinerary. If you had visited here 400 years ago, it would have also been the deadliest.
The defense mechanisms used at Nizwa fort were far more gnarly than most during the medieval era. The entire fort complex is booby-trapped to ensure that intruders have the most gruesome deaths possible.
"Murder holes" are scattered throughout the fort. These are essentially just holes in the ceilings where soldiers would pour boiling hot date juice on their enemies. If that didn't finish them off, the heavy anvils dropped on their heads certainly would.
The corridors and passageways are filled with false floors that give way when stepped upon for intruders to fall down sheer drops or into tomb raider-style spikes. Ouch. The floor traps have now been covered with Perspex glass, but you might still want to stride over them, just to be sure!
The fortress was originally built in the 9th century by imam Al Sult bin Malik Al Kharus. It was later renovated in the 17th century by imam Sultan bin Saif Al Yarubi, although aspects of the original structure still remain.
The fortress is unique because of its cylindrical shape which is quite unlike that found in other structures in Oman. Each of the rooms of the fortress showcase exhibits and displays demonstrate what life was like in ancient Nizwa.
Admission to the fortress is 5 Omani rial (Circa £11.35/$13). It is open on Saturdays to Thursdays from 8:00am to 6:00pm, and Fridays from 8am to 11:30am, and then from 1:30pm to 6:00pm. Rest assured, a visit is well worth the steep entrance fee.
Oman Itinerary Day 7: Jebel Shams, Misfat, and Jebel Akhdar
Wake up bright and early today to head out to Jebel Shams, the Omani version of the Grand Canyon. It takes around 2 hours to reach the canyon from Nizwa.
Jebel Shams, the "Omani Grand Canyon"
Jebel Shams (3009m) is the highest mountain of the Hajar range. Its name translates to mean "mountain of the sun" which is a fitting title considering that the mountain is the first place to receive the sunrise each day in Oman (due to its height).
The mountain is best known for its spectacular views over Wadi Gul (Grand Canyon of Arabia) with its towering 1000m cliffs. It is possible to walk around the rim of the canyon, though there is no hiking trail down into Wadi Gul.
It should be noted that the roads to Jebel Shams are rocky dirt trails and are not accessible without a 4×4. As a matter of fact, Omani police operate in the area checking to ensure that people are driving with the appropriate vehicles.

If you consider yourself an avid hiker, you can park your vehicle at the base of Jebel Shams and hike up but keep in mind that this is very steep. The hike can take anywhere from 10-12 hours in total (round trip) with the ascent taking 5-7 hours.
Pack plenty of water and snacks if this is something you want to attempt. If you do not have a 4×4, you can also organise an excursion to Jebel Shams and other points of interest in Northern Oman from either Nizwa or Muscat.
Roam the eerie streets of Al Hamra
There are many abandoned towns and villages that are scattered around the Omani countryside. However, Al Hamra is one of the largest and best-preserved.
It is situated at the foot of the Al Hajar mountains and is also one of the oldest villages in Oman. The two and three-story mud houses are constructed in the traditional Yemeni style. Although sadly, they have fallen into abandonment and disrepair.
Decades ago, before Oman became a wealthy country, the different settlements within the country were occupied by various rival tribes. People from each village would lock the gates at night and stand guard at the watchtowers for any potential intruders.
The towers and gates in Al Hamra remain in place today. They are perfectly preserved and you can almost imagine what it would have been like approaching them all those years ago when dozens of locals stand guard at the doors.
Al Hamra is made up of an intricate network of labyrinth-style passageways and narrow alleyways. It is easy to get lost here.
Al Hamra has also been the setting of various horror movies over the years. It is a photographer's dream and you can capture some great photos here.
Work is currently underway to repair parts of the town and transform some of the old buildings into guesthouses and gift shops. This is great, as if the town is left for much longer, no doubt, the buildings will fall into a state where they can no longer be repaired.
However at the same time, once the renovations are done, Al Hamra will lose its eerie edge. This is another reason to visit Oman now before it becomes a popular travel destination.
Head into the Al Hajar Mountains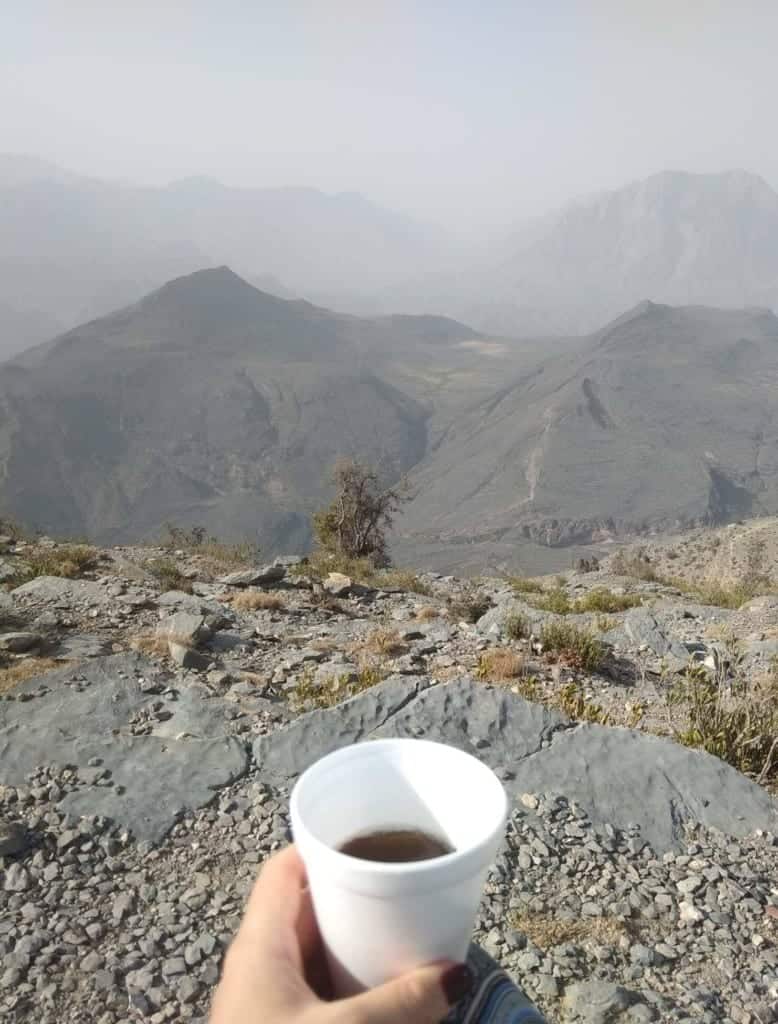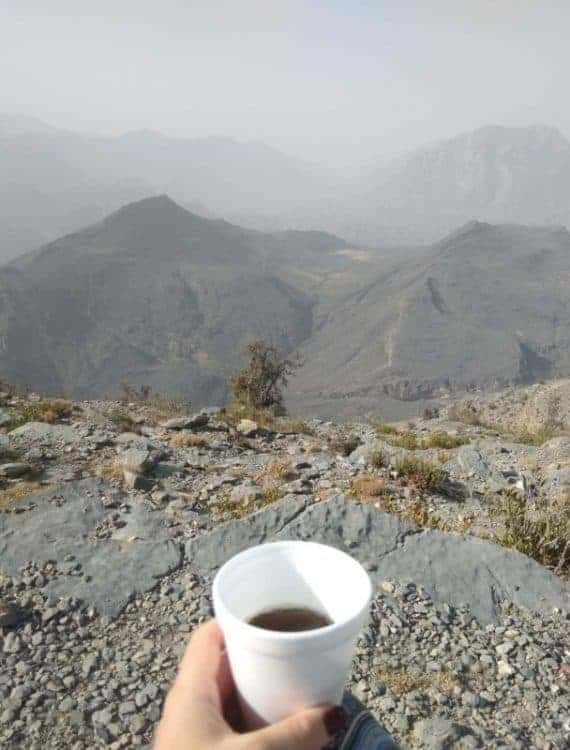 The mountain range that encompasses the Nizwa region offers pleasant hiking routes with scenic villages carved seamlessly into the rock faces. It is possible to dedicate an entire day to exploring this region.
Start by exploring the ramshackle houses and traditional farms of the village of Birkat al Mauz before driving up into the mountains. Jebel Akhdar (the Green Mountain) is the highest peak and offers unparalled views of Nizwa valley below.
Hatt mountain is also pleasant. If you want to camp here, you can consider conquering the hiking trail that runs between the villages of Al Aqr to Al Ayh and adding another day or two to your Oman itinerary.
Misfat Al Abriyeen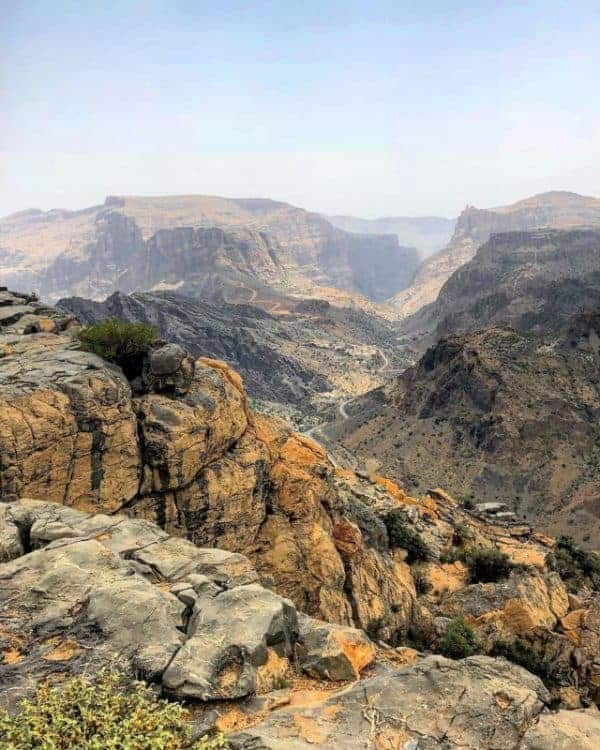 As the sun begins to set, stop by the village of Misfah. This is an authentic Omani mud village and it is one of the oldest and most picturesque in all of Oman
The houses and roads of the village have been carved into the rock face of the mountains. As such, Misfah appears to almost precariously over a steep slope.
While other mud villages have been abandoned as the residents move to Muscat, the longstanding residents of Misfah refuse to move. They still depend upon agriculture for their livelihoods, farming and selling mangoes, bananas, papayas and citrus fruits.
Oman Itinerary Days 8 & 9:Salalah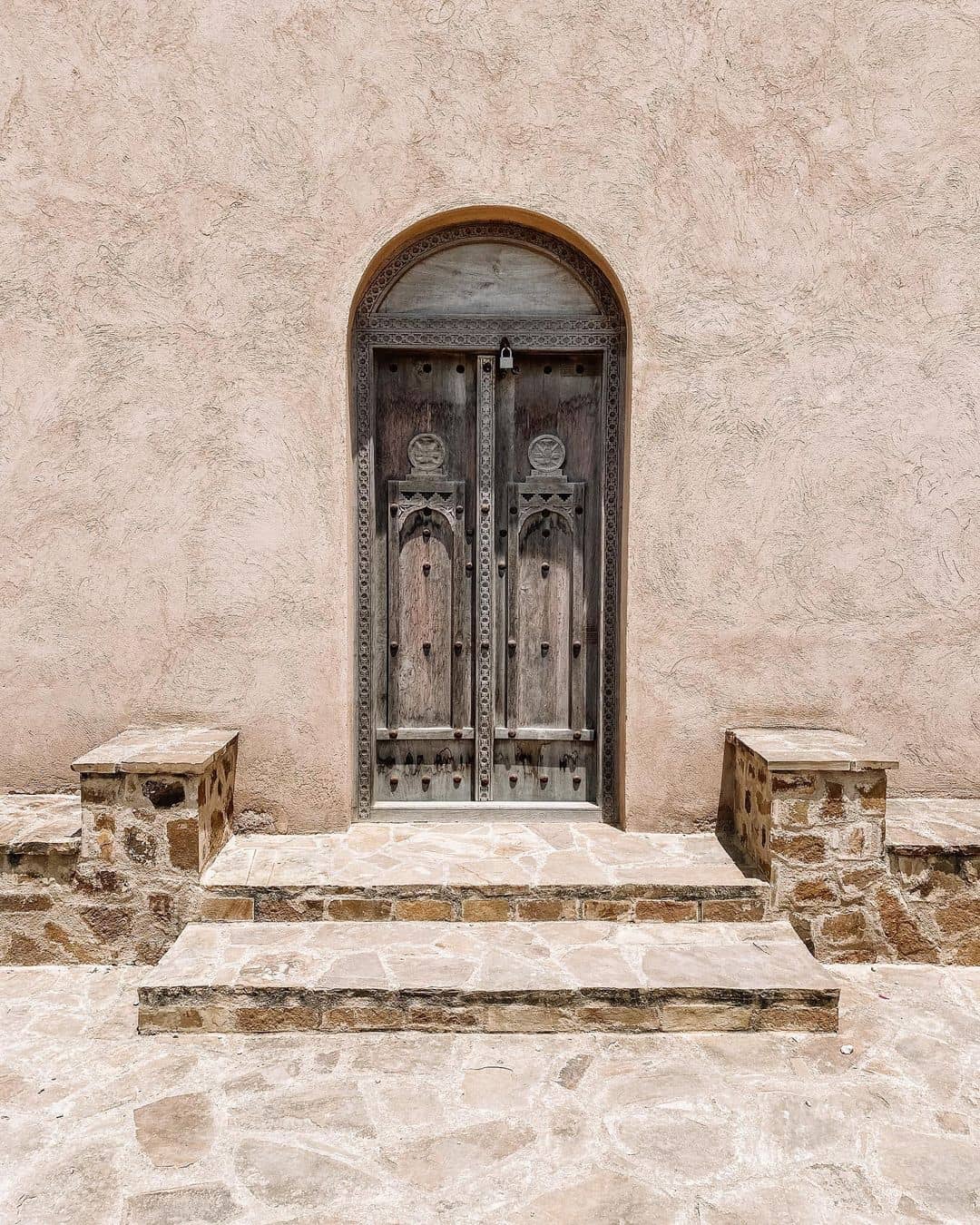 Salalah is Oman's second city. It is situated in Dhofar region in the south of the country, around 200km from the border with Yemen.
The area is known for its tropical climate and lush dense rainforests. Travelling here feels altogether different to exploring the rest of the country.

The temperature in Salalah seldom reaches over 24 degrees celsius. So, the region offers wonderful respite from the intense desert heat, particularly if you are traveling during the summer months.

Locally, this period is known as the ""khareef season" and runs from June until late September. There are many gorgeous, undisturbed beaches close to Salalah. Spend your first day here recovering from your long journey from Nizwa and relaxing in the coastal areas, and your second on exploring the attractions outside of the city.
Mughsail Beach
Mughsail beach is one of the most beautiful beaches in Oman. It is framed by cliffs and boasts warm, turquoise waters and soft powdery white sands. The scenery here is actually more reminiscent of something you would expect to find in the Greek island groups rather than in Oman!
Aside from being a wonderful place to swim and relax, the beach is known for its blowholes. These are holes in the ground that water flows through from the sea.
Pressure builds up, and the blowholes spurt water into the air that often reaches as much as 20 metres high. From the beach, you can follow a short walking trail to Al Marneef cave to enjoy magnificent views over the ocean and the blowholes.
Al Fazayah Beach
From Mughsail beach, continue driving south down the coast towards the Yemeni border. This beach exudes desert island paradise vibes, particularly as few people take the time to venture here and you can often find that you have it entirely to yourself.
Taqah
On your second day in Salalah, visit Taqah. This charming little fishing village is surrounded by pristine white-sand beaches that escape the attention of most tourists.
The village is best known for its namesake Taqah castle. This used to be a private residence for the tribal leader Sheikh Ali bin Taman Al Ma'shani (grandfather of the mother of Sultan Qaboos).
Today, many grand, ornate furnishings, handwoven carpets and glittering chandeliers still exist in many of the rooms which function as something of a "living museum" and perfectly demonstrate how the wealthy would live in Oman. Other rooms have been converted into exhibition halls and showcase antiques, handicrafts, artisanal items, and artwork to highlight the best of Omani culture.
Returning from Salalah to Muscat
The only downside of visiting Salalah is that it is situated so far from the stops on this Oman itinerary. It takes approximately 8.5 hours by car or by bus to drive between Nizwa and Salalah. From Muscat to Salalah, the journey takes 11 hours.
It is also possible to find a cheap domestic flight from Muscat to Salalah (and vice versa) that should not set you back more than $60 each way. Do keep in mind though, that if you are renting a car for your Oman itinerary and then you decide to fly back from Salalah to Muscat, you will be charged more for a one way rental.
Oman Itinerary Day 10: Depart from Muscat
Head back to Muscat ready for your departure from Muscat International Airport. Depending on the time of your flight, this is your opportunity to pick up a few souvenirs or make any last-minute stops that you may have previously missed during your first few days in Muscat.

Grab a last cup of Omani tea, indulge in a last plate of shuwa and say your goodbyes to the Sultanate of Oman.
Getting around in Oman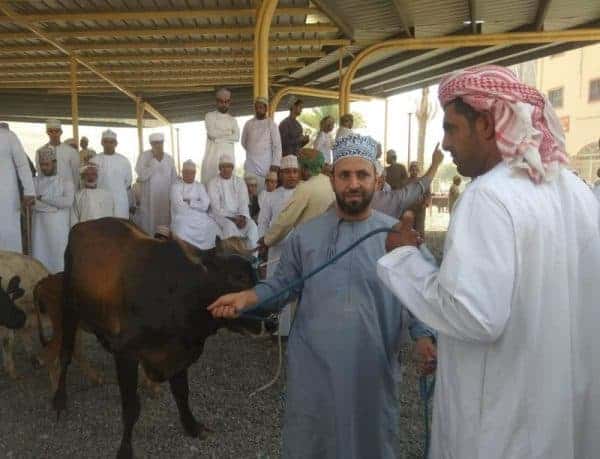 The best way to get around in Oman is to rent a car as public transport here leaves a lot to be desired. Services do connect Muscat with Salalah and Nizwa but they are very infrequent.
Having access to a vehicle gives you a lot more freedom. It is difficult to reach remote beaches, wadis and towns otherwise and it becomes costly if you keep having to hire a private guide/driver to take you places.
Many sources suggest that a 4×4 is essential for exploring Oman but that isn't the case. With the exception of Jebel Shams and Wahiba Sands, you can easily get everywhere with a small rental car.
You should expect to pay between $30-$40 a day for a car rental in Oman, including full coverage insurance. Gas in Oman is very cheap and costs approximately 0.239 rial per litre/0.905 rial per gallon.
Several reputable international rental companies operate in Muscat, including Sixt, Avis, Budget, and Dollar Car rental. Discover Cars is a great platform for searching for rental cars. You can compare and contrast vehicle availability across different providers.
Parting Words
Have you ever travelled to Oman? This is a safe and beautiful country that can provide a wonderful experience for everyone, even solo female travellers can enjoy Oman.
What are your thoughts on this Oman itinerary? If you are visiting for the first time, you might also enjoy this post on how to see Oman on a budget.
Have a wonderful time travelling in the Middle East! Safe travels!
Melissa xo
---