If you are travelling to Italy this summer, you are probably looking for some fun Italy Instagram captions, quotes, and puns to pair with your photos. In this post, we will go through more than 200 cute Italy captions that you can use to elevate your social feed in 2023.
We will share short, snappy captions that can be paired with selfies, landscape pics, reels, and basically any post type. We will also look at dad jokes and puns (we all love them as cringy as they are and as much as we may hate to admit it!) and beautiful, thought-provoking quotes and phrases in both English and Italian.
The Italy Instagram captions here have been divided into categories. Here, you will find the best general Italy IG captions, the best Instagram captions about Rome, Instagram captions about Naples and Venice, and Instagram captions about yummy Italian food.
Best Italy Instagram Captions for 2023
Italy, with its rich and fascinating history, its quaint and beautiful islands, its unparalleled wine regions, and its cute traditional villages makes the top of many people's travel bucket lists. Indeed, more than 94 million tourists visit the country each year, making Italy the fifth most visited country.
Embarking on an Italy itinerary is a once-in-a-lifetime experience. The country has so much to offer that it is impossible to see even a fraction of Italy on one trip.
Whether you are navigating the chic streets of Milan and shopping and catching a show at La Scala among its well-heeled residents, or you are contending with the chaos of Naples, these Italy Instagram captions will serve you well.
General Italy Instagram captions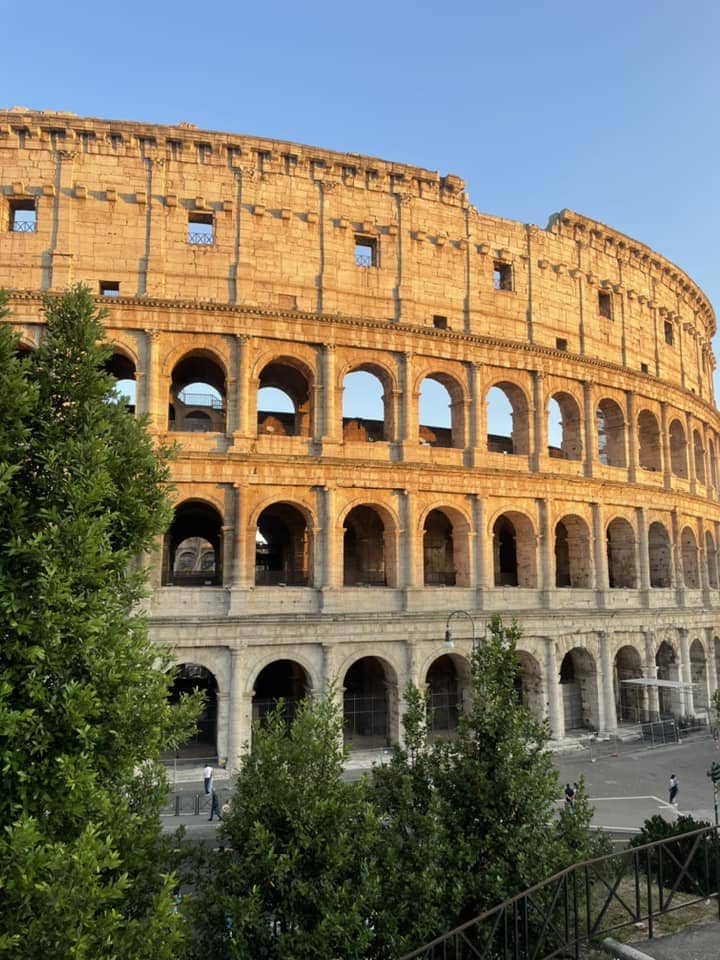 La dolce far niente!


Living la bella vita in Italy!


Money can't buy happiness but it can buy a trip to Italy and that is kind of the same thing


Ciao Italia!


Buongiorno, Italia!


Just arrived in Italy and I can tell you history books -> Real life


I followed my heart and it led me to Italy


Oh Italy, you have me under your spell


We will always have Italy


Having my own Eat-Pray-Love experience in Italy


Arrived in the land of pizza and pasta


Italy, it's amore!


When in Rome…


Waking up in Italy…


All roads lead to Rome


Italy, I think I love you


*clicks shoes together* There's no place like Rome, there's no place like Rome."


Sad that we've run out of thyme here in Italy


Kisses from Italy


Meanwhile in Italy…


Veni, vidi, amavi. We came, we saw, we loved.


Leaving Italy today and I will be leaving a pizza my heart behind


Keep calm and go to Italy


Buogiorno principessa! Life in Italy is beautiful
More random Italy captions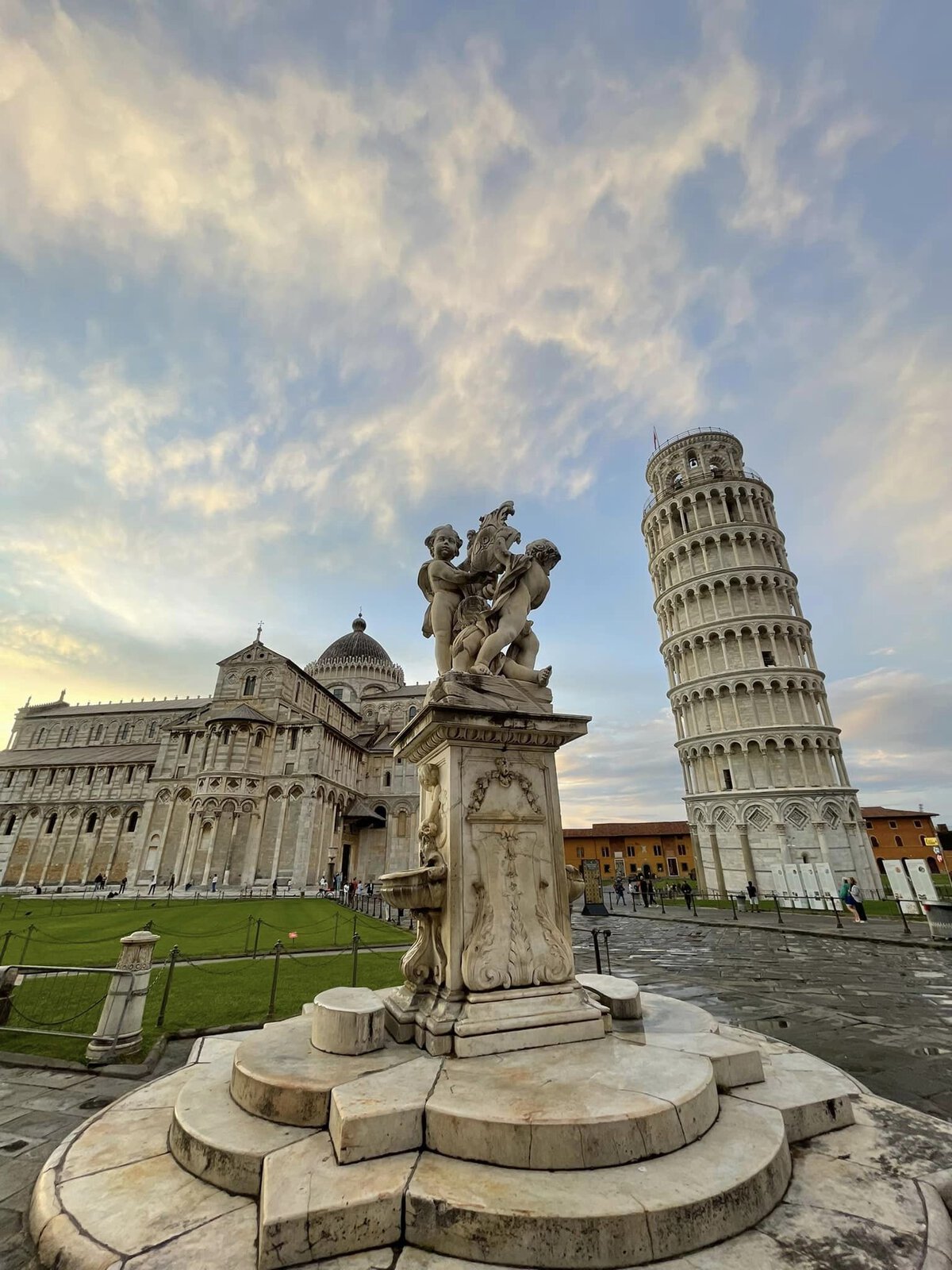 Buonasera Italia!


I never want to have to say arrivederci to Italia!


When life gives you lemons, make limoncello!


BRB canceling my plane ticket home and staying in Italy forever


Italian sunsets


Life leads you down many paths but the best ones lead you to Italy!


People are always Ravenna-ing about how much they love Italy and I'm starting to see why!


Amalfi glad to be here!


Mentally I'm still in Italy


I'd rather be in Italy


Italy, you had me at ciao


Italy is molto bene!


All you need is love… and homemade pasta


La vita è bella (Life is beautiful!)


Italians call Milan the grey city but there's nothing grey about this beauty


Che bello!

Either you love Milan, or you are wrong

Veni, vidi, vici (I came, I saw, I won)


You'd have to be a bit Gothic not to love Italy


I'm sorry for what I said when I wasn't drinking espresso in Italy


I'm struggling to speak Italian but at least I'm giving it a cappuccino!


Another day in paradise… or Italy!


If there's a heaven on earth, its Italy


Italy? Overrated? Don't be Sicily!


Ready to start sightseeing in Italy!


Grazie Mille, Italia


Florence? Wine not


Visiting Florence and the machine (get it?)


Going with the Flo-rence


Espresso yourself!


Italy: the most stylish country in the world?


Italy called and I must go!

Ciao Bella!


Ciao a Tutti!


Ciao Ragazzi!


Una Bella Ragazza!
Instagram captions about Italian food
Sampling Italian food is as much of a highlight of any Italy itinerary as seeing world-famous sites like the Colosseum or the Leaning Tower of Pisa. When you mention Italian food to most people, they immediately think of pizza and pasta but the local cuisine goes way beyond that.
Italy is made up of 20 different regions and autonomous zones. Each one has its own distinctive local dishes, many of which cannot be found in other parts of the country.
Want to try the best ragu or tortelloni in the country? Head to the dish's birthplace in Emilia Romagna.
Want to try the best caccio e pepe pasta or grilled artichoke hearts? Head to Rome.
Naples, Sicily, and many other parts of Southern Italy are famous for their fried foods. There is even a Neapolitan phrase that states ¨everything tastes good fried, even the soles of shoes¨.
In the backstreets of Naples, you can order a cuoppo. This is a little cone of fried food wrapped in a newspaper that is filled with all sorts of deep-fried treats – from potato crocché stuffed with cheese and ham, zucchini flowers, fish, seaweed fritters, and fried mullet fragaglia.
In Sicily, you need to try arancini balls. These are large, deep-fried balls stuffed with rice and different fillings (often meat or grilled veg).
You can buy them for as little as €1-2 and they are pretty filling. Basically, you could spend your entire 90-day Schengen zone allowance in Italy and still have barely scratched the surface of all the different foods here.
That's before we even start to mention the desserts and pastries. Cannolis, baba au rhum and pasticciottos, oh my!
Best Instagram captions about Italian food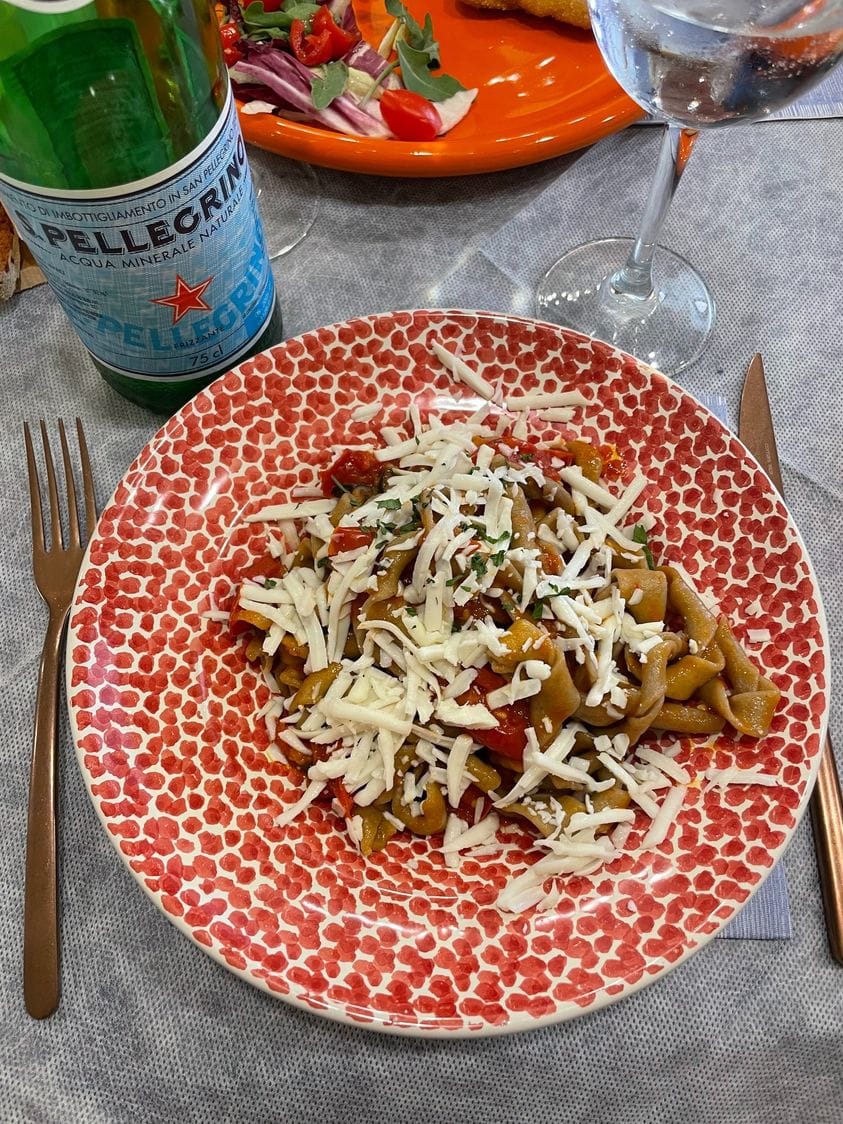 Italy? Don't you mean Eataly?!


A woman in Italy told me it's healthy to eat pasta every day as long as you only eat lasagna on the weekends I am seeking no further nutrition opinions at this time


Ways to my heart: 1. Buy me pasta, 2. Feed me pasta, 3. BE pasta


I loved Italy and I am pasta-tive I will be back again soon!


Live with no regretti and eat the spaghetti


Its never just one scoop of gelato


Italians can turn the most simple dish into a work of art


A gelato a day keeps the doctor away

I'll never get pasta my love for this country

The food here is pre-pasta -ously good!


Pasta and wine is a match made in heaven!


This pasta was love at first bite
Best Venice Instagram Captions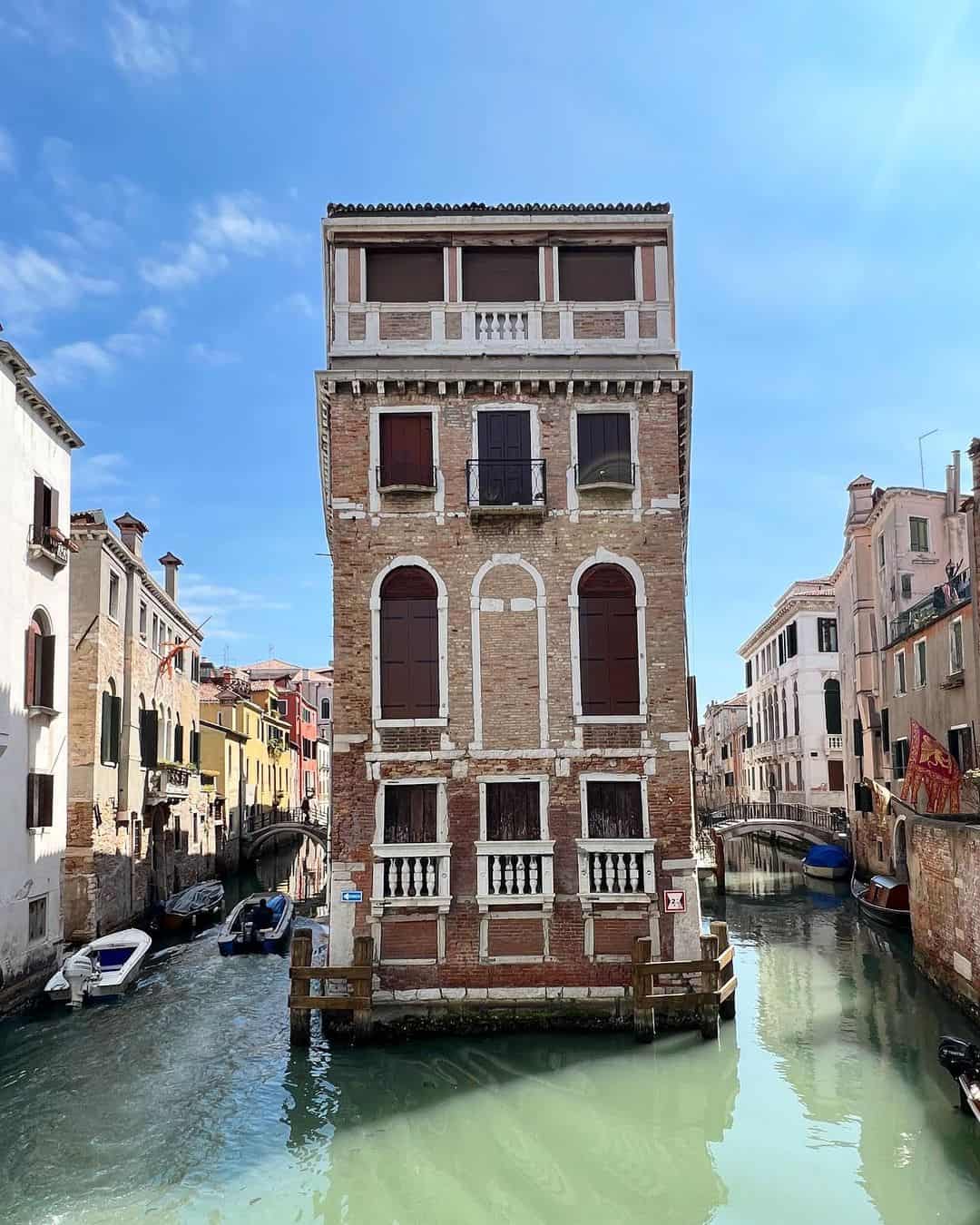 When planning a trip to Italy, Venice is likely high on your list. The city is the capital of Italy's Veneto region and it needs no introduction.
There are no roads here, just an intricate, labyrinth-like network of canals best navigated in a gondola. Ideally, you are accompanied by a singing Gondolier too, who serenades you with all the classics as you explore.
Venice and its lagoon were inscribed as a UNESCO world heritage site back in 1987. Every year, the city sinks a little bit more into the water – a reality not helped by global warming.
The Rialto and St Mark's Square are must-sees. Regardless of how touristic Venice may seem, or how many times you have seen it photographed in travel media, nothing compares to arriving here and seeing it firsthand for yourself.
Best Venice Instagram captions
St Marks the spot


The floating city has my heart


Going, going, gondola!


When I see Venice, my eyes turn into little hearts


Oh darling, why don't we just stay in Venice?


Never met a Venetian canal I didn't like


Whatever floats your gondola


There's nothing to wine about in Venice


Venice, I'm gondola miss you


If you read a lot, nothing is as great as you've imagined. Venice is, Venice is better" – Fran Lebowitz


It seemed like a magical city, floating on the lagoon as if conjured by an enchanter's wand – Kate Forsyth


Here today, gondola tomorrow!


These amazing views in Venice are not to be mist


Gone with the gondola


Venice. It's not a place, it's a dream


Happiness comes in canals


I have really missed Venice since I've been gone-dola


You've never been to Venice? You have my gondolences


I think I'm gondola like it here


Arrived in Venice: cue the photo spam of canals and bridges


Absolutely loving my time in Venice!


Venice is simply amazing!


Gondola ride, anyone?


I'm in love with Venice


Venice, I love you a latte


Venice, ti amo!
Best Rome Instagram captions
Rome, as the Italian capital, is often the number one spot on people's Italy bucket lists, and for good reason. Not only is Rome beautiful, but it is bursting at the seams with historical and cultural sites, fascinating museums, and great restaurants.
The Colosseum, the Vatican with its magnificent Sistine Chapel, the Pantheon, the Trevi Fountain, and the Roman Forum are all must-see sites that you need to prioritize. Even if you don't have a massive interest in history, nothing can compare to seeing these world-famous attractions up close and personal with your own eyes for the first time.
Rome's neighbourhoods are also spectacular and are like little villages in themselves, each with its own distinct character and charm. Trastevere, the former Jewish quarter, is fast becoming a tourist favourite.
Its narrow winding cobbled streets were also loved by Roman Emperors, including Julius Ceasar who built a home here. Today, this labyrinth-like network of passageways twists and turns to reveal amazing restaurants, wine bars, and stores showcasing local cuisine and offering degustations.
A lesser-known gem is the trendy district of Ostiense, famous for its vibrant street art.
Best Instagram Captions about Rome
Rome is breathtaking, even though it's built on top of ruins. That means you can be too


I followed my heart and it led me to Rome


Gone to Rome. Back never.


Rome wasn't built in a day but it was certainly worth the wait


Rome more, worry less


Dear Rome, I love you!


In Rome, I simply had to sit and feel – E.M. Forster


A rainy day in Rome is better than a sunny day anywhere else


Roaming around Rome


This city is so Roma-ntic


Wherever we may Rome


Home sweet Rome


Roman sights and unforgettable nights


Rome, ti amo!


In Rome, the glass is always half full


Living la dolce vita in Rome


From Rome, with love


Rome is basically just one open-air museum


Take me back to Rome!


Roman holiday


I should probably move here, right?


Rome-ing around!


Rome, the eternal city!


Do as the Romans do: Eat your body weight in pasta, pizza and gelato!


Aperitivo, anyone?


Having prosciutto much fun in Rome!


Could Rome be the best city in Italy? I spaghetti!


My phone works just fine here. Must be because I have international Rome-ing
Naples Instagram captions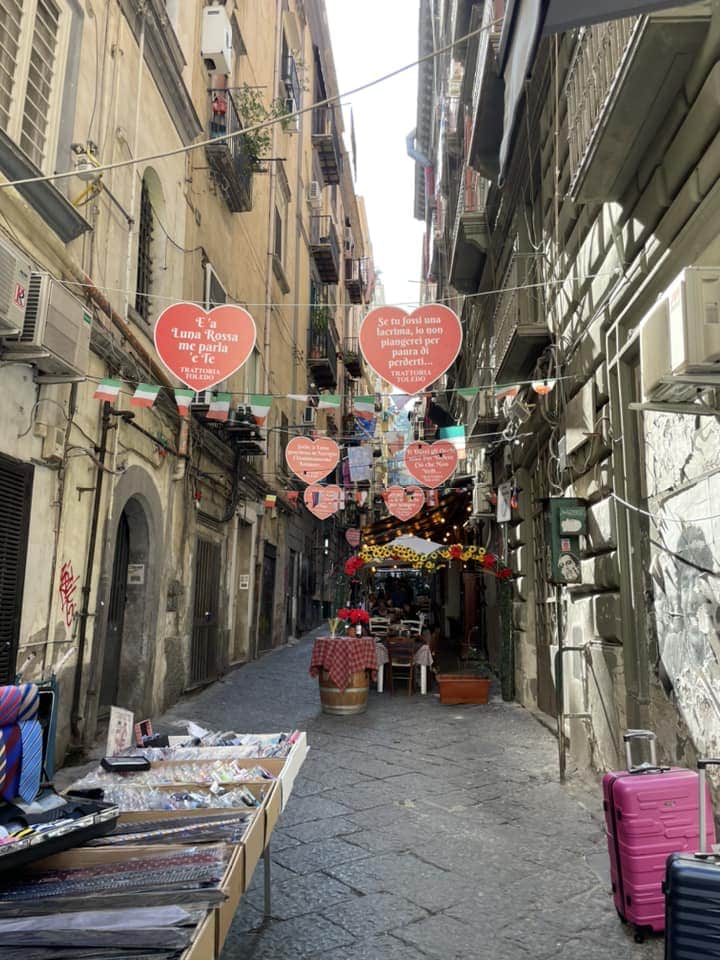 The Campania capital of Naples is a bit of a diamond in the rough when it comes to travelling to Italy. A lot of people are intimidated by the idea of travelling here and question whether Naples is really that safe as the city's reputation proceeds it.
More tourists have started travelling to Naples in recent years, particularly for the chance to try the pizza at L´antica Pizzeria da Michele – the supposed birthplace of pizza and the place where Julia Roberts ate in Eat Pray Love.
For some, passing through here is something of a necessary evil to get to Sorrento, the Amalfi Coast, and the islands of Procida, Ischia, and Capri. But it shouldn't be.
Naples may be a little more gritty and chaotic than a lot of other Italian towns and cities, but beneath the grit and graffiti, there's beauty to be found. Spacca Napoli is the long promenade that divides the city in half and runs through several marketplaces, pizzas, and shopping areas with views of Vesuvius at every turn.
Chiaia is Naples' beautiful upscale waterfront neighbourhood that makes a great place to stop for lunch or shop for clothes at boutiques owned by independent Italian designers. Meanwhile, in Piazza Bellini, you can sip cocktails or enjoy an aperitivo in a quirky bar overlooking Ancient Greek ruins.
Best Italy Instagram captions about Naples
So, without further ado, here are some of the best Italy Instagram captions to share on your feed posts and reels from Naples.
See Naples and die


Welcome to Naples, the birthplace of pizza!


Canta Napoli!


Naples is always a good idea


Buonasera Signorina, Buonasera, it is time to say goodnight to Napoli


Just catacomb-ing around Naples


Sightseeing is tiring. It would take a Herculaneum effort to drag me out of bed this morning.


Ash me how my day was in Pompeii (sorry!)


I am absolutely lava-ing my photos from hiking Mount Vesuvius!


Pompeii: A life in ruins


How do volcanoes feel about jokes? They lava good joke!


Naples took a pizza my heart


Happiness is not a state of mind but a trip to Napoli


Italy, I think olive you


All roads lead to the Duomo


Once upon a time in Naples


Espresso-ing myself in Naples


Naples, ti amo!
Instagram Captions in Italian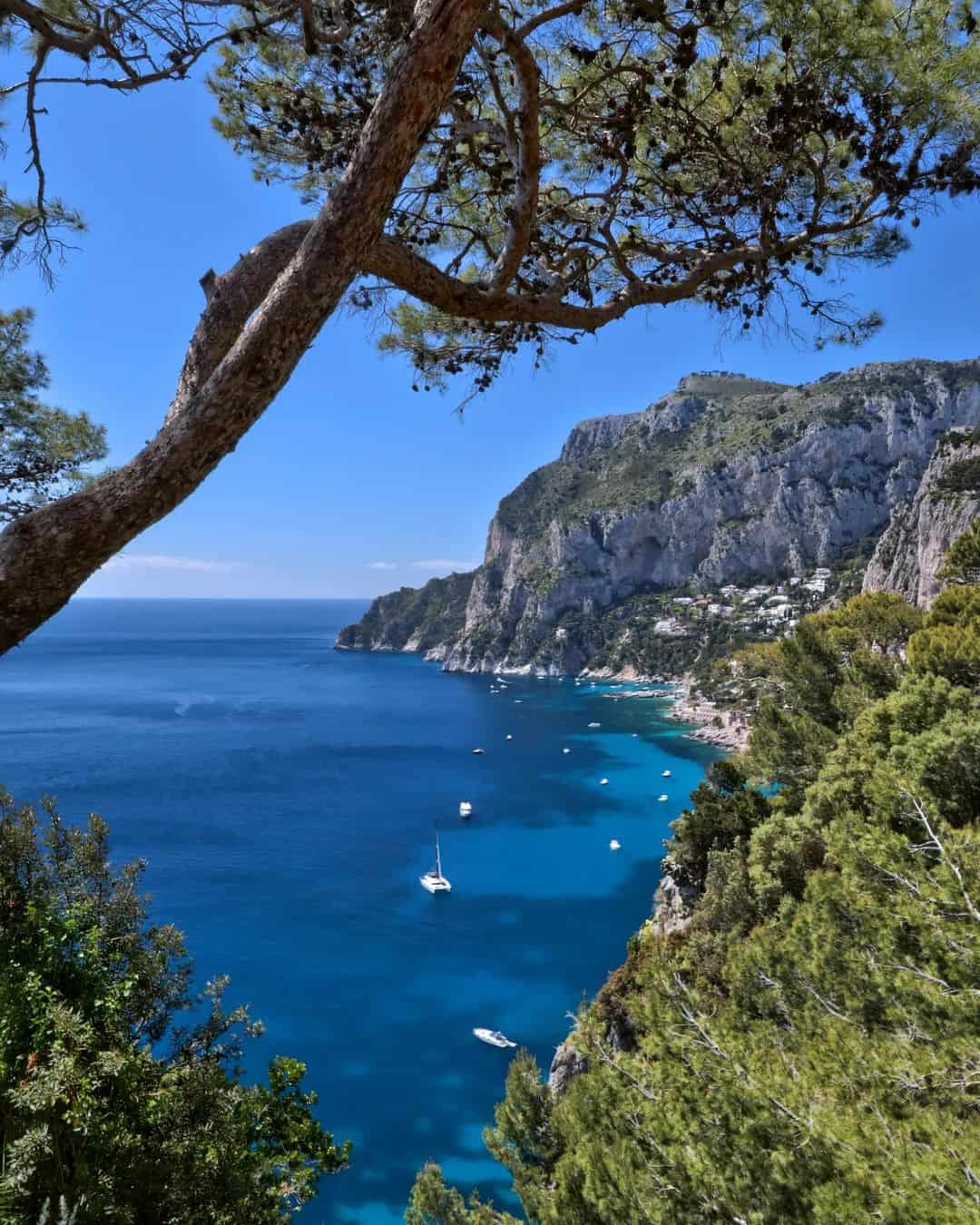 If you want to appear mysterious and cultured, you may want to write your Instagram captions in Italian. Below, you will find a selection of Italy Instagram captions in Italian that are a mixture of funny Italian phrases, proverbs, and traditional sayings.
Hai una mappa? Mi sono perso nei tuoi occhi (Have you got a map? I was lost in your eyes)


A tavola non si invecchia (You don't get old when you're sat having dinner)


Mangia che ti passa (Eat and you will feel better)


Il buongiorno si vede dal mattino (A good day starts in the morning


Vedi Napoli e poi muori (see Naples and die)


Anni e bicchieri di vino non si contano mai (Age and glasses of wine should not be counted)


Chi dorme non piglia pesci (Who sleeps does not catch the fish aka don't be lazy!)


Meglio solo che male accompagnato (Better alone than in bad company)


Amor senza baruffa fa la muffa (Love with no quarrels gets mould)


La cucina di un popolo è la sola esatta testimonianza della sua civiltà. (The cuisine of a country is the only testimony of its civilisation worth listening to)
Italian Jokes and Italian Puns for Instagram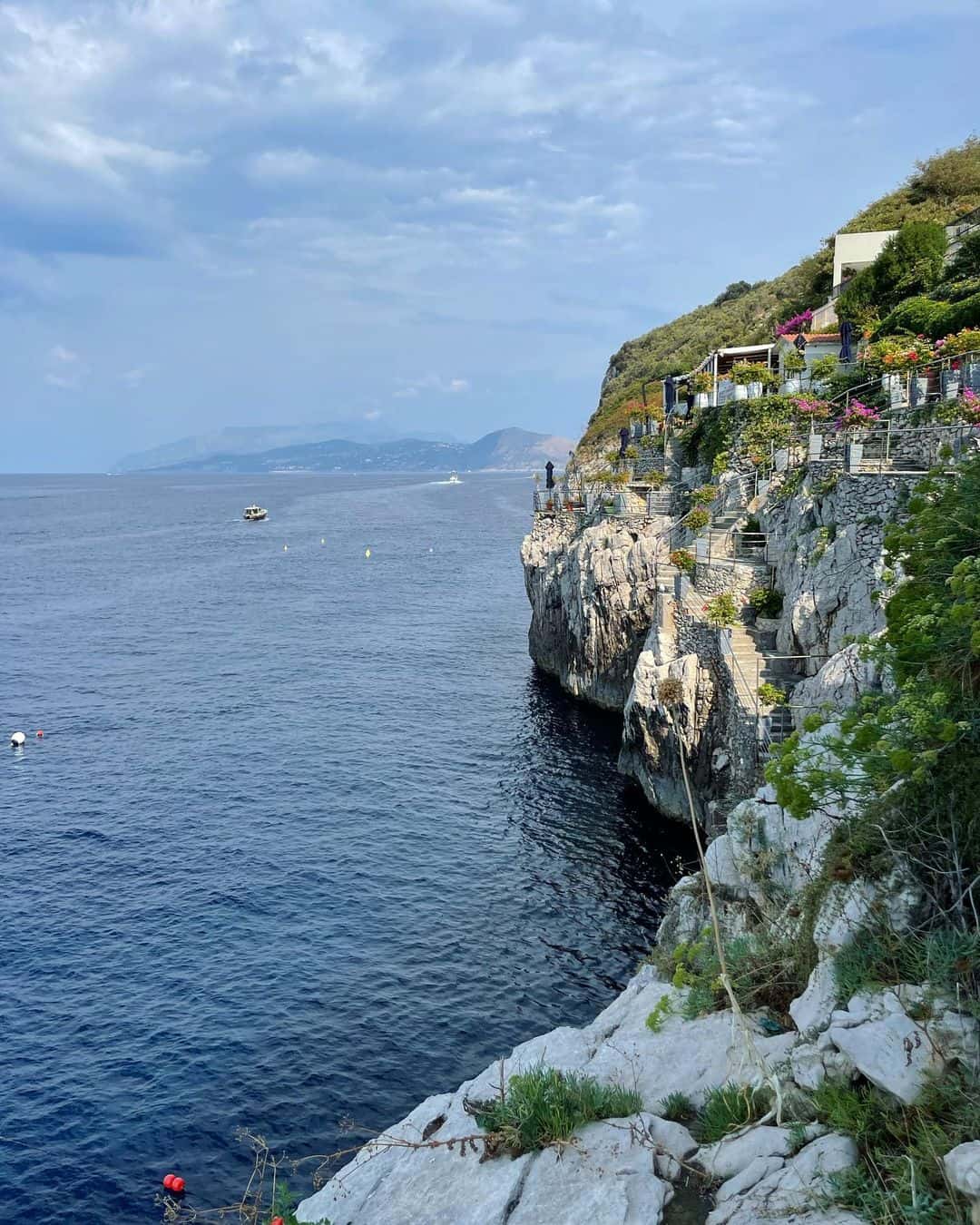 Italian jokes, as jokes in any country, vary from sophisticated intellectual humor, to cringy dad jokes. But sometimes, Italian jokes are so bad that they are good. And besides, they make good Italy Instagram captions if you are looking for something a little unique.
Best Italian Jokes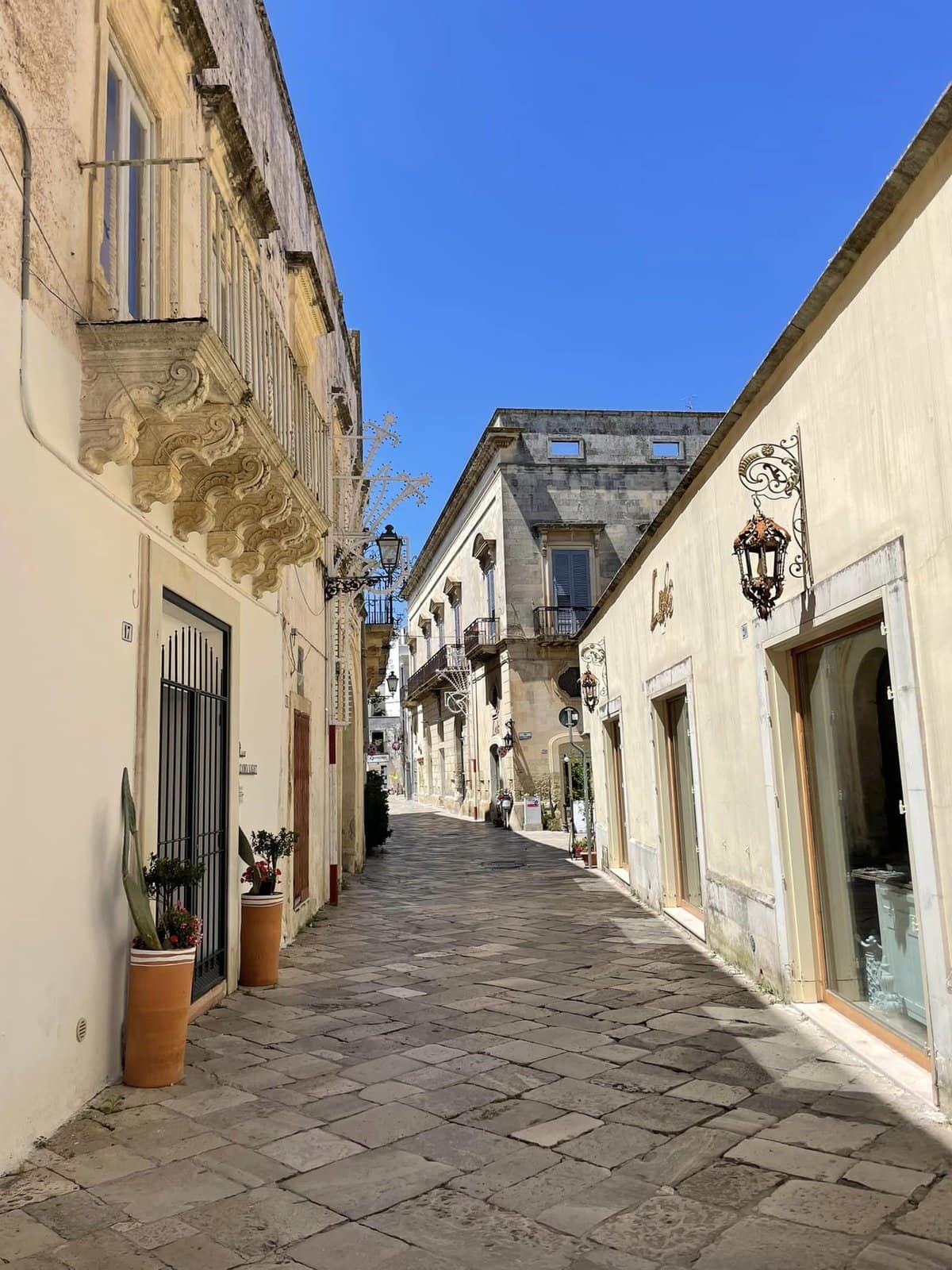 Did you hear about the Italian chef that died? He pasta-way


Oh Italian coffee, words cannot espresso how much you mean to me!


Penne for your thoughts?


Every pizza is a personal pizza if you try hard and believe in yourself (Bill Murray)


What do you call a Roman with a cold? Julis Sneezer


What does an Italian have when one arm is shorter than the other? A speech impediment


My wife didn't think I could make a car out of spaghetti. You should have seen her face when I drove pasta


I'm not Alfredo telling you that I'm in love with Italy!


You cannoli do so much on one vacation.


Italy has turned me into a gelat-hoe


I chianti-ven believe I have to leave Italy soon


My friend was thinking of randomly traveling to this little island south of Italy. I said "Don't be Sicily"


Italy, I'm going to tiramisu terribly!


Italians are so good at making coffee because they are good at espresso themselves.


Where do foodie Italians go on vacation? The Leaning Tower of Pizza.


I don't gnocchi how I am going to cope when I have to leave Italy


Italy: Come for the sightseeing, stay for the gelato


Maybe we should ask him to join us? He looks cannelloni


What do you call a fake noodle? An impasta


You can cannoli imagine how beautiful Italy is in real life


What do you call an Italian with a rubber toe? Roberto


You want a Pisa me?


I'm pasta-tive that we will be back in Italy soon!


Italy is prosecco-nd to none!


My favorite instrument is the limoncello.


Italy has Agrippa on my heart.


Travel is not about finding yourself. It is about finding pizza in Italy.


I'm having a Venice time


Today's good mood is sponsored by Aperol Spritz

Thoughtful Italy Instagram Captions by Famous People
Venice is like eating an entire box of chocolate liqueurs in one go – Truman Capote


Everything you see, I owe to pasta – Sophia Loren


You may have the universe if I may have Italy – Giuseppe Verdi


Life is a combination of magic and pasta – Federico Fellini


Italians stroll into work at 10. Lunch from 12 till three. Leave work at five. That's living! John Lydon


In heaven, after antipasti, the first course will be pasta – Steve Albini


If I could re-name love, I'd call it Venezia – Conny Cernik


Is there anywhere in the world as full of beauty as Italy? Natalia Sanmartin Fenollera


Naples sitteth by the sea, a keystone of an arch of azure – Martin Farquhar Tupper


Rome is the city of echoes, the city of illusions, and the city of yearning – Giotto di Bondone


To Rome, for everything – Miguel de Cervantes


Venice never quite seems real, but rather an ornate film set suspended on the water – Frida Giannini
General Ideas for Italy Instagram Captions
You'll never know how beautiful the world can be until you go and see it for yourself


I've found my happy place


Take memories, leave footprints


Always say yes to new adventures


From now on I am only doing things that spark joy… like taking trips to Italy


Greetings from Italy. I live here now


Somewhere between living and dreaming, there's Venice


Might just stay in Italy indefinitely


Tans fade but memories last a lifetime


I'm a travel addict on the road to recovery. Just kidding, I'm on my way to the airport


Life's too short, get the double scoop of gelato


Problems come and go, pizza is forever


Can you ever really eat too much pasta?


I want someone to look at me the way I look at pizza


They say 'Do what makes you happy so I bought a ticket to Italy
Best Italy Instagram captions: final thoughts
Do you have any additional questions or queries about these Italy Instagram captions or visiting Italy for the first time, renting a car in Italy, teaching in Italy, etc?
I used to live in Naples. I am happy to assist with any questions you may have. Feel free to drop me a comment below.
Buon viaggio! Melissa xo
---