Where neon meets ancient traditions and where fascinating Eastern cultures meet Western influences, Seoul makes a great Asia travel destination. While there is certainly enough to do on a Seoul itinerary to keep you occupied for a week or more, I understand that you may be short on time. Perhaps you are simply spending a few days in Seoul as part of a wider Asian adventure or a business trip so in that case, this 48 hour Seoul itinerary will discuss the very best things to do in Seoul with a limited amount of time.
When to Visit Seoul
If you are unsure about when is the best time to plan your Seoul itinerary, it is important to understand how much the weather varies in Seoul and South Korea from season to season. Seoul sees extremes of climates. The Korean capital has very hot, humid summers and icy cold winters where temperatures are often well into the minuses.
Spring (March to May)
Spring is arguably the best time to visit Seoul. Temperatures during this time are warm and pleasant – often around the mid twenties in terms of degrees celcius. Springtime in Seoul is also when the beautiful pink cherry blossoms are in full bloom.
Summer (June to August)
Summer in Seoul gets very hot and humid – think temperatures between 30 and 40 degrees celsius. Fortunately, virtually everywhere is air conditioned. July and August in Seoul are also the rainy seasons with frequent, monsoon-like showers scattered throughout each day.
Autumn (September to November)
When the temperatures dip and the leaves begin to fall, Autumn is also a pleasant time to travel to Seoul. The climate during this period is similar to that in the spring. Be mindful of travelling during Chuseok however. This is the Korean answer to thanksgiving (a celebration of their ancestors at least) and many things in Seoul shut down as Koreans travel all over Korea to visit relatives. (This can also cause some headaches for a wider Korea itinerary).
Winter (December to February)
Seoul becomes exceptionally cold in the winter months. Temperatures during this period often fall as low as minus 15 or minus 20 degrees celsius making even short stints of time spent outside feel unbearable. Christmas is not really celebrated in Korea so there is also not much of a festive atmosphere during this time.
Seasonal Celebrations
Check to see what festivals and celebrations are taking place in Seoul during the time of your visit. There always seems to be something going on in this eclectic city. In Spring, you can witness the parades and festivities of Buddha's birthday – a unique event that you are unlikely to see anywhere else. In the Autumn and Winter months, the lantern festival sees the banks of the Han river decorated with beautifully coloured handmade paper lanterns.
Where to Stay in Seoul 
Seoul is far more than just another city with no soul. In fact, Seoul is jam-packed with soul. Every individual neighborhood in this megalopolis has its own distinct personality. Since the city is so well-connected by the metro network, wherever you choose to stay within the centre places you in close proximity to some of Seoul's main attractions. For accommodation inspiration, take a peep at my guide on where to stay in Seoul during your Seoul itinerary.
How to Spend 48 Hours in Seoul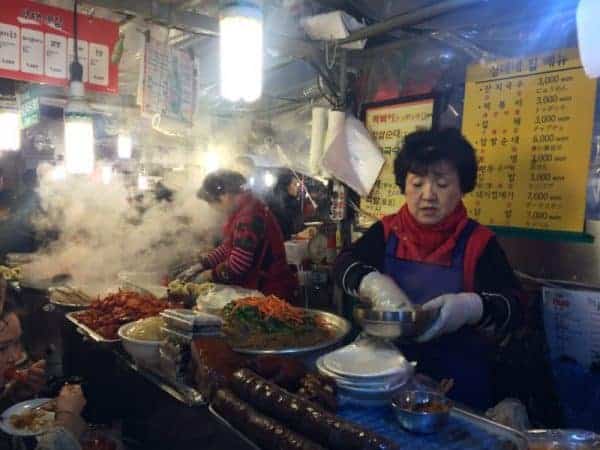 Seoul Itinerary Day One
9am: Explore the Winding Alleyways of Bukchon Hanok Village
Start day one of your Seoul itinerary in Bukchon Hanok village, one of the oldest neighbourhoods in Seoul. Comprised of an intricate network of alleyways and narrow streets which lead up into the hills, visiting Bukchon feels like stepping back in time. The traditional houses here known as "hanoks" were once home to Korean nobility and have since been transformed into stores selling traditional handicrafts, art galleries, restaurants and guesthouses. Simply taking the time to wander and get lost in these streets is a wonderful experience.
When you need a break from exploring, head inside one of the picturesque traditional Korean tearooms and try a pot of apricot or jujube tea.
11am: Watch the Changing of the Guards at Gyeongbokgung
A louder, more vibrant and colourful alternative to London's changing of the guard ceremony, the daily procession at Gyeongbokgung is a fascinating spectacle and is free to watch every day at 11am and 2pm respectively. It should not be missed from your Seoul itinerary.
A former Joseon palace, Gyeongbokgung was once inhabited by the King of Korea. Though there is no-one inside today, the tradition of the ceremony is still celebrated. Spend a little time exploring the beautiful grounds of Gyeongbokgung while you're here and don't miss the free folk museum.
1pm: Have Samgyetang at Tosokchon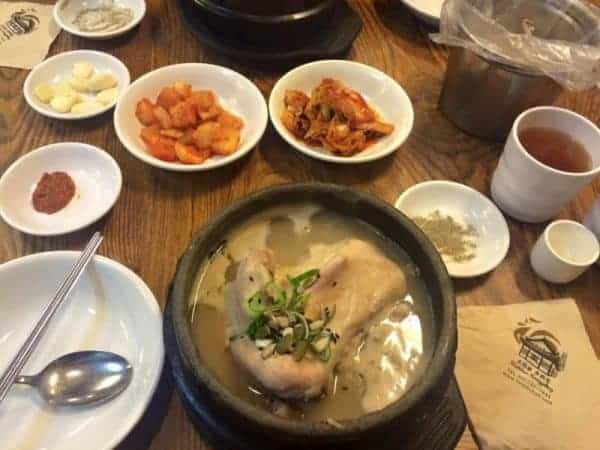 A much loved local delicacy, Samgyetang is an entire young chicken that is roasted and stuffed with rice, garlic, onion and other spices. This particular restaurant was a favourite of the late Korean President Roo Moo-Hyun and is awarded the accolade of being the best Samyetang restaurant in Korea.
Address: Tosokchon, 5 Jahamun-ro 5-gil, Jongno-gu, Seoul
Related article: Seoul Food: The best local eats in Seoul
2pm: Fall in Love with the Secret Gardens of Changdeokgong
Perhaps Seoul's worst kept secret, the "secret" gardens of Changdeokgong are beautiful grounds and floral displays that were a source of pride and joy for the King during the Joseon dynasty. The expansive 78 acre grounds are accessible only by guided tour.
Note: Changdeokgong and Gyeongbokgung are located across from each other. It is worth reserving your place on a Changdeokgong tour first thing in the morning when organising your Seoul itinerary schedule since places on English speaking tours are limited and often book up quickly. 
4pm Get Spiritual at Jogyesa Temple
Navigate your way through a haze of fragrant incense as you glance in awe at the giant golden Buddhas that reside within Jogyesa temple's main Dharma hall.  The sound of Buddhist drumming echoes through loud speakers and the entirety of the grounds are decorated with colourful paper lanterns year round. This elaborate spectacle is the head temple of the Jogye order in Korea and one of Seoul's most active temples.
Side note: Those interested can consider participating in the Korean Temple Stay program which offers international visitors the opportunity to shadow a Monk for a day. You can enjoy this as an alternate place to say during your Seoul itinerary or elsewhere in Korea.  (Read about my temple stay experience in Korea)
5pm Enjoy Korean BBQ at Mapo Jeong Daepo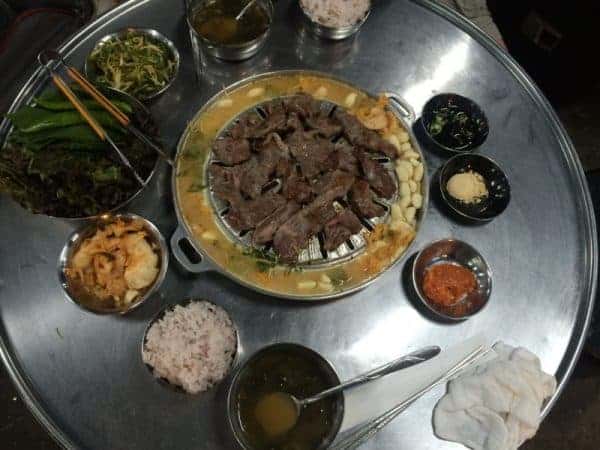 If there's one thing that Korea is renowned for globally, it's Korean BBQ and for good reason. Mapo Jeong Daepo in Seoul's Mapo-Gu neighbourhood is considered as one of the very best Korean BBQ joints in Seoul and is a favourite among my Korean friends. The "Korean" way to eat the beautifully marinated beef is to add some gochujang (chilli bean paste) to it and wrap it in a lettuce leaf. Yum!
Address: Mapo Jeong Daepo "Mapo Cannon", 52, Mapo-gu, Dohwa-gil, Seoul
7pm: Prepare For an Evening of Glitz and Glamour in Gangnam
PSY may have put Gangnam on the map with his peculiarly catchy tunes and horse dancing but the fact of the matter is, this is one of Seoul's most upscale and exclusive neighbourhoods. Be sure to stop by Gangnam for at least a tipple or two during your Seoul itinerary to get an insight into how Seoul's jet-set live.
For cocktails and live Jazz performances, enjoy an early evening tipple at the "Once in a Blue Moon" cocktail bar before making your way over to the rooftop bar at Hotel Cappuccino.
The name of the latter really gives nothing away; Hotel Cappuccino is Seoul's first gin mixology specialist bar and the friendly bartenders can rustle up whatever drink tickles your fancy. What's more, it's coined as being one of the best rooptop bars in Seoul so you can enjoy the spectacular views of the city that never sleeps below as you sip.
Once in a Blue Moon: 85-1 Chungdam-Dong, Gangnam, Gu
Hotel Cappuccino: 155 Bongeunsa-ro, Gangnam-Gu 
Seoul Itinerary Day Two
9am: Explore the Ihwa Art Village
Ihwa Mural Art village is one of the many "moon villages" in Korea. These were less than desirable neighbourhoods (read: slums) that became incredibly rundown and neglected. Feeling disgruntled about their living environment, the locals painted their houses in pastel colours and decorated the streets with art work. There are plenty of cute cafes in this area and it's a popular first date spot for Koreans.
12pm: Have Lunch at Hanok Jip
Hanok Jip is one of my favourite restaurants in Seoul and I am confident that you will enjoy it even if you are the type of person that ordinarily doesn't like to experiment with unusual foods when you travel! Their main dish is bulgogi stew, or ttukbaegi bulgogi (뚝배기불고기) as it is known locally. The dish consists of broth, fresh vegetables and bulgogi (thin strips of marinated beef) that you cook over the stove in front of you. Highly recommended.
Address: Hanok Jip, 164-2 Dangsan 1(il)-dong Yeongdeungpo-gu, Seoul
1pm: Brave the Crowds at Myeongdong
Myeongdong is essentially Seoul's mecca for shopaholics. This is the place to pick up your souvenirs, check out the latest quirky K-fashions and load up on Korean cosmetics. Street vendors set up shop in the midst of the crowded walkways and this area is renowned for its eccentic and super instagram-able street snacks.
3pm: Explore Namsan Park
When you think of a buzzing megalopolis like Seoul, green open spaces and beautiful natural scenery aren't exactly the first things that spring to mind. However, the Korean capital is so large that it contains several national parks within its grasp, the most notable of which is the central Namsan park. Make your way up ascending trails towards some of the best views of the city. At the top, you will be greeted with Namsan tower.
Note: if you don't fancy the uphill walk, there are both cable cars and buses that run to the top of Namsan. 
5pm: Venture Up Namsan Tower
Namsan tower's central mountain-top location is perfect for offering breathtaking 360 degree views of the city below.
6pm: Experiment with Weird and Wonderful Street Food at Gwangjang Market
With stalls and pojangmacha tents occupying virtually every street corner, street food is a major part of Korean culture. There really is no better place to experience the very best of Korean street food tradition than by stopping at Gwangjang Market, Seoul's oldest food market. Delicacies available range from those perfectly suited to the Western palette (order a Mung Bean pancake and thank me later), to the extremely adventurous such as live octopus.
Make your choice, pull up a stool alongside the overworked Korean businessmen and wash it all down with a glass of Soju, traditional Korean alcohol.
(Related article: Traditional foods to try at Seouls Gwangjang market)
8pm: Stroll along the Cheonggyecheon Stream
The Cheonggyecheon stream is a man-made stream that extends through the length of Seoul and was created as part of a city wide "beautification" project. Providing a nice contrast to the towering high-rises that surround it, the banks of the Cheonggyecheon are decorated by locals feature various art exhibitions, light installations, and other creative endeavours. At certain points throughout the year, the banks are illuminated with paper lanterns.
9pm: Enjoy Drinks with a View at Dongjak Gureum Cafe
The Hangang river that runs through Seoul divides the city and creates a dramatic skyline. Grab a cocktail or glass of vino at Cafe Bar Gureum and pull up a seat by the window to see incredible views of the Asian city that never sleeps illuminated in the darkness.
Address: 350 Dongkak-daero, Seocho-gu, Dongjak Bridge, Seoul
If you have a little more time in Seoul, check out this list of 25 things to do in Seoul for additional inspiration!
Have any questions about this 48 hours in Seoul itinerary or need advice on planning your trip? Let me know in the comments below!
Seoul Itinerary: Find Accommodation in Seoul
Seoul Itinerary: Pin it For Later!
Disclaimer: High Heels & a Backpack occasionally uses affiliate links around the site. This means that should you choose to buy a product through a link in this Seoul itinerary, I get a small % of commission at no additional cost to you. This aids me in the costs of running this site and helps me continue to provide you with free advice. I only work with travel companies I use myself and truly believe in. Thanks for your understanding. 
---