Embarking on a Seoul itinerary is a once in a lifetime experience. The Korean capital has so much to offer the open-minded traveller and yet, it remains grossly underrated.
At first glimpse, Seoul may look like ¨just another¨ big city, but don't let your first impressions deceive you. Seoul is not just a sprawling megalopolis.
The city is bursting with personality and soul. It is made up of various different districts and neighbourhoods, each of which are like little villages in themselves and have their own unique personalities.
Seoul offers a fabulous juxtaposition of east meets west, and ancient traditions meet modern contemporary living. You could easily spend a month in Seoul and still feel as though you have barely scratched the surface.
Getting to Seoul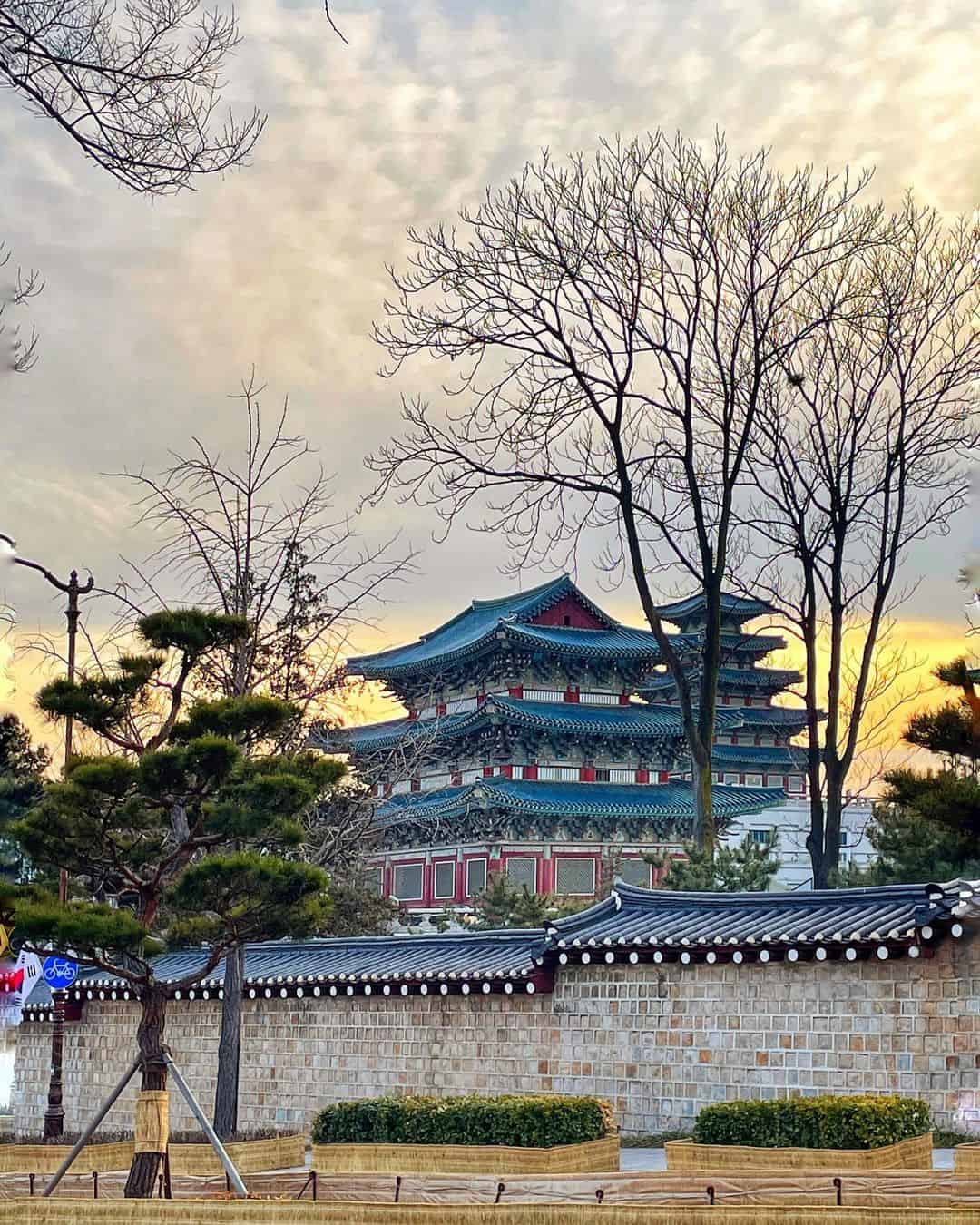 There are two international airports in Seoul: Incheon and Gimpo. However, most international arrivals land at South Korea's largest and main airport: Seoul Incheon International (인천국제공항).
Incheon is located 48km from Seoul and it is easy to move between the airport and the city by cab and public transport. Platforms such as Skyscanner and Google Flights are the best way to search for flights into Seoul.
Being somewhat flexible on your specific travel dates can help you to secure good deals. For instance, Skyscanner allows you to search for flights across the entire month. You will be surprised to see how much price variation there can be by simply pushing back your flight by a day or two.
If you are visiting Seoul as part of a wider South Korea itinerary, you can also fly into Busan airport. However, there are fewer flights into Busan compared to Seoul. There is a distance of 329 km (circa 3 hours) between the two cities.
Getting Around Seoul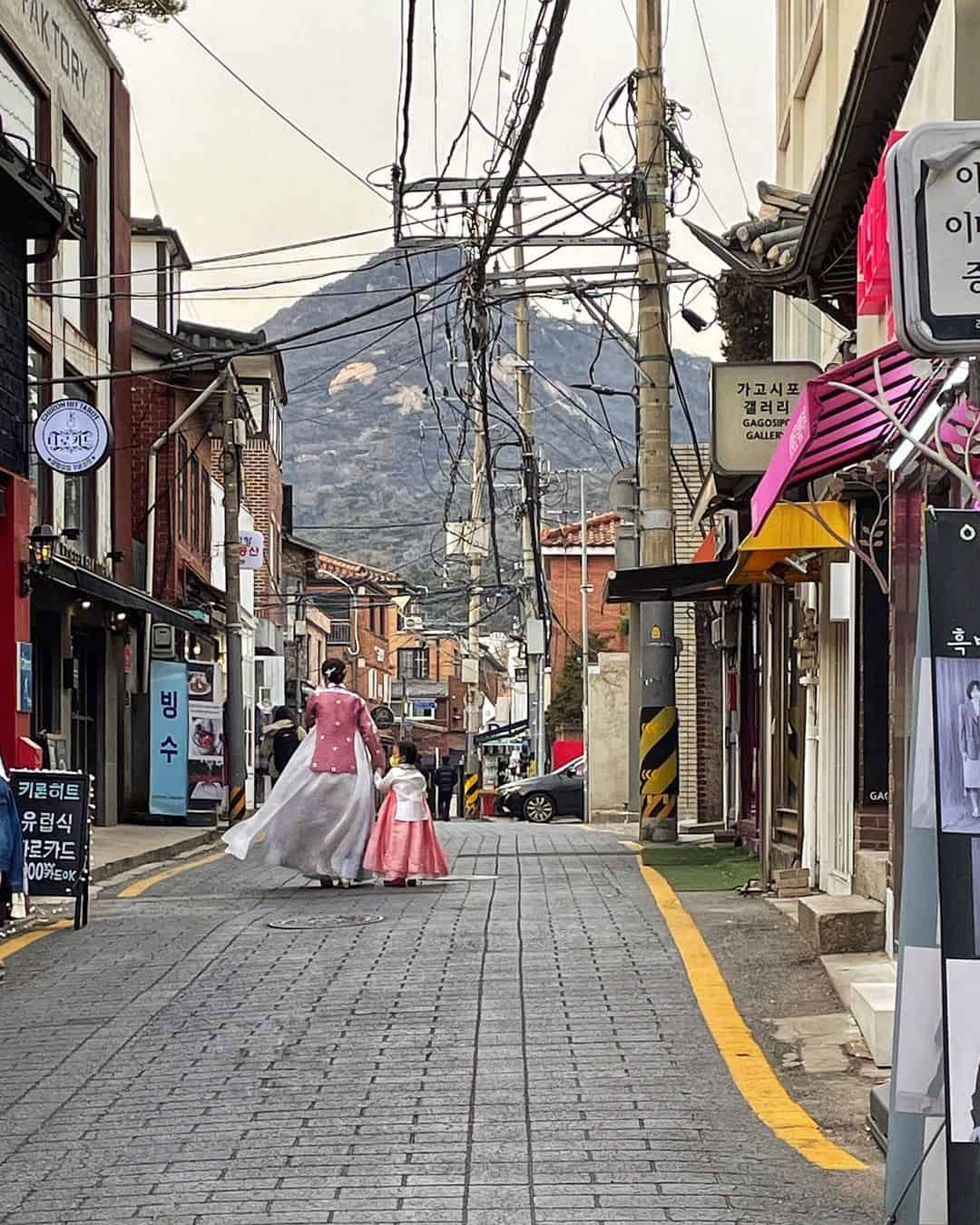 Seoul is a sprawling city and it can take more than an hour to get from one side of the Korean capital to the other. But there is always something to see here and using public transport or meandering through offbeat neighbourhoods is all part of the fun.
Take the Seoul subway
The Seoul subway is one of the easiest ways to get around the Korean capital. The network is so comprehensive that it even extends to the nearby cities of Suwon, Ansan and Incheon.
A single journey on the Seoul subway costs 1,350 won for adults and teenagers, and 450 won for children. However, you should be sure to pick up a TMoney card from one of the ticket machines to save money.
The Seoul subway is pretty self-explanatory to use. You can purchase rechargeable T-money cards and individual tickets from the machines. The displays are in a number of languages including Korean and English.
You should also consider downloading the Subway Korea app on your phone prior to embarking on your Seoul itinerary. It tells you the live statuses and departure information for all trains and can be a lot more user-friendly in helping you to get around, rather than simply depending on the station displays.
Ride the bus
Seoul buses operate around downtown Seoul and the wider metropolitan area. They are cheap and easy to use.
However, sometimes it is faster and preferable to simply use the subway. The bus network here can be a little bit overwhelming.
There are more than 400 bus routes throughout Seoul! You can use your rechargeable T-money card on Seoul's buses as well as its subway trains.
Blue coloured buses run on long-distance routes and green buses serve short-distance routes. Red Seoul buses operate on express routes and connect downtown Seoul with outer towns and suburbs.
As a tourist, you are perhaps most likely to use the yellow Seoul buses. They stop at railway stations, tourists sights, shopping and business areas, and blue bus stops which allow connections to areas outside downtown Seoul.
Take a cab
You will find cabs in plentiful supply around all areas of Seoul. Like practically any other city in the world, you can simply stick your arm out and hail a cab.
If the cab has its lights on, it means it is in service and open to accepting passengers. Most cabs here are orange, but you will also find white and green ones too.
Cabs in Seoul are an inexpensive and convenient way to get around. Korean cab drivers are pretty straight and are not likely to try and scam you.
It is best to avoid the black taxis if you can as these are considered ¨deluxe¨ a. They often charge as much as double the rate of the regular Seoul cabs!
Uber does not exist in Seoul. However, you can download Kakao taxis which is the Korean alternative.
Getting from the airport to the city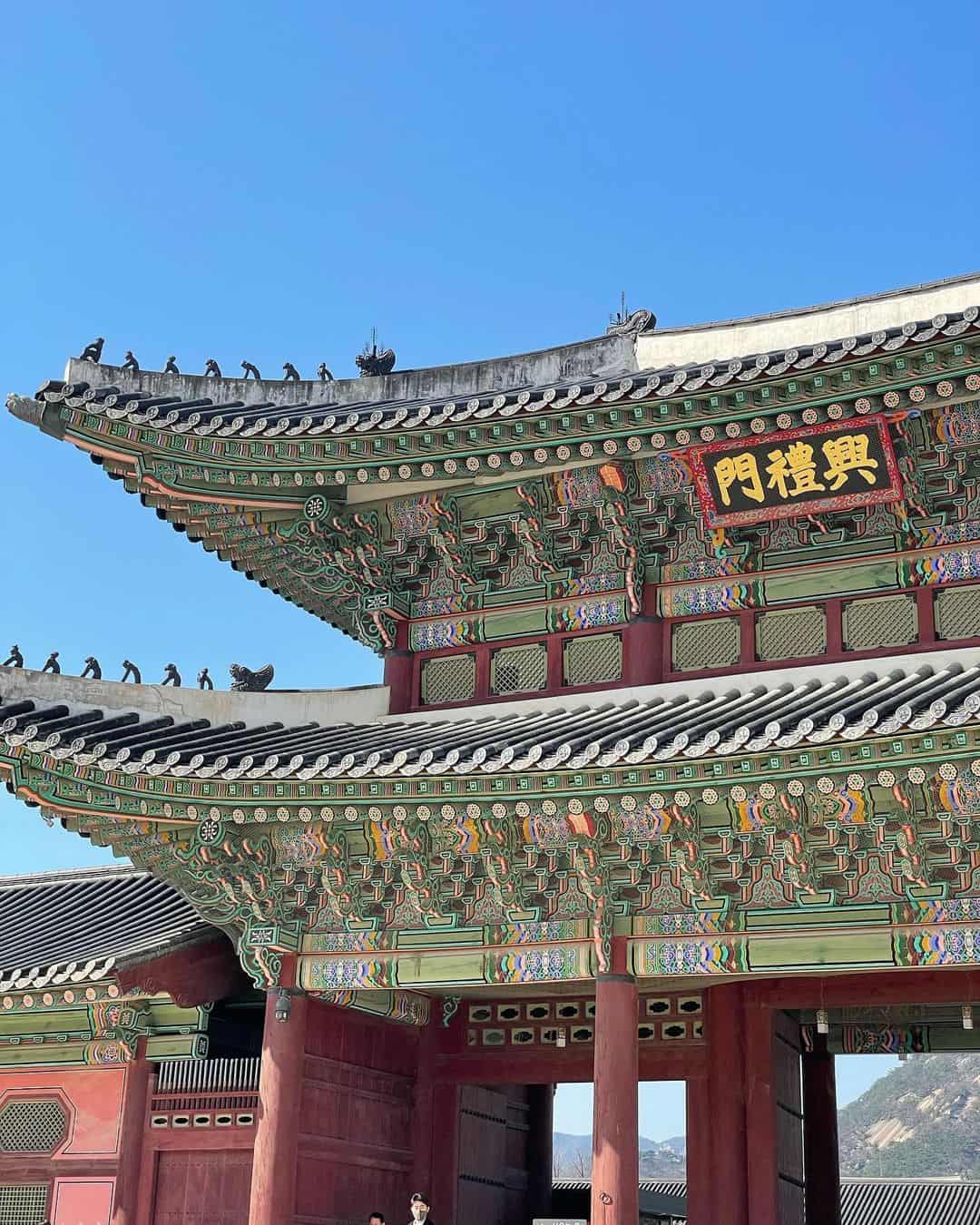 It is very easy to get from Incheon airport to downtown Seoul. You can take an Airport Railroad Express (AREX) train the entire way.
There is an all-stop train and an express train. They take 60 and 43 minutes respectively. Obviously, the express train is the faster option but the better train for you depends on where you need to disembark for your Seoul accommodation.
The Express train fare is 9000 won ($9) plus 500 KRW for your rechargeable T-money card. The all stop train is 4150 KRW ($4).
An express train passes by every 30 minutes while an all-stop train stops by every 15. There are also several buses that run from the airport to the city every 20-30 minutes or so.
All being well, the bus journey should not take any longer than the metro. However, traffic can be an issue, particularly at rush hour or on Friday and Saturday nights.
Incheon airport to Seoul buses are detailed below.
6001 – Incheon to Dongdaemun


6002 – Incheon to Cheongnyangni Station


6005 – Incheon to City Hall


6010 – Incheon to Wangsimni Station


6011 – Incheon to Induk University


6012 – Incheon to Gupabal Station


6013 – Incheon to Myeonmok Dong


6015 – Incheon to Myeongdong Station
Take a Seoul Walking Tour
Walking tours can be a nice thing to incorporate into your Seoul itinerary. Opting to explore with a local can enable you to discover off the beaten path districts, bars and restaurants that you would have not otherwise found.
Better still, when you explore with a Seoulite, you have someone that you can ask for recommendations on the best places to eat, drink and hang out during your trip. It is a good idea to schedule any tours at the beginning of your Seoul itinerary.
That way, they help you get your bearings in a new city. A number of reputable Seoul tours are detailed below for your consideration.
Recommended Seoul Itinerary
This Seoul itinerary aims to help you make the best of visiting the Korean capital if you only have a limited amount of time to see it. It contains a mixture of must-see sights and attractions and off-the-beaten-path hidden gems.
It has been written by a long-term Seoul ex-pat, not someone who only stopped by the city for a few days. Possible extensions are provided at the end of the itinerary, should you want to stay in Seoul longer or take day trips out from Seoul.
Seoul Itinerary Day One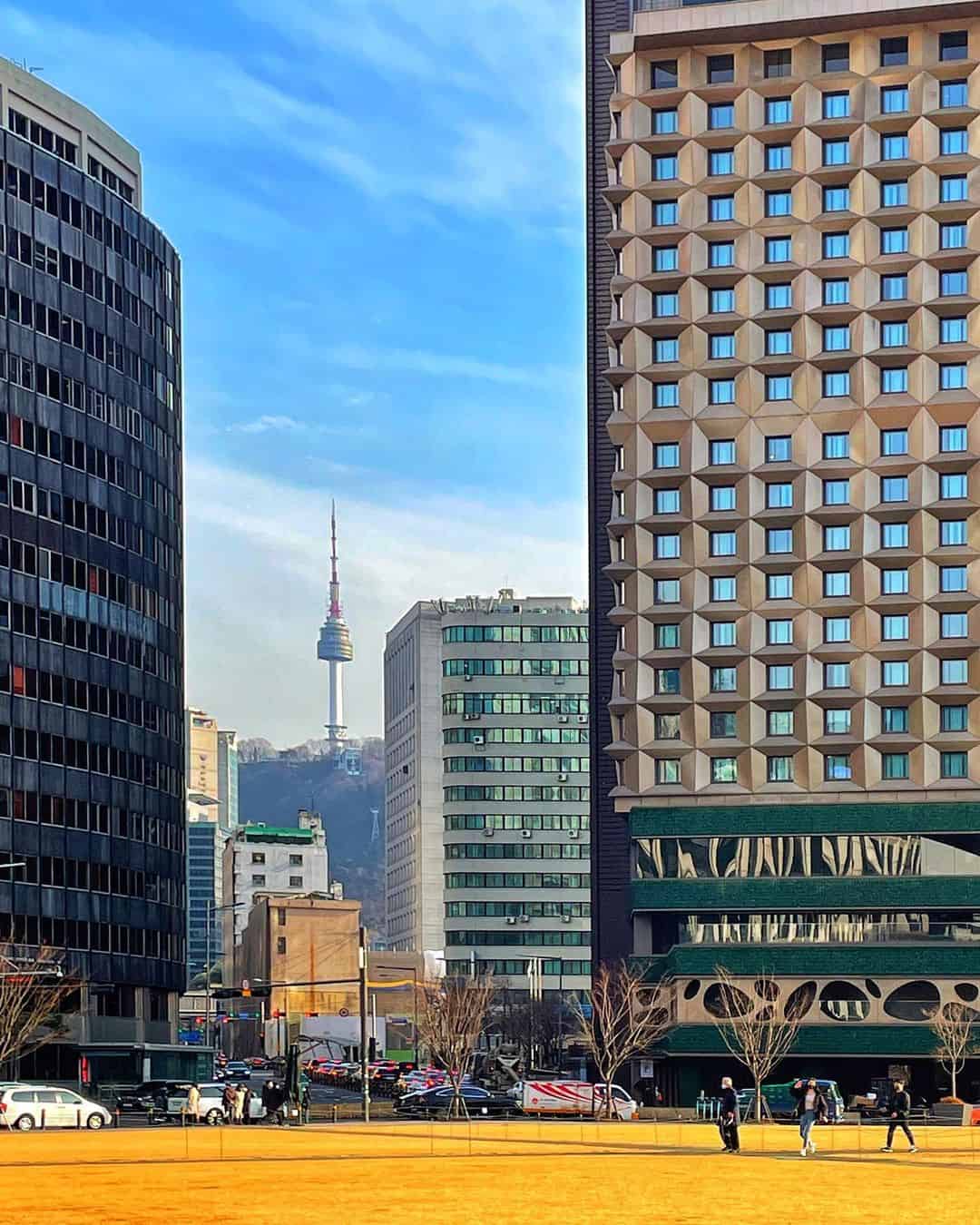 For the ultimate ¨only in Korea¨ type experience, opt to spend the first couple of nights of your Seoul itinerary in a hanok house. Bukchon hanok village, in central Seoul, is the perfect opportunity for that.
The traditional houses here were once home to Korean nobility during the Joseon dynasty (14th century-1897). They have been incredibly well preserved and travelling here feels like being transported back in time.
Explore the Winding Alleyways of Bukchon Hanok Village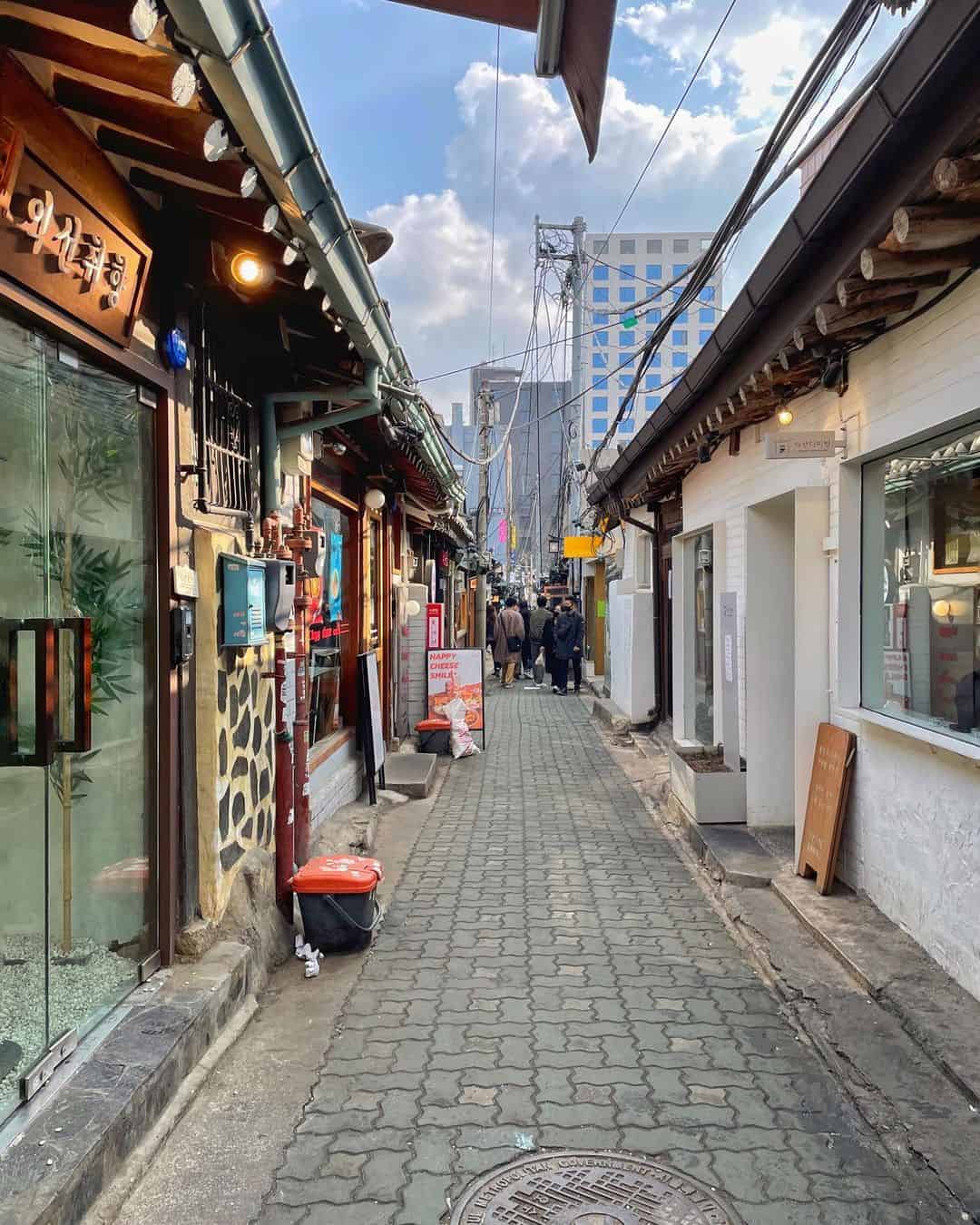 Start your morning bright and early with a coffee and a pastry at your hotel or in one of the charming coffee shops of Bukchon Hanok Village. This is one of the most picturesque parts of the Korean capital as well as one of the oldest.
Even on days when Bukchon's streets and passageways are filled with camera-wielding tourists, it doesn't lose its charm. This area is so charming that it almost looks like a movie set.
Part of the fun of exploring Bukchon is found in simply taking the time to get lost in its narrow alleys. Many of the hanok houses here have been transformed into stores selling traditional handicrafts, art galleries, restaurants and guesthouses.
Many of the stores here offer you the opportunity to rent a hanbok for the day. A hanbok is a colourful traditional Korean dress and meandering through these centuries-old streets in one makes for a wonderful photo opportunity!
You don't need to be embarrassed by doing so at all. In fact, Koreans themselves will often come here en masse to snap great pictures.
Bukchon is a photographer's dream. This neighbourhood also places you close to the next destination on this Seoul itinerary: Gyeongbokgung palace.
Watch the Changing of the Guards at Gyeongbokgung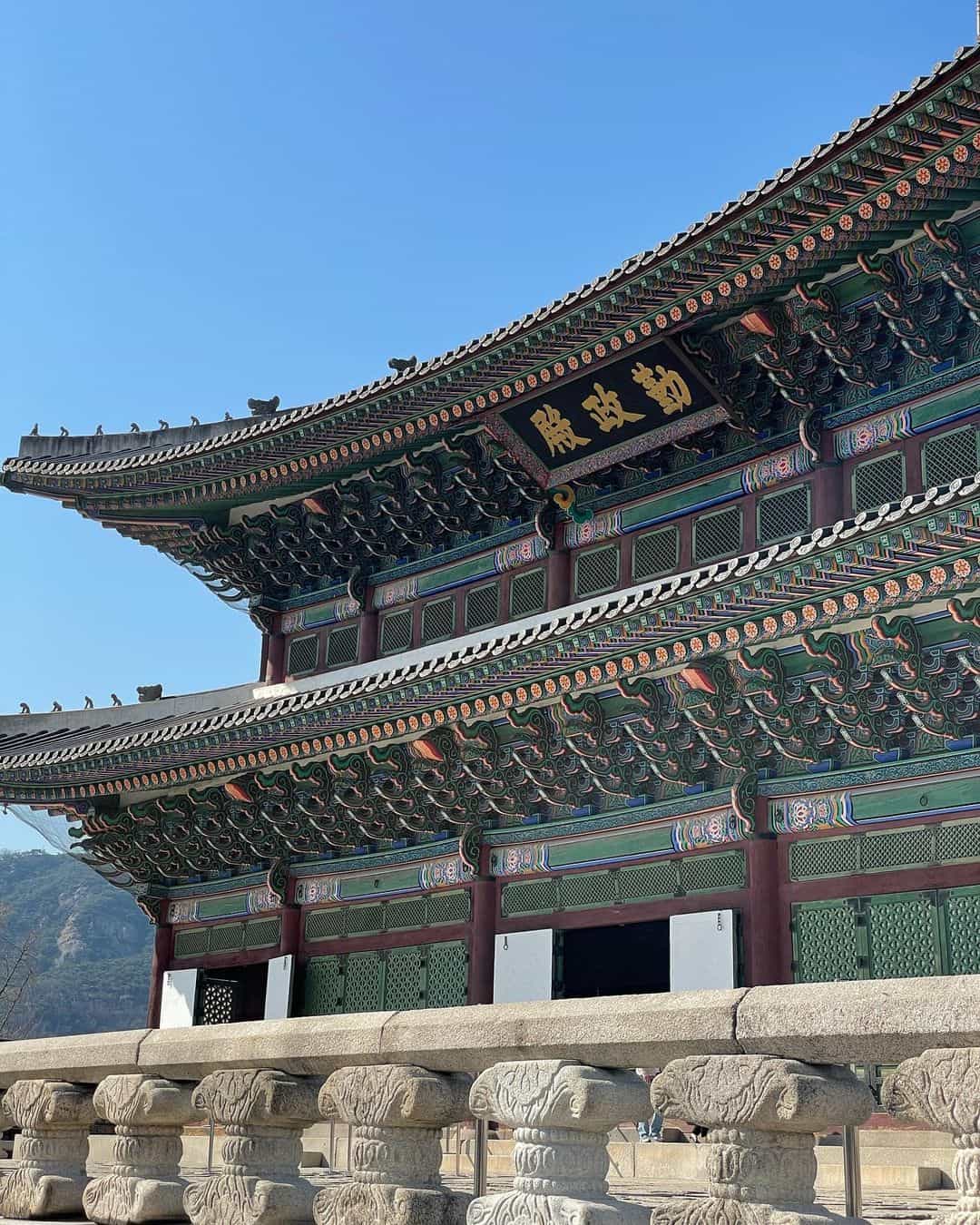 The daily changing of the guard ceremony at Gyeongbokgung Palace is a fascinating spectacle to behold. It is free to watch and takes place every day at 11 am and 2 pm respectively.
It should not be missed from your Seoul itinerary. Gyeongbokgung Palace dates back to 1395 and it was the main royal palace during the Joseon dynasty.
Today, it is no longer occupied, however, this charming tradition remains. Spend a little time exploring the beautiful grounds of Gyeongbokgung while you're here and don't miss the free folk museum.
Have Samgyetang at Tosokchon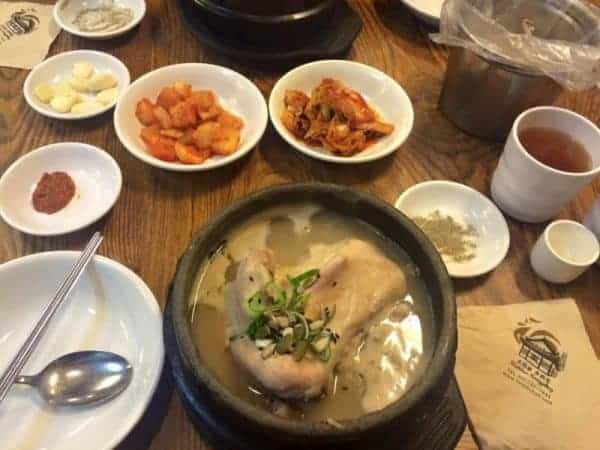 When lunchtime rolls around, you don't want to miss the opportunity to dine at Tosokchon (5 Jahamun-ro 5-gil, Jongno-gu, Seoul). This traditional restaurant is located conveniently close to Gyeongbokgung.
It is known for its samgyetang: mouthwatering ginseng chicken that is roasted to perfection and stuffed with rice, garlic, onion and other spices.
This particular restaurant was a favourite of the late Korean President Roo Moo-Hyun. Koreans from across the country widely consider this to be the best samgyetang restaurant in all of Korea.
Dining here is traditional Korean style. In other words, you will be asked to remove your shoes before you enter the restaurant.
Then, you dine on a futon and a small table. Even if you don't consider yourself as having much of an adventurous palate, chances are you will love samgyetang.
Stroll through the Secret Gardens of Changdeokgong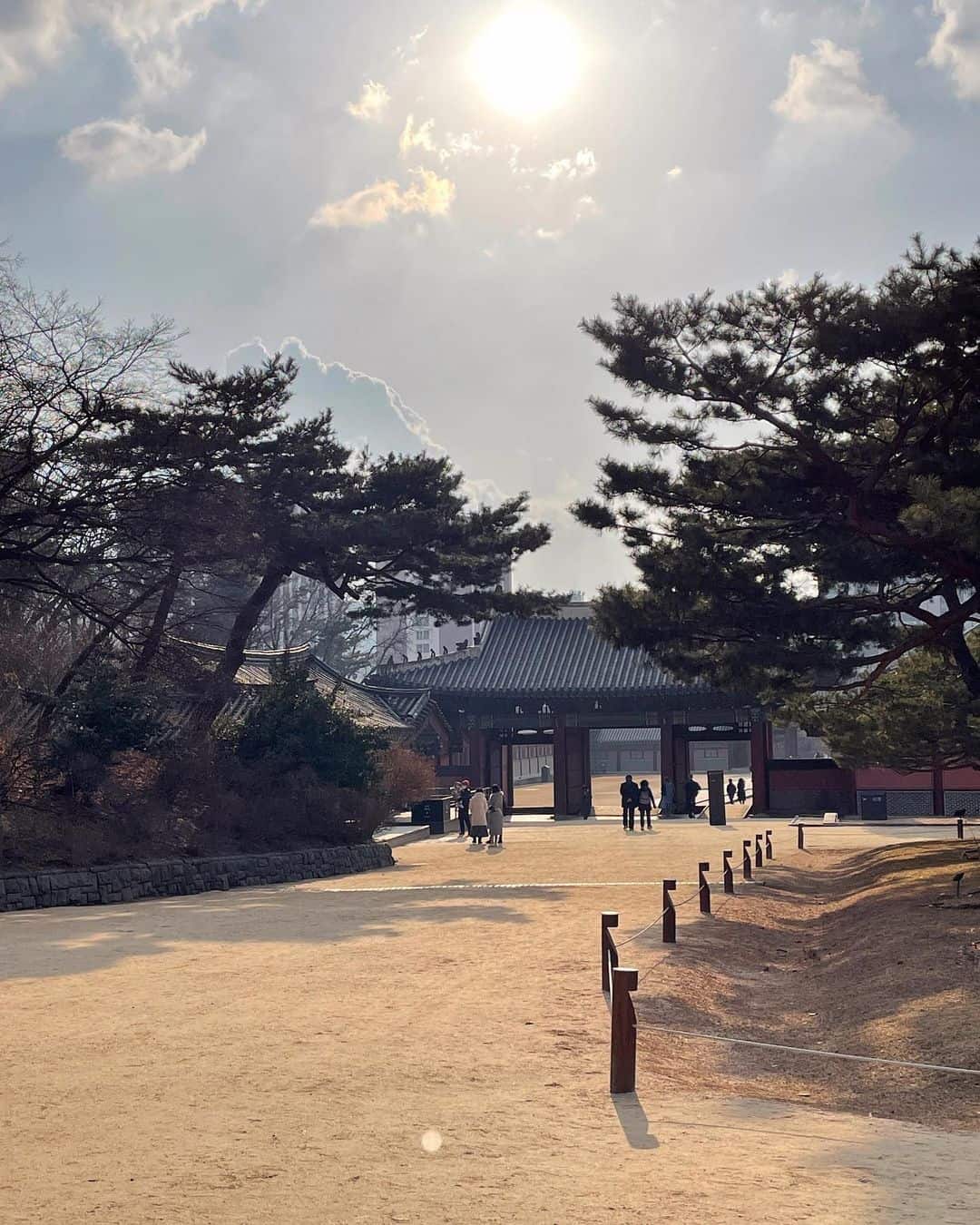 Changdeokgong Palace
Changdeokgong Palace (2-71 Waryong-dong, Jongno-gu, Seoul) is a Korean UNESCO world heritage site. It is the best-preserved of the Joseon era palaces in Seoul and it was here where Kings and Ministers would meet to discuss state matters.
Changdeokgong and Gyeongbokgung are well worth visiting even if you are not clued up on, or interested in, Korean culture. Arguably the main draw of visiting Changdeokgong is the palace's "secret" gardens.
The 78-acre grounds that encompass the palace are breathtaking and the floral displays here were a source of pride and joy for the King during the Joseon dynasty. It is worth noting that access to Changdeokgung is only permitted by guided tours.
There are a limited number of English language tours per day. So, it is worth either reserving your ticket online in advance or stopping by Changdeokgong in the morning to buy the ticket.
Changdeokgong and Gyeongbokgung are located right across from each other. So, you can always come and pick up your ticket a few minutes before the changing of the guards' ceremony begins.
Depending on how interested you are in visiting Korean palaces, or whether you think seeing multiple during your Seoul itinerary is overkill, there are a few more places you may like to stop. Changgyeonggung, Gyeonghuigung (Western Palace), and Deoksugung palaces are worth visiting while you are in the area.
Spend an afternoon in Insadong
Insadong is a charming historic neighbourhood is situated in the Jongno-gu district of Northern Seoul. It is best known for its traditional teahouses and modern art galleries.
The area's history dates back 500 years. At that time, Insadong was developed as an area of residence for government officials.
Prior to that, there were two separate towns in this region. Their names ended in the syllables "In" and "Sa." and they were divided by a stream that ran along Insadong's current main street.
These names were then used as inspiration to form the neighbourhood's current name. Today, Insadong is a wonderful place to pick up one-of-a-kind Korean souvenirs, particularly handmade, modern interpretations of traditional hanboks, artisanal goods, antiques, and pottery items.
Ssamziegil mall is a particularly interesting place to check out. It is one of the best places for shopping in Seoul. This is a small, eccentric mall filled with 70 stores, each owned by independent artists and designers.
Stop for tea or makgeolli
When you want a break from walking and sightseeing, duck inside one of the many charming tea rooms in the area. The Moon Bird Only Thinks of the Moon (달새는달만생각한다) is a local favourite.
The cafe can be found at 60 Gwanhun-dong, Jongno-gu, Seoul. Order yourself a pot of omija or jujube tea with a side of yakgwa (traditional Korean sweets).
There are also a lot of makgeolli houses in Insadong if you prefer to relax with something with a bit more of a kick. Makgeolli is a milky, strong Korean rice wine.
A lot of Insadong makgeolli houses offer tastings. Alternatively, you can just pop in and order a jug of makgeolli from an extensive menu. This is usually served with complementary sides and light bites such as kimchi jeon or tteokbokki.
Seoul Itinerary Day Two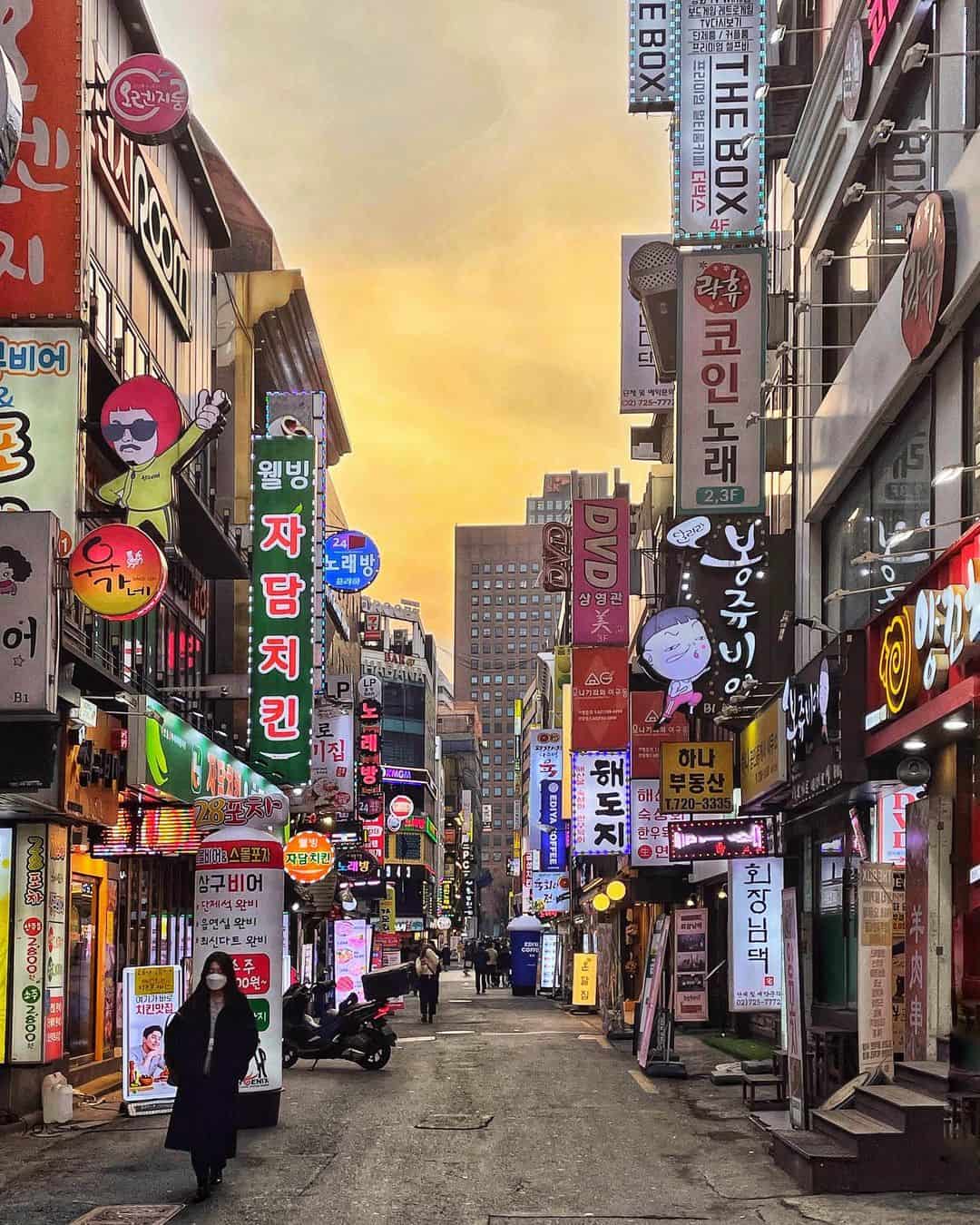 Start day two of your Seoul itinerary in Myeongdong, one of the liveliest Seoul districts. This is essentially Korea's answer to the high street.
Myeongdong Seoul
The main pedestrianised promenade is lined with stores that sell something for everyone. You will find everything from well-known global brand stores, independent Korean designers, and high-end luxe labels here.
Part of the fun of visiting Myeongdong is simply found in people watching and observing the weird and wonderful scenes around you. A lot of the street vendors here sell all manner of eccentric eats.
In particular, look out for the torpedo potatoes and the 32cm colourful ice cream cones. A lot of culinary schools are located in and around Myeongdong.
If you have a couple of hours you would like to set aside, it is possible to take a Korean cooking class or a kimchi-making class here. Myeongdong stores are tax-free for international visitors and if you want to pick up Korean cosmetics or skincare products, this is a great place to do so.
Seongdong-gu and Dongdaemun
From Myeongdong, take the metro to Dongdaemun. Look out for the impressive DDP (Dongdaemun Design Plaza).
The structure, designed by Zaha Hadid is one of the best examples of contemporary architecture in Seoul. Inside, you will find an ever-changing collection of art exhibitions.
Have a quick meander through the DDP and then check out the Dongdaemun market. This is one of the largest markets in Seoul and it is open 24 hours a day selling every item imaginable – from electrical appliances and homewares to wholesale rolls of fabric and low-cost clothing.
Have lunch in Dongdaemun
Dongdaemun Seoul is a foodie's paradise. Whatever your preferences or dietary requirements, you will find something here that you love.
The Meokja Golmok food street is filled with stalls that sell an array of Korean delicacies and street food eats. However, this area is renowned for its whole chicken (dakhanmari) restaurants.
Dakhanmari is a whole chicken served in a broth with gochujang, garlic, vinegar and soy sauce. A selection of banchan (side dishes) is served in accompaniment.
If you want to try something extremely unique, you can sample North Korean cuisine at Pyeongando Jokbaljip (174-6 Jangchungdan-ro, Jung-gu). The restaurant is best known for its pig's trotters and is perhaps best reserved for the more adventurous eaters.
Stroll along the Cheonggyecheon
The Cheonggyecheon is a manmade stream that runs through Seoul and eventually merges into the Han River. As you walk along its length, you will find the ruins of old temples and shrines and various outdoor art installations.
Each district is responsible for beautifying its ¨section¨ of the Cheonggyecheon. At various points throughout the year such as the Seoul lantern festival and Buddha's birthday, the water is decorated with elaborate and larger-than-life paper lanterns.
Check Out Gwangjang Market
Gwangjang is Seoul's oldest market. It is as popular today as it was when it first opened its doors way back in 1905.
Exploring the market is an absolute must during your Seoul itinerary. You can try all manner of Korean street food eats here.
The foods that are available at Gwangjang range from sumptuous meat and vegetarian dishes that are well suited to western palates, to the extremely adventurous. Dining here is a wonderful experience.
Take a seat by the food station, watch your meal being prepared and cooked before you. Then, sit and wash it down with a nice glass of 소주 soju.
Tteokbokki (spicy rice cakes in tomato sauce), bindaetteok (mung bean pancakes) and mandu (Korean dumplings) are delicious street food eats that you are bound to love. If you want to test your limits, you can order up a serving of yukhoe (Marinated raw beef), sannakji (live, raw octopus in soy sauce) or soondae (Korean blood sausage)
Watch the sunset from Mount Namsan
When you think of a buzzing megalopolis like Seoul, green open spaces and beautiful natural scenery aren't exactly the first things that spring to mind. However, the Korean capital is so large that it contains several national parks within its grasp.
The most notable of these? Namsan park.
There are several gorgeous woodland hiking trails here. They are suitable for people of all ages and fitness levels.
If you follow the uphill route to Namsan tower, you will be rewarded with unparalleled views over Seoul's skyline. If you don't fancy the walk, there are both buses and cable cars that take you up to the top.
The view over the city from Namsan tower at golden hour and sunset is spectacular. Tickets to the Namsan observatory cost 16,000 won for adults, and 12,000 won for children, teenagers, and over 65s.
Enjoy an evening out in upscale Gangnam
Gangnam is one of Seoul's most upscale and exclusive neighbourhoods. Be sure to stop by Gangnam for at least a tipple or two during your Seoul itinerary to get an insight into how Seoul's jet-set lives.
LeChamber (42 Dosan-daero 55-gil, Cheongdam-dong, Gangnam-gu) is one of the best speakeasy bars in Korea. Access to the bar depends on pulling the correct book from the bookshelf entrance.
Once you are in, you are greeted with a glamorous Gatsby-style cocktail bar with glittering chandeliers, high ceilings and live piano music. The bar's owners, Eom Do-hwan and Lim Jae-jin are award-winning bartenders and among the best mixologists in Asia.
Sightings of Korean celebrities and K-pop stars here are not uncommon. The menu boasts an extensive selection of classic and unique cocktails, as well as more than 200 whiskies and house-made ingredients, including ginger beer, and fermented pours.
There are plenty of other excellent bars in the area if you want to bar-hop and make a night of it. MaltBar BARRELL in Gangnam (Gangnam-gu, Samseong-ro 104-gil, 10 2층) is one of the best whisky bars in the country. Bar Tea Scent is also a great place for cocktails (83-12 Cheongdam-dong, Gangnam-gu, Seoul).
Seoul Itinerary Day Three
If you have a third day to spend in Seoul, start your morning at one of the city's quirky coffee shops. Daelim Changgo warehouse in artsy Seongsu-dong is an eclectic coffee shop and art gallery housed inside an old warehouse.
The building still retains many of its industrial features and characteristics – floor to ceiling windows, exposed brick walls and pipework. Daelim Changgo serves a selection of coffees, sandwiches and international brunch options.
Another great choice is Hell Cafe (238-43 Bogwang-dong, Yongsan-gu). Some of the best baristas in Korea work in this beloved micro-roastery and it is a go-to spot for many of Seoul's coffee aficionados.
Get Spiritual at Jogyesa Temple
Head to the 14th century Jogyesa temple (55 Ujeongguk-ro, Jongno-gu, Seoul). This is the head temple of the Jogye order of Korean Buddhism.
Navigate your way through a haze of fragrant incense as you glance in awe at the giant golden Buddhas that reside within the temple's main Dharma hall. The sound of Buddhist drumming echoes through loudspeakers and the entirety of the grounds are decorated with colourful paper lanterns year-round.
This is one of Seoul's most active temples. Whatever time of day you stop by, you will see locals praying and lighting incense.
If you are interested, you can participate in the Korean Temple Stay program at this temple. The program offers international visitors the opportunity to shadow a Monk for a day and there are various temples that participate. Read about my temple stay experience in Korea.
Explore the Ihwa Art Village
Ihwa Mural Art village is one of the many "moon villages" in Korea. These were less than desirable neighbourhoods (read: slums) that became incredibly rundown and neglected.
The Korean Ministry of Culture provided funds for beautification in 2006 and more than 70 artists came together to improve the aesthetics of the district. There are plenty of cute cafes in this area and it's a popular first date spot for Koreans.
Ihwa villages hilltop location also makes for an excellent alternative viewpoint from which you can enjoy panoramas over downtown Seoul. From here, you can continue on towards Bongwonsa temple and Mount Ansan.
Bongwonsa temple is a breathtaking Buddhist temple with a dark past… Its secluded woodland location means that it seldom sees many visitors.
Several walking trails weave throughout this area and take you to the peak of Ahn Mountain. Nearby, at Hyehwa station, you will also find a lot of charming boutique stores selling apparel, accessories and cosmetics.
Enjoy Korean BBQ at Mapo Jeong Daepo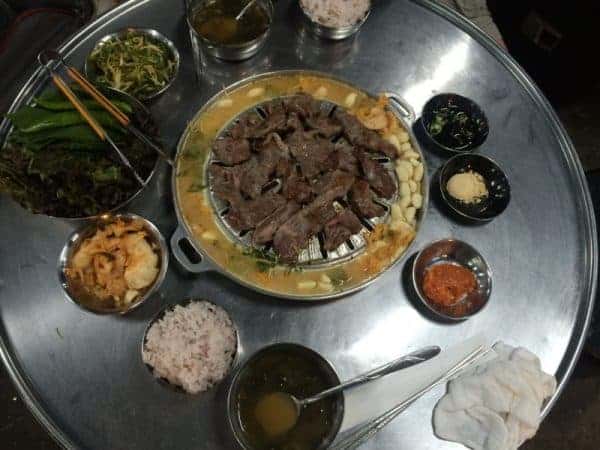 If there's one thing that Korea is renowned for globally, it's Korean BBQ and for good reason. Mapo Jeong Daepo in Seoul's Mapo-Gu neighbourhood is considered one of the very best Korean BBQ joints in Seoul. 
The "Korean" way to eat the beautifully marinated beef is to add some gochujang (chilli bean paste) to it and wrap it in a lettuce leaf. Yum!
The late Anthony Bourdain also dined here during his time in Korea. You can see it in his ¨Parts Unknown¨ documentary.
When to visit Seoul
If you are unsure about when is the best time to plan your Seoul itinerary, it is important to understand how much the weather varies in Seoul and South Korea from season to season. Seoul sees extremes of climates.
The Korean capital has very hot, humid summers. Winters here are very cold and temperatures are often well into the minuses.
Spring (March to May)
Spring is arguably the best time to visit Seoul. Temperatures during this time are warm and pleasant.
Expect temperatures around the mid-twenties in degrees Celcius. Springtime in Seoul is also when the beautiful pink cherry blossoms are in full bloom.
Keep in mind that this is also one of the most popular times for travel in South Korea and neighbouring Japan as people flock to see the cherry blossoms. You should be sure to book your tours, flights and accommodation in advance.
Summer (June to August)
Summer in Seoul gets very hot and humid. Temperatures often soar as high as 30 – 40 degrees celsius.
Fortunately, virtually everywhere is air-conditioned. July and August in Seoul are also the rainy seasons with frequent, monsoon-like showers scattered throughout each day.
Autumn (September to November)
When the temperatures dip and the leaves begin to fall, Autumn is also a pleasant time to travel to Seoul. The climate during this period is similar to that in the spring.
Be mindful of travelling during Chuseok however. This is the Korean answer to thanksgiving (a celebration of their ancestors at least).
Many things in Seoul shut down as Koreans travel all over Korea to visit relatives. Roads outside of Seoul become very congested with traffic and buses and trains book up weeks in advance.
Winter (December to February)
Seoul becomes exceptionally cold in the winter months. Temperatures during this period often fall as low as minus 15 or minus 20 degrees celsius making even short stints of time spent outside feel unbearable.
Christmas is not really celebrated in Korea. So, there is also not much of a festive atmosphere during this time. However, you may find some festive events and parties at the bars and restaurants of Itaewon, Seoul's foreigner district.
Seasonal Celebrations
Check to see what festivals and celebrations are taking place in Seoul during the time of your visit. There always seems to be something going on in this eclectic city.
In Spring, you can witness the parades and festivities of Buddha's birthday. This is a unique event that you are unlikely to see anywhere else.
In the Autumn and Winter months, the lantern festival sees the banks of the Han river decorated with beautifully coloured handmade paper lanterns. Many parks and palaces also have festive light shows. The one at the Garden of Morning calm is particularly beautiful.
Where to stay during your Seoul

itinerary

Seoul is far more than just another big city. Each neighbourhood has its own personality.

Since the city is so well-connected by the metro network, wherever you choose to stay within the centre places you in close proximity to some of Seoul's main attractions. For accommodation inspiration, take a peep at my guide on where to stay in Seoul during your Seoul itinerary.

A brief synopsis/overview of the main Seoul neighbourhoods and why you may want to stay in them is detailed below.
Bukchon and Insadong – charming historic neighbourhoods


Gangnam, Apgujeong, Sinsa-dong – Upscale shopping, dining and nightlife


Hongdae – vibrant nightlife and cheap street food, close to Honggik University


Itaewon – Seoul's foreigner district, great international eateries from across the world


Seoul station – Excellent transport links to the airport and beyond


Myeongdong – Lively shopping street


Dongdaemun – Best for shopping and malls
Seoul itinerary: parting words
Do you have any additional questions about drawing up a Seoul travel itinerary or visiting Korea in general? I spent two years living in Korea teaching English and working as an Asia Travel Correspondent.
Feel free to reach out if you need anything and I will get back to you as soon as I can. Safe travels!
Annyeonghaseyo, Melissa xp
---