Ansan multicultural food street is one of the most unique places in South Korea. It is an absolute must-visit if you consider yourself a foodie traveler. This is one of the few places in the country where you can sample authentic cuisine from the likes of India, Uzbekistan, China, and Malaysia.
When you ask most Seoulites where the city's international district is, most will tell you Itaewon. However, Itaewon, home to a sprawling US army base, is mostly filled with western restaurants.
While this can be a good place to go if you want to grab a burger, or you are American and want to indulge in some home comforts, the true "international" part of the Korean capital is Ansan multicultural street. This area is raw, gritty, authentic, and not frequented by tourists. You should aim to dedicate at least an afternoon to explore the area during your Seoul itinerary.
History of Ansan Multicultural Food Street
Ansan is South Korea's largest entrepreneurial city, hosting more than 10,000 small and medium-sized companies. Many of the factories and industrial businesses in this area employ foreign workers.
Korea is a strongly homogeneous society with an immigrant population of less than 1%. However, more than two-thirds of Ansan's population is made up of foreign immigrants – with a strong presence of migrants from China and South East Asia.
There are 93,639 foreign residents in Ansan today. With their arrival, they have brought a plethora of wonderful international eateries that serve food from their home countries.
The location of most of these establishments? Ansan Multicultural Food Street.
As Koreans became more educated and moved towards white-collar office work, they shunned manufacturing jobs. This then left a skills gap and heightened demand for labor workers.
Cue the influx of foreign workers that started populating Ansan in the 1990s. People from various countries across Asia flocked to South Korea seeking employment opportunities and better lives.
Unfortunately, labor laws in Korea still leave a lot to be desired and many international immigrants in Korea are still seen as outsiders to Korean society. One place where their gastronomy and culture is truly celebrated and showcased is Ansan multicultural street.
Visiting Ansan Multicultural Food Street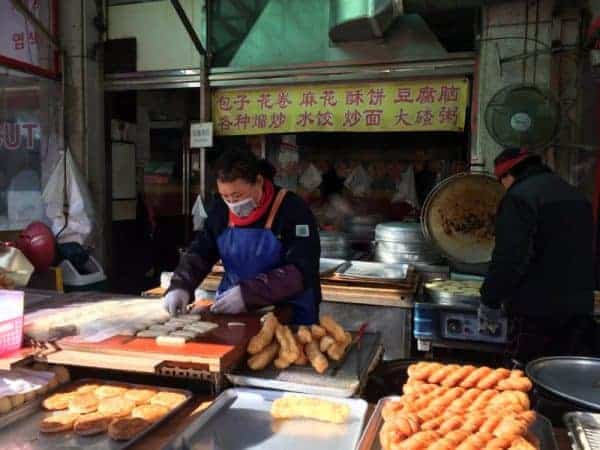 As I sit waiting for my gulai kambing Indonesian lamb curry, two Balinese waitresses scuttle over to me excitedly to ask me where I am from and how I happened upon their restaurant in this small industrial town. I tell them that I came here for the food market and that I have never tried Indonesian food before so when I saw their restaurant whilst passing through the neighbourhood, I wanted to give it a shot.
After overhearing the commotion and noticing a Western traveller in the midst, their father comes over to introduce himself too. He brings me a halogen heater so that I don't get too cold. They give me an array of samples to try and stare at me in fascination, waiting for the verdict.
This is the sweetest of Indonesian hospitality but I'm not in Indonesia, I'm in Ansan Multicultural Street. This is South Korea's self-proclaimed "multi-cultural city" and epicenter of the working class migrant community in Korea.
Things to See and Do at Ansan Multicultural Food Street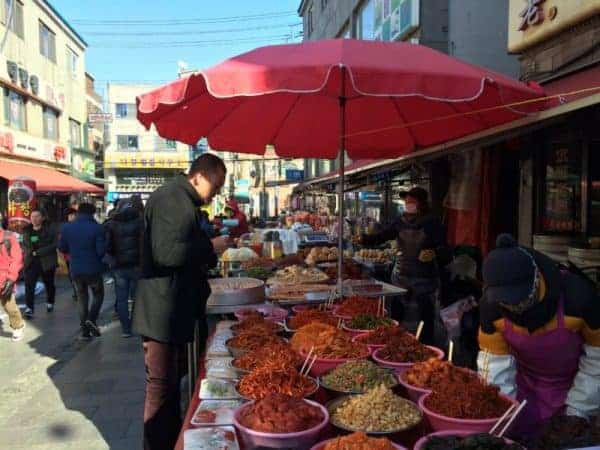 Walking around Ansan multicultural food street, you can almost forget that you are in South Korea. The area strongly resembles the streets and marketplaces of South East Asia.
Street signs and storefronts are no longer in Korean and English, but in Chinese, Vietnamese and Indonesian. The chatter of Korean has been mostly replaced with Mandarin, and the grocery stalls have switched their kimchi and bean paste for Sichuan spices and oriental herbs and medicines.
Dine at international restaurants
Throughout Ansan's Wongok-Dong district (the area directly adjacent to Ansan station), you can find row upon row of various street food vendors selling their wares. There is also a seemingly infinite choice of restaurants of various cuisines.
If you want to sample the very best Indonesian food, head to Warung Lea Indonesia (Jungang-daero, 453 2층). For the best Indian and Sri Lankan curries, stop by Lanka India restaurant (455 Jungang-daero, Danwon-gu, Ansan-si,).
Sample homemade Chinese pastries
A lot of the street food vendors at Ansan multicultural food street hail from China. There are always dozens of street food carts lining the street – whatever the season and the weather.
You will still find the street absolutely crowded with locals and vendors in Korea in winter when the temperatures dip below 12 degrees Celsius! Many of the stalls here sell delicious Youtiao.
This is an oil-fried Chinese pastry that has a taste that somewhat resembles doughnuts. The Chinese sweet bread is also worth trying. You can buy some to take home and enjoy with a steaming hot cup of Korean jujube tea or coffee later.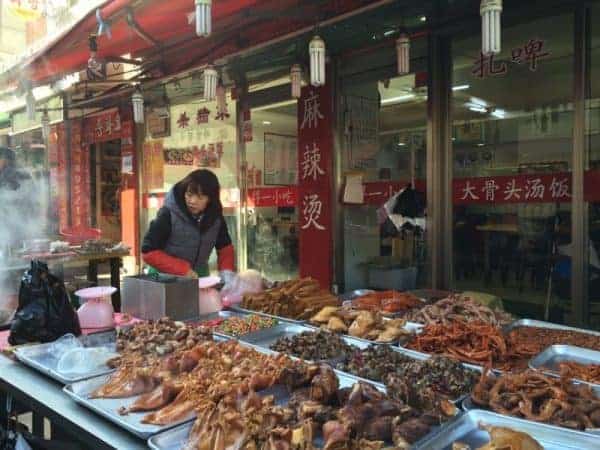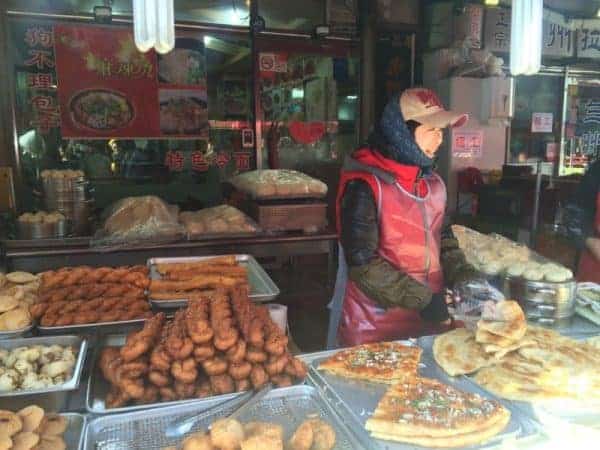 How to get to Ansan Multicultural Food Street
Depending on where you are in Seoul, the journey to Ansan multicultural food street can take anywhere between one to two hours. *It is approximately one hour via train from Seoul Station.)
Just take line 4 to Ansan and leave the station at exit 1. Walk through the underpass and you will be greeted with the delicious smells of street vendors as you enter "Ansan multicultural street".
You should definitely come hungry! You can easily fill up on street food snacks (most weigh in at 1,000 won or 65p) but you will be spoilt for choice with so many adventurous restaurants available to choose from.
Is Ansan Multicultural Food Street safe?
Koreans may tell you that Ansan is a dangerous place to venture to, and indeed, it was referred to as a ghetto by the Korean Times. However, a lot of the people here are very friendly and welcoming and you do not need to feel uncomfortable.
Just follow the same common sense that you would when traveling anywhere else. In other words, visit during the day rather than walking alone at night, be aware of your surroundings, and watch your belongings.
Keep in mind that Korea is a very homogenous country and racism and xenophobia are an issue here. This goes a long way toward explaining why some Koreans may view Ansan as "dangerous".
Parting Words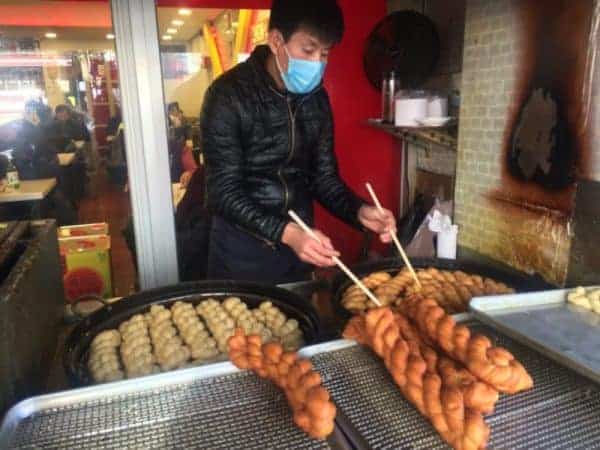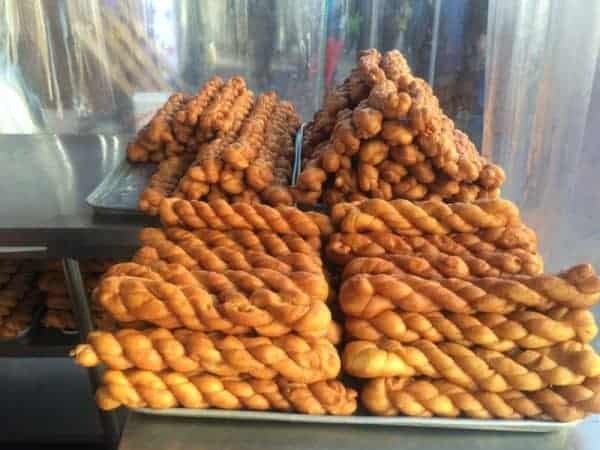 Have you ever been to Ansan Multicultural Food Street? What do you think? Where have you found the best street food in Korea?
Pin it For Later!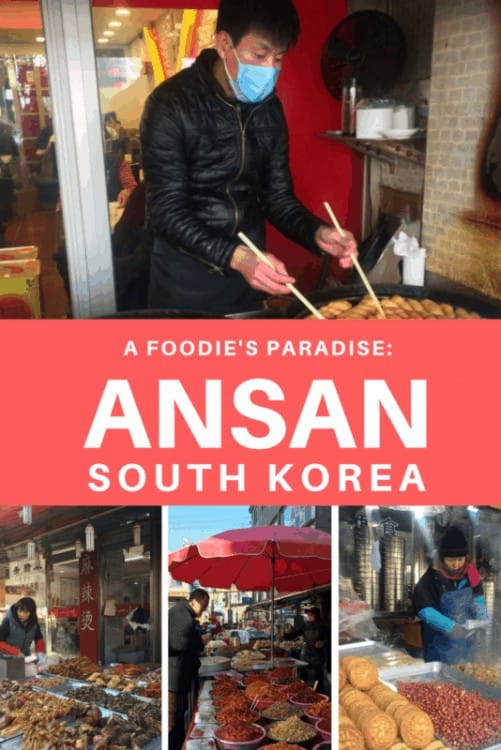 ---