Deciding where to stay in Seoul is a major decision when organising your upcoming trip to Korea. It is also an overwhelming one.
Seoul is a sprawling megalopolis and it can be hard to establish which area is the best place to base yourself. Essentially, the Korean capital consists of dozens of neighborhoods, each with their own personalities.
Each of these districts are like little villages in themselves. Seoul has something for every type of traveller.
I lived in Seoul for several years and explored the city extensively. This guide is comprehensive and written from the perspective of a local.
Where to stay in Seoul at a glance
If you're in a hurry, you can find an overview of the best Seoul neighbourhoods to stay in below.
Bukchon – traditional hanok houses in the heart of old Seoul


Insadong – historic district close to Gyeongbokgung, important palaces, and quaint tearooms


Gangnam – perfect base for luxury travellers


Hongdae – vibrant nightlife and cheap street food eats


Itaewon – foreigner district, great for those who want to be around home comforts


Myeongdong – perfect for those hoping to shop in Myeongdong and Dongdaemun


Yeouido- great for business travellers


Mapo – perfect for families seeking peace and quiet
Where to Stay in Seoul:
A Detailed Neighbourhood Guide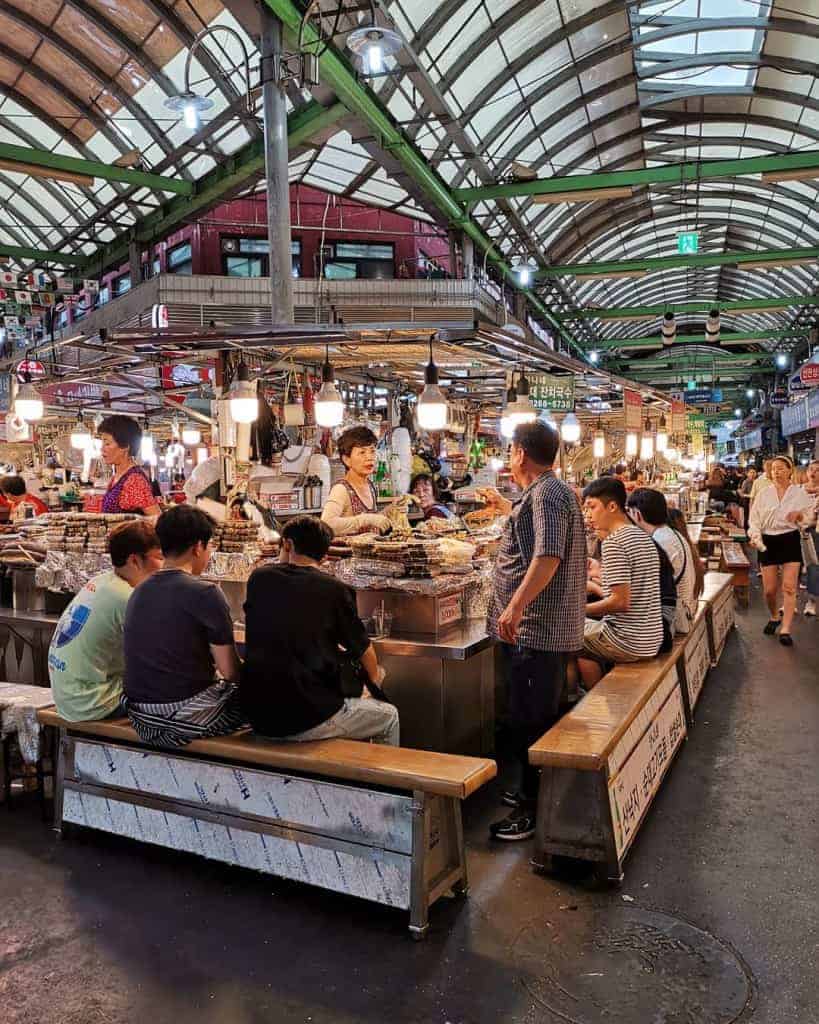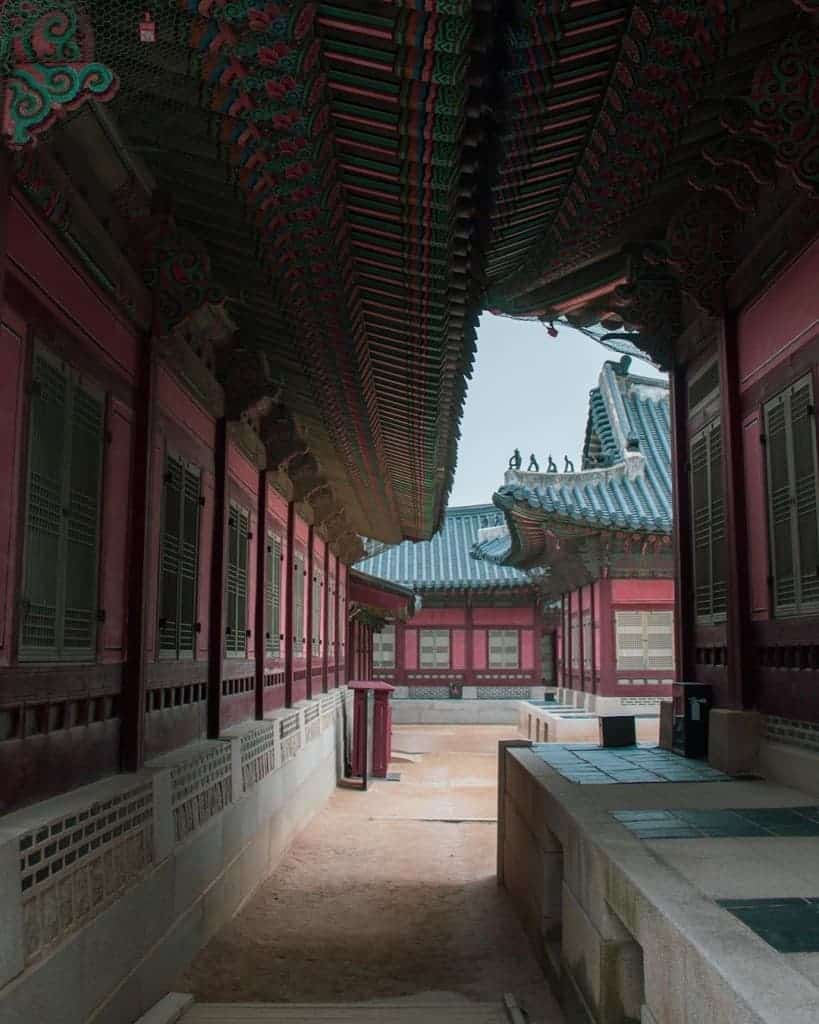 Seoul is a fabulous mix of old meets new. One moment, you can be wandering through a quaint district filled with narrow, winding passageways and traditional hanok houses. The next, you are standing beneath towering, glittering hirises.
Bukchon Hanok Village (북촌한옥마을)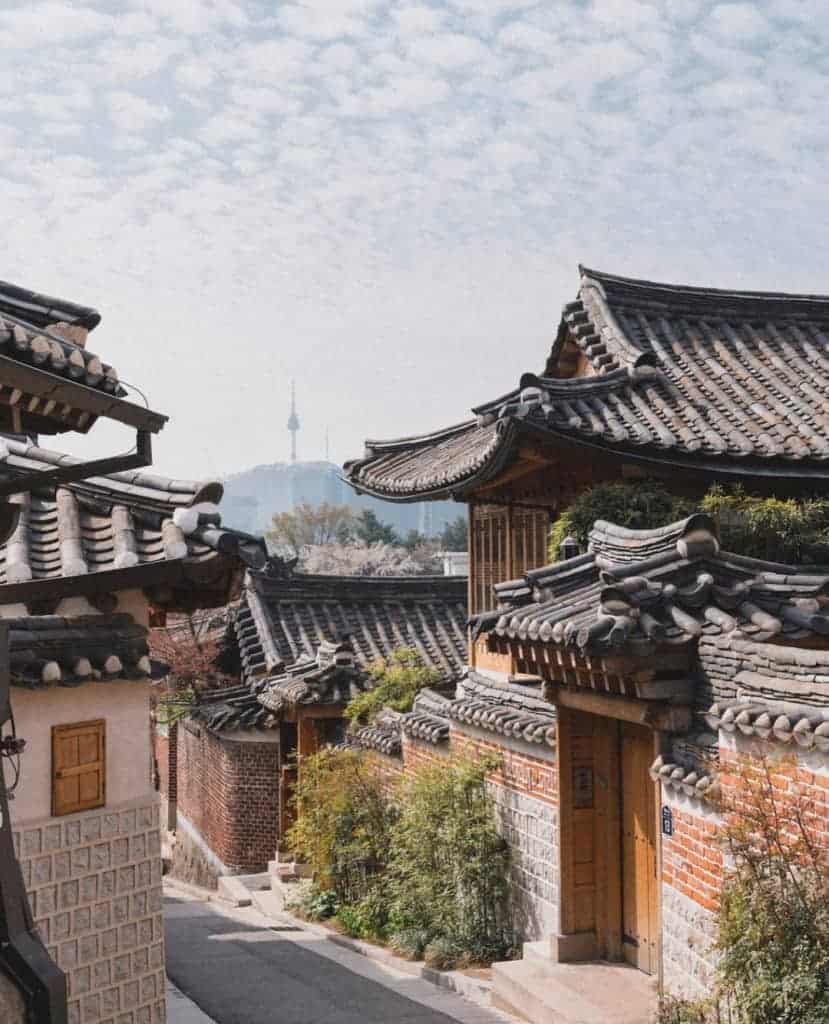 Metro Station: Anguk and Gyeongbokgung Stations, Metro Line 3
Bukchon Hanok Village is one of Seoul's oldest neighbourhoods. The area is comprised of an intricate network of winding pathways and narrow alleys that lead up into the hills. Simply wandering around this district feels like being transported back in time.
The traditional houses here are known as "hanoks" and were once the homes of Korean nobles. However, they have since been renovated and repurposed into quirky boutique stores, restaurants, and guesthouses.
There are close to 100 hanoks remaining in this region today. Some of them date back over 600 years!
If you want the unique experience of staying in a traditional hanok, Bukchon is the best place to stay in Seoul. A hanok stay involves sleeping in a futon-style bed on the floor. This is more comfortable than it sounds!
Bukchon Attractions
Gwangjang market – Seoul's oldest traditional food market


Bukchon-Ro and Samcheong-Dong shopping


Changing of the guards' ceremony at Gyeongbokgung


Changdeokgung palace and secret garden
Recommended Bukchon Hotels
Bonum 1957 – a chic and stylish hotel in a renovated traditional hanok


Sky Guesthouse – a hanok stay experience in the heart of Bukchon
Ikseon Dong (익선동)
Metro Station: Jongno 3(sam)-ga Station (Seoul Subway Line 5), Exit 4.
Ikseon Dong is a relatively off-the-beaten-path Seoul neighbourhood that has started gaining attention over the last few years. This is a great alternative place to stay in Seoul, and explore during your Seoul itinerary.
Bukchon may well be the Seoul district that is renowned for its traditional hanok houses. However, Ikseon Dong boasts many quaint traditional buildings too.
The area has less than a quarter of the tourists that you will find at Bukchon. Dozens of tiny cafes and tearooms are tucked away down the narrow streets.
Ikseon Dong may be lesser-known but it is still very central. From here, you are just a short walk away from some of the best Seoul attractions.

For example, within a few minutes' of walking, you will find yourself at the Joseon palaces, as well as the traditional Gwangjang market. 
Idae (이대)
Metro Station: Ewha Women's University Station, Metro Line 2
Lovely Idae may well be one of the most underrated districts in all of Seoul. This area is quiet and cultured.
Seoul's Ewha Women's University is situated just a short walk away from Idae, and the scenic campus is surrounded by dozens of endearing boutique stores selling shoes, ladies' fashion, and cosmetics. From Idae, you can follow the uphill trail to Ihwa Mural Art Village.
Ihwa is one of Korea's many "dal dong nae" moon villages. These are former slums. However, following a beautification initiative from the Korean government, the residents of the area decorated their houses and streets with gorgeous murals and street art pieces.
Attractions near Idae
Ihwa mural art village


Ehwa women´s university


Idae shopping
Insadong (인사동)
Metro Station: Anguk and Gyeongbokgung Stations, Metro Line 3
Insadong is a quaint and picturesque historic neighbourhood that is nestled within the heart of Seoul. This area is the perfect place to immerse yourself in traditional Korean culture.
Here, you can experience a traditional tea ceremony at a local tea room, try makgeolli (Korean rice wine) at a traditional brewery, or simply browse the markets for handicrafts and artisan products.
Insadong is very popular with tourists. However that does not detract from its charm.
Here you are just a short walk away from many notable Seoul attractions. Jogyesa Buddhist Temple, Bukchon-ro and Gwanghwamum square can be reached within five minutes of walking.
Best hotels in Insadong
Courtyard by Marriott – Chic luxury rooms without luxury prices


Orakai Insadong Suites – Spacious self-catered apartments


The Makers Hotel – Quirky 18th century vintage design hotel with modern touches
Samcheongdong (삼청동)
Metro Station: Anguk and Gyeongbokgung Stations, Metro Line 3
Nearby Attractions: Gyeongbokgung and Changdeokgung palaces, Gwangjang traditional market, Bukchon-Ro and Samcheong-Dong shopping.
Samcheongdong is a small Seoul neighbourhood that is nestled between Bukchon Hanok Village and Insadong. This may well be one of the unique areas of the city. It is here where ancient traditions and modern contemporary living seamlessly blend together.
Despite its ultra-central location, Samcheongdong is not quite as touristic as nearby Insadong and Bukchon. Many of the old traditional houses here have been converted into eclectic coffee shops, art galleries, and exhibition spaces.
All of these places are beloved hangouts for local Seoulites. If you are interested in shopping for Korean fashions and handicrafts, you will enjoy browsing through the independent boutique stores here.
Dongdaemun (동대문)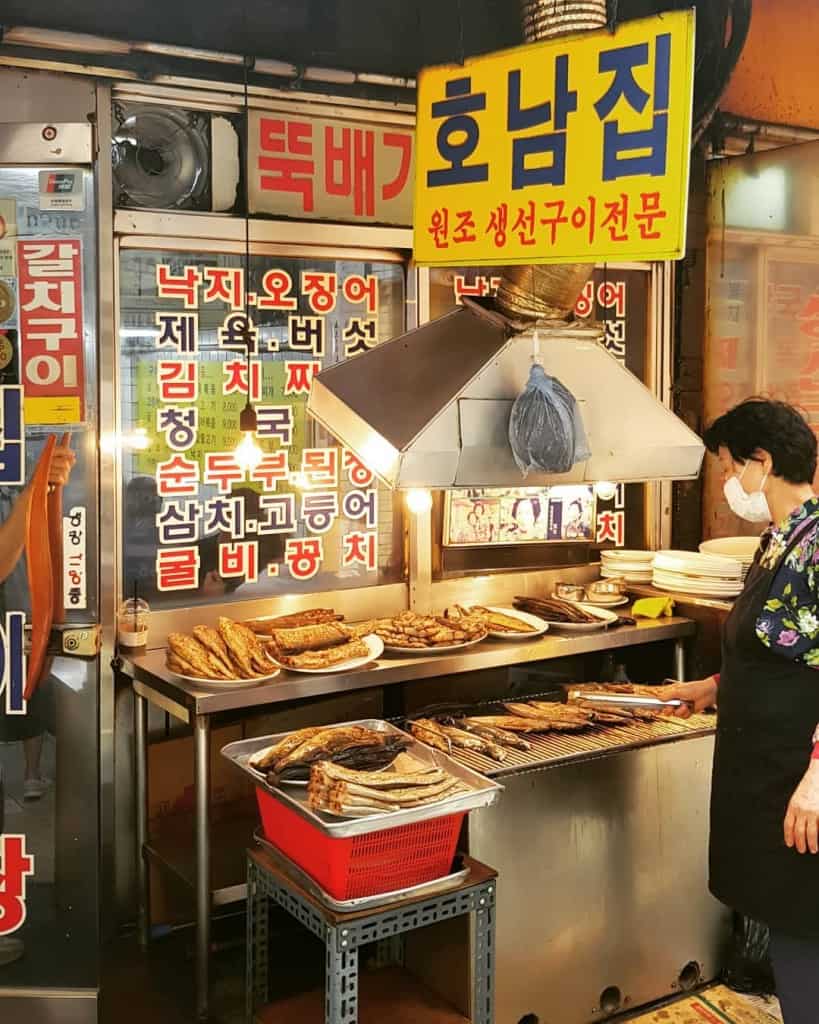 Metro Station: Dongdaemun History & Culture Park Station, Subway Line 2, 4, & 5, Dongdaemun Station, Metro Line 1, & 4.
Dongdaemun is one of the most vibrant and lively areas of Seoul. This district is also a shopaholic's paradise.
Dongdaemun boasts more than 30,000 stores and malls. All of these places are crammed together in a small 10-block area.
The iconic Dongdaemun Design Plaza marks your arrival in Dongdaemun. This futuristic building was designed by renowned architect Zaha Hadid and showcases a number of interesting exhibitions from local Korean and international artists.
From a cultural perspective, Dongdaemun makes for a fascinating place to visit. The market here is one of the largest in the city and is a great spot for sampling Korean street food delicacies. In particular, make a note to eat at Meokja Golmok food street.
Namsan Park Area (남산공원)
Metro Station: Myeongdong Station, Exit 4, Metro Line
National parks and green open spaces are quite possibly the last things that spring to mind when you think of big cities like Seoul. However, the Korean capital is so expansive that it contains several national parks within its grasp.
The most notable outdoor space? Mount Namsan.
This mountain, within the confines of central Seoul, towers above the city. It is possible to hike or take a cable car up to its 860 ft peak.
Staying on the slopes of Namsan offers the perfect escape from the hustle and bustle of the city. At the same time, you are just a short walk from the heart of the action. From up here, it's easy to forget that you are in the middle of one of the largest cities in the world.
Namsan Attractions
Follow hiking trails around the foothills of Mount Namsan


Watch a magnificent sunset from Namsan tower


Book a spa treatment package at the acclaimed Banyan Tree spa
Recommended Hotels in Namsan Park Area:
Luxury Hotel: Banyan Tree Hotel & Spa
The ultimate choice for those looking for a little R&R. The Banyan brand is internationally renowned for its superb quality spa treatments and facilities. The rooms at the Banyan Tree Seoul have their own relaxation pools, and the spa and pool facilities are adored by Seoul's elite.
Rooms start from $400 a night. Check current rates and availability here.

Budget Option: Hotel Mido
Hotel Mido is simple yet comfortable and incredibly conveniently located. The rooms and amenities are modern and clean and the hotel is just a short walk from Myeongdong and Namsan Park making it quiet enough to avoid the chaos of the city centre without leaving you in the middle of nowhere.
Check current rates and availability here.
Myeongdong (명동)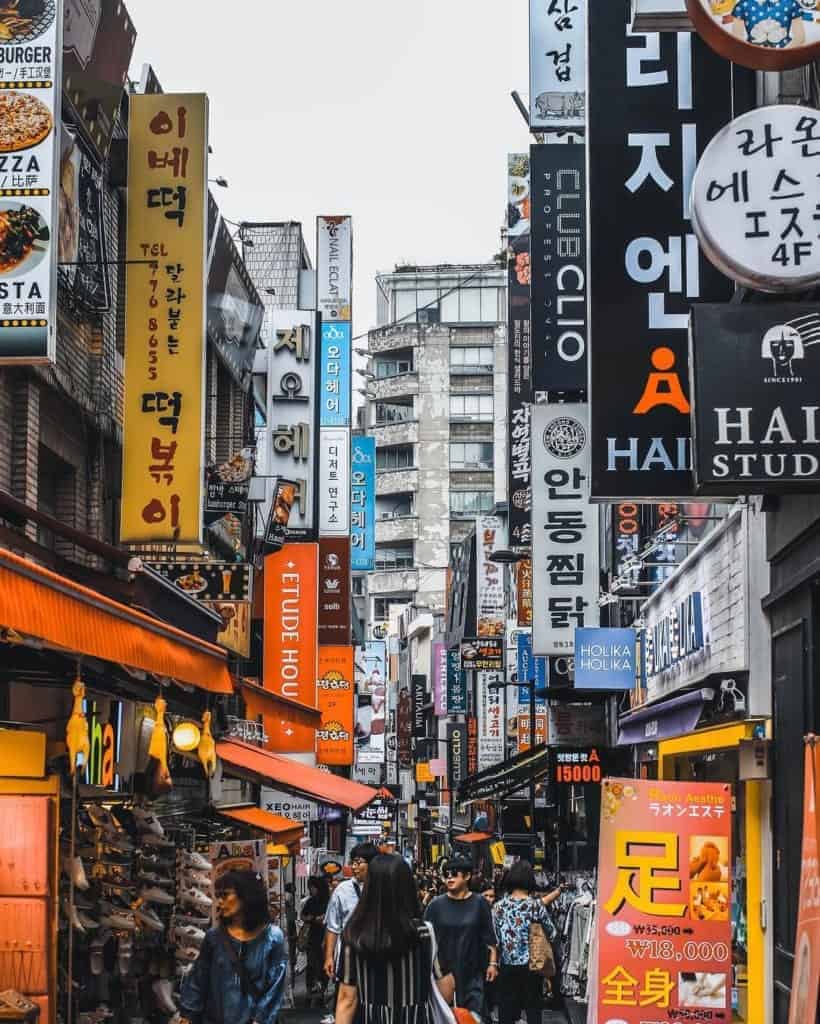 Metro Station: Myeongdong Station, Metro Line 4
Colourful Myeongdong is Seoul's answer to the high street. This is one of the best places for shopping in Seoul, and opting to stay here places you in the centre of the city's beating heart.
Every kind of shopping experience imaginable can be found at Myeongdong. The stores of both luxury brands and independent local designers line the streets.
Several large department stores and shopping malls are also found here. Shinsegae and the Lotte Department store are local favourites.
Virtually every other store here sells Korean cosmetics. As you wander the length of Myeongdong street, you can easily accrue a ton of samples.
The area really comes alive at night. At this time, the area is filled with street food vendors selling delicacies like tteokbokki, and sweet hodugwaja walnut pastries.
Myeongdong Attractions
Watch a comedy cooking show at the NANTA theatre


Try your hand at making kimchi with a Myeongdong cooking class


Have coffee at one of the many quirky Seoul coffee shops and restaurants in Myeongdong


Order incredibly cutesy kitten shaped desserts at the Hello Kitty house
Where to Stay in Myeongdong
Lotte City Hotel – Elegant four-star hotel reminiscent of a palatial home


Luxury Hotel: L 'Escape Hotel – Quirky Grand Budapest style hotel that looks like a movie set
Gangnam 강남
Metro Station: Gangnam Station, Sinbundang Line and Metro Line 2
Gangnam is the definitive choice for a luxury stay in Seoul. The district boasts upscale eateries, chic cocktail bars and designer shopping. It is essentially the Beverly Hills of South Korea.
For a slice of peace and tranquility in the heart of the chaotic city, stop by Bongeunsa Temple. This is a centuries-old Buddhist temple that has stood its ground as modern Seoul has grown and developed around it.
Gangnam Attractions
Rent bicycles and cycle along the Han river


Enjoy luxury shopping at Gangnam mall


Dine beneath a pojangmacha tent at Bamdokkaebi Night Market


K-Star Road – A boulevard with artistic tributes to K pop bands


Record your own K-Pop song at King Studio
Best Hotels in Gangnam
Grand InterContinental Seoul Parnas – effortless elegance and glamour in one of the most luxurious hotels in the city
Mapo-Gu (마포구)
Metro Station: Mapo Station, Metro Line 5, and Mapo-gu Office, Line 6
Mapo-Gu is one of the best places to stay in Seoul if you are looking for peace and quiet. This tranquil area exudes artistic and creative vibes.
Mapo is perched on the edge of the Han river, and filled with dozens of quirky coffee shops where writers tap away on their laptops. There are many excellent eateries and Korean BBQ joints here. Most notably "Mapo Cannon" is a popular choice among Korean salarymen and was featured on Bourdain's "Parts Unknown" docuseries.
Mapo-Gu is directly adjacent to Hongdae. As such, further dining and nightlife options are just a short walk away if you so desire them.
Sinsa Dong & Garosugil (신사동 가로수길)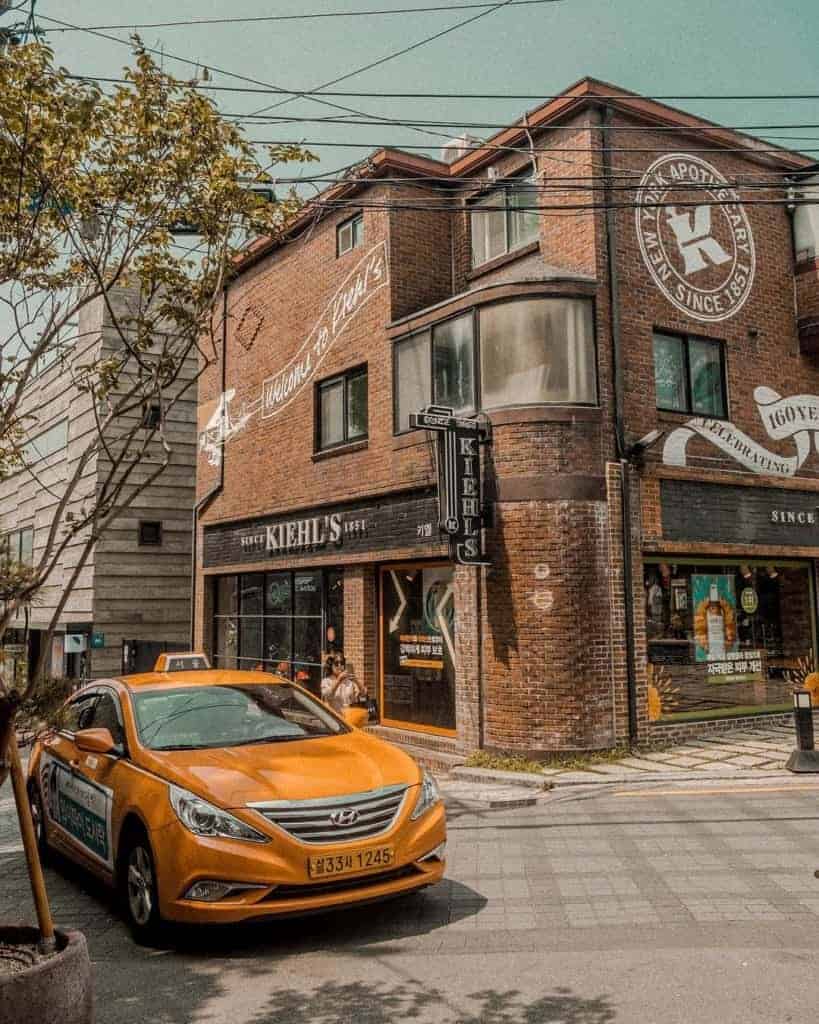 Metro Station: Sinsa Station, Seoul Metro Line 3
In recent years, Sinsa Dong has started to overtake Gangnam and Apgujeong as the city's glamorous nightlife hotspot. This is one of Seoul's most high-end districts. It boasts ginkgo tree-lined promenades and charming brunch spots that attract a well-heeled crowd.
The area's Garosugil street is often referred to as being Seoul's "artist street". This is on account of all of the eccentricly decorated storefronts and cafes that sit here. Brands like Karl Lagerfeld sit alongside vintage designer clothing stores, and the stylish facades of up-and-coming luxury Korean designers.
Where to stay in Sinsa and Garosugil
Dormy Inn Premium Seoul – conveniently located, modern hotel with an on-site jimjilbang
Hongdae (홍대)
Metro Station: Hongdae Station, Metro Line 2
Hongdae is the hip, youthful neighbourhood which surrounds the campus of Seoul's Hongik University. This area is best known for its vibrant nightlife scene and its numerous affordable, yet super-fun nightlife spots that are open until mid morning.
Whatever time of day or night you find yourself in Hongdae, it will always be bursting with life. In some ways, Hongdae is comparable to Tokyo's Harajuku district.
Here, you can expect to see unusual and individual fashions at every turn. Street performers sing, dance, and blare out K-pop music. Meanwhile, street food vendors sell an array of obscure snacks such as the Instagram-famous 32 centimetre tall Hongdae ice cream.
If you plan on experiencing the best of Seoul's nightlife, Hongdae is a great place to base yourself. While here, you can also dust off your singing skills at one of the many Hongdae noraebangs – the popular Korean karaoke joints.
Where to stay in Hongdae
The Designers – Eccentricity meets luxury. Independent hotel with unique, eccentric designs.
Itaewon (이태원)
Metro Station: Itaewon station, Metro Line 6
Itaewon is locally known as being Seouls foreigner district. An American army base has existed here for decades and so, Itaewon has always had something of a western feel.
The streets here are packed with cafes, bars, and restaurants serving exotic cuisines from various corners of the globe. Everything from Turkish food to French a la carte dining can be found in Itaewon.
The atmosphere here is casual, lively, and friendly. Itaewon makes a particularly great base for budget backpackers and young, social travellers,
While in the area, stop by HBC (Haebangchon). This area has a tragic past and was once a settlement for North Korean refugees. Today, HBC has a very underground, alternative atmosphere and is home to lots of great bars and craft breweries.
Where to stay in Itaewon
The Hamilton Hotel – Central hotel with chic rooftop pool
Yeouido Island (여의도)
Metro Station: Yeouido Station, Metro Lines 5 and 9.
Yeouido island is Seoul's commercial and financial district. It is referred to as the "Manhattan island of Seoul" but there really isn't a lot here by way of attractions for leisure travellers.
Business travellers may find it beneficial to stay in this area if they are working for one of the large multinationals located on the island. As a commercial hub, there are a lot of luxurious hotels situated on Yeouido. You may also want to consider basing yourself here if you wish to be a little out of the city centre.
Seoul Station Area (서울역)
Metro Station: Seoul Station, Metro Lines 1 and 4
Staying close to Seoul station is very convenient if you are only in the city for a limited amount of time. From here, it is just a short subway ride to the majority of Seoul's major attractions.
Incheon airport can be reached in just over 20 minutes via the AREX shuttle from here. Additionally, the station offers excellent transport links onwards to other destinations in Korea such as Jeonju, Busan, etc.
Tips when booking Seoul accommodation
Book in advance if travelling during cherry blossom season as hotels often become fully booked


Consider your interests and itinerary when deciding where to base yourself in the city


Try to choose a hotel that is close to a metro station


Making reservations through platforms like booking dot com often enables you to receive discounts after several bookings


Get a Korean sim card on arrival to stay connected throughout your trip


Always carry a business card from your hotel in case of emergencies
Parting Words
Do you have any further questions about where to stay in Seoul, or visiting South Korea in general? I lived here for two years.
I am more than happy to assist with any queries you may have. Feel free to drop me a comment below and I will get back to you ASAP.
Safe travels! Annyeong! Melissa xo
---