Solo Female Travel in Bhutan: Land of dragons, mythical creatures and magic. Nestled deep within the high Himalayas awaits the mysterious dragon Kingdom of Bhutan. As one of the world's least visited countries, not an awful lot is known about Bhutan internationally. Talk of travel here is accompanied by concerns of expense, and frets about inaccessibility. Bhutan graces the bucket lists of only the most intrepid adventurers.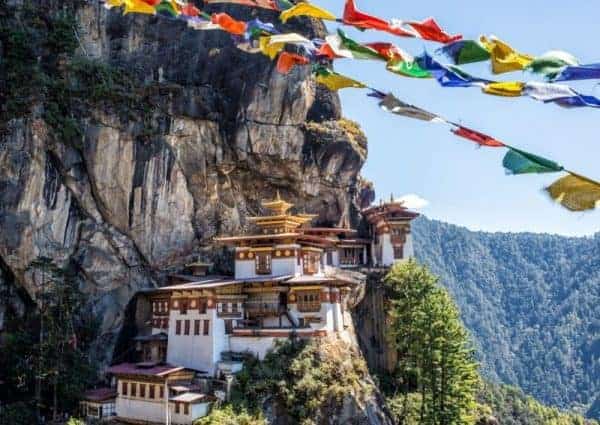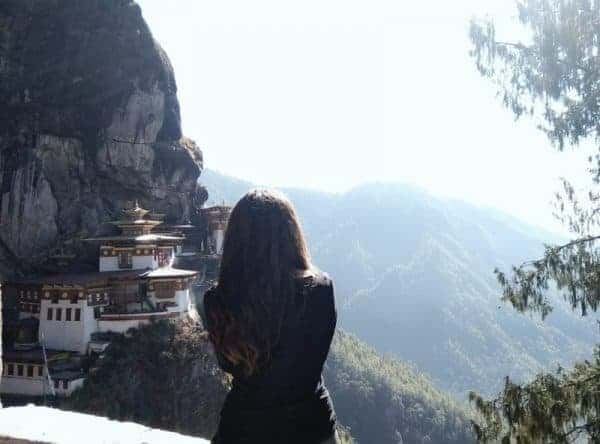 For me, Bhutan had been at the top of my list for the longest time and I am thrilled that I finally had the opportunity to cross it off. Is it expensive? A little. Awkward to get to? Sure. But is it worth it? Absolutely.
Related article: 10 Reasons Why Bhutan Should Be On Your Travel Bucket List.
Solo Female Travel in Bhutan
Considering how remote this mysterious landlocked nation is, and how few explorers frequent its paths, it makes sense that one would assume that Bhutan could be inaccessible for the solo female traveller.
Afterall, locations where you may be isolated and at times discover that you are the only foreign tourist do not exactly scream safety do they? Throw into that mix the fact that there are very few resources available for advice on travelling to Bhutan (especially solo travel in Bhutan) and you've got yourself the reason as to why independent ladies may not consider Bhutan as being a feasible solo female travel destination. The thing is though, that in some ways, Bhutan is absolutely perfect for solo females.
Solo in Bhutan But Never Truly Alone
I refer to myself as having travelled Bhutan solo based on the fact that I flew out there by myself, organised my own trip, and travelled the country without a companion. However when it comes to exploring Bhutan, it is not possible to go it completely alone unless you are a resident of India, Bangladesh, or the Maldives.
In order to preserve the country's rich and unique culture, and protect Bhutan from the impacts of mass tourism, the Bhutanese government require that anyone travelling in the country be accompanied by a tour guide and driver. Anyone who has travelled to regions such as South East Asia certainly cannot deny the very evident negative impacts of mass tourism that are present and so you can understand Bhutan's logic behind this decision.
If you are relatively new to solo female travel, you can feel rest assured that you will be safe and accompanied by a guide throughout your trip.
Solo in Bhutan, You Can Maintain Your Independence
Being told that having a guide is compulsory is not necessarily what an experienced solo traveller wants to hear. Even if you are relatively new to solo female travel, you may consider this as a loss of independence. This couldn't be farther from the truth.
I travelled through Bhutan with Druk Asia (who I strongly recommend!) and though having a guide was an unfamiliar concept to me, it felt more like travelling with a knowledgeable local friend that could advise me about all of the best places to eat, drink, etc; rather than a guide that was only with me because he had to be.
My guide was born and raised in Thimphu, so when we had some free time in the Bhutanese capital he showed me his favourite hang out spots, and took me to a really great hole in the wall where I could sample momo (Bhutanese dumplings – a little like the Polish "pierogi" or the Korean "mandu") People are always exclaiming how they want to travel "like a local" and so Bhutan is your perfect opportunity for that.
The best part of this experience is that it is completely privatised, meaning that your trip will not be shared with anyone else – aka you will not be cramped up on a tour bus like sardines or be lumbered with some strangers for a week as you all follow a tour guide around.
You Have Flexibility Over Your Bhutan Trip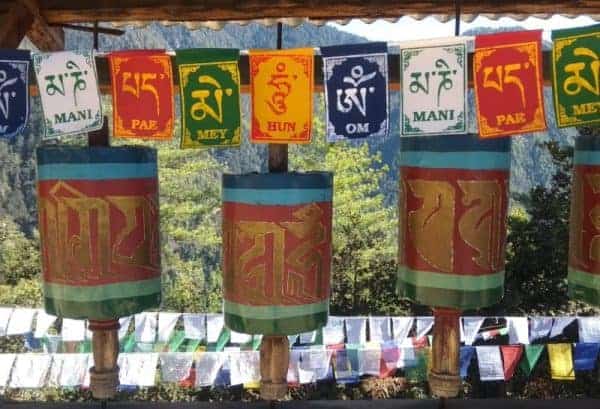 Typically your tour company will provide an itinerary for your Bhutan trip but this is more of a guideline than something that has to be stringently adhered to. If you want to chop and change any aspect of your trip, or you see something that catches your eye while you are travelling around, it is absolutely possible to explore something else. You have complete flexibility over your entire trip and schedule. As an example, I tried my hand at archery in Thimphu (the national sport of Bhutan) and discovered I had quite a knack for it, much to the surprise of myself and my guide (step aside, Katniss Everdeen!). The next day, we squeezed in a visit to a local archery tournament that was taking place.
You Can Request a Female Guide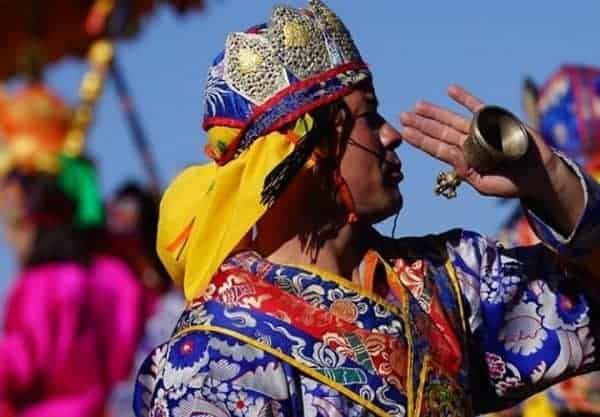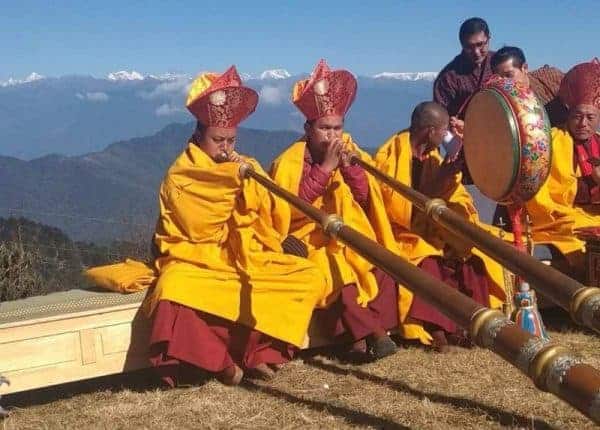 While travelling in Bhutan, my guide and driver were both male but I never for a moment felt uncomfortable being with them and they were both super polite and respectful. As we travelled around the country, I noted a lot of other travellers with female guides. If you were particularly concerned about this, you could make a specific request for a lady guide when you are organising your trip.
Safety as a Solo Female in Bhutan
As a full time solo female traveller, I've been to almost 40 countries and I've found myself in some of the most obscure corners of this Earth – everywhere from Australia, to the Middle East, from the USA to Eastern Europe and everywhere in-between. I can tell you that that there are very few places where the people are as respectful, kind-hearted and peaceful as in Bhutan.
The Bhutanese are devout Buddhists that possess strong beliefs about showing respect to other people. They believe that all sentient beings are equal and related.
Though I was generally accompanied by my guide, our schedule together typically only took place between the hours of 8am until around 4 or 5pm each day. In the evenings, I would go for a stroll around the particular city that I was in.
In Thimphu, I sat among locals watching a performance by the clock tower in the main square until it got dark. In Paro, I followed dirt roads and explored some of the small towns and villages. In more remote places, people would often come outside as I was passing by in order to spark up conversations about where I was from, but I was never hassled or uncomfortable.
How Much Does Travelling in Bhutan Cost?
This is the part of travelling to Bhutan that has people the most concerned. In conjunction with the government's attempts to prevent mass tourism, and focus on "high value, low impact" travellers, a daily fee is in place for all of those wishing to travel in the country.
Unless you are invited by an NGO or the government, the standard fee is $250 USD per person, per day during the peak season, and $200 off-peak. Unfortunately solo travellers have to then pay a single supplement on top of this which weighs in at $40 extra per day if you choose to go it alone.
With that considered, Bhutan is definitely not a budget travel destination, however it is important to be aware of precisely what that fee includes. The daily travel fee covers all of your accommodation (in 3 and 4 star hotels nonetheless), transportation, meals (3 per day), bottled water, and admission fees. As such, you really don't need to spend any extra upon arrival in Bhutan (except for the odd souvenir). A large portion of this fee is then invested into improving the wellbeing of the country's residents and into policies that commit to providing free healthcare, free higher education, and alleviating poverty. As such, you know that this money is going towards a good cause.
Getting to Bhutan
Once your land travel costs are considered, be mindful of the costs of the flights to Bhutan. There is only one airline that flies to Bhutan (Druk Air) and they depart only from Singapore, Bangkok, Kathmandu and a handful of airports in India. Depending on the specific port of embarkation, your flight can cost anywhere between $700 to $1000 for a round-trip ticket, in addition to the cost of flying from your location to one of these transfer airports.  
What to Wear in Bhutan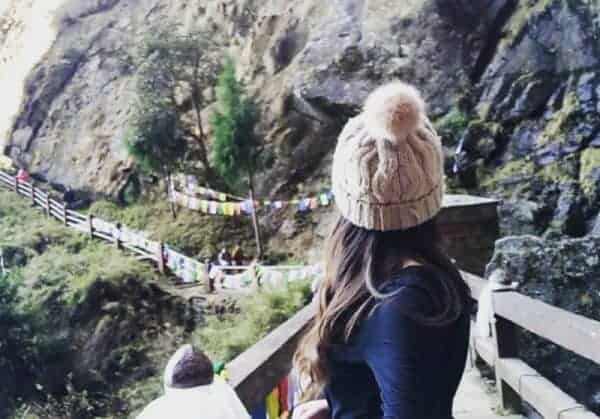 I consider there as being two aspects to this – what to wear in Bhutan in terms of practicality, warmth and comfort, and what to wear with respect to the local customs and cultures. While I am an advocate of wearing whatever you please in general life, I strongly believe that you should act and dress respectfully when you are in someone else's country and take note of what the women there wear.
I found that the majority of women in Bhutan dressed very modestly – typically wearing the traditional dress ("Kira") and donning long sleeves, high necklines and dresses that extended to their feet. Since Bhutan is a Buddhist country and many of the sites require you to cover your arms, shoulders and legs, I'd recommend wearing long sleeves, or at least a tee shirt in hot weather with a scarf/shawl in your bag to take out later should you need to cover up at a temple.
Many of the activities that you will participate in centre around hiking and walking so that should give you some idea about the type of attire that you should pack for your trip. The weather varies quite a lot depending on the specific time of year that your trip coincides with.
At the very least, when travelling in Bhutan you will need:
Good Hiking Boots or Walking Shoes – Whether you choose to focus your itinerary on trekking or on cultural experiences, chances are that you will be embarking on a hike or two (if you don't hike the Tiger's Nest, did you even go to Bhutan?!)
A Small Daypack (For day trips and hikes)
Comfy shoes/plimsols for town explorations
For more Bhutan packing inspiration, take a peep at this Bhutan Packing List
Solo female travel in Bhutan may not be the usual choice, but my trip to the dragon Kingdom was one that I will remember for a lifetime.
Have any questions about travelling alone in Bhutan or Bhutan travel in general? Feel free to reach out and let me know! Safe Travels, Melissa xo
Pin it For Later!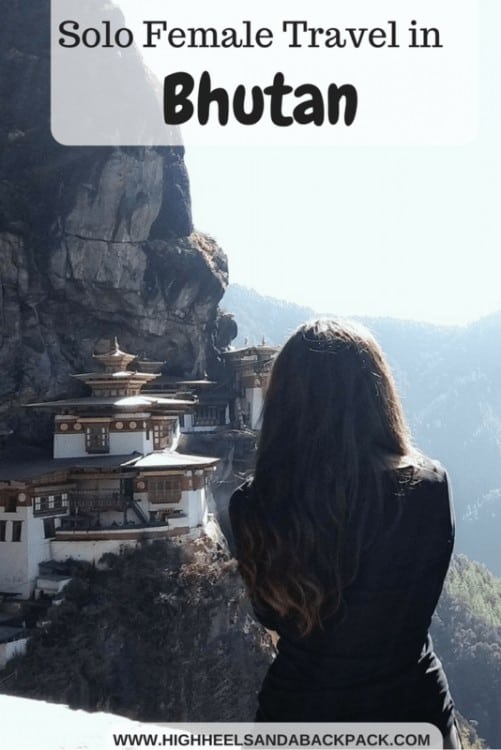 Have any questions about solo female travel in Bhutan? Feel free to contact me below.
With special thanks to Druk Asia for sponsoring my trip to Bhutan and making this article possible.
---