Solo Female Travel in Bhutan is far from common. However, venturing alone to one of the most mysterious countries on earth, discovering its natural and cultural wonders, and interacting with friendly locals, is a travel experience that you will remember for a lifetime.
Charming Bhutan is one of the least visited countries in the world. The little landlocked nation sits in the Himalayas between India and China.
It is a land of dragons, mythical creatures and magic. Internationally, not many people know a lot about Bhutan.
The nation was an entirely closed country until the 1970s and even today, it takes measures to limit the number of tourists that set foot here. This is so as to preserve its unique culture. Bhutan graces the bucket lists of only the most intrepid adventurers.
When you mention visiting Bhutan to fellow travellers, one of the main things that they are concerned about is the expense of visiting and the bureaucracy of organising visas. The reality is that getting here is not as complicated as people assume. And yes, it is a perfectly safe place for solo female travellers to visit.
Solo Female Travel in Bhutan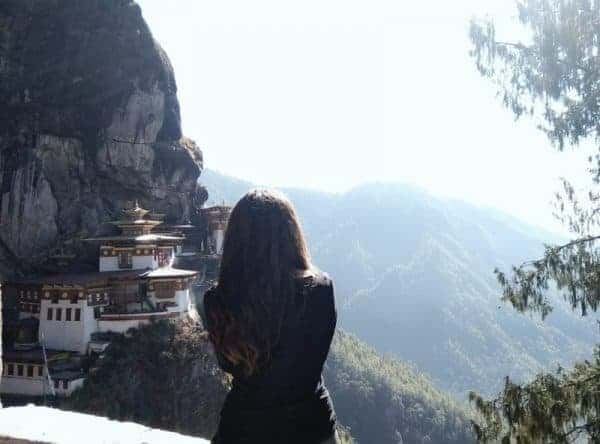 Solo female travel in Bhutan is a once-in-a-lifetime bucket list experience. Is it expensive?
A little. Awkward to get to? Sure.
But is it worth it? Absolutely.
There are countless reasons why you should consider travelling to Bhutan. Considering how remote this mysterious landlocked nation is, and how few explorers frequent its paths, it makes sense that one would assume that Bhutan could be inaccessible for the solo female traveller.
After all, locations where you may be isolated and at times discover that you are the only foreign tourist do not exactly scream safety, do they? Throw into that mix the fact that there are very few resources available for advice on travelling to Bhutan (especially solo travel in Bhutan).
Then, you've got yourself the reason why independent ladies may not consider Bhutan as being a feasible solo female travel destination. The thing is though, that in some ways, Bhutan is absolutely perfect for solo females.
Where to travel in Bhutan
It can be overwhelming to try and decide where to visit in Bhutan for your first visit. Truthfully, most itineraries focus on the same few stops.
Namely, Thimphu, Paro and Punakha. Bhutan is a very off-the-beaten-path travel destination as it is and it never gets crowded. However if you want to venture to even less frequented places, you can consider travelling to the eastern part of the country.
Northeastern Bhutan
In the mountainous northeastern part of the country, you will have the opportunity to visit the remote village of Laya. The Layap people mostly live off the land.
They herd yaks and are known for their traditional attire and canonical hats which you may have seen in travel literature about Bhutan. The nomadic Brokpa people migrated to Bhutan from Tibet and inhabit the villages of Sakteng and Merak in eastern Bhutan.
Their language and customs are completely different from those of typical Bhutanese people. Travelling to this part of the country can be extremely rewarding, however since it is trickier to get to and requires several hours of domestic travel, you need at least two weeks in Bhutan to be able to venture here.
Thimphu and Paro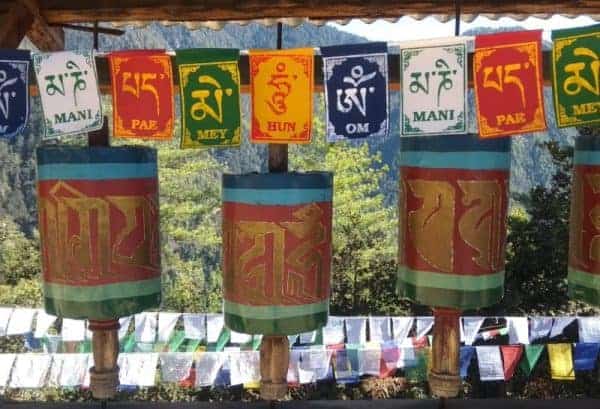 Still, Thimphu and Paro are not to be sniffed at. The Bhutanese capital of Thimphu has more of a small-town vibe about it than the feeling of a bustling city.
It sits in a valley in the western part of the country and is encompassed by rolling green hills. Thimphu is characterised by its whitewashed, red-roofed houses that have been built in the traditional Bhutanese style.
Stop by Buddha Dordenma, a towering 51m gold gilded Shakyamuni Buddha statue that is one of the largest Buddha statues in the world. Nearby, you should also stop by the memorial Chorten.
This important Buddhist shrine is visited by hundreds of locals every day. They spin the prayer wheels and chant using prayer beads known as Trengwa, while they wish for good karma.
Paro, of course, is home to the breathtaking Paro Taksang (The tiger's nest). This impressive 16th-century monastery, perched almost precariously on the side of a cliff is the raison d'etre that most people travel to Bhutan in the first place. No matter how many times you see the site photographed in travel literature, nothing compares to being here and seeing it firsthand.
In Bhutan, you are never truly alone
Solo female travel in Bhutan is technically possible in the sense that you can fly out to the country by yourself. You shouldn´t feel that you need to wait for friends and family to want to go with you before you go off on the trip.
(Sometimes it's easier to just travel alone as often if you wait for someone to join you, you are waiting forever!) However, visitors to the country must be accompanied by a Tour Guide.
That is unless you are from neighbouring India, Bangladesh or the Maldives. This requirement was implemented by the Bhutanese government in order to preserve the country's rich and unique culture, and protect Bhutan from the impacts of mass tourism,
If you are relatively new to solo female travel, you can feel rest assured that you will be safe and accompanied by a guide throughout your trip. While this can be seen as something as a hindrance if you like being independent, you shouldn't look at it that way.
Exploring with a local is a rewarding experience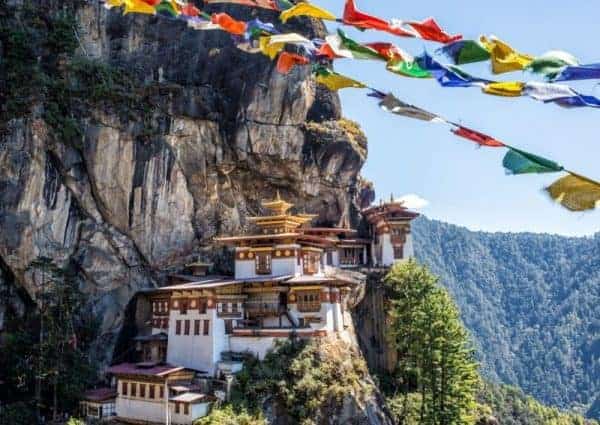 When you explore with a local guide, you will have a local expert on hand who you can ask questions. They will be able to provide you with unique insight into what life is like in Bhutan, which goes far beyond what you could obtain just from seeing landmarks and reading Bhutan travel guides.
The trip is likely to feel more like you are going on a road trip with a local friend. For instance, my Bhutanese guide Tshering was born and raised in Thimphu.
In his free time, he showed me his favourite hang-out spots, and the best places to eat Bhutanese food and traditional momos. During our various hikes and treks around the country, we discussed our lives and upbringings and he shared a lot of stories with me about Bhutanese traditions, households and families. Our conversations were as wonderful as some of the places we visited.
Consider planning your trip during a masked festival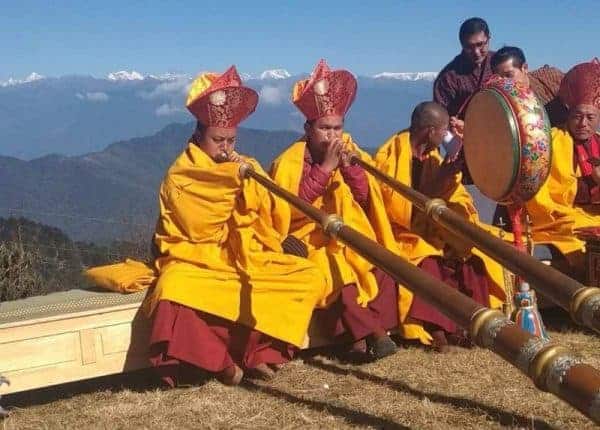 Tsechus are religious Bhutanese festivals that take place on certain dates every year. Different festivals celebrate different aspects of local culture and history.
During the celebrations, masked dances are performed by Buddhist monks. This tradition dates back to the 16th century.
Historically, the dances were performed to shun evil spirits or to re-enact notable moments in history. There is a festival going on virtually every month in the country.
So it pays to check the event schedule so that you can ensure that your trip coincides with one if you can. You can check the festival calendar here.
You can still maintain your independence
Tours in Bhutan are great because they are completely privatised. Your trip will not be shared with anyone else.
In other words, you will not be cramped up on a tour bus like sardines or be lumbered with some strangers for a week as you all follow a tour guide around. Your tour guide and driver are there for you and you only.
It is also worth noting that although tour companies provide a suggested itinerary, this is not set in stone. You have a lot of flexibility over your trip to Bhutan.
For instance, if you read about a temple or a monastery that catches your eye, you can do a detour to visit it. If you are in Thimphu and you decide that you want to spend your afternoon watching a local archery match (or even try your hand at archery!), you can do that too.
You

can request a female tour guide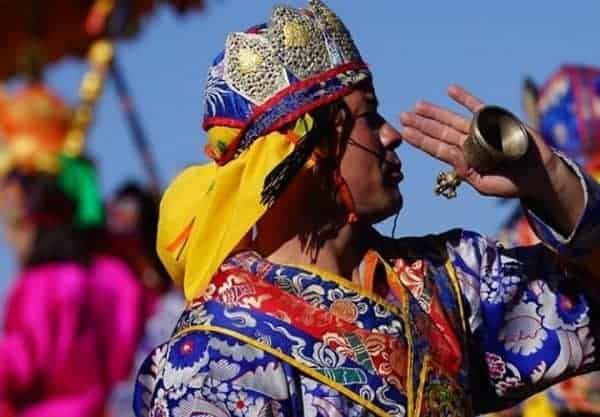 I visited Bhutan as a solo female traveller and my guide and driver were both males. That wasn't my initial preference but I never felt uncomfortable being with them.
They were both super polite and respectful. However, if you prefer to travel with women, you can absolutely make a specific request for a lady guide when you are organising your trip. Your tour company will do their best to accommodate you.
Is solo female travel in Bhutan safe?
Bhutan is a very safe destination for solo female travellers. From a cultural perspective, most people here are very kind-hearted and respectful and possess a strong moral compass.
The Bhutanese are devout Buddhists that possess strong beliefs about showing respect to other people. They believe that all sentient beings are equal and related.
This is seen in the way they interact with everyone that they cross paths with. Although you will be accompanied by your tour guide during the day, your schedule together usually runs from 8 am until 4/5 pm.
In the evenings, it is perfectly safe and permitted to go for a stroll alone, grab a coffee somewhere, or hang out in squares and plazas people watching. In Thimphu, I sat among locals watching a performance by the clock tower in the main square until it got dark.
Then in Paro, I followed dirt roads and explored some of the small towns and villages. In more remote places, people would often come outside as I was passing by in order to spark up conversations about where I was from. However, I was never hassled or uncomfortable.
Staying safe while travelling alone in Bhutan
Just follow the same common sense precautions that you would in your home country, and in any other corner of the world, when travelling to Bhutan and you will be absolutely fine. This means being mindful of your surroundings, not walking around alone at night, and keeping an eye on your possessions.
If you decide to explore alone in the evenings, one reason it is important to get back to your hotel before dark is that many towns and cities do not have street lamps or are poorly lit. There are also a lot of stray dogs in rural areas that run around in packs and can be intimidating to encounter.
It is a good idea to read your local government travel advisory website before travelling to a new country and the same applies for visiting Bhutan. You can find the UK government travel advice for Bhutan here. The United States travel advice for Bhutan can be found here.
Even the Bhutanese capital of Thimphu is very safe. However, more people also means an increased likelihood of petty crimes such as pickpocketing.
Violent crime is extremely rare in Bhutan. According to the Global Peace Index, Bhutan is the 19th most peaceful country in the world.
How

much does a trip to Bhutan cost?
Many people are concerned about the cost of travelling to Bhutan. This is a country that is renowned for being expensive.
The government has always focused on "high value, low impact" tourism. Until recently, there was a daily fee in place for those that wanted to travel to the country.
This was between $200 and $250 per day depending on the season. However, the fee did include all of your accommodation costs, meals, transport and tour guide services so it actually worked out relatively reasonable.
In 2022, the government modified their approach to tourism. Now, people that wish to visit Bhutan must pay a sustainable development fee (SDF) of $200 per person, per day.
This fee is then invested into improving the wellbeing of the country's residents and into policies that commit to providing free healthcare, free higher education, and alleviating poverty. So, you know that this money is going towards a good cause.
However, the fee is purely an entry requirement for visiting Bhutan and does not cover any travel costs. These have to be paid for separately.
So, it is now estimated that a trip to Bhutan is likely to cost between $400 and $450 a day per person, excluding flights. It is worth discussing this with a local tour company so that you can get an idea of the total costs.
Bhutan is definitely not a budget travel destination and the question of whether or not it is worth the fee is subjective. Still, if you really want to go somewhere and you save up for a once-in-a-lifetime trip, you won't forget it.
Getting to Bhutan
Once your land travel costs are considered, be mindful of the costs of the flights to Bhutan. The national carrier (Druk Air) and Bhutan airlines are the only airlines that serves routes in and to Bhutan.
They only depart from Singapore, Bangkok, Kathmandu and a handful of airports in India. Depending on the specific port of embarkation, your flight can cost anywhere between $700 to $1000 for a round-trip ticket.
This is in addition to the cost of flying from your location to one of these transfer airports. Flights to Bhutan usually set off very early in the morning due to the fact that landing in Paro is somewhat challenging. So, you should also consider that you may need to have a layover of a day or two in one of the aforementioned cities.
What to Wear in Bhutan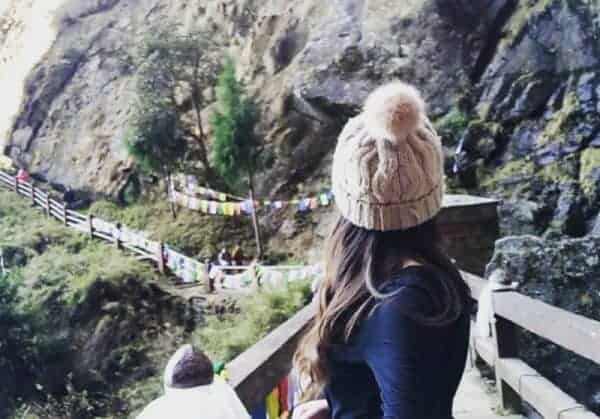 There are essentially two aspects involved when determining what to pack and wear as a solo female traveller in Bhutan. First of all, there is knowing what to wear in terms of practicality, warmth and comfort.
Secondly, there is knowing what to wear with respect to the local customs and cultures. Yes, to an extent, you should wear whatever you please and what you feel most comfortable in.
However, you should also definitely act and dress respectfully when you are in someone else's country and take note of what the local women wear. The majority of women in Bhutan dress very modestly.
Traditional dress in Bhutan
They wear the nation's traditional dress known as the "Kira". This is an ankle-length dress made from colourful, rectangular fabric. It boasts long sleeves and a high neckline.
The Kira was invented by Zhabdrung Ngawang Namgyel in the 17th century in order to give the Bhutanese a unique identity. This is not something that the Bhutanese wear for tourists, it is their everyday attire.
Meanwhile, Bhutanese men wear something known as a "gho". This is a colourful knee-length robe that is tied at the waist by a cloth belt.
You will likely visit a lot of Buddhist temples, shrines, and religious sites during your Bhutan itinerary where you will be required to dress conservatively. In other words, you will need to cover your arms, shoulders and legs and not have any cleavage on display.
For that reason, it is advisable to wear long sleeves and trousers throughout your trip. If you are travelling during the warmer months, you should at least wear a t-shirt and carry a scarf/shawl in your bag to take out later should you need to cover up at a temple.
What to wear in Bhutan
Layers are the key thing to keep in mind for planning your solo female travel to Bhutan. The weather here varies significantly from season to season.
The summer months are warmer and more humid with frequent monsoon-like rainstorms. They are generally best avoided.
Spring and autumn in Bhutan sees pleasant conditions of between 14 to 25° C depending on the specific month and region. Meanwhile, winter sees daily averages between -3 to 12° C.
A suggested solo female travel in Bhutan packing list
At the very least, when travelling in Bhutan you will need:
Good hiking boots or walking shoes –

Whether you choose to focus your itinerary on trekking or on cultural experiences, chances are that you will be embarking on a hike or two





2-3 pairs of trousers


2-3 breathable cotton tshirts


A ¨nice¨ outfits for meals out or evenings at the hotel


Sleepwear


2-3 long sleeved shirts


2-3 light cardigans or sweaters


3-in-1 interchangeable jacket


A small 5L daypack (for day trips and hikes)


Comfy shoes/casual sneakers for walking around town


Hiking poles


Rainmac (if traveling during the rainy summer season)


Thick socks and thermal underwear (if traveling during the winter)


Flip flops or slippers to wear in your hotel


Compression bags or packing cubes to organise your luggage


Hat, gloves and a scarf for winter travel


Toiletries, a travel medikit, and any prescription meds


Selfie stick with tripod feet for your phone camera, and a tripod for your DSLR


A reusable water bottle such as a Lifestraw


A theft-proof backpack to use as handluggage (e.g. a Pacsafe bag)
Final Thoughts
Solo female travel in Bhutan may not be the usual choice, but my trip to the dragon Kingdom was one that I will remember for a lifetime.
Have any questions about travelling alone in Bhutan or Bhutan travel in general? Feel free to reach out and let me know! Safe Travels, Melissa xo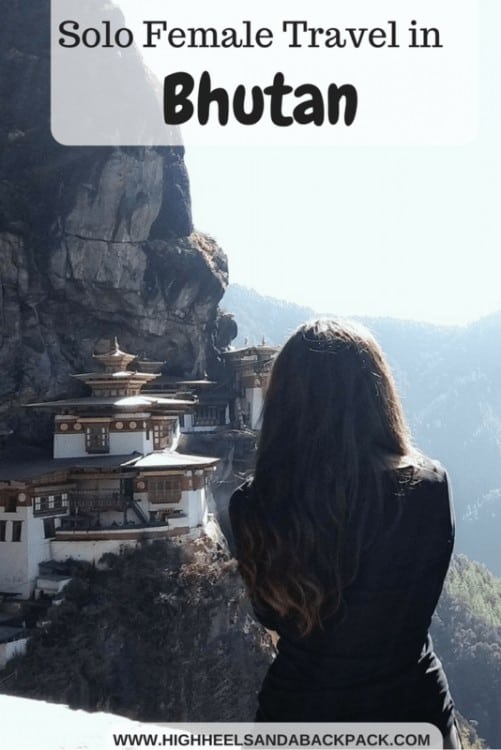 ---