Bhutan is a land where myths and magic are intertwined with the country's history. Stories of dragons, garudas, and enchanted spirits are not considered as legends or fables in Bhutan, but of true historical facts. One of the most notable and interesting figures in Bhutanese history is no doubt Drukpa Kunley – a monk affectionately known as "the Divine Madman of Bhutan" and renowned for his magical Bhutan penis. Yes, you read that correctly – his magical penis!
Drukpa Kunley:
Who Was the Divine Madman of Bhutan? 
Drukpa Kunley was a Tibetan Monk who arrived in Bhutan in the 15th century on a quest to spread Buddhism in the region. He rejected a lot of the expectations of Monastic life. Essentially, Drukpa Kunley was one badass rebel Monk. He believed that the teachings of Buddha were too restrictive so he went about life in his own exuberant way instead.
Rather than practicing celibacy and dedicating his life and body to the Gods, Drukpa Kunley was a notorious womanizer who claimed to have slept with thousands of women in addition to having a particular affection for drinks of the alcoholic variety. Kunley was not rejected for his "sinful" actions, but revered for them.
It is said that when people visited Kunley for his assistance, they would not be served unless they bought him a beautiful woman and a bottle of wine as a tribute. Today, if you head to Kunley's temple (Chimi Lhakhang) in the Punakha region of Bhutan, you can find dozens of old wine cases scattered around outside the premises…
As Buddhism spread throughout the East, Kunley is considered to have been a man of the people, who made Buddhist texts and teachings easy to understand for the "common folk".
Drukpa Kunley:
For the Love of Phalluses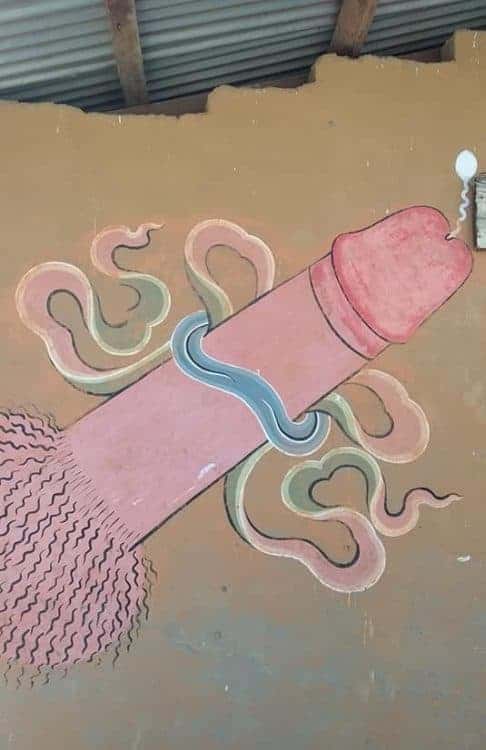 So what was the big fuss about the Divine Madman of Bhutan and his penis anyway? Apparently, Drukpa Kunley had a very unique way of "blessing" devotees and of fighting enemies. He would subdue evil spirits by leaping into the air and striking them with a thunderbolt from his magical penis.
Kunley's Bhutan penis was so powerful that locals awarded it a nickname – "The Thunderbolt of Flaming Wisdom". In paintings, the Divine Madman of Bhutan is typically always depicted shirtless. He is the only Buddhist figure that is shown in this way.
Aside from his own wood (pardon the pun), the Divine Madman of Bhutan always carried an artificial phallus with him that was made from wood and ivory. Today, the head monk at Kunley's temple still carries a similar wooden staff.
The Temple of the Divine Madman of Bhutan
The Chimi Lhakhang temple close to Punakha was built in 1499 in honor of Drukpa Kunley. This is actually the most visited temple in Bhutan, no doubt owing to the audacity of the man it is dedicated to. Chimi Lhakhang was constructed by Ngawang Chogyel, the 14th Drukpa Hierarch.
Kunley was passing through Punakha on his way to DochuLa Pass when he noticed an evil demon prancing about the hills in the form of a big black dog. He clonked the devil dog on the head with his all-powerful Bhutan penis while shouting "Chi Mi!" (No dog!). From there, he trapped the dog's spirit inside a stupa, and later the Chimi Lhakhang temple was built over the site of that event.
Locals will remark that the sloped hills where the temples are situated resemble a woman's breasts so Kunley would surely have been happy with their location. Temples in Buddhist culture are places of peace and serenity. Chimi Lhakhang is no different and contains far fewer obscenities and penises than you may imagine.
Blessings at Chimi Lhakhang Temple
Today, Drukpa Kunley's temple is also referred to as the "fertility temple" as many couples travelling here have mysteriously gotten pregnant after their visit. Those who are having difficulty conceiving are able to stay overnight at the temple with the hope of receiving a blessing in the form of a child.
It is not just Bhutanese locals that make the pilgrimage to Chimi Lhakhang. My guide Tshering recalled to me all of the various people that he had heard of from various countries across the globe who had suddenly fallen pregnant after staying at the temple.
If you are trying to start a family but you don't wish to stay at the temple overnight then rest assured, there is an alternative. The head monk at Chimi Lhakhang carries a ten-inch wooden phallus and he will clonk women over the head with it to provide them a blessing instead.
Does the spirit of Drukpa Kunley, the Divine Madman of Bhutan live on inside this wooden Bhutan penis? It's debatable. However, I doubt there are many temples across the globe with a more unique ritual than that!
The Important Role of the Phallus in Bhutanese Culture
If you were hoping for more phalluses and eccentricities at Kunley's Temple then don't worry, you can find all of that in the nearby town of Wangdue Phodrang. After Kunley's apparent successes of defeating demons with his "thunderbolt of flaming wisdom", locals started painting phalluses on the walls of their houses and businesses in order to ward off demons and evil spirits.
You'll be impressed with some of the innovation of the Bhutan penis murals. Some of them are smiling, others are flying through the air, and so on. It's quite a trip.
Aside from fighting evil spirits, phalluses were also historically very important in Bhutanese culture as a symbol of fertility. Some temples would have "gardens" of phalluses outside them where wooden phalluses of various sizes were planted into the ground. If a woman wanted a large baby, she would pray to the large phallus. If she wanted a smaller one, she would pray to the small phallus and so on.
Modern Bhutan and the Phallus
Painting phalluses on the sides of houses and buildings is not a mainstream practice in modern Bhutan but it does exist. Even when I was hundreds of miles away from Wangdue Phodrang and Chimi Lhakhang during my Bhutan travel itinerary, I still saw the occasional phallus mural on houses and outhouses in places like Paro.
Outside of paintings and murals, phalluses can be found everywhere throughout Bhutan if you pay attention. Offerings taken to temples are often presented in phallus shapes, ornaments in restaurants are often phalluses, and people wear phallus charms on their jewelry.
Getting to Chimi Lhakhang
Assuming that you travel to Bhutan on a tour, most itineraries stop by at Chimi Lhakhang en route to Punakha from DochuLa Pass and Thimphu. The little yellow-roofed temple is situated a short walk away from the main road and is surrounded by rice paddies and picturesque fields.
The usual way of accessing the temple is to follow the dirt trail that leads through the fields and rice paddies from the road at Sopsokha. On your journey, you will encounter the tiny town of Pana and Yoaka before crossing into an orchard and approaching Chimi Lhakhang.
After exploring the temple premises, try and dedicate a little time to browsing the handicrafts on sale at the nearby souvenir stores. Everything from detailed Bhutanese masks and beautiful embroideries, to startling phallus statues, can be purchased here.
Myth or Reality?
The story of the Divine Madman of Bhutan and the nation's obsession with the phallus can sound a little outlandish. Whether you believe the stories or not, there is a symbolic message to be taken away from it all.
While Drukpa Kunley was certainly a rebel, he stood his ground about following his own path to enlightenment and living in a way which he wanted to live, as opposed to doing what was expected of him as a monk. In a way, we can all learn something from that life mantra, whether we choose to adorn our houses with phalluses or not.
Have any questions about Drukpa Kunley, Bhutanese culture, or travelling to Bhutan in general? After travelling to almost 50 countries, Bhutan has to be one of the most unique and mysterious places I've visited so far. Feel free to drop me a comment below, or ping me an email. Safe travels! Melissa xo
---