Visiting Croatia in winter can be a great way to pass the colder months of the year in gorgeous settings. While the scenic Balkan country definitely isn't a winter sun destination, the temperatures here are a lot milder than those elsewhere in Europe during this time. This is owing to Croatia's Mediterranean location.

In recent years, Croatia has really soared in popularity. Today, it is one of the most-visited destinations in Southern Europe, recording more than 11.2 million tourists in 2021, and a record 15 million tourists between January and August 2022 alone.

Beautiful Croatia has it all. The mention of the country is synonymous with island paradises and secluded rocky beaches but the reality is that Croatia is much more than that.
Here you will find fascinating history and culture, pristine nature, mountaintop castles, and friendly locals. Croatia's increase in popularity is long overdue.
Visiting Croatia in winter
There are so many benefits that come with opting to visit Croatia in winter. For starters, most tourists visit the country during the summer months.

So, travelling out of season means that you don't have to contend with crowds everywhere you go, hotels at maximum occupancy and long lines to see/do anything. Better yet?

Hotel, flight, car rental, and excursion prices drop significantly after the summer season. You will find that prices in November through March are often as much as 50% lower than the summer rates.

That is not just a marginal decrease and it is great if you are on a budget! When the crowds of tourists have left, you are able to get an authentic glimpse into what life in the Balkans is truly like.
Croatia in Winter Weather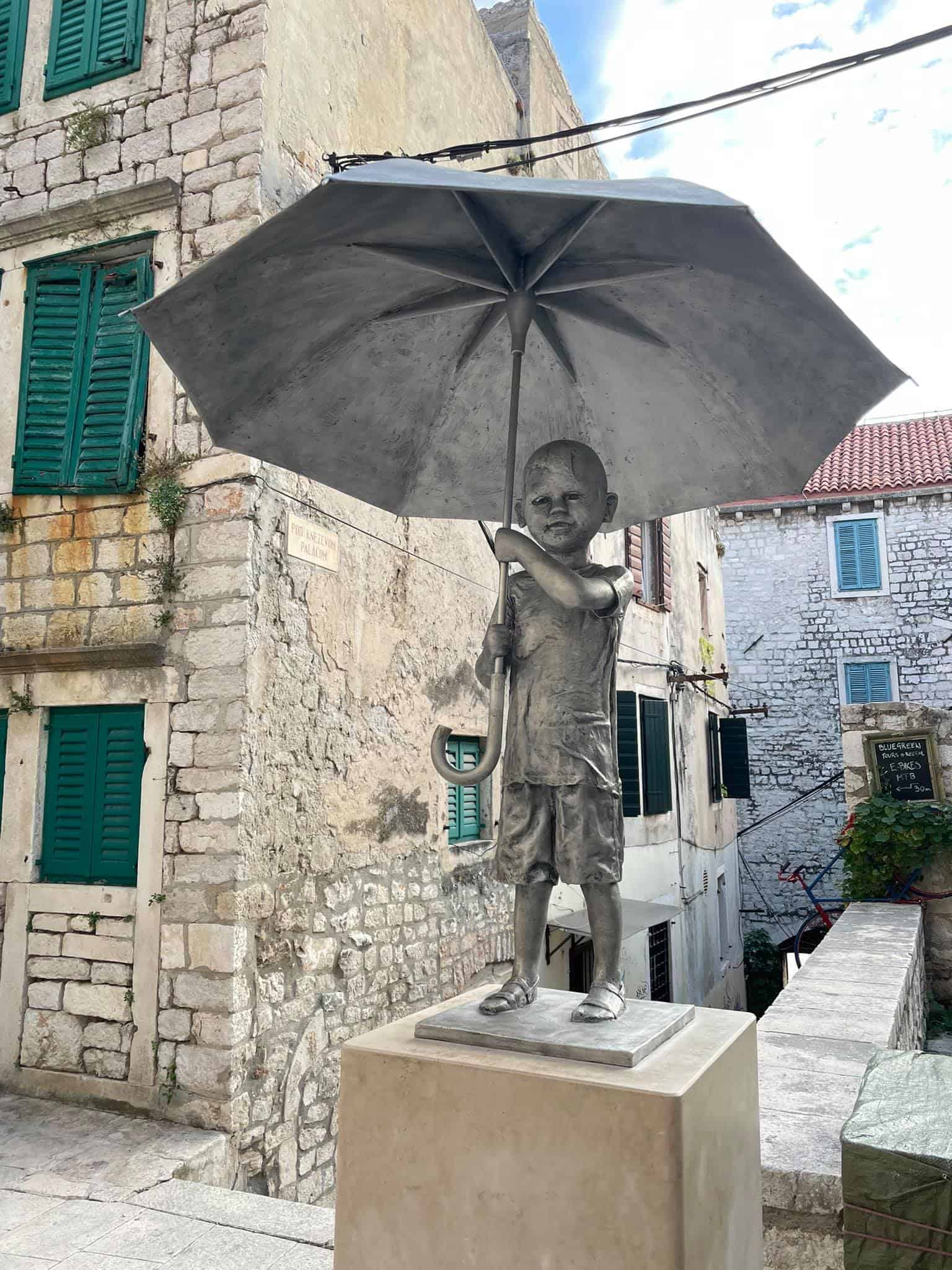 Depending on where you travel, Croatia in winter weather is generally mild but not hot. It definitely isn't suitable for swimming and heading to the beaches. (Although a coastal walk by the sea amidst gorgeous nature is never a bad idea!)
Croatia is not a huge country. It covers an area of 56,594 km².

However, within that, it is very geographically diverse. As such, the temperatures throughout the year vary significantly from one region to another.

In the coastal areas (i.e. from Zadar down to Split, Dubrovnik, and everywhere in between), you can expect average daytime temperatures between 5 and 10°C. In the mountainous areas and the northern part of the country close to Slovenia, you can expect temperatures between -5 to 0°C.
Generally speaking, you need to pack layers and wrap up warm. You can still expect some sunny days during the winter.

However, it can also be rainy and overcast so it is a good idea to pack an umbrella and some waterproofs. Fortunately, there is so much to see and do here that dreary days never detract from Croatia's charm.
Best Places to Visit During Croatia in winter
There is arguably no such thing as a bad place to visit in Croatia in winter. However, all destinations are certainly not equal.

This is a great time for cosying up in quaint cafes with a steaming hot cup of cocoa or coffee, and meandering through the Christmas markets of Zagreb and Zadar, sampling stollen and mulled wine. The main draw for a lot of people wanting to visit Croatia is the islands in the Adriatic.

Obviously, a lot of people live on these islands year-round. However, many become ghost towns during the winter months as many of the hotels, restaurants, and local businesses board their doors shut until the following May.
Some of them, such as Vis, are so naturally beautiful. If you are okay with being somewhat isolated, they can be a great place to hike, cycle, and enjoy island life with virtually no one else to share the scenery with.
Šibenik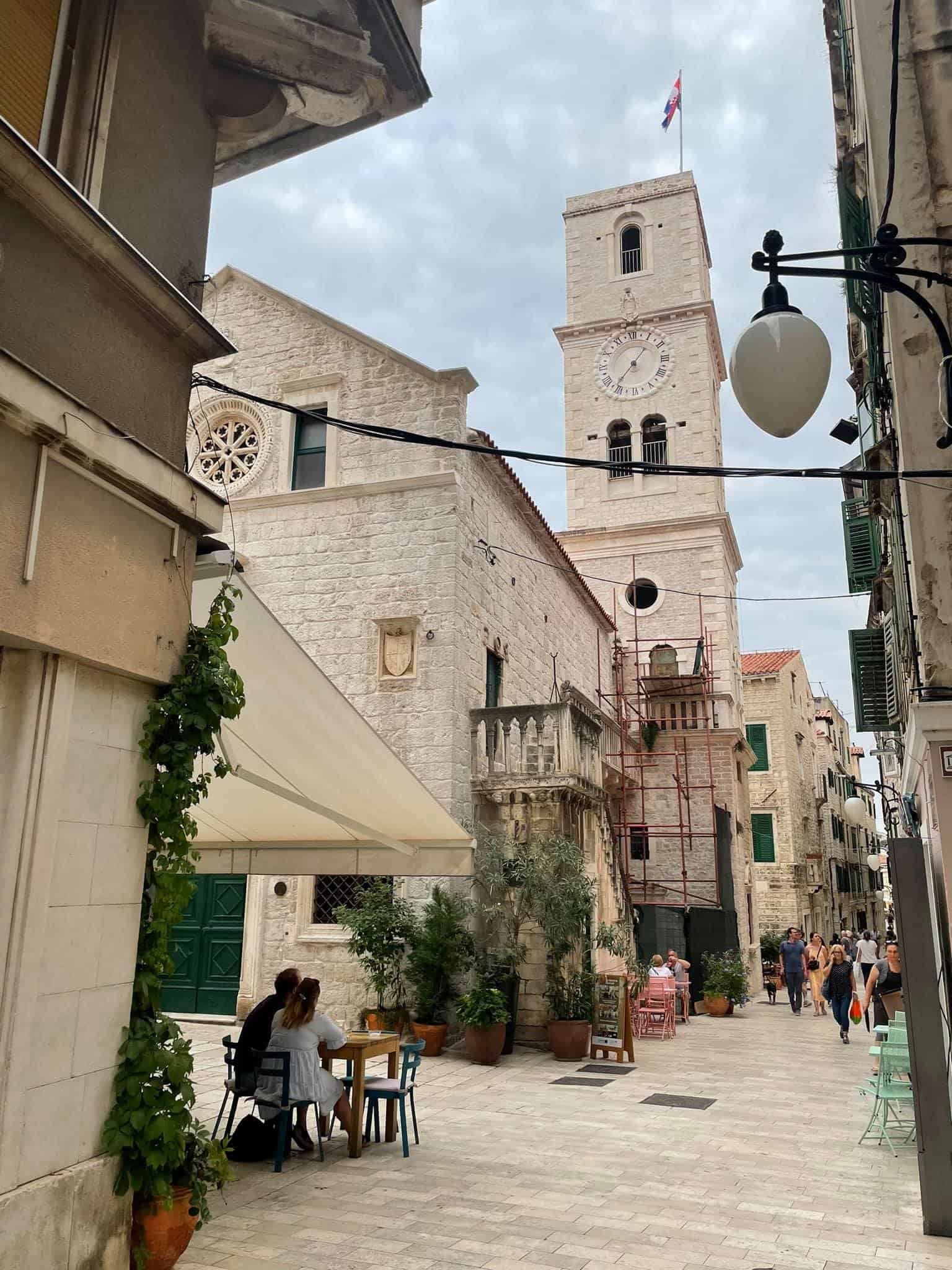 Charming Šibenik flies largely under the radar as a Croatia travel destination. This is even in spite of its proximity to Split, Zadar, and some of the country's most popular islands.

The city dates back to the 9th century. It is unique because it is the oldest settlement in the country that was founded by the Croats themselves.

Meanwhile, a lot of other towns, cities, and villages were founded by the Greeks or the Ancient Romans. As such, its historic centre possesses a certain je ne sais quoi that you simply cannot find elsewhere in the Balkans.

Old Šibenik is made up of idyllic cobbled plazas and a labyrinth-like network of narrow streets and passageways. No cars are permitted in the centre and this adds to the feeling that you have travelled back in time.

Part of the fun of visiting Šibenik is simply found in allowing yourself the time to get lost, stopping in adorable stores and cafes here and there with no fixed agenda. There are some beautiful buildings to be found and an ever-changing selection of outdoor contemporary art exhibits.

In particular, look out for the UNESCO-protected Cathedral of St James. The building took over 100 years to build and is the only cathedral made entirely out of stone in Europe.
If the building looks familiar, it is because it has been used as a filming location in several movies. Most notably, it featured as the iron bank in the Game of Thrones.

What makes the building so interesting and obscure, is the71 life-sized stone human heads that run around its exterior walls. Each has a different facial expression and distinctive features.
Nobody knows who the figures are or why they were placed there. It is thought that they perhaps represent nobles that lived in Šibenik at that time.
Split
Split is the second-largest city in Croatia and the capital of the Dalmatia region. It is a worthy destination in itself, but it also makes a great jumping-off point for exploring wider Dalmatia.

The winter months can be rainy but since most of the activities here focus on history and culture, it doesn't hamper your experience too much. Sometimes in the summer, many Split old town cafes, bars, and restaurants can be so crowded that it's hard to get a seat anywhere.

When you travel out of season, you can enjoy hanging out in the best restaurants at a leisurely pace, or sitting in seafront coffee shops for hours, cradling a cup of cocoa and people-watching. If you happen to stop by in December, you will note that Split residents pull out all the stops for Christmas.

Festive musical performances and carol singing events take place in plazas around town virtually every night of the week. The seafront is transformed into a winter wonderland, with little wooden shacks selling all manner of Christmas treats, souvenirs, and decorations.
There are also plenty of things to do in Split that are enjoyable all year round. Start your itinerary with a visit to the Palace of Diocletian.

This is a spectacular villa that the Roman Emperor Diocletian built for himself and his retirement in the 4th Century AD. You can also tour the tunnels and aqueducts beneath it. Opting to do so gives you a good understanding of how advanced Roman engineering techniques were at that time.

From here, stroll to St. Duje's Cathedral – the oldest cathedral building in the world, and watch locals haggle ferociously at the Stari Pazar grocery market. When lunchtime rolls around, indulge in traditional cuisine in the restaurants of Pjaca square overlooking the old city hall.
Zagreb
Zagreb, situated in the northern part of Croatia, is the country's capital and largest city. It is characterised by its Austro-Hungarian architecture and has grown as a Digital Nomad hotspot in a big way in recent years.

If you are in town in December, head to Ben Josip Jelačić Square to admire the towering Christmas tree, illuminated by dozens of twinkling lights, as well as a bustling Christmas market. Vendors sell all manner of weird and wonderful street food eats here while dancers and street performers entertain the crowds.

There is plenty to do in Zagreb to keep you occupied for a long weekend. For something simultaneously unique and hilarious, head to the Museum of Broken Relationships.

Here, you will see dozens of obscure items that tell a story of a relationship's demise. Some are sad or moving.

Others are just downright amusing. For instance, an exhibit of a toaster that someone stole from their partner after they caught them cheating with the thought "how are you going to toast anything now?"
There are many fascinating museums to keep you occupied here on cold and rainy days. The Hangover Museum tells people's funny drunk stories from across the world. Meanwhile, the more serious Zagreb City Museum features exhibits that give you a glimpse into the city's history, culture, and politics.
Rijeka
Internationally, very few people have heard of Rijeka. However, within Croatia, it is revered.

The charming port city awaits on the northern part of the Dalmatian coast, approximately 4 hours north of Split and 1.5 hours south of Pula respectively. It makes a great stopping point for a day or two as part of a wider coastal Croatia itinerary.

In 2020, it was recognised as the European city of culture for that year. That speaks volumes about Rijeka's charm.

This is particularly true when you consider precisely how many European cities there are and the fact that Rijeka is something of an unknown. Rijeka exudes a very artsy, creative vibe.
Countless chic, glamorous wine bars and international eateries line its streets and most are set inside the most spectacular buildings. Rijeka came under Hapsburg rule in 1446 and remained under the control of Austria-Hungary until the first world war.

The architecture here is so distinct and different from that in other Croatian cities. Most buildings were built in the 16th century in Renaissance/Baroque styles and most have been painted in spectacular pastel shades.

Despite the fact that many have been transformed into offices and private residences, they still retain their original charm. It feels like even the most mundane businesses are set inside the most breathtaking headquarters.
Go Skiing
When most people think about the best ski destinations in Europe, Croatia usually isn't the first place that springs to mind. However, there are some fabulous resorts here that are suitable for skiers of all ages and abilities.
The ski resorts here are good, although they may not quite live up to your expectations if you are used to skiing in France, Switzerland, etc. In that case, you may want to consider a few days in a ski resort as part of a wider trip around Croatia.

What could be a better travel pairing than five days spent based in Split and its surroundings, followed by 3-4 days of skiing and apres-ski? The Sljeme peak on Mount Medvednica near Zagreb is a local favourite.

You can rent all the equipment that you need here and organise lessons for adults and children locally, making Croatia a great place for a ski holiday with children. The resort is at 1,030m at its highest point and 730m at its lowest. 
Platak ski resort (1,363m) sits on the slopes of Radesevo mountain, close to Rijeka. The views are spectacular from up here and you can see all the way out across the sea.

Both snowboarders and skiers, of all abilities, love Platak. However, it is also great as a place to simply enjoy being amongst the snow and in the mountain scenery.
There are many villas, chalets, and houses for rent around Platak that are very reasonably priced for large, spacious properties. Fewer things could be cosier during Croatia in winter than waking up in a wooden cabin, throwing logs on the open fire, and eating breakfast overlooking a mountain view.
Istria
Istria is a Croatian district like no other. Visiting this area feels like you have travelled to a different country entirely.

That is understandable, considering the fact that Istria was part of Italy until 1954. The scenery here is stunning, and as you drive through the region, you are met with miles upon miles of green open forests, olive groves, and vineyards. It feels quintessentially and unapologetically Mediterranean.
Arguably the only downside to visiting Istria is that public transport in this area leaves a lot to be desired. It is better to rent a car if you are travelling to this part of Croatia if you can.

Many of the country's gastronomical delights hail from this part of Croatia. Most notably, truffles.

Throughout Istria and Dalmatia, you will note that truffle pasta graces the menu of virtually every restaurant. To create it, homemade tagliatelle is usually cooked with black truffles, olive oil, parmesan cheese, and fresh cream.
Don't be surprised if you find yourself wanting to eat it for every meal. You can always work off the calories after your trip!

While eating truffles and shopping for truffle-related souvenirs is great, in Istria you can also go truffle hunting! You will be led through rural areas accompanied by a specially trained dog, as a local tells you the process of truffle hunting and sales.
You could easily dedicate weeks to exploring the villages of Istria. In particular, consider visiting Motovun, Groznjan, Vodnjan, and Bale.
Dubrovnik
For a lot of people, Dubrovnik is the raison d'être that they choose to travel to Croatia in the first place. The Southern Croatian city found itself on many people´s travel bucket lists thanks to it being featured as King´s Landing in Game of Thrones.
There are a ton of Game of Thrones filming locations that you can reach from Dubrovnik. Many reputable tour companies operate in the area and offer excursions to them.

Since the city is so popular and is often downright chaotic during the summer months, a lot of people have caught on to the idea of travelling to Dubrovnik out of season to avoid crowds. The city is never completely devoid of tourists as other parts of the country are.

However, travelling here during Croatia in winter is definitely a more pleasant experience. Try and dedicate at least 3-4 days to the city if you can.

To get your bearings, walk along the circumference of the 16th-century stone walls. It will take you approximately 2 hours to complete a full loop.

As you go, you will be met with countless incredible photo opportunities and panoramas over the city. Back at ground level, spend the day exploring the old town on foot. Look out for The Stradun – the main promenade that runs through the historic centre.
Plitvice National Park
Croatian National Parks are open all year round. There are 8 such places in total.

However, the Plitvice lakes are by far the most popular. Tourists travel to the site by bus load in the summer months.

Although the park is perpetually beautiful, the hot summer temperatures usually mean that a few of the waterfalls have dried up. Not to mention, sharing the experience with thousands of other tourists can take away from the magic somewhat.

In the winter, the lakes are frozen over and the surrounding trees are often covered in a blanket of soft, powdery white snow. Zagreb is the closest city to the lakes, with buses running at frequent intervals between the two locations all year round. The journey takes around 2.5 hours each way.
Zadar
Zadar is the oldest continually-inhabited Croatian city and it's a beautiful one. It sits on the country's Dalmatian coast, approximately 1.5 hours north of Split.

The old town, founded by the Romans, is filled with Roman-era ruins and the sunbleached remnants of colorful Venetian buildings. The whale organ and the ¨greeting to the sun" exhibits are among the most unique
Explore the Hrvatsko Zagorje region
There are few better activities for spending Croatia in winter than exploring fairytale castles covered with snow. In the Hrvatsko Zagorje region, there are a whopping 54 castles!

Many have been converted into museums and exhibition spaces. Meanwhile, others have been restored to their former glory to give an idea of what noble life here was like.

The Trakošćan castle is particularly special. It dates back to the 13th century and sits within a glorious park, bordered by a lake.

Inside, you can visit the knight's quarters, view a collection of antique weapons, and see exhibits that showcase the works of local artists. Stop for a quick lunch at the mountain restaurant Grešna Gorica before continuing on to the 12th-century Veliki Tabor Castle, the town of Krapina, and the Krapina Neanderthal Museum.
Croatia in winter Packing List
When it comes to packing for Croatia in winter, the most important thing to keep in mind is layers! A good, thick winter coat is a must.

So too is a lighter jacket for the occasional warmer days, and comfortable shoes for long walks. The streets in a lot of Croatian towns and cities are cobbled and uneven, so a good walking shoe is a must. If you plan on hiking and visiting national parks, you may also want to consider packing hiking shoes.
Suggested packing list
A suggested Croatia packing list is detailed below. Croatia is a very liberal European country and you can generally wear whatever clothes you feel most comfortable in. So whether you prefer walking around in dresses and stockings in the winter, or you are more comfortable in jeans and trousers, you won't draw attention to yourself either way.
Comfortable daytime walking shoes


Light hiking shoes or sneakers


Thick socks


Flip flops or Crocs to wear around your hotel/Airbnb


¨Nice¨ shoes for meals and evenings out


Winter coat


Light jacket


5L daypack for daytime exploration


2-3 pairs of trousers


3-4 sweatshirts or cardigans


5-6 shirts/tops


2-3 ¨nice¨ outfits for evenings out


Underwear for a week


Scarf, coat, and hat for colder days


Umbrella


Waterproof Mac


Reusable period panties or Diva Cup for women


Toiletries, travel medikit, and required prescriptions


Packing cubes or compression bags to better organise luggage


Powerbank, phone charger, other electronics


European two-pronged travel adaptor
FAQs and things to know about Croatia in winter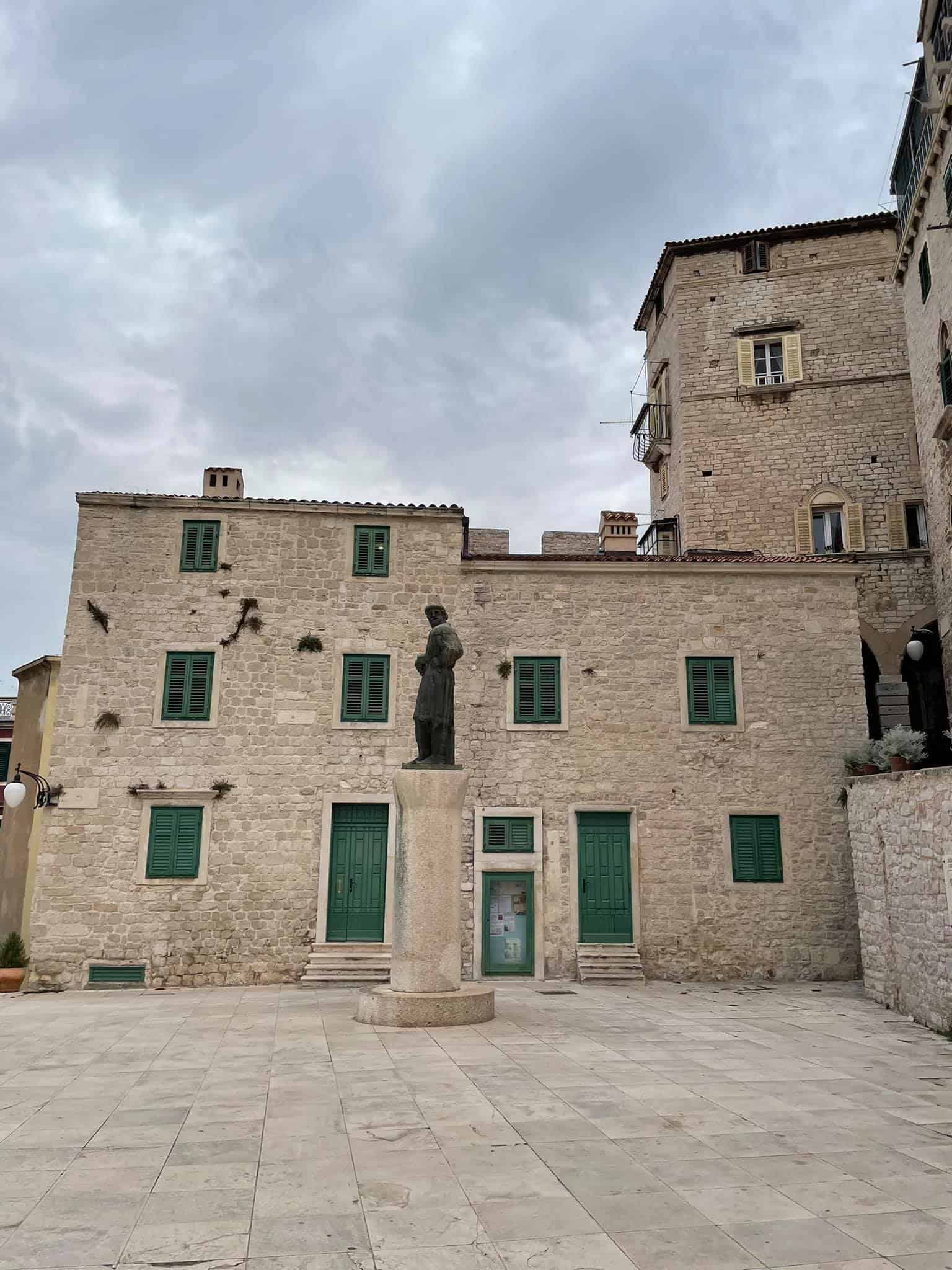 Do you still have any burning questions or concerns about spending Croatia in winter? Hopefully, you will find the answers you are looking for below!
Croatian winter foods
Most of the best traditional Croatian dishes are those that are enjoyed during the winter season. At this time, you will find that a lot of hearty soups and stews grace the menus of various restaurants and taverns.

Besides, what better way is there to warm up than with a piping hot bowl of soup? Brudet is a soup that many consider as being Croatia's national dish.

It is particularly popular in Istria and Dalmatia and is made using 3-4 different types of fish. They are cooked in a base of tomato, seafood stock, fresh vegetables, red wine, vinegar, and herbs.

Istrian stew is another great way to warm up if you find yourself in Pula and the villages of Istria. This dish is made with beans, bacon, sauerkraut, potatoes, garlic, onion, and occasionally, ribs.
At Christmas time, people love to eat sarma (stuffed cabbage rolls), roast pork and turkey, and fiš paprikaš (spicy fish stew). All of this is best enjoyed accompanied by Croatian wine or rakija liquor.
Croatian winter sweets
If you consider yourself a sweet tooth, you will not be disappointed by the abundance of deliciously sinful treats that are sold at every Croatian bakery and patisserie during this time. Kiflice are little crescent moon-shaped biscuits that are similar in appearance to the Greek Christmas treat kourabiedes.

They are often eaten accompanied by coffee and are flavoured with vanilla and often topped with icing sugar. Sometimes they are filled with jam and a lot of Croats like to make the treats themselves at home.

Makovnjačas are delicious walnut roll cakes that are popular during this season, while strudels are a popular dessert of choice at a lot of restaurants. Another thing to look out for is Kroštules. These deep-fried dough desserts hail from Dalmatia and are flavoured with orange and topped with icing sugar.
Easier to travel on a budget in Croatia in winter
Croatia has really soared in popularity as a travel destination in recent years. During the peak months of June through September, hotel, flight, excursion, and car rental prices are at an all-time high.
Even a very basic hotel room on the outskirts of town can set you back as much as 50 a night. When you travel out of season, you will note that your travel costs are as much as 50-60% lower.
So, when choosing where to stay in Split, for instance, you can find accommodation that is much more comfortable and luxurious without breaking the bank.
What is the coldest month in Croatia?
Croatia in winter runs between November and February. January is the coldest month of the year and sees average daily temperatures between 1.5 ° and 9° Celsius.
Can you swim in Croatia in winter?
Swimming is still possible in Croatia during the winter months. It just depends on you and your tolerance for cold temperatures!

Depending on what month you find yourself in the country and where exactly you are, you can expect daily temperatures between 9° and 18° Celsius. So while the waters are not exactly warm and tropical, you may still enjoy swimming, if you are adventurous! Failing that, a coastal walk along a quiet beach is always wonderful.
How hot is it in Croatia in December?
It is not hot in Croatia in December. Precise temperatures and conditions vary depending on where in the country you choose to travel. However, generally,
Is it warm in Croatia in winter?
It is definitely not warm in Croatia in winter. However, depending on where you are from, the conditions may be milder than what you are typically used to.

The conditions vary quite a bit from the coastal parts of the country to the northern and mountainous regions. Generally, you can expect daytime averages between 5 and 10°C at this time.
Winter in Croatia: Final Thoughts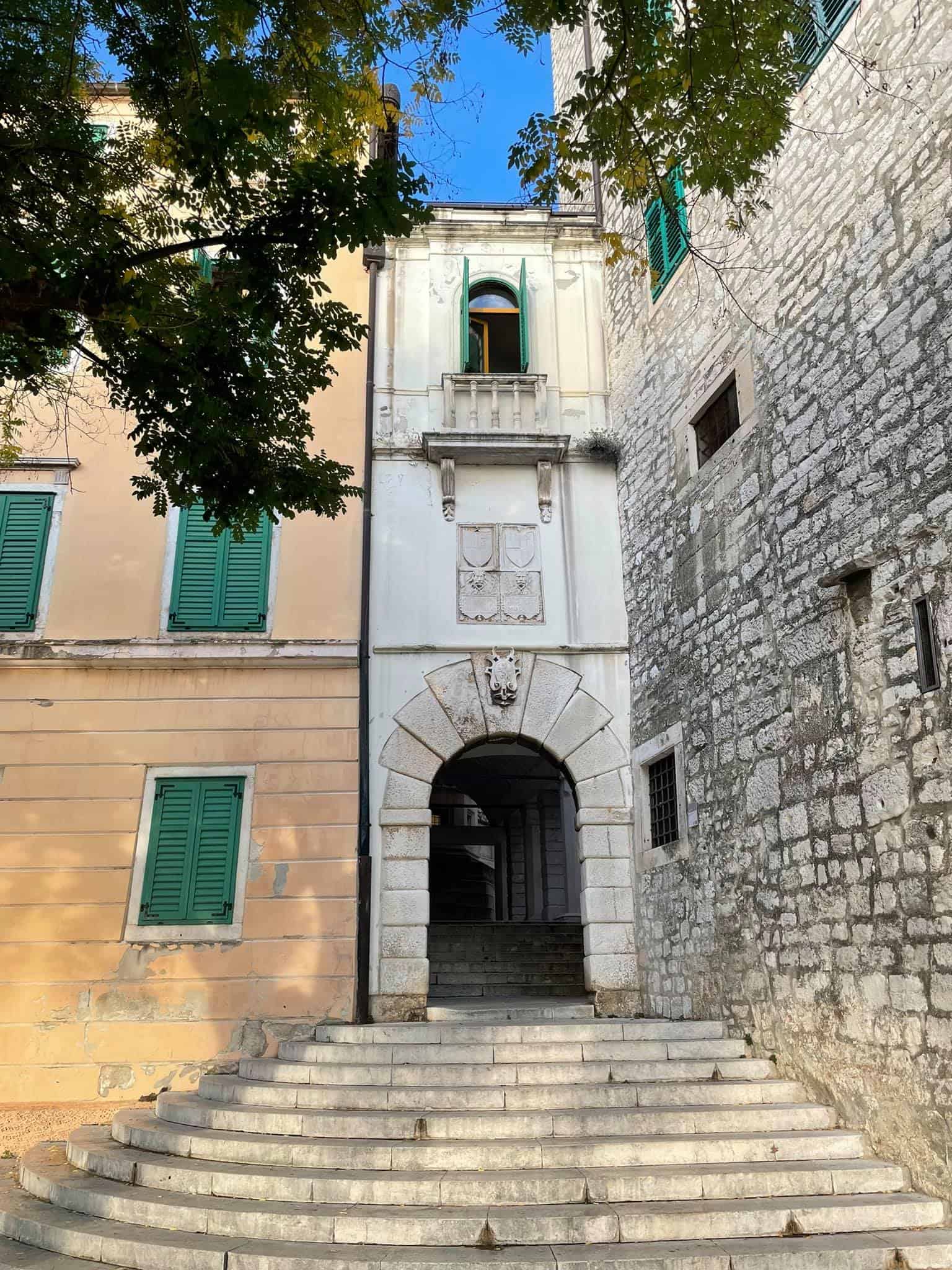 So, are you sold on the idea of visiting Croatia in winter? Have you visited the Balkans before?

What did you think? Have a wonderful trip and stay safe! Melissa xo
---