Renting a car in Croatia is one of the best ways to explore this naturally beautiful country. Opting to do so allows you far more freedom and flexibility than you have if you are depending on public transport. 
Furthermore, there are parts of the country that you simply cannot get to independently. For instance, Plitviče Lakes National Park, Krka national park, and many of the charming hilltop villages in magical Istria are simply not serviced by public transport. 
Accessing them would require a frustrating blend of taking multiple buses, walking part of the way, or taking a cab for part of the journey. All of that in a country where buses seldom run according to schedule is simply a recipe for disaster.
Renting a Car in Croatia in 2023
Renting a car in Croatia means better opportunities to get off the beaten track, visit traditional villages, and immerse yourself in true Croatian culture away from the tourist hordes. Driving in a foreign country can be daunting, wherever you choose to travel.
However, for the most part, driving in Croatia is a pleasant experience. The roads here are well-maintained and modern. In truth, you might note that driving in Croatia is not all that different from driving in your home country. 
First things first, if you are planning on renting a car in Croatia, you need to start making plans to do so in advance. Croatia is an incredibly popular tourist destination and its popularity seems to be increasing year on year. 
This is particularly true of travelling during July and August. Hotels in popular places like Split and Dubrovnik often sell out during this time. So too, do car rentals.
Finding a Rental Car in Croatia
You can use rental comparison websites to search for the best deals during your travel dates. Discover Cars is a great platform that allows you to compare and contrast different deals from various providers.
Sixt, Europcar, Enterprise Rent-a-Car, Hertz, Alamo, and Avis all operate in Croatia. So too, do national Croatian firms that are equally reliable and reputable. 
Requirements for renting a car in Croatia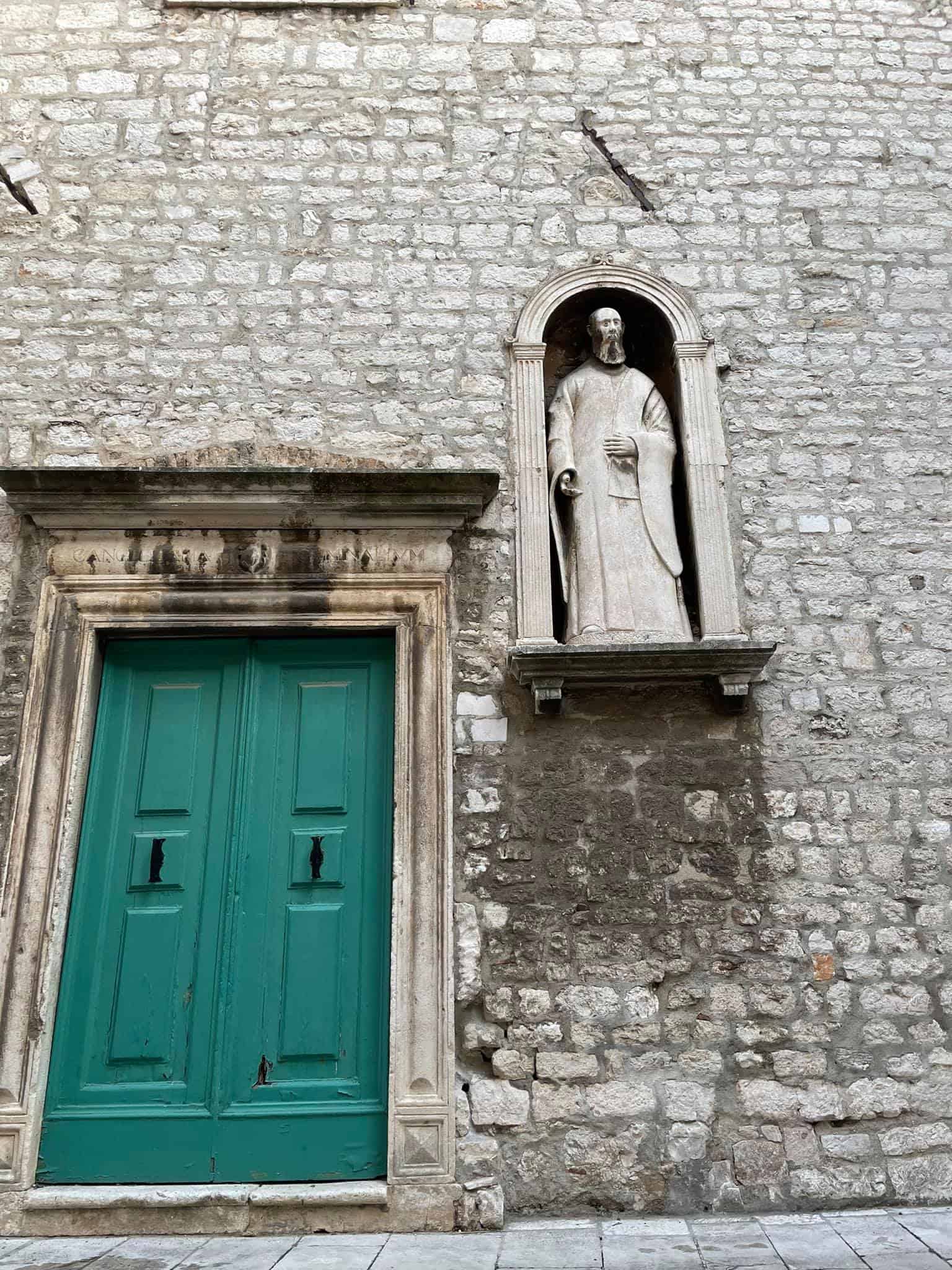 First things first if you want to organise a car rental in Croatia: you need to make sure that you are eligible to do so.
The basic requirements for renting a car here are as per the below.
Be aged between 21 and 70


Hold a full, valid driver's license


Have a valid credit card


Hold an international driver's permit if your license is not in the Latin alphabet
Age requirements for renting a car in Croatia
The standard minimum age for renting a car in Croatia is 21-22. However, the legal driving age in the country is 18 and some companies may allow drivers aged between 18 and 21 to rent a car too.
If they do, they will often ask you to pay a young driver's fee which typically weighs in at €25. 
There is no specified upper age limit for renting a car in Croatia. This varies from company to company.
However, generally, you will have to pay an additional fee if you are over 70. 
Documentation needed for renting a car in Croatia
You will need a full, valid driving license for renting a car in Croatia and this needs to be presented to the rental company when you pick up your vehicle. You should keep it on you at all times. 
It is unlikely that you will be asked to present it at random but carry it just to be safe. If your driving license is in any language that does not use Roman characters (i.e. this alphabet), you should also have an International Driving Permit. 
The process for obtaining an IDP varies from country to country. The official International Driving Permit website breaks down the process of how to apply for your IDP from each country in the world.
Do note that you must apply for your IDP from your own country. You cannot apply for one once you arrive in Croatia. Try and get this organised several months in advance of your trip.
Cost of renting a car in Croatia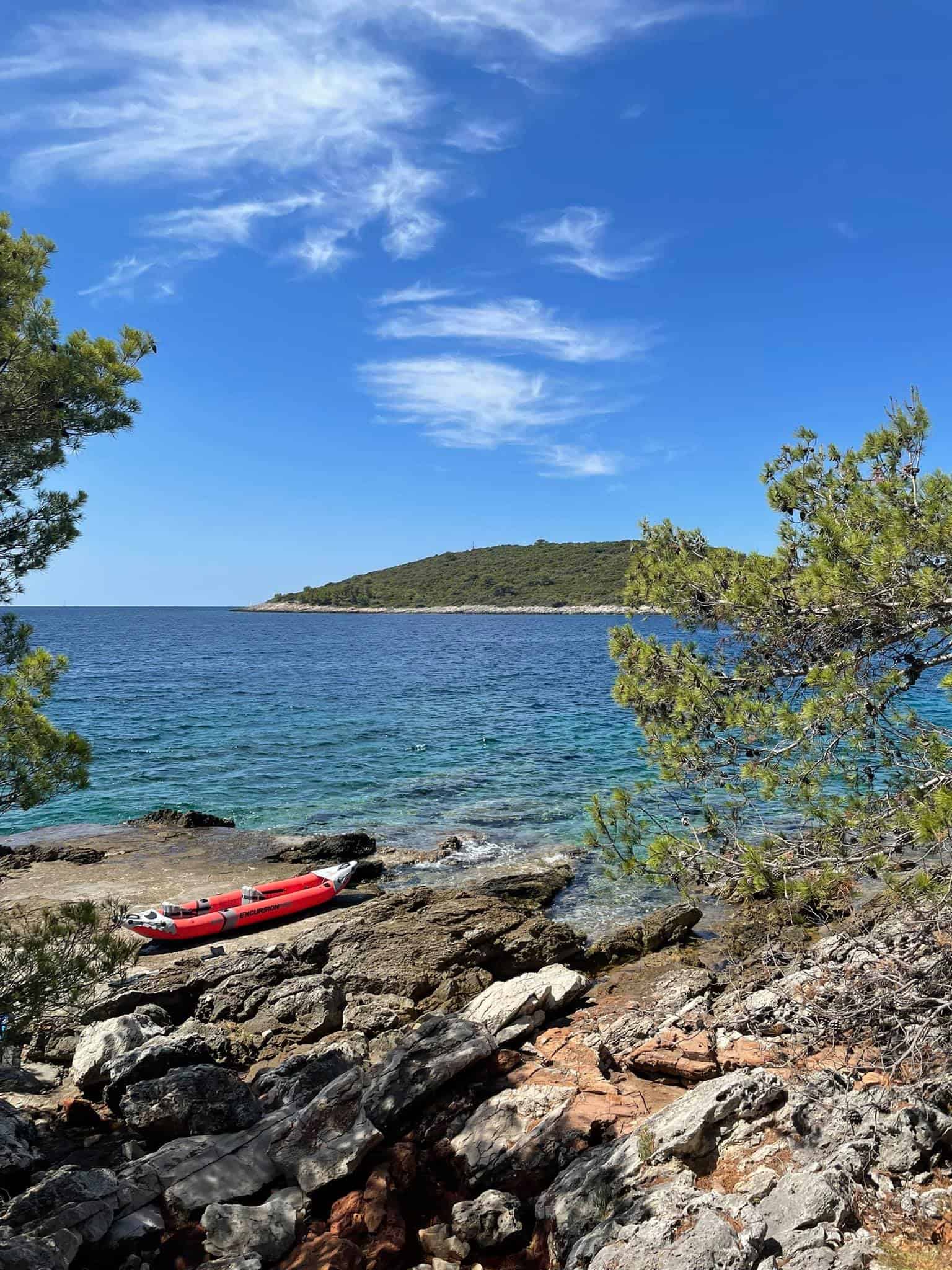 For the most part, car rentals in Croatia are very reasonably priced, even if you travel during the peak months of June, July, and August. Of course, costs vary significantly depending on the specific type of vehicle you are renting, and the season that you are travelling in.
In August, you can easily rent a small economy vehicle such as a Volkswagen Up, a Hyundai i20, a Volkswagen Polo, or a Fiat 500 for as little as €169.99 for a week. That works out to just €24.28 per day.
What's more, is that the price quoted by most rental companies (including Discover Cars) also includes the essential car rental insurance that you need for Croatia. For instance, the above prices include Third Party Liability (TPL) insurance, Collision Damage Waiver, and theft protection insurance, as well as unlimited mileage.
If you travel out of season, prices are even lower. For example, in October, you can rent an economy-sized vehicle in Split for just €69.61 for a week.
In other words, that's just €9.94 a day including essential insurance.
Still, I cannot stress enough that it is absolutely imperative that you reserve your rental car in advance. As your travel dates creep closer, you will note that car rental prices go up and up and up. 
Prices will border on extortionate if you book at the last minute or arrive in Croatia in July without pre-booking your car. Worse still, you may find that there are not even any left to rent! 
What type of car should you choose in Croatia?
A small economy-sized vehicle like a Fiat 500, a Skoda Fabia, or a Volkswagen Polo is perfect for Croatia. The smaller the vehicle, the better here.
Croatian towns and cities are centuries-old and the roads are not built to accommodate big cars. If you rent an SUV or some other large vehicle, your car won't even be able to fit down some of the narrow streets and passageways and parking will be a nightmare.
This can come as a bit of a cultural shock if you are coming to Europe for the first time from North America. These economy-sized vehicles are big enough to accommodate a family of 3-4 people and a couple of suitcases.
Of course, if you have a lot of luggage or extra things like baby strollers, etc, you might want to consider a slightly larger Croatia car rental.
Automatic vs manual cars in Croatia
As above, you need to make your booking in advance. This is particularly true if you are hoping to rent an automatic car (Hey American readers!).
Most people in Croatia, like Europe on the whole, drive manual vehicles. It is possible to find automatic car rentals here but they are more limited in number and tend to be booked up quickly so you need to move faster to secure one.
Expect to pay an additional €15-20 per day for an automatic rental.
Collecting your Croatia rental car 
When renting a car in Croatia, you will be able to choose from a couple of pick-up locations. It is possible to collect your rental car at the airport immediately after arriving in the country or from the dealership in the city centre.
Dubrovnik Airport (DBV) and Split (SPU) international airports are convenient and popular places to pick up your vehicle from. Sometimes, there is a small airport surcharge but this is usually minimal.
It is extremely important to inspect your rental car before you sign any paperwork and start driving, for your own security. Read your rental contract carefully and make sure you are aware of exactly what is included, as well as any additional charges that may apply.
Thoroughly check the inside and the outside of the vehicle while the rental company staff member is there to ensure that everything looks A-ok. You may also want to consider taking photos of the interior and exterior so that you have time-stamped evidence of the condition the vehicle was in when you collected it.
If you notice any damage, bumps, or scratches, it is worth flagging it no matter how small the issue may seem.
Croatians generally are very friendly, hospitable people and most rental companies are not out to scam tourists as their livelihood depends on the tourism industry.
But that isn't to say that a minority of scam artists don't exist practically everywhere in the world. To mitigate even the faintest possibility of finding yourself in a situation where you return the car and there is a dispute about the condition, always inspect the vehicle first. 
You can also further protect yourself by always checking the past reviews of the Croatia rental companies and branches that you are considering using.
One-way rentals in Croatia
When renting a car in Croatia, it is important to think about where you are picking it up and dropping it off. One-way rentals (i.e. rentals where you pick up a car in one location and drop it off in another) are usually much more expensive than rentals where you collect and return your vehicle to the same place.
This is often not a marginal price difference and the rental fee can be as much as double or triple the price for a one-way rental.
So take this into consideration and think about your route carefully. You might hope to fly into Dubrovnik and then end your trip in Zagreb.
However, since the rental fees may soar as a result, you might find that you need to consider driving around Croatia in a loop, as inconvenient as it may seem.
It is also worth noting the specific time you expect to drop off your vehicle. Some rental companies can add a surcharge of around €25-30 if you return your car out of office hours.
Do I really NEED to be renting a car in Croatia?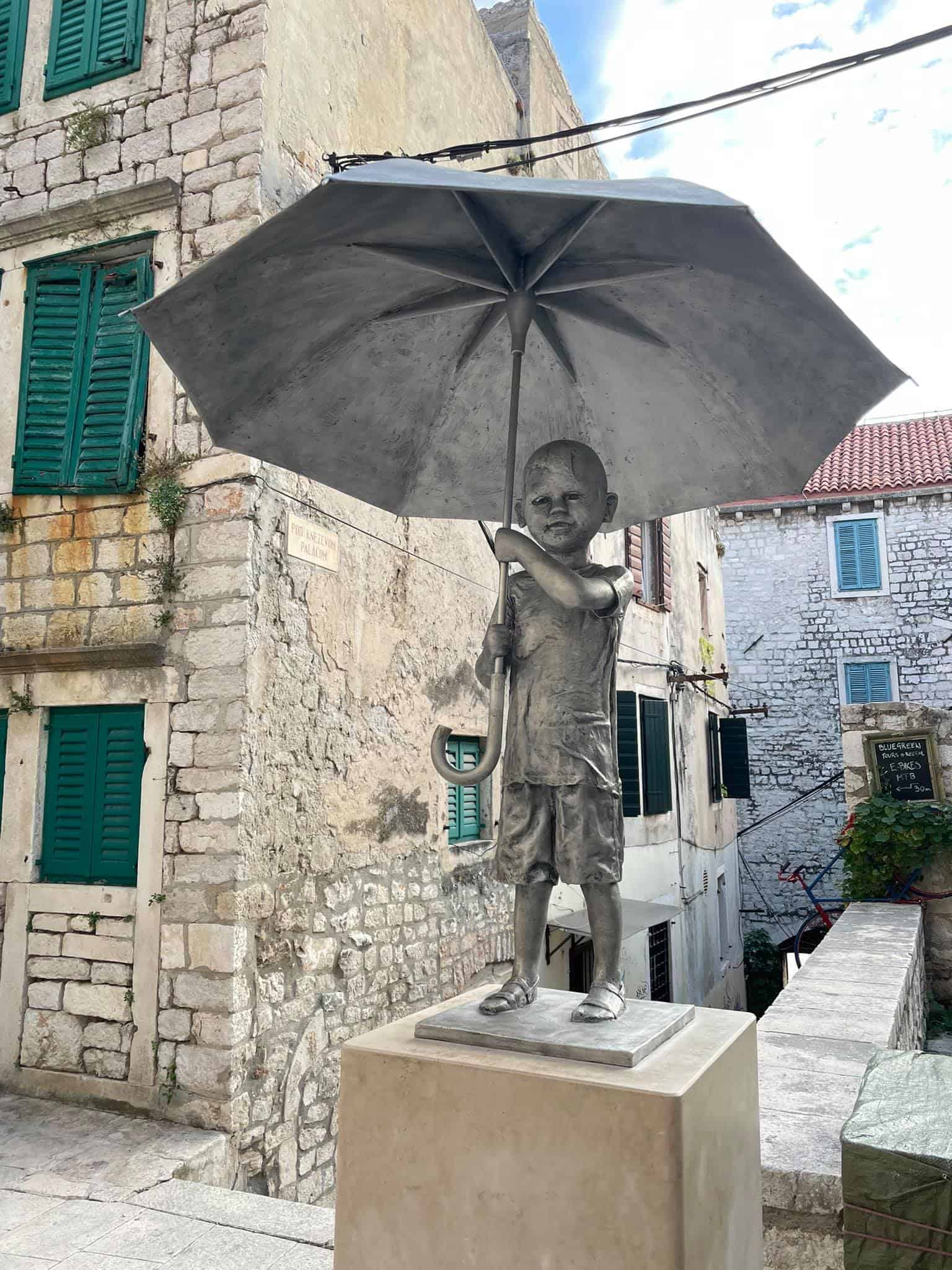 Okay, so it might seem like a counterintuitive thing to say in an article that is all about Croatian car rentals. But one question you need to ask yourself when drawing out a Croatia itinerary is whether you actually need to be renting a car.
Of course, as a blanket statement, yes, renting a car offers you a lot more flexibility. 
However, it truly depends a lot on your specific itinerary. A common "route" to follow in Croatia is to start in Split and then sail through a handful of islands before arriving in Dubrovnik. From there, you can explore Dubrovnik's Game of Thrones filming locations and discover the real King's Landing.
Alternatively, a lot of people start in Split and then travel up the coast towards Sibenik, Zadar, and Pula. All of these routes are well-serviced by public transport.
The train network in Croatia is very limited and only really exists in and around Zagreb. Buses, although often late, are a good way to get around.
If you're following a "common" well-trodden route between major destinations, you may want to consider getting around by bus. This saves money and is better for carbon emissions.
That is unless there are several of you travelling together or embarking on a Croatia road trip. That way, the divided vehicle cost may be lower than buying individual transport tickets.
Another choice to consider, particularly if you are travelling solo in Croatia, is downloading and using the Bla Bla Car app. This is a rideshare app that enables you to hitch a ride with someone else also travelling in the same direction as you.
You give them a little money towards gas and it works out a fairly cheap and easy way to get around.
You should have a credit card to put on file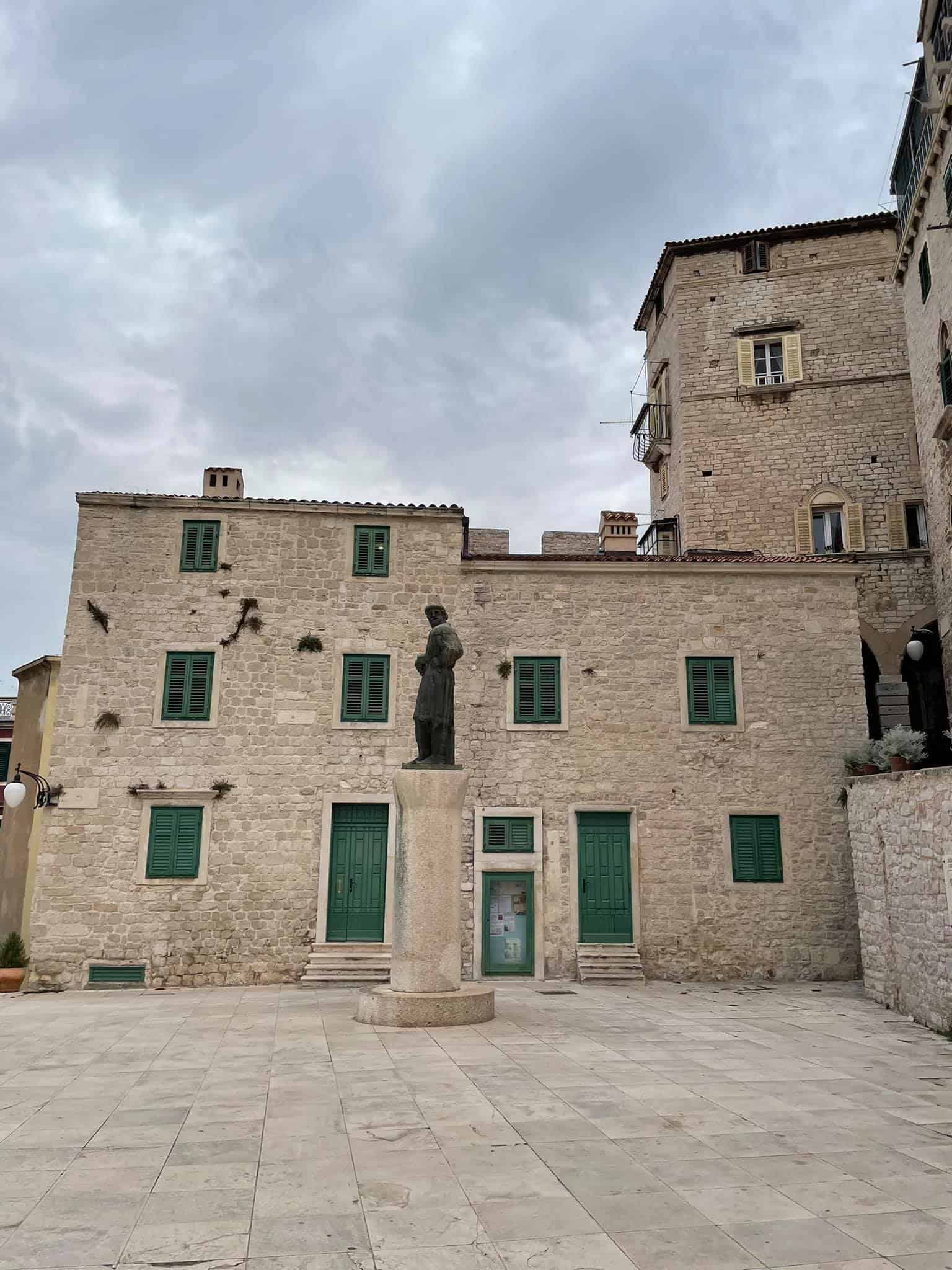 Most Croatian rental companies require you to have a credit card on file before you rent a car. This is because a temporary hold will be placed on your card when you collect the vehicle just in case you damage it or drive off into the sunset with it, never to be seen again.
Some companies may accept debit cards (you can usually filter by this requirement on Discover Cars and other rental car platforms). However, you should always check in advance as a lot of companies won't let you rent a vehicle if you only have a debit card.
(Besides, credit cards offer you, as the consumer a lot of extra security.)
If you only have a debit card, you may have to provide a cash deposit for the vehicle or your debit card may be temporarily debited for a certain amount. That is a lot more hassle than a temporary hold being placed on a credit card.
The deposit amount isn't super small either and is often to the tune of around €1000 or more. That's a lot of money to have held up in a rental office somewhere, even temporarily!
Car insurance requirements in Croatia
Car insurance is mandatory when renting a car in Croatia as a tourist. Most rental companies, including Discover Cars, include the essential insurance policies that you need.
However, you might also want to consider purchasing full coverage insurance. Having full coverage insurance also means that you have to pay an excess.
It can also give you a lot more peace of mind if you are a little nervous about driving abroad as you know that you are covered for every possible eventuality.
Theoretically, full coverage should include any minor damage to your car and its accessories. In reality, sometimes smaller things like wing mirrors, car keys, and windscreens are not included so always check the small print.
It is a good idea to organise your car insurance at the same time as reserving your rental car so that you know that everything is organised plenty of time in advance of your trip.
Is Croatia included in my credit card insurance?
Some premium credit cards include international car insurance as part of their offering. Croatia may or may not be included in the list of countries that they cover so always double-check and read the small print.
Is it safe to rent a car in Croatia?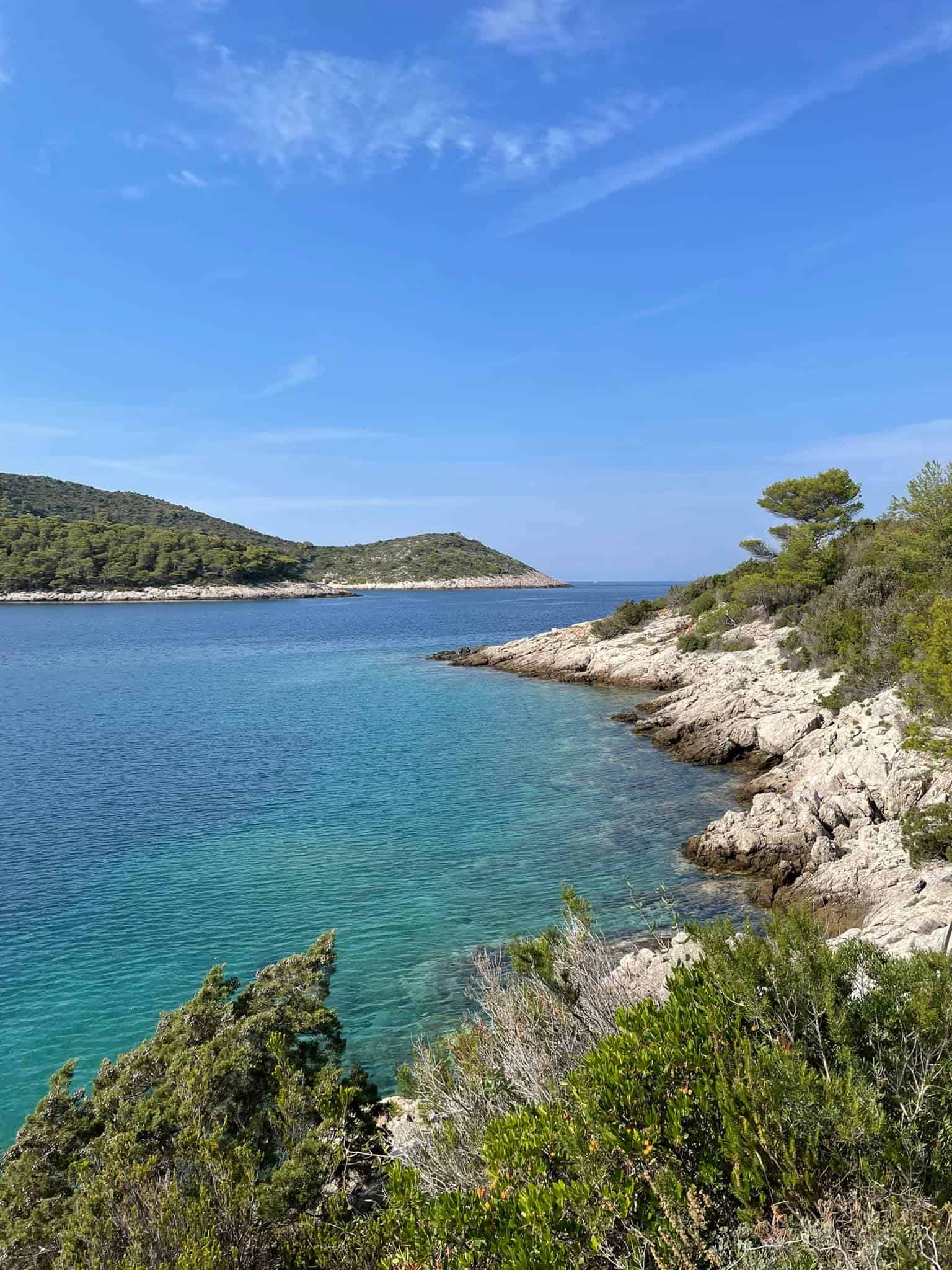 Renting a car and driving in Croatia is very safe for the most part. People here don't have the same reputation for fast or aggressive driving as other countries in the Balkans and Southern Europe.
Carjacking in Croatia is extremely rare. So too, is any violent crime. 
That being said, follow the same common sense here as you would anywhere else. That means not leaving valuables on display in the car (or anything, really). 
Other advantages of renting a car in Croatia
Croatia can become relatively pricey during the peak summer months. Once upon a time, the country was a budget backpacker's haven where travellers could enjoy significantly lower travel costs than when travelling to Greece, Italy, Spain, and other popular European coastal destinations.
However, things have changed a lot over the last few years as Croatian tourism has soared. This country is certainly not as "cheap" as many Western tourists assume. 
It would appear that prices are only going to increase in the coming years as Croatia becomes more and more popular. One big perk of renting a car in Croatia is that you can opt for accommodation slightly out of the city centres.
That way, you can enjoy much more affordable rates. 
Taking your Croatia rental car across borders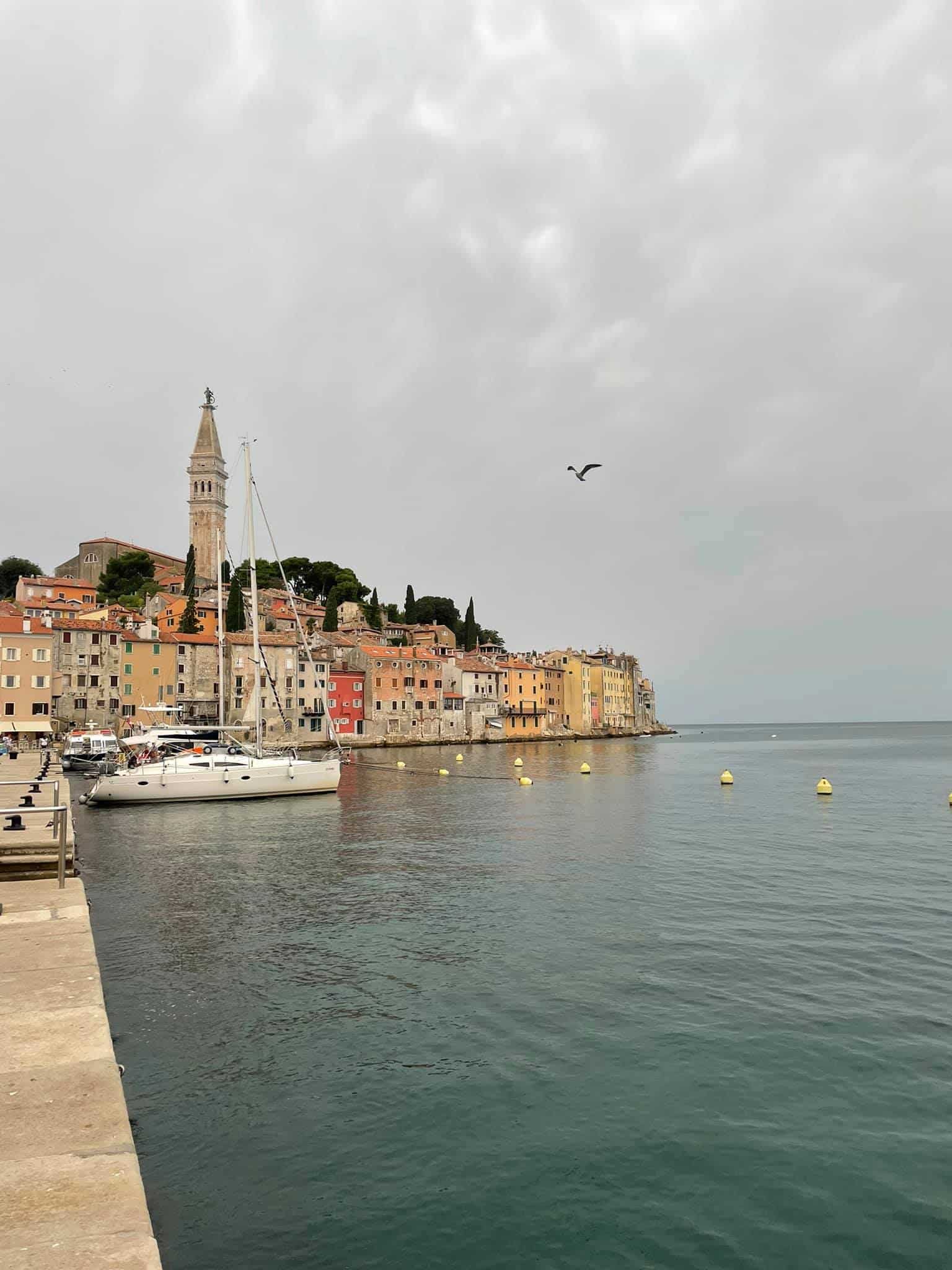 Many people enjoy exploring Croatia as part of a wider Balkans adventure. This gorgeous country shares borders with Slovenia, Italy, Bosnia & Herzegovina, Serbia, Hungary, and Montenegro.
Different rules apply for crossing various land borders when renting a car in Croatia. A common route is to cross from Croatia into Bosnia & Herzegovina.
Many tourists decide to make a brief stop to Mostar and the southernmost part of Bosnia while they are in Dubrovnik. Equally popular is Montenegro.
Fortunately, these two countries have a "green card" system in place with Croatia. What does that mean?
Basically, your Croatian rental car company will automatically provide you with a green card when you collect your vehicle. This covers you for entering both Montenegro and Bosnia & Herzegovina.
You do not need additional insurance for your car if you plan on entering these countries. Similarly, you do not need additional insurance, or to pay any extra fees if you drive your Croatian rental car across to other EU countries.
By way of the EU countries that border Croatia, that means Italy, Hungary, and Slovenia. So, that then leaves us with Serbia.
This is the only country where you will have to pay a cross-border fee.
Taking your rental car on Croatian ferries
In Croatia, you need to pay additional fees if you want to take your rental car onto any ferries to go island hopping. The price varies depending on the route and the rental company.
However, it should not be more than €15-20. 
Returning your Croatia rental car 
When returning your Croatian rental car, there are a few things that you need to keep in mind.
In Croatia, you are typically required to return your rental car with a full tank of gas. If you return the car and the gas tank is only half full, you will be charged for an entire tank of gas as if the car was empty!
Carry out the same due diligence when returning your car as you did when you picked it up. Do a thorough inspection of the interior and exterior of the car. 
Remove any trash or personal items. You don't want to incur any additional cleaning fees!
Make sure that there are no damages, regardless of how small. Then, take photographs so that you have evidence of the state in that you returned the car in. That way you have covered yourself if there is any dispute later.
If your Croatia rental car is damaged 
Sometimes accidents and scuffs happen and you may find that your car gets bumped or scratched. If this is the case, the company will charge you for any additional damage.
This process essentially works the same way as with any insurance claim. You must then submit the details to your insurance company (whether that be your credit card company or somewhere else).
This is then assessed and the funds are reimbursed excluding any excess. 
Always make sure that you have read the small print when renting a car in Croatia. Sometimes you may be charged additional fees for cleaning the vehicle that can range anywhere between €30-50!
Check your credit card statement after renting the car. If any surprise fees show up, you can always contest them.
If there are damages, you are entitled to full visibility on the entire process of repairing the car, the costs, etc. You ought to be provided with photographic evidence of the damage in question.
Then, you should see itemised receipts for the repair costs. If there is anything that you don't agree with?
Well, that's precisely why you need to check and photograph everything during both the car's collection and return. 
Driving in Croatia
Driving in Croatia can be a pleasant experience. Part of the joy of heading out on a road trip here is found in making random, impromptu stops at Croatian towns and villages.
Highlights of a Croatian adventure can easily be the places that weren't even on your radar, to begin with. Roads here are well-built and modern and you don't have to worry about things like potholes or navigating along dirt trails.
Driving in Croatian old towns 
Driving is not permitted in some old towns and historic districts of Croatian towns and cities. For instance, the old town of Dubrovnik and certain parts of Motovun and other Istrian villages.
These places can be pleasantly explored on foot. It is just important to be aware that you will need to find a place to park your vehicle outside of the old town.
Parking in Croatian cities does not present the same types of headaches as, say, renting a car in Greece. Most places are not overly congested and it is typically not difficult to find a parking spot.
The only exception is, perhaps finding a place to park in a bustling nightlife district in Split or Dubrovnik on a Friday or Saturday night. The same could essentially be said of any major city in any country around the world.  
Speed limits in Croatia
In Croatia, speed is measured in kilometers per hour (km/h). Dials and speed limit road signs will always display the limits in terms of kilometers per hour.
Limits vary depending on the type of road and setting. Speed limits in Croatia are as per the below.
30-50 km/h in towns and cities


90 km/h on open roads


130 km/h on toll roads
Fines are enforced if you are driving over the speed limit. There are also speed cameras scattered throughout Croatia.
Fines can be substantial and increase depending on how much over the speed limit you were. They can go as high as £113 /$154 USD). 
Be mindful of your speed. You don't want to arrive back home and find you've accrued some Croatian speeding fines.
Tips for driving in Croatia
Some useful tips for navigating the roads in Croatia are detailed below.
People drive on the right-hand side in Croatia and overtake on the left just like most of Europe and the world


At junctions, vehicles coming from the right have priority


At roundabouts, vehicles already on the roundabout have priority


Look out for farm animals, stray dogs, and other wildlife that may wander onto the roads in rural areas


National roads are marked with the letter D, and the road signs are displayed in yellow.


Croatian motorways are marked with the letter A, and the road signs are displayed in green


It is mandatory to switch on the car headlights from November 1st until March 31st


Snow chains are also mandatory from November 15th to April 15th but only in areas of winter roads
Road rules in Croatia 
Road rules in Croatia are no different from what you see elsewhere across Europe. You should not text or use your phone while driving, and you should always wear a seatbelt.
It is not uncommon to see Croatian drivers on the phone while they're driving – even on winding, questionable mountain paths! Be mindful of your surroundings and other people's driving and always drive carefully.
It is compulsory to wear a seatbelt at all times in Croatia. The same is true whether you are a driver or a passenger.
The fine for not wearing your seatbelt here is £56 or $77 USD. Croats are generally very respectful of this rule and you should be too.
GPS and navigating in Croatia 
Most rental cars in Croatia are not fitted with GPS. You can pay extra to rent one but you can also use your phone and save yourself a bit of money. 
If you have a European phone plan, you will not incur any additional charges for roaming in Croatia. With the exception of driving in very remote islands like Vis, or rural areas, the signal is generally pretty good.
So, consider using Google Maps to navigate from A to B in Croatia. Maps Me is another excellent alternative map app. Failing that, roads here are very well, and extensively, signposted.
Tolls in Croatia
Tolls do exist along roads and highways in Croatia. If you are covering a long distance, for instance, from Istria to Zagreb, or Rijeka to Zagreb, these can mount up.
Fortunately, Croatian toll booths do generally accept cards as well as cash. Generally speaking though, it's always a good idea to have plenty of change on you just in case.
There is also a prepaid SMART card that drivers can use. This offers a 10% discount on tolls.
However, it only really makes sense to apply for this if you visit Croatia very frequently or you are embarking on a long trip of more than several weeks. 
Roadside assistance in Croatia
Should you be unfortunate enough to break down or require roadside assistance in Croatia, you can call the Croatian Auto Club (HAK) on 987. Their operators speak English, so communicating should be easy.
FAQs About Renting a Car in Croatia
Do you have any further questions or concerns about renting a car in Croatia this summer? The answers to some frequently asked questions on the topic are detailed below for your consideration.
Hopefully, you will find the information you are looking for there. If not, please do not hesitate to reach out. 
Can tourists rent cars in Croatia?
Yes, tourists can rent cars in Croatia provided that they have a full driving license, an International Driver's Permit (where applicable), and meet the minimum age requirements.
Why are rental cars so expensive in Croatia?
Croatia has become a more and more popular summer travel destination in recent years which has pushed prices up across the board. However, car rental prices are still reasonable here and you can rent an economy vehicle for as little as €169.99 a week, even in the summer.
What is the average price for a car rental in Croatia?
Economy car rentals in Croatia range between €10 and €24.28 a day depending on the season you choose to travel.
Do I need an international driver's license to rent a car in Croatia?
There is no such thing as an international driver's license. You need an international driver's permit if your license is not in the Latin letters.
Final thoughts on renting a car in Croatia
Have any additional questions about car rental companies in Croatia or looking for other Croatia travel tips? Feel free to reach out and I will get back to you ASAP. 
You may also enjoy this post on visiting Croatia in winter or this guide to tipping in Croatia.
Have a wonderful time travelling in Croatia. Hvala! xo
---