Thinking of crossing the Azerbaijan-Georgia border during your travels through the Caucasus? Look no further.
This comprehensive step-by-step guide provides you with all the information that you need to make the journey in 2022. It also provides you with some wider information on Azerbaijan borders.
Crossing the Azerbaijan-Georgia border
Crossing the border from Azerbaijan to Georgia is not as stressful or intimidating as it may sound. If you have spent any time backpacking in Azerbaijan up until this point, you may have found that travelling around the country is not the easiest feat.
However, you will probably be pleasantly surprised at how easily you can breeze across the border from Azerbaijan to Georgia. The first thing to note is that there are two different border crossings that you can use.
Both are in the northern part of Azerbaijan because this is the part of the country closest to Georgia. The first border is known as "The red bridge" and connects Rustavi with Qazax.
This actually places you closer to Tbilisi. However, this is the less frequently used of the two borders and public transport does not run here as often.
Separately, Qazax, on the Azeri side of the border is not really close to any major points of interest. It is a trek to get here from Sheki and other points of the country, and on the whole it is just easier to head to the Balakan border crossing.
The second Azerbaijan-Georgia border crossing connects Lagodekhi and Balakan. This is the most common way to cross into Georgia and it is what this article focuses on.
Crossing the Azerbaijan-Georgia border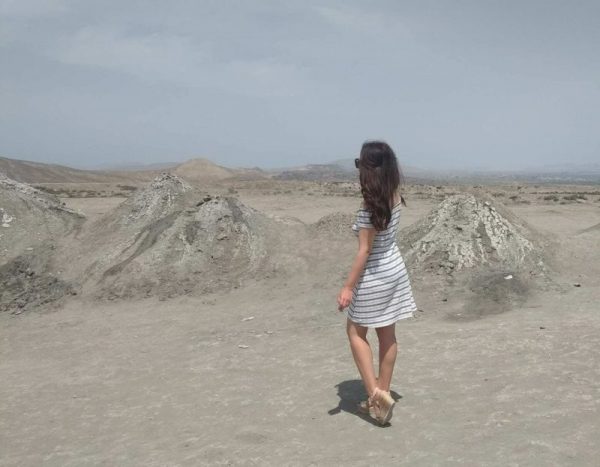 This article provides a step-by-step guide to crossing the border from Azerbaijan to Georgia. It also provides insight into doing the journey in reverse and travelling from Georgia to Azerbaijan.
As mentioned, the main border that sits between Georgia and Azerbaijan is the crossing point at Balakan. Balakan is neither scenic nor a tourist town so you don't need to spend much time here. Just get here for your connection across the border and be on your way.
Balakan can be reached easily via public transport from Sheki and Ganja. Detailed information on how to catch marshrutkas and buses from Sheki is detailed below.
This is the exact process I followed while backpacking through Azerbaijan. I am a solo female traveller, and I found the entire process relatively straightforward and I never felt uncomfortable or unsafe. I am sure that you will be fine too.
Crossing the Azerbaijan Georgia border in 7 Easy Steps
Start your Azerbaijan-Georgia border crossing journey as early in the day as possible. In total, you are looking at around 7 hours of travel.
That is assuming that you don't stay in Lagodekhi, Georgia and you want to continue onwards to Tbilisi. There are also plenty of hotels and accommodation options in Lagodekhi if you prefer to break up the journey, but it really isn't so long or unpleasant that you cant tackle it in one go.
Step One – Take a cab from your hotel to Sheki Bus Station


Step Two – Take the marshrutka from Sheki to Balaken (2 hours)


Step Three – Take a cab from Balaken to the Azerbaijan border


Step Four – Cross the border into Georgia


Step Five – Take a cab from the Georgian border to Lagodeki


Step Six – Take a marshrutka from Lagodeki to Tbilisi
Step One:
Arrive at Sheki Bus Station
To get the Marshrutka to Balakan, you need to first get to Sheki bus station. It should only be one manat (60 cents) to take a cab to Sheki bus station, regardless of where you are staying in Sheki.
If you have spent some time travelling in Azerbaijan, you will have probably noticed by now that people are always trying to charge tourists extra. Have your hotel concierge speak with the cab driver if necessary.
I had people trying to charge me between 5-10 manat for this journey. That may not sound like the end of the world, but all of the extra charges soon mount up. The staff at your hotel will help you secure your cab at the correct rate.
Step Two:
Take the Marshrutka to Balakan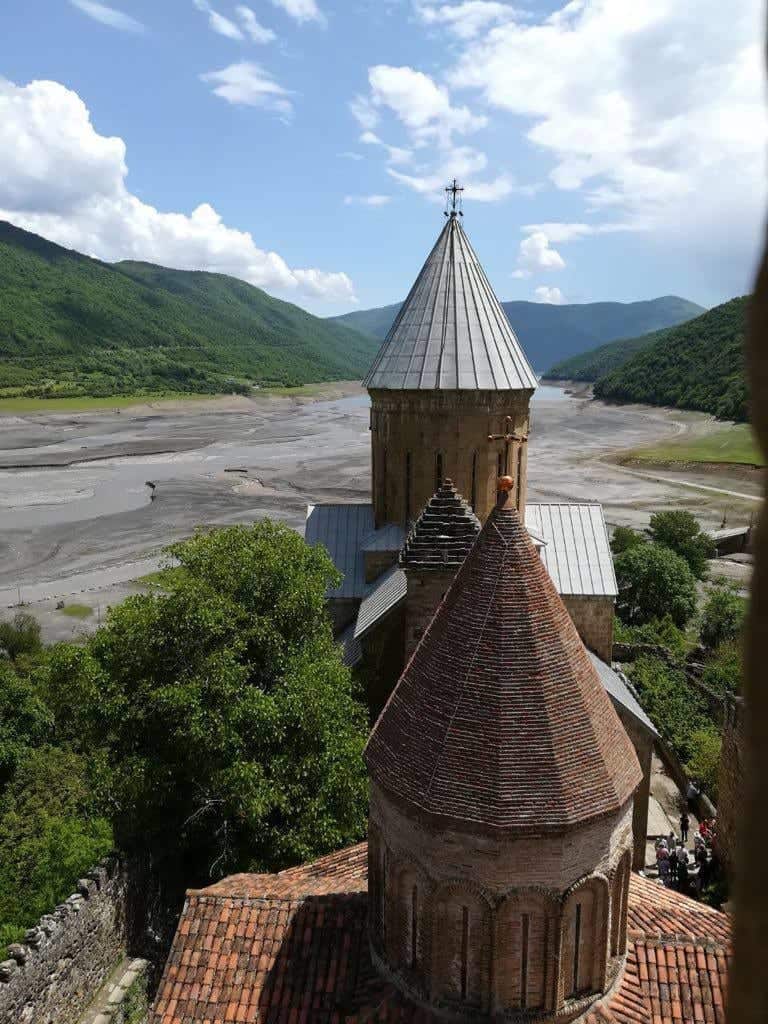 You need to get yourself to Balakan which is the closest town to the Azerbaijan – Georgia border crossing. The Marshrutkas from Sheki to Balaken run twice daily – at 10:10 and at 14.00.
The Marshrutkas in Azerbaijan leave when full, and I mean really, really full to the point of serious overcrowding. I was the only foreign traveller on my Marshrutka and some people were standing in the aisles.
Try to arrive at least 15-20 minutes before the departure to get yourself a seat. There are cafes around the station area where you can sit, wait and enjoy one last Azeri tea.
The price for the Marshrutka from Sheki to Balakan is 4 manat ($2.30). It took just over 2 hours to get from Sheki to Balakan.
A Note on Taking a Marshrutka via Zaqatala, then Balakan
Other guides to crossing the border between Azerbaijan and Georgia state that you can do this border crossing for a cheaper price by breaking up your journey into two. They state that you can first travel to Zaqatala, then to Balakan.
To be honest, that is a ridiculous suggestion. You are adding hours onto your journey just to save what is literally just a couple of cents.
I am sure that you will have a long enough journey as it is (especially if you are travelling onwards to Tbilisi once you arrive in Georgia). Why add extra hassle? Even if you are on a really tight backpacker budget, that is simply not worth it.
Step Three:
Take a Cab from Balaken to the Border
Once you arrive in Balaken, it's likely that you will be pounced on by cab drivers wanting your business. Nobody here speaks English and if you ask the drivers to take you to the border, or say "Georgia!", they will just look at you blankly.
I don't speak Russian or Azeri, but fortunately, I used a screenshot of the border crossing to show them where I wanted to go. (Enclosed above for your use!).
It is a good idea to do the same. You can simply Google "Balakan border crossing" and show the cab drivers a screenshot of the images.
Haggle the price down. The first prices that you will be quoted will be massively over-inflated and the cabbies will expect you to haggle.
I paid 5 manats ($3) to get to the Azerbaijan-Georgia border. I've heard of people paying more and others paying less.
There are so many cab drivers that you can just go from one to another until you find a reasonable price. My offers ranged from 5 manats to 20 manats!
Step Four:
Crossing the Georgia-Azerbaijan Border Crossing
Your driver will drop you at the border gates. Proceed to the right-hand side. You just need to show the guard your passport and he will let you through.
After a walk up what feels like hundreds of steps, you will pass through a security check and passport control much like you would anywhere else in the world. Your passport will be stamped by the Azerbaijan Border guard.
Now you're on your way to Georgia! Be sure to keep your Azerbaijan visa paper with you as this will also be checked here.
Step Five:
Stroll into Georgia
Once you have exited the Azerbaijan immigration, you literally walk across a bridge to Georgia. The scenery here is actually really picturesque – think rolling hills and a bridge that leads you over a babbling brook.
It's fine to take photos here if you wish to do so. In front of you is Georgia, behind you is Azerbaijan.
The process at the Georgian side of the Azerbaijan – Georgia border crossing is pretty much the same – passport checked and bags checked.
Note: You should check in advance as to whether you need a visa for travelling to Georgia. EU and Hong Kong passport holders do not need a visa to travel to Georgia but some nationalities do.
If you do not need a visa, the entire immigration process is likely to take just a few minutes. If you do, you may be subject to further questioning.
Check your government's travel advice before you travel. If you still have uncertainties about any travel or visa requirements, you can also contact the Georgian or Azeri embassies in your country.
Step Six:
Get to Lagodekhi, Georgia
The Georgia – Azerbaijan Border crossing that connects Balakan and Lagodekhi is pretty much in the middle of nowhere. The closest town is Lagodekhi and this is where you need to get to in order to continue your travel to the rest of the country.
You will find tons of cab drivers waiting at the Georgian side of the border. Again, try and negotiate to get the best price that you can. I paid 5 Georgian lari ($1.75).
It is worth noting that there is an ATM and several currency exchanges here. The currency exchange rates are definitely not the best considering they are at the border.
However, at least you know it's possible to change just a small amount of currency into Georgian Lari if you didn't come with any. If you need to exchange some money, change just a small amount so that you have enough to buy a bus ticket, and a snack, and get you to your next destination.
Step Seven:
Onward Travel in Georgia
As your driver drops you in Lagodekhi, you can breathe a sigh of relief that your Azerbaijan – Georgia border crossing is now complete. The drop off point is also the station for Marshrutkas. There is a little ticket office here where you can check the schedules and buy your tickets.
Fortunately, the Marshrutka to Tbilisi was already there when I arrived so I didn't have long to wait. The schedule changes with the season, but there are several departures per day.
There is also a cafe on the opposite side of the road where you can wait if you have some time before your Marshrutka departs. It costs 7 Lari ($2.41) to go from Lagodekhi to Tbilisi and the journey took about 3 hours.
The roads are pretty good on all parts of this journey – on the Azerbaijan side from Sheki to Balakan, and on the Georgia side of the border between Lagodekhi and Tibilisi. You don't need to worry about bouncing over potholes or unsafe road conditions!
Using the Red Bridge crossing to Georgia
The second, alternative Azerbaijan Georgia crossing that you can use is the red bridge crossing that connects Rustavi and Qazax. This border is open between 10 am and 7 pm every day.
Marshrutkas wait on both sides of the border, just like in Balakan and Lagodekhi. Again, there are a couple of places where you can exchange currency but the rate is not the best. Just take what you need to get to your accommodation in Georgia and withdraw more later.
Travelling from Georgia to Azerbaijan by Land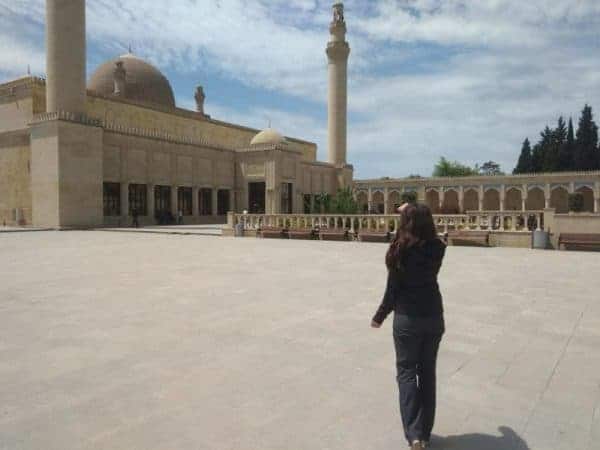 If you are travelling the other way, and therefore you are crossing the border from Georgia to Azerbaijan, you can follow the same steps but in reverse. There are plenty of cabs waiting around in Lagodekhi that can run you to the Georgian side of the border, and many more cabbies waiting upon arrival in Azerbaijan.
If you do not plan on starting your Azerbaijan itinerary in Sheki or exploring the northern part of Azerbaijan, you can also consider taking the overnight train from Tbilisi to Baku. The journey takes 11 hours and 55 minutes.
Final Thoughts
Have any more questions or concerns about crossing the Azerbaijan-Georgia border or Azerbaijan border crossings in general? Feel free to reach out to me and I'll do my best to help.
Safe travels! Melissa xo
---