Crossing the border from Azerbaijan to Georgia was surprisingly painless. If you have spent any time backpacking in Azerbaijan up until this point, you may have found that travelling around the country is not the easiest feat. However I am sure that you will be pleasantly surprised at how easily you can breeze across the border from Azerbaijan to Georgia.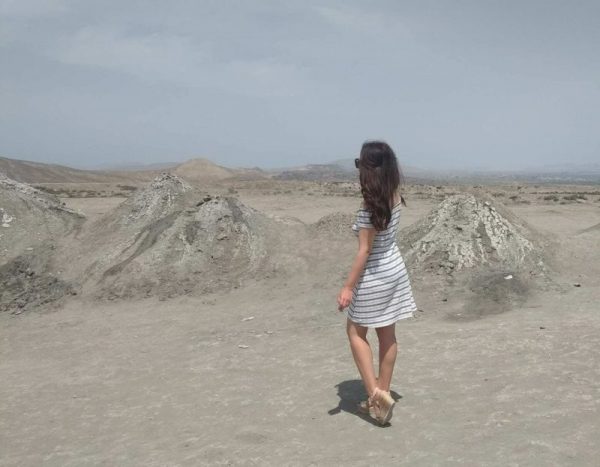 Step One: Arrive at Sheki Bus Station
To get the Marshrutka to Balaken, you need to first get to Sheki bus station.
It should only be one manat to take a cab to Sheki bus station, regardless of where you are staying in Shekhi. That said, this is Azerbaijan and if you haven't noticed by now, people are always trying to charge tourists extra. Have your hotel concierge speak with the cab driver if necessary. I had people trying to charge me between 5-10 manat…
Step Two: Marshrutka to Balaken
You need to get yourself to Balaken which is the closest town to the Azerbaijan – Georgia border crossing. The Marshrutkas from Sheki to Balaken run twice daily – at 10:10 and at 14.00.
The Marshrutkas in Azerbaijan leave when full, and I mean really full. I was the only foreign traveller on my Marshrutka and some people were standing in the aisles. Try to arrive at least 15-20 minutes before the departure to get yourself a seat. There are cafes around the station area where you can sit, wait and enjoy one last Azeri tea.
The price for the Marshrutka from Sheki to Balaken is 4 manat. It took just over 2 hours to get from Sheki to Balaken.
Marshrutka Via Zaqatala and then Balaken
I have seen other guides to crossing the border between Azerbaijan and Georgia state that you can do this border crossing for a cheaper price by breaking up your journey into two and travelling first to Zaqatala, then to Balaken.
To be honest I find that quite a ridiculous suggestion. You are adding hours onto your journey just to save a couple of pence. I'm sure you will have a long enough journey as it is (especially if you are travelling onwards to Tbilisi once you arrive in Georgia) so why add extra hassle?
Step Three: Balaken to the Border
Once you arrive in Balaken, it's likely that you will be pounced on by cab drivers wanting your business. Nobody here speaks English and if you ask the drivers to take you to the border, or say "Georgia!", they will just look at you blankly. I don't speak Russian or Azeri, but fortunately I used a screenshot of the border crossing to show them where I wanted to go. (Enclosed below for your use!).
Haggle the price down. I paid 5 manat to get to the border. I've heard of people paying more and others paying less. There are so many cab drivers that you can just go from one to another until you find a reasonable price. My offers ranged from 5 manat to 20 manat!
Step Four: The Georgia – Azerbaijan Border Crossing
Your driver will drop you at the border gates. Proceed to the right hand side. You just need to show the guard your passport and he will let you through. After a walk up what feels like hundreds of steps, you will pass through a security check and passport control much like you would anywhere else in the world. Your passport will be stamped by the Azerbaijan Border guard. Now you're on your way to Georgia! Be sure to keep your Azerbaijan visa paper with you as this will also be checked here.
Step Five: Stroll into Georgia
Once you have exited the Azerbaijan immigration, you literally walk across a bridge to Georgia. The scenery here is actually really picturesque – think rolling hills and a little creek. It's fine to take photos too. In front of you is Georgia, behind you is Azerbaijan.
The process at the Georgian side of the Azerbaijan – Georgia border crossing is pretty much the same – passport checked and bags checked.
Note: You should check in advance as to whether you need a visa for travelling to Georgia. EU and Hong Kong passport holders do not need a visa to travel to Georgia but some nationalities do. Since I am British, the entire process for me took just a few minutes.
Step Six: Get to Lagodekhi, Georgia
The Georgia – Azerbaijan Border crossing is pretty much in the middle of nowhere. The closest town is Lagodekhi and this is where you need to get to in order to continue your travel to the rest of the country. You will find tons of cab drivers waiting at the Georgian side of the border.  Again, try and negotiate to get the best price that you can. I paid 5 Georgian lari.
It is worth noting that there is an ATM and several currency exchanges here. Though I don't believe that the currency exchanges are the best considering they are at the border, at least you know it's possible to change just a small amount of currency into Georgian Lari if you didn't come with any.
Step Seven: Onward Travel in Georgia
As your driver drops you in Lagodekhi, you can breathe a sigh of relief that your Azerbaijan – Georgia border crossing is now complete. The drop off point is also the station for Marshrutkas. There is a little ticket office here where you can check the schedules and buy your tickets.
Fortunately the Marshrutka to Tbilisi was already there when I arrived so I didn't have long to wait.
There is also a cafe on the opposite side of the road where you can wait if you have some time before your Marshrutka departs. It costs 7 Lari to go from Lagodekhi to Tbilisi and the journey took about 3 hours.
Travelling from Georgia to Azerbaijan by Land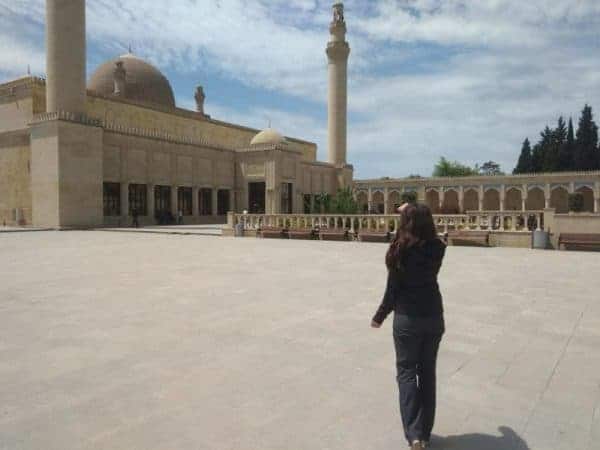 If you are travelling the other way, and therefore you are crossing the border from Georgia to Azerbaijan, you can follow the same steps but in reverse. There are plenty of cabs waiting around in Lagodekhi that can run you to the Georgian side of the border, and many more cabbies waiting upon arrival in Azerbaijan.
Have any more questions or concerns about crossing the border from Azerbaijan to Georgia or vice versa? Feel free to reach out to me and I'll do my best to help.
Safe travels!
Melissa xo
---