Blairsville Georgia is a quaint little mountain town in Union County, Northern Georgia. Unless you are from the state of Georgia or neighboring southern states, it is possible that you have never even heard of Blairsville. 
But the charming town offers everything you need for a rural retreat in the heart of the country. It makes the perfect base for a romantic getaway in a log cabin, or a week-long hiking and camping adventure. 
Scour search engines and travel websites and you will find their information on the best things to do in Blairsville Georgia is limited. Don't let that deceive you, there are plenty of wonderful things to do in this area, particularly if you love nature and the great outdoors.
A Little History of Blairsville, Georgia
Blairsville Georgia sits in what was previously Cherokee Indian land. The first white settlers arrived here in the 1820s and shortly thereafter (1835), the town of Blairsville was founded.
At that time, many people were drawn to the region for its gold mining opportunities. The Blairsville courthouse acts as a centrepiece of the town as it has since its construction way back in 1899.
Things to Do in Blairsville, Georgia in 2023
Conquer the hiking trails around Vogel State Park
Vogel State Park (est. 1931) is the second oldest state park in the state of Georgia. It sits at the base of Blood Mountain in the Chattahoochee National Forest and contains several hiking trails and gorgeous waterfalls in its midst.

The trails found here are well-marked and offer something for hikers of all ages and abilities. A short walk from the visitor's centre, around the circumference of Trahlyta Lake, and through the woodland takes you to Trahlyta Falls.

From the viewing platform here, you can get up close and personal with the stunning cascades of the waterfall. It sits against the backdrop of a woodland filled with rhododendrons, mountain laurels, ferns, and vibrant green moss.
If you are looking for a more challenging trail, you can consider hiking the Bear Hair Gap, or the Coosa backcountry trail. The Bear Hair Hap route takes approximately 4 hours while the Coosa backcountry trail takes 11.

You will find colored waymarkers painted on trees. However, in some places, they are faded or there are two routes and it is tricky to understand where to walk.

You can pick up a free trail map from the Vogel State Park visitors centre. Even if it is closed, you will find them in a box outside.
Alternatively, consider downloading an offline trail map such as All Trails. There is no signal on most of the routes. If you hike the Bear Hair Gap or the Coosa Backcountry routes, you can say you have hiked a portion of the Appalachian Trail.
Because Georgia gets so hot and humid during the summer months, it is a good idea to wait for cooler weather before conquering longer trails. Winter, Spring, and Autumn in the USA are good times to visit the state parks of Georgia.
Spend an afternoon at Trahlyta Lake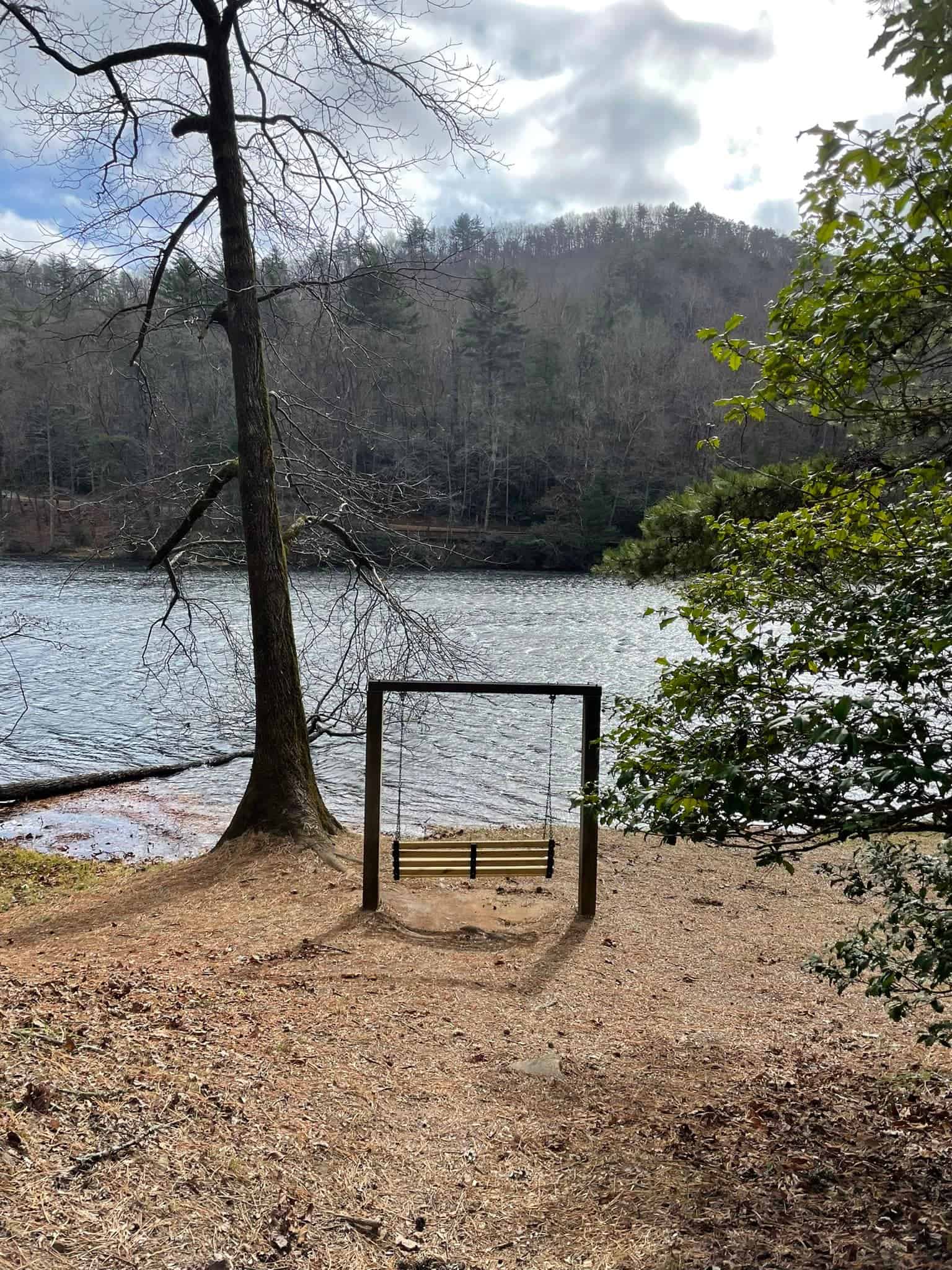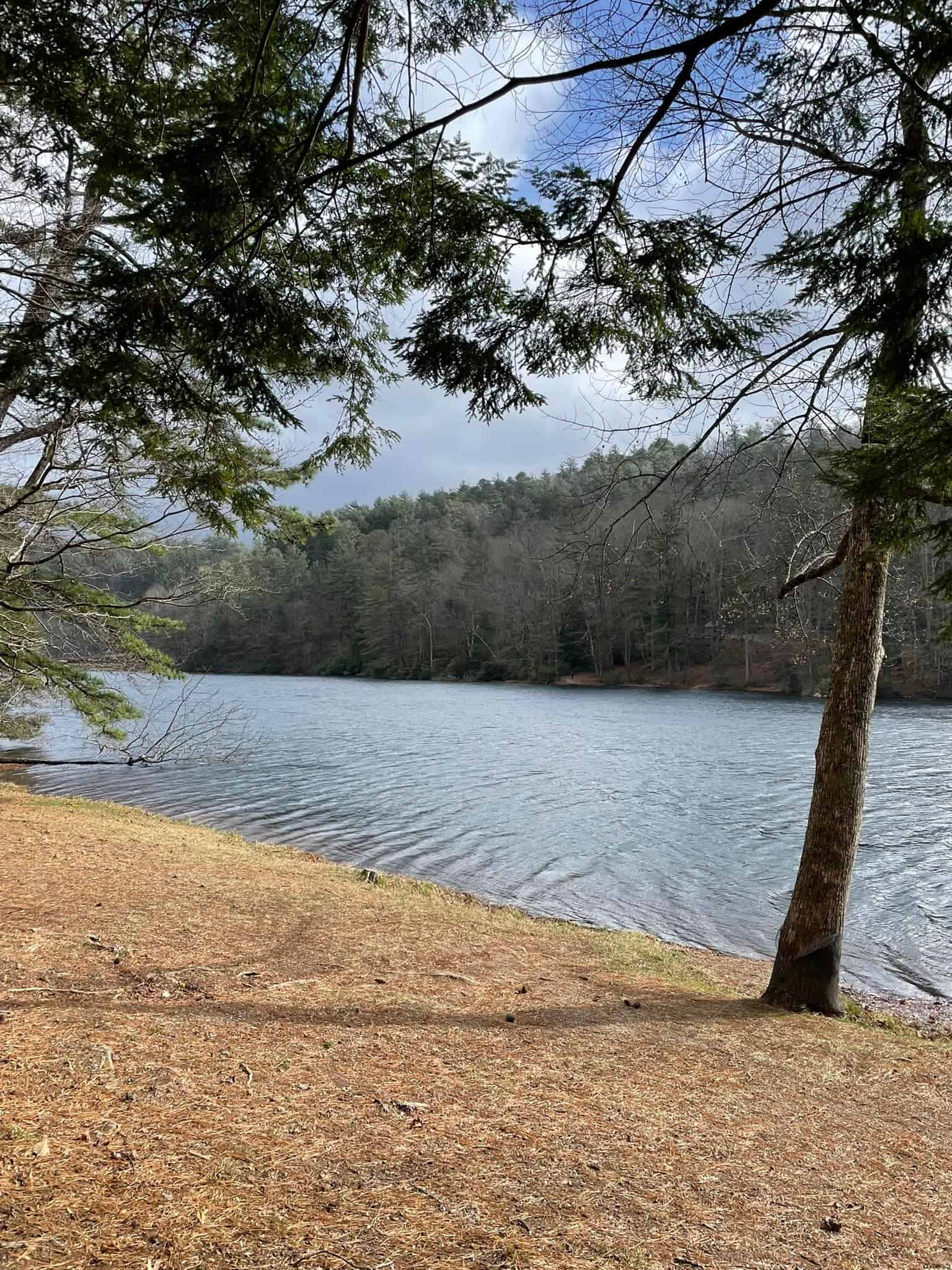 Trahlyta Lake sits at the heart of Vogel State Park. It is a man-made lake, constructed in the 1930s but that doesn't make it any less beautiful.
The lake (and nearby Trahlyta Falls) takes its name from Princess Trahlyta, a fabled Cherokee princess. She is said to have lived in the North Georgia Mountains and to have drunk from a fountain of youth to maintain her eternal youth and beauty.
It is pleasant to take a small stroll along the lake or sit on its banks with a picnic, even if hiking isn't your thing. The area that surrounds the lake is filled with campgrounds and cute cabins – perfect for a retreat in the outdoors.

One section of the lake is a manmade beach and you can rent rowboats and sail out across the water when the weather is good. Swing chairs that run along the length of the water make a perfect spot to sit and revel in the view.
Follow the Georgia Mountain Parkway scenic drive
There are several scenic drives that lead you through the scenery of Northern Georgia. They are perfect for sightseeing when you are exhausted after a day of hiking and exploring.

You have a couple of scenic highways and byways to choose from and each is very worthy of your time. You can then get out and explore quaint stores and country restaurants as you see something that captures your eye.

One option is to head south from Blairsville Georgia on US 19/129. You will pass along the shores of Lake Trahlyta before you connect onto the 180, past Sosebee Cove, Lake Winfield Scott, and the gorgeous lush green scenery of the Chattahoochee Forest before you arrive at the little community of Suches.

If you turn onto Highway 60 from here, you will pass "Woody Gap". There is a parking lot where you can pull up and enjoy a dramatic view over the Yahoola Valley.

Continuing southwards along Highway 60, you will eventually arrive at the "stone pile gap". This is quite literally, as the name suggests, a pile of stones and supposedly the "grave" of Princess Trahlyta.

At this point, you will find yourself at an intersection. Turn onto US-19 N and follow the route to Helton Creek Falls. 
This is one of several stunning falls nestled among the woodlands of Northern Georgia. It is important to note that although the falls are well worth the short hike to get to, the road turns into a gravel road and is tricky to drive along if you have a large car, with no room to pass other vehicles.
See the world's largest Amish chair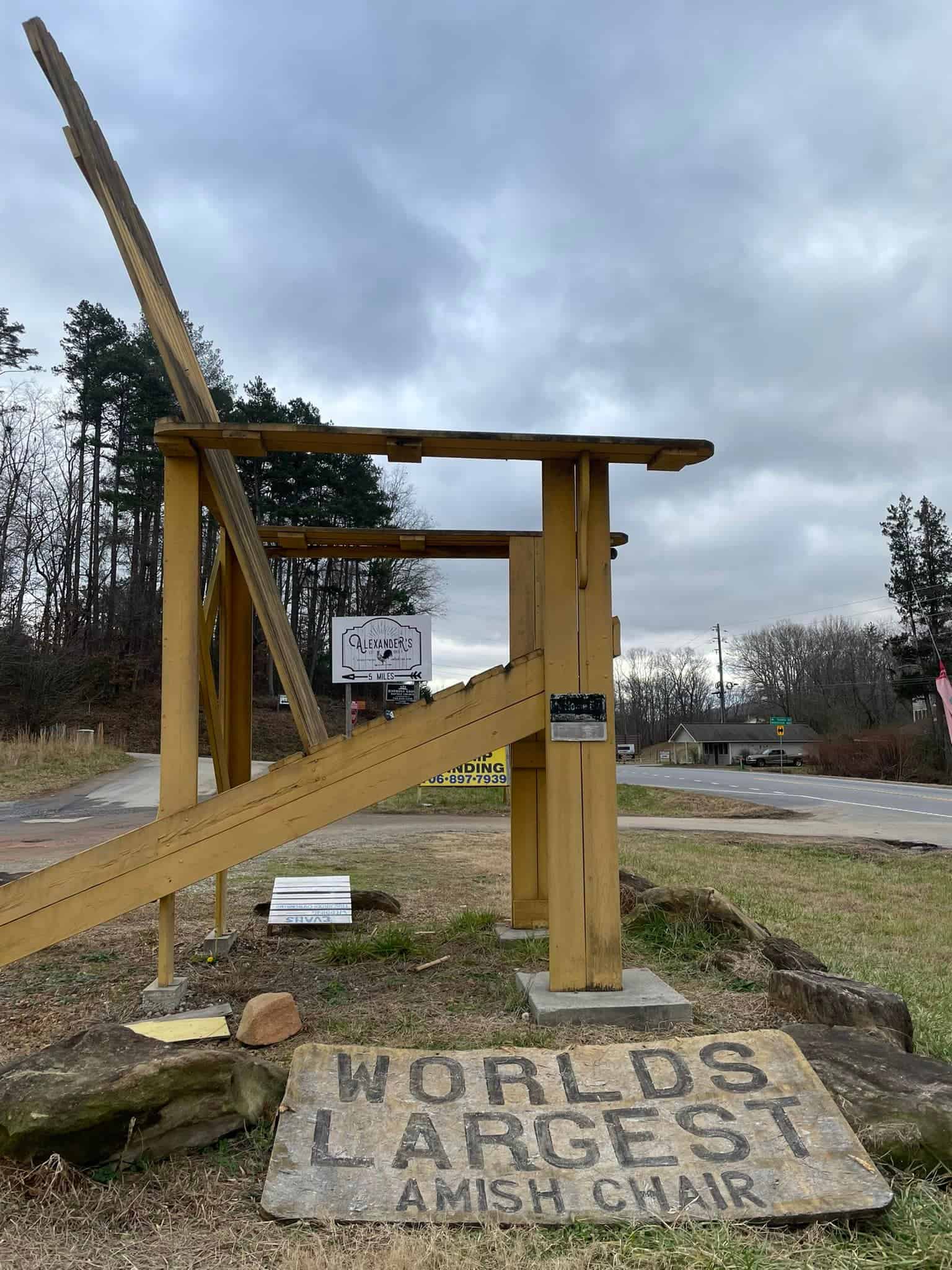 An obscure roadside attraction that you will see on your right-hand side as you drive into Blairsville Georgia is a large wooden chair with a sign affixed to it. It claims to be the "world's biggest Amish chair".
It was built in 2013 and used to sit in front of an Amish goods store which has sadly since closed. You cannot climb onto the chair but it's an interesting landmark to look out for regardless.
Indulge in Southern comfort food
There are a number of great restaurants in and around Blairsville Georgia that serve up an array of Southern, American, and Latin cuisines. The food is one of the best things that Georgia is known for.
You can find a lot of popular chains here, like Waffle House, Huddle House, and Longhorn Steakhouse.
Blairsville Georgia is particularly good for BBQ and smokehouse restaurants. In particular, check out Rib Country BBQ (21 Kousins Drive) and Jim's Smokin Que (4971 Gainesville Hwy).
Blairsville Restaurant Grits & Greens (40 Earnest St) is great for all-day southern food. You can stop by whether you want to indulge in smothered breakfast biscuits in the morning, or fried chicken, collard greens, and smokehouse food for supper.

Alternatively, head out to Lala's kitchen in the Mountains (53B Merchant's Walk, Blairsville) if you fancy something a little different. This eatery showcases dishes from all over Latin America.
Learn about country life at the Mountain Life Museum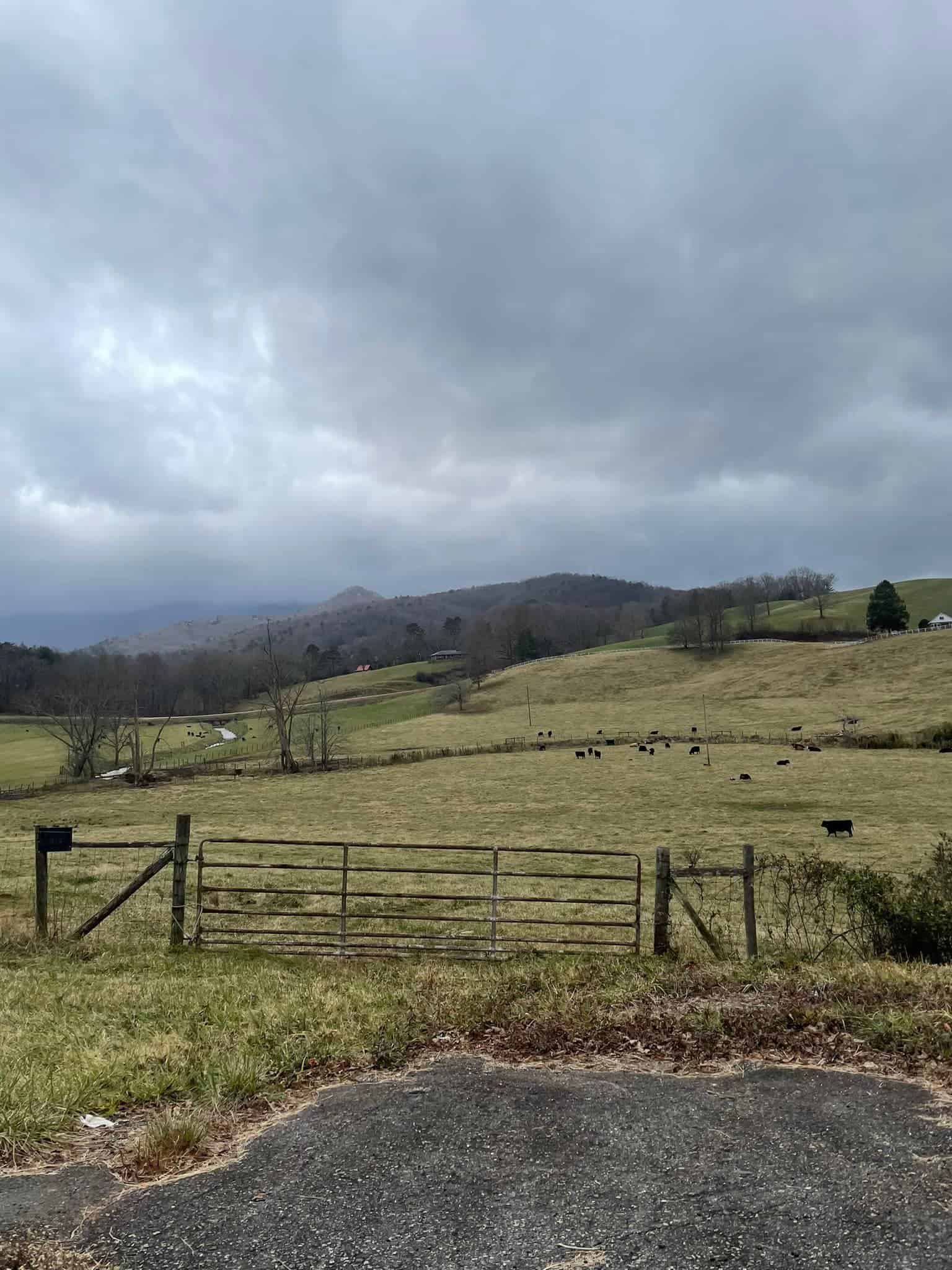 The Mountain Life Museum (25 School St) is a small museum in the heart of Blairsville that is free to enter and depicts what the life of early settlers in Union county was like. It consists of several buildings, one of which is the former 1906 home of a local family: the Butt family.

The house has been set up like a living museum. If your schedule permits, it is worth stopping by to get a glimpse of life in Northern Georgia in the 19th and 20th centuries. A Mountain Heritage Festival is hosted here every September.
Sample local wines at a Blairsville GA Vineyard
Several excellent vineyards and wineries can be found in the countryside that encompasses Blairsville Georgia. Few people think of Georgia when they think about American wine regions but in actuality, Blairsville was recently named an American Viticultural Area (AVA).
This is a distinction that puts it in the same league as other renowned American wine regions like Napa Valley and Sonoma. It is easy to organize wine tasting here and you have several wonderful, family-run options available.

You can simply call the wineries that catch your eye and organise a tour and tasting. If you are not sure which to choose, your Blairsville Georgia hotel concierge or Airbnb host will be able to make a recommendation.

Odom Springs (637 Odom Rd, Blairsville, GA) is a family winery that produces an array of beloved dry, sweet, and semi-sweet reds, whites, and rose wines.

Flavourful wines are produced in the foothills of the Appalachian mountains using French-American hybrid grapes. Namely Chambourcin, Seyval Blanc, Vidal Blanc, Norton, and Chardnell.

Paradise Hills (366 Paradise Rd, Blairsville, GA) is another great choice. The vineyard not only produces European-inspired wines, but they also have a spa and several cabins available for rent, on-site, making for the perfect wine lovers country retreat.
Hike up Blood Mountain
Blood Mountain, with an elevation of 4,458 feet is the sixth-largest mountain peak in Georgia and the largest along the Georgia section of the Appalachian Trail. It is possible to hike up to its peak, and the trail is not as difficult or intimidating as it may sound.

If you are interested in conquering the peak, and taking in the sweeping vistas from the top, you can begin the walk at the Byron Reece Trailhead near Neels Gap. The trail extends over 2.15 miles and climbs 1,400 feet in elevation.

If you feel that the incline is too challenging and you cannot manage it, be assured that even part of the way up, you will have spectacular views over the forest canopy. The scenery is particularly magical in early Autumn when the trees are decorated in tones of orange and red.
Check out the old-west ambiance of Pappy's Plaza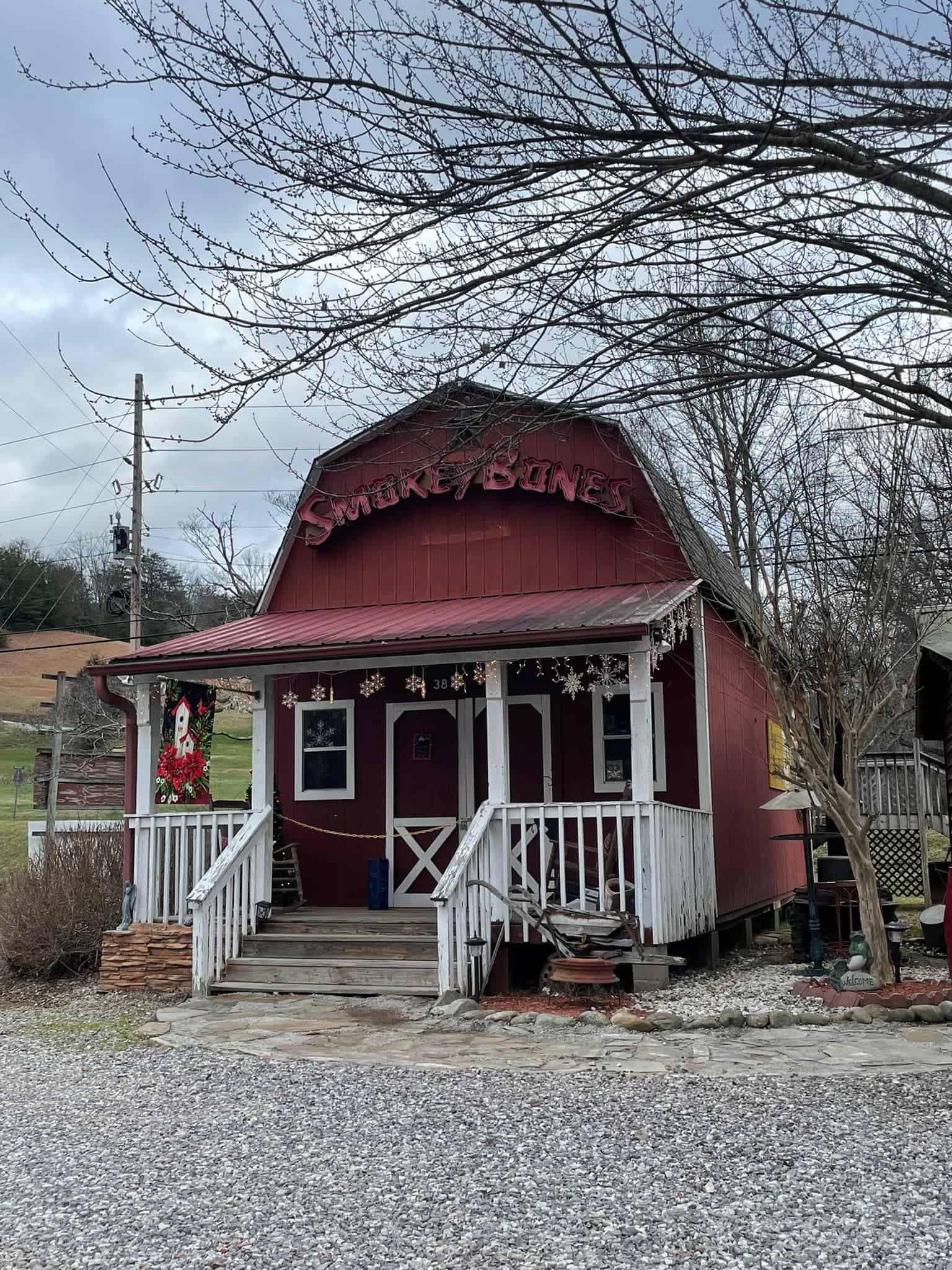 As you drive into Blairsville Georgia along the 129, a left turn onto Nicholson Road brings you to Pappy's Plaza. This is a very wild west-looking collection of stores and restaurants that seemingly transport you back in time.

The Plaza is touristic, sure. But it's charming in its own right, particularly if you are traveling as a family or you are traveling here from outside the USA and are not accustomed to seeing frontier-style towns like this.

Pappys Fudge Shop is a great place to buy sweet treats and souvenirs. They stock 24 different types of homemade fudge. Similarly, sweet tooths don't want to miss Mountain Country Kettle Corn made by Candace.

You can find an array of Georgia souvenirs, postcards, t-shirts and gifts on sale at the various themed stores around Pappy's Plaza. Pappy's Country Store and New Christmas store is an eccentric spot that is worth a spot of window shopping at the very least.

It is permanently Christmas here, and whether you stop by in July or December, it is like stepping into Santa's grotto. The store sells everything from festive decorations to jams, jellies, and local agro products.
Try moonshine: The elixir of the South
As you drive around Northern Georgia, you will often find hand-drawn signs at the side of the road that advertise homemade moonshine. Strong, homemade moonshine is often sold from farms, country stores, and even people's homes.
Of course, there is always a risk involved with sampling homemade alcohol. Moonshine is notoriously strong and there can be issues if it isn't made properly.
After all, if you are purchasing it from an independent vendor, you never really know what they are putting inside. For what is arguably the best moonshine-tasting experience in Blairsville Georgia, stop by Grandaddy Mimms Distillery (112 Wellborn St, Blairsville GA).
The distillery makes an array of its own moonshines and vodkas. Tours and tastings are available Thursday – Saturday every week.

If you opt to take a distillery tour, you will learn the process of making moonshine via a method that has been passed down through generations over hundreds of years. A distillery tour at Grandaddy Mimms costs $5 a person while a distillery tour and tasting is $10.
Of course, you can then also purchase additional beverages to sample as you like. Grandaddy Mimms also produce several of their own vodkas.
See Northern Georgia's other charming mountain towns
Blairsville Georgia is a quaint and idyllic place but it isn't the only charming mountain town in the area. A 30-minute drive takes you through the countryside to Blue Ridge: an equally popular mountain retreat.

Downtown Blue Ridge is known for its thriving artist community and dates back to 1886. Georgia natives often refer to Blue Ridge as being the "Switzerland of the South".

Independent art galleries, craft breweries, and community theaters make Blue Ridge a great choice for a cultured day out. You can embark on a self-guided historic walking tour of the town center.

Complimentary route maps are available via the Blue Ridge tourism boards website here and at the Caboose Visitor Center. The latter is situated at 430 Roberts Way, Blue Ridge.
Visit the Byron Herbert Reece Farm and Heritage Center
The Byron Herbert Reece Farm (8552 Gainesville Hwy) is the former home of the Writer, Farmer, and Poet Byron Herbert Reece. Even if you are not familiar with this individual and his work, you may find the farm interesting.

The restored barns and outhouses perfectly demonstrate what farming life was like in the early 1900s. Some of the exhibits here also display the writing and life of Byron Herbert Reece himself.
If you want to combine a little walking with history, you can also opt to access the farm via the Reece trail that starts from Vogel State Park. The route is well-signposted and starts from the Trahlyta Falls trail on the northern side of Trahlyta Lake.
Where to Stay in Blairsville, Georgia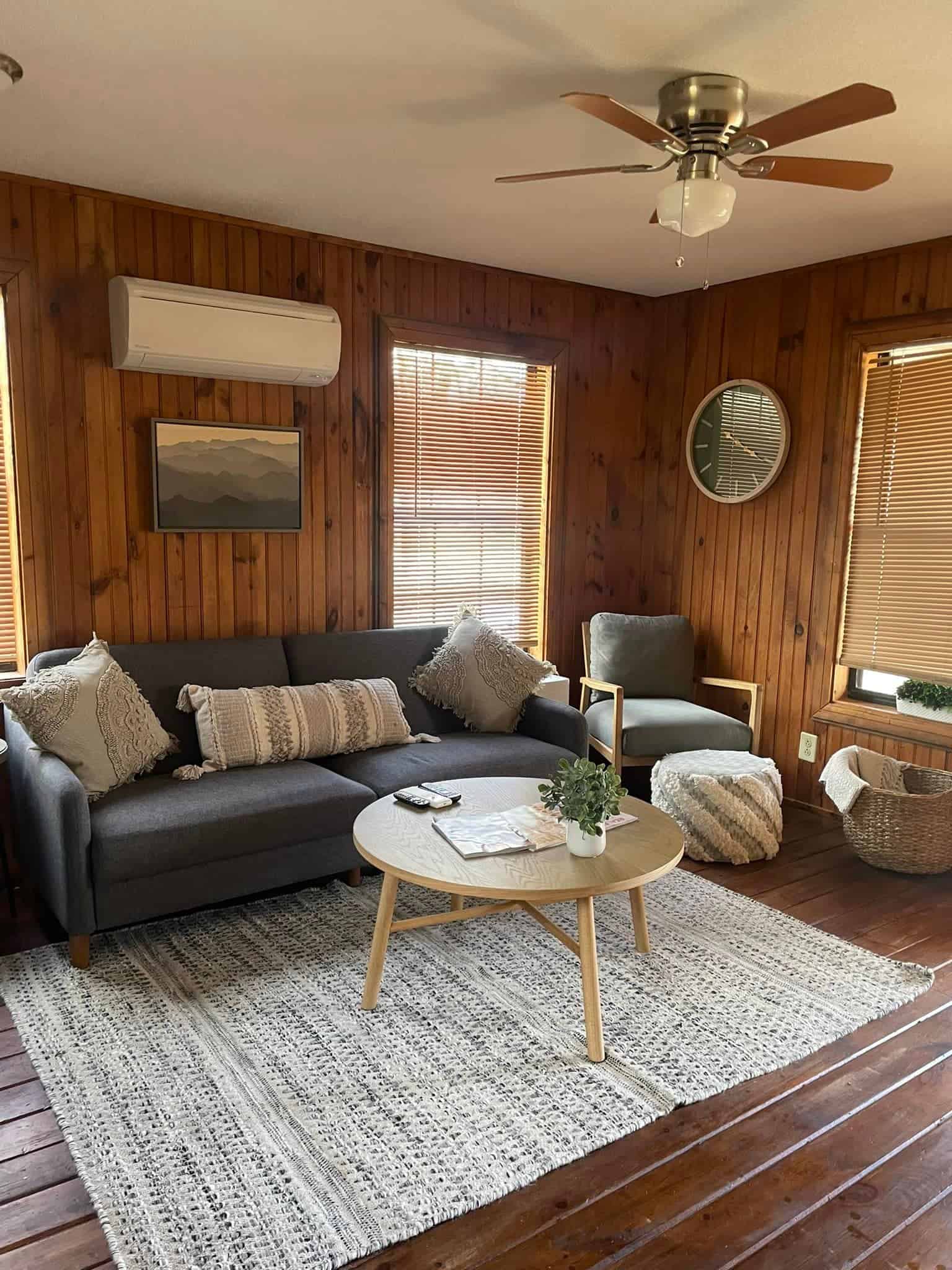 Blairsville Georgia has accommodation options that suit every budget and travel style. Opting to stay in a hotel is perhaps the most budget-friendly choice.

But for the most charming country experience, consider renting a cabin. Airbnb has a wide selection of charming log cabins in and around Blairsville Georgia.
Mountain Top Retreat
Mountain Top Retreat is a gorgeous two-bedroom wooden cabin in the countryside north of Blairsville Georgia, close to the hamlet of Ivylog. The Bavarian-style town of Helen is 23.6 miles away, while Blue Ridge is 18 miles East.
The property boasts everything you need for a weekend break or extended getaway. It has a fully equipped kitchen, outdoor BBQ, and firepit, perfect for roasting marshmallows or making s'mores.
A flat-screen TV can be found in the living room area, while there is air conditioning throughout the property. There is a log fire for the cooler winter months, and logs can be purchased from various places around Blairsville Georgia, and its surroundings – including gas stations, supermarkets, and Vogel State Park visitors centre.

Reservation prices vary depending on the season. You can find the latest rates and availability here.
Best Western Milton Inn
The Best Western Milton Inn (201 Highway 515 West, Blairsville) is one of the best hotels in Blairsville Georgia for travelling on a budget and it is possible to book a spacious Queen room here for less than $85 a night.
The hotel is situated in the heart of downtown Blairsville in close proximity to a selection of restaurants, stores, and coffee shops. A hearty, complimentary American breakfast is included in the room rate. Click here to check the hotel's latest availability and prices.
Final thoughts on the best things to do in Blairsville Georgia
Blairsville Georgia makes a great place to visit all year round but a particularly wonderful experience is to explore the area as part of a winter break or a spring weekend getaway in the US when you can enjoy the cooler temperatures, go hiking, and appreciate nature.
The little town, and the wider scenic region of the Georgia Blue Mountains, is just 2 hours north of Atlanta (circa 99 miles), and four hours south of Nashville, Tennesse (circa 231 miles).
---