Today, Tbilisi tourism is on the rise and if you are looking for inspiration on what to do in Tbilisi, you will not be disappointed with the countless options available to you.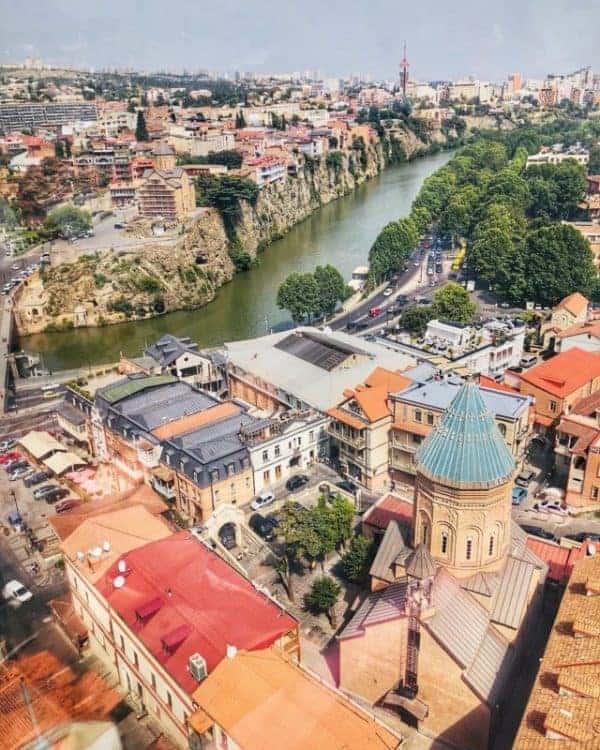 With the winding cobbled passageways of its eclectic old town, its dramatic setting nestled within the heart of the deep valley of the Mtkavari river, and its ramshackle colourful houses, the charming Georgian capital of Tbilisi has an almost fairy-tale like setting. Throughout the centuries, this land has passed through the hands of Russian and Persian rule and earned a place in history as an important stopping route for silk road traders and their camel caravans. Home to over 15 million people, Tbilisi has been reconstructed a whopping 29 times since it was first built in the 5th century.
This article provides a suggested Tbilisi itinerary, highlighting the best things to do in Tbilisi in a short space of time. I spent five days in Tbilisi after travelling cross-country through Azerbaijan and crossing the border into Georgia.
While there is plenty to do in the surrounding area if you have time, this Tbilisi itinerary assumes you are visiting Tbilisi on a weekend break. If you have a little longer to dedicate to your Georgia itinerary, you can consider taking further excursions such as hiking in Kazbegi, visiting beautiful Batumi, or even taking the bus from Tbilisi to Yerevan, Armenia.
Where to Stay in Tbilisi
Tbilisi has a wide selection of accommodation choices available to suit any budget. If you are short on time, basing yourself in Alstadt, the old town of Tbilisi can be perfect as it places you right within short distance of all of the city's major attractions.
You could also consider staying in "new Tbilisi". This means that you have a little distance to travel by bus/metro to get to the main sites.
However it also means that accommodation, restaurants and bars are slightly cheaper as they are away from the main tourist district. Generally speaking, the Georgia capital is an affordable travel destination and even if you stay at the best hotels in Tblisi, travel here will not break the bank.
Tbilisi is a diverse city that is home to an influx of people from different countries and cultures and if you stay in the newer parts of the city (around station square for example), you can enjoy a diversity of eateries serving world cuisines.
Getting Around Tbilisi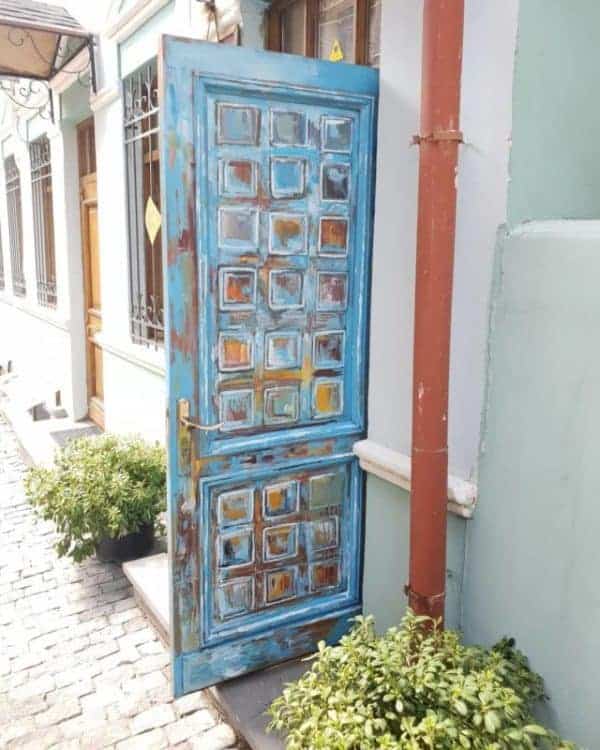 Since Tbilisi is a relatively compact city, it is easy to navigate its streets and pathways on foot. Tbilisi also has a comprehensive and affordable public transport network of metros, buses and taxis. As anywhere, make sure that your cab driver turns on the meter when you take a cab from one part of town to another. When travelling from Tbilisi airport into Tbilisi centre, a cab should set you back no more than around 14 lari. You can also take the #37 bus which runs 24 hours a day at 30 minute intervals.
Tbilisi Itinerary Day One:
Experience Traditional Georgia
Enjoy a leisurely breakfast at your hotel before preparing to explore the city. Though there is much to see during your Tbilisi itinerary, the city is relatively compact and easily walkable and so, you can take in a lot each day without rushing around at a hectic pace.

Get Lost Among the Narrow Passageways of Tbilisi Old Town (Alstadt)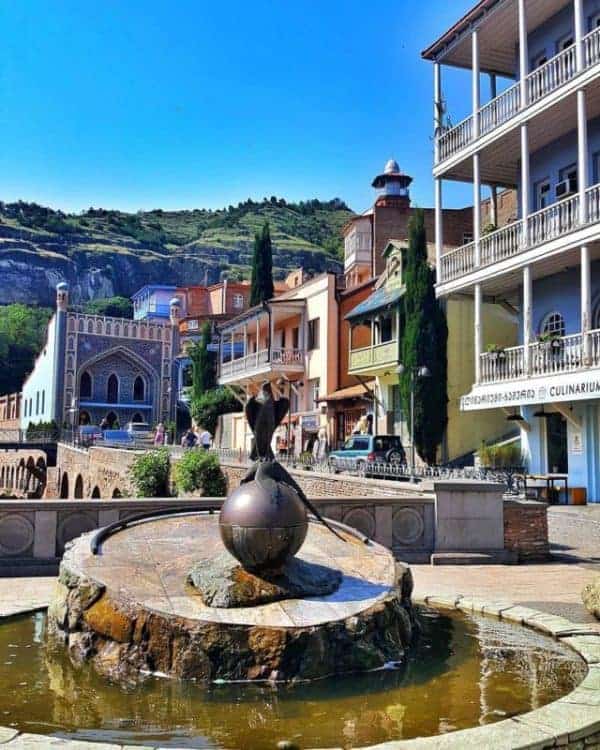 At the foot of the hill where Narikala fortress watches over the city protectively, Old town Tbilisi is comprised of an intricate network of narrow, labyrinth style passageways, the preserved remains of ancient souks, ramshackle housing and crumbling ruins. This historic part of the Georgian capital possesses a wonderfully artistic, creative vibe – home to quirky coffee shops, delicatessens and artisan stores selling an array of handicrafts, art pieces and locally designed clothing.
Enjoy exploring this region at a slow pace – taking the time to admire the silk road architecture and the unusual style housing that wouldn't look out of place in a Disney movie.
Sample the Local Wine and Cheese
Georgia is famous for its production of exquisite red wine and while you explore Tbilisi – particularly the old town, you will encounter dozens of quaint little bars and wineries where you can sample the local favourites. Tastings are often offered for free in the hope that travellers will invest in a bottle for later.
Stop by one of the local wine houses, ask the waiter to recommend their favourite and order up a board of dried meat or cheese to enjoy in conjunction as you people watch and soak up the scenery.
Take a Soak in the Sulphur Baths
The entirety of Tbilisi's existence is owed to the discovery of sulphur springs within the region. Centuries ago, the King of Georgia discovered these and decided to build an entire city (Tbilisi) around them so that his people could enjoy the relaxing and healing properties.
Visiting one of the sulphur baths around Tbilisi's Abanotubani district is no doubt one of the most pleasant things to do in Tbilisi. The baths are similar to Turkish hammams or Korean jimjilbangs and travellers can enjoy relaxing soaks within the baths, in addition to body scrubs and other spa treatments.
The minerals within the spring water are said to have healing properties and aid a number of ailments – from minor skin problems like acne and eczema to pains and joint problems.
Note: There are various sulphur baths available in the Abanotubani district. A private bath will set you back around £10 or $13
Enjoy a Traditional Georgian Lunch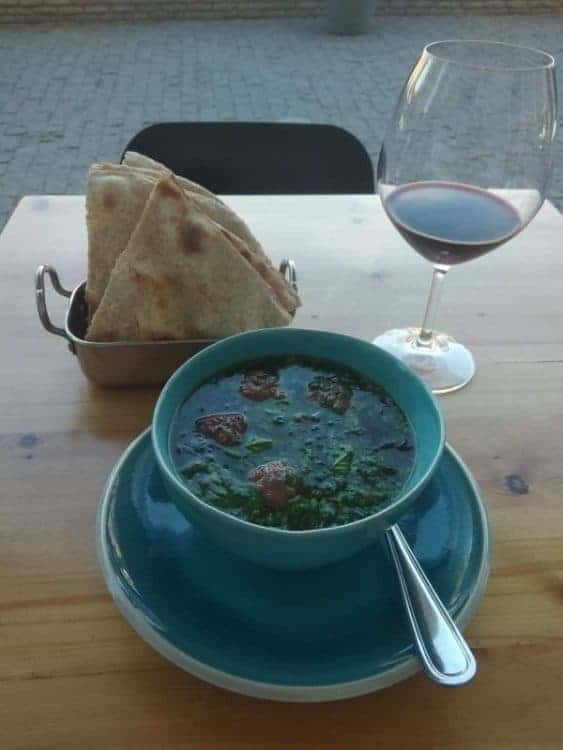 One of the best ways to experience a country's culture is through its food and this rule certainly applies in Georgia – home to cuisine which is unlike anything you could find elsewhere. The restaurants that surround the old town district are picturesque but a little pricier than the average since this is a touristic area so consider venturing a little further afield.
In terms of Georgian food, Khachapuri is the Georgian answer to pizza and consists of hollowed out bread filled with an array of toppings – commonly egg, cheese and meats. Shkmeruli quickly became my personal favourite dish – chicken cooked in a rich garlic sauce.
Ask the restauranteur to recommend you their favourites and wash it all down with a refreshing glass of Georgian lemonade.
Visit the Narikala Fortress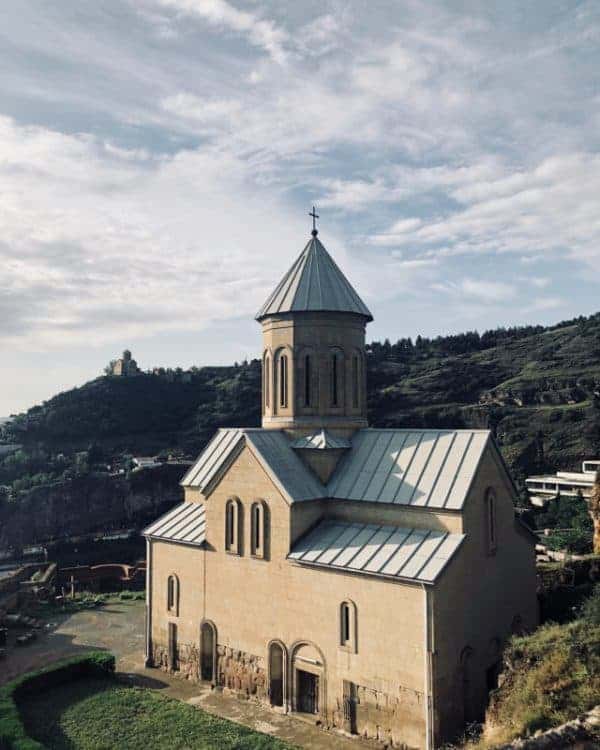 Hop aboard one of the scenic cable cars that ascends up to Narikala fortress from Rike park. Alternatively, the peak of the hill can be reached by a short hike that should take you no more than around 45 minutes. As you reach the medieval ramparts, stop and admire the views of old town Tbilisi below before you continue exploring the fortress.
Stroll Down Rustaveli Avenue
Awarded its name in honour of Georgian Poet Shota Rustaveli, Rustaveli avenue is the main thoroughfare in Tbilisi and houses some of the city's most notable buildings and monuments – including the Kashveti church, the Georgian parliament buildings and the Freedom Square. Be sure to step inside Kashveti church, it is a stunning example of a Georgian Orthodox church and features large and vivid frescoes.
The name "Kashveti" comes from the Georgian words for "stone" and "birth". According to local legend, Davit of Gareja, a 6th century monk was accused by a local woman of getting her pregnant.
He denied the accusations and prophesised that she would give birth to a stone. The prophecy came true and thus, Kashveti church earned its name.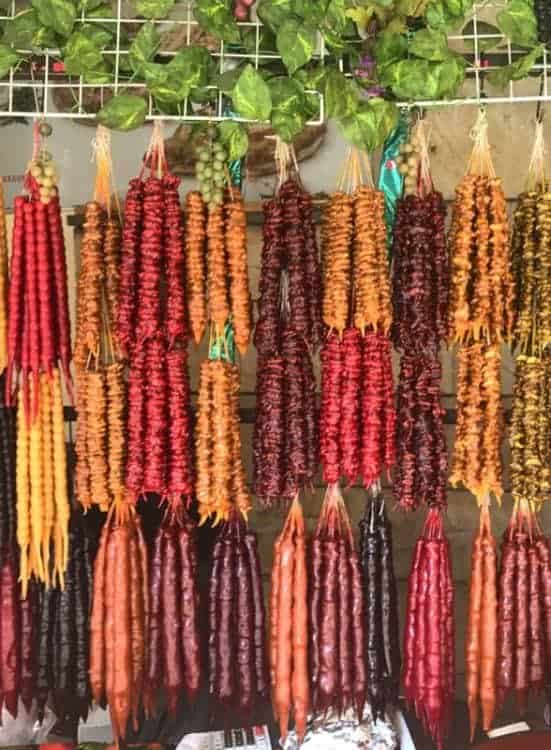 As you traverse the length of Rustaveli avenue, you will note the many Babushkas – older Georgian ladies selling snacks and street foods at each corner. Purchase one of the sweet churchkelas -traditional Georgian candy. You can find churchkelas hanging in door and entryways to the various stalls and food carts.
At first glance, these sweet treats look not like candies, but like salami, or other dried meats so you may wonder why you cannot spot them!
Tbilisi Itinerary Day Two
Pay Your Respects at the Oldest Church in Tbilisi
For the second day of your Tbilisi itinerary, enjoy your breakfast at a relaxed pace before heading over to the Anchiskhati Basilica of Saint Mary – the oldest Orthodox church in Tbilisi.
The Anchiskhati Basilica dates all the way back to the 6th century and contains many stunning frescoes inside which are over 400 years old.
Visit the Tbilisi Flea Market
The Dry Bridge Bazaar is Tbilisi's resident flea market and if your visit to the Georgian capital coincides with a weekend, you should add this to your list of things to do in Tbilisi. Far from your ordinary flea market, dry bridge is a unique and fascinating shopping experience which offers an insight into local history.
In the early years when Georgie gained its independence from Sovietism, dry bridge is where locals would come to sell their items in an attempt to make ends meet. Expect to see antiques, old soviet relics, and obscure collectibles among the seemingly infinite number of stalls and vendors.
Explore Meskhishvili street
Old town Tbilisi may be the most picturesque and historic part of town, however "new" Tbilisi has seen rapid development and progression in recent years in line with an increase in Tbilisi tourism. North of the Mtkavari river, Meskhishvili street is a trendy promenade lined with bars, independent boutique stores, and artsy coffee roasters.
Traversing the length of Meskhishvili and discovering the secrets hidden by the streets that lead off from it is a pleasant way to spend the final afternoon on your Tbilisi itinerary.
Have any further concerns or queries on what to do in Tbilisi? Feel free to reach out to me or drop me a comment below!
Disclaimer: This article on things to do in Tbilisi may contain affiliate links. This means that if you make a purchase through one of the links contained on this page, I will receive a small amount of commission at no additional cost to you. This aids me in keeping up with the costs of running this site. Thanks for your consideration.
---