One week in Greece is a perfect amount of time to get a first taste of what this beautiful Mediterranean country has to offer. In an ideal world, you could stick around a little longer.
However, if you are short on time, one week in Greece is enough to get a feel for the country's culture and cover a reasonable amount of ground. Chances are, your trip will motivate you to spend more time in beautiful Greece in the future
One Week in Greece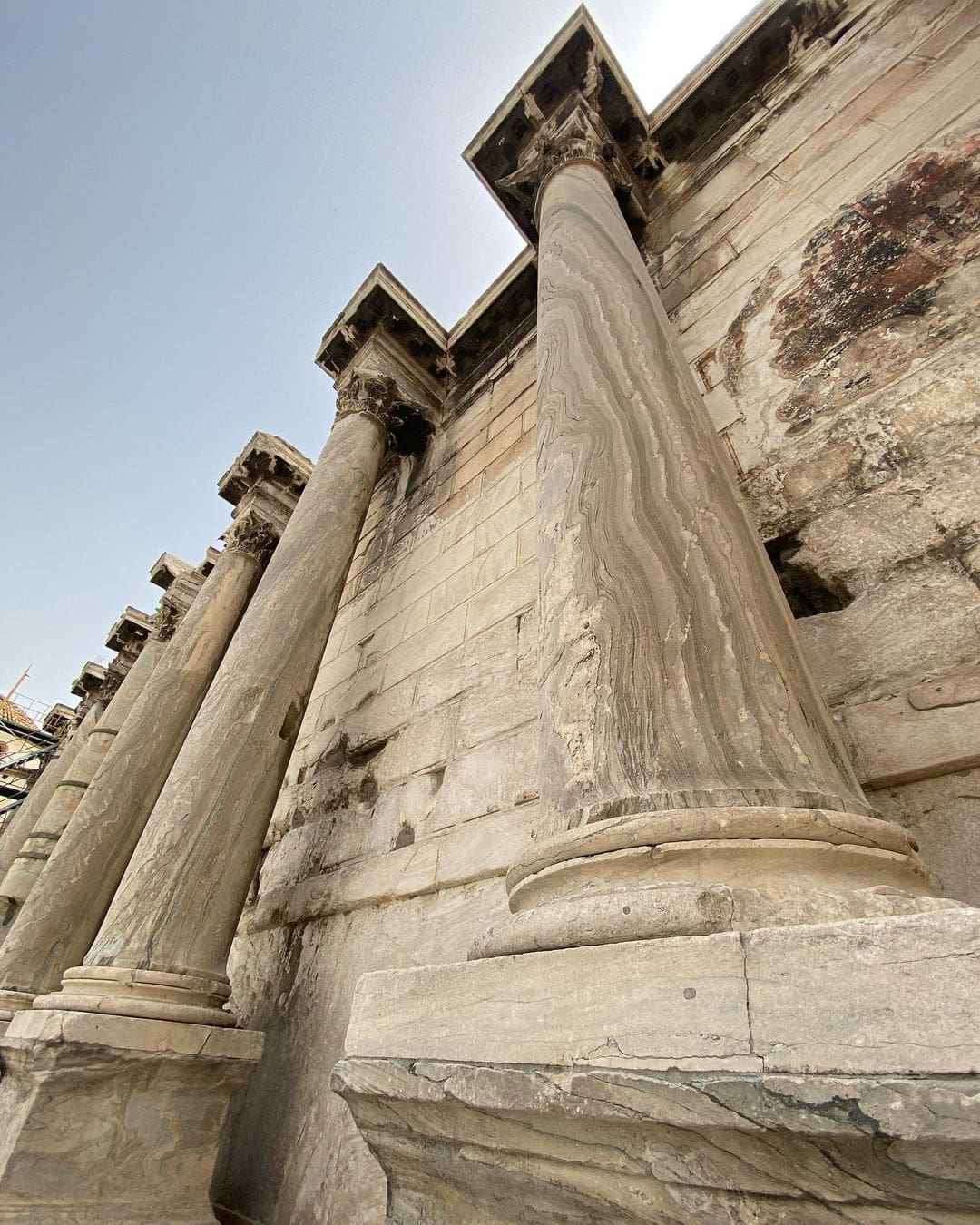 This one-week Greece itinerary enables you to explore some of the country's most beloved places. It also leads you to some of the more off-the-beaten-track secrets away from the tourist hordes.
Days One and Two: Athens


Day Three: Sounion and the Athens Riviera


Days Four and Five: Mykonos


Days Six and Seven: Santorini
If you are looking for alternative routes, you can also consider an island-hopping adventure in the Sporades or Cyclades. You can also browse these alternate Greece travel itinerary suggestions.
One Week in Greece
Day One: Athens
Athens makes a great starting point for your 1 week in Greece. The city is home to Greece's largest international airport, and there are far more flight routes here than there are to the islands.
It is also typically easier to get to Athens if you are flying from outside of Europe than it is to get to Santorini or Mykonos. Getting from Athens airport to the city centre is very easy and the journey can be done in less than an hour.
Stroll Around Anafiotika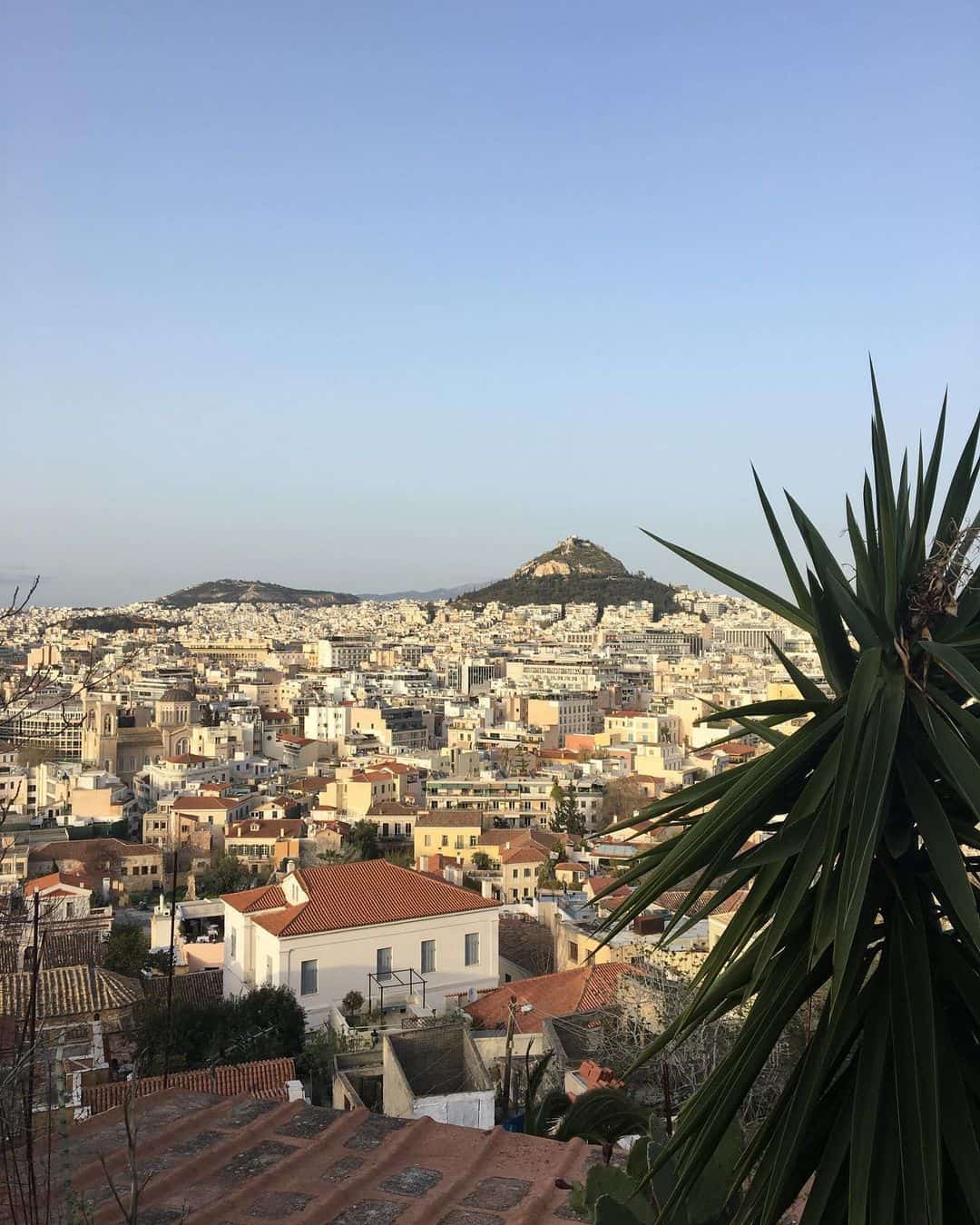 Once you have dropped your luggage off at your hotel, head to the quaint neighbourhood of Anafiotika. Anafiotika is tucked away from view on the slopes of Acropolis hill. Unless you knew it was there, you would never find it.
The architecture of this village is markedly different from the remainder of Athens. The narrow streets and whitewashed houses of Anafiotika have been created in a Cycladic island style that is so quintessentially Greek.
Anafiotika was built by residents of Greece's Anafi island. They moved to the mainland for work and constructed their houses in a way that would remind them of the island that they loved.
Aside from the occasional guidebook-wielding tourist, you won't find crowds of people here. As you wander between the narrow passageways, you can also enjoy incredible views across downtown Athens and Mount Lycabettus.
Visit the Historical Sights of Ancient Plaka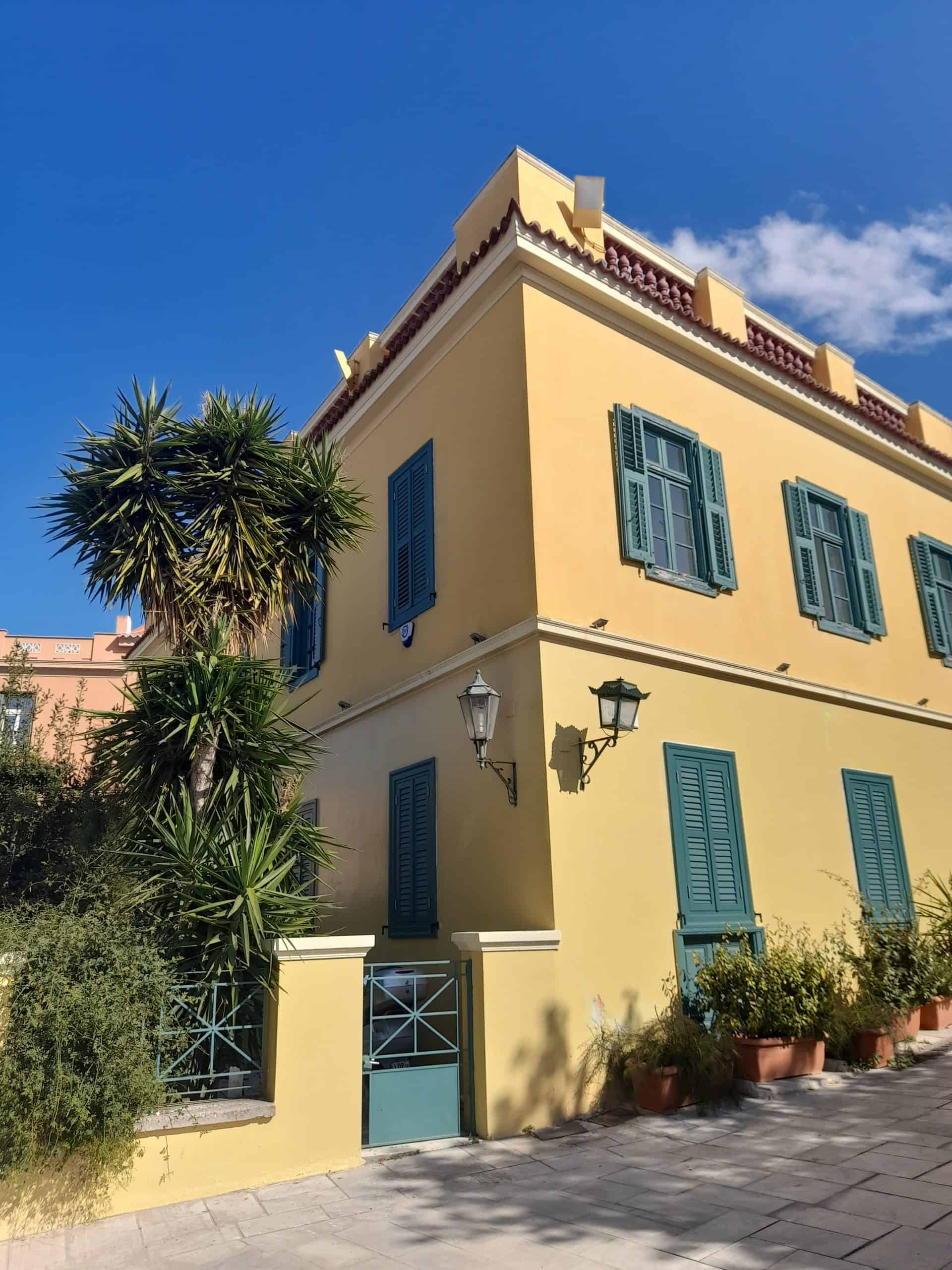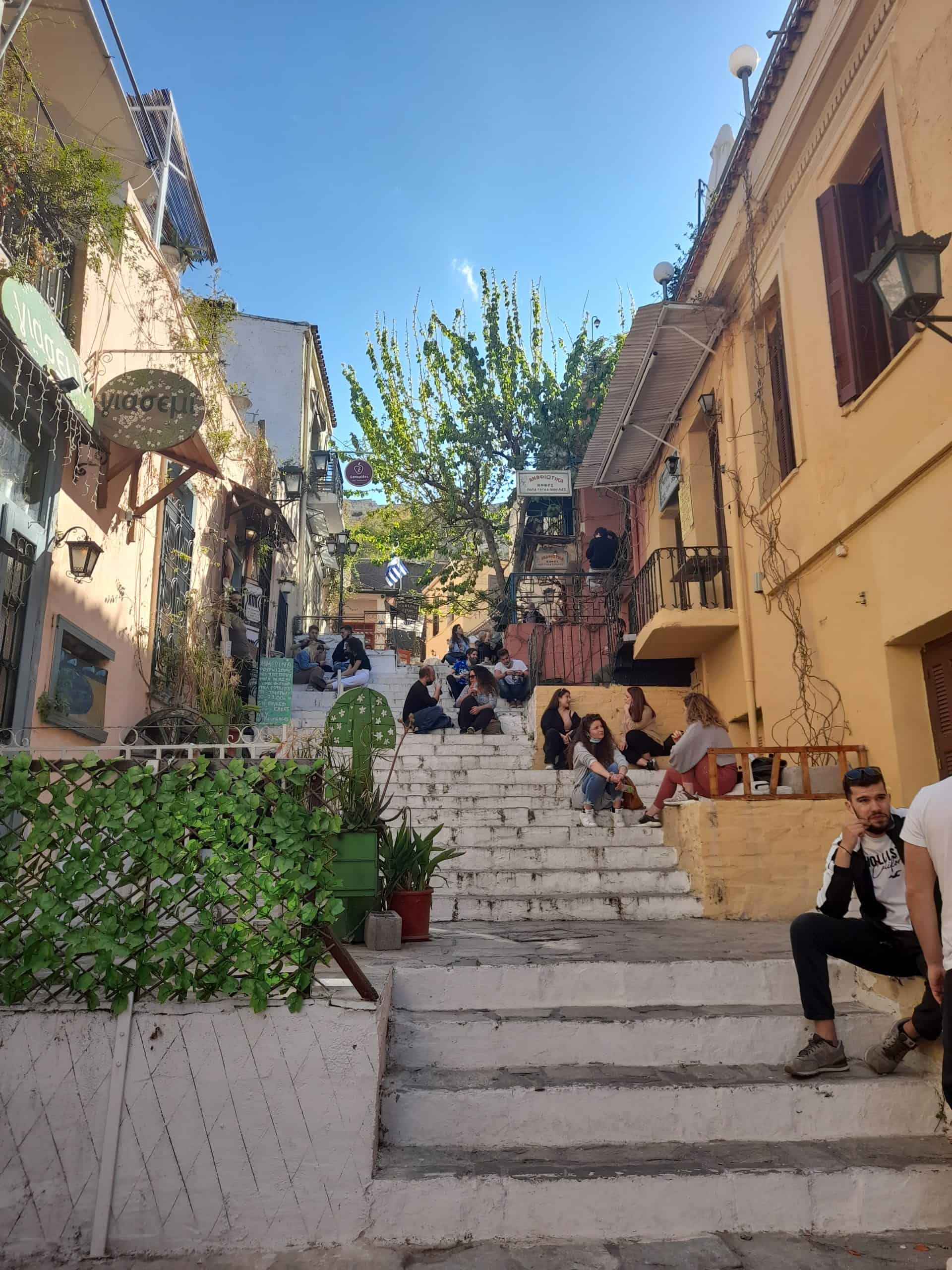 Ancient Plaka is one of the oldest neighbourhoods in Athens. This district has existed for more than 3,000 years and its streets are steeped in history.
Spend some time meandering through the stores and marketplaces. There are a lot of artisanal products, handicrafts, and antiques on sale here, as opposed to shops that simply sell touristic tat.
The Roman Agora and the older Ancient Agora are both well worth visiting. The former was created in the 1st Century BC by Julius Caesar himself! The latter predates this and was once an important meeting place for Greek Philosophers and Academics like Sophocles and Socrates.
Dine at a Traditional Taverna
Greek food is world-renowned for being hearty and flavourful. Think fresh Mediterranean vegetables splashed in olive oil, sumptuous marinated meats, and fruity homemade wines.
The restaurants that line the streets of Thissio are tourist traps so be mindful of where you venture for lunch. To Kafeneio (Epicharmou 1) is a popular spot in Plaka that locals visit for its meze dishes (small plates).
Scholarchio (Tripodon 14, Plaka) is another beloved local haunt whose specialty dish is its flaming sausages. Wash it all down with some traditional Greek alcohol such as ouzo poured over ice.
Explore the Athens Central Market
The Athens Central Market (Varvakios Agora) is an interesting traditional place to explore. Stalls spread across the marketplace sell a wide variety of food products.
Watch on as Greek yiayias haggle in the meat market to secure the best prices on ingredients for Sunday dinners, witness fishermen bringing in their latest catches to the fish market, and explore the fragrant fruit and vegetable market.
Window-shop in Evripidou Street
From Varvakios Agora, head to nearby Evripidou Street. This ramshackle shopping street is one of the most eclectic and multicultural places in the city. Shops here sell a range of interesting products and a lot of the stores are owned by people who have relocated to Greece from Syria, Armenia, and other nearby nations.
This is one of the best places for shopping in Athens. If you are interested in taking home some foodie souvenirs, there are several spots here that specialise in Greek deli products such as cured meats and smoked cheeses.
Head to Miran (45 Evripidou Street) or Karamanladika (Sokratous 1). The store owners will happily prepare you a charcuterie board and wine pairing based on your tastes.
Enjoy Evening Drinks at a Rooftop Bar
As the sun begins to set over Acropolis hill, spend your evening enjoying one of the best views of the Greek capital: from atop one of the city's many rooftop bars. There are more than 20 rooftop bars in the city.
The atmosphere is truly magical as you watch the Parthenon become illuminated by hundreds of twinkling lights. A for Athens and Athens 360 are among the most popular rooftop hangouts, though not necessarily the best.
Athenian Rooftop Bars to Consider
If you are seeking elegance and fine dining, consider making a dinner reservation at the Sense Restaurant that sits atop the luxurious AthensWas hotel. From here, the Acropolis is so close that it seems you can reach out and touch it.
Couleur Locale is an alternative choice. This beloved local haunt is hidden away from view down an unsuspecting alleyway close to Monastiraki station.
The alleyway that conceals the bar looks sketchy and unwelcoming. Wander past the old antique stores and into the rusty elevator. Press the button for the 4th floor and ride to the top to be led to one of the hippest bars in town.
Recommended Athens Tours
You may prefer to spend some time in Athens exploring with a local. Opting to do so early in your trip helps you to get your bearings in a new city and discover places that you may not have stumbled across independently.
Not to mention, this also means that you have an Athens expert on hand to ask about the best places to eat, drink and hang out in the city. A number of reputable Athens tours are detailed below for your consideration.
One Week in Greece
Day Two: Athens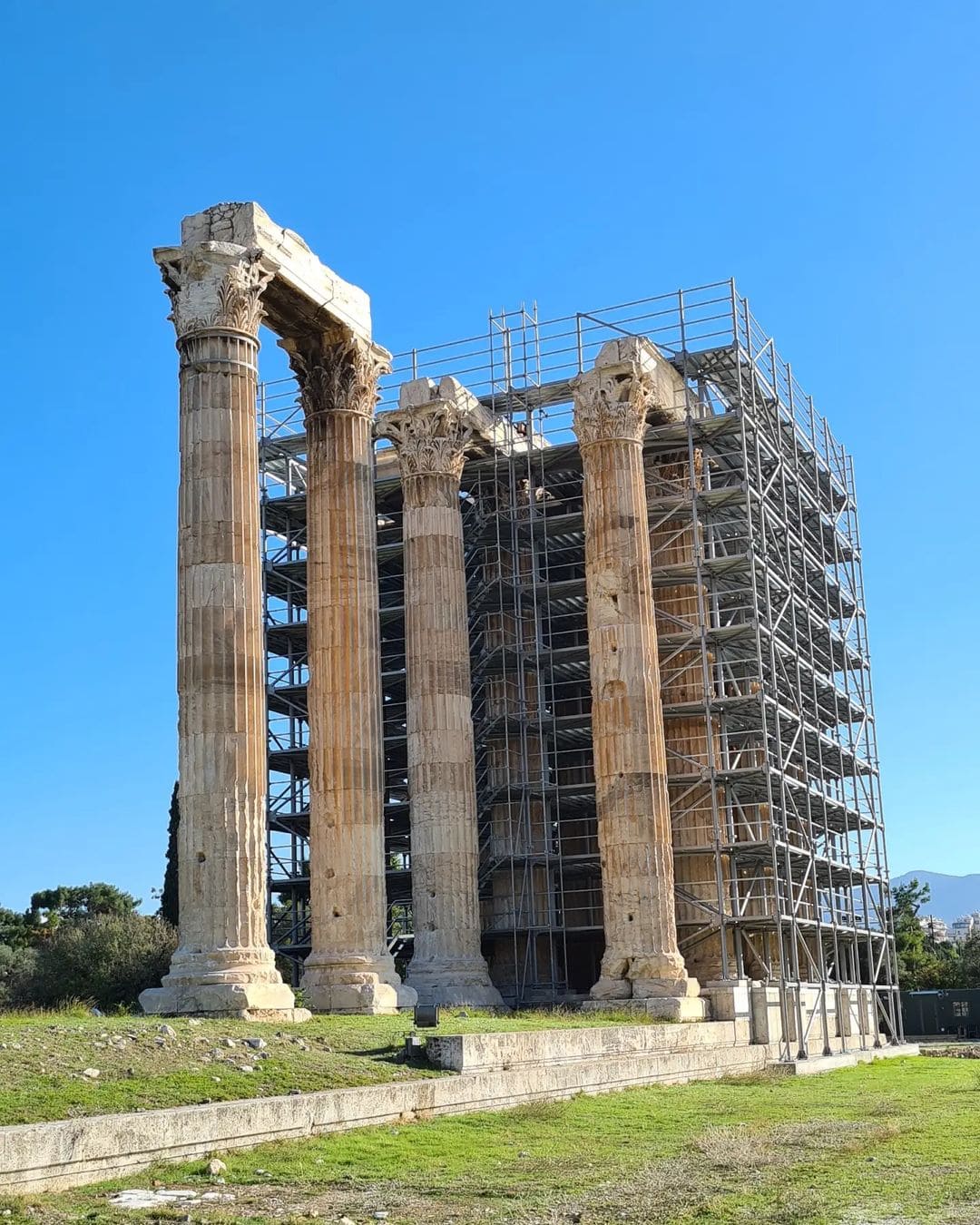 Wear your comfiest shoes in preparation for day two in Athens. The sights we will explore today take you in the footsteps of Socrates and Plato, as you explore some of Athens' most important cultural and historical highlights.
Start Your Day at the Acropolis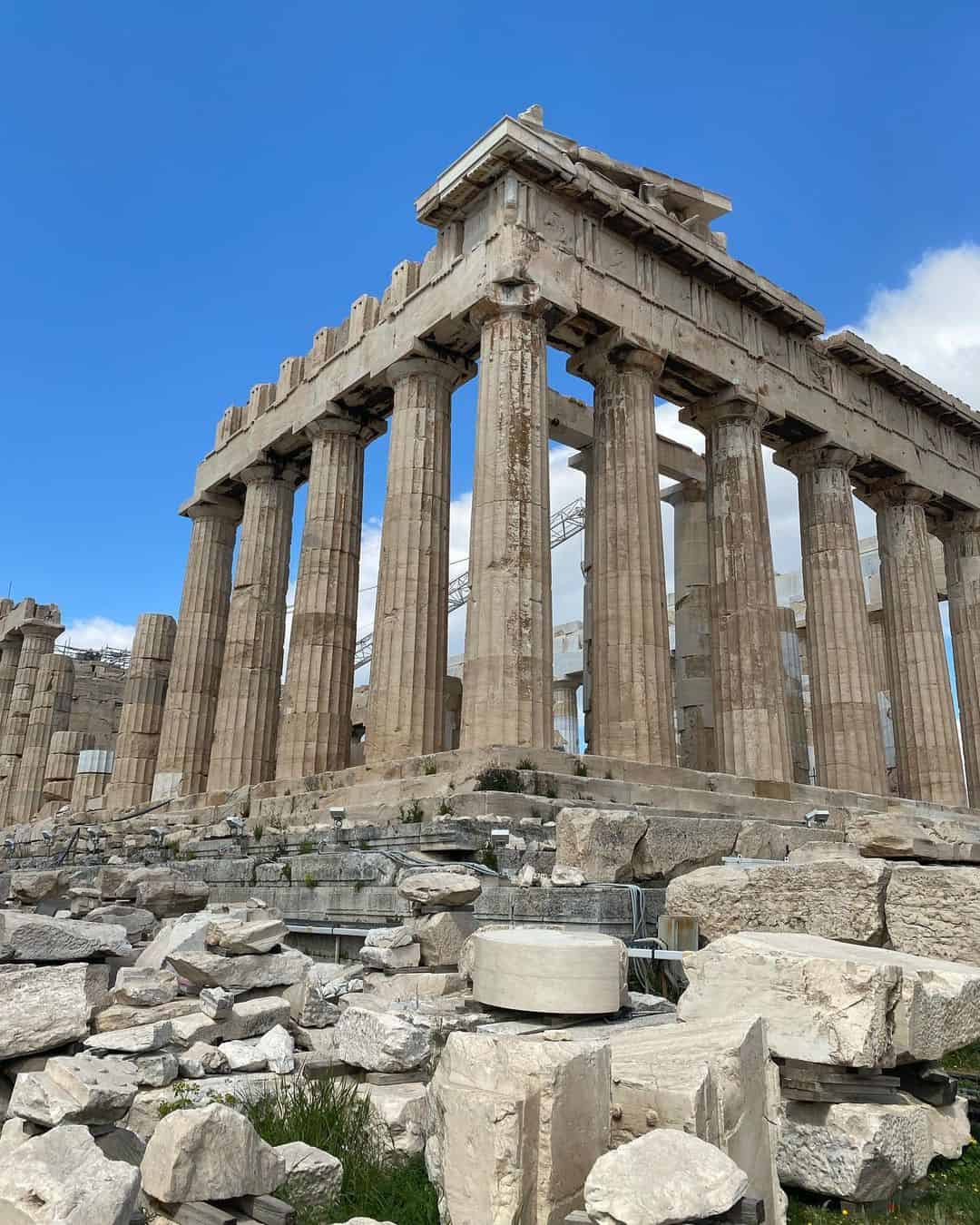 Enjoy breakfast and a strong Greek coffee at your hotel before heading over to the Acropolis. It is best to arrive as early as you can as if you arrive after 9 am you are likely to be met with crowds.

Allow at least 2 hours for exploring the Acropolis. The site is far more expansive than meets the eye.
You are also best advised to purchase your Acropolis entry tickets online in advance. This time, you save time queuing at the entrance.
Entrance to the Acropolis site includes free entrance to the Acropolis Museum. You can purchase tickets here.
Close to the entrance, you will find the Propylaea and Temple of Athena Nike. This is a well-preserved Temple dedicated to the Goddess Athena, protector of Athens.
The Amphitheaters of Acropolis Hill
The Theatre of Dionysus sits on the southern slopes of the hill. This ancient entertainment complex was constructed in the 4th Century BC, and Greek tragedies that depicted the lives of Sophocles and Euripides were performed here.
The Parthenon
Of course, the piece de resistance of the Acropolis hill is the Parthenon. This is the main reason that most people want to visit these sun-bleached ruins.
Sadly, reconstruction and repair work means that the Parthenon has been surrounded by scaffolding for quite some time. However, this does not detract from the beauty of the site.
A flagpole close to the Parthenon marks a wonderful viewpoint over the city across to Mount Lycabettus and the Panathenaic Stadium. On a clear day, you can even see Piraeus from up here.
Watch the Changing of the Guards at Syntagma Square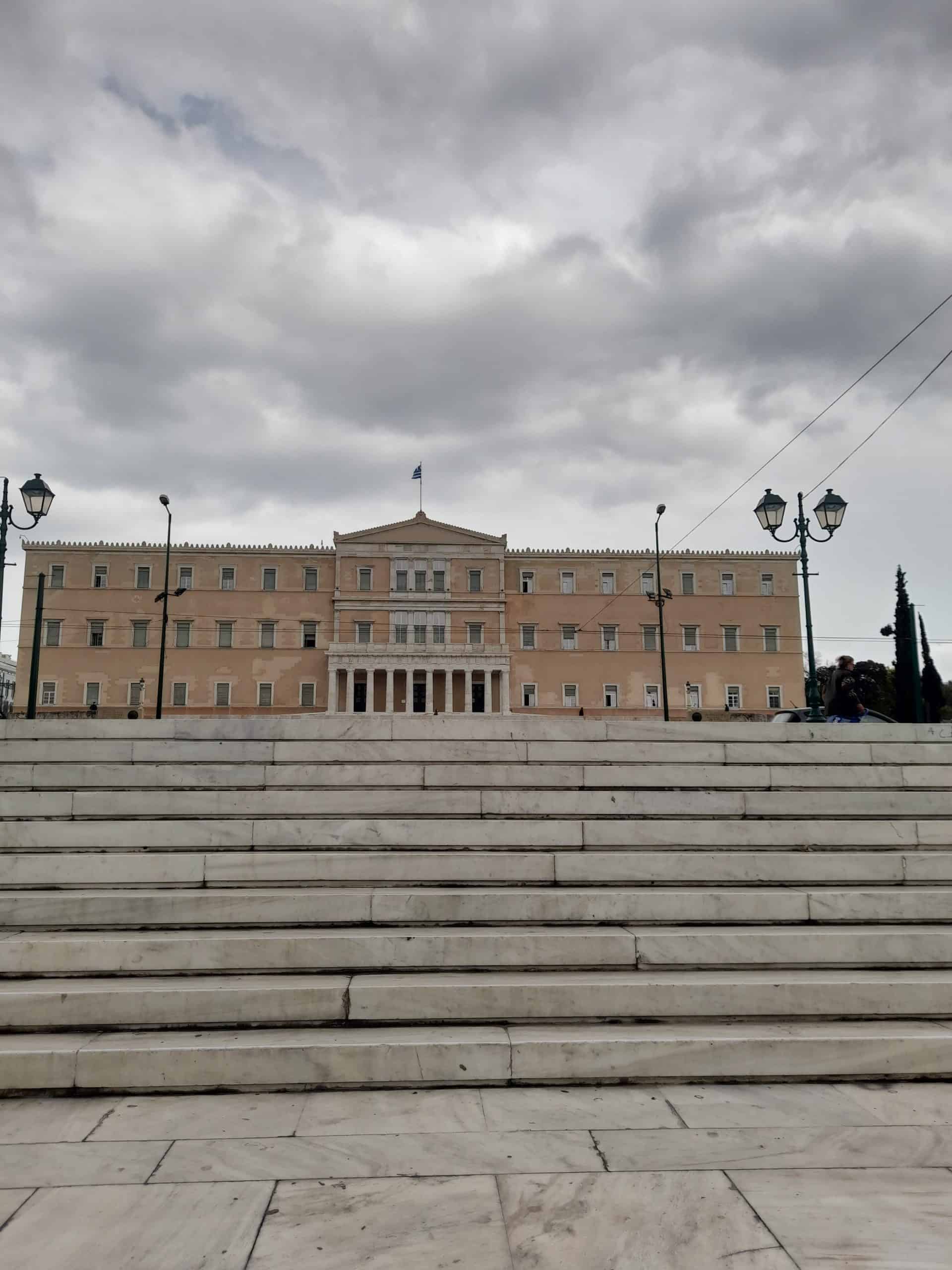 Syntagma is Athens' central square. Throughout the year, various events and festivals are hosted in this main piazza.
The light-yellow building that sits at the top of the stairs is the Greek Parliament building. At its forefront, members of the elite Hellenic guards (Evzones) stand to guard the tomb of the unknown soldier.
Watch the Changing of the Guards Ceremony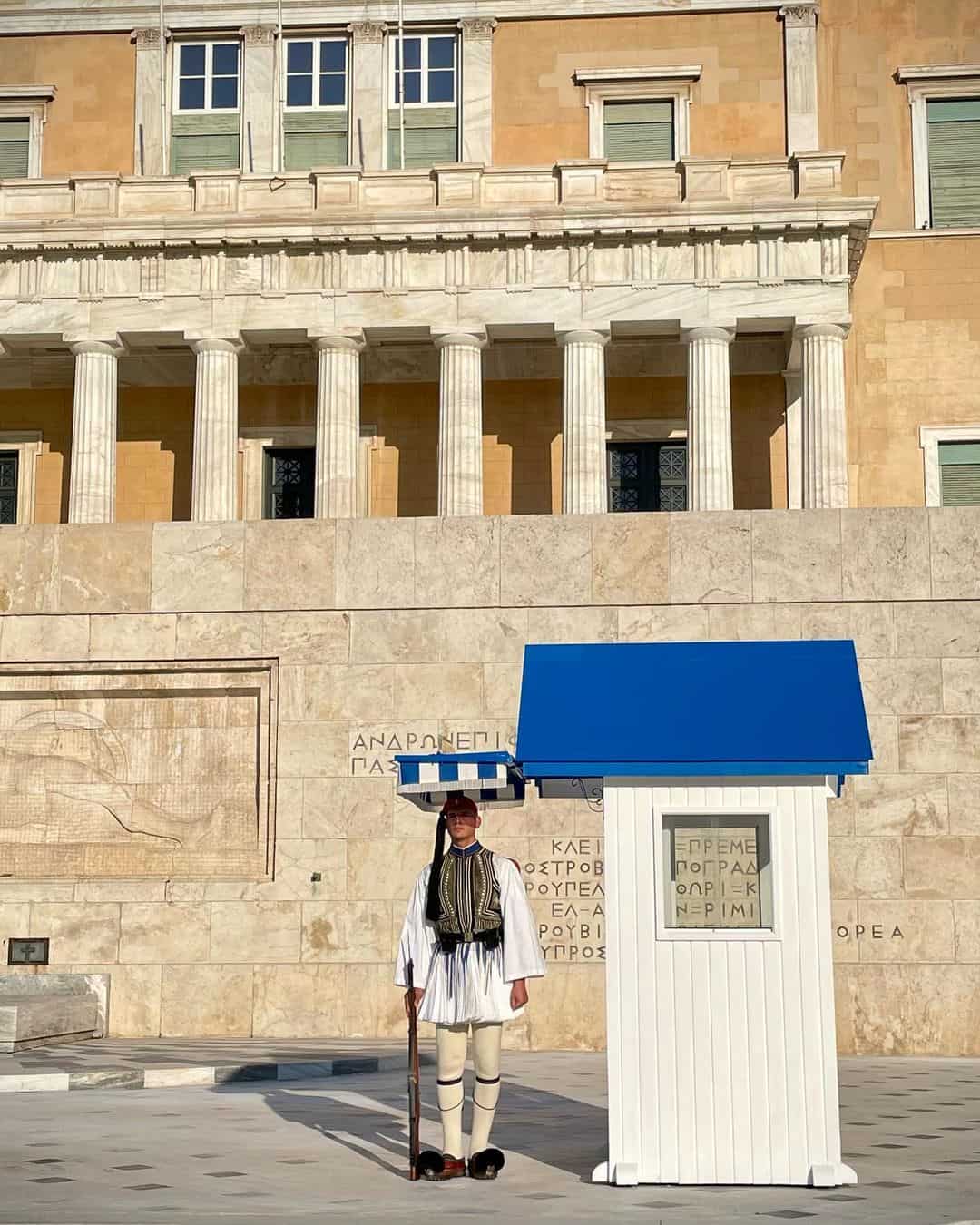 If you are able to reach the site by 11 am, the changing of the guards' ceremony is an interesting sight to witness. The Parliament building is worth stopping by regardless so as to see the Evzones.
The Evzones wear a unique, distinctive uniform. A farion is worn on the head – a soft red baize hat that boasts a long silk tassel. Fermelis (blue and gold embroidered vests) are worn on top of white shirts (ypodetes), and a kilt-like garment (foustanella) is worn over the legs.
To top it all off, the footwear of choice is tsarouchia. These are black and red shoes with pom-poms affixed to the top.
Have Lunch in Kolonaki
Kolonaki is one of Athens' most exclusive neighbourhoods. The tree-lined promenades here are filled with upscale boutique stores and exclusive bars. Kolonaki is often considered the Beverly Hills of Athens.
All things considered, Kolonaki is not pretentious. Many of the coffee shops and brunch places here attract a diverse crowd and dishes are reasonably priced.
"IT" is a beautifully decorated shabby-chic spot that serves up innovative Mediterranean dishes and a menu that changes seasonally. Numismatic Museum Garden Café is a scenic outdoor coffee shop and garden that feels like a tranquil oasis in the heart of a bustling capital city.
Ascend Mount Lycabettus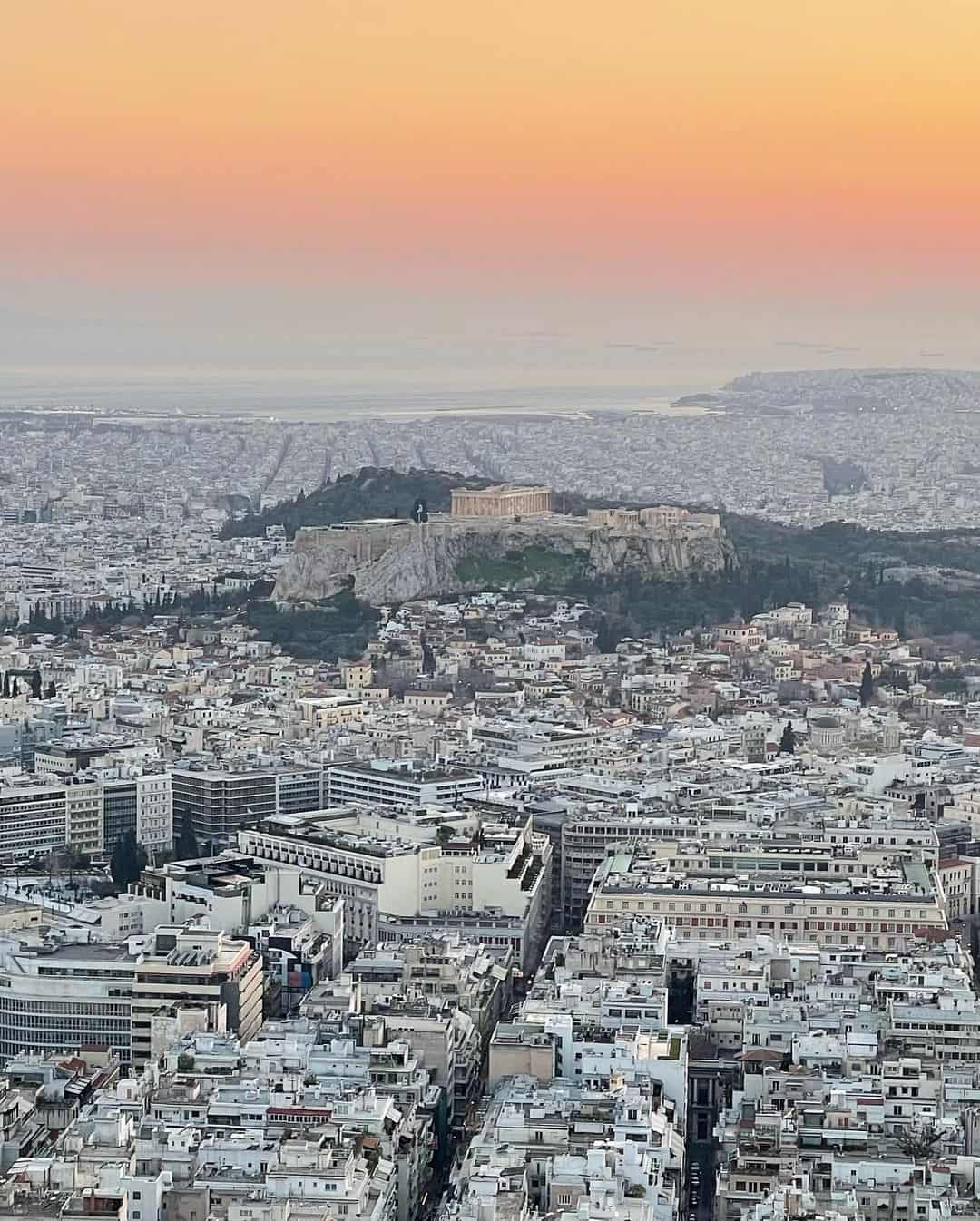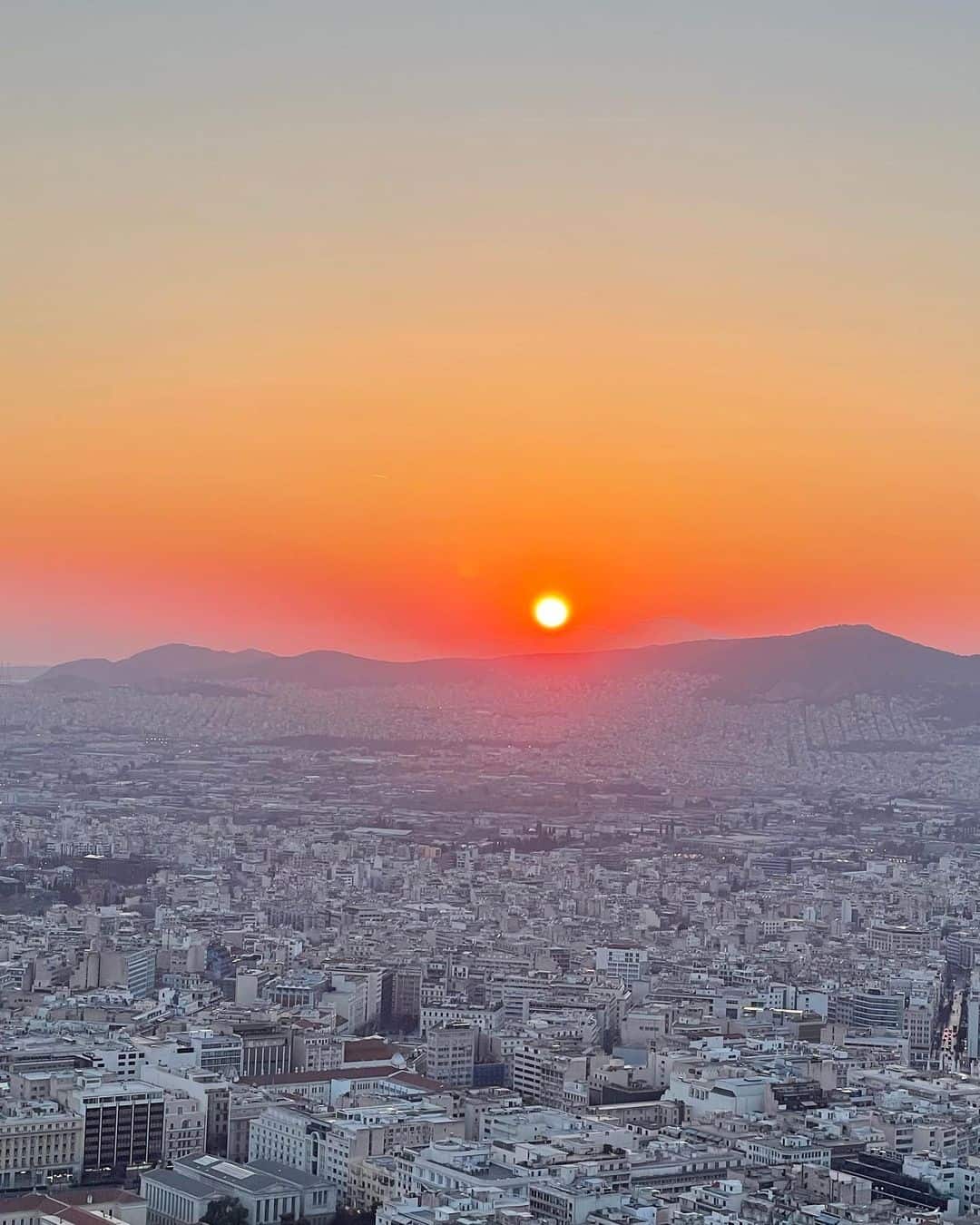 Mount Lycabettus is an Athenian landmark that can be viewed from all corners of the city. It is distinguished by an idyllic white church perched atop a craggy hill.
The view from up here is particularly beautiful at sunset. You can enter the church at the top: the 19th-century church of Agios Georgios.
Its interior is tiny – no bigger than the size of someone's living room. But the walls are decorated with gorgeous paintings and religious icons.

The ascent to the top of Lycabettus takes approximately 30 minutes. The walking trails lead through beautiful woodlands, flower gardens, and areas of wild cacti. If you don't feel like walking, there is also a funicular train that runs up from Aristippou street.
Visit the Panathenaic Stadium
Descend back down Mount Lycabettus and pass through the National Gardens – Athens' answer to Central Park. The Panathenaic Stadium (Kallimarmaro) is one of the most important historical sites in town.

Kallimarmaro is the only stadium in the world that was constructed entirely out of marble. The stadium dates back to 144AD and was the location of some of the very first Olympic games.
Kallimarmaro is excellently preserved and events and music festivals are still hosted here in the summer. Admission to the site is just 4 euros. There is also an interesting Olympic Museum at the back of the stadium which showcases Olympic torches, posters, and memorabilia over more recent decades.
Experience the Athens Nightlife Scene
When it comes to Athenian nightlife, there is a little something for everyone. For a quintessentially Greek evening, consider visiting a bouzoukia.
Bouzoukias are traditional Greek music halls where performers sing folk songs. This is a very interactive experience.
Typically, the audience joins in, singing and dancing at tables while eating traditional meze dishes and enjoying jugs of tsipouro and ouzo. There are two wonderful bouzoukias in Plaka – Perivoli T'Ouranou (the oldest in town) and Stamatopoulos Tavern.
A night out in Gazi
However, if clubs are more your style, head to Gazi. Gazi means gas in Greek and the district is named after the old powerplant that once operated here.
Gazi is home to a vast selection of clubs and bars that cater to virtually every music taste. Many are open until as late as 7 or 8 am. For cocktail bars and a sophisticated ambiance, head to popular Kolonaki haunts – Jazz in Jazz on Dinokratous street, or Minnie the Moocher at Tsakalof 6.
7 Day Greece Itinerary
Day Three: Athens Riviera
It may well be the archaeological and cultural sites that place Athens on most travellers' bucket lists. However, one of the lesser-known (and equally worthwhile) places to explore is the beautiful coastline.
The Athenian Riviera is a chic coastal area that sits just 14km south of the city centre. The elegant beach towns of Voula, Vari, Glyfada, and Vouliagmeni comprise Greece's very own Cote d'Azur and we will explore them today.
The Temple of Poseidon at Sounion
The Temple of Poseidon at Sounion is one of the best day trips that you can take from Athens. The temple dates back to 444BC – the same year that the Parthenon was constructed.
The setting is dramatic and fitting for a temple dedicated to the Greek god of the sea. It is perched on rocks at the edge of the sea, where waves lap ferociously against the shore.

The temple is easy to reach from the city, whether you choose to travel there independently or to visit it on an organised tour. If you decide to travel to the Temple of Poseidon by public transport, you can take the KTEL bus from the station in Pedion Areos, Athens.
Sounion National Park
Many people travel to Sounion and the Temple of Poseidon on a day trip from Athens. However very few of them know about the national park that sits nearby.

Sounion National Park is the smallest national park in Greece. It can be reached by following the old dirt trail that veers off from the church of Agia Varvara, a few minutes away from the Temple of Poseidon.
The 40,000-year-old cave dwellings here once housed prehistoric men, Visiting them, along with the abandoned churches and dense pine forests that are scattered throughout the park, are a pleasant way to get back to nature.
It should be noted that there are no stores or restaurants in this area of Sounion. Be sure to pack a lunch and plenty of drinking water.
Experience the Beaches of Vouliagmeni
During the summer months, there is no better way to enjoy the fine Mediterranean weather than by relaxing on the beaches of Vouliagmeni. The bus that runs between Athens and Sounion stops at Vouliagmeni on the way back to the capital.
Get off at the Vouliagmeni lake stop and spend the afternoon relaxing at one of Vouliagmeni's numerous beaches.
There are both public and private beaches in Vouliagmeni.
Astir Beach is the go-to choice for the Athenian jet set. At $50 per person for entry, a day here does not come cheap. However, visitors are treated like royalty, and you may just spot a celebrity in your midst.

In Vouliagmeni, you will also find "Limanakia". These are hidden secluded beaches and coves that sit off from the main roads.
Some of these are not marked and require hiking down a dirt trail to reach. For that, you are rewarded with having the place almost entirely to yourself.
Evening Drinks at Vouliagmeni Lake
When night falls, head to Vouliagmeni Lake. This mysterious brackish-coloured lake sits on top of thermal springs that are rumored to have healing properties. Beneath the lake is a labyrinth-like network of underwater tunnels that have never been fully explored.

You can enter Vouliagmeni Lake during the day to swim and relax. However, the ambiance is particularly special at night.
In the evenings, the crowds disperse, and entrance to the lake is free. The expert mixologists at the bar beside the lake serve a wide selection of innovative cocktails as old Dean Martin classics and swing music is played over the speakers.
One Week in Greece
Day Four: Mykonos
Wave goodbye to the ancient streets of Athens today as you depart for Mykonos. This is one of the most picturesque and well-loved islands in the Cyclades.
Depart for Mykonos
You have two options for travelling to Mykonos depending on your personal preference. Flights between Athens and Mykonos run on regular schedules, especially during the summer months.
The flight takes just 35 minutes. However, of course, you need to consider the time spent waiting at the airport.
If you wish to travel from Athens to Mykonos by sea, ferries depart regularly from Piraeus port. Blue Star ferries depart daily at 7.30 am and get you to Mykonos by 12.45 pm.
If you want to arrive in Mykonos faster, you can take a fast boat which takes just two hours. It should be noted that the "fast boats" are notorious for providing a bumpy ride and causing seasickness, so choose your preferred boat accordingly. Piraeus Port can be easily reached on the Green line of the Athens metro.
Explore Mykonos Old Town
Drop your bags at your hotel and prepare for a more laid-back pace to day six of your 7 days in Greece. You can spend several hours enjoying getting lost among the narrow passageways and cobbled streets.
Browse the charming artisanal stores and sip Ellinikos kafes (strong traditional Greek coffee).
The port area is also a lovely place to stroll beside the sea, and the streets here are adorned with dozens of beautiful Orthodox churches.
Visit the Windmills at Chora
The windmills at Chora are one of the most iconic landmarks in Mykonos. Windmills are scattered all over the island and were once used to refine grain.
Today, many of these have been converted into eccentric cafes and residential homes. The most noteworthy windmills to visit are those at Kato Myloi.
It takes just a short walk to reach the hilltop where the Kato Myloi windmills sit. From here, you can enjoy one of the best panoramas of the island.
The view is particularly beautiful at sunset. At this time, the sky is illuminated with hues of pink and orange.
Hang Out in Little Venice
Mykonos may well be renowned for its wild nightlife scene. However, for something a little more low-key, head to Little Venice for dinner and evening drinks.

Like the Italian city, Little Venice is made up of stilted pastel-coloured houses that are built right into the seafront. Many of these buildings house gourmet restaurants and chic cocktail bars.
Little Venice has a fascinating history too. Apparently, when pirates tormented the people of the Mediterranean, Little Venice was one of their favourite places to hang out.
7 Days in Greece
Day Five: Mykonos
Day five of this 7-day Greece itinerary focuses on the cultural and historical highlights around Mykonos. If you prefer, you can also opt to spend this day relaxing on one of the island's picturesque beaches.
Sail Across to Delos
Delos is one of the most unique islands in the Cyclades. This mysterious place is UNESCO protected.
It is one of 18 UNESCO-protected sites in Greece. While the mention of Cycladic islands conjures up images of whitewashed houses and beautiful beach towns, the entirety of Delos consists of ruins. Nobody lives on this island.
In Greek mythology, Delos was the birthplace of the Goddess Artemis and the God Apollo. The island was considered sacred, and nobody was permitted to be born or die here. Old amphitheaters, colonnaded walkways, and eerie statues are scattered across the island.
Start your visit to Delos at the on-site museum. The statues of Apollo and Artemis and the hundreds of recovered artifacts on display here help to put the various island locations in context.
Getting to Delos
You can easily spend half a day on Delos island. The journey from Mykonos to Delos takes just one hour and it costs $20 for a return trip. If you prefer to explore with the aid of a guide, tours start from just $50.
Recommended Delos Tours
Sample Local Wines and Traditional Products
Greek wine may not be very well-known internationally, but locally, it is valued for its flavour and quality. There are dozens of vineyards in Mykonos that offer tours and tastings to visitors.
Mykonos Vioma is a beloved ecological vineyard that sits close to the village of Ano Mera. The cultivation of the grapes here is organic. Mykonos Vioma serves up a diverse selection of wine products including iliophilos (natural sweet wine) and paraportiano (red and white wines).
If you do not feel like trekking out to one of the vineyards, there are also lots of excellent tasting rooms in Mykonos old town. Here, you can enjoy a tour of the wine cellar, a discussion of the production process, and a tasting of various local and international wines.
Many Mykonos tasting rooms pair wines with charcuterie boards. This gives you the perfect opportunity to try some traditional local products.
Be sure to request kopanisti and ladotyri cheeses. Of course, these are best enjoyed accompanied by a variety of local cold cuts and fresh olives.
Experience the Nightlife of Matogianni
Upscale Matogianni is a Mykonos neighbourhood that effortlessly exudes elegance and sophistication. Art galleries, designer boutiques, jazz halls, and cocktail bars line the streets here.
There are countless restaurant options in Matogianni. So, you will not be short of options for where to spend your last night in Mykonos.
One Week in Greece
Day Six: Santorini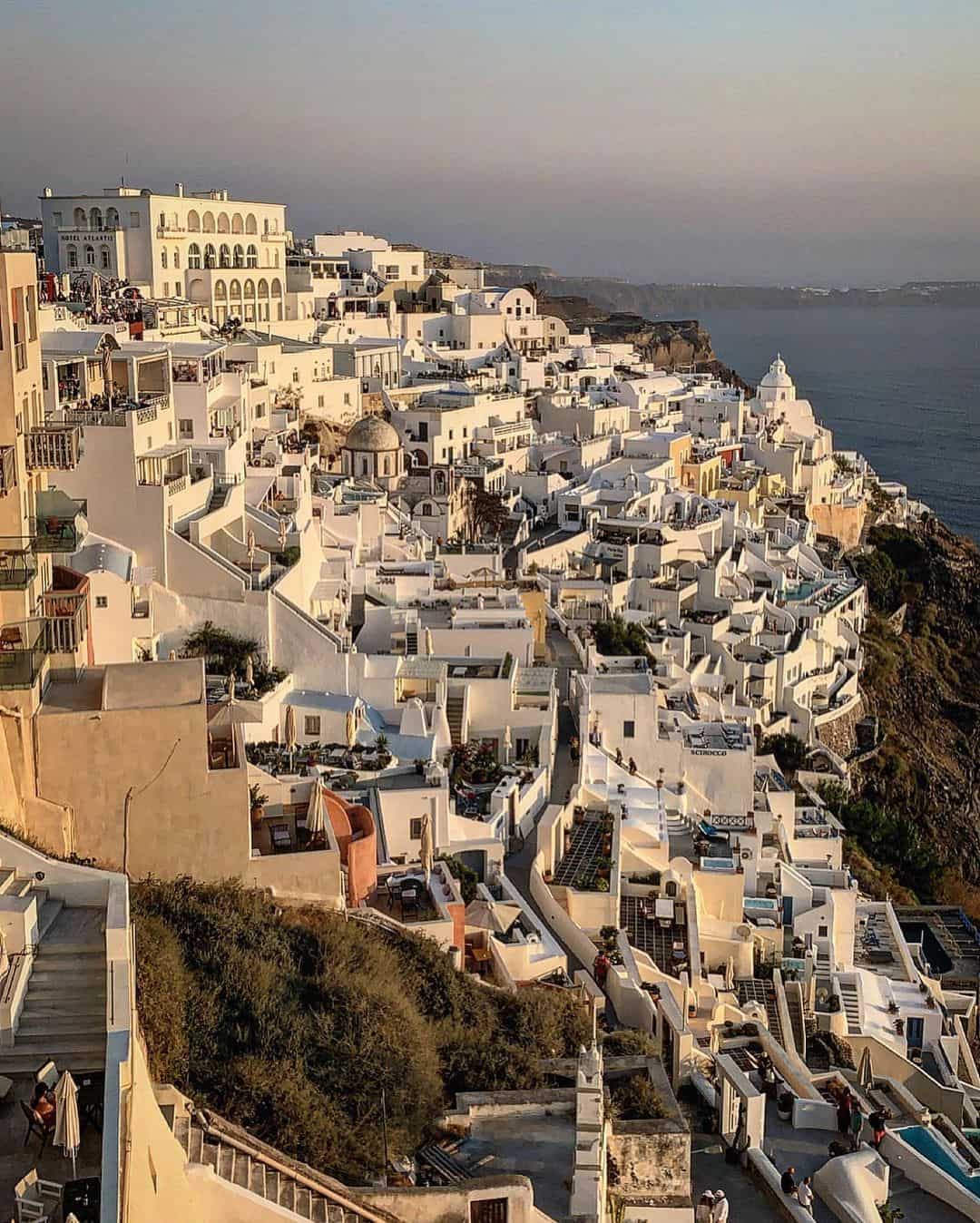 Beautiful Santorini is characterised by its iconic whitewashed buildings, its jagged, multicoloured cliff faces, and its volcanic sand beaches. Despite being one of the most popular places to visit in Greece, the island's popularity does not detract from its charm.
Sail from Mykonos to Santorini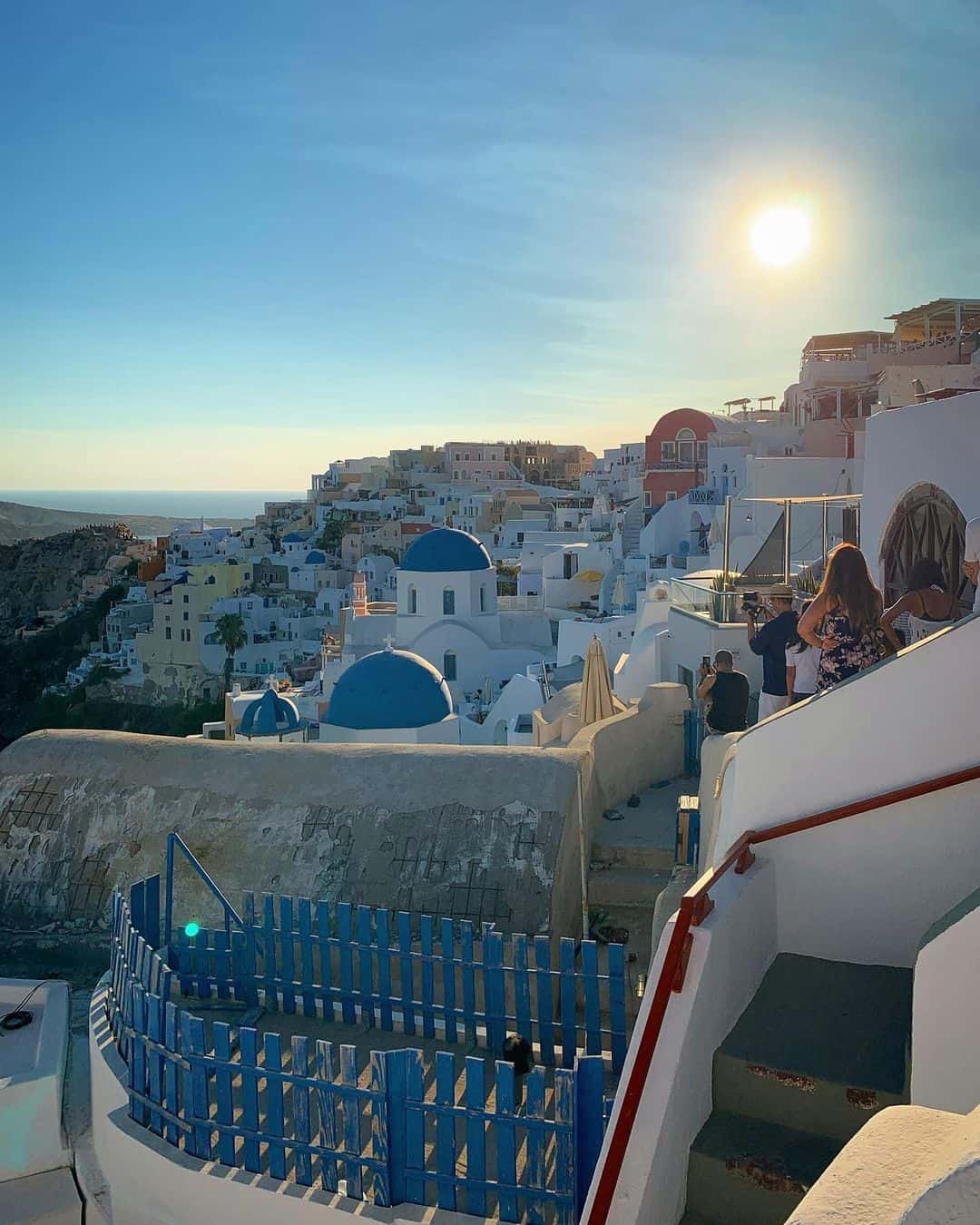 It is easy to get from Mykonos to Santorini. Boats depart four times per day, especially during the peak summer season.
The journey takes just 2.5 hours. Boats can be very crowded in July and August. It is advisable to purchase a ticket in advance if you hope to travel at a specific time.
Arriving in Santorini
You should keep in mind that ferries arriving at Santorini take you to Athinios port. This is not in Fira or Oia, and you will need to hire a cab or take a KTEL bus to reach your hotel. Athinios Port is located approximately 9km away from Fira, and 19km away from Oia.

The KTEL bus from Athinios port to Fira and Oia runs every 15 minutes, but it does get very crowded in the summer and you may be waiting a while to get a seat. From Athinios to Fira, a cab costs $15.
Get Lost in the Cobbled Streets of Fira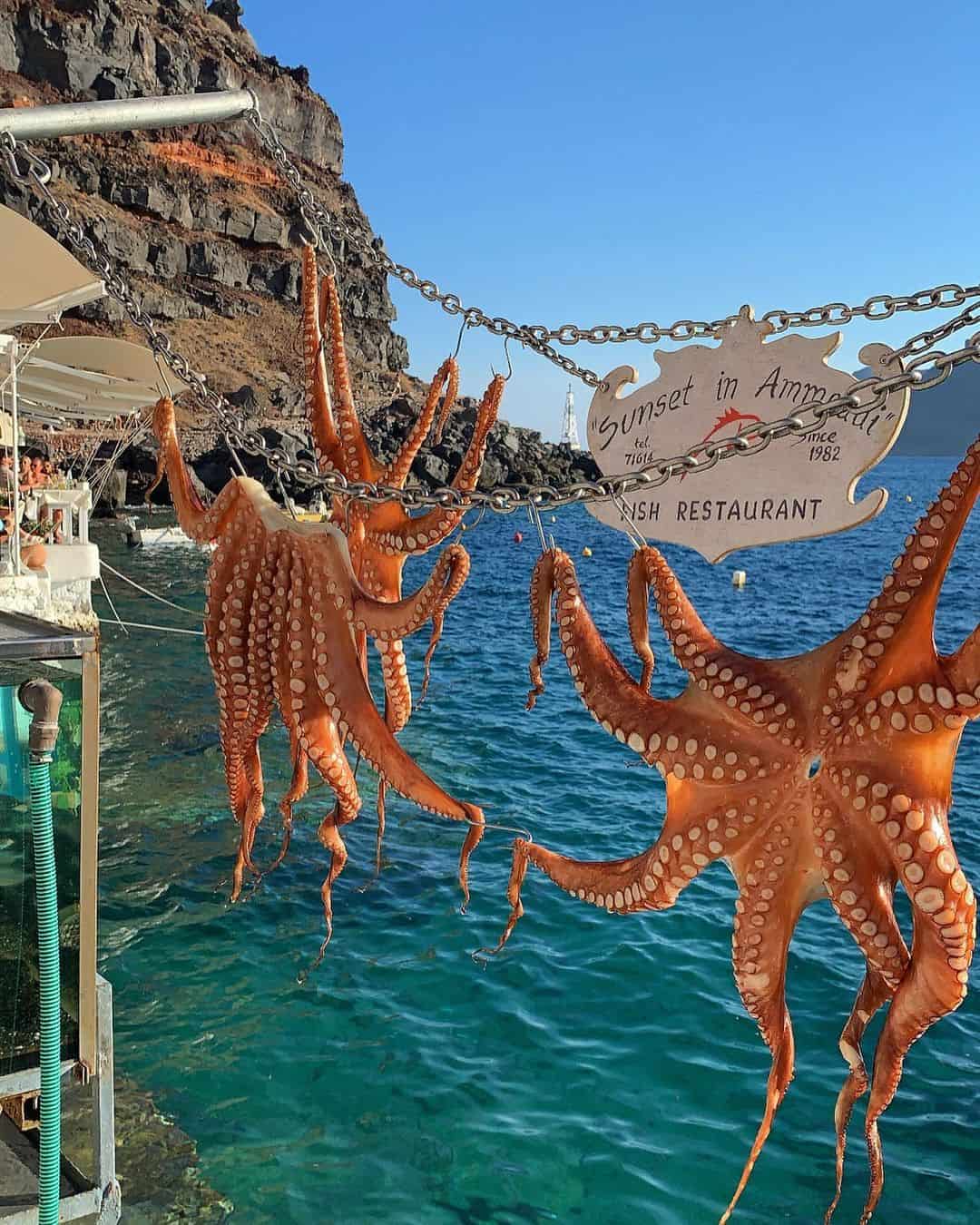 Fira is the capital of Santorini. From the Caldera side, you have some of the best views of the island. Here, hotels and houses cascade down the side of the cliff face, and there are enough bars, restaurants, and stores to keep you entertained for hours.

Many of the restaurants here cater to tourists. One of the more "local" places to eat, in addition to one of the more unique, is Archipelagos restaurant. The restaurant is set inside an old cave house on the caldera cliffs. From up here, you have magnificent views over the island.
Explore Fira Centre
The town centre of Fira certainly has its charm. As you navigate the cobbled streets, you can easily spend a leisurely morning window shopping, revelling in the views, and enjoying a coffee in the bustling piazzas.

The Santorini Archaeological Museum is worth a quick visit. The small museum showcases a variety of artifacts that were recovered across the island from the 5th century BC, up until Roman times.
Venture to the Akrotiri Ruins
Akrotiri is an ancient Bronze Age settlement that dates back to 1630BC. The city was destroyed by a volcanic eruption on Santorini and today, the ruins are similar in appearance to Italy's Pompeii.

You can reach Akrotiri by bus from Fira. The journey takes just 22 minutes and buses depart hourly in each direction.
Witness a Majestic Santorini Sunset
It is no secret that Santorini sunsets are considered to be among the most beautiful in the world. There are various places where you can enjoy this magical experience from across the island.
From Fira, you can head to the little village of Imerovigli. This is an idyllic village on the Caldera that is less crowded and well-known.
Many cafes here boast terraces and balconies perfect for watching the sunset. Alternatively, watch the sun dip behind the clouds from Imerovigli's Venetian Skaros castle.
If you don't make it back to Fira from the Akrotiri ruins in time for sunset, the Akrotiri lighthouse is a nice spot to watch it. You can also do a sunset cruise from the seaport at Fira, and watch the sky while accompanied by champagne and canapes.
7 Days in Greece
Day Seven: Santorini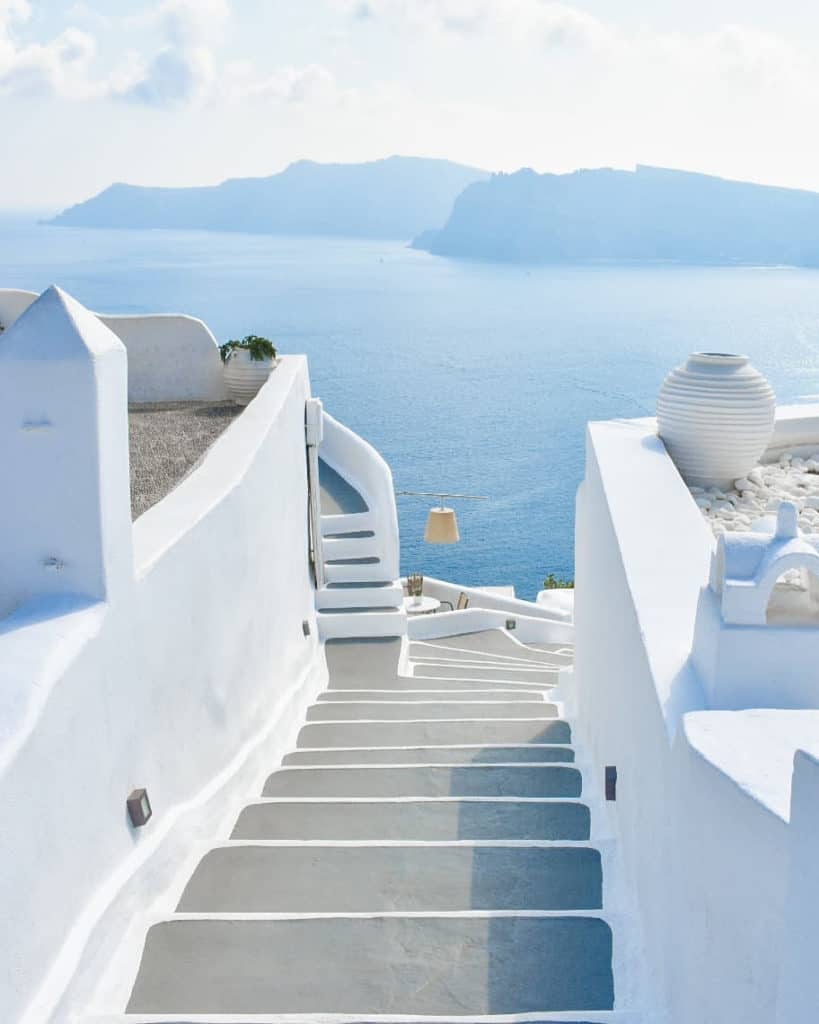 On the final day of this itinerary, head to the eastern part of Santorini island to explore Oia and its surroundings.
Embark on the Classic Fira to Oia Hike
Strap on your comfiest shoes and prepare for the classic hike from Fira to Oia. The 10km hike takes a couple of hours to complete.
The terrain is relatively flat, making the hike accessible even for those who do not consider themselves experienced trekkers. Many people don't think of Greece as a hiking destination.
However, there are countless stunning trails throughout the country. The Fira to Oia hike is one of the best and most famous.

The route leads you through the charming Santorini villages of Imerovigli and Firostefani. Some of the volcanic landscapes that you will pass are so unique that they look out of this world. There are plenty of opportunities to stop along the way to enjoy a coffee, a spot of lunch, or to take photographs.
Have Dinner at Ammoudi Bay
Ammoudi Bay is a lovely place to while away the afternoon and recover from your morning hike from Fira. The bay is often overlooked by tourists to Santorini.
It sits 300 steps beneath the main town of Oia. Its seafront promenades are filled with dozens of excellent seafood restaurants that serve up the day's latest catches.

Pack your swimsuit and towel and follow the worn dirt trail that leads from Ammoudi Bay to the rock of Agios Nikolaos. Locals love to hang out here in the summer months, and you can join them as they snorkel in the cerulean waters and dive off cliffs.
Depart Santorini and Lovely Greece
As your 7 days in Greece draws to a close, scoff down one last spanakopita or Greek pastry. Then, head to Santorini port or airport for your onward connections.
When to Spend a Week in Greece
Island hopping in Greece is very much seasonal. It's easy to assume that Mediterranean countries like Greece offer warm climes all year round but that is not the case.
Winters in Greece do get very cold and rainy, and many hotels, restaurants, and stores in tourist areas will often close for the winter season. Arguably the best time for this itinerary is the shoulder season – either late May/June or late September/early October.
That way, you avoid the crowds that flock to Greece in July and August. Temperatures are hot but a little more bearable for spending extended periods of time outside and visiting archeological sites.
Spring (March to May)
Spring can be a good time to travel to Greece, depending on what activities you hope to do when you arrive. A lot of touristic businesses do not open for the season until late April or early May.

Temperatures are usually pretty good from May onwards. During this time, you can expect daytime temperatures of 25 degrees Celsius and upwards.
While this isn't the hottest time of the year, late April/May can be a good time to visit if you are more interested in hiking and cultural sights than you are in beaches and hot weather. Depending on where you are travelling from, you may find this much more bearable than the summer months when temperatures soar way above the mid-thirties (degrees Celsius).
Summer (June to August)
Summer is the most popular time for travel to Greece. Unfortunately, it is also one of the most crowded periods and prices soar phenomenally during July and August.

Temperatures in Southern Greece during the summer months often range from 35 to 40 degrees Celsius. Queues at airports, ferry terminals, and tourist attractions can be unbearable in August.
Arguably one advantage of travelling to Greece in August is that Athens, Thessaloniki, and other Greek cities become practically ghost towns. This is because locals usually have over a month's worth of vacation and they escape the heat to head to the coast.
Autumn (September to November)
The weather in Southern Greece remains pretty good until mid-October. Conditions during Autumn are very similar to during the Spring.
In other words, you can expect temperatures of around 25 degrees Celsius. It is enerally still warm enough to go swimming and enjoy the beaches until early October.
The further south you go in Greece, the warmer it is. While the Sporades and the Ionian may start getting chilly from late September, it stays warmer in Crete and the Cyclades for longer.

Greece remains very crowded with tourists until late September. Mid-October can be a very good time to travel, but keep in mind that a lot of places close for the season towards the end of the month. Temperatures in Greece start dropping in November.
Winter (December to February)
Winters in Greece are milder than a lot of other European destinations. At the same time, it does get pretty chilly.
From December onwards, you can expect temperatures of 9 degrees Celsius and below. Snow in Athens is not unheard of, and rainfall can be heavier than normal around this time.

Ferries and flights do run between Athens and the Cyclades in the winter, but the schedule is more limited. Prices of hotels, tours, and flights are at their lowest during this time.
This is a great time to travel if you want to see Greece on a budget. You can find a flight from Athens to Mykonos or Santorini for as little as $20 each way.
Lounging on beaches and swimming in cerulean waters is pretty much out of the question but exploring the quaint fishing villages and old towns of Santorini and Mykonos is every bit as charming as it is during the summer.
One Week in Greece
Possible Trip Extensions
If you have the possibility to extend your one week in Greece trip and make it into a ten- or fourteen-day trip then, by all means, do so! There are so many beautiful places to visit in Greece but do take travel time into consideration.
Opt to spend a little more time at each destination so that you can scratch deeper beneath their surface. Alternatively, you can add just one or two additional islands/cities to your trip.
10 Day Greece Itinerary Suggestion
If you wish to extend your trip to 10 days, consider spending another night at each place. That way, you can explore Santorini and Mykonos at more of a relaxed pace. You can also spend a day lounging on the black and red sand beaches of Santorini.

An alternative option would be to head back to Athens and enjoy some of the historical sights that can be reached within a day's travel from the capital. The ancient city of Delphi can be explored on a day trip from Athens, as can the charming Peloponnese city of Nafplio.
14 Day Greece Itinerary Suggestion
With fourteen days to spend in Greece, you can spend a little more time island hopping in the Cyclades. Santorini and Mykonos may well be the most popular islands in this archipelago, but they are not the only beautiful ones.

The islands of Kea, Naxos, Paros, Antiparos, and Andros capture the hearts of all those who visit. Some of these islands see only a fraction of the tourists that Santorini experiences but boast incredible hiking trails, secluded beaches, and hidden coves.
Parting Words
If you have any further questions about this 7-day Greece itinerary, or about planning a trip to Greece in general then please don't hesitate to reach out to me via the comments below. I have been living in Athens since early 2017 and will be happy to assist you as best I can.
Safe travels! Geia sou! Melissa xo
---