Osaka itinerary; I loved Osaka. It was kind of like Tokyo's sassy punky little sister – where Tokyo can be glamorous and reserved, Osaka is brash and loud – it has character. Like the Italian South in contrast to its Northern counterparts, Osaka is also a foodies' paradise. Dubbed "the nation's kitchen", there are a number of dishes unique to the area. You don't need to spend a huge amount of time in Osaka – just 2 or 3 days will allow you ample time to see the sights. This Osaka itinerary showcases the best of the city's highlights and places that are much loved by the locals.
The Best Time to Visit Osaka
Osaka sightseeing can be enjoyed year round. The best time to go to Japan will depend largely on your personal preferences when it comes to climates and weather.
In the summer, southern Japan can get incredibly hot and humid and so the best times to visit Osaka are either during the fall or in the spring. The foliage is beautiful between September and November and the temperatures are not too hot. Alternatively, travelling during the spring enables you to experience the cherry blossoms in all of their glory. 
Getting to Osaka From Kansai International
You may be travelling to Osaka as part of a wider Japan itinerary or to pay the city a specific visit. From Tokyo, you can of course take the Shinkansen from Tokyo station.
If you are flying into Kansai International, you have a couple of options for getting into Osaka.
By Train
Arguably this is the most convenient method. You can take a train from Kansai directly to Osaka (Umeda station). If for whatever reason you cannot take this train (you just missed it, there's a long wait, etc) then you can also take the train from the airport to Shin Osaka and then transfer.
By Bus/Cab
There is also a KIX Bus that services Osaka and departs Kansai at regular intervals. If you choose to take a cab, the journey to Osaka city centre will cost between 18,000 and 22,000 yen depending on the specific point you are travelling to. This  is circa $15 – $18 and while pricey, isn't horrifyingly extortionate considering the distance.
Where to Stay in Osaka
In terms of deciding where to stay in Osaka based on a location that is relatively central, provides subway access and makes it easy to get around the city and access the main places for Osaka sightseeing, consider staying in the neighbourhoods of Kita, Central Osaka or Minami.
Osaka Itinerary
Visit Osaka Castle
Arrive at Osaka castle early in the morning to bypass the tourist hordes before they arrive in their masses. Though the castle was originally built in the 1950s, it has been rebuilt several times with the latest reconstruction being in 1931. The highlights of Osaka Castle are no doubt the beautiful floral gardens that encompass it, and the views from Osaka from the top floor.
The Osaka history museum borders Osaka Castle and also makes for an interesting visit.
Pay Your Respects at Shitteno-Ji
Built in 593AD, Shitenno-Ji was the first Buddhist temple to be built in Japan. Like Osaka castle, Shitteno-Ji has been rebuilt several times, however it remains as an incredibly important site for Buddhists in Japan. During my visit, a flea market was taking place in the grounds.
Head Over to Shinsekai
Shinsekai area is a lot of fun – home to Tsutenkaku tower, it's an entertainment district that was built pre World War II and remains largely unchanged. It's a popular area for eating and drinking amongst locals and the streets are lined with arcades and local bars. This is a great place to explore around lunchtime, as Japanese businessmen crowd the streets and narrow passageways. If you are the adventurous type, you can trial fugu here – Japanese blowfish.  
Sip Asahi at the Asahi Suita Brewery
Asahi dry quickly became my favourite beer while travelling in Japan and if you're a fellow alcoholic beer afficianado then you will surely enjoy a visit to the Asahi Suita Brewery. The brewery actually offers free tours which include trying out a few free tipples at the end. .
Hang Out in Dotonburi
Dotonburi is a perfect place to spend an evening. In a buzz of neon, it feels like Osaka's answer to Times Square. Dotonburi is also a foodie's paradise and is the perfect place to dabble with local cuisine and street food eats like Okonmiyaki and takoyaki.
The streets are lined with restaurant after restaurant, eccentric arcades, Bunkraku puppet theatres and quirky 3D signs (like the moving crab or the running Glico man). At night time, you can see Osaka's wild side unleashed as Osakites fill the streets and head to the bars and karaoke  places. As the sun goes down, Dotonburi gets pretty crowded since this is a popular nightlife spot.
I rented an Airbnb apartment from a really lovely Japanese couple who took me for Okonomiyaki – an Osaka delicacy and Japan's answer to pizza. The name is derived from the Japanese "Okonomi" meaning "what you want" and this is definitely what you want… to be shoveling into your mouth that is.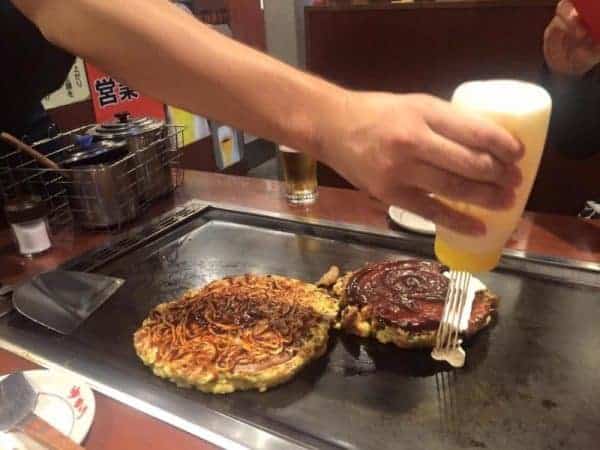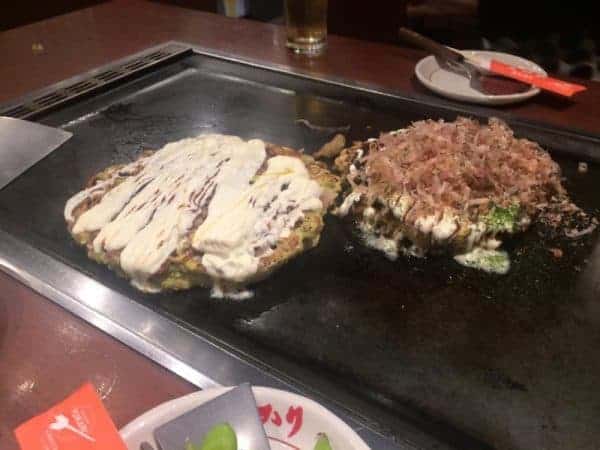 ---