Where is Crete? If you are visiting Greece for the first time, it is understandable that you may not know where all of the islands are located.
After all, Greece is home to more than 6,000 islands. Of all of these though, Crete is the largest. 
It is one of the most popular island getaway destinations in Greece and for good reason: Crete is gorgeous.
Where is Crete?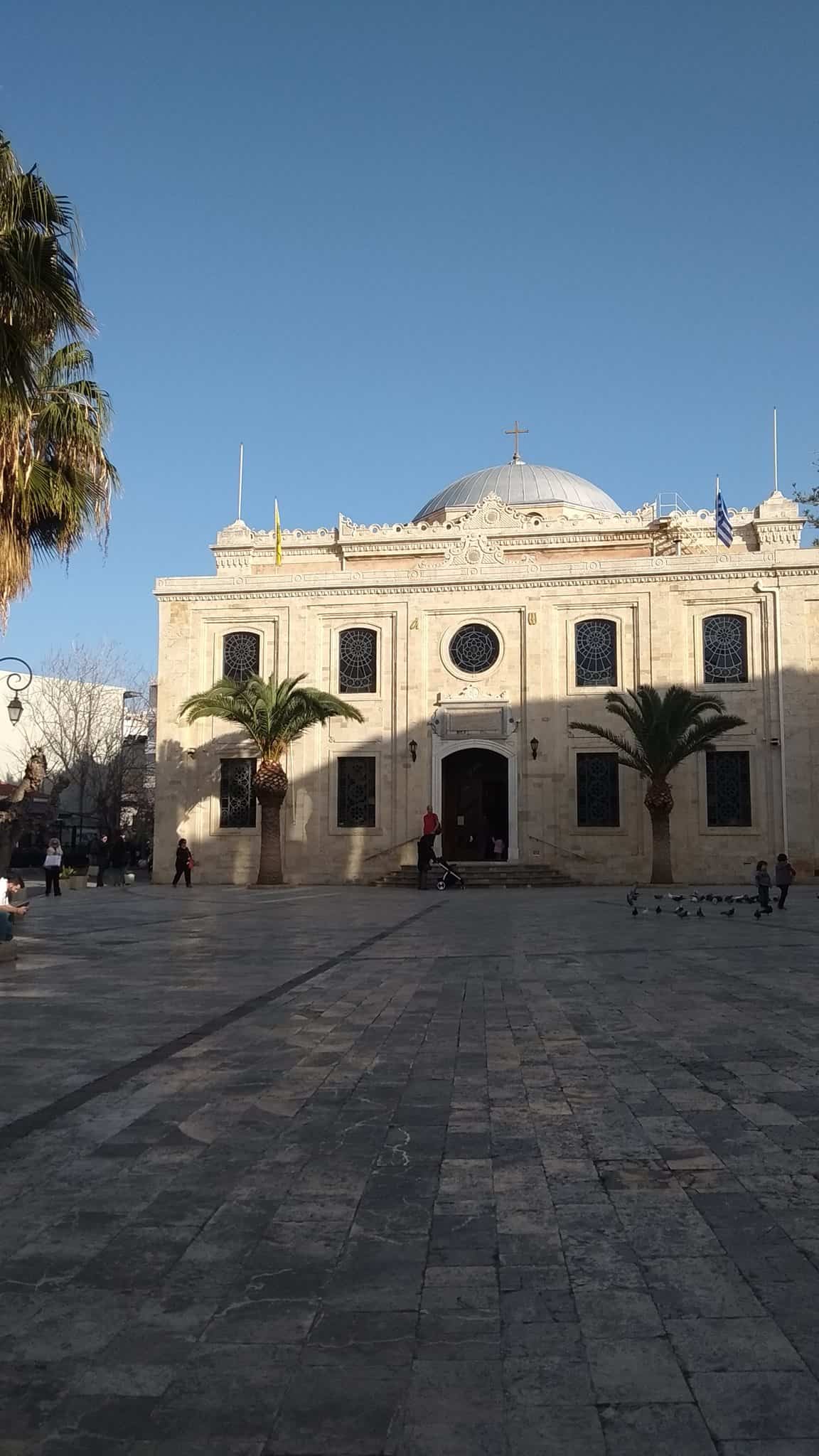 Crete is the southernmost island in Greece. It is also the largest island in the country and covers an area of 3,219 square miles. 
This makes it substantially larger than any other Greek island. Evia, for instance, is the second-largest Greek island and it has a surface area of 1,417 square miles – that is less than half the size of Crete!
Not only is Crete the largest island in Greece, but it is also one of the largest islands in the entire Mediterranean. Crete weighs in fifth place after Sicily, Sardinia, Cyprus, and Corsica.  The island of Crete is just south of the Cyclades island group and north of North Africa – specifically Libya. 
Greece as a whole sees warm, Mediterranean summers, and temperatures that often soar as high as 35-40 degrees Celsius during the summer months. Crete´s southern location means that temperatures here often remain warmer for longer.
For instance, in October when the tourism season has ended in the Sporades and the Ionian, conditions are still pleasant for visiting Crete. It is also relatively easy to get from Athens to Crete, making the island a perfect addition to a wider mainland Greece itinerary.
Visiting Crete
The island of Crete is so vast that it essentially has a culture and gastronomy all of its own. An abundance of pristine natural beaches, scenic hiking trails, and quaint villages are packed into its 3,219 square mile surface area.
Ideally, you should dedicate at least 10-14 days to exploring the island. This is particularly true if you want to explore both the east and west coasts.
However, to make the best use of your time, you should consider focusing on one side of the island or another for your first trip. This helps you minimise the amount of time spent travelling from A to B, and the hassle of managing these logistics.
A Brief History of Crete
Crete´s history has been long and tumultuous, like much of Greece. Much of the island's history is intertwined with stories of Greek mythology and magic.
Greek mythology states that Europa was the first Queen of Crete. The Minoan civilisation, one of the most important civilisations in world history, started here (2600-1150 BC).
The Minoans built grand palaces such as Zakros, Phaestos, and Knossos. The latter of course being supposedly where the Minotaur – a terrifying half-man, half-bull creature, was kept in the labyrinth.
Unfortunately, the great Minoan civilisation was largely destroyed following the eruption of Santorini's volcano in 1450 BC. The island was then invaded by various tribes and sadly, the Minoan civilisation never recovered.
Cretan Highlights
Crete offers something for every type of traveller. Whatever your specific interests, you will not be short of things to do.
Visit the Monastery of Agarathos – the oldest Monastery in Heraklion
Venturing 24 km out of Heraklion will lead you to the Monastery of Agarathos. This is the oldest Orthodox monastery in the Heraklion area and one of the oldest across Crete.
The monastery is situated close to the quaint village of Sgourokefali. Its isolated setting adds to the draw of the place.
Agarathos Monastery is surrounded by beautiful courtyards, gardens, and olive groves where the monks produce olive oil and other natural Greek agro products. These items in themselves make wonderful Greek souvenirs for loved ones back at home. 
The monastery is also fully functioning and if you are lucky, you may be able to bear witness to its resident monks or the Orthodox ceremonies that are held here. Its interiors are just as spectacular as its exterior and its walls are laden with vibrant frescoes that depict scenes from the bible.
Hike Rouvas Gorge
Samaria Gorge may get all the hype for being one of the best Cretan hiking trails in Greece. However, equally enjoyable and rewarding is the Rouvas Gorge hike.
Completing the entire route takes a total of 7 hours and starts at Lake Votomos and ends at Rouvas forest. However, it is possible to do partial routes if you prefer a shorter hike.
The route leads adventurers through a vast number of different landscapes, past freshwater lakes, picture-perfect Orthodox monasteries, and majestic waterfalls. If you have a lot to carry, it is also possible to hire porters to assist you with your luggage and supplies.
See a beach with unique rock formations
Triopetra is an off-the-beaten-track Cretan beach whose name means "three rock beach". The unique rock formations here are breathtaking and look like a giant that has balanced piles of oddly shaped rocks on top of each other! 
It's not unusual to have the beach virtually all to yourself. Triopetra is relatively off the beaten path and is located a relative distance away from the major cities in Crete.
The adorable little village of Hora Sfakion is pretty off the beaten path as is. Better still, there are plenty of fascinating walking trails in the area that lead to ruins, caves, and ancient monuments. One such trail leads to the cave of Agios Antonios, a tiny little chapel, Roman shrines, and an ancient beehive facility! 
If you have the time to explore more, there are many charming remote villages. The people are friendly and hospitable but the places can be difficult to find. If you rent a car, you can follow a route along the Anapoli Highland Plain and uncover their beauty.
Enjoy an alternative view over Samaria Gorge
The peak of Gingilos is the most popular hike in this part of Crete but there are other, equally beautiful alternatives. One is to hike from the Samaria Gorge entrance, up to the white mountains and Katsiveli.
Here you are at an altitude of 2000m and can enjoy incredible views over the gorge without the crowds. At Katsiveli there is also a camping shelter. You can stay overnight and continue onwards as you desire.
Admire the jaw-dropping natural beauty of Stornio beach
Stomio beach may just have some of the most dramatic scenery in all of Crete. The shores are not sandy but filled with large pebbles, and the coastline sits against a backdrop of dramatic snow-capped mountains. and lush green Cretan valleys. 
Very few travellers stop here. There is also an adorable tiny little church that sits here, practically in the middle of nowhere! Stomio beach is en route to the popular "pink beach" so it is worth a stop en route.
Marvel at the blood red sands of Matala beach
Matala centre is filled with busy tourist resorts and crowded beaches. Little do most tourists know that "hidden" deserted beaches await just 20 minutes away.
Matala's red beach is one example of a Cretan wonder that the locals keep to themselves. Some hiking along unmarked trails and steep uphill climbs are involved in getting to the Red beach.
On arrival though, you are rewarded with a tiny 300m beach that is usually practically deserted. Its clear waters and scenic cove are perfect for a day of relaxation.
Learn a macabre lesson in Cretan history
Melidoni Cave is often overlooked but has played a significant role in Greek history. The cave is named after Antonios Melidonis – one of the leaders in the Greek rebellion against the Turks in the 18th century.
The cave dates back to the Neolithic period, and you can see caveman tools and paintings on display inside. Most tragically, the cave was the location of an 18th-century siege where hundreds of local residents were trapped inside by the Turks and set on fire. 
Their bones are on display here also and the church at the cave entrance honors the victims. The events here are macabre but considered some of the most important in Cretan history. Melidoni Cave is often overlooked in favor of the tourist-filled Cave of Zeus.
---