Taking a DMZ tour in South Korea can be a highlight of any trip to the country. It can also provide valuable insight into the nation's history, and the tumultuous relationship between North and South Korea today.
Believe it or not, the demilitarized zone (DMZ) is not only one of the most fortified borders in the world. But it is also South Korea's number one tourist attraction!
Hundreds of people participate in a DMZ tour every day with hopes of getting a glimpse into the hermit nation of North Korea.
Taking a DMZ Tour South Korea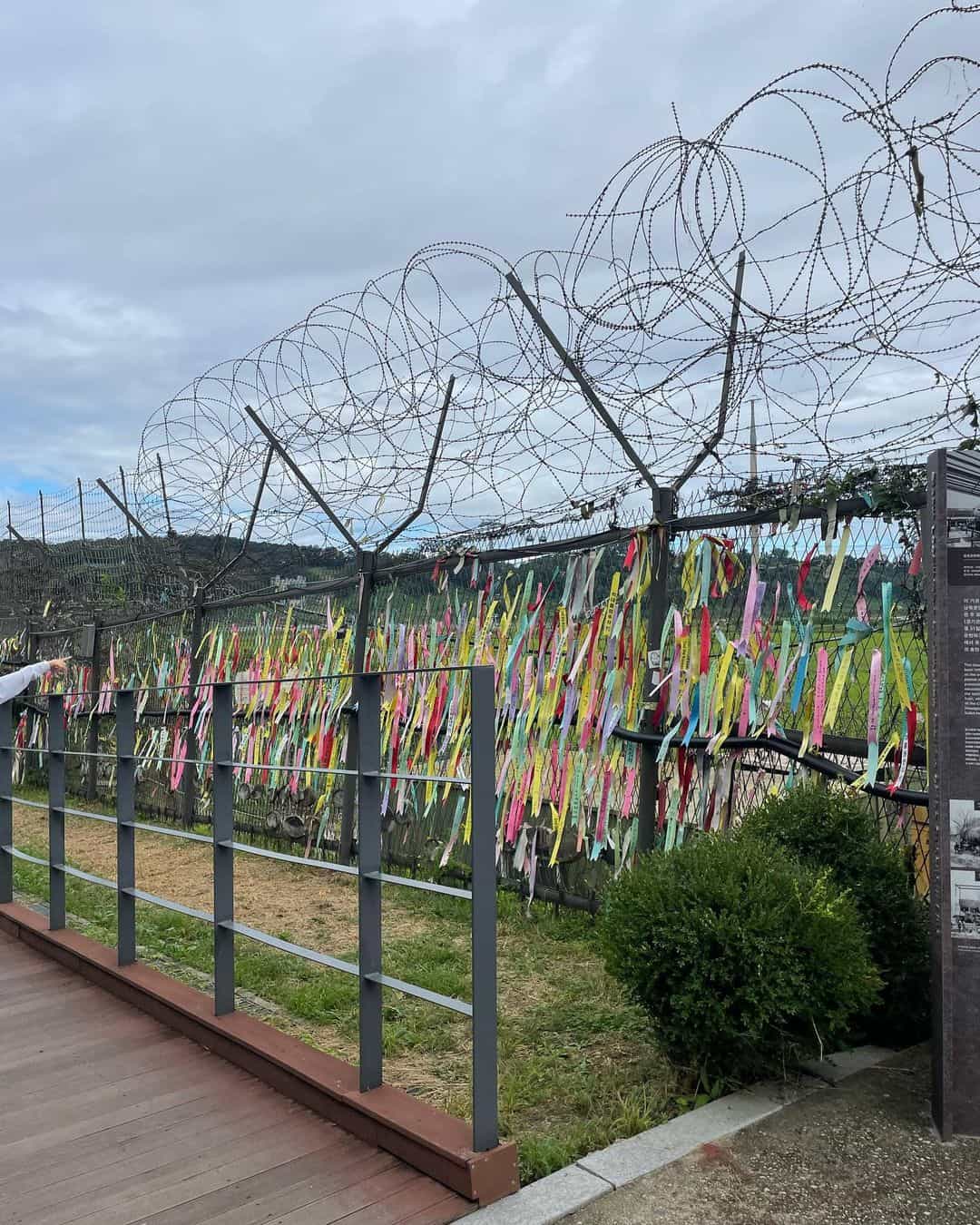 The South Korean DMZ extends across a length of around 150 miles (240 km). It acts as a buffer zone between North and South Korea in order to keep the peace between the two nations.
It is generally perfectly safe to visit, although you cannot travel to the border independently. You need to be accompanied by South Korean and American military personnel and you will need to sign a waiver before visiting.
Various reputable tour companies offer DMZ tours from Seoul. This guide has been written by someone who lived and worked as an English Teacher in Seoul.
It provides some background information on the Korean DMZ and the JSA, as well as some practical information on how to prepare for a Seoul DMZ tour, and what notable sights you can see there. 
How the Korean DMZ Came to Be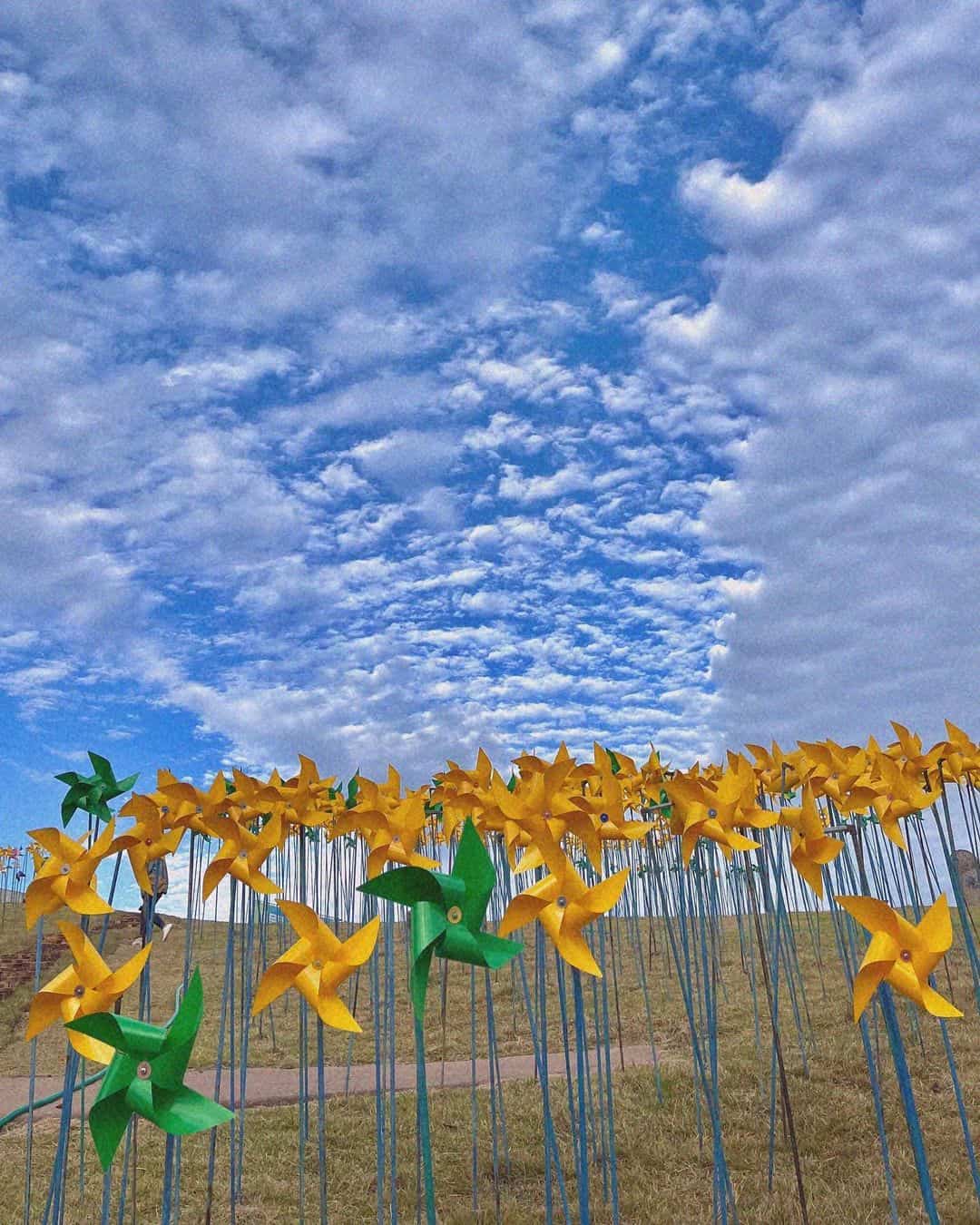 Once upon a time, Korea was one unified country. There was no separated North Korea and South Korea.
For several years throughout the 1940s, there was a lot of tension between various political parties in Korea. Many people blame the Japanese occupation for this.
Korea was part of the Empire of Japan between 1910 and 1945. The Japanese worked to erase Korean culture, language, and history from the nation. 
Schools and universities forbade people from speaking Korean and the Japanese burned and destroyed more than 200,000 Korean historical documents. As World War II approached, many Korean men were sent to other nations that were controlled by Japan in order to work for the Japanese Empire.
Many Korean women were sent to work as comfort women in military brothels. Years of tension saw several political parties with conflicting views pop up around Korea.
The various parties struggled for power, which resulted in the start of the Korean war in 1950. The Northern Korean People's Army invaded South Korea in 1950, hoping to control the entirety of the nation and impart their Communist views on the South.
After years of war, an armistice treaty was signed on July 27, 1953. It was signed in the negotiations room of what is now the Joint Security Area.
The document is stored in the on-site museum.
How to prepare for your DMZ Tour in South Korea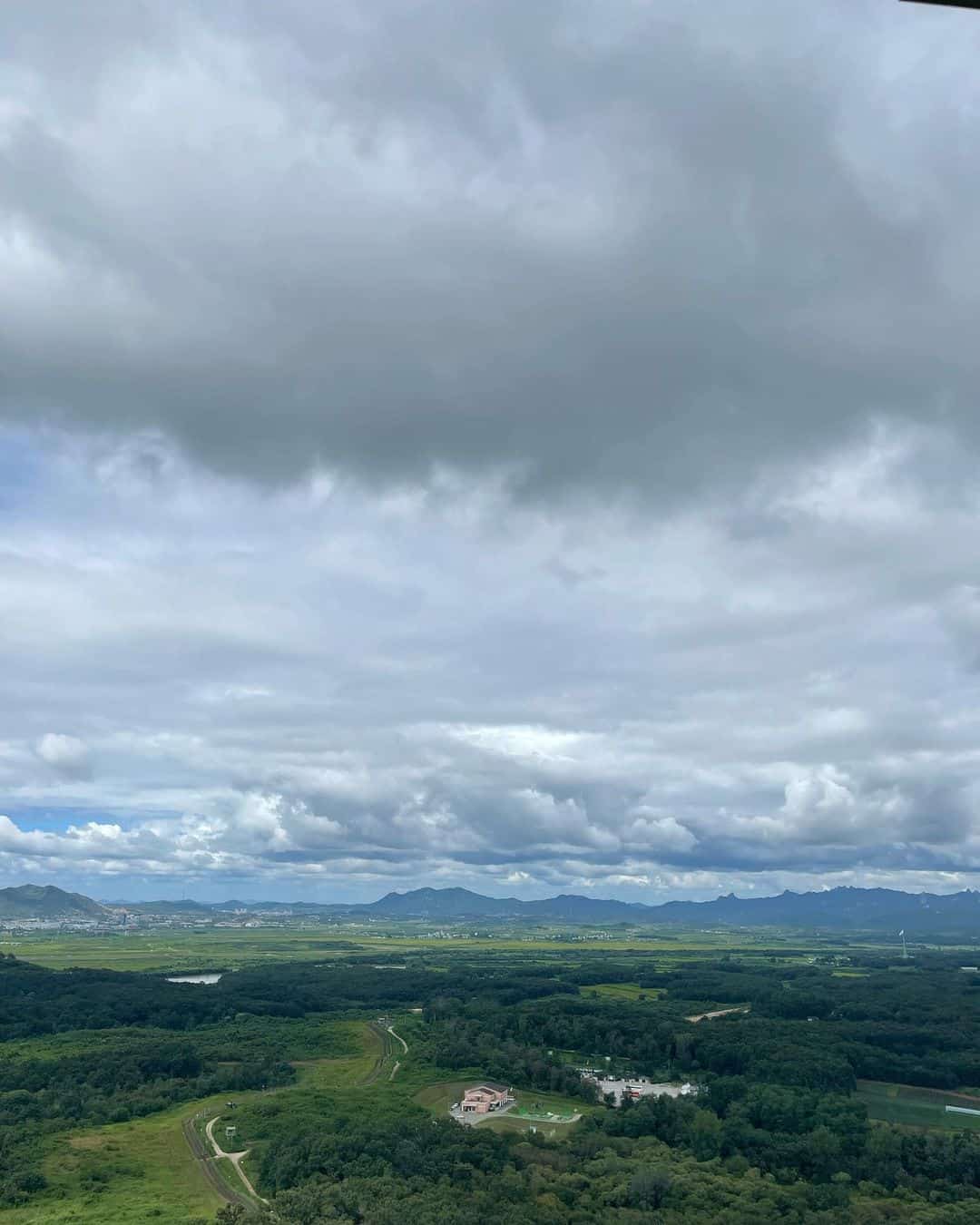 If you have decided that you want to do a DMZ tour in South Korea (and you should, it's fascinating!), you need to reserve your place on a tour. It is not possible to do it independently.
You should reserve your spot at least two weeks before your intended tour date. This is to both avoid disappointment and so that the tour company, in conjunction with the military can organise everything necessary for your trip. 
It is worth noting that there have been occasions where the tours had to be canceled at the last minute. This is not usual. 
However, if you are travelling during a period where things are particularly tense between North and South Korea or there is some sort of political argument/conflict going on, it is more likely. 
Reserve your place on a Seoul DMZ tour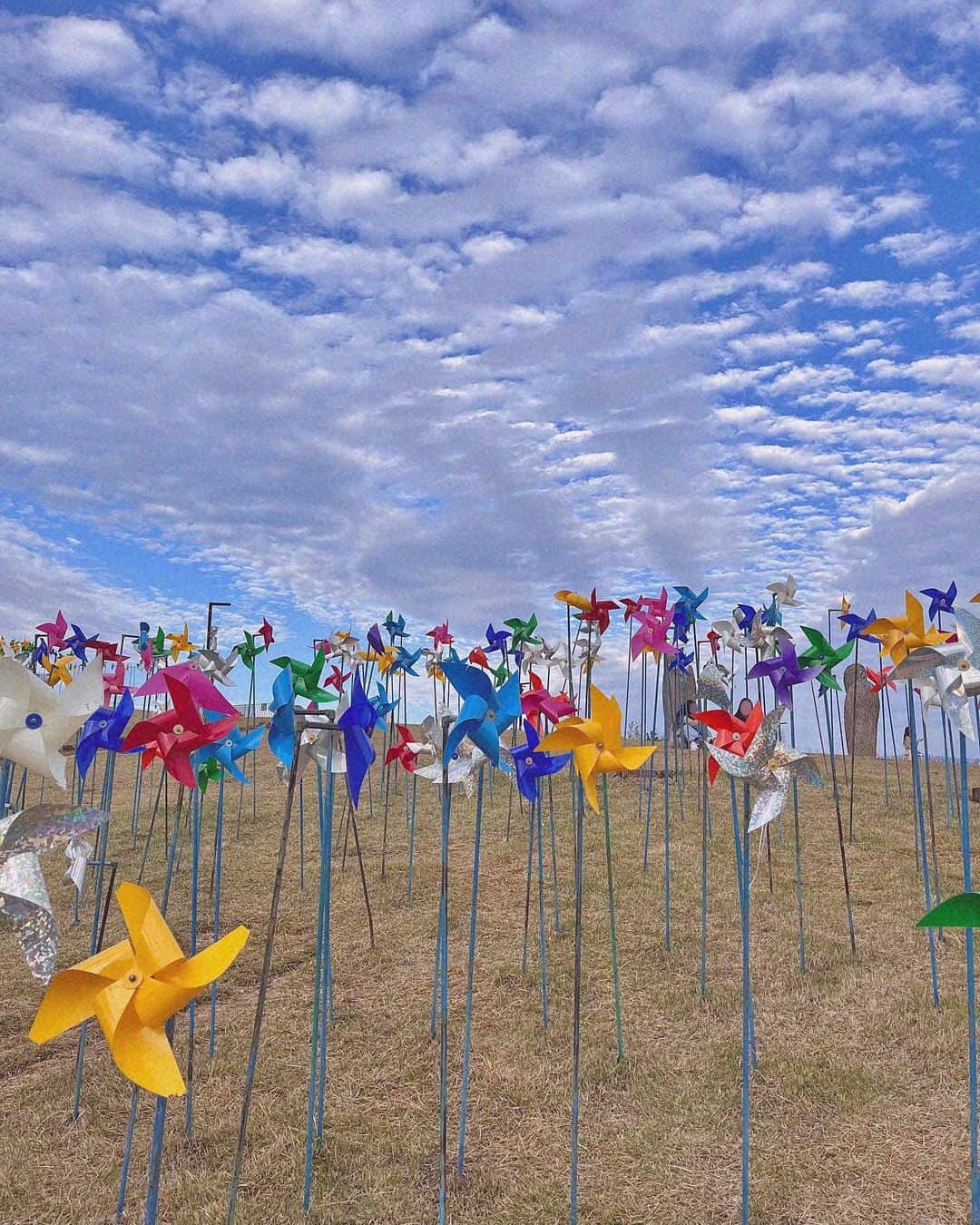 A selection of reputable Seoul DMZ tours is detailed below for your consideration. Do note that each tour offers different itineraries and both half and full-day tours are available. 
It can be overwhelming to know which option to book. But for the best experience, do ensure that your tour includes a visit to the Joint Security Area (JSA). 
Most Seoul DMZ tours will offer a pickup and drop-off from your hotels. Others may require you to get to a central meeting point.
Recommended Seoul DMZ tours
Dress appropriately
There is no strict dress code for doing a Seoul DMZ tour per se. However, you should err on the side of casual yet conservative attire when it comes to choosing what to wear for the day.
North Koreans are often recording and photographing DMZ visitors. Those that are inappropriately dressed may find themselves the subject of anti-western propaganda!
You must carry your ID
You must carry your photo ID (passport) to be able to join a DMZ tour. On your way to the border, you will pass through several checkpoints.
If you do not have your ID with you, you will be denied a place on the tour.
Do some background research
It is a good idea to read up on the situation between the two Koreas, pick up some facts about North Korea, etc prior to your trip. This will give you a stronger appreciation for what you are seeing during your visit.
Interesting Spots on the DMZ Tour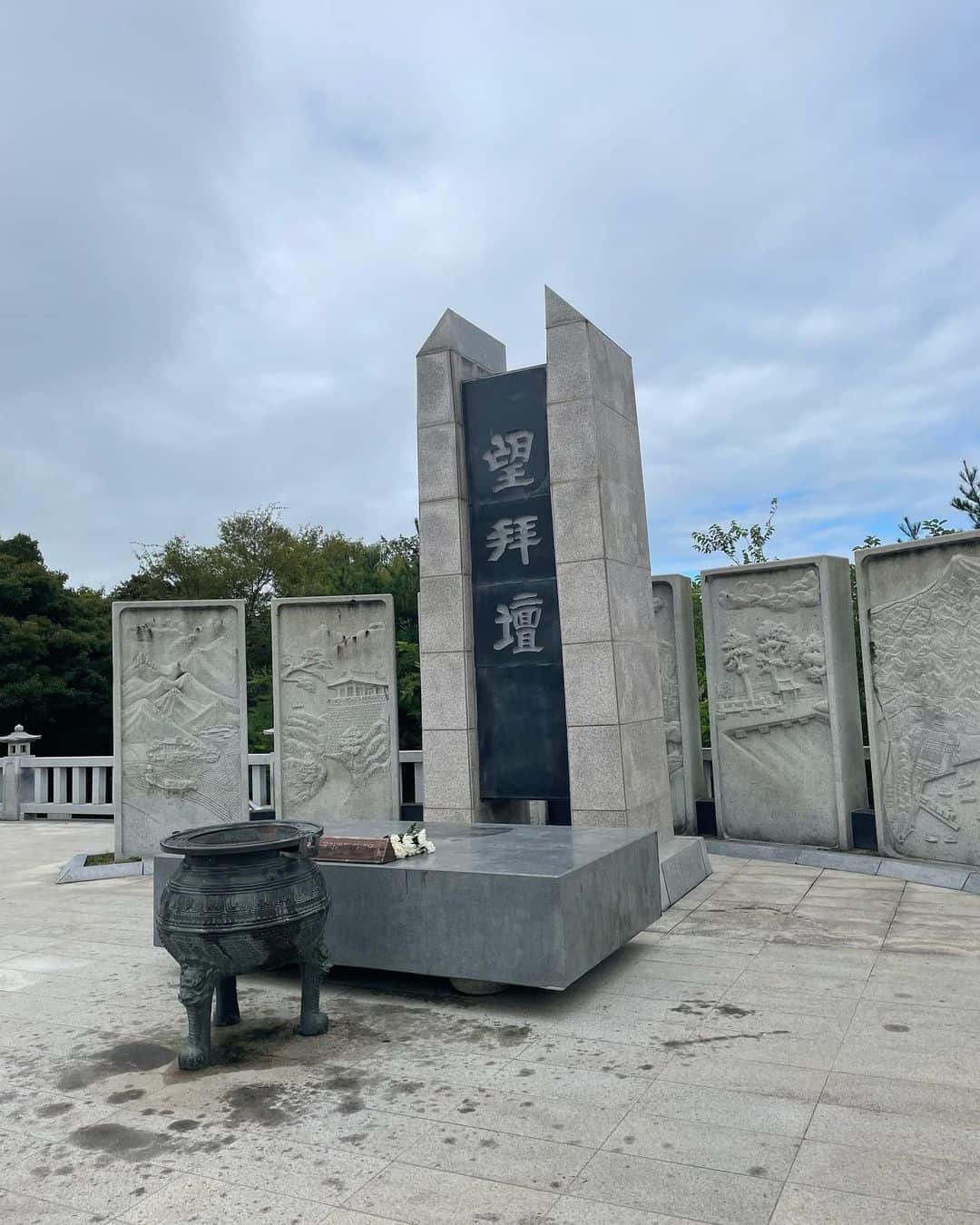 There are several interesting stopping points that you will visit on a Seoul DMZ tour. Some of the most notable locations are discussed below.
The Joint Security Area


The History Museum


Kaesong Industrial Complex


Imjingak


Dorasan Rail Station


Mount Dora Observatory


The Infiltration Tunnels


Checkpoint Three – Axe Murder Site
Approaching the DMZ
The roads that lead up to the DMZ are pretty interesting in themselves. There is plenty to see out the window of the bus as you are on the approach to the border.
Camouflaged military outposts are stationed every few hundred yards along the Korean freeway. Barbed wire fences follow the length of the road.
They cordon off large bodies of water to prevent access to Seoul by North Korean spies. (People have apparently tried to swim through them before and make their way to Seoul!)
The landscape and the mood change dramatically as you drive along the road to Paju, the Northernmost point of South Korea. Everything feels very different, even just 10 minutes north of Seoul.
You will pass through several military checkpoints on your approach to the DMZ. This is the most heavily fortified border in the World.
Camp Bonifas
Camp Bonifas is the name of the American military base that sits on the Korean border. It carries the slogan "in front of them all".
This is a reference to their location right in front of the "enemy" and on the front line should the situation between the two Koreas worsen. Several hundred US military personnel are based here today.
You will be shown a small presentation about the history of the relationship between the two Koreas and then asked to sign a waiver.
There is a small museum on-site that contains some interesting artifacts (including North Korean propaganda), and important historical weapons and documents. It also tells the stories of some horrific events and clashes that have taken place at the border over the decades.
The Joint Security Area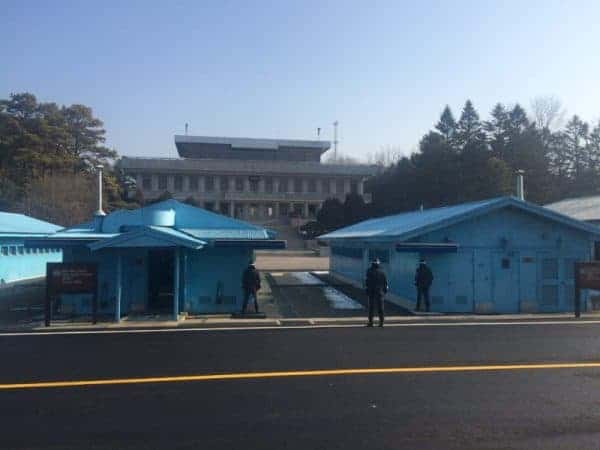 The Joint Security Area (JSA) is the infamous, frequently-photographed part of the DMZ where North and South Korean guards stand facing each other. You will be escorted here by American and Korean military personnel.
This is a neutral zone within the DMZ used for diplomatic engagements. There are several light blue buildings used for negotiations, backed by Panmon Hall, a grey, imposing North Korean administrative building.
You will be given specific instructions to ignore any provocation by the North Koreans. From Panmon Hall, you will note recording devices that are filming the South Korean side of the border, and people occasionally twitching window blinds and looking out from beside them.
Some of the North Korean soldiers peer inquisitively with binoculars. There are said to be approximately 40+ armed soldiers inside Panmon at any given time.
In a few rare, isolated instances, there have been shootouts here when people have tried to run across the border from the Northern side.
JSA Negotiation rooms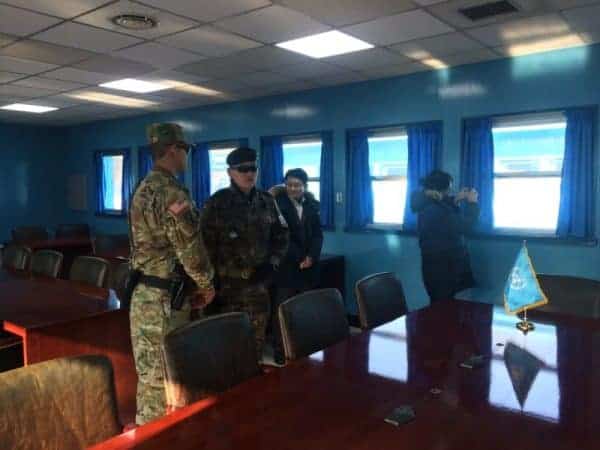 You are permitted to enter the light blue negotiation rooms in the center of the JSA courtyard. Here, half of the room sits in South Korea and half of the room falls in North Korea.
(So if you head over to the far side of the room, you can technically tell people that you have been to North Korea!)
Two intimidating South Korean guards block the doorway to North Korea. You know, just in case you are crazy enough to try and cross the border.
The Freedom Building
You will enter and exit the Joint Security Area through the Freedom Building. This is a large glass structure built on the southern side of the border.
It was built with the purpose of reuniting families that have been separated following the division of the two Koreas. Sadly, the building has never been used for its intended purpose.
North Korea refuses to release citizens to the South. So, for years the freedom building has simply acted as an elaborate structure through which you can access the JSA.
Kaesong Industrial Complex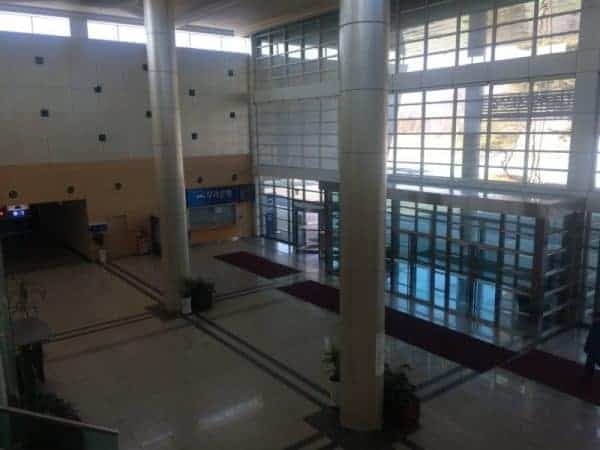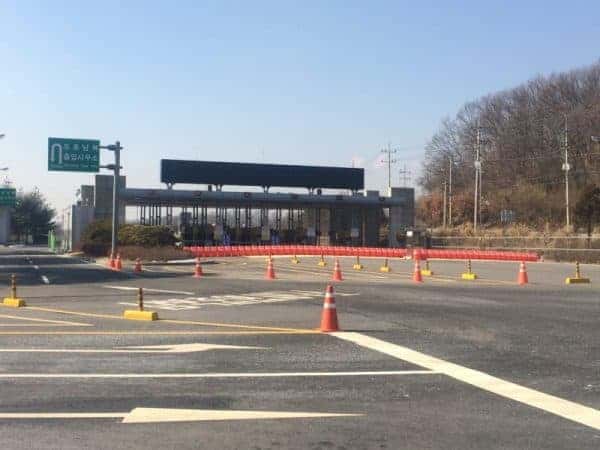 The Joint Security Area is not the only access point to North Korea. There is also a place called the Kaesong Industrial Complex that connects South Korea with North Korea via a now-closed road.
Hyundai and the South Korean government developed this industrial estate north of the border in an attempt to reconcile with North Korea. They employed over 53,000 North Koreans in manufacturing roles.
In doing so, they injected some much-needed cash into the Northern economy. (Despite their constant bravado and threats of nuclear weaponry, North Korea is an extremely poor country, often relying on handouts from South Korea and China)
South Korea ended this relationship in 2016 when Kim Jong Un started conducting missile tests. North Korea declared this end to business as a "declaration of war".
Then, they refused to return assets and machinery back to the South. Now, you can walk around the eerie modern, abandoned facility.
The roads connecting North and South are now barricaded. You can hear North Korean tannoys blasting propaganda messages into the South.
The eerie messages encourage South Koreans to cross the border into the north. They offer them "paradise under our great leader" and tell them not to be puppets of Imperialist pigs (Americans).
Imjingak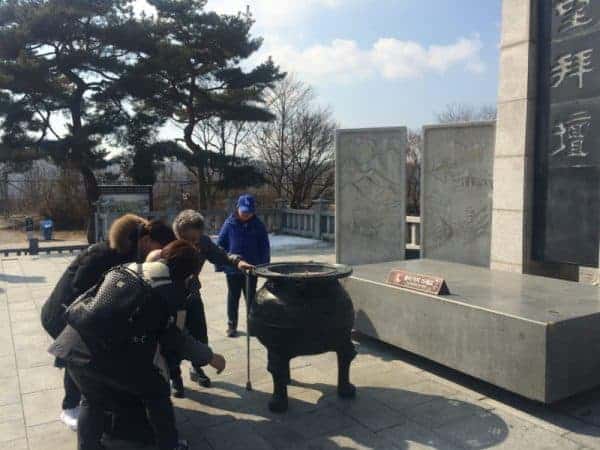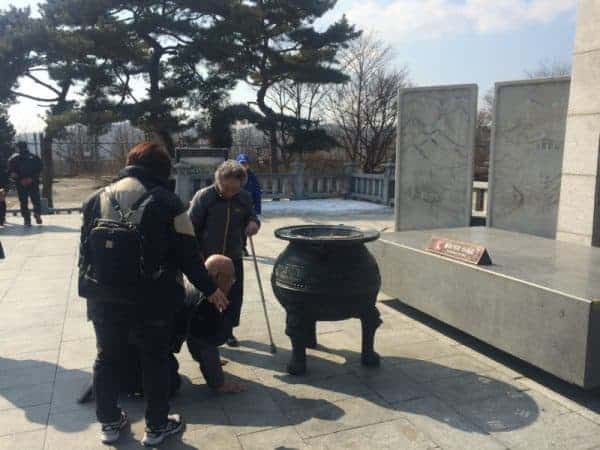 Imjingak has a peculiarly upbeat vibe for a village located right on the Korean border. There is even a theme park here with attractions like the waltzers, and a pirate ship ride.
It's a popular family day out and picnic spot, particularly for North Korean defectors. This is the furthest point north that South Koreans can go freely.
There are also a handful of shrines at the Imjingak border village. Here, you will see elderly Koreans bow and pray in honour of loved ones on the opposite side of the border.
There is a small observatory at Imjingak. However, the views are much better at Dorasan. (From Dorasan, you can peer into North Korea through binoculars!)
The Freedom Bridge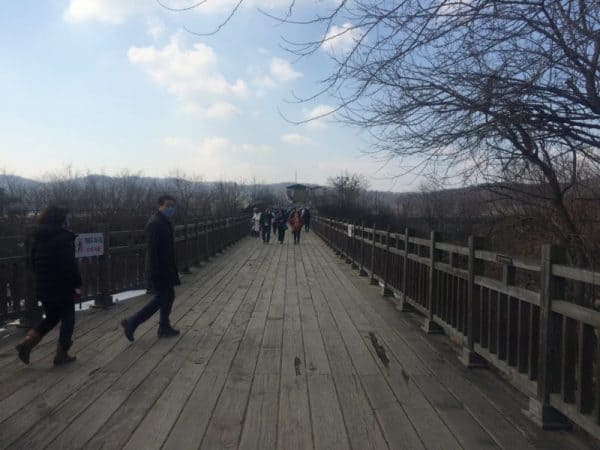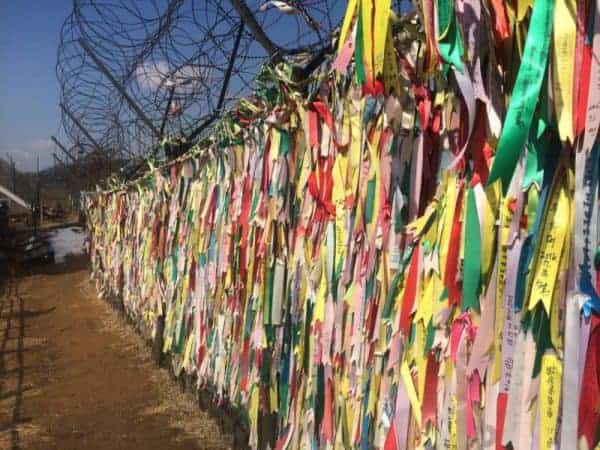 A small wooden bridge takes you across a narrow body of water from Imjingak. This is known as the "Freedom Bridge".
It was used to transport POWs back from North Korea after the water. Today, Koreans come here to write wishes and fix colorful ribbons on the bridge.
Their handwritten notes pray for a reunification of the two Koreas. Some of the messages are heartbreaking.
A consistent theme that you will note throughout your DMZ tour is the hopefulness of the South Korean people that the two Koreas will one day be united. As you browse the DMZ area and the museums here, you will see that South Koreans have made constant efforts to reach out, but have consistently been batted away.
Dorasan Rail Station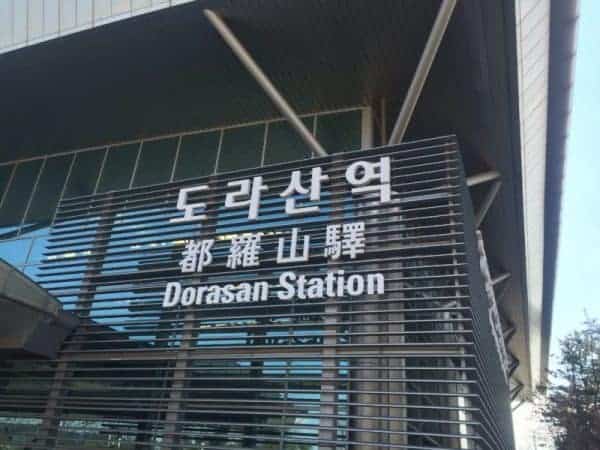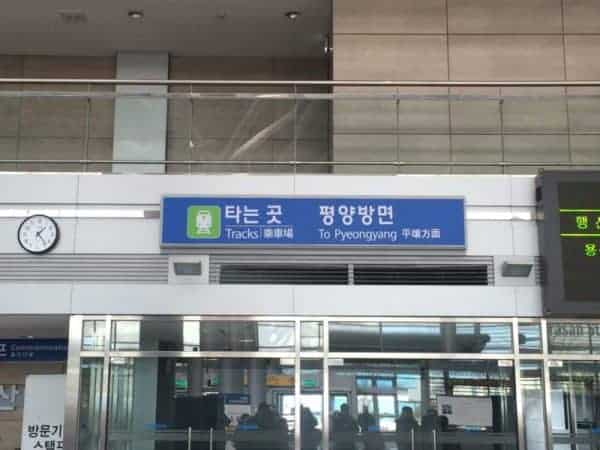 Dorasan station highlights another failed attempt by South Korea to reach out and reconnect with the North. The station was built, and tracks laid down in an attempt to reunify the two countries.
Trains were going to run from here to Pyeongyang. Indeed, for a short while, freight trains traveled from South Korea to the joint venture that was Kaesong Industrial Region in the North.
However, these routes were severed by North Korea following a fallout over their nuclear research. Now the station is mostly abandoned.
It accommodates just a few trains that arrive each day from Seoul carrying tourists. There are a few signs here that read "Pyeongyang". But these have mostly been left for tourist purposes so that people can take photos.
Outside of the station, there is a marble wall with a list of names on it. These are all the South Korean companies and individuals who contributed to building Dorasan.
Mount Dora Observatory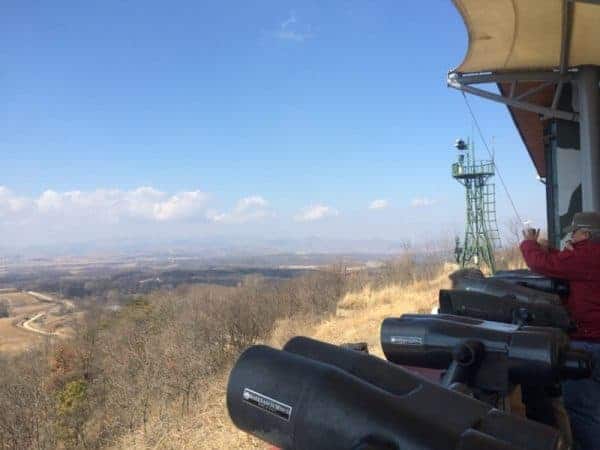 A short uphill drive from Dorasan station brings you to Mount Dora and its observatory. You will see row after row of binoculars here.
You can approach the binoculars and get a good glimpse into North Korea. North Korea may be blasting propaganda over the border but South Korea blast out K-Pop.
The music is so loud that the observatory tremors at the bass. Peering through the binoculars, to your right, you can see North Korea's "Peace Village".
This looks like a really beautiful, brightly colored village. But it's actually fake and uninhabited.
It has been designed to lure South Korean defectors across the border. Immediately ahead is Kaesong city.
The Third Infiltration Tunnel
The third infiltration tunnel was the third of four tunnels discovered by South Korea in the seventies and eighties. The tunnels were created by the North for a surprise attack on Seoul.
If their plan had worked, 30,000 armed North Korean soldiers would have been able to reach Seoul in just one hour. Fortunately, a North Korean defector was a Civil Engineer for the project.
When he arrived in Seoul, he told the South Koreans the exact location of the tunnels. North Korea has denied having any knowledge about the tunnels and has said that they did not create them nor do they know who did.
When the tunnels were found, coal had been smeared on the walls and scattered around in a weak attempt to disguise the tunnels as disused coal mines. Unfortunately, you cannot take your cameras inside the tunnel and you need to leave everything inside a locker before entering.
The tunnel is perhaps not for the claustrophobic. (You need to crouch most of the way.)
A thin wooden board with window holes in it marks the furthest point that you can go. Glimmering sunlight from North Korea on the other side indicates when it is time to turn back.
FAQs about taking a DMZ tour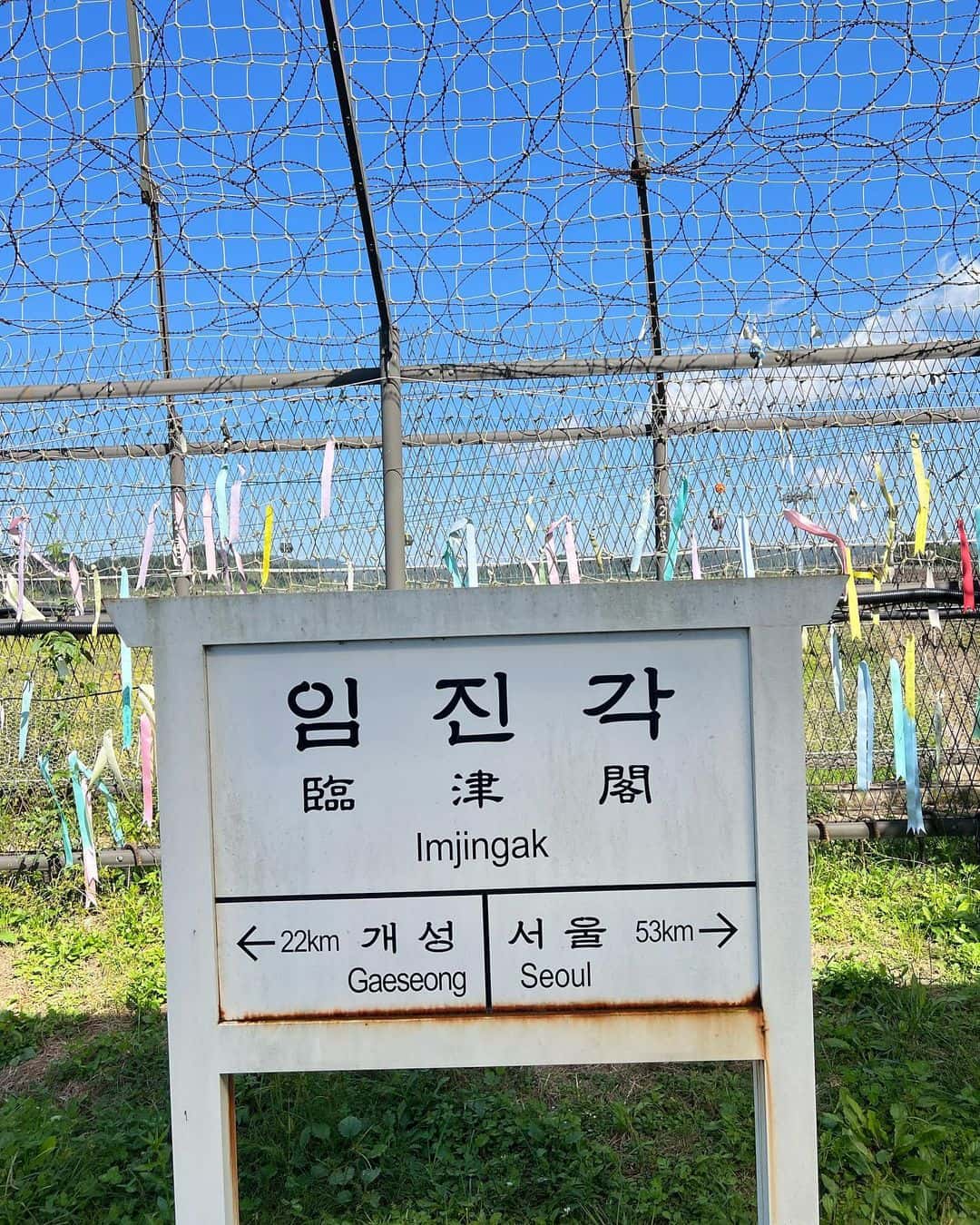 Do you have any further questions or concerns about taking a DMZ tour or which DMZ tour to take during your South Korea itinerary? The answers to some frequently asked questions on the topic are detailed below.
Hopefully, you will find the information you are looking for there. If not, don't hesitate to reach out!
Is it worth visiting the DMZ Korea?
It is well worth visiting the DMZ in Korea. Opting to do so can help you gain a deeper understanding of the history and political relationship between the two Koreas.
Can I visit the DMZ without a tour?
No. You are legally required to participate in a guided tour to be able to travel to the Korean DMZ.
This is because, although the area is safe, it is still a militarised border between two countries that don't have the most amicable relations with each other. You cannot just wander wherever you like in the border zone.
You need to be accompanied by military personnel and you need to sign a safety form/waiver in order to participate.
How much does it cost to visit the DMZ?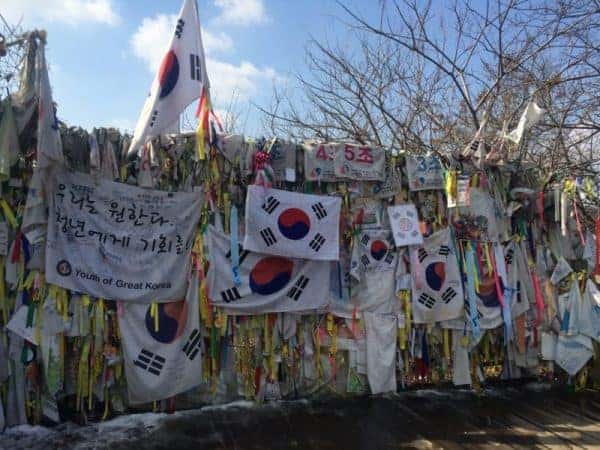 You should expect to pay at least $100 USD per person to participate in a DMZ tour in South Korea. The exact price varies from tour company to tour company and depends on how long you spend in the area. 
For instance, a half-day tour may cost $100 whereas a full-day tour may cost around $120-$140. However if you are interested in elusive North Korea, and the relationship between the two countries, it is definitely worth paying extra to participate in the longer day tours. 
You will get to see more sights – such as the tunnels that North Korea made to try and infiltrate the south, and the Dora observatory. 
What can you do at the DMZ in Korea?
There are a lot of interesting places to visit on a Seoul DMZ tour. You can visit Imjingak – a small border village filled with shrines, stores, cafes, and even an amusement park!
The JSA (Joint Security Area) is perhaps the most well-known and iconic site in the area. It is the militarised zone with blue buildings where North and South Korean border guards stand facing each other in eerie silence. 
Other notable sites worth visiting are the Dora observatory, the freedom bridge, and the infiltration tunnels. 
Can you wear shorts to the DMZ?
No. You cannot wear shorts, short skirts, or any revealing/unkempt attire when visiting the DMZ.

When you book a DMZ tour, your tour operator will likely send you an email with additional information. Among this, will be details on what you should wear. 
There is no specific dress code per se. But you should at least dress smart casual. 
So, trousers and t-shirts are fine. So too are smart dresses with stockings and a coat during winter in Korea. 
It is a widely known fact that North Koreans often take photographs of tourists at the South Korean border and anyone that looks unkempt (e.g. they have ripped jeans, stained clothes, etc) may be used in propaganda. This is to perpetuate the idea that life is worse south of the border. 
Can you take pictures at the DMZ?
Yes. Tourists are encouraged and able to take photos at the DMZ.
It is not a problem to take photos of the North Korean side of the border from the Korean side, including taking photos at the JSA. However, you cannot take photos of the South Korean military buildings at the JSA.
Can South Koreans go to the DMZ?
No. For security reasons, South Koreans are not permitted to the DMZ. Only international tourists can visit on a tour.
How far is Seoul from the DMZ?
The DMZ is about 30 miles/48km north of Seoul. It takes approximately an hour and 15 minutes to reach the DMZ by road, traffic dependent.
Can I visit DMZ South Korea by myself?
No. You must visit the DMZ on a tour. 
If you try to travel to the site independently, you will be turned back at the various military checkpoints.
Is there a town in the DMZ?
People live in Taesung Freedom Village in the DMZ. There are also several other small towns and villages nearby. (Although not within the zone).
How many US troops are in the Korean DMZ?
Approximately 28,500 US soldiers are based in South Korea as a whole. Several hundred of these are based at Camp Bonifas – the US military base right beside the North-South Korean border.
Is the DMZ in Korea considered a combat zone?
The DMZ is basically a buffer zone between the two Koreas that is designed to keep the peace. Despite being called a "demilitarised zone", military personnel do perform patrols here.
There have been a few incidents over the years where North Korean defectors have run across the border, or where there have been clashes. These are the exception, not the rule, and visiting here is safe most of the time. 
Final thoughts on doing a DMZ tour in South Korea
Are you interested in visiting the DMZ? Have you been?
If you are travelling to South Korea for the first time, you might also enjoy browsing through these South Korea travel tips. I spent a year living in Seoul and teaching English in South Korea.
---