If you're looking for an alternative city break, or you're passing through Ukraine as part of a wider Eastern European trip, then Kiev is a great place to spend a few days and there are certainly plenty of things to do in Kiev to keep you occupied.
As a Digital Nomad, I based myself in Kiev for 10 days because I needed to get my head down and do a little work, but you can see most of what the city has to offer in a day or two.
Morbidly, the main reason that I was travelling in Ukraine was to visit Chernobyl. However, I soon realized that I shouldn't have been so quick to overlook the appeal of the Ukrainian capital.
Kiev is all kinds of beautiful! This is one of the best places to visit in Ukraine and makes an excellent starting point for a wider itinerary around the country. 
Things to Do in Kiev:
24 Hour Kiev Itinerary
9 am – Admire the Beautiful Churches of Kiev
Enjoy a Leisurely breakfast at your hotel and then head over to Saint Sophia's Cathedral before the tourist hordes arrive in their masses. Named after the Hagia Sofia in Istanbul, Saint Sophia's Cathedral is the oldest church in Kiev.
Though the grounds and exteriors of this cnurch are beautiful, perhaps the most impressive aspect of this site is the colourful, intricate frescoes and mosaics inside which date back all the way to the 10th century so be sure to purchase the ticket which allows you to tour the inside of the church and not only the exterior.
From Saint Sophia's, walk along the Proyizd Volodymyrsky to St Michael's gold-domed Monastery whose blue washed walls and golden domes are unmistakable as they glisten under the midday sun. The monastery has become something of a symbol of a Kiev. Unfortunately the 16th century original was demolished by the Soviets in the 1930s and so what stands today was rebuilt in 2001 yet it is still beautiful and impressive.
11 am: Explore Podil
From St Michael's Monastery, turn left to take the funicular that runs down the steep hill towards Podil. The funicular gives great views that look out over the river and given the almost vertical descent, feels like the most fun method of public transport that you have ever taken!
Podil is one of the oldest districts in Kiev, originating as the city's commercial district and home to the merchant and craftsmen population. Today Podil is essentially the cultural centre of Kiev home to hipster bars, Boho chic cafes and plenty of outdoor markets.
Upon arrival in Podil, browse around the various outdoor arts and craft markets. The area is huge and is divided into different sections – from a street food market where you can try local delicacies such as the Kiev perepіchka (a deep fried and battered hot dog) to a flower market, an independent clothing market, and a handicrafts market. In the warmer months, live musicians and street performers entertain crowds in the area.
12 pm: Grab Lunch and Explore Zhytniy Market
These more touristic markets are fun to explore, but if you are interested in a more authentic Ukrainian experience and an insight into how the locals live head over to Zhytniy market. Ukrainians mostly buy their food at rynoks or markets like these. It seems like everything from the Eastern European/Central Asian peninsula is on sale here – from goods that you would expect to see like fresh fruits and vegetables, to dried snacks from Uzbekistan, Georgian khachapuri cheese bread, and Azerbaijani tea.
1 pm: Visit the Chernobyl Museum
The Chernobyl Museum is just a short walk from Podil district and is unmistakable with its huge Soviet tanks out front. With just three rooms, the museum is relatively small but it is worthwhile to visit in order to gain an insight into one of the biggest disasters in history – particularly if you will not be taking a Chernobyl tour. Be sure to ask for the audio headset though, since all of the exhibitions and signs are in Russian and Ukrainian only, with nothing displayed in English.
2 pm: Explore Kyevo-Pecherska Lavra
Located atop of the rolling green hills close to the Dnipro River in Lavra awaits the Kyevo – Pecherska Lavra – an important pilgrimage site for followers of the Orthodox faith. Hop on a metro to Arsenalna station and enjoy the short walk along the tree lined promenade to reach the cathedral. The labyrinth style narrow passageways located underneath the site were where dozens of reclusive monks once studied, prayed and lived. In their death, the same passageways became their resting place and today they have been transformed into catacombs which can be explored on a tour. Their bodies have been naturally preserved and mummified by the cool, dry conditions of the cave.
The Kyevo Pecherska Lavra complex is pretty large and you can spend a few hours exploring the various churches, catacombs and annexes here
4 pm Get All Up in the Motherland Monument
The Motherland Monument of Kiev or the Rodina Mat statue is a huge 340-foot statue built to honor the heroes of the Soviet Union. It can be seen from almost all parts of the city and is larger than the statue of liberty. At one point it was actually the largest statue in the world! Ukrainians are divided over this statue with many believing that it should be torn down as it symbolizes communism and the Soviet rule of Ukraine.
One undeniable factor of visiting the motherland monument though is that it offers some of the best views of Kiev since you can literally get up inside her head and see through her eyes for 200 UAH (approximately £5). Surrounding the statue is the Ukrainian World War II Museum which is worth a visit if you are interested.
8 pm Enjoy Kiev's Eccentric Nightlife
After you've rested up at your hotel, eaten, changed and so on, venture out again to experience Ukraine's unique nightlife. The bars and clubs in Ukraine are perhaps some of the best in Eastern  Europe.
For a taste of weirdness, check out Palata No.6 – A bar that was created based on a book about a mental institution. Drinking here will certainly make you feel like you've checked into an asylum. The staff are in scrubs and straight jackets, you drink out of test tubes and if you order a shot, you will be told to wear a questionable helmet, which is then set alight. All in all, a pretty safe and fairly standard Saturday night…
Other Things to Do in Kiev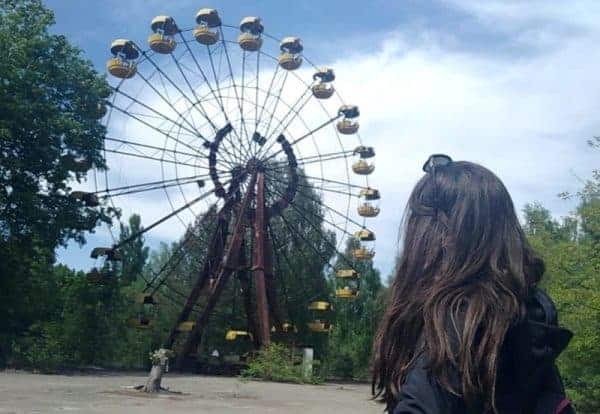 This itinerary summarises the very best things to do in Kiev in a short space of time. However there are additional Kiev tourist attractions to consider if your schedule permits. If you prefer to take a more relaxed pace, your Kiev itinerary can also be split over two days.
Take a Chernobyl Tour
Visiting Chernobyl was certainly one of the highlights of my time in Ukraine and I definitely recommend it! Not only does the tour act as a history lesson, it also gives you a glimpse into a post-apocalyptic world. The eerie atmosphere in abandoned Chernobyl is how the earth would look if humans ceased to exist. Since the residents of Pripyat and other areas around the Chernobyl zone upped and left so suddenly, you will find apartments with dinner tables set ready, toys waiting to be played with, and faces from family portraits staring out from the walls.
Pay Your Respects at St Cyril's Monastery
There are plenty of lesser known yet equally stunning churches scattered all across Kiev. Since I had more time in Kiev, I spent an entire day visiting them all. The green-roofed St Cyril's Monastery is away from the tourist trail and dates back to the 12th century.
Get Weird at the Death Mask Exhibition
Ok, this seems a little morbid but if you are as fascinated by unusual and unique things to do as I am then you may find yourself intrigued by the Death Mask Collection at One Street Museum. The exhibit boasts the largest collection of death masks in Ukraine and contains the original, authentic masks of famous figures including Isaac Newton!
Visit the Independence Square
The independence square plays an important role in Ukrainian history and is worth a visit to gain an understanding of the country's ongoing political battles and conflict. There's not really a huge amount to see, but you will likely pass by the area while in town and it's worth stopping by for a few minutes.
The independence square has been transformed into something of a memorial site for those who lost their lives in the 2014 Euromaidan Revolution. A free (tip based) walking tour of Kiev departs every day from the water fountain and can give you a deeper understanding of the uprising and the history of the area.
Take a Load Off at One of Kiev's Parks
Kiev may be the land of beautiful churches but it is also a land of beautiful greenery. Parks here are plentiful and there are many places in the city to enjoy sitting beneath the sun with a good book and a picnic. Arguably two of the nicest parks are Mariyinsky and Khreshchatyj whose riverside locations boast incredibly scenic views.

Check out Sculpture's Alley
If you love arts, crafts, and all things quirky then you will love treading the length of sculpture's alley. The alley was built by architect Avraam Miletsky in the 1980s and is filled with eccentric 3D wall art and funky contemporary sculptures. The alley is located close to the Kyiv Museum of History and with its vivid colours, is certainly not difficult to spot.
Is Kiev Safe?
Knowing what I know now when anyone asks me "Is it safe to travel to Ukraine?" I want to throw my head back and cackle like a Disney witch. Ahahaha. Not only is travelling in Ukraine perfectly safe, but the country is also just like travelling anywhere else in Europe. The scenery is beautiful and the people are generally pleasant and friendly.
I understand the concerns about the safety of travelling there though. After all, like many countries, Ukraine always seems to make the news headlines for the wrong reasons. It is true that there is still a war going on in Ukraine and honestly you really don't want to be frolicking off to Crimea, however the reality is that this is all taking place miles and miles away from Kiev, or any of the other sites and cities that you are likely to visit during your Ukraine trip. In fact, from Kiev and Lviv, you are closer to Poland than you are to Crimea.
Getting From Kiev Airport to City Center
There are buses that run from Kiev airport to the city center, however, cabs are also relatively cheap. That said, you may be waiting a while to find one upon arrival – the taxi rank typically has no cabs waiting, you have to order one! City cabs will charge you upwards of 400 UAH to get from Kiev airport to the city center, however, an Uber will be around 300 (or less if you use Uber pool). Once you arrive within the city limits, the Kiev metro is a pretty convenient way to get around the Ukranian capital. 
Find Cheap Deals on Kiev Hotels
Have any questions about other things to do in Kiev or modifying this Kiev itinerary? Feel free to reach out and let me know! Safe Travels, Melissa xo
---