Isn't it annoying when you're travelling, thinking you've got everything packed and set, and you don't realise you've forgotten something until you reach for it and it isn't there? Well let me help you avoid that! Welcome to High Heels and a Backpack's South East Asia packing 101! 😉
This is my tried and tested packing list from my numerous long trips around this tasty part of the Asian Continent so rest assured you're in safe hands.
1. Travel Admin
A.K.A. The boring nitty gritty that you simply cannot leave home without!
Passport
Photocopy of Passport
Passport Photos (Often needed for visas)
Travel Insurance & Insurance Documentation
E-Tickets
Reservation Confirmations
Money Belt
Cash, Credit & Debit Cards
Guidebooks & local area maps.
2. The Backpack
Opting for a backpack over a suitcase is a good shout as you're going to be walking along uneven or virtually non-existent roads, in all kinds of weather conditions.

This isn't an area that you want to scrimp, trust me on that.
I've recently upgraded mine to an Osprey Kyte 66 Rucksack. It's been designed specifically for Women [Look at the pretty colour!]
What's great about this backpack is that because it is made especially for Women, it doesn't dwarf us smaller Gals, and the height is easily adjustable. The backpack is designed with waterproof material (useful considering the Monsoon like downpours in S.E. Asia!) and has an 'airscape' vent on the reverse to help with hot weather (and stop your shirt going see-through with back sweat like a creepy old man!)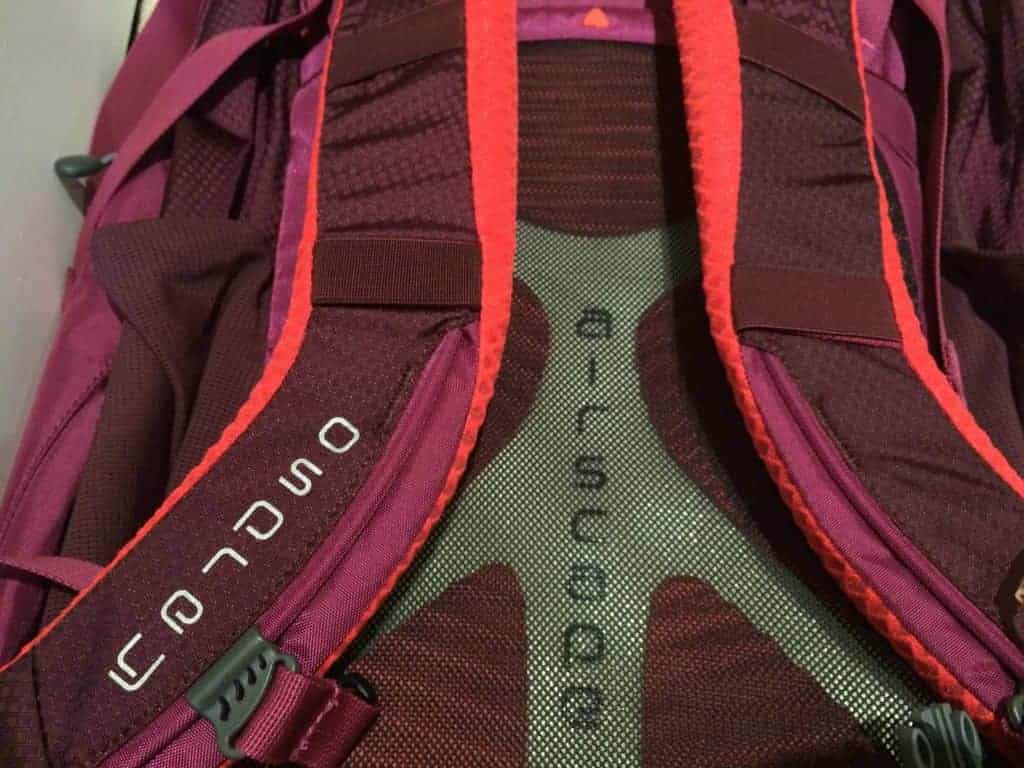 The vent section and the wider straps also make the bag pretty comfy which is a major plus in my books, considering the amount of time you will be carrying the thing around.
3. A Small Daypack
I have a little 10L backpack for day trips when I travel – just look how small and cute it is!
Some backpacks come with detatchable daypacks but to be honest, they're a little big for my liking. I tend to carry my valuables (money, phone, camera) on my person, and my backpack is just the extra bits I might need – Map, Water Bottle, First Aid Kit, Sunscreen.
4. First Aid Kit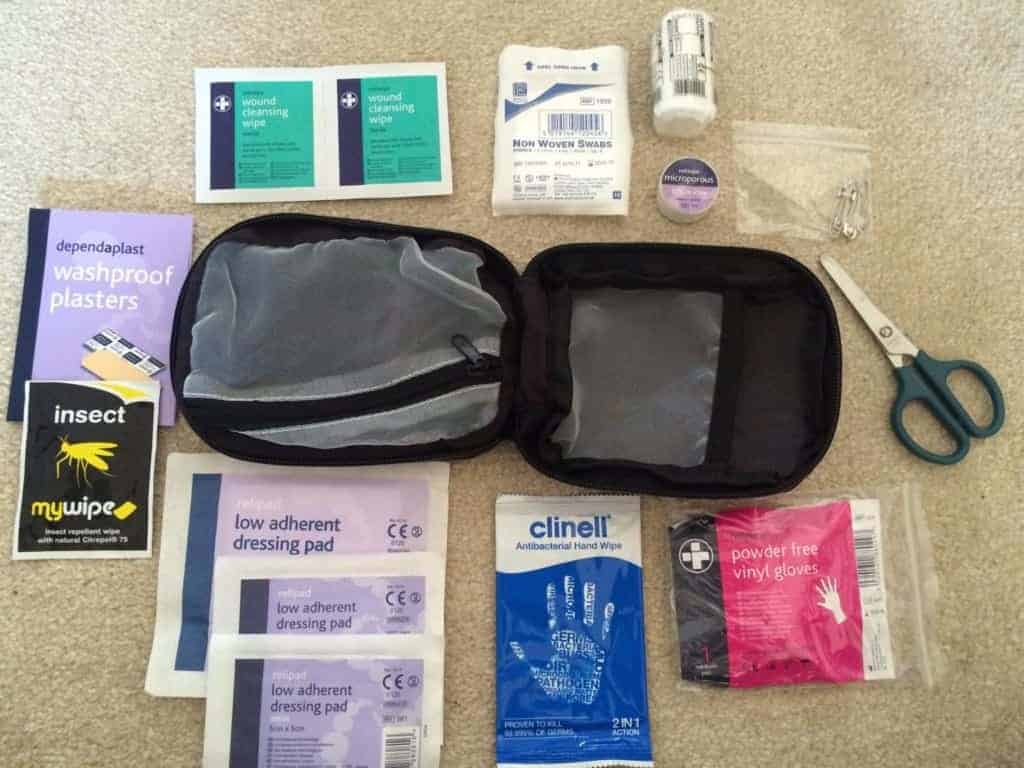 At least one that has a decent array of dressings, bandages and sterile wipes… just in case. I cut my foot open in Vietnam and blood was spurting everywhere like the fountain show at the Vegas Bellagio. Better to be safe than sorry.
I like this Solotrekk one. Not only is it comprehensive without being expensive (I'm a poet!), it has little zip away compartments within so that you can easily add your own items to the kit as needed.
5. Medicines.

Pain killers and most over-the-counter medicines are available in the larger towns and cities but if you prefer certain brands, buy before you go. Everyone's medical requirements are different but for me, my kit consisted of:
Paracetamol
Ibuprofen
Imodium
Rehydration Sachets
Laxatives
Tampons (not always widely available in S.E. Asia)
Hydrocortisone Bite & Sting Cream
Germolene (for cuts and scrapes)
Anti Malarials (The side effects of these are not enjoyable. Check with your GP if you will need them before you go – they are mainly required for travel to rural areas and border zones).
6. Mosquito Repellent
Mosquitoes are a pain wherever you go, but in S.E. Asia you've got the added factor that a lot of them carry diseases – Malaria and Dengue Fever to name but a few.
The ordinary repellent just doesn't cut it for these guys, make sure you have tropical strength repellent that contains DEET.  I never opt for less than 50% DEET content.
Take a couple of cans as you'll be sure to get through the stuff.
Mosquito plug ins or coils come in pretty handy for the night too. I cannot tell you the amount of times I have woken up with Mosquito bites in places that no Mosquito should roam..
7. Water Bottle
Don't underestimate the handiness of buying large bottles of water, keeping them in your fridge, and having a little bottle to fill each day.
I picked up this handy foldable bottle which takes up no room when empty.
8. Torch

Even if you don't think that you'll need one, a torch comes in incredibly handy. Power outages are pretty commonplace here, particularly if there is a storm.
I actually prefer to use a headtorch, as it comes in handy for hiking too.
9. Toiletries Bag
Again, some element of personal preference but I take:
Razors
Shampoo and Conditioner
Sun Screen & After Sun
Hand Sanitizer (A lot of the restrooms don't have soap or even working taps!)
Toilet Roll (Finding toilet paper in a bathroom here is the exception, not the norm)
Baby Wipes & Face Wipes (handy and refreshing when you are walking around hot, sweaty and sporting a face as Red as a Baboon's bottom)
Mouthwash, Toothbrush and Toothpaste
Facial Wash
Deodorant
Lifeventure Leaves – Shaving Foam, Soap Leaves, Fabric Wash Leaves
(Oh my word! So handy! The bane of my life when travelling is when something leaks or explodes in my bag and I have to deal with the aftermath. These are simply leaves that you add a little water to and they transform into soap, fabric wash, etc. They are completely biodegradable too and won't harm the environment)
Makeup (It is so damn hot and humid, most of it will just sweat right off your face. I never wore mine, aside from a little Mascara and tinted lip balm)

Microfibre Towel (Lightweight and super fast drying! A good shout as some places may not supply towels, or the towels in question can be gnarly)
Small Packets of Tissues
Note – A lot of the skin and sunscreen products in S.E. Asia have "Whitening properties" i.e., they are designed to bleach Asian skin. Check carefully before you buy.
10. Electronics & Accessories
Travel Adaptor (Most of S.E Asia uses the circular-end two prong plugs like Mainland Europe, however there are some anomalies – Cambodia is a funny old bugger and you can find sockets with different types. A multi adaptor solves this and then has you covered for your onward travels.)
Camera and Charger
Phone Charger
Headphones (for long journeys!)
Selfie Stick (

Some may consider it sad, I consider it my meal ticket to becoming an honorary Asian (I jest…)

Honestly though, it's so handy, especially if you travel alone, and don't want to keep having to stop to ask randoms to take your pic!)

Power Bank (Fellow iphone users will feel my pain when I complain about the battery life of the thing. This way you can be sure you're never out of juice if you have to take a long journey.)
Spare Batteries (for camera, torch, etc)
11. Walking Shoes

Yes yes, I know I have ugly feet. Some of us are not blessed in the foot aesthetics department but I hear if your second toe is bigger than your 'big toe' that means you're really good in bed. (HEY BOYS!)
Anyway… You will be walking A LOT, often on uneven terrain so sturdy shoes are a must.
My walking shoes are North Face. You can pick them up at most of the major Outdoors stores for around £50 but the selection for Women is often pretty limited (What gives?!)
12. The Clothing

Pack LIGHT! Remember you will be carrying all of this weight on your back for extended periods of time. Don't be the Girl that has to take off her backpack and drag it along the floor like a Dead Dog because she bought too much crap along the way.
Laundry is pretty cheap here, so it's easy to wash as you go.
Swimsuits
Sarong/Cover Up
3 – 4 pairs of shorts
1 – 2 long sleeved shirts
About 5 -6 t-shirts
2 -3 Tank Tops
Trousers (1 or 2 pairs is fine, then you're covered for the flight. You can pick up some fab Aladdin style floaty trousers at the markets for a couple of quid.) 
2 Bras
6/7 Pairs of Knickers
Sleepwear
Flip Flops
Sunglasses
Hat (with brim for sun protection)
1 -2 Summer Dresses (in case of encountering Hunky Aussies)
Waterproofs – Poncho, and rain cover for backpack (seriously, the rain here is cray – I cannot stress that enough) 
You don't really need "dress up" clothes, since people stay pretty casual, even in the evenings.
Take a long sleeved top or at least a Sarong to cover up, as conservative dress code applies in a lot of the Temples and Religious Sites. [Shoulders and knees must be covered]
---