Located on the well-trodden backpacker's trail around South East Asia, solo female travel in Vietnam is common, and the country is rated time and again as being one of the best destinations for solo travellers.
As a result, Vietnam is a good country for a relatively inexperienced traveller to visit for the sheer fact that there are so many other travellers doing the same route so there is plenty of opportunity to meet people and make new friends. If you are nervous about going it alone for the first time then travelling alone in Vietnam is a good call.
Solo Female Travel in Vietnam Highlights
Staying with a local Vietnamese family in Ho Chi Minh City (Saigon)
Renting a bicycle and cycling through rice paddies and coastal towns
Taking traditional cooking classes to learn how to make authentic Vietnamese delicacies.
Wandering the colourful streets of Hoi An
Finally seeing the beauty of Halong Bay up close in real life.
Discovering the history of off-the-beaten-path Hue
Relaxing by beautiful beaches along Vietnam's scenic coastline
Doing all of the above as a solo female traveller and having a wonderful Southeast Asian experience.
The Best Spots for Women Traveling Alone in Vietnam
Solo female travel in Vietnam is a wonderful experience and there are no areas of the country where I would advise that you should not go because you are a woman travelling alone in Vietnam. I travelled the length of the country alone via public transport. I have drawn up a suggested Vietnam itinerary that can be tailored to suit any budget and trip duration, but  I have summarised some of my highlights below.
Sapa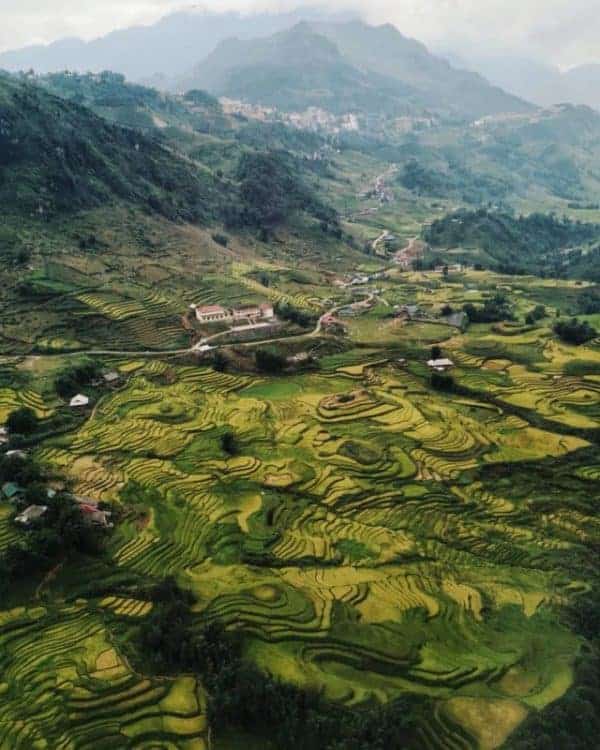 Sapa is home to some of the best hiking trails in Vietnam. Leading through lush greenery and beautiful mountain scenery, the routes here enable you to pass by traditional villages and encounter some of the hill tribes who still reside within this mountain region. Best of all, there are many female-led hiking companies which means you will be with a female guide throughout your trek.
Hue
Though Hue is packed with fascinating historical sites and ruins, it has escaped the attention of most travellers that embark on an adventure through Vietnam. This was an important city in the time that Vietnam was ruled by Nguyen emperors and many imperial sites and tombs remain. Hue has a rural, peaceful feel to it. A pleasant experience while here is to rent bicycles and cycle around the quaint city limits and surrounding rice paddies. The absence of the raucous backpacker crowd makes it the perfect place for introverted solo female travellers in Vietnam.
Hoi An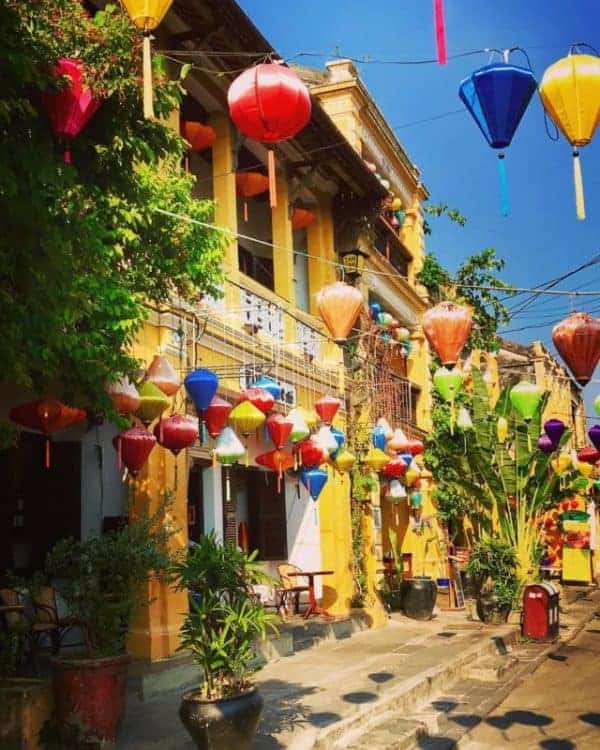 Painted in pastel shades of yellow and orange, the quaint buildings of Hoi An are unlike anywhere else in Southeast Asia. Navigating through the narrow cobbled streets and checking out the various quirky stores and coffee shops is a highlight to any Vietnam itinerary. When the sun sets, the streets are illuminated by hundreds of paper lanterns. Hoi An is famous for tailoring and a great thing to do while here is to pick up a one-of-a-kind handmade dress or other garments. There are also many cooking schools in the area, some of which support local charities.   
Ho Chi Minh City
Rich in history, culture, and largely underrated, Ho Chi Minh City is a must-visit while in Vietnam. Browse fresh produce and sample local delicacies at the various Vietnamese street food markets, light incense and marvel at the beauty of ornate Taoist and Buddhist temples, and discover the history of the Vietnamese war. Most of HCMC's main attractions can be accessed on foot and are within a short walking distance of each other in district one. Many tour companies run excursions to the nearby Mekong Delta and Cu Chi Tunnels.  
Halong Bay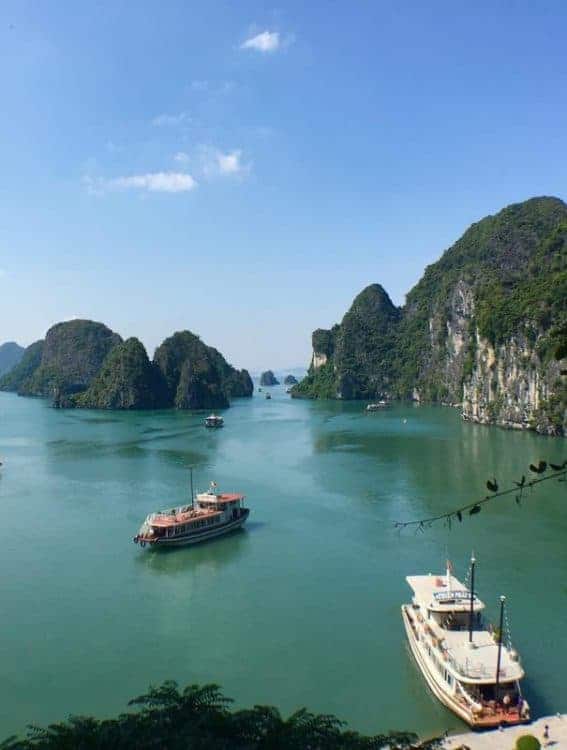 If there was an iconic image of Vietnam, Halong Bay would be it. Though they have been photographed to death and became a major tourist attraction, finally seeing the jagged limestone rocks of Halong Bay up close is every bit breathtaking and magical. Solo female travellers in Vietnam will be spoiled for choice at the number of options available in terms of organising a tour to Halong Bay. Since many people travel to Vietnam alone, you will surely meet other solo travellers on the tour. Just be sure to organise one that suits your particular interests and personality. Some Halong Bay tours involve all night partying, whereas others are more chilled and focused on kayaking and nature.
Nha Trang
Nha Trang is a beautiful coastal beach town in central Vietnam. It has become quite popular with tourists but the beaches here are so stunning that they still retain their charm and appeal. Nha Trang is not only a great spot for lazing by the beach and unwinding, it also has a vibrant nightlife and backpacker scene making it a great place to meet new travel buddies during your solo female travel in Vietnam.
Why Travel Solo in Vietnam?
Solo travel in Vietnam provides a rewarding travel experience. It pushes you outside of your comfort zone and introduces you to an altogether new country, culture and perspective, however, it does so in a place where friendly western faces and home comforts are never too far away.
Though I generally felt safe in Vietnam as a solo female, there are certainly some additional considerations that you must take into account for your trip, and travelling alone in Vietnam can present a unique range of concerns and issues that you have not experienced elsewhere. This article will discuss concerns and considerations for travelling alone in Vietnam as a solo female.
There is an Established Tourist Trail
If you are even just toying with the idea of travelling solo in Vietnam, you will know that the country lies on the well-trodden backpacker route through Southeast Asia. If this is one of your first solo adventures, the reassuring thing about that is that you will always bump into friendly faces and fellow travellers. Many who visit Vietnam travel along the entire length of the country – from Hanoi to HCMC and vice-versa. Even in what are seemingly the most random and isolated towns, you will encounter other backpackers.
Vietnamese People are Friendly  
While I did have some problems with encountering scams in Vietnam, I also had a lot of positive experiences with the locals. The Vietnamese economy has become very dependent on tourism. Many locals open up their houses to travellers in the form of homestays and this can be an incredibly rewarding way to see the country and gain a valuable insight into the culture.
Vietnam Has an Excellent Tourism Infrastructure
Though you may not expect it, the tourism infrastructure in Vietnam is excellent. It is easy to find private or group excursions around cities and out to popular tourist sites, public transport in Vietnam offers well-connected links between cities and runs to a reliable and frequent schedule.
You Have the Option of Doing a Guided Tour
Although I am a big advocate of travel that is completely solo and independent, I can completely understand the appeal of going on a guided tour, particularly if this is your first trip. I travelled through Vietnam alone and would like to assure you that if you are feeling nervous about doing the same, it's totally safe.
Equally though, guided tours through Vietnam and wider Southeast Asia are a great introduction to the region and provide plenty of opportunity for seeing the sights, and sharing the experience with like-minded people without having any of the stress of planning an itinerary or wondering how to get from A to B.
Some group/guided tours in this region concentrate solely on Vietnam, whereas others combine Vietnam travel with an exploration of other countries in the region – such as Malaysia, Thailand, and Cambodia. 
When to Visit Vietnam
Spring (February to April) and Autumn (August to October) are the best times to visit Vietnam as temperatures are warm but not too hot, and rainfall is at its lowest. I visited in June, one of the hottest months and really suffered as a result!
Solo Female Travel in Vietnam: Key Safety Pointers
Be Careful of Your Belongings
Pick pocketing is common in Vietnam, especially in crowded or touristic parts of large cities. I had a little 5L daypack for use in the day and I kept it strapped across my front at all times. Common crimes include someone on a motorbike snatching bags while speeding by, or slashing a backpack open that someone is wearing on their back. Be mindful of your surroundings and don't carry large quantities of cash.
Don't Be Too Flashy
Be sensitive to the fact that Vietnam experiences high levels of poverty. Out of respect for locals, as well as for your own safety, don't go out wearing a ton of flashy jewelry, and keep that expensive DSLR camera in your bag, rather than hanging from your neck.
Be Aware of Taxi Scams
Uber and Grab taxis exist in Vietnam. When organising a ride from the airport upon arrival, I would advise using this option to minimise your risk of being scammed during your solo female travel in Vietnam. At a basic level, Vietnamese cab drivers may just lie to you about the fare and charge you several times more than the local rate. In terms of sneakier scams, fake taxis exist, as do taxis fitted meters that accrue miles and cost crazy fast, and taxi drivers that try to confuse you by handing different amounts of cash back and forth when getting out the car. Try to stick to the reputable taxi brands Vinasun and Mai Linh taxis.
Dress Modestly
Vietnam is a relatively conservative country, and as such, you won't see an awful lot of women walking around in shorts and tank tops (regardless of how hot it gets!). In tourist areas and at the beaches you are okay to dress in this manner, however, you should cover up a little more in small towns and rural areas and at least wear trousers and a t-shirt. There are plenty of markets around the major cities that sell local clothing at low prices. At temples and pagodas, you are generally expected to cover your legs and arms. If you are travelling alone in Vietnam, it is better to err on the side of conservative so as to avoid drawing unwanted attention to yourself.
What to Wear in Vietnam
Dressing modestly doesn't have to mean looking like a frumpy grandma. You can cover up and still be sessy. As a general rule, try to ensure that the clothes you wear at least cover your legs and shoulders. The various markets around the country sell loose-fitting Aladdin-style trousers for a few dollars (the classic Southeast Asian travel ensemble!). Alternatively consider long flowing maxi skirts or attractive jumpsuits made from linen, cotton, or other breathable light materials.   
General Safety as a Solo Female in Vietnam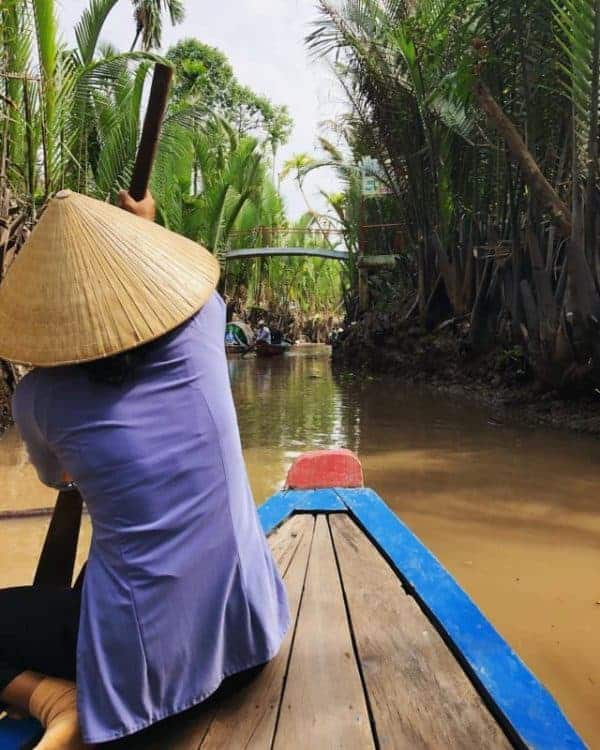 There are good and bad people everywhere that you go and for the most part, I felt pretty comfortable throughout my Vietnam travel experience, however, the country is rife with scams and incidents of petty crime. Though South East Asia is a well-trodden backpacker route, people tend to take this as an assurance that the region is completely safe, but that shouldn't mean that you should not use your common sense or exert general safety precautions.
As a solo female travelling alone in Vietnam, I felt that I was attracting an awful lot of attention at times. In Ho Chi Minh City, I was followed by groups of men on several occasions who were following me around taking my photograph or shouting lewd things. The best way to handle this is to walk with determination and not even acknowledge their presence. If someone is really harassing you though, head to a public area or into a local store and make someone aware of what is happening.
Scams in Vietnam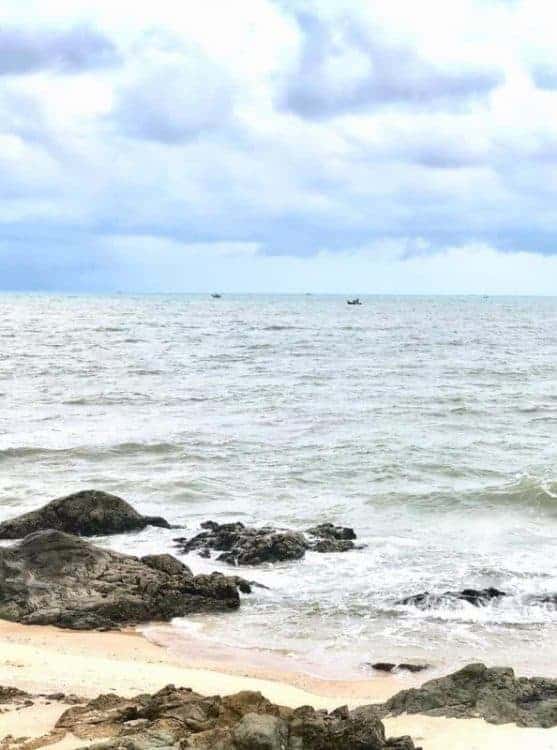 Feeling like I was constantly being tricked or ripped off certainly put something of a dampener on my Vietnam experience. There is a distinct disparity of wealth between the exotic western traveller and the local Vietnamese villages and I completely get that, but it does become frustrating when it feels as though every establishment you enter sees you as an opportunity to make a quick buck. Scams in Vietnam are all too common.
As an example, I often found myself entering coffee shops or restaurants and ordering something, only to be given a significantly smaller portion than that which the locals around me were eating/drinking, or they would charge me a completely different price to that which was on the menu.  When I questioned such instances, the servers would often make out as though I had ordered something different. It's a shame as this certainly doesn't happen in
Taxis are notorious for scamming travellers in Vietnam. Fake taxis exist, and there are many cab drivers using dodgy meters or taking passengers on roundabout routes to accrue higher fares.   (More advice on avoiding taxi scams here)
Getting Around Vietnam
By Motorbike:
Many people travelling the length of Vietnam choose to do so by scooter or motorbike, which is completely fine if you are an experienced rider; as the majority of the population get around in this manner, there are repair and service centres scattered around the country to help should you get in a mess. However, it is important to note that if you are not licensed for this, then your insurance will not cover you. Not only are the road safety standards virtually non-existent in Vietnam, but the rental bikes also are often not the highest quality and are therefore prone to issues. Not being licensed and having an accident is not only possible and foolish, but it's also very expensive.   
By Sleeper Train:
Despite what you might think, Vietnamese sleeper trains are actually relatively comfortable and plenty of solo female travellers use them. You can rent a bunk bed in a communal carriage and each one has a charging point for your electricals, along with a little night light. You should expect to book the tickets in advance, especially if travelling at peak times or during public holidays, and ensure that you use a well-known operator when making a purchase to avoid one of the many Vietnamese scams.
By Plane:
Perfect if you are short on time and only interested in stopping off at major cities and attractions, you can actually fly between Ho Chi Minh, Da Nang and Hanoi. Several Vietnamese and Asian airlines service these routes and the prices are pretty affordable. Expect disorganised chaos upon arrival at the airport so allow more time than you typically would on a domestic flight.
Crossing the Road Without Dying
Before I flew out to Vietnam, I saw another Travel Blogger's guide to crossing the road in Ho Chi Minh City and sat perplexed thinking about how dull he must be to write such a guide. After experiencing it for myself? Ay Papi!
To cross the road in Vietnam, you need to be either:
A. Completely fearless with a deranged twinkle in your eye
B. In possession of a death wish
C. A cheeky blend of all of the above.
I've seen some crazy road 'safety' on my travels but nothing has been quite like Vietnam. I would hazard a guess that there are approximately 4,3445,65657,767 trillion scooters on the road at any given time (may be a slight exaggeration, but only slight!), families of 3 or 4 crammed onto one bike, and people balancing their wares and groceries on their heads.
The roads are multiple lanes of traffic, the traffic lights never give pedestrians the opportunity to cross as when one direction of traffic stops, that's the cue for the other to start. If you stand and wait for someone to let you go, you'll be there until the Apocalypse.
You have to pick your moment and commit to it. I would wait for a gap in the closest lane to me, dash to a middle point and dodge the scooters. If something with a greater potential for a squishy death was on the approach – like a car or a van, I'd wait. The scooters will do their damnest to avoid you and weave around you.
If in doubt, follow the locals – I thought I was getting good at this Vietnamese road navigation business until I ventured out for Dinner in Ho Chi Minh City with my host. She hooked my arm in hers and stepped right into the centre of the road. She turned and faced the cars, her palm outstretched to halt any that were on the approach and vehicles were stopping and swerving around us. It was like Moses parting the tides.. well, sort of.
Political Situation in Vietnam
To this day, there is somewhat of a division between the north and south of Vietnam – the north is more aligned with China and Russia, the south is more liberal.
I was in Ho Chi Minh City during Obama's 2016 presidential visit and found the people to be so warm and full of admiration for the US and the western world, all preparing their flags and banners to welcome the American president.
It is important to remember that Vietnam is a Communist country which isn't exactly going to impact your travels but is something to be aware of. During my visit, there was an issue with companies dumping hazardous waste in the sea and thousands of dead fish being washed up on shore. Environmental activists were organising events via social media and to stop this "annoyance", the government blocked all social media sites for a few weeks.
Feeling Inspired?
Find Cheap Accommodation in Vietnam!
Pin it For Later!
Do you have any questions about solo female travel in Vietnam? Feel free to drop me a comment below!
Disclaimer: High Heels & a Backpack occasionally uses affiliate links around this site. That means that if you choose to make a purchase via the sites, I obtain a small % of the commission at no additional cost to you. I only work with brands and Travel Companies that I personally use and this aids me in the running of this site and in continuing to provide you with useful travel advice and resources.
---