Solo female travel in Vietnam can be a great experience. Although setting off to a new country by yourself for the first time can feel overwhelming and daunting, Vietnam is actually a great choice for this.

The country sits on the well-trodden Southeast Asia backpacker trail where countless travelers venture every year. In 2019, Vietnam received 18 million international arrivals.

This is great because it means that it is very easy for you to meet other travellers to share all or part of your journey with if you so wish. Vietnam is very accustomed to seeing tourists (including women traveling alone) and there is an excellent tourism infrastructure and public transport network in place.

Better still, Vietnam is a very naturally beautiful and culturally rich travel destination. Travelling here provides a great opportunity to experience a country where traditions and way of life are likely very different from what you are accustomed to.
Solo Female Travel in Vietnam
The great thing about traveling to Vietnam is that there is something here for every type of adventurer. Whether you want to spend your days exploring museums, dining at street food markets, and hanging out at rooftop bars in Ho Chi Minh or Hanoi, or you prefer to laze upon a secluded beach somewhere, you will not be disappointed.

Yes, Vietnam is situated on a popular backpacker trail but that doesn't mean that there aren't also plenty of opportunities to venture off the beaten path. You will note that a lot of travellers follow the same route through the country and the wider region of Southeast Asia.
This can be great if you want to meet people during your trip, and if you are nervous, it can also give you peace of mind knowing that there are plenty of other travellers around. At the same time, if you want to escape the tourist hordes, there are plenty of quaint settlements and beach towns where you can go to do that (and remain safe in the process).
Plenty of tours and excursions are available if you want them
The first question to ask yourself when planning solo female travel in Vietnam is whether you want to go it completely alone or to participate in an organized tour. You should not be intimidated by doing everything independently.
If you do plenty of research and map out an itinerary before your trip, that can help you to build your confidence. You may find that when you arrive in the country, it is easier to get from A to B and enjoy your time there than you think.

Still, if it is your first time travelling internationally by yourself, you may also want to consider participating in a tour to help you gain more travel confidence. This may also help take some of the stress out of planning the logistics of your trip.

You could opt to participate in a 7,10 or 14-day tour organized by a tour company such as Intrepid, or G Adventures, or even look around to see if there are any Travel Influencer-led tours scheduled to take place. Another nice idea is to plan your trip yourself and then organize some day excursions with a local tour company.

That way you get the best of both worlds. Sometimes, organized day trips are the best way to get to certain places and do not work out much more expensive than getting to a place independently.

(For instance, if you want to see the Củ Chi tunnels near Ho Chi Minh City, it is far easier to book a tour). Get Your Guide is a great company for organizing day trips and excursions. 
Safety for women travelling alone in Vietnam
Solo female travel in Vietnam can be very safe provided that you use the same common sense that you would in your hometown or anywhere else in the world. For instance, don't walk alone at night, always be aware of your surroundings and be wary of over-friendly strangers.

It is always a good idea to check your government travel advice before travelling to a new destination and this applies to visiting Vietnam too. You can review the UK government travel advice for Vietnam here, and the USA government travel advice for Vietnam here.
From a crime and safety perspective, the biggest risk is being a victim of petty crimes such as bag snatching or pickpocketing. Most of this is opportunistic and can be avoided.
Always be aware of your surroundings and have an eye on your belongings, particularly in crowded areas. If you are in particularly busy marketplaces, consider walking with your backpack in front of you.

Be cautious on busy roads and don't walk with your backpack hanging over one shoulder. That way, you can prevent any risk of an opportunistic thief on a moped grabbing your bag and speeding off into the sunset with it, never to be seen again.
Consider investing in a theft-proof backpack
One way to better protect your belongings while travelling in Vietnam is to invest in a theft-proof backpack. These are slightly more expensive than regular backpacks but they come with a number of additional safety features.

Most are waterproof, slash-proof (so there is no risk of someone coming up behind you in a crowded market and trying to cut your backpack open with a knife), and feature TSA locks. They also come with long warranties that extend over several years.

Theft-proof bags such as those offered by Pacsafe are great for both hand luggage and for exploring during the day. They aren't clunky and unsightly as you might imagine either and come in an array of different designs just like other backpacks.
Catcalling and street harassment in Vietnam
Unfortunately, there are good and bad people everywhere in the world, and catcalling, silly whistling or stares by men in Vietnam is not something that is unheard of. This is more likely to happen if you are wearing shorts or little dresses.
This is why it is a good idea to dress modestly like the local women and not draw attention to yourself. Still, when you are alone and/or you look very different and ¨exotic¨ this may happen whatever you are wearing.

The best thing to do? Simply ignore it and don't give any attention or acknowledgment to the harasser(s).

While as women we should be able to walk and travel in peace without being bothered, there are always going to be people who are disrespectful. Don't let it ruin your day or tarnish your otherwise pleasant travel experiences.

You can never really know someone's temperament and mental state. I.e. whether they have a weapon, whether they are going to become aggressive, etc.

It is better not to confront people. Simply walk away, don't give them any attention, and focus on enjoying the rest of your day. If someone becomes persistent or follows you, head inside a local store and ask for help.
Be mindful of taxi scams
Unfortunately, scams are rife in Vietnam, and scams involving Vietnamese taxis are no different. Taxis can be a convenient, comfortable, and low-cost way to get around cities.

However, it is generally better to call a GRAB taxi (the local alternative to Uber) where you can. Download the app before you arrive in the country.
GRAB taxis, like Uber, help you to quickly connect with a local driver. The app tells you the estimated price and the route that the driver is going to take before you get into the vehicle, so there are no surprises at the end of the journey.

You can also review the driver's profile, rating, and past reviews before getting into the car. Arguably, you may say that there is more accountability on the app.
Failing that, make sure that you only use reputable companies. Mai Linh and Vinasun are the preferred taxi operators in the country, with TaxiGroup being the third option.
Booking through these companies doesn't offer complete protection from scammers but it can help mitigate a lot of the risks of being scammed. There are a few popular scams to be mindful of.
Like taxi drivers in a lot of countries, cabs in Vietnam may try and take you on a long, roundabout route through town so that the meter racks up a high bill. Always have Google Maps or some other offline map app available so you can sense-check where you are going.
Always insist on the driver using the meter. Try and always have plenty of small change and small denomination notes in Vietnam as sometimes the drivers can try and trick you by confusing you with different notes and giving the wrong change.
Be aware of scams in general
Scams, on the whole, are abundant in Vietnam. After a while, it can be upsetting if you feel that you are constantly being tricked or overcharged.
Try to remember that this is a country with a lot of poverty and a huge disparity of wealth between the lower and upper and middle classes. A few extra dollars charged here and there can be a small irritation for you but make a huge difference in the lives of a local.
Always keep that in mind when haggling. Still, if you are finding that every time you go out for food, you are charged twice what the locals pay and given half the portion, it can be frustrating.
You may find that when eating out, the price that you are charged at the end is different from the price on the menu. Alternatively, you might try and buy a coffee somewhere and find that the price is almost triple what it should be.

Acknowledge this when it happens and call it out. Remember the menu prices when ordering, and don't hesitate to leave somewhere if you are not comfortable with the server's attitude or you feel you are being tricked.
Connect with other travellers
Solo female travel in Vietnam can be a great personal challenge. However, if you want to meet other travellers to share parts of your trip with, or you simply want to be able to meet other people for drinks/dinner, there is plenty of opportunity to do just that.
Facebook groups are a surprisingly good way to meet new friends. You will find various groups dedicated to travellers in Vietnam and Southeast Asia, or ex-pats in Vietnam.

You can simply write a post in here introducing yourself and saying that you are looking to meet others and you will likely get a bunch of responses. (It goes without saying that you should sense check the person's profile before meeting them to make sure that they look sane, and always meet new people in public places).

Couchsurfing, Bumble BFF, and Meetup are other alternatives. Couchsurfing and Meetup in particular are good because you will often find events hosted via the app.
Ensure your travel vaccinations are up to date
Do ensure that your travel vaccinations are up to date and consider booking a consultation with a travel nurse if applicable. You generally need to ensure that your Tetanus and Diptheria vaccinations are up to date before travelling to Vietnam.

Hepatitis A, Hepatitis B, and Typhoid vaccinations are also recommended. You may also want to consider getting a Rabies vaccination. However, this is usually relatively expensive.

You can discuss all of this with a medical professional, but your best bet is generally to stay away from stray animals. Your vaccinations are not checked at the border upon entry or anything like that, but they are highly recommended as a precaution for your own health.
Malaria and Dengue Fever are present in parts of Vietnam but it comes down to personal preference whether you want to take malaria tablets. They can have huge side effects so depending on your preference, a risk assessment of the areas you are travelling to, and your doctor's advice, you may find it best to simply invest in a strong repellent.
Road safety in Vietnam
Road safety in Vietnam is a major concern. Many travellers think that renting mopeds and driving around the country by bike is a fun thing to do.

However, it should only be attempted if you are an experienced moped driver and you are fully insured. This is, even more, the case when travelling alone.
Even crossing the road as a pedestrian can be overwhelming. Many streets and boulevards contain multiple lanes of traffic, are jampacked with vehicles, and drivers consider red lights to be more of a suggestion than a rule that they have to follow (seriously!)
Understanding the political situation in Vietnam
To this day, there is somewhat of a division between the north and south of Vietnam – the north is more aligned with China and Russia, and the south is more liberal.

It is also important to remember that Vietnam is a Communist country. This isn't exactly going to impact your travels but is something to be aware of. Political demonstrations do happen occasionally.
Taking sleeper trains in Vietnam
Despite what you might think, Vietnamese sleeper trains are actually relatively comfortable. Plenty of solo female travellers use them safely.
You can rent a bunk bed in a communal carriage and each one has a charging point for your electricals, along with a little night light. You should expect to book the tickets in advance, especially if travelling at peak times or during public holidays.
Always ensure that you use a well-known operator when making a purchase. Of course, an additional advantage of taking a sleeper train is that not only do you get to where you need to go, but you also save a night's accommodation costs. Win win!
What to wear as a woman in Vietnam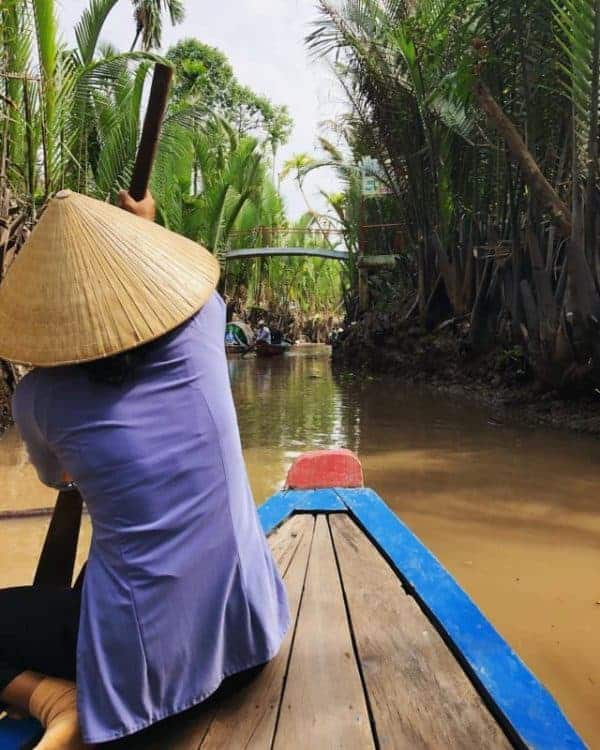 Solo female travel in Vietnam
There are two different climate zones in Vietnam. The northern part of the country sits in a tropical climate zone, while the southern region has a temperate climate zone.

So, what you will need to pack and wear during your trip will vary a lot depending on the time of year that you choose to travel. Monsoon season affects all parts of the country and runs from May to September in the south, and October to April in the northeast.

Rains can be extremely heavy during this time and often cause flooding. Rainmacs and waterproofs are a must at this time, and you may want to reconsider visiting during the rainy months.

It is important to note that people are rather conservative in many parts of Vietnam and women dress modestly in most of the country. Generally speaking, you will see a lot of shorts and tank tops in beach towns, and more conservative attire in other areas.
While as a woman, you absolutely have the right to dress however you feel most comfortable and confident, it is worth taking note of how the local women dress and also dress modestly. This also works in your interest too.

By blending in, you draw less attention to yourself and are less likely to experience catcalling. Since it can be very hot all over the country during the summer months, light, breathable, cotton clothing is a good call.

Temperatures drop during the winter months the further north you go. Check the weather conditions for the areas you plan on visiting prior to your trip. You may need to pack layers and a light jacket/coat if you are likely to find yourself around Hanoi and Northern Vietnam between November and February.
A Suggested packing list for solo female travel in Vietnam
A suggested Vietnam packing list is provided below. This is based on travelling during the hot summer months so amend accordingly if you are going to be travelling during the winter.

Comfortable walking sandals are a must in Vietnam. You are likely to spend a lot of time on your feet and even when exploring cities, it pays to have comfortable, sturdy shoes.

The pavements and roads in parts of the country can often be poorly maintained. If you plan on doing any hiking, ensure that your shoes are worn-in and have a good grip.
Comfortable walking shoes


Flip flops for use around the hotel


Pair of nice shoes for meals and evenings out


Waterproof rain mac


Small 5L Daypack for daytime exploration


Theft-proof backpack to use as luggage/hand luggage


Breathable cotton shirts, shorts, dresses, and skirts


A hat (to wear on your head to protect it against the intense heat)


Swimwear and beach cover-ups


Underwear and socks to last 7-10 days


Sunscreen with a high SPF and mosquito repellent and bite cream


Lightweight cotton trousers (you may need to cover up at certain temples)


A light floaty scarf (for covering up when needed)


Compression bags or packing cubes to reduce the size of luggage


Camera, photography equipment, and selfie stick with tripod feet for phone photos


Travel medical kit, toiletries, cosmetics, and any prescriptions


Period-proof underwear or a Diva cup for dealing with periods on the road
Where to Travel
Solo female travel in Vietnam is a wonderful experience. There are no areas of the country that you should feel deterred from visiting because of your gender.
If you have a week or two to dedicate to a Vietnam itinerary, you may want to concentrate on exploring a particular section of the country. For instance, Hanoi, Sapa, and Northern Vietnam, or Ho Chi Minh city and the beach towns of the south.
You may also want to do a whistle-stop cross-country tour and travel from Ho Chi Minh to Hanoi (or vice versa). A few suggestions on places you may want to consider for your first trip to Vietnam are detailed below.
Sapa
Sapa is home to some of the best hiking trails in Vietnam. The routes here lead you through lush greenery and mountain scenery that is guaranteed to take your breath away.
Here, you will pass by traditional villages and have the opportunity to meet with local hill tribes that still reside within the Sapa mountains. There are many excellent female-led hiking companies that operate within this region.
Hue
Hue is packed with fascinating historical sites and ruins. However, it has escaped the attention of most international travellers.
This was an important city during the time that Vietnam was ruled by the Nguyen emperors. Many well-preserved imperial sites and tombs can still be found here. Hue has a rural, peaceful feel to it.
One nice way to spend a day in Hue is to rent bicycles and cycle around the quaint city limits and surrounding rice paddies. The absence of the raucous backpacker crowd makes it the perfect place for mindfulness and reflection. Hue is a nice choice if you consider yourself more of an introvert, and you are not particularly drawn to the Vietnam party scene.
Hoi An
Hoi An is a charming little town on Vietnam's central coast. Its historic centre is UNESCO protected and this is a perfect example of a South-East Asian trading port dating from the 15th to the 19th century.
Hoi An's houses are picture-perfect. They are painted in pastel shades of yellow and orange and are quite unlike anywhere else in Asia.
A highlight of visiting the town is simply taking the time to get lost among its narrow streets and passageways. Many of Hoi An's historic buildings are old fishermen's houses that have been converted into quirky coffee shops, artisanal stores, restaurants, and boutique hotels.
The atmosphere in Hoi An is particularly special at night. When the sun sets, the streets are illuminated by hundreds of paper lanterns.
Hoi An is famous for tailoring and a great thing to do while here is to pick up a one-of-a-kind handmade dress or other garments. There are also many cooking schools in the area that are well worth having on your radar if you are interested in learning how to make local delicacies.
A lot of them support local charities and Vietnamese female entrepreneurs. If you are craving a little sun, sea, and sand while you are here, you can also head out to the beach in nearby An Bang.
Ho Chi Minh City
Ho Chi Minh City is a must-visit while in Vietnam. This city (formerly known as Saigon) is the largest in the country and acts as Vietnam's business and financial hub.
HCMC's history dates back centuries. Various civilisations have invaded and conquered this land over the years. Each has left its mark on the architecture and the culture of the city today.
The Khmers originally settled here, and the Vietnamese didn't take over until the 17th century. The French conquered Vietnam in 1859 and to this day, there are many French colonial buildings left behind.
In particular, look out for the Notre Dame cathedral (01 Cong Xa Paris, Ben Nghe Ward, District 1), the Saigon central post office (2 Cong Xa Paris, District 1), and the HCMC Municipal Theatre (7 Lam Son Square, Ben Nghe Ward, District 1).
Browse fresh produce and sample local delicacies at the various Vietnamese street food markets, light incense, and marvel at the beauty of ornate Taoist and Buddhist temples. Be sure to visit the city's different museums to discover the history of the Vietnamese war.
Most of HCMC's main attractions can be accessed on foot and are within a short walking distance of each other in district one. Many tour companies run excursions to the nearby Mekong Delta and Cu Chi Tunnels.
Halong Bay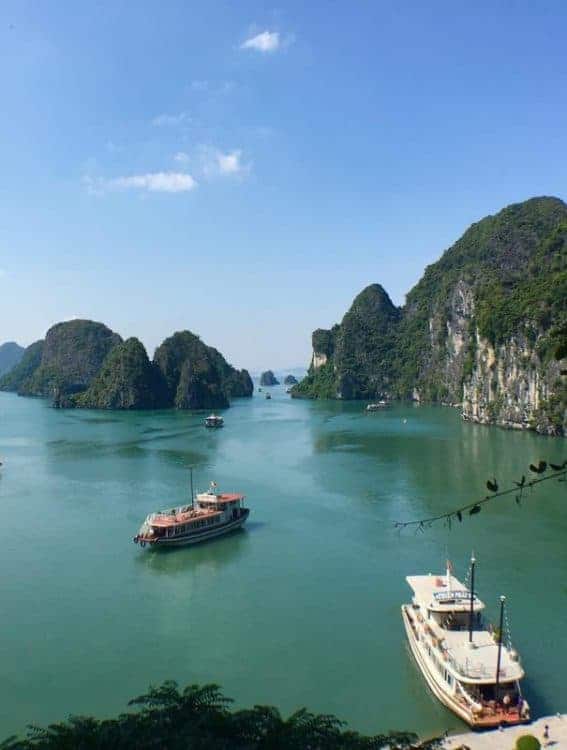 If there was an iconic image of Vietnam, Halong Bay would be it. Though they have been photographed to death and become a major tourist attraction, finally seeing the jagged limestone rocks of Halong Bay up close is every bit breathtaking and magical.
Solo female travellers in Vietnam will be spoiled for choice with the number of options available in terms of organising a tour to Halong Bay. Since many people travel to Vietnam alone, you are sure to meet other solo travellers on the tour.
Just be careful as to organise one that suits your particular interests and personality. Some Halong Bay tours involve all-night partying, whereas others are more chilled and focused on kayaking and nature.
Nha Trang
Nha Trang is a beautiful coastal beach town in central Vietnam. It has become quite popular with tourists but the beaches here are so stunning that they still retain their charm and appeal.
Nha Trang is not only a great spot for lazing by the beach and unwinding, but it also has a vibrant nightlife and backpacker scene. This makes it a great place to meet new travel buddies.
Final Thoughts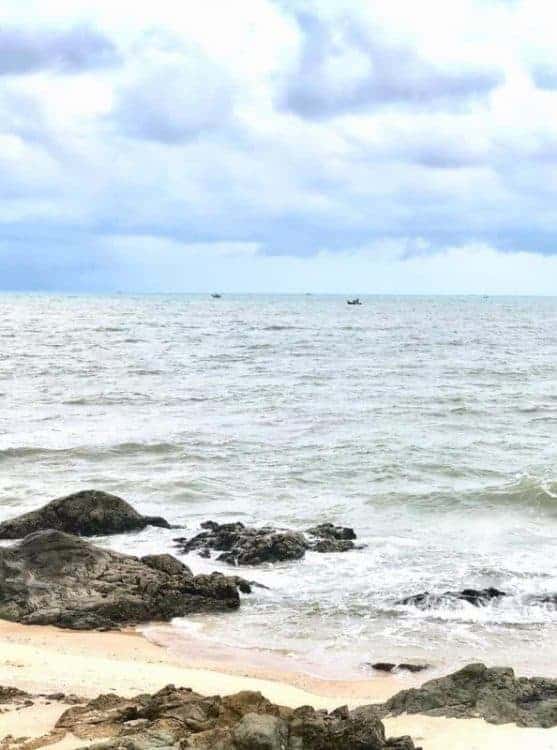 So what do you think? Is solo female travel in Vietnam for you?

Have you travelled to Southeast Asia before? What did you think?
I spent three weeks travelling independently through Vietnam from the southern part of the country, to the north, before continuing on with my travels throughout Southeast Asia. I had an enjoyable time and I hope that you will too.
Safe travels! Melissa xo
Pin it For Later!
Do you have any questions about solo female travel in Vietnam? Feel free to drop me a comment below!
---