Skopelos villas provide the perfect opportunity to experience one of the most beautiful islands in Greece in absolute luxury. Gorgeous Skopelos is the greenest island in the Mediterranean sea, and a place whose natural beauty is guaranteed to take your breath away, regardless of how well-travelled you are or how many Greek islands you have visited before.
What better way to experience Skopelos then, by staying in an elegant villa amidst picturesque olive groves and wonderful plum, almond and citrus orchards? Many Skopelos villas are remote enough that you feel that you have this paradisiacal island virtually all to yourself. Yet, they are still just a stone's throw away from Skopelos town and all the amenities and services that you may possibly need.
Choosing Skopelos Villas
Skopelos is the largest island in the Northern Sporades archipelago. Along with Skiathos, Skyros, and Alonissos, it is one of just four inhabited islands in the 24-island group.
Despite its size, Skopelos sees just a fraction of the tourists of nearby Skiathos. In some ways, the island feels frozen in time. It is a true example of a sleepy, quintessentially Greek island largely unchanged by the impacts of mass tourism.
Skopelos villas are plentiful and beautiful properties can be found scattered across the island. Whether you plan on renting a car or not, you can find a property in a location that suits you.
Full Disclosure: High Heels & a Backpack occasionally uses affiliate links. This means, if you choose to make a purchase through some of the links contained on this site, I may obtain a small amount of commission. This is charged at no additional cost to you. Thanks for understanding.
The House of Dimitri
The House of Dimitri is a luxury Skopelos villa with a fascinating history. The property is located in the rural area of Raches – in the hills 4km above Skopelos town.
Your view from up here is arguably the best on the island. From here you can see all of the little whitewashed houses of the Chora cascading down the hills, little people meandering by the seafront, and the stone monasteries of Palouki encompassed by pine trees.
Built in shades of white and blue, the architecture of the House of Dimitri is unapologetically Greek. During World War II, this property was used as a secret communications centre between the island and British submarines.
The house`s higgledy piggledy interior layout fills your mind with wonder about what conversations took place here all those years ago. Today, being here is more about R&R and reveling in the views across the Chora with Alonissos island in the distance.
Villa Politimi
Stunning Villa Politimi sits on the outskirts of Skopelos town. It is situated on the road that connects the port to Agnontas hamlet.
The spacious, luxury retreat sleeps six people and has been tastefully constructed and decorated in a chic, contemporary style. The views from up here are spectacular; You can enjoy sweeping panoramas of the port, and the mountains of Palouki from your garden and pool area.
Villa Politimi boasts a large, fully-equipped kitchen that offers everything you need to cook delicious Greek food from the comfort of your accommodation. At the end of a long dayś exploration, hiking and beach-hopping, cool off in your private swimming pool or relax with a good book on one of your outdoor sun loungers. You can browse the latest rates and availability at Villa Politimi here.
Villa Kotronaki
Villa Kotronaki is located in the heart of the Skopelos Chora. You can't get a better location for your trip than this.
From here, you are just a short walk away from the port, the labyrinth-like network of cobbled streets of the old town, and some of the best bars and restaurants on Skopelos island. The precise area where Villa Kotronaki sits is known as ¨Mili hamlet¨. This is a pine-clad hill overlooking the town and the cerulean waters of the Aegean.
The villa has two bedrooms and sleeps four people. Its highlight is perhaps the large, inviting outdoor area which boasts a large pool, a paved terrace equipped with sun loungers, umbrellas, beach towels, and BBQ facilities.
Villa Idealia
Villa Idealia offers a luxury stay without the luxury price tag. The villa can be found in the popular beach town of Panormos.
Construction of the brand new property was finalised in 2016. The grounds, pool area and interiors have been lovingly decorated to decadent high standards.
The villa sleeps seven people. On the ground floor, you have an open-plan living and dining room with a cable TV, an energy-efficient fireplace, and a wooden dining table.
You will also find a fully-equipped kitchen with all the modern appliances you may need, a twin bedroom, and a bathroom. An internal wooden staircase takes you to the first floor where there are two double bedrooms with en suite bathrooms.
Panormos' whitesand beach is bordered by translucent turquoise waters and dense pine forests. If you are put off by the prospect of renting accommodation away from the town, rest assured that Panormos is well connected to the rest of the island by bus.
Some of the best beaches in Skopelos can be found within a short walking distance of Panormos – including Milia beach and Kastani, of Mamma Mia fame. There is a reason that this is one of the most popular areas among tourists that visit the island. You can browse the latest rates and availability at Villa Idealia here.
Villa Peparethos
Villa Peparethos has been delighting Grecophiles since it first opened its doors a few years ago. It is situated in the hills of Stafylos hamlet – a charming settlement on the west coast of the island, with some of the very best views in Skopelos.
Stafylos and Velanio beaches are beloved by locals and tourists alike. The latter being the only naturist-friendly beach on the island.
Villa Peparethos itself offers a wonderful base in a traditional property. The house is surrounded by olive groves and lemon trees.
Despite being a short walking distance away from some excellent tavernas and amenities, the hillside location makes you feel a million miles away from all of the chaos and stresses of the world.
The villa sleeps eight, and has three double bedrooms which open out onto furnished balconies and terraces. The garden is complete with a large pool, lush, fragrant flower beds, BBQ facilities and an al-fresco dining area. You can browse the latest rates and availability at Villa Peparethos here.
Elios Zen Villas
There are three villas that make up the Elios Zen Villas complex: Drosia, Thea and Elia. The properties are set in a private, exclusive area in the hills above Neo Klima Elios.
The fully-equipped villas have been constructed with stone and wood, in a way that perfectly characterises the traditional architecture of the Northern Sporades. They each boast private pools and outdoor dining, along with unparalleled views of the islandś west coast. In the distance, you can see Skiathos and some of the uninhabited islands of the Sporades archipelago.
Some of Skopelos' most rugged, undeveloped beaches are found in this area. Including Armenopetra and Hovolo – a favourite among Skopeliti locals.
In nearby Neo Klima, you have all of the amenities and services that you could possibly need: excellent restaurants, coffee shops, bars, minimarkets and pharmacies. This is an often overlooked part of the island and a nice place to escape the crowds and catch a glimpse of ¨local¨ life. You can browse the latest rates and availability at Elios Zen Villas here.
Booking Skopelos Villas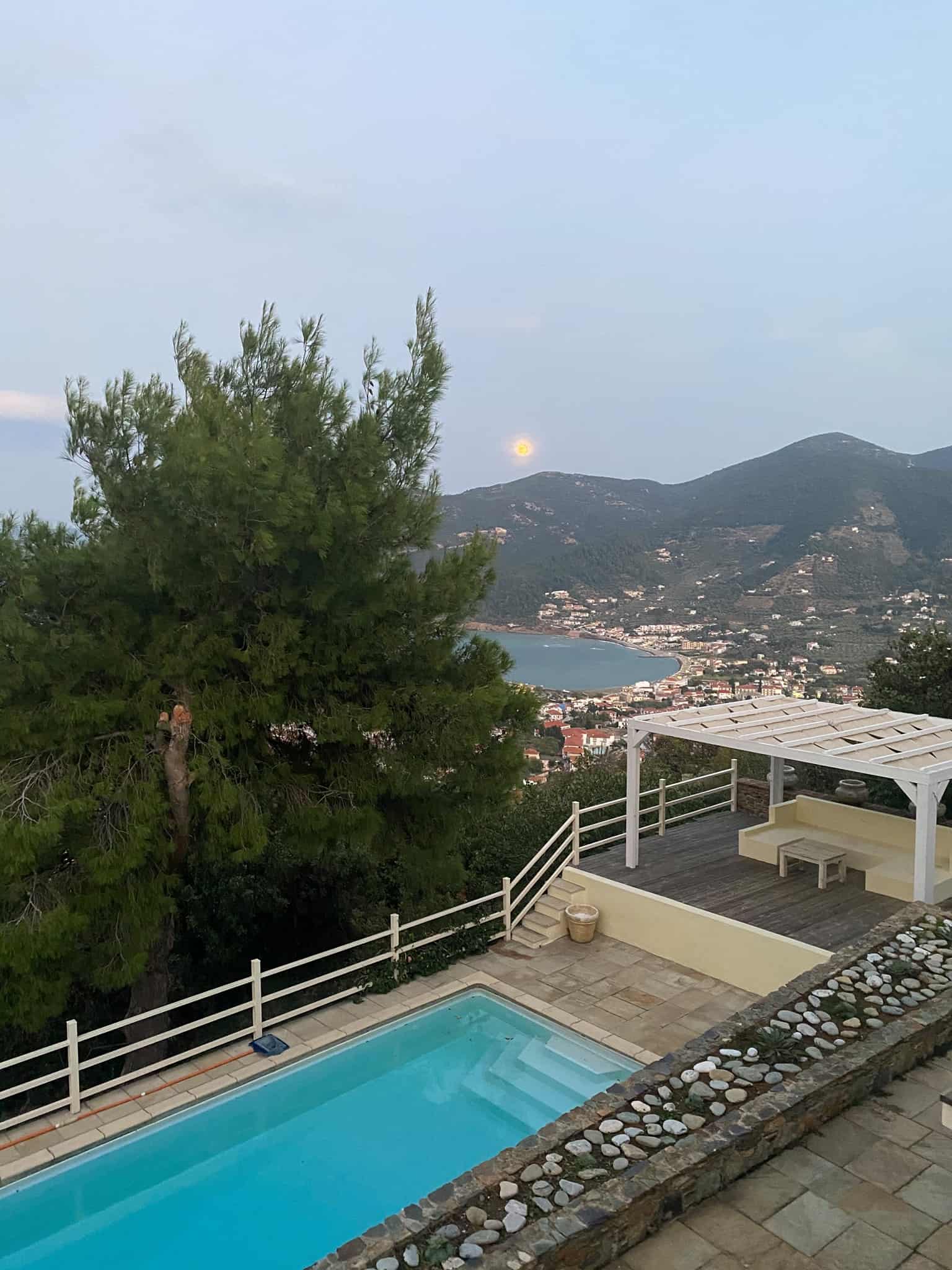 Many Skopelos villas are listed on various platforms so if you see a property that interests you, have a look around. Booking platforms such as Airbnb and Booking take commission from property owners.
Airbnb fees can often be high. It is not uncommon for $80-100 of your booking to go directly to Airbnb and have nothing to do with the rental cost. Be sure to look around.
Skopelos is not an incredibly popular and well-known Greek island. However like many places in Greece, it has its devout fans that make an annual trip to Skopelos every year.
As such, you should try and reserve the villa that interests you as much in advance as possible. It is not uncommon that by September/October, a particular villa is fully booked for the following summer.
Final Thoughts
Have any further questions about finding or booking Skopelos villas? Drop a comment in the box below and I'll get back to you ASAP.
I lived in Skopelos for 6 months during 2020/21. Wish you safe travels!
Geia sou! Melissa xo
---