Šibenik Croatia (pronounced shee-be-nick) is a beautiful little historic town on the country's Dalmatian coast. It sits beside the cerulean waters of the Adriatic Sea and can be found 49 km north of Split. 
This is Dalmatia's third city, and it's a beautiful one. Šibenik Croatia is grossly underrated and is often overlooked from many people's Croatia itineraries. This is a shame.
Not only is Šibenik bursting at the seams with culture, history, and UNESCO-protected architectural wonders, it also sees a fraction of the crowds and over-tourism experienced by Split and Dubrovnik. The town makes a nice day trip from Split, as a place to spend a few days at a slower pace, or even as a remote working destination.
Šibenik Croatia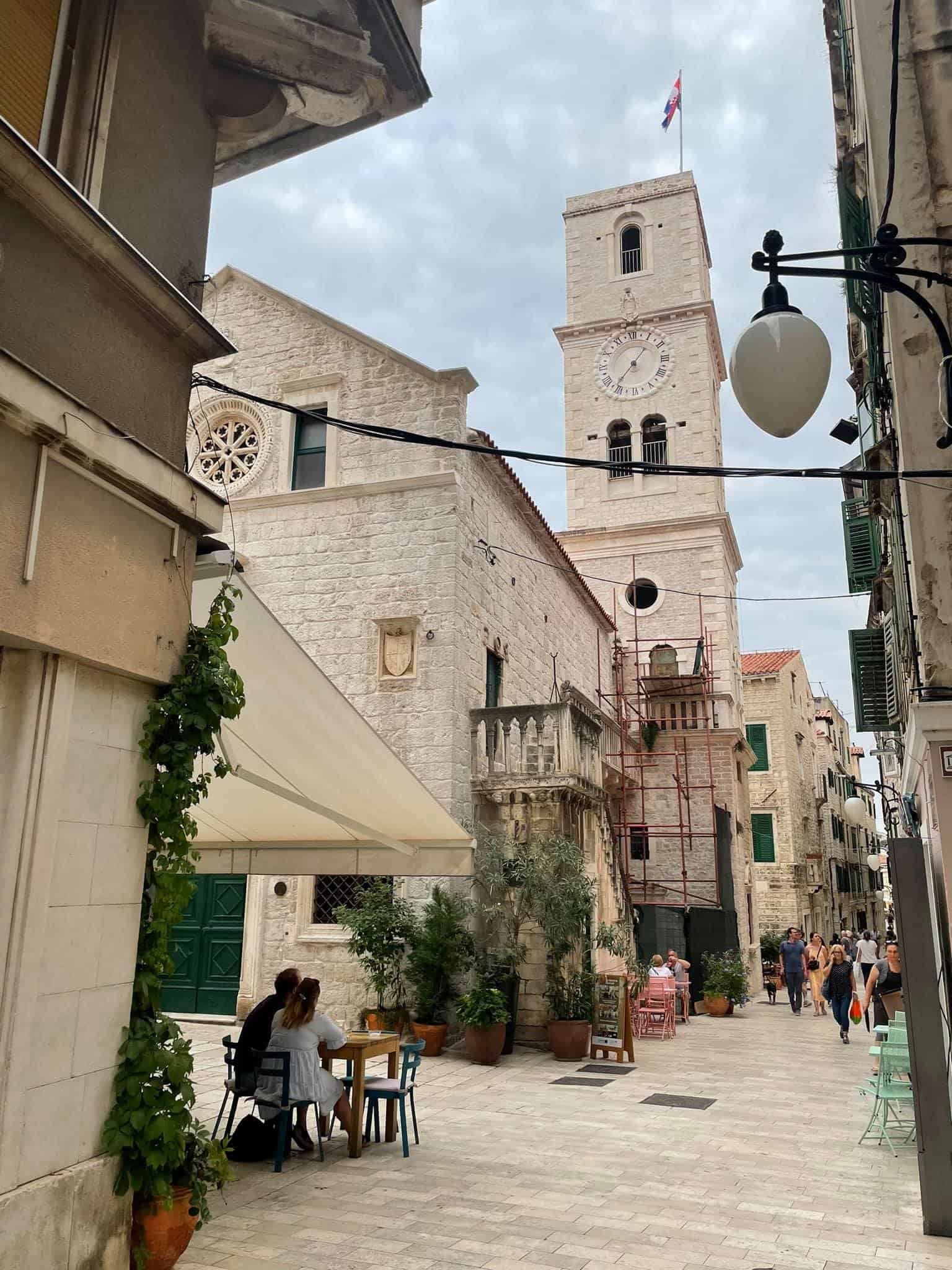 Šibenik Croatia is unique because it is the very oldest settlement in the country that was founded by the Croats themselves. It dates back to the 9th century. Meanwhile, most other cities in Croatia have ancient Greek or Roman roots.
Like much of Croatia and the Mediterranean, Šibenik has passed through several hands over the course of the centuries. Each of these civilisations have left their mark on the city via their architectural and gastronomical influences.
Most notably, it was conquered by the Venetians, the Byzantines, and the Kingdom of Hungary. The Ottoman Empire made its threats to Šibenik Croatia, at a time when the Ottoman presence in Europe was significant. However, they never succeeded in conquering or invading.
Visiting Šibenik Croatia Today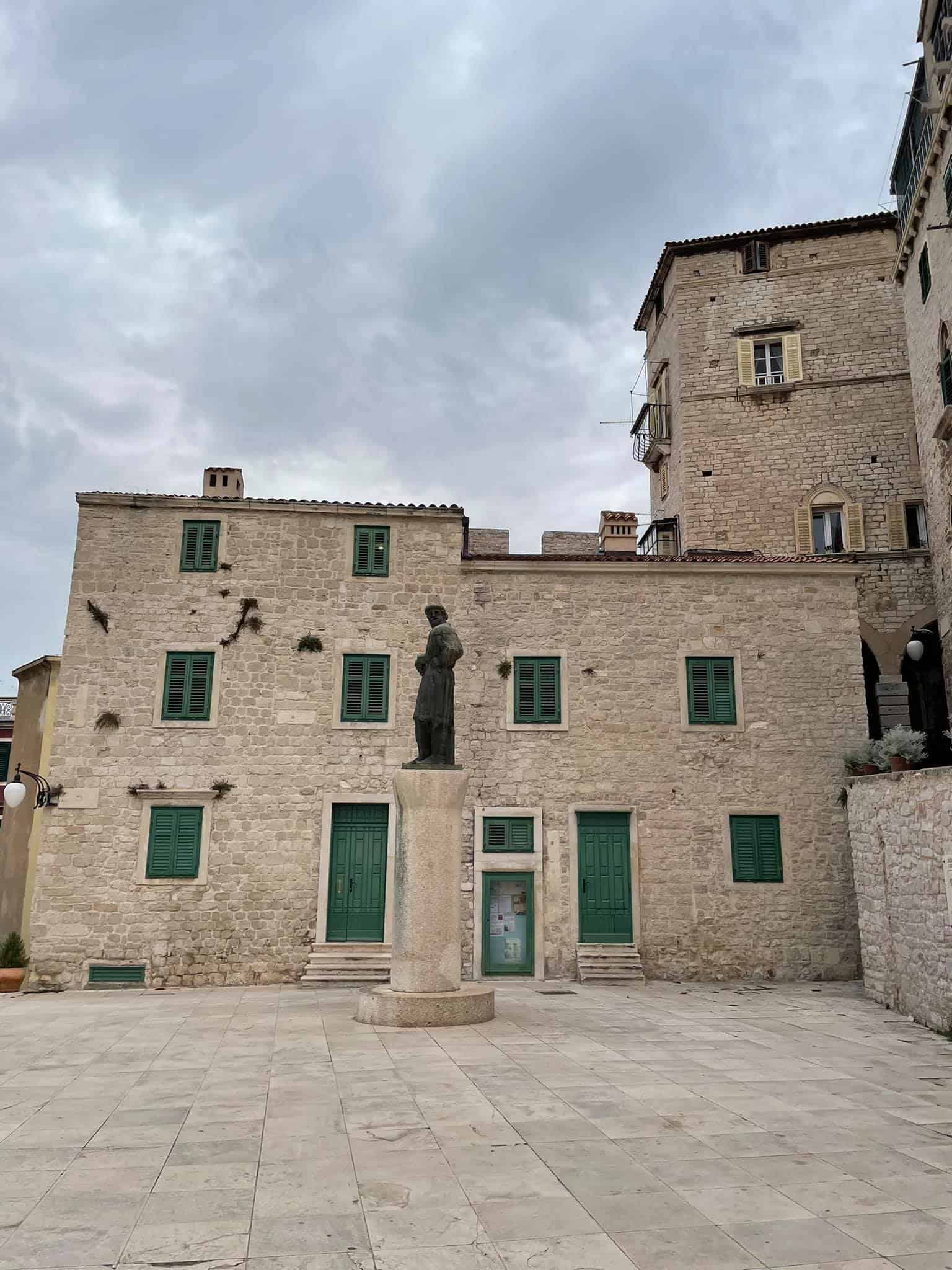 Šibenik Croatia has a certain je ne sais quoi that other Croatian towns and settlements just don't appear to have. Its historic centre is a labyrinth of narrow, winding cobbled streets and passageways.
Every building is constructed from stone and many boast glorious porticoes reminiscent of a time gone by. There are no cars permitted in the centre which adds to the ambiance – an adventure to Šibenik seemingly transports you back in time.
Even the most unsuspecting passageway twists and turns and leads you out into grand piazzas teeming with life where well-heeled crowds sip cappuccinos beneath cabanas. The historic beauty of Šibenik appears to have inspired new generations of creatives. Indeed, there are various independent art galleries, workshops, and outdoor contemporary art installations scattered around the town.
Despite being Dalmatia's "third largest" city, Šibenik possesses a very small-town vibe. It's important to see that in context as a "large city" here is substantially different from a large, populous city in say, the USA or the UK.
Sibenik and the surrounding province have a population of less than 49,000. 
Best Šibenik Croatia Tours for 2023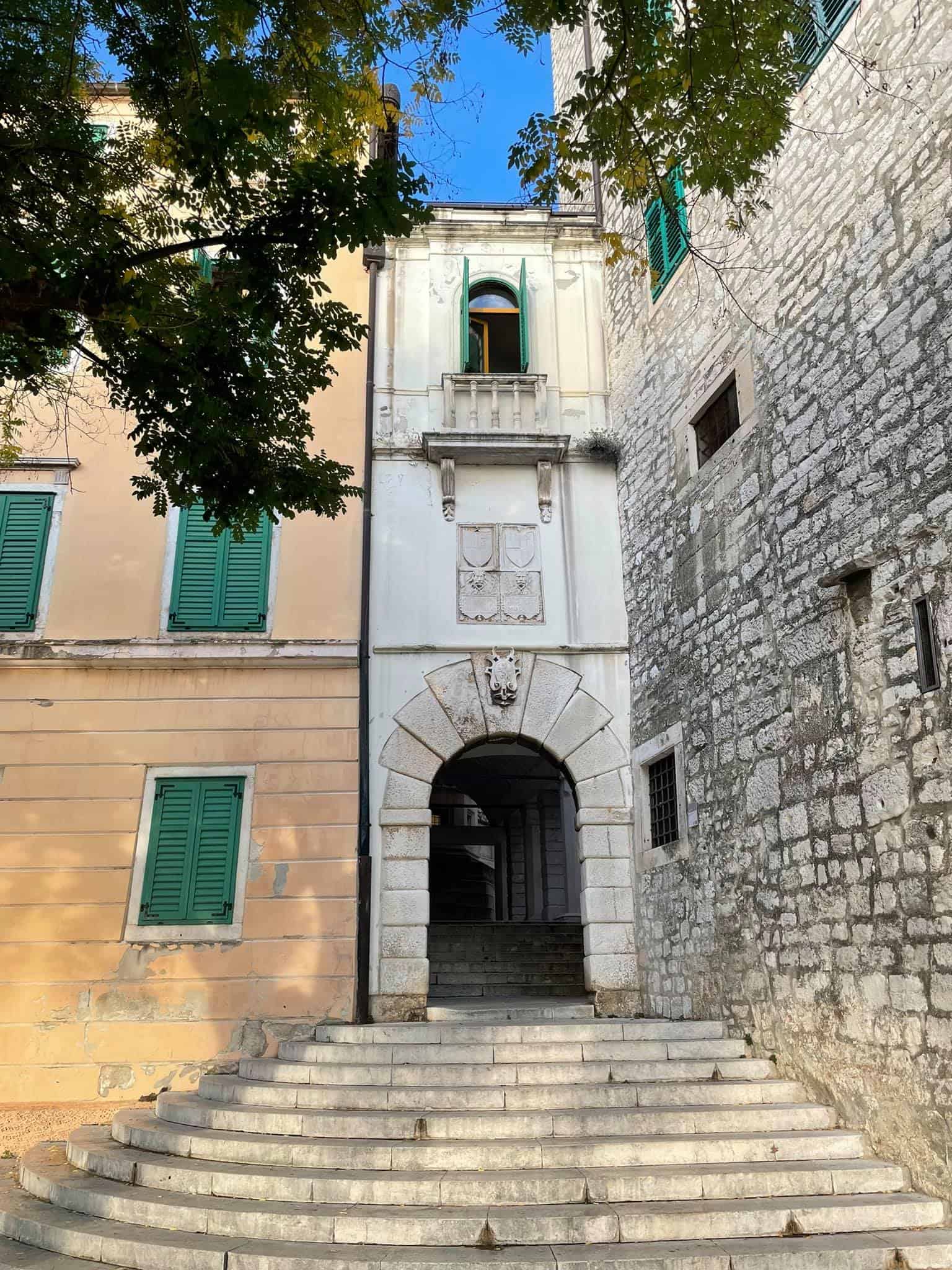 If you are short on time during your Croatia trip, or you prefer to do an excursion to take away some of the stress/logistics of visiting Sibenik, it is possible to explore the area on an organised tour. Tours depart from Split and combine a trip to Sibenik Croatia with the beaches in Zadar, Krka National Park, and other Dalmatia highlights. 
Alternatively, if you decide to stay overnight in Sibenik for a day or two, you can organise a local walking/food tour. A selection of some of the most reputable tours is detailed below.
Things to do in Sibenik Croatia in 2023
Cathedral of St James
The spectacular Cathedral of St James can be found in the heart of old Sibenik. Even if you are not particularly interested in religious buildings or architecture, you are likely to find it breathtaking.
Construction on the Cathedral took over 100 years to be completed and took place between the 15th and 16th centuries. Perhaps one of the most interesting things about the exterior is the 71 stone heads that run along the walls.
The heads are life-size and every single one is different. Despite various theories, nobody knows for certain who the heads represent. However, it is believed that they were perhaps people that lived in Sibenik during the time of construction.
The Cathedral of St James still hosts services and mass. You can also enter to admire the frescoes and interior designs within.
This is the only cathedral in Europe made entirely out of stone and, with Italian influences very evident, it seamlessly combines Gothic and Renaissance styles. If you ever watched Game of Thrones, you may recognise this building – it featured as the Iron Bank in the show.
Sample Delectable Croatian Cuisine
A range of exquisite eateries can be found in Sibenik serving up delectable cuisines from across the globe. While it's possible to sample traditional Croatian dishes here, many restaurants also serve western cuisine, and Italian-influenced, Mediterranean-style menu options.
Restoran Galerija is particularly special. All of the dishes are prepared using fresh fruits and vegetables grown in their very own vegetable garden.
Their pasta is prepared by hand, in-house, and everything can be paired with excellent local wines. To enjoy the best of Croatian produce, consider ordering something like their handmade gnocchi served with Croatian black truffles from Istria, mushrooms, garlic, and a fresh cream sauce.
Sip Coffee at Gradska Vijecnica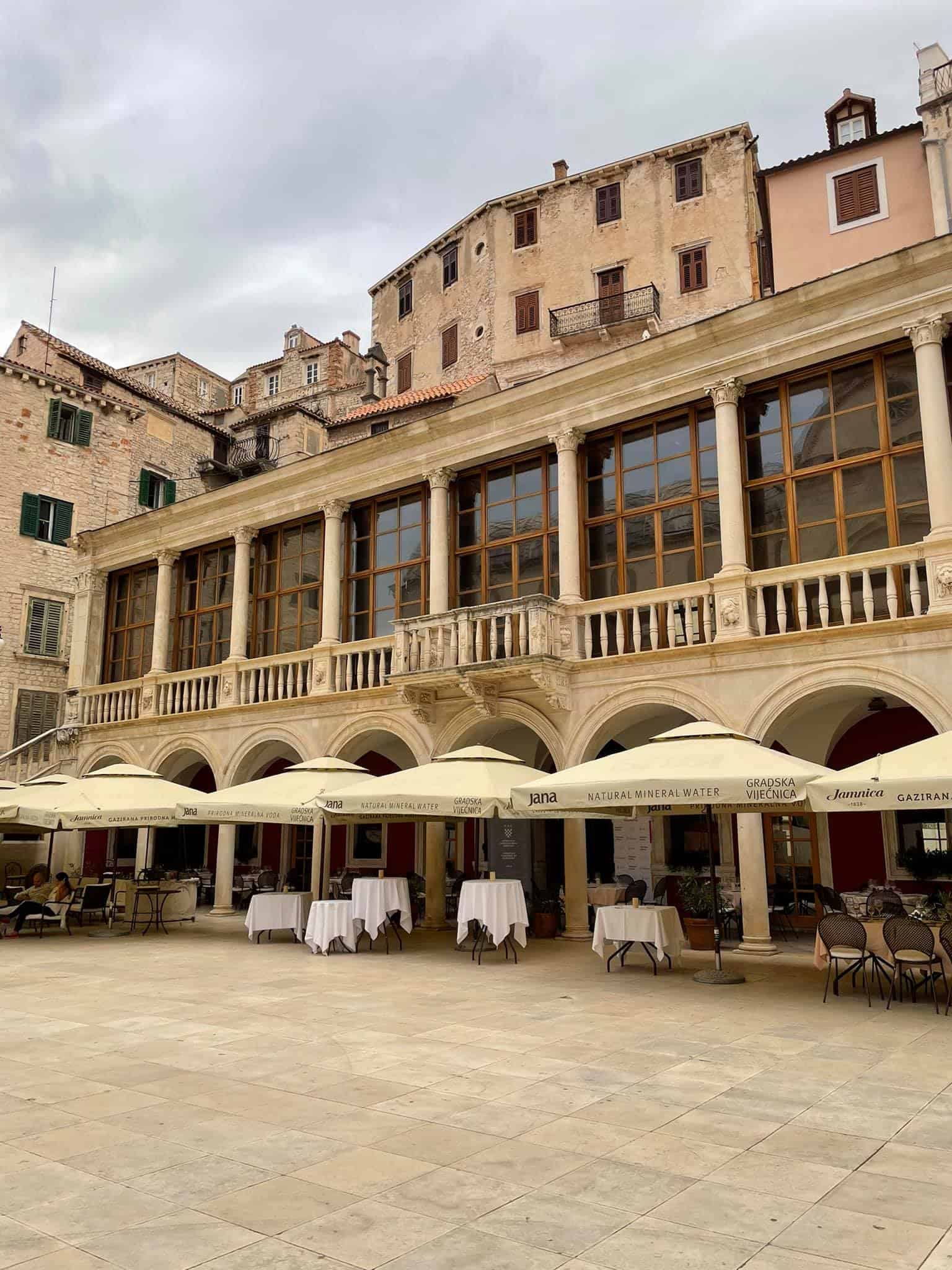 Starting your day with a coffee, and people watching as you sit outside a local cafe is a quintessentially Croatian pastime. The best place to do that in Sibenik? Gradska Vijecnica (Trg Republike Hrvatske 3).
This beautiful spot is housed inside a Renaissance-style porticoed building directly across from the Cathedral of St James. Better still?
This Renaissance building is the grand Sibenik town hall. It's an opulent structure with a fascinating history.
The town hall was built sometime between 1533 and 1546. Sadly, it was almost completely destroyed during World War II.
However, in the 1950s, it was lovingly restored to its former glory and those involved in the restorative effort did a wonderful job of making it look just as it did in its 16th-century heyday. Part of the building still serves administrative functions.
The remainder comprises Gradska Vijecnica. The restaurant section offers a fine dining experience, though reservations are recommended. Few things are more pleasant than sitting outside here with a coffee and a croissant as Dean Martin and Frank Sinatra classics play out over the loudspeakers.
Take the Time to Get Lost In the City Streets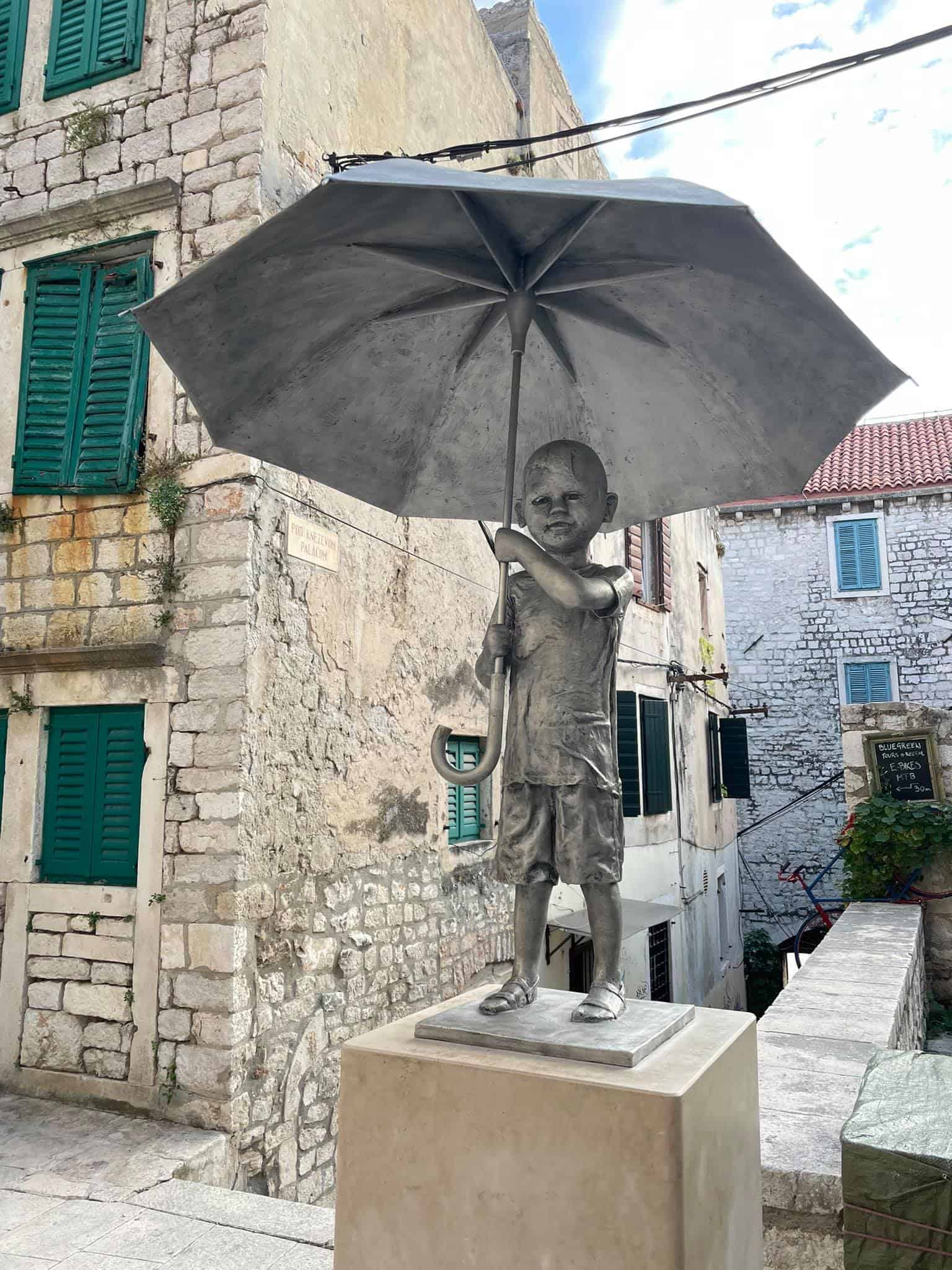 Part of the joy of visiting Sibenik Croatia is found in taking the time to simply get lost among the streets of its old town. Stop here and there to get a pot of gelato or a cup of coffee.
Admire the beautiful churches and shrines tucked away down side streets, and pop inside the various boutique stores. The shops here don't sell your typical tourist tat, but beautiful hand-painted canvases of Sibenik, art pieces, sculptures, and gorgeous unique clothing items.
Cycle Along the Waterfront
Sibenik waterfront is lined with beautiful porticoed buildings, cute coffee shops, street food stands, and international eateries. Better yet, from here, you can gaze out across the water to the Kanal Luka nature reserve, and the small islet that contains St Nicholas Fortress.
It's pleasant to spend an evening wandering around the waterfront. Since many superyachts are often moored here, it's also an interesting place for people-watching.
Alternatively, you can rent a bicycle or an e-bike. You could also cycle a little further afield to the beach towns of Brodarica, Jadrija, and Vodice if you like.
Take the Bus to Krka National Park
Krka National Park sits just 10km inland from Sibenik Croatia. Bus services run between Sibenik and Krka regularly, making it a popular day trip.
The park takes its name from the river Krka, and the ancient Greek "Kyrikos". Unlike in other Croatian national parks such as Plitvice Lakes, you can swim in the various lakes and waterfalls at Krka.
Unfortunately, this area does get very crowded during the high season (July and August). Visiting at the end of September means that the temperatures are still pleasant and yet you see a fraction of the crowds, so plan accordingly.
Krka offers a little something for every type of nature lover. There are various hiking trails that you can follow around the park.
Similarly, admission to the park includes a free boat ride that takes you across it and enables you to cover a lot of ground. Skradinski Buk Falls are one of the most stunning sites at Krka and arguably, in all of Croatia. 
Get a Bird's Eye View of the City from its Fortresses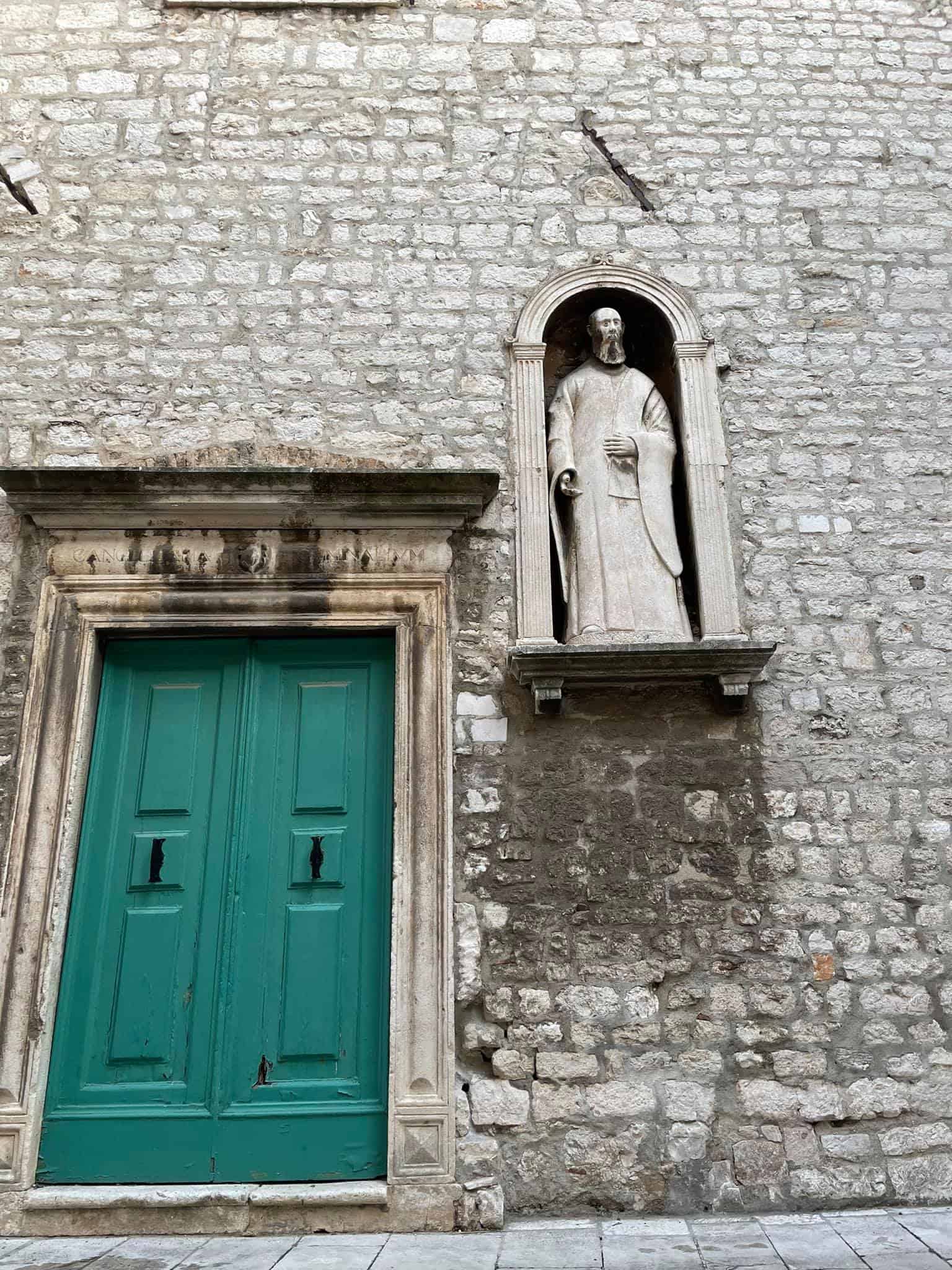 There are four fortresses within Sibenik city centre, and a whopping fourteen are found across the wider region. Those in the city are, namely. St John fortress, St Nicholas fortress, Fortress Barone, and St Michael's fortress.
In the 15th and 16th centuries, Sibenik's location was perfect for maritime trade, making it the prime target of enemy attacks. So, its residents had to be strategic. With the requirement to defend themselves, they built one of the most impressive defensive systems in Croatia – perhaps on par with Dubrovnik.
It is worth visiting one or two of these sites, both to admire the views they offer and to learn a little more about Sibenik's history. The Barone fortress, for instance, contains an interesting museum that tells you about the development of Sibenik over the centuries.
St John's fortress was built in the 17th century in order to bolster defenses against the Turkish. Unfortunately, it has been under restoration for several years and you presently cannot go inside. However, the views from the exterior are spectacular.
Where to Stay in Sibenik Croatia 2023
Sibenik Croatia boasts an array of accommodation options for every budget and travel style. The city has everything from backpacker's dorms and homestays to luxe boutique hotels. 
If you're looking for a mid-range hotel, you can find rooms for around 35 euros a night. A selection of choices is detailed below for your consideration.
Adriatic Suites
The Adriatic Suites offer comfort and luxury in the heart of the old town without breaking the bank. Double rooms with en-suite bathrooms start from just €35 a night while self-catered apartments with fully equipped kitchen and lounge spaces start from €50 a night.
The furnishings are plush and stylish and the hotel has been recently renovated so everything is modern and brand new. All rooms have tea and coffee-making facilities, air conditioning, and flat-screen televisions.
There are two excellent bakeries on either side of the property – perfect for picking up freshly baked croissants in the morning with a strong coffee. You can check the latest room rates and availability at Adriatic Suites here.
King Kresimir Heritage Hotel
King Kresimir Heritage Hotel (Square, Medulić, Dobrić 2) has won awards for offering some of the best hospitality in Croatia. So, you know you're in good hands if you opt to stay here.
Here, you are right in the city's main square and just a short walk away from all of its points of interest. The luxurious rooms seamlessly pair modern and traditional furnishings and fittings. The property itself is a fabulous juxtaposition of old meets new.
Breakfast is included in the price. Meanwhile, a la carte menu options are available at the hotel restaurant in the evenings.
The King Kresimir hotel offers indulgent luxury without an excessive luxury price tag. Rooms and suites start from just €70 per night. Click here to check the latest rates and availability.
How to Get to Sibenik Croatia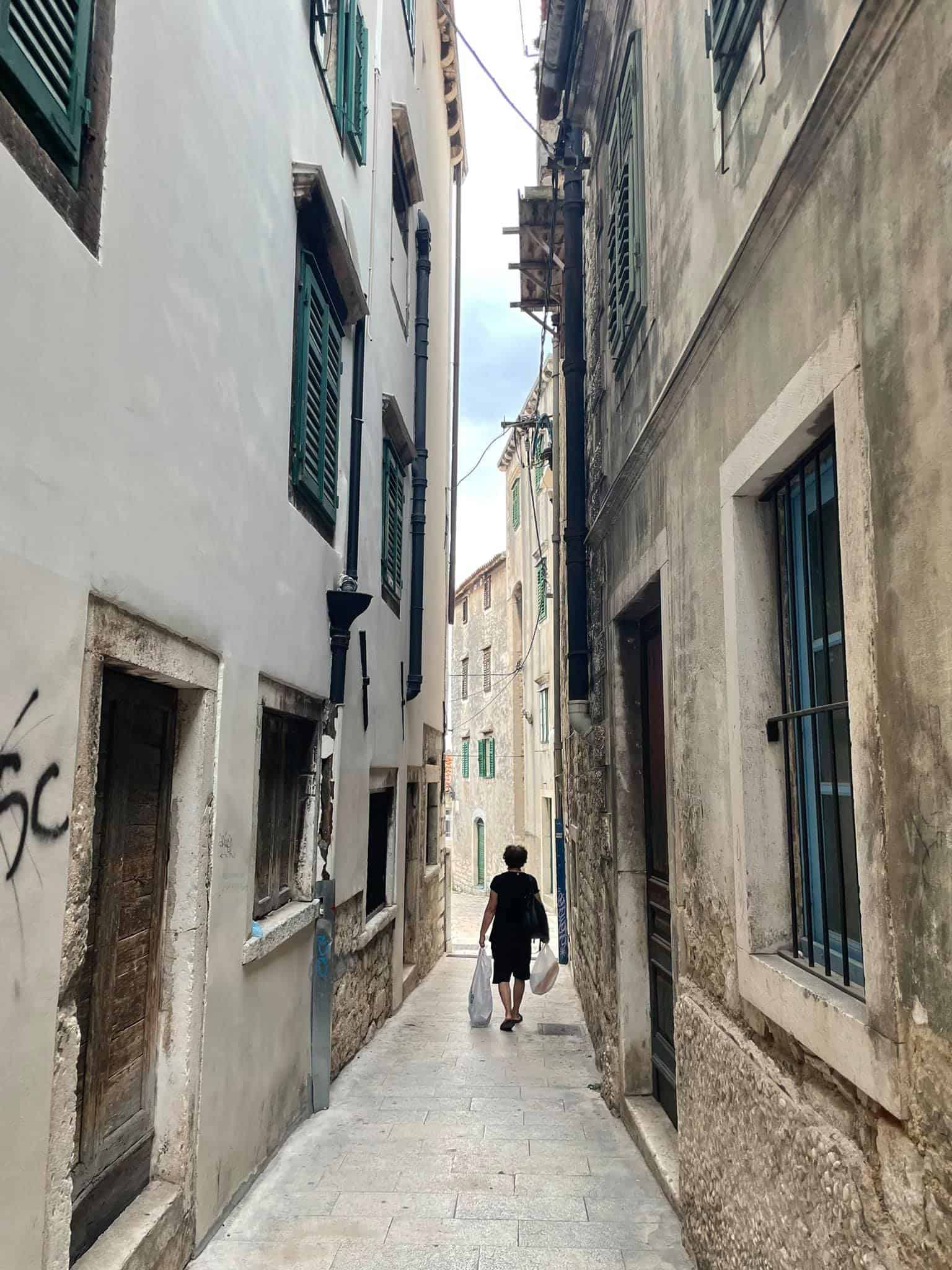 It is easy to get to Sibenik Croatia – particularly if you are travelling here from Zadar or Split. Public transport in Dalmatia is very good and services run frequently, particularly during the summer months.
Reach Sibenik by Bus
Sibenik bus station is very centrally located – right outside the old town. By bus, it takes just over an hour and a half from Zadar and Split to Sibenik.
If you are travelling from Dubrovnik, the bus journey takes six and a half hours. From Zagreb to Sibenik, it takes four hours and fifteen minutes.
You can buy your bus tickets in person at the bus stations of various Croatian cities. However, buses are often pretty crowded or fully booked.
This is especially true during the peak summer months or on popular services such as the Split – Sibenik route. Various bus companies operate in Croatia and several different companies may serve the same route.
So, your best option for taking public transport in Croatia is to use a website such as Get by Bus or Rome2Rio. Check the bus departure times, and then book your ticket online directly with the bus company.
Tickets from Split to Sibenik cost €6.90. From Zadar to Sibenik, they are €6. Baggage is not included and a checked bag under the bus costs between 7 and 10 kunas.
Reach Sibenik by Air
Split International Airport is the closest airport to Sibenik, Croatia. The airport is situated approximately 19km away from the city, close to the town of Kastela. Daily shuttle buses run between Sibenik and Split Airport in the summer season.
Final thoughts on visiting Šibenik Croatia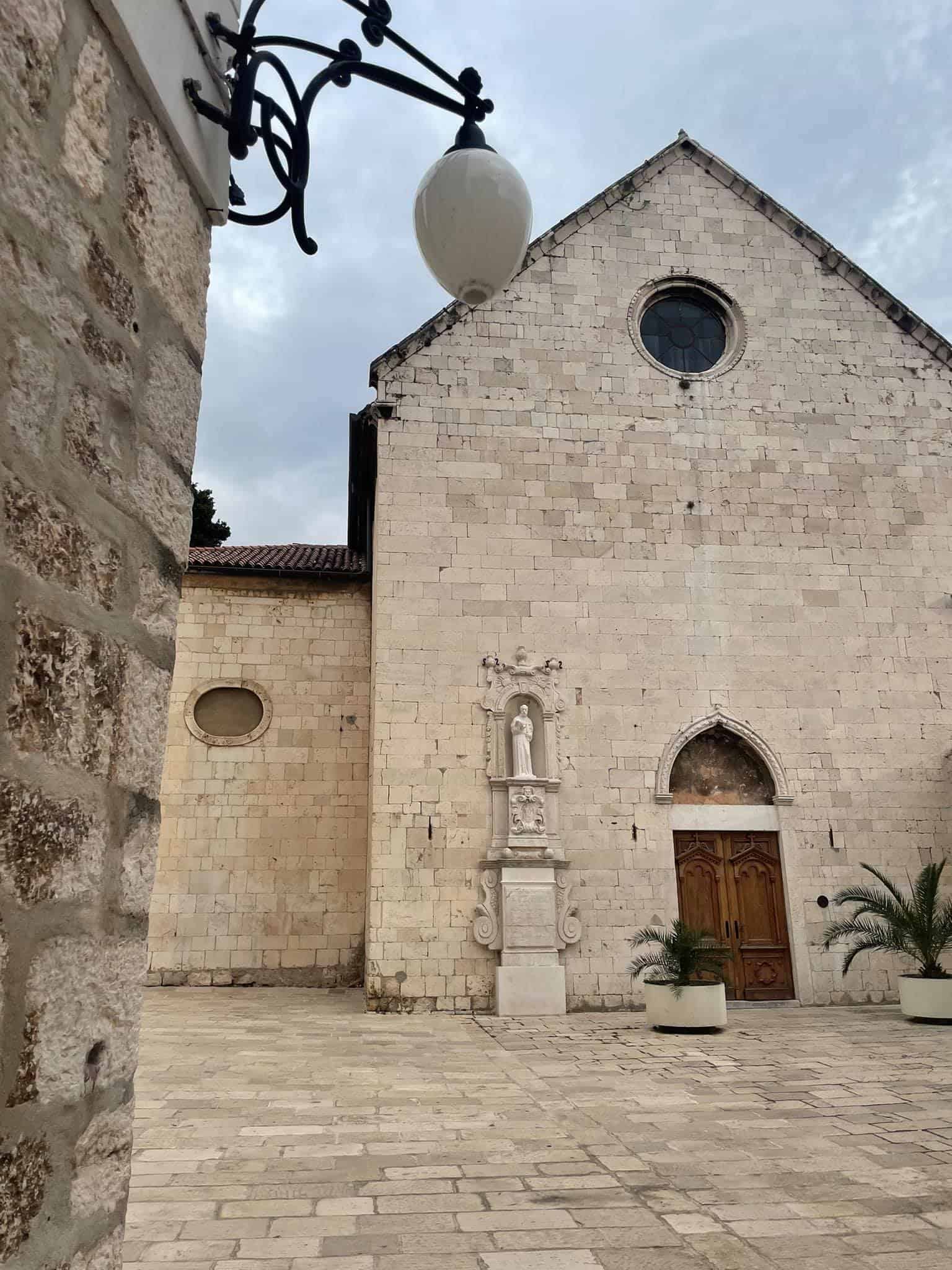 Do you have any additional questions about visiting Šibenik Croatia or about drafting out a Croatia travel itinerary in general? Please don't hesitate to contact me.
I spent 3 months in Croatia in 2021. Safe travels! Melissa xo
---