Seoul Food: Best Places to Eat in Seoul: Korean cuisine is no doubt a major highlight of any trip to Korea, however uncovering the best restaurants in Seoul, and figuring out precisely what to eat in Seoul can be overwhelming for a first timer in Korea. I spent two years living and working in Seoul. This guide covers the best places to eat in Seoul as per what is loved by the locals. The places you will find in this Seoul food guide are unknown to tourists and therefore they can be our little secret.
"If I ever bring you to a place where there are other White people, I give you permission to kill me" my Korean friend assures me, as we make our dinner plans. Obviously I had to trust in his assurances of knowing about the best local eats in Seoul as no-one just offers their murder out on a platter… unless maybe these Koreans are crazier than I thought?
Kudos to my friend, head of Korea's Couchsurfing community, Jason for helping me to deliver this damn tasty article.
Hanok Jip – Home of Bulgogi Broth

The photos don't really do Hanok Jip justice… although maybe the fact that you can see that we pretty much licked the bowl clean in picture one is a good indicator as to how much we enjoyed the food! There is no disputing the fact that this is one of the best places to eat in Seoul.
Bulgogi is delicious – thin strips of marinated beef, made even tastier by this restaurant's approach to the dish. Bulgogi and fresh vegetables picked from the restaurant's own garden are placed into a cooking pot and you cook it over a stove in front of you. The juices from the meat and vegetables drip down to form the most beautiful broth I have ever tasted (hence the bowl licking). Without a doubt, one of the best restaurants in Seoul. Highly recommended.
Hanok Jip, 164-2 Dangsan 1(il)-dong Yeongdeungpo-gu, Seoul

Samgyetang at Tosokchon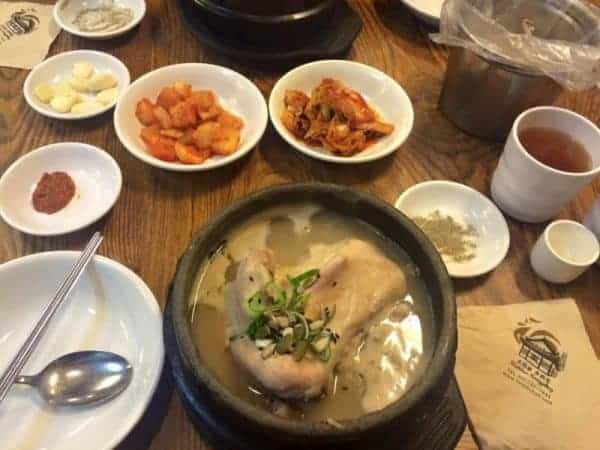 Samgyetang is a whole young Chicken that is stuffed with rice, garlic, onion and spices. I cannot even find the words to express how much I love Samgyetang… Ode to Samgyetang!
This Seoul restaurant was loved by late Korean President Roo Moo-hyun, and is a favourite for this dish amongst local people.
Tosokchon, 5 Jahamun-ro 5-gil, Jongno-gu, Seoul

Ejo Korean Restaurant

Ejo Restaurant's main dish is a grilled fish, however what makes this restaurant interesting is all of the side dishes which are served in accompaniment. My sympathies to the pot washer!
Ejo, Mapo-gu, Gongdeok-dong 256-21, Seoul
 Gwanghwamun Jip
A hole in the Wall that brings a literal meaning to the phrase 'hole in the wall', Gwanghwamun Jip is a tiny restaurant, the size of someone's living room that is tucked away in an alley near Gwanghwamun and has been a popular local for Seoulites for the past 30 years. The secret? Preserved mugenji  (super ripe kimchi), a deep savoury broth, and chunks of pork, accompanied by delicious and healthy Green sides.
There are a few Kimchi Jiggae restaurants in Seoul, however none of their dishes taste quite like this one. The owners have recently won acclaim in the local Korean media due to their restaurant's popularity amongst locals.
43 Dangju-dong, Jongno-gu, Seoul, South Korea

Korean BBQ at Mapo Jeong Daepo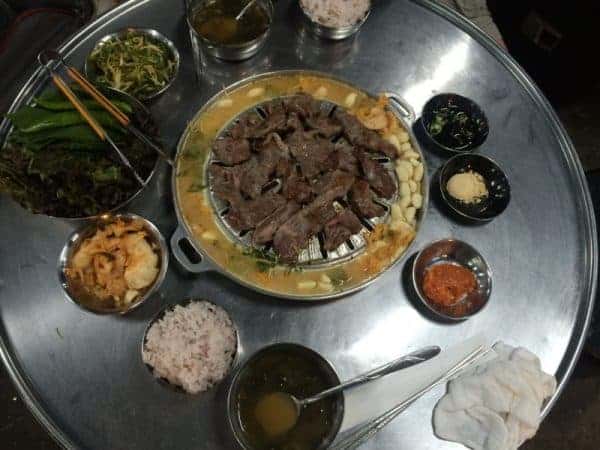 Mapo Cannon is a pork BBQ restaurant well loved by my Korean friends, and the one that was featured on Anthony Bourdain's documentary 'Parts Unknown' which saw Bourdain stuffing his face and drinking Soju with a group of Korean business men.
The meat is beautifully marinated, and the server pours an egg batter, along with herbs and garlic into the outer rim of the cooking pot creating a beautiful spicy omelette.
52, Mapo-gu, Dohwa-gil, Seoul

Korean BBQ at Han Chon Galbi

Okay it's a little bit of a trek from the centre of Seoul, but trust me, it's worth it.
Heck, I am sure you can tell that it's worth it just by looking at the pictures above. Have you seen how perfect that meat looks?!
92 Gyeongin-ro, Sosa-gu, Bucheon-si, Gyeonggi-do
More Foodventures in Korea
Since writing this article, I actually moved to Seoul so that I could eat more Korean food! For more Korean food inspiration, take a look at:
Traditional foods to try at Seoul's Gwangjang market – Click Here 
Visiting Seoul's Noryangjin fish market – Click Here
Ansan Multicultural Food Street – Click Here 
Cooking Classes in Seoul –Click Here
Feeling Inspired? Find Deals on Accommodation in Seoul!



---