I truly believe that one way you can really learn about a country's culture (and have a delicious time doing so) is through their food; so what better, and tastier way to experience the Italian capital than by taking a food tour of Rome? Enter the Roman guy and their Trastevere food tour. Meeting our tour group in the historic Piazza Farnese, we would be in store for a night of the very best of traditional Roman cuisine.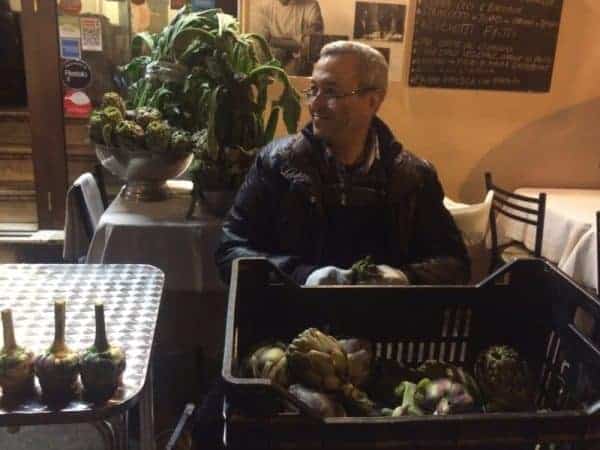 Attending a Rome food tour in the evening offers the perfect opportunity to experience the very best in Italian dining culture – from the classic aperitivo, to the pasta fueled main courses, before finally rounding it all off with a sinful pot of traditional gelato. This tour was the perfect introduction to Italian cuisine for anyone who is completely new to Italy.
The first stop on our agenda was a tasting at a cheese store. If you've spent any amount of time in Italy, you will know that cheese is flying all over the place here – it's a major part of the local cuisine and makes a regular appearance at Italian dinner tables.
We tasted both well-loved classics – aged Parmigiano-Reggiano from Modena, creamy buffalo mozzarella from Campania, and the current 'flavour of the month' cheeses that were recent top sellers among locals.
The cheeses were washed down with a nice glass of Prosecco to really bring out the essence of the… Do you ever really need an excuse for Prosecco?!
Moving on, we headed to filetti di baccala, a restaurant popular among the locals and the working classes, serving up deep fried baccala – fried fish which could easily be compared to the traditional British fish and chips. Cheap and cheerful, this is a popular street food snack.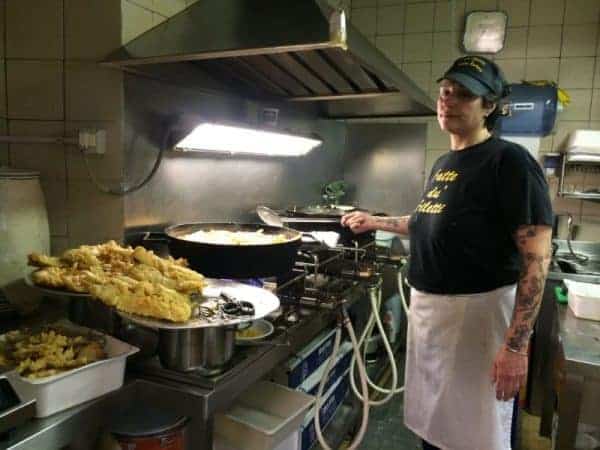 As the sun began to set, we crossed the picturesque bridge over the river Tiber and entered Trastevere – Rome's ancient neighbourhood turned chic and sophisticated hangout spot for locals and expats alike. We visited a pizza al taglio store (pizza by the slice) and our guide explained the popular tastes and traditions before we all delved into the pizza and then headed onto our next point – Tastevere.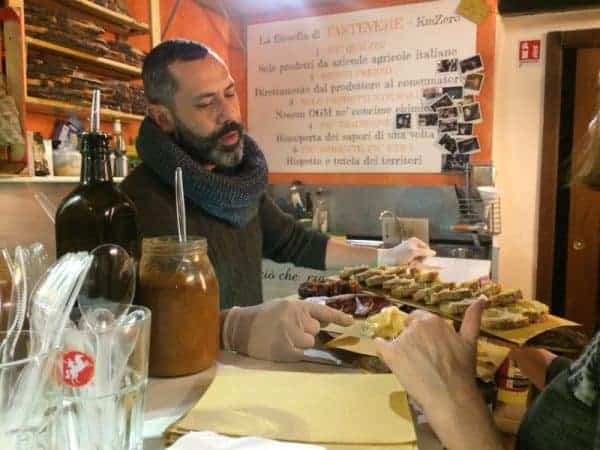 Tastevere, an artsy wine bar and restaurant that sells craft beers, delicious local wines, and organic food platters lay in waiting among the seemingly infinite quirky stores and boutiques that populated the cobbled streets of Trastevere.
Greeted with an array of succulent bruschettas, pates and cold cuts, we enjoyed this Roman hand buffet in accompaniment of a nice glass of house red before moving on to our main course – dinner at Da Teo, an extremely popular local restaurant where reservations are essential.
For starters we enjoyed fried artichokes – a local Roman tradition, and for the main, two types of local pasta – amatriciana (pasta in a tomato based sauce with guanciale pork cheek and pecorino cheese) and cacio e pepe ("cheese and pepper" pasta). The food was delicious and by this point the tour felt less like an organised event and more like an evening spent enjoying good food and good wine among international friends.
We crossed the river Tiber once more, this time taking an extended walk through the Jewish ghetto where our guide explained the buildings around us and the history of the area before we stopped for gelato to round off the evening.
The nice thing about the tour is that it leads you through parts of the city that you may not otherwise see. If you do decide to book it, I would definitely recommend organising it for early on in your trip, so then you can come back to the Jewish Quarter and Trastevere later once you are familiar with these neighbourhoods following the tour. You can easily spend a day enjoying the stores and coffee shops, and getting lost in the winding streets of these neighbourhoods.
Though we were advised to "come hungry" for the tour, the food that we were given was sufficient – it was filling without being too much, so there is no need to starve yourself in preparation during the day. In summary, it was a perfect way to eat in Rome like a local Buon appetito!
Looking for other interesting things to do in Rome outside of the usual tourist activities? Consider the Lungo il Tevere festival if travelling during the summer months!
Disclaimer: High Heels & a Backpack was a guest of the Roman Guy on this tour.
---