A Rome food tour is a great way to explore the Italian capital and learn more about Italy's food culture. Doing so enables you to uncover local restaurants and traditional dishes that you may not have otherwise found.
Opting to do a Rome food tour early on in your trip is also a good way to get your bearings and have a brief understanding of what is where. Most tour guides are locals, meaning that you have a great opportunity to ask an expert on their recommendations for your wider trip in Rome.
What to Expect on a Rome Food Tour
Italy is globally renowned for its excellent food. As a matter of fact, Italian gastronomy is so good that it is now UNESCO protected!
Rome, like other Italian regions, has its local specialties. For instance, cacio e pepe pasta, suppli (fried rice balls), and Carciofi Alla Romana (Roman artichokes) are all Roman delicacies.
A Rome food tour is a great opportunity to sample these dishes. You will uncover charming local trattorias, and share the experience with fellow travellers and new friends.
Rome is a sprawling city comprised of numerous neighbourhoods or "quartieri". Each of these distinct areas has their own unique personalities and are essentially little towns in themselves.
Most Rome food tours tend to focus on exploring one or two specific areas. Trastevere, the Jewish Ghetto, and Testaccio are particular foodie favourites.
This is also a great way to experience Rome at night. At this time, the city really comes alive and the skyline is illuminated by hundreds of twinkling lights.
Best Rome Food Tours
Countless tour companies offer Rome food tours. Some of the best-rated tours are shortlisted below for your consideration.
Rome Food Tour Overview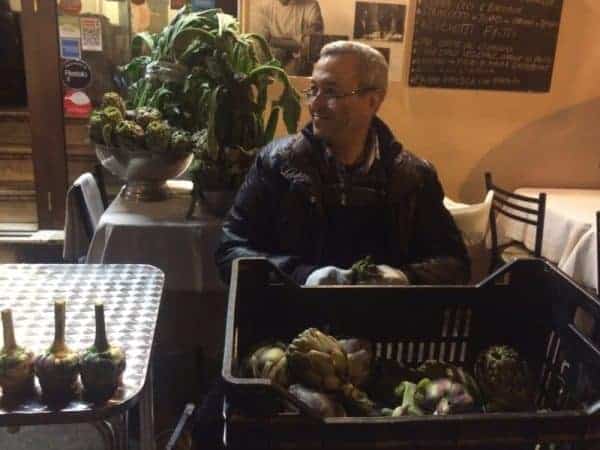 In a sea of options, I decided to do a Trastevere food tour with The Roman Guy tour company. The Roman Guy is a local company that offers an array of group and private tours around Rome and Lazio.
I joined the rest of the tour group in Rome's historic Piazza Farnese. From that point, we were in for a night of the very best of traditional Roman cuisine.
Attending a Rome food tour in the evening offers the perfect opportunity to experience the very best in Italian dining culture. You can sample everything from the classic aperitif to the pasta-fueled main courses.
Italian Cheese Tasting
If you've spent any amount of time in Italy, you will know that cheese is a major part of the local cuisine. It makes a regular appearance at Italian dinner tables, particularly as an appetiser, a starter charcuterie, or a dessert cheese platter.
We were led into a beloved local fromagerie. Here we tasted both renowned Italian cheeses, and innovative new developments from local sellers.
For instance, aged Parmigiano Reggiano from Modena, creamy buffalo mozzarella from Campania, and unique local cheeses that were infused with various fruits and herbs. Cheeses were paired with an array of honey and dips and washed down with prosecco.
Filetti di Baccala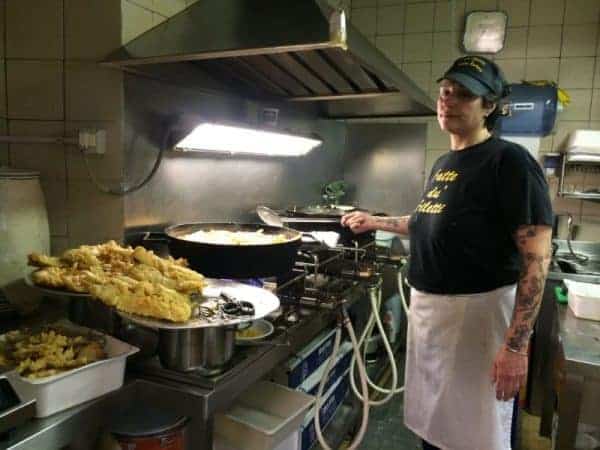 The second stop on our Rome food tour was Dar Filettaro a S. Barbara – a local hole-in-the-wall specialising in filetti di baccala. What is filetti di baccala?
This local delicacy consists of deep-fried cod fillets which could be compared to traditional British fish and chips. This local restaurant is popular among local workmen who often stop by after finishing their shifts to have a quick bite to eat, and a chat among friends.
This cheap, cheerful, and flavourful dish is often enjoyed as an antipasti before pizza. Dar Filettaro a S. Barbara serves nothing else besides salted, battered, deep-fried cod. It is a true specialty restaurant that has been satisfying locals and travellers for years.
This little eatery awaits at Largo dei Librari, 88, a short walk away from Campo de' Fiori. It is easy to spot, thanks to the unambiguous 'Filetti di Baccalà' sign that hangs over its door.
Pizza al Taglio
As the sun began to set, we crossed the picturesque bridge over the river Tiber and entered Trastevere. This ancient Roman district has established itself as a chic and sophisticated hangout spot for locals and expats in recent years.
In true Roman fashion, we visited a pizza al taglio store (pizza by the slice). This was the perfect light bite to follow our filetti di baccala pizza antipasti.
Italian Charcuteries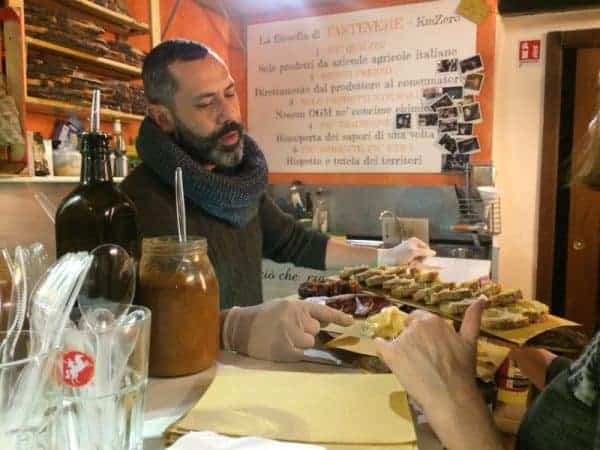 We meandered down the cobbled streets of Trastevere, bypassing quaint boutique stores and eclectic coffee shops as we went. Our Rome food tour guide led us inside an artsy local wine bar where exquisite charcuterie boards awaited.
We were presented with an array of succulent bruschettas, pates and Italian cold cuts. All of the wines and craft beers on the menu were locally prepared, and our guide provided us with some insight into the local craft beer scene.
From there, we moved on to our main course – dinner at Da Teo. This is an extremely popular local restaurant where reservations are essential.
Da Teo
Trattoria Da Teo is a Roman institution. The menu boasts a diverse array of classic local dishes.
Its dishes change each season, depending on what fresh local ingredients are available. Arguably visiting here in the springtime means being presented with the best selection of options.
Stuffed zucchini flowers, puntarelle (chicory), truffles, porcini mushrooms, and fragoline di bosco (wild strawberries) are all mouthwatering options that you can expect to find on the menu. For starters, we enjoyed fried artichokes
This dish, known locally as "Carciofi alla giudìa" is one of the best examples of Roman-Jewish cuisine. As you walk the streets of Trastevere and the Jewish ghetto, you will often see local restauranteurs sitting outside, preparing artichokes ready for the evening ahead.
Carciofi alla giudìa is a simple recipe. The artichokes are deep-fried until they are crispy on the outside and tender in the middle. They are then seasoned with sea salt.
Pasta
A small portion of two types of local pasta were served for our main course at Da Teo. Firstly, we sampled Amatriciana.
Amatriciana is a somewhat spicy pasta that is served in a tomato-based sauce with guanciale pork cheek and pecorino cheese. Secondly, we had cacio e pepe ("cheese and pepper" pasta).
Gelato
We crossed the river Tiber once more. This time we took an extended walk through the Jewish ghetto. Our guide explained the buildings around us and the history of the area before we stopped for gelato to round off the evening.
Parting Words
Looking for other interesting things to do in Rome outside of the usual tourist activities? Consider the Lungo il Tevere festival if you are travelling during the summer months!
Please don't hesitate to reach out to me if you need help planning a trip to Italy. I lived in Naples while teaching English in Italy. I am happy to assist with any questions you may have.
Disclaimer: High Heels & a Backpack was a guest of the Roman Guy on this tour.
---