Hiking the Tiger's Nest trek in Bhutan is a must-have experience for anyone that travels to the mysterious little landlocked country. In fact, for most people, the Tiger's Nest (also known by its official name as Paro Taksang) is the main raison d'etre that they decided that they want to visit Bhutan in the first place.
The site – an intricately designed Buddhist temple, perched almost precariously on the edge of a cliff some 4000m above sea level, has become the iconic postcard image of Bhutan. It has been photographed and featured time and again in various travel literature.

However, regardless of how many times you see the photos or watch Bhutan documentaries, nothing can ever compare to actually visiting the site firsthand and seeing it with your own eyes. The fact that getting to the Tiger's Nest in Bhutan necessitates a 2-hour hike adds even more to the sense of satisfaction that you get when you finally reach it.
History and Background of the Tiger's Nest in Bhutan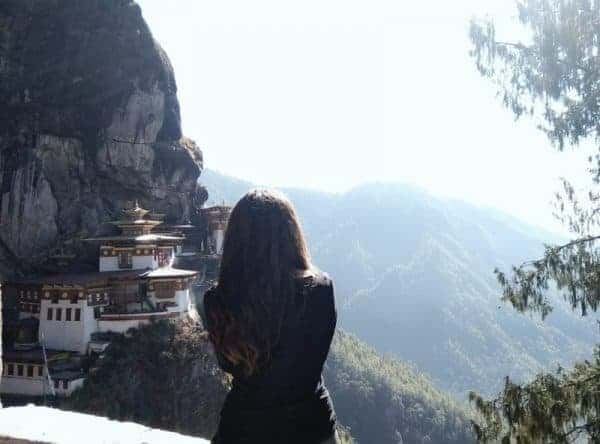 The Tiger's Nest dates back to the 17th century, but the spiritual significance of the site predates that. According to Bhutanese legend, during the 7th century, Guru Rinpoche, a Buddhist master from India is said to have flown here on the back of a magical, flying Tigress.

Guru Rinpoche is also often referred to as Padmasambhava. He is said to have been born inside a lotus flower and after spending time in India, he helped spread Buddhism in Tibet before continuing on to Bhutan.

After arriving at the site, Guru Rinpoche meditated inside a small cave inside the cliff for 3 years, 3 months, 3 days, and 3 hours. Why? So as to subdue any evil spirits that may have been lurking in the area.

Rinpoche is credited with introducing Bhutan to Buddhism. Like Drukpa Kunley, the Divine Madman of Bhutan, he is one of the most revered figures in the country.
Following on from these years of meditation, the location was considered a sacred spot. So, in 1692, Gyalsey Tenzin Rabgye, the fourth temporal ruler of Bhutan, built a temple dedicated to Guru Rinpoche.

Many Bhutanese believe that Gyalsey Tenzin Rabgye was the reincarnation of Guru Rinpoche. Allegedly, many magical and mysterious things happened during the construction of the Tiger's Nest.
Some have even stated that magical creatures aided in building the temple. Perhaps that would explain why the Bhutanese were able to build it in such a tricky location on the side of a cliff thousands of meters high!

Today, the Tigers Nest is still a fully functioning monastery occupied by monks. It is made up of several separate temple buildings as well as living quarters for the monks.
Hiking the Tiger's Nest in Bhutan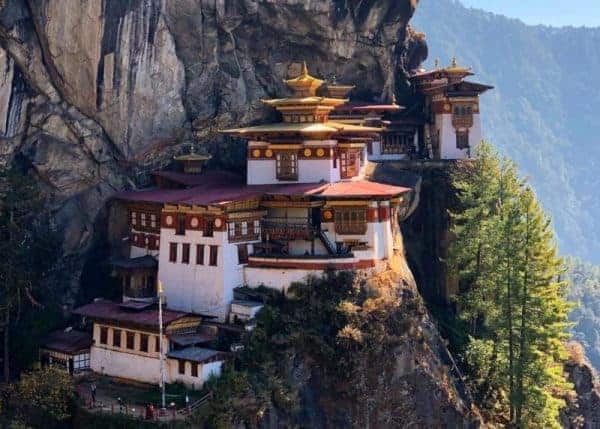 Conquering the Tiger's Nest Trek in Bhutan is an essential part of any Bhutan itinerary. Most guided tours and itineraries stop by here and typically, they all follow a similar route anyway. (They tend to start in Thimphu, visit Punkakha, and end in Paro).

It is a good idea to attempt the Tiger's Nest Trek at the very end of your Bhutan trip. That way, you gradually get acclimated to the higher altitudes in the country.

Nestled in the Himalayas, the country is likely to be at a much higher altitude than what you are accustomed to anyway. However, the altitudes at the Tiger's Nest are higher still, and the trek means that you climb into higher and higher altitudes in just a short space of time.

Some people do get altitude sickness (headaches, dizziness) up here. It is also slightly tougher hiking in these conditions and you may find that you get out of breath faster. So wait until you reach the end of your trip and take it steady.
Key things to know before you go
The Tiger's Nest Trek Bhutan in Bhutan extends over 6.4km (circa 4 miles). It will take you a couple of hours to reach the monastery, depending on your speed and fitness level.

You should allow a full day for your visit and expect to spend anywhere between 4 and 8 hours at the site. During your hike, you will ascend 520m in a short space of time.

So don't be too hard on yourself if you find the uphill climb tougher than usual! When you arrive at the starting point of the trail, you will find people that rent out walking sticks.

These are only around 80 cents and this is worth considering if you have any mobility issues. There are plenty of places to stop and buy water or use the bathroom along the route. But it is also worth packing a fully-filled reusable water bottle and some light snacks such as trail mix, to take with you too.
Embarking on the hike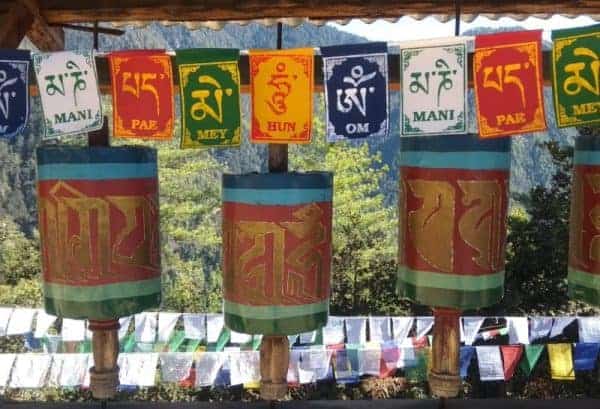 Once you arrive at the car park at the foot of the Paro Taksang site, you will note that the trail is very clearly marked and there are plenty of tourists embarking on the trek. There are usually a handful of monks and pilgrims that attempt the hike in full robes several times a year!

It is very clear to see where you need to go so don't worry about getting lost. (If you are visiting with a guide they will have embarked on the hike countless times already).

There are actually two separate trails. The main one is longer and takes you on a more gradual ascent.

A separate trail essentially gets you to the monastery faster. However, it is steeper and means a faster ascent.

Generally, it is better to stick to the main trail. Even if you are super fit and go on regular hikes, everything is much tougher at these altitudes. Even the healthiest person may find themselves huffing, puffing and wheezing like an 80-year-old chain smoker!
As you make your way along the route, gradually ascending higher and higher, don't forget to look behind you. Some of the views of Paro along the route are exceptional.
Pausing along the route
Approximately halfway along the Tiger's Nest Trek Bhutan, you will stop by a cafe. This place serves traditional Bhutanese food, ice-cold bottles of water, and warm coffee.

It can be a nice place to stop for lunch and to relax for an hour or so before continuing on with your journey. Nearby, there is also a viewpoint where you can take a photo of yourself gazing out to the Paro Taksang monastery in the distance.

The final leg of the hike is arguably the most challenging and a nightmare for your knees! You will descend down 700 steps from the lookout point, and then immediately ascend another 250 steps from the other side.

At the top of the opposite staircase, you will have arrived at the Tiger's Nest! If you really don't feel up to this aspect of the journey, you can still be satisfied with having arrived at the lookout point.

This is the quintessential image of the Tigers Nest and the best view of the site. Otherwise, make your way to the whitewashed temple, note the prayer flags fluttering in the wind, and the elderly monks chanting and spinning the prayer wheels.
Entering Paro Taksang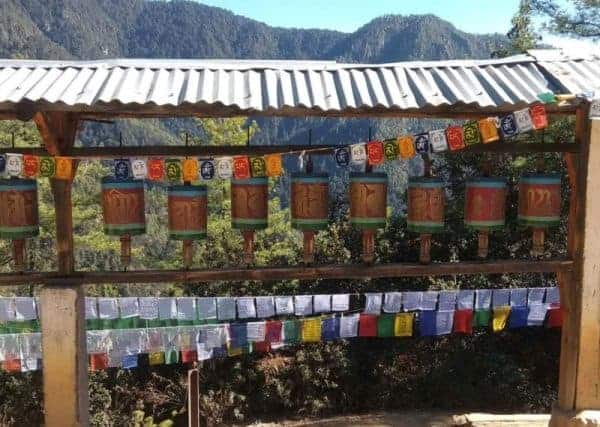 You are not permitted to take photographs inside the Tigers Nest monastery Bhutan. In some ways, this isn't a bad thing as it allows you to be more present at the moment and to really take everything in, rather than simply seeing it through a camera lens.
You will also need to put your electronics and personal belongings into a locker, and then retrieve them when you leave. As is the case with many Buddhist temples and religious sites in Bhutan, your shoes must be removed before entering each temple building.

The site consists of nine temples and praying halls, each of which exists to serve a different purpose. If you are exploring with a guide, they will explain each temple hall to you in detail, as well as the meanings behind the vibrant, colourful frescoes that adorn the temple walls.
The haze of incense and the rhythmic sounds of monks chanting fills each hall. The paintings on the walls and the glittering gold sculptures all depict the life of Buddha.

It is easy to see why this place is considered so spiritually important for the Bhutanese. Behind one of the temples, you will also see a small cave room where people have left various offerings and gifts. This is supposedly where Guru Rinpoche stayed and meditated.
Prayer flags and souvenirs on sale
As you descend back down towards the car park after your Tiger's Nest Trek Bhutan, you will find (not surprisingly) that the descent is much easier than the ascent. You will encounter several vendors along your way, selling interesting trinkets and souvenirs such as wooden ritual masks and prayer flags.

The colorful prayer flags are particularly nice. You will see them fluttering and dancing in the wind in the hills and valleys around the country.

Each type of Bhutanese prayer flag has a different meaning. Vertical white prayer flags are known as Manidhar and represent a deceased loved one.

After someone's passing, the relatives will head into the hills and mountains to place a flag somewhere in their memory. It is also common to see a sequence of colorful flags with the mantra ¨Om Mani Pae Mey Hun¨ written across them.

There is no specific meaning to this phrase, but it exists to represent the ethics and outlook of Bhutanese Buddhism. For instance, the need to be compassionate, patient, etc.

Flags that are in one color only represent a certain figure or deity. They are said to bring good fortune to the person who owns and mounts it, and these are the ones you can buy around the Tiger's Nest.
Each one provides a different fortune. For instance, the flag of the green Tara represents wealth and success for women.
You can take the flag home as a souvenir, or you can find a place to hang it. Apparently, if you hang it in a high place and its prophecy will come true.
Accessibility of the Tiger's Nest Trek Bhutan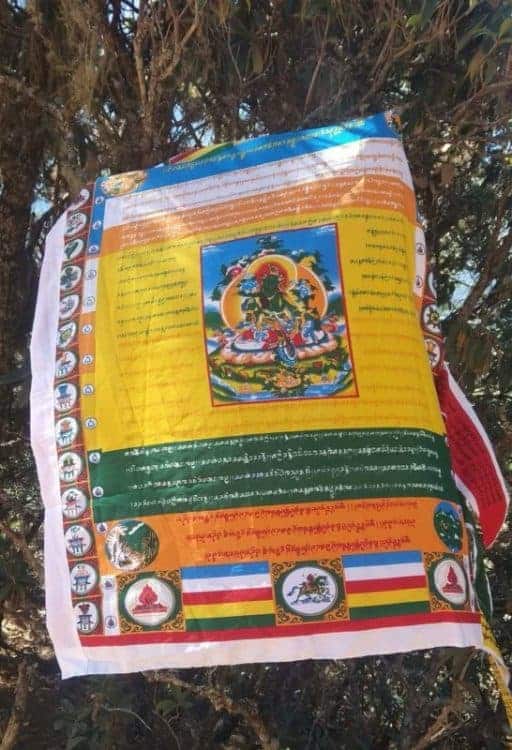 Unfortunately, at this time, Tiger's Nest Trek Bhutan is not accessible for disabled persons. If you are older or you are not in the best physical shape and you are concerned about the hike but want to give it a go, you should not be worried.

While the altitude and the rapid ascent sound intimidating, the route is well paved and the ascent is gradual. There are plenty of places to stop and sit and there are also several points where you can stop and then turn back if you decided that you do not feel that you can do the entire trek. (For instance, at the cafeteria or at the lookout point).
What to Wear for the Tiger's Nest Trek Bhutan
Comfortable walking shoes that you have already worn-in are a must for attempting to hike to the Tigers Nest. You should also keep in mind that Bhutan is a conservative Buddhist country and that people dress modestly.

In the temple, you will need to cover your shoulders and legs so dress accordingly. Do check the specific weather conditions prior to your trip to determine what to wear for the day.

Layers are generally the best option when wondering what to wear in Bhutan. Even if you travel to the country in winter, it can become quite warm by midday.

Softshell trousers, a light shirt, and a jacket are usually sufficient. Take a 5L daypack to carry any needed supplies.
Tiger's Nest in Bhutan FAQs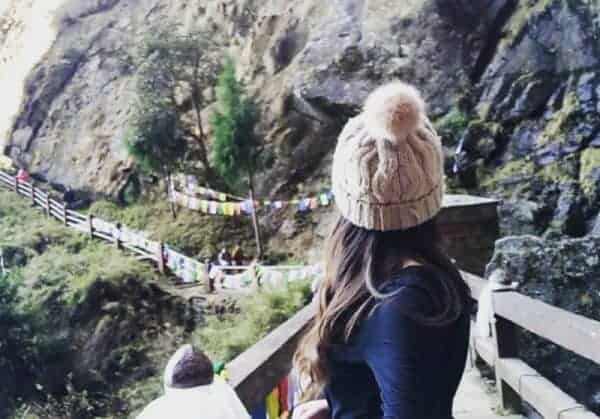 Do you still have any burning questions or concerns about hiking the tiger's nest in Bhutan? Hopefully, you will find the answers that you are looking for below.
How long does it take to hike to Tiger's Nest?
It should take you between 2.5 to 3 hours each way to hike to the Tigers Nest. This depends on your walking speed and fitness level. Remember this is not a race so hike at whatever pace you feel most comfortable.
Can you visit Tigers Nest Bhutan?
Yes. The Tiger's Nest Bhutan is open to tourists following Bhutan's reopening in September 2022. This is one of Bhutan's most famous tourist attractions.
Can you go inside Tigers Nest Bhutan?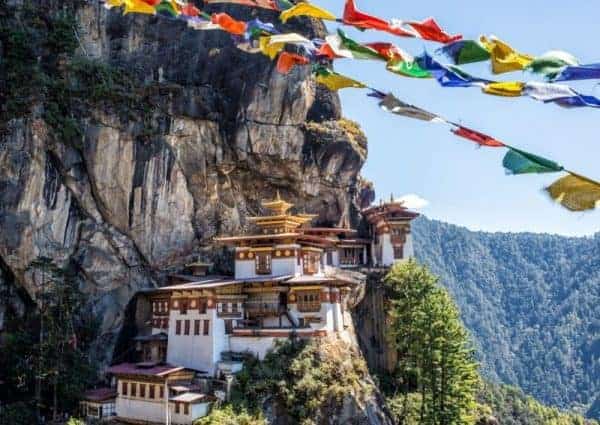 Yes, you can go inside the Tiger's Nest in Bhutan. Although it may look like just one big building from a distance, the Tigers Nest is actually made up of several different temples, shrines, and monks' living quarters.
How many stairs are there in Tiger's Nest?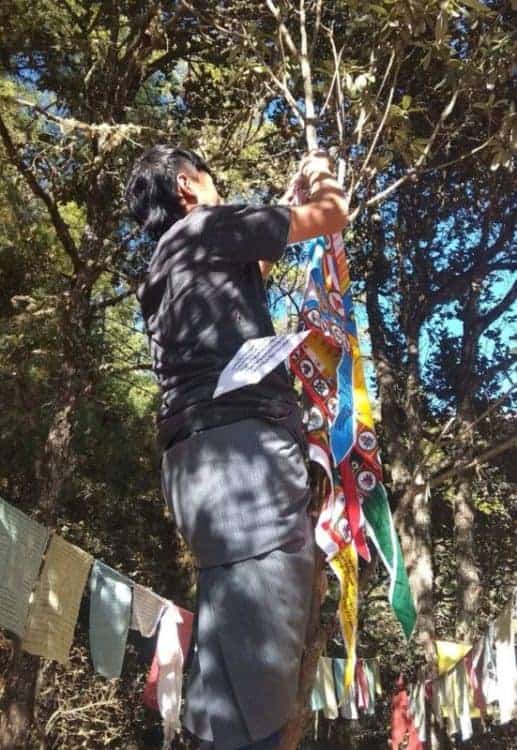 There are 950 stairs at the Tigers Nest site. When hiking to the monastery, you will descend down 700 steps on one side and then immediately ascend 250 steps on the other side.

(Obviously then when you return from the hike, you will then descend 250 steps and back up 750). The steps are plenty wide enough so that you can stop and rest if you need to so don't be hard on yourself.
What altitude is Tiger's Nest?
The Tigers Nest sits at an altitude of 3,120 meters (10,240 ft).
Why was Tiger's Nest built?
The Tigers Nest was built in honour of Guru Rinpoche, a notable Buddhist master from India who, according to legend, flew to the site on the back of a magical tigress. He meditated here for years and stuck around to fight evil spirits. Since then, these location has been very important for the Bhutanese.
Final Thoughts
Have you attempted hiking the tiger's nest in Bhutan? Alternatively, do you have any plans to travel to the mysterious Dragon Kingdom of Bhutan any time soon?

Hopefully, you will have a wonderful experience in doing so. If you are visiting the country for the first time, you might also enjoy browsing through this Bhutan travel guide or reading this post on the main reasons to visit Bhutan.

If you are a fellow solo female traveller that is also considering venturing to Bhutan alone, you might enjoy this post on solo female travel in Bhutan. Safe travels! Melissa xo
---