The Pakleni islands are simultaneously among the most stunning, and the most underrated islands in Croatia. This little archipelago of uninhabited islets sits just off the coast of Hvar, in the midst of the Adriatic Sea.
The Pakleni Islands
The Pakleni islands are also referred to as the "Paklinski islands". However, no one is exactly sure as to why they were given this name.
The literal translation of Pakleni Otco is "hell islands". Yet with their translucent azure waters, dense pine forests, and secluded coves, there is nothing remotely "hellish" about this archipelago! 
While Hvar is one of the wildest and best party islands in Croatia, the Pakleni islands are a stark contrast, offering peace and quiet.
It seems this is more of a case of mistranslation when the name of something is taken and literally translated into English. A (more logical) alternative theory is that the islands derive their name from a pine resin known locally as paklina.
This resin was used decades ago to waterproof boats made in Hvar and the surrounding islands. But local history aside, the Pakleni islands make a great inclusion in any Croatia travel itinerary.
Getting to the Pakleni Islands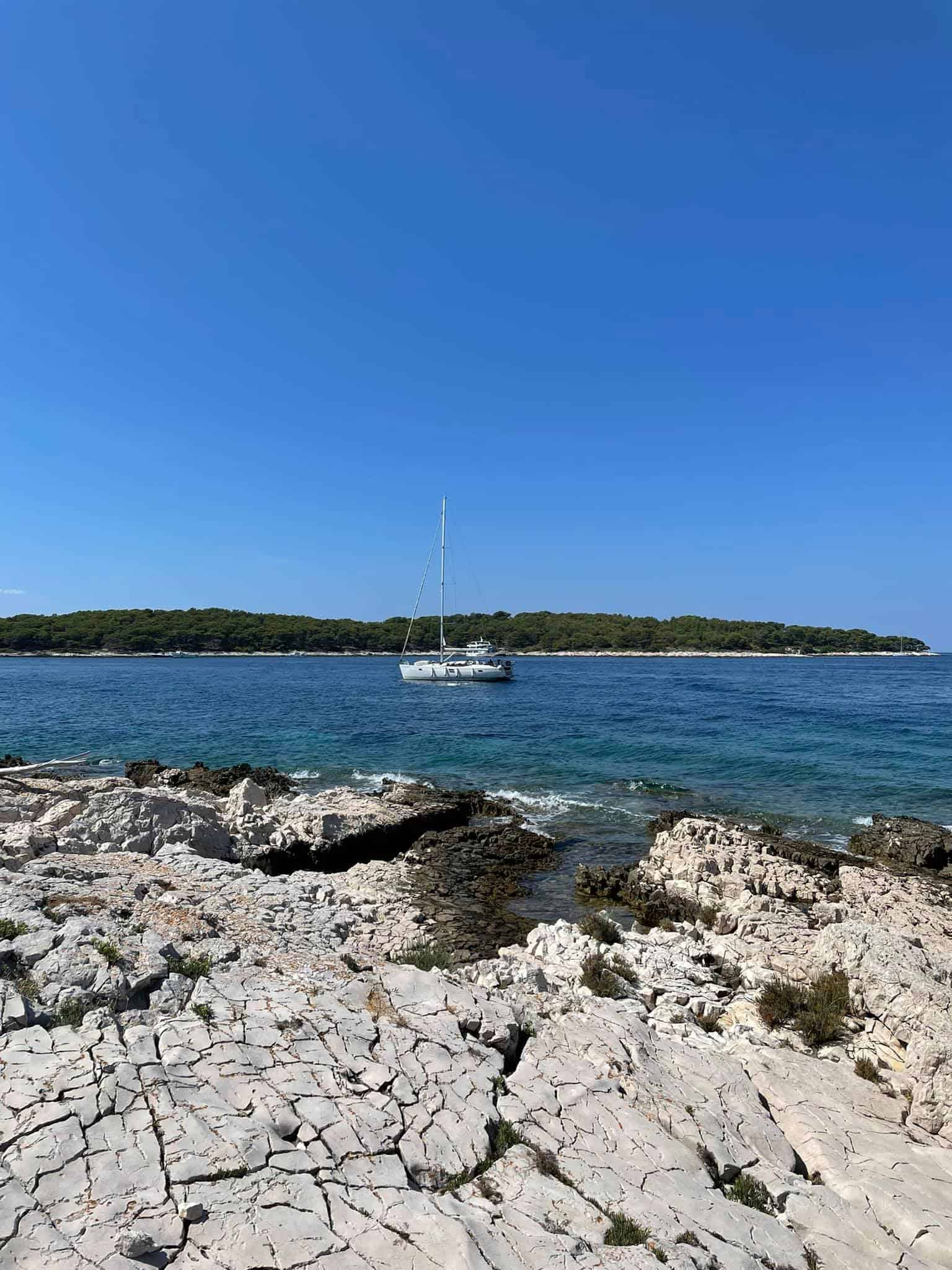 You have a couple of options available to you when visiting the Pakleni Islands. The cheapest option is to board one of the fishing boats that depart from Hvar port.
Take a Fishing Boat from Hvar
There is, unfortunately, limited information about these boats available online. There's no set departure schedule and you cannot prebook.
Don't stress though! Just wander along the waterfront in Hvar and you will see a ton of local guys standing beside little hand-painted fishing boats.
Boats leave every twenty minutes or so – particularly in the peak summer months of July and August. Different boats go to different islands so have a think about what you are looking for before you arrive.
Carpe Diem is the place for wild beach parties. Meanwhile, peaceful Jerolim is perfect if you are looking for a quiet place to swim, relax and read. A return ticket from Hvar should cost around 40-50 kunas.
If you take a boat to one of the islands from Hvar, it is possible to then essentially "island hop" and take a boat to another, later. Keep in mind that the final boat to Hvar tends to depart at around 19.00 pm.
Visit on a Guided Tour
Numerous tour companies offer day trips out to the Pakleni islands from Hvar and Split respectively. This can be a great way to cover a lot of ground in a short space of time.
A handful of reputable tour options are detailed below. It is advisable to book online in advance, especially if you are visiting Croatia in the summer.
Tours from Hvar
Tours from Split
Rent a Boat
It is possible to rent a boat from Hvar port. Doing so enables you both to explore the circumference of Hvar island itself, and to sail across to the Pakleni islands.
You do not need a boat license or any previous boating experience as you will be given a short safety briefing when you collect the boat. If you want the independence of having your own boat, yet you are a little anxious about driving it alone, you can also hire a skipper.
Prices vary substantially from company to company depending on the type of boat in question. Starting prices are around 100 euros for a small boat that can accommodate 4-5 people.
Shop around and try to book in advance if you can. There are many rental agencies scattered around the port.
Do check the small print with the company that you are considering. Generally speaking, you do not need a boating license in Croatia however some companies may request this. Similarly, clarify details related to insurance, damage deposit, etc.
Kayak
It is possible to kayak across to the Pakleni islands. Many kayak and SUP rental offices can be found throughout the entirety of Hvar island and town.
A full-day rental typically costs around 40 euros for a single-person kayak and 60 euros for a two-person kayak. Lifejackets are included.
You should be a good swimmer if you are considering kayaking across to the Pakleni islands as the body of water between them and Hvar is deep. If you prefer to do this with others, kayaking trips like this one depart for the Pakleni islands daily.
Visiting the Pakleni Islands
There are fourteen islets that make up the Pakleni archipelago – each one seemingly more beautiful than the last. Each place offers something a little different, meaning that there is something to suit every type of traveller.
You can easily spend several days in this area, visiting a different island each day. A handful of Pakleni island highlights to consider are detailed below.
Fall in Love with Uninhabited Jerolim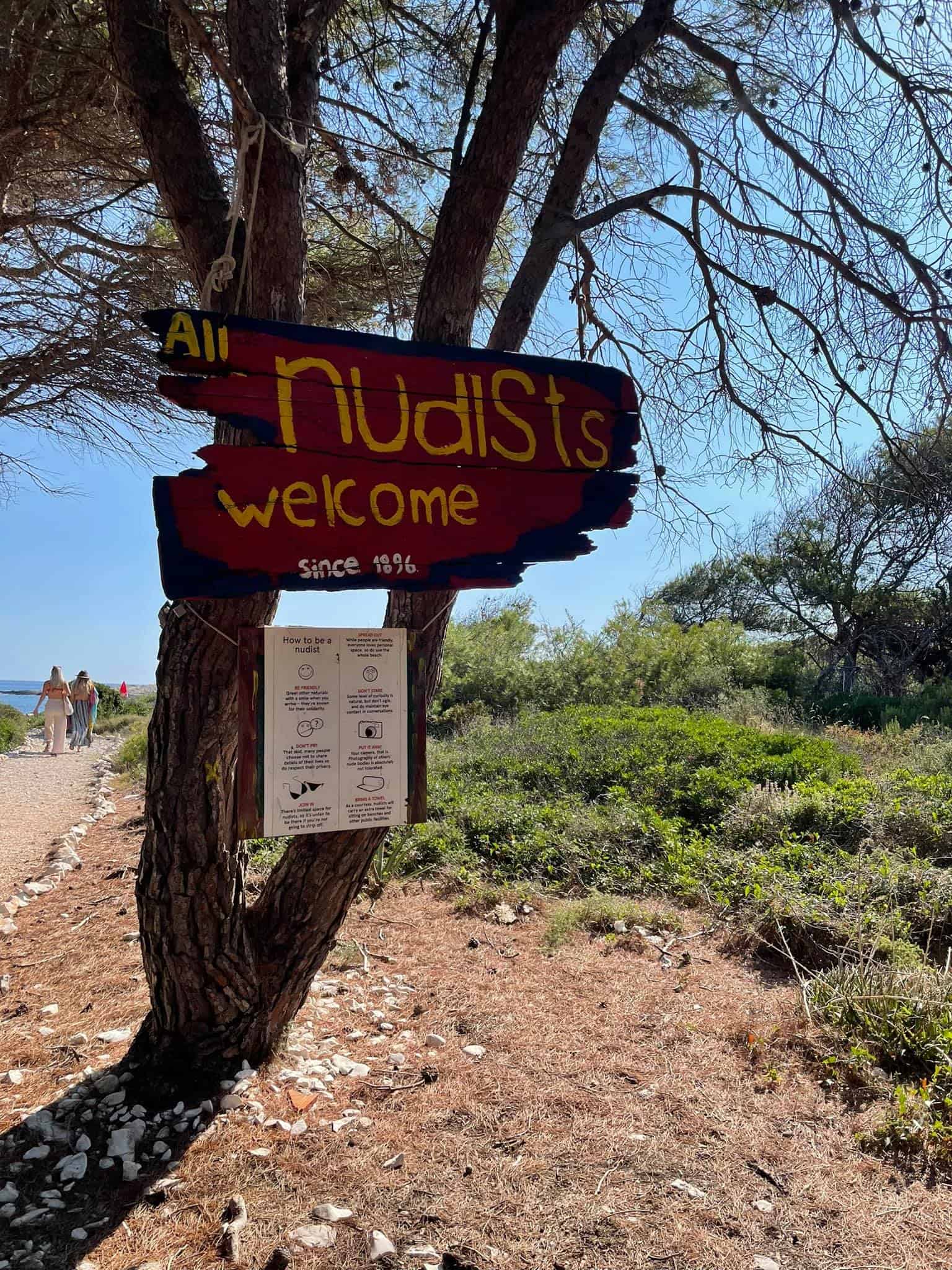 Little Jerolim is a true paradise lost. This gorgeous low-key spot is often overlooked in favour of the larger Pakleni isle of Sveti Klement, and the raucous nightlife offered at Carpe Diem. It shouldn't be.
You can walk the entire circumference of Jerolim in less than 30-40 minutes. After all, the islet's coastline is only 2.37km long. Better yet, the journey here from Hvar town takes just 5 minutes.
Jerolim is naturist-friendly. But don't let that deter you.
Being nude is absolutely not a requirement. Step away from the main beach and you will find many people that come here with their swimsuits.
When you arrive, consider walking a short distance through the woodlands away from the main beach. With little effort, you will find that you have huge stretches of coastline entirely to yourself.
If you are a naturist, rest assured you will be comfortable in Jerolim. The island's Amo beach has won awards on account of how naturist friendly it is.
This aspect of open-mindedness is essentially ingrained in Croatia's history. The country was the first to embrace naturism in the 1950s.
This is quite a big thing when you consider how much more conservative the world was back then on a global scale. Any Croatian beach that displays an "FKK" sign is naturist-friendly. However, Jerolim is in its entirety.
Tuck into Truffles and Handmade Pasta in a Secluded Woodland Restaurant
Jerolim beach's "Festina Lente" restaurant is far more than "just another" beach bar. It boasts indulgent fine dining in a stunning coastal setting.
Here, shaded by pine trees, you can tuck into delightfully squidgy homemade pasta, exquisite truffles sourced from Istria, and wonderful fresh Dalmatian produce. If you wish to drink wine alongside your food, your waiter can recommend a local wine that perfectly brings out the flavours of your dish.
Search for Hidden Coves and Beaches
There are fourteen islands that make up the Pakleni islands. However, only three of them are easily accessible from Hvar.
That being said, if you opt to rent your own boat, it is easier to reach some of the more remote islands. Renting a boat provides you with the freedom to not only explore secluded spots that are otherwise inaccessible by foot but to "drop anchor" wherever you like and dive into the sea.
Experience the History and Gastronomy of Island Galešnik
You can see the island Galešnik from Hvar town. It is the closest island to Hvar and is very worthy of your attention.
However, most people don't even realise that it is possible to visit! You'd be forgiven for thinking this.
From a distance, island Galešnik doesn't look like anything to write home about and the one military-style building that sits on it could well just be disused storage. However, this building is the remnants of a Late Antique fort.
Today, the fort is home to an excellent restaurant where patrons can indulge in wine tasting, or order fresh seafood and Dalmatian dishes. Taxi boats run to Galešnik, though they run less frequently than those to Jerolim and Carpe Diem. From here, you have incredible views of Hvar town.
Explore Sveti Klement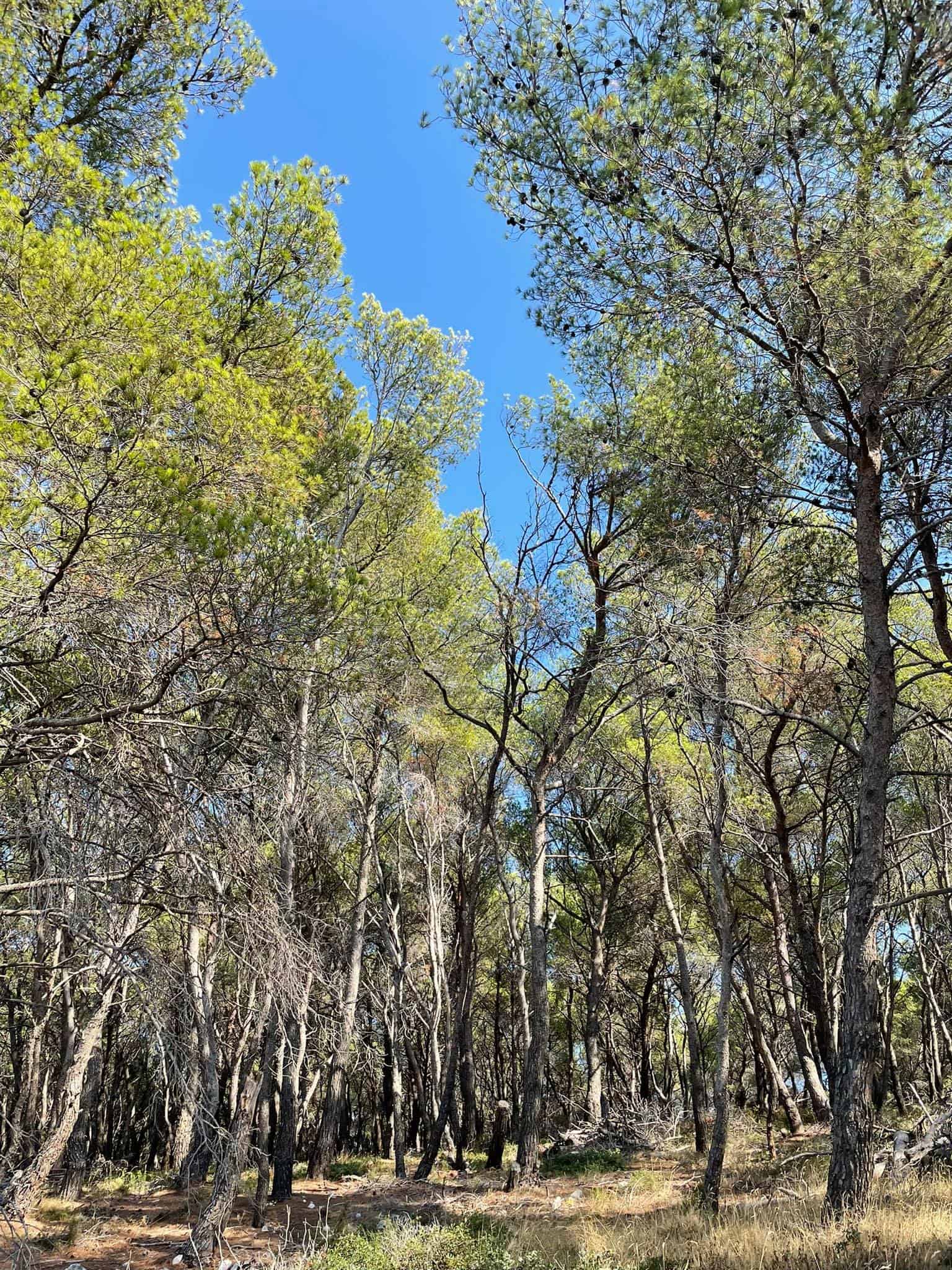 Sveti Klement is the largest of the Pakleni islands. It encompasses three villages and a charming sandy beach in its grasp. If you have spent much time in Croatia, you will know that sandy beaches here are a rarity so that's what makes this one even more special!
Perna Bay is Sveti Klement's sandy beach. Stari Stani and Tarsce bays are also very worthy of your time and attention.
Although these are both pebble beaches, they are seldom crowded. The diversity of the fish and sea life beneath the surface of the water here makes both beaches perfect for snorkeling.
Party All Day and Night at Carpe Diem
Carpe Diem beach expands over an area of 2,500 meters in the Stipanska region of Marinkovac island. This area is aesthetically stunning and more reminiscent of a tropical island paradise than something you may expect to find in Europe. But that's not why you come to Carpe Diem beach.
Carpe Diem beach is one of the most infamous party areas in Croatia. By day, the vibe is more laid back.
You can sip cocktails beneath cabanas, have diving lessons, or simply hang out on the beach and its various swimming pools. By night, the area really comes alive. In July and August, beach parties are hosted here almost nightly, often by world-famous DJs.
Spend a Day on Island Marinkovac
Marinkovac island may be best known for the notorious Carpe Diem beach but it has a lot more to offer. A short walk through the woodlands leads you to the gorgeous Ždrilca beach.
The restaurant here serves a vast array of mouthwatering international dishes, and the beach itself offers all the amenities that you could possibly need. Sunbed rentals, drinks, and cabanas are all available here.
Heading just a little farther southwards, you can reach the bay at Milna. The Pakleni islands on the whole are never as busy as the beaches that encompass Hvar town.
But since most people sail to Marinkovac to head to Carpe Diem beach, Milna is perhaps the quietest spot on this island.
Perhaps, in part owing to the fact that it takes a little walking to get to. A small beach shack serves cold beverages and light snacks and sandwiches. The owner often catches his own fish and grills them to perfection.
Parting Words
Do you have any additional questions about visiting the Pakleni islands or planning a trip to Croatia in general? Don't hesitate to reach out via the comments below.
I'll get back to you as soon as I can. Hvala! Melissa xo
---