The Pakleni Islands (also sometimes known as the Paklinski Islands) are a paradisical archipelago of uninhabited islands that sit just off the coast of Hvar, Croatia in the Adriatic Sea. Despite their beauty, the islands fly largely under the radar. In this guide, we will explore everything you need to know about getting to the gorgeous islands, and what you can do when you arrive. 
Nobody knows for certain where the Pakleni/Paklinski islands got their name. The literal translation of Pakleni Otoci is "hell's islands". Yet with their translucent azure waters, dense pine forests, and secluded coves, there is nothing remotely "hellish" about this archipelago!
Another theory is that the islands were named after a local pine resin known as paklina which was used to make boats waterproof decades ago. But whatever the origins of the archipelago's name may be, one thing that's for certain is that the islands make a wonderful stopping point on any Croatia itinerary – particularly if you are looking to relax by the coast. 
Visiting the Pakleni Islands, Croatia
There are 14 islands that make up the Pakleni Islands archipelago – each one seemingly more beautiful than the last. Each island has a different vibe – with some hosting all-night parties, others being filled with quiet beaches and secluded coves, and others catering to naturists. 
Sveti Klement is the largest of the Pakleni islands, while Marinkovac and Jerolim are also popular places to do day trips from Hvar. All of the islands are filled with dense woodlands and pine trees and offer an abundance of rocky coves and coastlines that run parallel with translucent turquoise waters that would not look out of place in the Caribbean. 
When you arrive in Hvar (and also in Split), you will notice that there are a lot of local fishermen and tour companies offering trips out to the Pakleni islands. Since each island is so different, it pays to have an idea of what kind of experience you are looking for before you go. 
Marinkovac island, Pakleni islands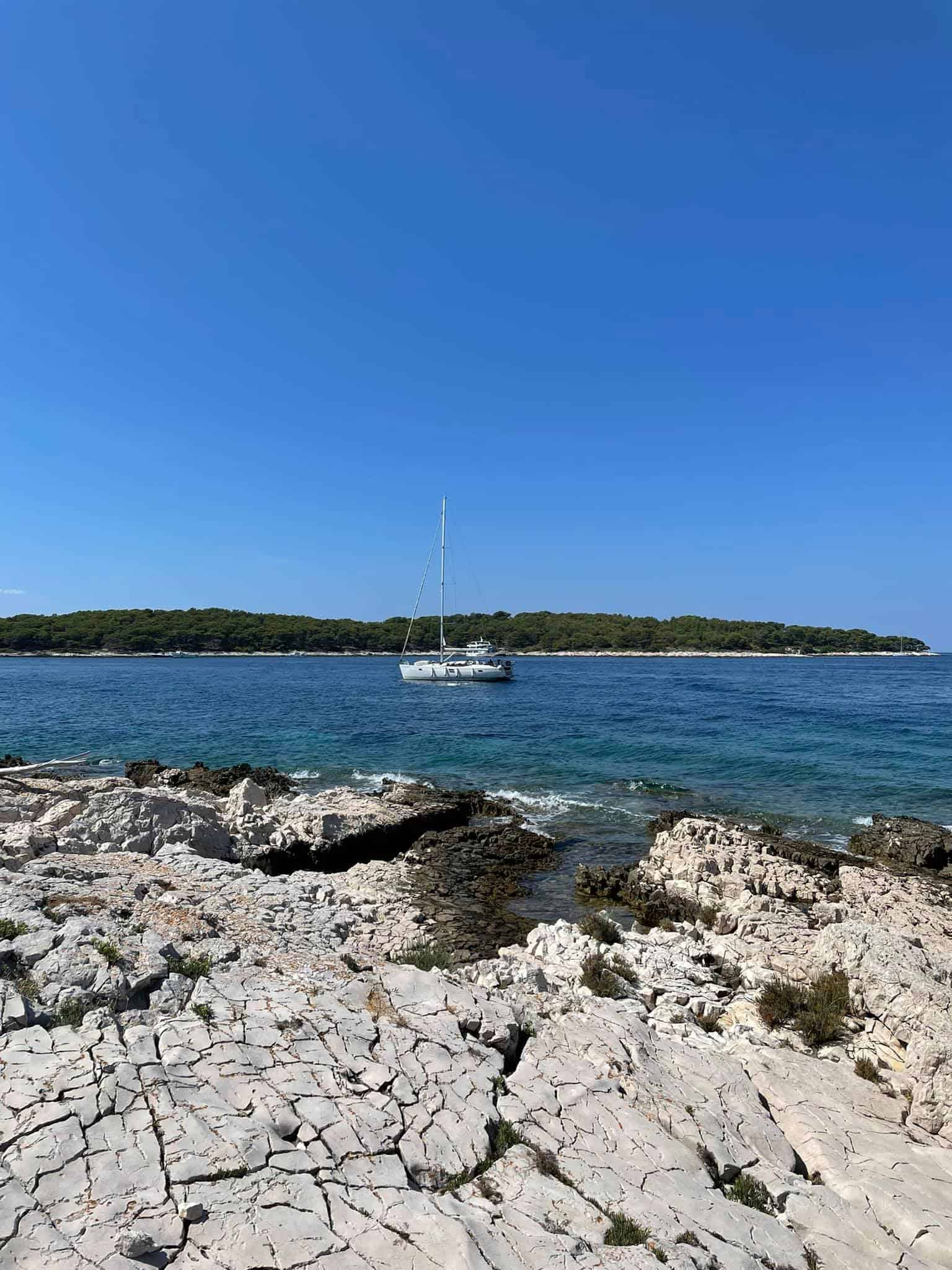 Marinkovac is the best island to visit if you want to drink and party. The notorious Carpe Diem beach club awaits at Stipanska Bay.
If you visit during the day, you can hang out beneath the cabanas, sip cocktails, kayak, and enjoy the beach. By night, DJs from across the world perform at the Terranza After Beach Party. 
If you are looking for a more laid-back vibe, you don't have to be a big partier/drinker to enjoy Marinkovac. Ždrilca beach is a gorgeous spot and the restaurant here serves an array of mouthwatering Mediterranean and international dishes. 
Heading just a little farther southwards, you can reach the bay at Milna. This is perhaps the quietest spot on the island and a lovely place to relax by the sea with a good book.
There is a small beach shack here where you can buy ice-cold beers, beverages, and snacks when you get hungry. The owner often sails out into the Adriatic to catch his own fish which he grills to perfection. 
Jerolim island, Pakleni islands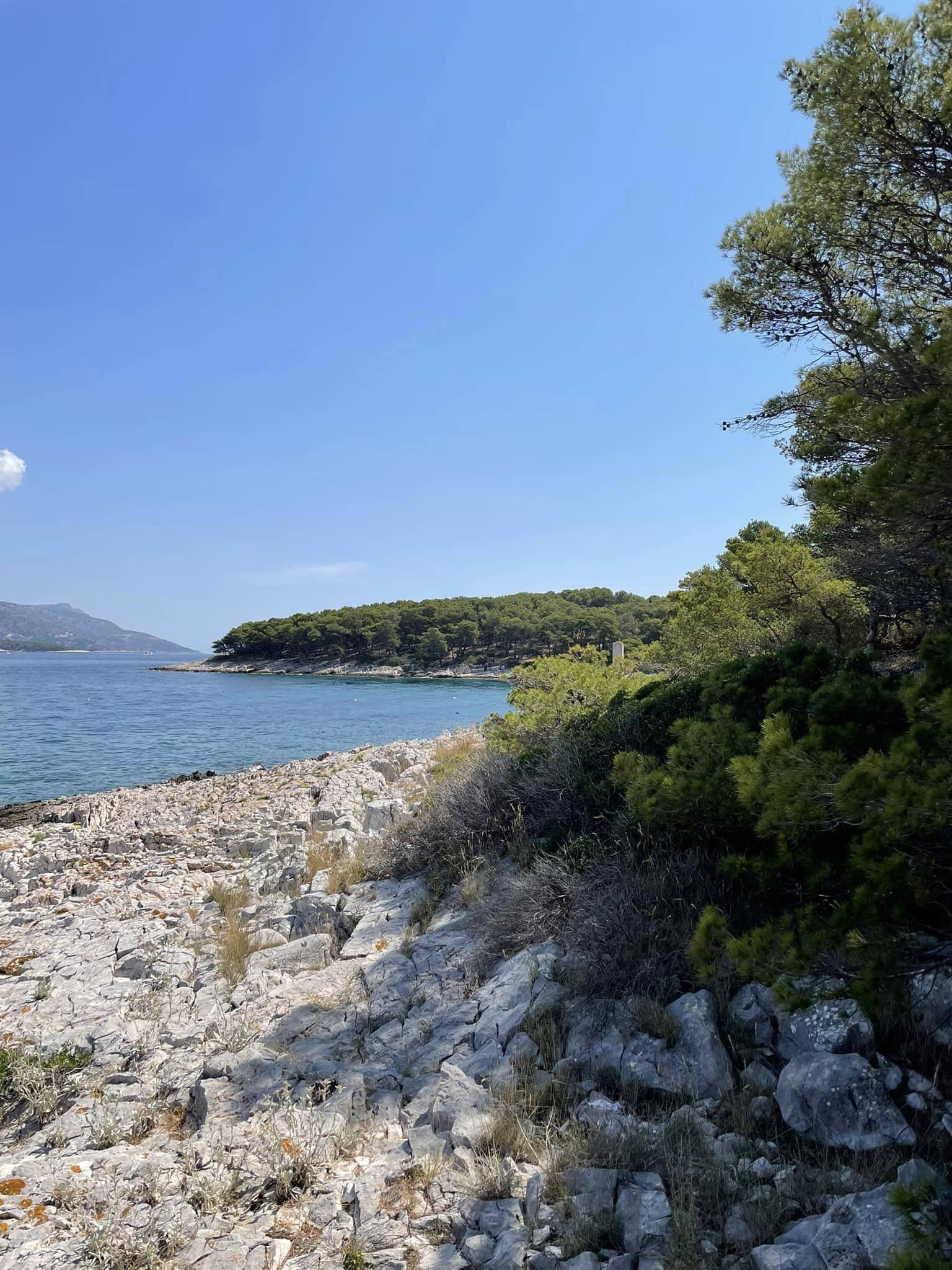 Jerolim is perhaps the most naturally beautiful of the Pakleni archipelago. Clothing is entirely optional here and there is a designated nudist beach. However, you do not have to go nude if that makes you uncomfortable and plenty of people come here to enjoy the beauty of the island without being naturists.
There are also a couple of excellent restaurants and places to grab food on this tiny island too. Amo beach club has a beach shack-style snack bar that serves drinks, sandwiches, and light bites. 
Meanwhile, Festina Lente is a more upscale eatery nestled in the woodlands in the centre of the island that specialises in Croatian and Dalmatian fare. Think mouthwatering handmade pasta prepared with Istrian truffles and Italian parmesan, and local charcuterie. 
Your waiter can also recommend you the perfect Croatian wine pairing to go with your food.
Island Galešnik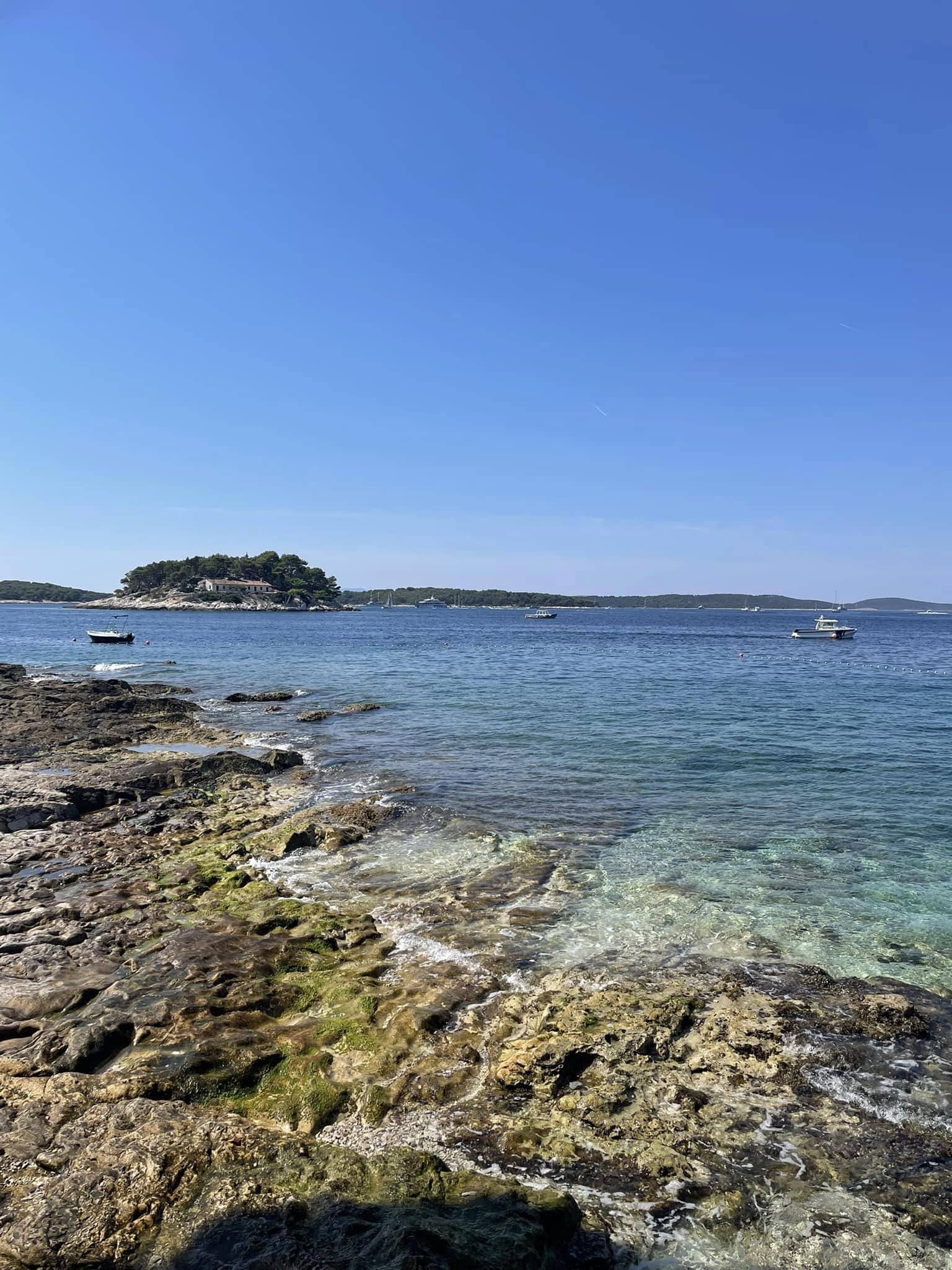 Island Galešnik is frequently overlooked by people visiting the Paklinski islands but it is worth mentioning here as it does offer some unique historical charm. This island is actually the closest one to Hvar, and you can see it glinting on the horizon from Hvar town and from several nearby beaches.
The sunbleached remnants of a Late Antique fortress can be found here. And while from a distance the fort may look like a derelict abandoned space, it has actually been converted into a high-end restaurant that you can sail out to in order to try specialties from the Dalmatia region of Croatia.
How unique is that? The menu has a strong seafood focus and serves up fresh fish caught from local waters earlier the same day. (Although there are still plenty of vegetarian and meat-based options so don't fret if you aren't a seafood fan!) 
You can also organise a wine-tasting session. Not to mention, you have incredible views of Hvar Town's skyline from here. 
Boats to Galešnik run occasionally from Hvar town but they are less frequent than those that go to other more touristy islands. Check the times in advance and make an advance reservation at the restaurant if you can.
Sveti Klement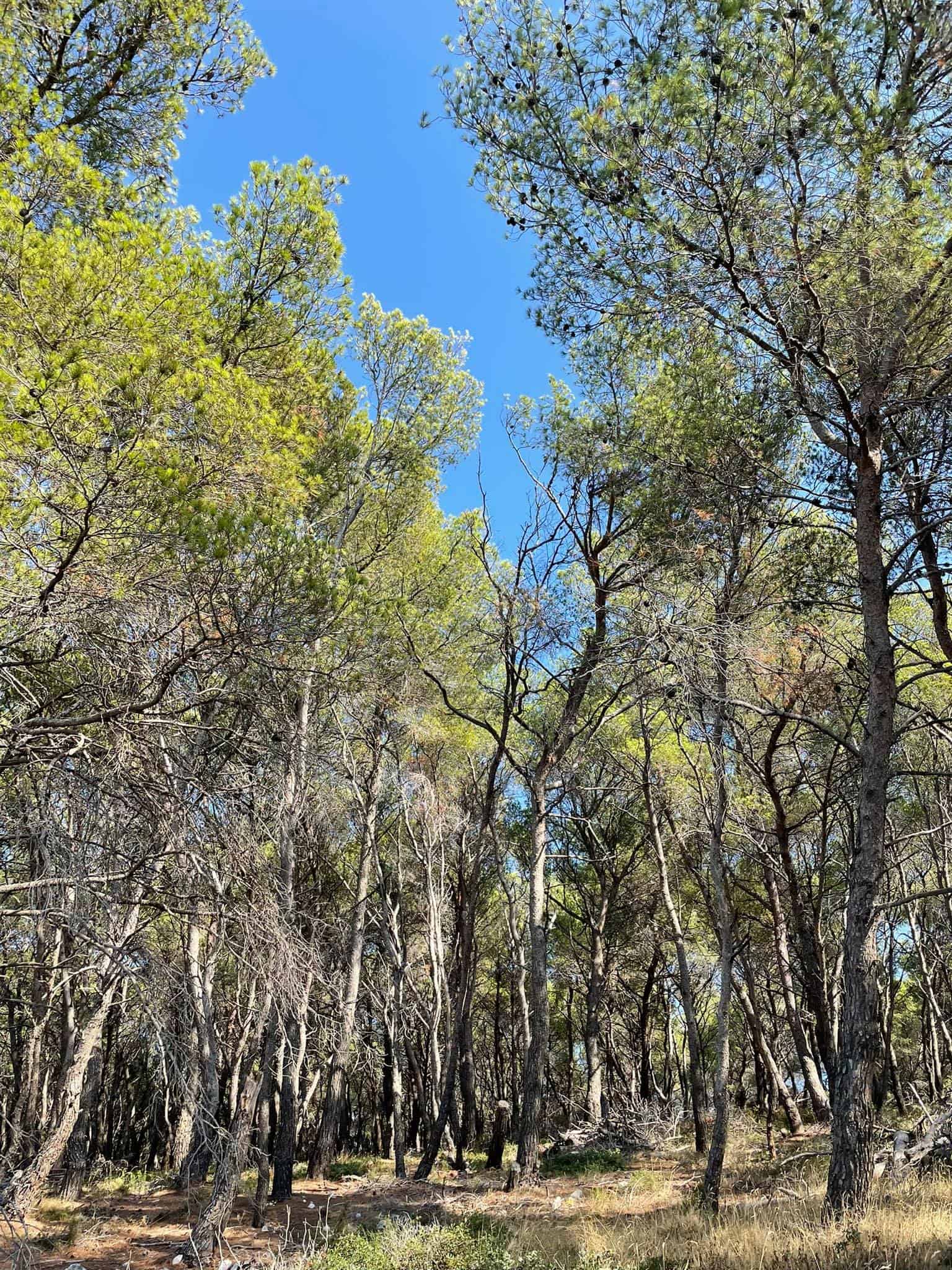 Sveti Klement is the largest island of the Pakleni islands. It encompasses three villages and a charming sandy beach in its grasp. If you have spent much time in Croatia, you will know that sandy beaches here are a rarity so that's what makes this one even more special!
Perna Bay is the name of the sandy beach here, while Stari Stani and Tarsce Bays are breathtaking stone beaches. The crystal-clear waters are perfect for swimming and snorkeling in, and you can catch a glimpse of lots of colourful fish and coral beneath the surface.
When lunchtime rolls around, stop by Langinini beach club at the gorgeous Palmizana Beach. From here, you can then follow a rugged hiking trail to Vlaka Bay and Soline Beach. 
Legend has it that a Roman spa existed here centuries ago. That makes sense as there are several natural mud baths where you can give yourself a spa treatment!

(You can literally just enter and lather yourself in the natural mud. Leave it on until it starts to dry and go crusty, and then rinse it off in the seawater for baby-soft skin! You can even scoop up a little bottle of it to give yourself a DIY face mask later!) 
Drop anchor and enjoy the natural scenery 
If you choose to rent your own boat to get to the Pakleni islands (more on that below), you have a lot more freedom and flexibility in your schedule. Doing so means that you do not have to plan your trip around the boat schedules and you won't have to be dropped off at each island at the spot where all the tourists go. 
There are fourteen islands that make up the Pakleni Islands. However, only three of them are easily accessible from Hvar. With your own boat, it is easier to reach some of the more remote islands. 
You can sail around wherever you like, exploring hidden beaches and coves as you go. Some of the most stunning spots are inaccessible on foot.
You can also literally drop anchor in the middle of the clear water and enjoy swimming by your boat, or drinking beers and having a picnic on board, whatever takes your fancy.
Swim in the blue waters of Krknjaši Bay
Krknjaši Bay (the blue lagoon) is one of the best places for swimming and snorkeling close to the Pakleni islands. The waters in this part of Croatia are gorgeous, warm, and crystal clear in general, but Krknjaši Bay/the blue lagoon is something extra special. 
Here, the waters are impossibly blue and perfect for swimming in. This natural bay sits on the island of Drvenik Veli and it is surrounded by two small islands: Krknjaš and Krknjaš Mali.
It's a little tricky to get here if you are depending on the taxi boats, but if you rent your own boat or you participate in an organised tour, you can easily combine your trip to the lagoon with an exploration of some of the different islands. 
How to Get to the Pakleni Islands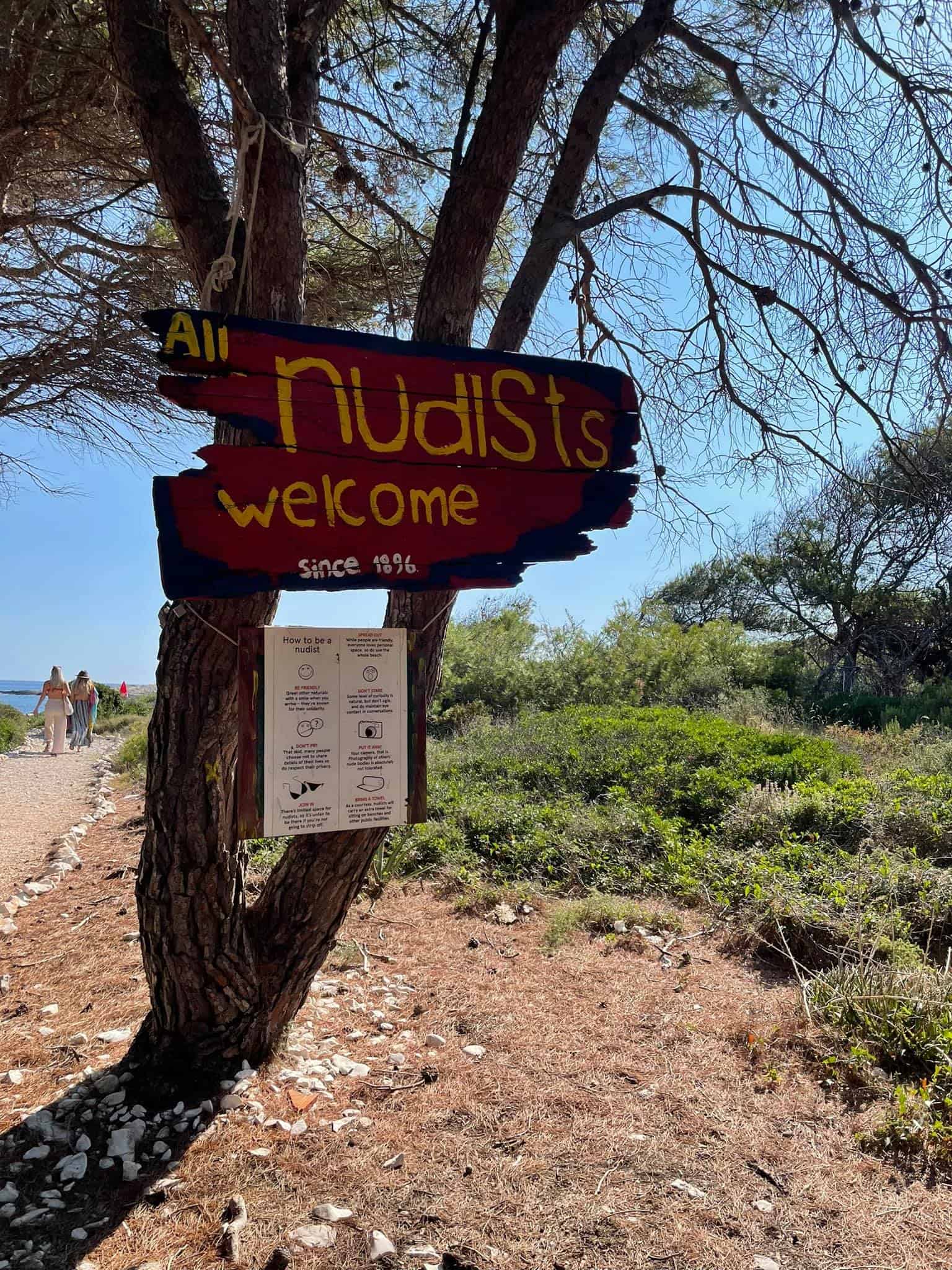 You have a couple of options available for getting to the Pakleni islands. Arguably the most convenient way to get there is to take a fishing boat from the port in Hvar.
But if you are short on time and want to make the most out of your day, you can also book a spot on an organised day tour from Hvar or Split. We will explore all of the different options below and you can decide which one is the most convenient for you!
Take a fishing boat from Hvar island 
Taking a taxi boat from Hvar island is the easiest way to get to the Pakleni islands. You don't need to prebook a spot or anything – you can just show up at the port and ask one of the local men whose wooden boats are docked there to take you across. 
(Don't worry – there are always plenty of men with boats waiting around at the port to take tourists back and forth. You won't be able to miss them as they will have signs for the islands that they go to.) 
Boats go back and forth every 20 minutes or so. The short boat ride takes less than 15-20 minutes.
These are only small fishing boats so they can accommodate a maximum of around 8-12 people depending on the specific boat.
A return journey should cost no more than around €6-€7. You will be handed a little piece of paper that you need to show on your way back to Hvar.
When you arrive at your chosen island, there will be a notice board with all of the times that the boats run back to Hvar. If you are travelling during the peak months of July and August, it is a good idea to head back to Hvar before the last boat of the day as all of the tourists seem to leave the island at the same time which leads to overcrowding on the boats.
Take an organised tour from Hvar island or Split
If you are short on time and want to make the most out of your schedule, you might want to consider taking an organied tour from Hvar or Split. Several reputable tour companies operate in this part of Croatia.
They offer excursions that take you to various points around the Pakleni islands so that you can see multiple islands and beaches in one day. A selection of some of the best Pakleni Islands excursion tours to consider is shortlisted below.
It is a good idea to reserve your place online in advance to avoid disappointment – especially if you are travelling in the summer!
Tours from Hvar
Tours from Split
Rent a boat 
Renting a private boat can be a fun way to explore multiple islands in the Paklinski group at your leisure.
You do not need a boat license or any previous boating experience as you will be given a short safety briefing when you collect the boat. If you want the independence of having your own boat, yet you are a little anxious about driving it alone, you can also hire a skipper.
Prices vary substantially from company to company depending on the type of boat in question. Starting prices are around €100 for a small boat that can accommodate 4-5 people.
Shop around and try to book in advance if you can. There are many rental agencies scattered around the port where you can stop by and obtain quotes.
Do check the small print with the company that you are considering. Make sure that you are clear on whether you need to purchase any specific form of insurance or damage deposit, and whether your travel insurance policy covers boating activities.
Kayak across to the Pakleni islands
Another fun way to explore the Pakleni islands without being at the mercy of the boat schedules is to kayak across. There are numerous tourist companies along the seafront in Hvar where you can rent kayaks and lifejackets.
Costs average out at around €40 a day for a single-person kayak and €60 a day for a two-person kayak. A lot of these places also rent out stand-up paddle boards.
Do note that the water between Hvar and the Pakleni islands is deep. So, even with having a life jacket, you should be a strong swimmer if you are considering kayaking across.
If you are a bit nervous about going it alone, you can also book a space on a kayaking tour.
FAQs About Visiting the Pakleni Islands
Do you have any further questions or concerns about visiting the Pakleni islands this summer? The answers to some frequently asked questions on the topic are detailed below.
Hopefully, you will find the information you are looking for there. If not, please do not hesitate to reach out!
Are the Pakleni islands worth visiting?
The Pakleni islands are well worth visiting, especially if you are looking to escape from the hustle and bustle of touristic Hvar, relax on the beaches and do some swimming and snorkeling. Additionally, if you are searching for vibrant nightlife, the Carpe Diem nightclub on Marinkovac Island is one of the best places to party in Croatia. 
Can you stay on the Pakleni islands?
Yes. There are a couple of accommodation options, including cute cottages and luxurious villas available on the Pakleni islands (particularly Sveti Klement/ island of St. Klement).
How long does it take to kayak from Pakleni islands to Hvar?
It typically takes between 30 and 45 minutes to kayak from the Pakleni islands to Hvar and vice versa.
How do you get to the Paklinski islands?
There are a couple of transport options available for getting to the Paklinski islands. The cheapest and most common way to travel is to pay a couple of euros to one of the men in the fishing boats in Hvar port.
You can also rent a boat, organise a private water taxi, or take a tour or kayak across.  
When is the best time to visit the Paklinski islands?
Tourism in Croatia, like much of the Mediterranean and the Balkans, is largely seasonal. The ¨season¨ runs between May and late September and outside of this period, many touristic businesses close and the boat transfers between the islands cease to operate.
July and August are the busiest months of the year and crowds have reached record highs in recent years. Temperatures often soar above 30°-35°C in July and August and the island of Hvar is usually heaving with tourists.
To enjoy milder temperatures (still 25°C plus, cheaper prices, and smaller crowds, consider travelling earlier in the season – perhaps late May or early June, or the beginning of October). 
Final thoughts
A Pakleni Islands day trip is one of the most popular excursions that you can take from Hvar. These stunning places have something for everyone and offer paradisical beaches, crystal clear water, and Roman ruins. 
Do you have any additional questions about visiting the Pakleni islands or planning a trip to Croatia in general? Don't hesitate to reach out via the comments below.
I'll get back to you as soon as I can. Hvala! Melissa xo
---