Taking the Mykonos to Santorini ferry? This guide covers everything you need to know to make the journey.
These two charming Greek island idylls are among the most popular travel destinations in both the Cyclades and the entirety of Greece! This is for good reason too. 
It is no secret that Santorini is home to some of the most beautiful sunsets in the world. Similarly, glamorous Mykonos is one of the best party islands in the Mediterranean. It is something of a St Tropez meets Ibiza and one of the best places to see and be seen each summer. 
Mykonos to Santorini Ferry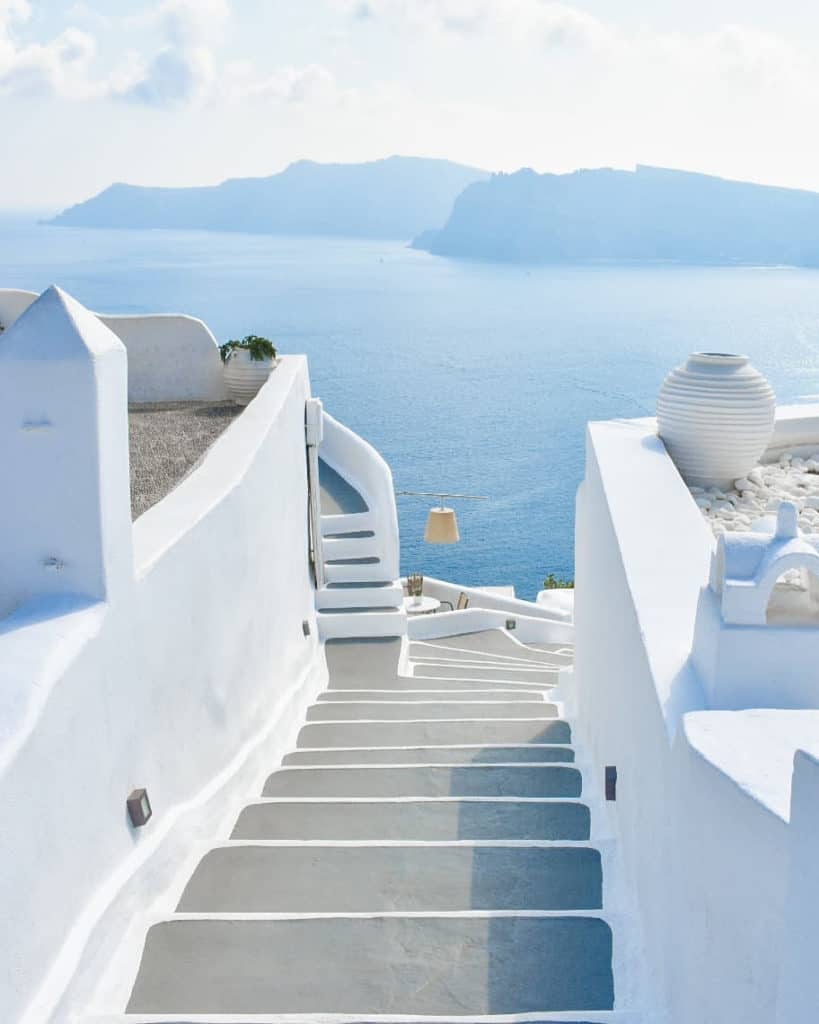 There are 64 nautical miles between Mykonos and Santorini. The journey takes between 1.5 and 3.5 hours depending on whether you travel by fast boat or car ferry. There are a number of services that you can travel on.
During the summer months, the Mykonos to Santorini ferry runs three times a day. Despite the frequency, it is advisable to book your tickets online in advance.
It is not unheard of for specific services to sell out. This is particularly true if you are visiting Greece during the summer months of July and August. You can use Ferryscanner to check the latest schedules and prices and reserve your seats. 
It's a good idea to check the timetables before you arrive in Greece. These are often subject to change depending on the season.
There is not one national ferry company in Greece. Different routes are operated by different companies.
Golden Star Ferries, Hellenic Seaways, and Seajet serve the Mykonos to Santorini Ferry route. You can also purchase tickets or check information in person at the ticket offices at the port. However, you should always do so at least a day or two in advance of your intended travel date.
Purchasing Ferry Tickets Online 
Opting to purchase your Mykonos to Santorini ferry ticket online guarantees you have a seat on your preferred service. It can also save you some money.
Once you've purchased your ticket and entered your email address, you will receive an email that confirms the purchase and states a booking reference number.
It is important to note that this is not your ticket. You must still enter the ticket office at Mykonos port and provide your booking reference or show your confirmation email.
Then, they will print out your ticket. If you try to board the boat with your email printout or by displaying the confirmation on your phone, you will be referred back to the ticket office.
Mykonos to Santorini Ferry Prices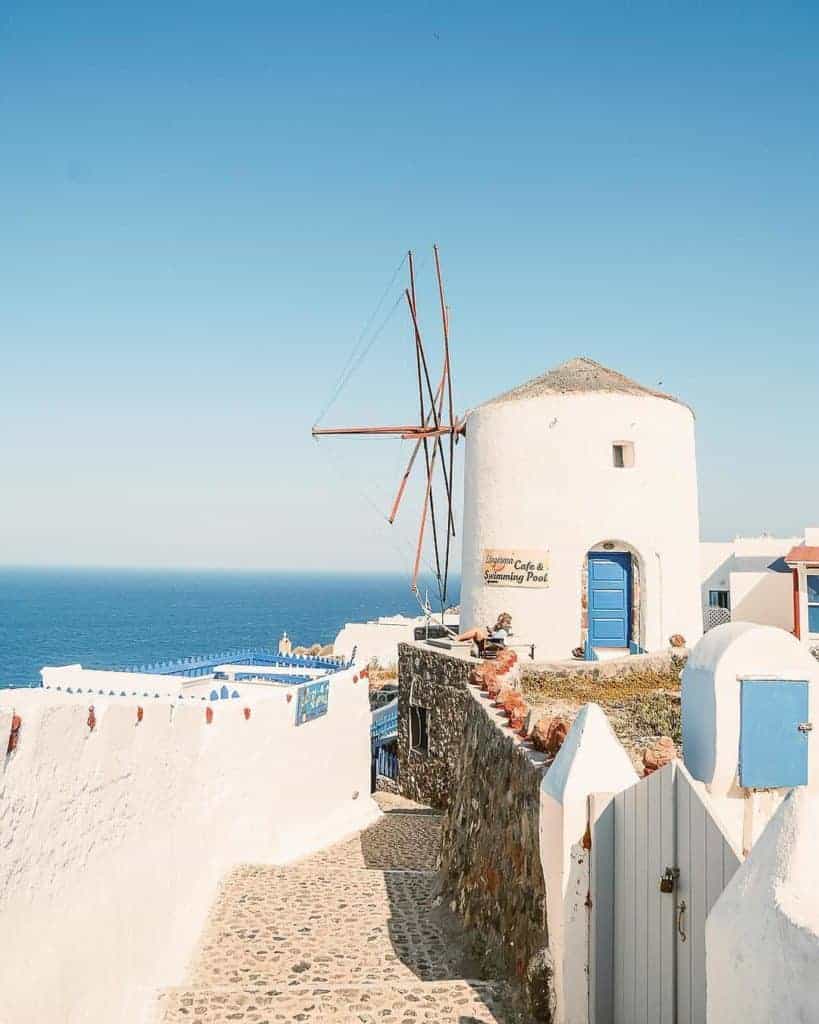 Mykonos to Santorini ferry prices vary depending on the season. These are typically not cheap and there is a lot of incorrect information online.
On average, you can expect to pay around €68 per person for a one-way ticket. However, there may be some small fluctuations and this is subject to change. 
Always check the specific details online in advance. Concessions are available for children and elderly passengers.
If you have rented a car in Greece and you are travelling in a vehicle, prices are higher. A vehicle increases your ticket price by an additional €48-50. 
Which Mykonos to Santorini Ferry to Choose?
If you are a foot passenger taking the Mykonos to Santorini ferry, a large part of your decision regarding what boat to travel on may simply come down to the departure times. However understandably, journey duration may also be a factor.
It is worth noting that whether you choose to travel on the "fast" boat or a slower car ferry, the difference between the ticket prices are marginal. The fastest boat that runs from Mykonos to Santorini is the Seajets World Champion Jet.
Seajets World Champion Jet
The World Champion Jet was built in 2000 and can reach a speed of up to 50 knots. It carries 1310 passengers and up to 200 vehicles.
This is the fastest Mykonos to Santorini ferry option and the journey takes just an hour and 55 minutes. There is a cafe on board selling a variety of Greek coffees, beverages, sandwiches, and snacks
Other Mykonos to Santorini Ferries
Other vessels that run from Mykonos to Santorini include the Golden Star Ferries Super Express (2 hours, 50 minutes), the Seajets SuperJet (3 hours, 30 minutes), and the Seajets Powerjet (2hours, 50 minutes).
You should keep in mind that some of these ferries make several stops to other islands en route to Santorini. For instance, Naxos, Koufounisia, and Amorgos.
This is why the journey time on some of these services is slightly longer. You should note that the Seajets Superjet is a high-speed catamaran and seating is indoor only. 
You are not permitted to go outside on this vessel while it is moving for safety reasons. Seating is airplane style and there are bathroom facilities and a cafe on board. 
Ferry Ports 
There are two different ferry ports on both Santorini and Mykonos. That might sound confusing. 
However, all passenger ferries that depart from and arrive into Santorini do so through the island's Athinios ferry port. Therefore, there is absolutely zero chance of accidentally booking a ferry to the island's other port!
Santorini: Athinios Port
Athinios ferry port is sometimes referred to by locals as "Thira" port or "the new port". The second port that exists on the island is a smaller one that is only used for private boats and cruises.
Arriving at Athinios port in the summer months can be chaotic. Due to the sheer number of ferries running back and forth between various islands, there are often crowds of people waiting around for various boats.
This is another reason why you should always purchase your ferry tickets online in advance. You will often see groups of flustered-looking tourists that tried to book a ticket at the very last moment and were unable to! 
Similarly, try to arrive here in plenty of time in advance of your ferry. Ideally, aim for an hour before your boat.
That way, you can get your bearings, be certain about which boarding gate you need to depart from and pick up your ticket. There are several markets and cafes here. So, enjoy some traditional Greek street food and sit back and relax as you wait for your ferry to pull into shore.  
Mykonos: New Port
The vast majority of passenger ferries travelling to Mykonos arrive via New Port. Ferries operated by Hellenic Seaways, Highspeed Ferries, Golden Star Ferries, SeaJets, and Blue Star Ferries arrive here. 
The New Port is situated in Tourlos, approximately 1.2 miles away from Mykonos town. This port can also get inexplicably crowded – these are two of the most popular Greek islands, after all!
Try to arrive there at least an hour before your ferry is due to depart. Better to be there with time to spare than frantically trying to collect your tickets when there's a huge queue. 
Mykonos to Santorini Flights
Mykonos and Santorini are two of a small handful of Greek islands that have their own airports. In the past, direct flights have connected the two islands.
However, as of 2021, this route is no longer available. This may be due to the global pandemic and uncertainty appertaining to global travel. 
Perhaps it will be reintroduced in the future. A stylish alternative?
Consider travelling from Mykonos to Santorini by helicopter!
Mykonos to Santorini Helicopter Transfer
Mykonos and Santorini are among the most romantic Greek islands. So, what better way to travel in style than to do so by helicopter?
This option is obviously not cheap. A private helicopter transfer costs approximately €600 per person.
However, if this is something that you've always wanted to do, or it's a special treat, why not? The flight takes approximately 40-50 minutes.
Helicopters are modern and luxurious and there are a number of different aircrafts available depending on the size of your party. Assuming you have just 1-2 luggage items per person, there ought to be plenty of space.
Typically, your helicopter company will send a private transfer to collect you from your hotel and then take you to the takeoff location. Not only does opting to travel by helicopter get you from one island to another quickly and in style… 
But it also gives you breathtaking, unparalleled views of the Cyclades archipelago from above. Gaze upon the translucent cerulean waters of the Aegean Sea, the dramatic calderas and rock formations of Santorini, and enjoy a birds-eye view of tiny offbeat villages cascading down hilltops. 
Parting Words 
Do you have any additional questions about the Mykonos to Santorini ferry or generally about planning a trip to Greece? I moved to Greece in 2017 and since then, have written hundreds of travel guides for this beautiful country!
Feel free to reach out via the comments below. Safe travels!
Geia sou! Melissa xo
---