Morocco: colourful, vibrant, exotic, intimidating. This was one of the first Arabic countries that I travelled to, and this Morocco itinerary is one adventure that I hold the fondest memories of in my heart.
There are numerous variations of itineraries that you can choose for your Morocco adventure depending on your specific interests. The itinerary that I created, used and have oh so kindly shared here offers you a taster of the best of Morocco's culture, history, nature and cuisine and makes a nice first introduction to the country. If you have a little longer, I would definitely recommend exploring Morocco at a more relaxed pace, however the beauty of this itinerary is also that you can cherry pick what interests you the most, in order to fit everything in to 10 days or even a week if you are short on time.  I have suggested some alterations and add-ons at the end of this Morocco itinerary for those with more time or specific interests.
Morocco Itinerary Day One:
Casablanca
Casablanca isn't really a major tourist destination on most people's Morocco itinerary which was nice in a way because the markets, restaurants, and general atmosphere felt more authentic. It is known as the "Miami of Morocco" which should give you some idea as to the laid back, relaxed vibes you can expect upon arrival.
Don't miss the Hassan II mosque, the largest in Morocco which overlooks the sea and is a beautifully ornate structure to behold. Enjoy a mint tea, and a sticky Moroccan pastry at one of the nearby cafes as you look out across the Atlantic.
Find Hotels in Casablanca Here
Morocco Itinerary Day Two:
Rabat
Rabat, Morocco's capital city can be reached in approximately one hour from Casablanca. It is often overlooked in favour of exotic city breaks in Marrakech and Fes but it definitely boasts some interesting sites that are worth a visit.
Don't miss the ruins of the Kasbah des Oudaias and the pale blue and white houses and alleyways that surround it which are every bit as beautiful as Chefchaouen yet without the masses of tourists.
Towering high above the city, the 144 foot Hassan Tower has been a symbol of Rabat since the 8th century. Pass through the eerie courtyard of broken pillars which were once grand structures surrounding the tower, and enter the turquoise Mausoleum of King Mohammed V.
A rare privilege is on offer at this beautiful Islamic site in that Non Muslims are permitted to enter and the dazzling golden and jewel laden interiors that greet you are breathtaking.
Just outside the city limits await the Roman ruins of Chellah. The ruins are spectacular, and generally absent of tourists, however what was particularly interesting to me about the site was that its emptiness has made it the home of choice for storks whose nests and young had taken full run of the place!
The city of Rabat is essentially divided into two halves: the bustling souks and winding alleyways of the old town, and the cosmopolitan, trendy downtown district. If you have some time, it is worth adding an extra day in Rabat to your Morocco itinerary.
Find Hotels in Rabat Here
Morocco Itinerary Day Three:
Meknes
A UNESCO protected city, and former capital of Morocco, Meknes offers as many fascinating markets and beautiful Islamic architecture as its imperial counterpart cities of Fes and Marrakech, yet without the crowds. Many of the ancient fortifications that once stood to protect the city still stand intact, and the main plaza of el-Hedim is essentially a smaller, more intimate alternative to Marrakech's Djemaa el-Fna square.
Find Hotels in Meknes Here
Morocco Itinerary Days Four and Five:
Fes
Comprised of an intricate network of some 10,000 narrow, twisting, turning alleyways that house bustling souks and fragrant spice markets, Fes is awarded the title of being Morocco's cultural capital. Still surrounded by its original 13th century walls, stepping inside the old city of Fes feels almost like stepping back in time.
This was my favourite stop on this Morocco itinerary. I won't go into detail in this post, since I have written a separate guide of things to do in Fes, but you may want to consider adding an additional day in Fes to your Morocco itinerary so that you can spend more time exploring the old city and its medinas.
Find Hotels in Fes Here
Morocco Itinerary Day Six:
Moulay Idriss & Volubilis.
An easy day trip to make from Fes, Moulay Idriss and Volubilis are less than an hour away from the cultural capital. You can take the train to Moulay Idriss, and then a cab out to Volubilis and back, before taking the return train to Fes. This sounds like a bit of a headache, but the sites are absolutely worth the effort.
Moulay Idriss is a small white washed village perched atop a hilltop. The site is significant to Moroccans because it is home to the tomb of Moulay Idriss, a prominent Moroccan Saint. Annual summer celebrations held here known as 'Moussem'  have transformed the village into a Moroccan alternative to mecca.
One thousand steps lead you on a route to the top of the city and at their climax, offer an incredible view of Moulay Idriss and the Moroccan countryside below. Since the village tends to escape the radar of many international tourists, you are rewarded with authentic restaurants serving sumptuous cuisines, and a fascinating insight into Moroccan life.
Half a day here is sufficient, before taking a cab to Volubilis, the ruins of an ancient Roman trade post. From here you can either opt to stay the night in Moulay Idriss, or return to Fes and spend the night there. The next stop will be Chefchaouen in Northern Morocco, so opting to spending the night in Fes will lessen your journey time for the next leg of this Morocco itinerary.
Find Hotels in Fes Here
Morocco Itinerary Days Seven and Eight:
Chefchaouen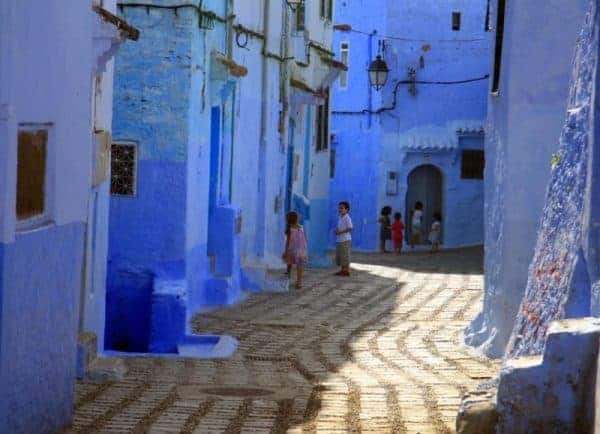 Departing from Fes, take the bus into the Rif mountains to the stunning town of Chefchaouen. The journey takes approximately three and a half hours, but the bus is a good option since it runs frequently and does not stop along the way. It's better to stay here two days to enable you to take a more relaxed pace and to break up the long journey to and from Fes.
Chefchaouen is the town that you've likely seen plastered across Pinterest and Instagram whenever you research Morocco . This is an entire town painted an incredible shade of blue, with every twist and turn providing an enviable photo opportunity.
Arriving here is a dramatic contrast to what you have experienced in Morocco so far. The town has a more relaxed, almost European feel and is a far cry from the cramped, crowded streets of old town Fes.
Upon arrival, head across to the main plaza, Plaza Uta el-Hammam for lunch. The restaurants that circle the area offer a great opportunity to people watch, but if experimenting with local street food when you travel is more your thing, you have plenty of opportunity to do so here at the traditional markets. (Related: 10 Steps to Haggling Like a Pro)
While in town, outdoorsy types may be interested in hiking in the stunning nearby Talassemetane national park, or at Akshour, a local town where natural waterfalls and curious rock formations await.
Find Hotels in Chefchaouen Here
I would recommend heading back to Fes in the evening of day seven, in order to prepare for your onward journey tomorrow.
Morocco Itinerary Days Nine and Ten:
Merzouga
Where nomadic Berbers roam freely and travellers can navigate their way over sprawling, golden sand dunes as far as the eye can see, the small town of Merzouga, and the adjacent dunes of Erg Chebbi are precisely the Arabian desert fantasy that you dream about.
From Merzouga, you can literally walk to the sand dunes making this place perfect for independent travellers who want to experience the Sahara, and visit the desert in Morocco without the expense and hassle of having to go on an organised tour.
It takes around ten hours to get to Merzouga from Fes, meaning that you either have to get up early and spend most of the day travelling, or travel on the night bus. The scenery as you make the journey to Merzouga is incredible so though the bus isn't the most comfortable or luxurious, it's all part of the travel fun (or so I like to assure myself!)
Most hotels in the area can help you in organising camel treks and camps into the Sahara, and the price is relatively good (circa £30/$37 for an all day trek including dinner with Berber locals).
Recommended Hotel: Riad Mamouche (Note: the hotel can arrange a free collection and drop off at Merzouga station if you contact them in advance and let them know your arrival time)
Browse Alternative Hotels in Merzouga Here
Morocco Itinerary Day Eleven:
Ait Ben Haddou
Made of a red clay brick, the buildings at Ain Ben Haddou blend into the desert scenery perfectly and appear to be almost rising out from the ground. The crumbling ancient city is hundreds of years old and was once an original stopping point for caravan traders who carried gold and other luxurious goods and commodities on the route from Sudan to Marrakech.
Fellow Game of Thrones fans may recognise Ait Ben Haddou as the city of Yunkai where Daenerys started out on her slave freeing spree (nerd moment, I'm sorry!). The city has also been the site of numerous other Hollywood movies such as Gladiator and the locals are incredibly eager to point out the sites of various movie scenes as you make your way around.
Find Hotels in Ait Ben Haddou Here
Morocco Itinerary Days Twelve to Fourteen:
Marrakech
The Djemaa el-Fna is without a doubt, the centre of the action in Marrakech. Once the sun begins to set, the city is encapsulated by a haze of smoke as Moroccan chefs finesse such "delicacies" as camel's heads and sheep hearts, crowds gather to watch Arabian snake charmers work their magic, and fascinated travellers wait in line to meet with gypsy fortune tellers.
It can feel a little touristic at times, but Marrakech boasts plenty of activities to keep you occupied, whether you want to pick up some last minute souvenirs from the seemingly infinite number of souks, or unwind at the end of your adventure in a hammam.
Browse Hotels in Marrakech Here
Morocco Itinerary:
Getting to Morocco
The great thing about travelling to Morocco is that the country has several international airports dotted throughout. I flew into Casablanca, and out from Marrakech, but you can do the itinerary in reverse, or even do a loop from Fes depending on what is the most convenient for you.
Numerous budget airlines now offer routes to Morocco so the trip does not have to be expensive.
Morocco Itinerary:
When to Travel to Morocco
Spring (March to May)
Travelling to Morocco during the spring months offers some of the best travel conditions. At this time, temperatures are warm and pleasant without being too unbearably hot and scorching.
Morocco's natural scenery is also breathtaking during the spring, at which time flowers bloom through the mountain valleys and the landscapes are lush and green.
Spring weather in Morocco is perfect for hiking and exploring the Atlas Mountains.
Summer (June to September)
Climates in Morocco during the summer months range from blisteringly hot and unbearable to warm and pleasant, depending upon where you are in the country.
In the Sahara, Ain Ben Haddou and Merzouga, temperatures often soar above 40 degrees celsius making exploring outside for extended periods unbearable. Conversely, if you find yourself in coastal areas of Morocco during this time, such as Essaouira and Agadir, it is much more bearable and pleasant.
Autumn (October to November)
Autumn presents travellers to Morocco with similar conditions to the Spring months. Temperatures dip as the Summer draws to a close with pleasant temperatures of between 25 and 30 degrees celsius.
Winter (December to February)
For cultural explorers who prefer to avoid the intensity of the sun's heat, winter could be a perfect time to plan a Morocco travel itinerary. In the south of Morocco, temperatures are still nice and mild. It is advisable to pack a warm jacket though for the cooler evenings.
The northern parts of Morocco see relatively chilly climates and a fair amount of cloudy skies and rain fall from December onwards so layering up is necessary. The Atlas Mountains become relatively inaccessible during this time, covered under a thick layer of snowfall.
Morocco Itinerary:
Budget for Travelling to Morocco
Morocco is an affordable travel destination, even for those trying to adhere to strict backpacker's travel budgets. Hostels around the country can be found for as little as $5 per night, and budget hotels/riads (traditional Moroccan guest houses) can be found for as low as $15 per night.
Taking into consideration the above Morocco travel itinerary, the costs of accommodation, dining and transportation between cities, one can assume a budget of $40 per night for travelling in Morocco and staying in mid range hotels. This is assuming that you are travelling solo. Alternatively, you can assume $30 per person per night if sharing and splitting accommodation costs.
The costs of a few main items in Morocco are summarised below for your reference. All prices are in US Dollars.
Meal at an inexpensive restaurant – $3
Meal at an upscale restaurant/three courses – $15-20
Moroccan beer – $3
Small bottle of water – $0.30
One way ticket on local bus – $0.50
It should also be noted that when shopping or browsing markets in Morocco, it is expected to haggle. Never accept the original asking price of something. It's not rude to offer the vendor lower, it is expected. As a rule of thumb, try and go in at 1/3 of the original asking price.
Morocco Itinerary:
Safety in Morocco
Morocco is fighting to shake off quite a bad reputation as being a somewhat unsafe travel destination. While I never felt unsafe during my time in the country, there are certainly things to look out for.
Morocco Travel Requires Additional Diligence
Travelling in Morocco generally requires a lot more diligence, awareness and preparation as compared to a lot of travel destinations. As someone who has travelled quite extensively through Middle Eastern and Arabic travel destinations, I purport that Morocco can present a unique set of challenges.
Particularly as you wander through souks and marketplaces, the stares and hassle from toots and local vendors can feel endless. It was enough to make the guy I was travelling with decide that he didn't want to leave the hotel under any circumstance by the time we reached the end of our trip!
Safety Precautions for Travelling in Morocco.
I never felt in any real physical danger in Morocco but harassment and petty theft are common occurrences. There are some safety precautions that you should follow during your trip.
Safety – Never walk alone at night, especially if travelling as a solo female
Dress conservatively – shoulders and legs should be covered to avoid attracting attention. This Morocco packing list aids you in deciding what to take with you on your trip.
Keep your valuables hidden – Expensive cameras dangling from necks or flashy jewellery will make you more of a target.
Assistance – Consider hiring a licensed Tour Guide to lead you through cities and medinas. This way, you will also experience much less harassment from vendors and locals.
Scams – Be wary of tricksters pretending to be Tour Guides. Many of these toots loiter around the souks. Always hire a guide through a licensed company or your hotel.
Precautions – Don't carry large amounts of cash and keep your eye on your bag. If walking through crowded streets, consider carrying your backpack strapped over the front of you.
Morocco Itinerary:
Solo Female Travel in Morocco
Enjoyable solo female travel in Morocco is absolutely possible. Though there are additional things to consider, you should not be put off going. I travelled to Morocco with a male friend, however after visiting I can assert that yes, I would feel comfortable going it alone.
One thing about travelling solo in Morocco is that you are going to attract a lot of attention. It's unavoidable. Even if you dress like your frumpy aunt Freda. Even if you feel like you are donning more layers than an onion.
Morocco is one of the countries that I received the most male attention in and I have travelled extensively in Arabic countries. Expect marriage proposals and offers to trade you in for camels!
Follow basic common sense and be mindful of the places that you find yourself alone and you will be fine.  Consider hiring a local tour guide to lead you through the cities and you will be sure to experience less harassment.
Find Cheap Deals on Hotels in Morocco!
Getting Around Morocco
I completed this entire Morocco itinerary using local public transport. Public transportation in Morocco is actually pretty good, and you can work your way through the country (and this itinerary!) by rail and bus.
The only time I took a cab was to get from Moulay Idriss to Volubilis and back. If you do any portion of your trip by cab/private driver then check with a local what price you should expect to pay beforehand.
If you are confident enough to do so, you could also consider renting a car to drive around independently. The beauty of this means that you can also stop at smaller towns, villages and places of interest that are less easily accessible by public transport alone (For example, the Todra Gorge on the route from Merzouga)
Morocco Itinerary:
Possible Alterations
If you want to spend some time getting a little R&R by the sea, Morocco boasts plenty of beautiful beach towns which sadly I didn't have time to visit. Essaouira, Tangier and Agadir are popular with both international and Moroccan tourists alike.
Consider stopping at the High Atlas Mountains en route from Ait Ben Haddou to Marrakech if you have the time.
Enjoyed this Morocco Itinerary?
Pin it For Later!
I only spent a few weeks in Morocco, so I am by no means an expert, but I always research my trips thoroughly beforehand and I was very pleased by what I was able to cram into my itinerary. Have you been to Morocco? Are there any alterations or further suggestions you would add to my Morocco itinerary?
Disclaimer: High Heels & a Backpack occasionally uses affiliate links. This means that if you choose to make a booking through some of the links on the site, I will gain a small commission at no extra cost to you, which helps me to continue to produce free information on this site. All affiliate partners are companies I use personally. Thank you for your understanding.
---