This Morocco itinerary offers the perfect introduction for your first trip. Morocco is the gateway to Africa, and the country provides a fascinating blend of cultures and travel experiences.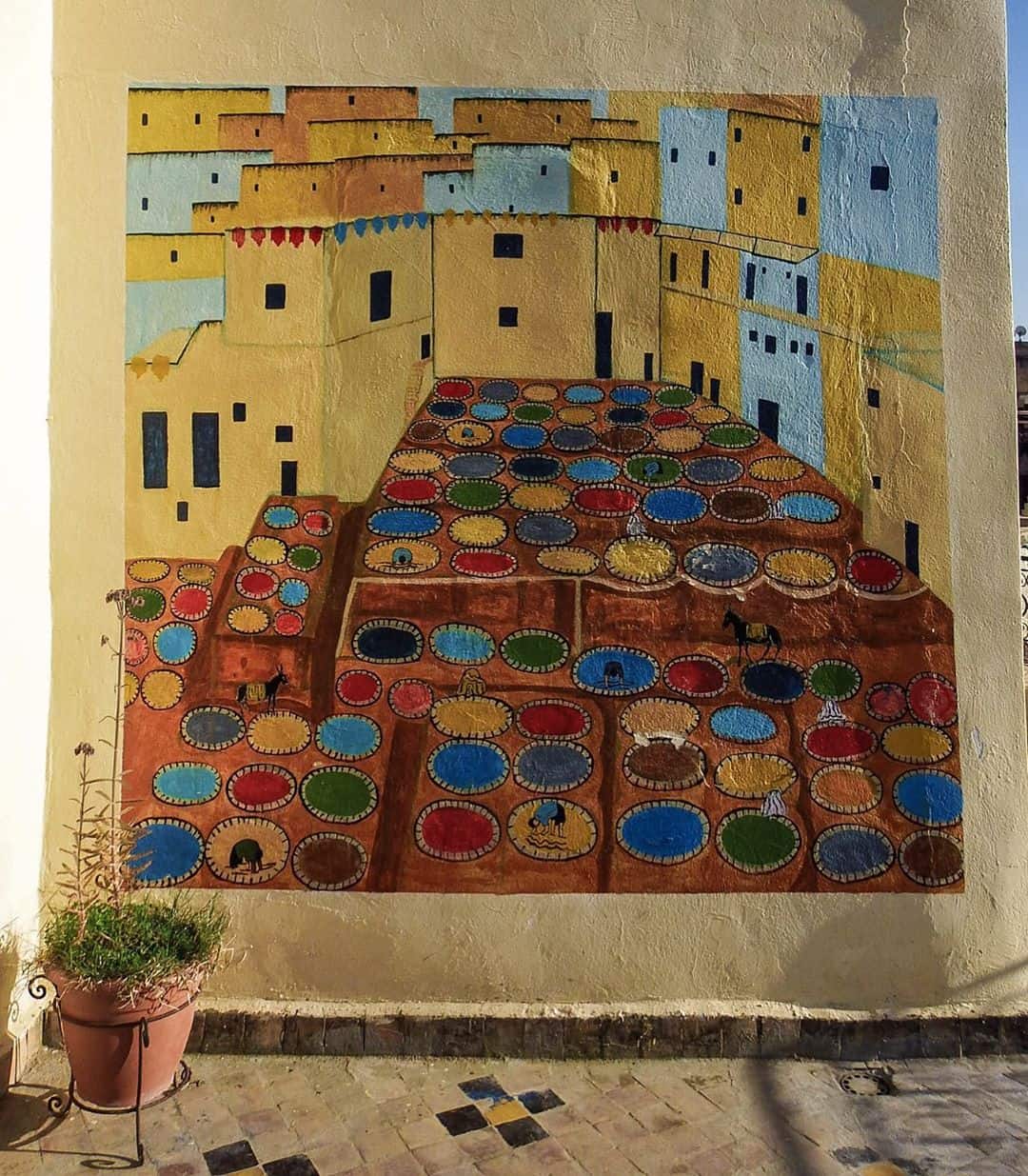 Morocco offers something for every type of traveller. The country is so diverse that you could easily spend a month here and still feel as though you have barely scratched the surface.
Your Perfect 14 Day Morocco Itinerary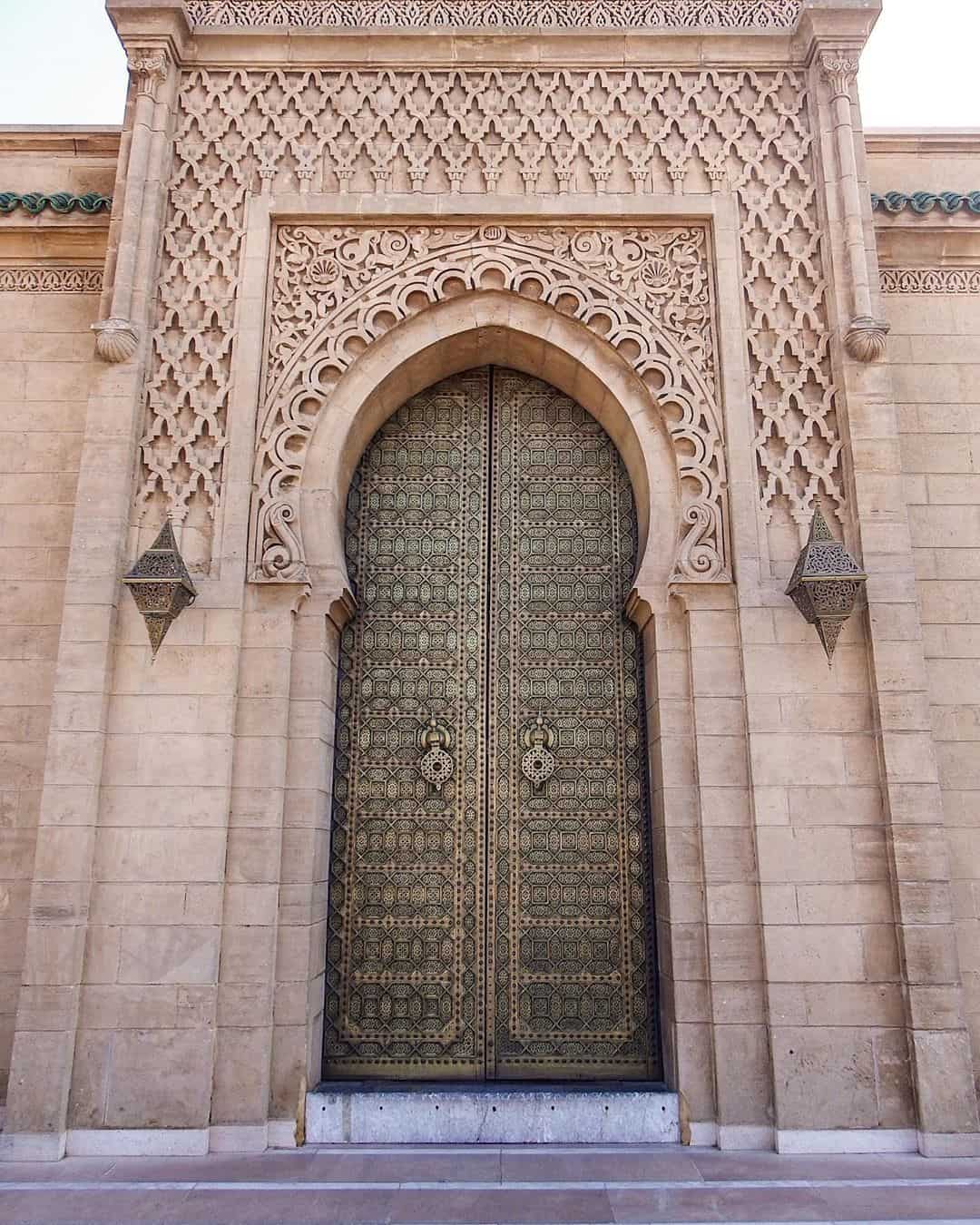 This tried and tested Morocco itinerary takes you on a circuit around the country. It starts in Casablanca and concludes in Marrakech.
There are a couple of things you need to know before traveling to Morocco. Depending on where you are coming from, you may or may not need to obtain a visa in advance. Similarly, entry and testing requirements are subject to change with little notice so do check your government travel advice before setting off on your trip.

Morocco Itinerary Day One:
Casablanca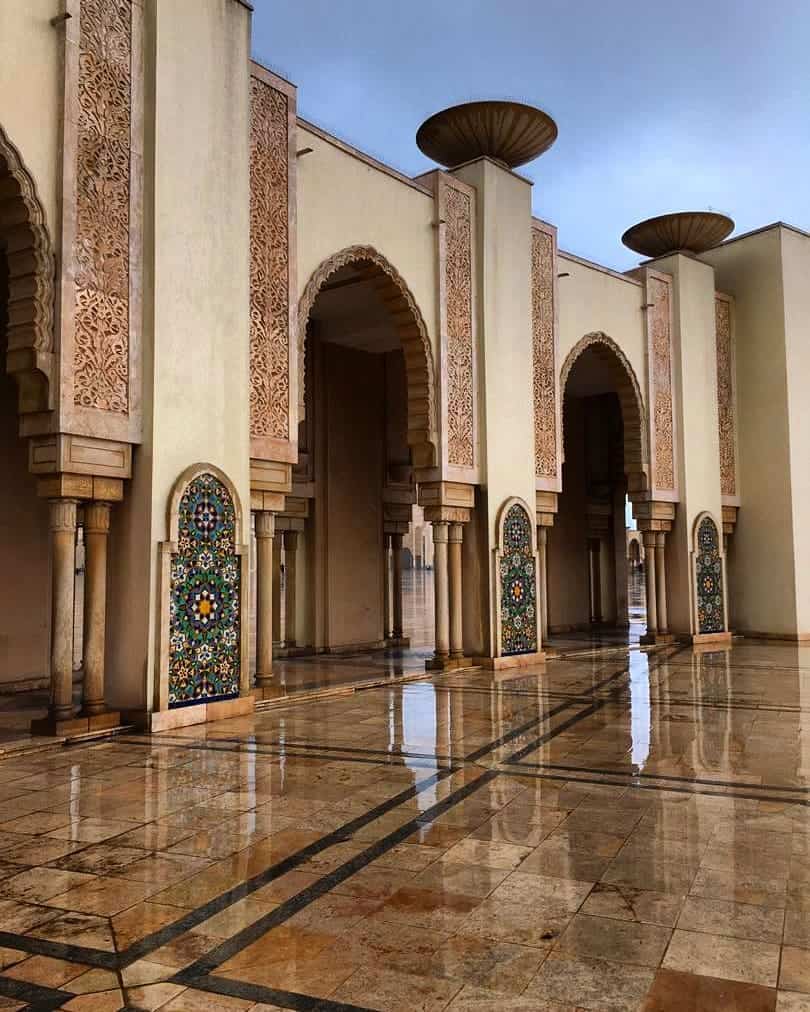 Casablanca is often affectionately referred to as the "Miami of Morocco". The scenic coastal city is often missed from many people's Morocco itineraries. However its magnificent architecture and laid back charm makes Casablanca a wonderful place to start your Moroccan adventure.
The Mohammed V International Airport in Casablanca is one of the main entry points into Morocco. Many budget and international airlines offer frequent routes to and from Casablanca. This is yet another reason why Casablanca is a great place for your first days in Morocco.
Best Things to do in Casablanca
Enjoy a hot mint tea and a sticky slice of baklava as you sit outside one of the picturesque tea rooms overlooking the Atlantic


Marvel at the Hassan II Mosque. This is the largest mosque in Morocco, set in a stunning seafront location


Haggle your way through the vibrant souks and markets of Casablanca. Buy yourself a pair of the infamous handmade local slippers known as "babouche"


Take a mid-afternoon stroll along the Corniche and capture some breathtaking photos of Casablanca during golden hour


People watch at the Casablanca Central Market on Rue Allal Ben Abdallah. Gaze on as locals shop for fruit, vegetables, and traditional produce


Spend a day at Mohammedia. This is a sleepy seaside town with stunning beaches and palm-tree-lined boulevards
Suggested Casablanca Tours
Where to Stay in Casablanca
Casablanca has ample accommodation options for every budget and travel style. A selection of the best places to stay are detailed below.
Morocco Itinerary Day 2:
Rabat
Rabat is the capital of Morocco. The city can be reached within just an hour's journey from Casablanca. It is often overlooked in favour of nearby Marrakech and Fes. However, Rabat still has some interesting sites to offer visitors.
Many of Rabat's attractions date back to the 1800s. The Islamic buildings, ruins, and historical sites are incredibly well-preserved.
Best Things to do in Rabat
Stop by the Hassan Mosque. This mosque was intended to become the largest in the world. Sadly, construction was never completed


Meander through the pale blue and white alleyways and houses that surround the Kasbah of the Udayas. They are every bit as beautiful as Chefchaouen but without the crowds.


Enter the turquoise Mausoleum of King Mohammed V and admire the ornate interiors within


Admire the beauty of the Palais Royal from afar. The Moroccan Royal family lives here for most of the year


Venture just outside the city limits to the Roman ruins of Chellah. The site is very well preserved. Chellah now serves a dual purpose – as a nesting place for storks


Take a picnic to the Jardin d'Essais Botaniques de Rabat. This stunning garden dates back to 1914


Get a history lesson at the Musée de l'Histoire et des Civilisations de Rabat. The exhibits tell the story of Morocco's history from the prehistoric era up until the Islamic era
Suggested Rabat Tours
Where to Stay in Rabat
Morocco Itinerary Day 3:
Meknes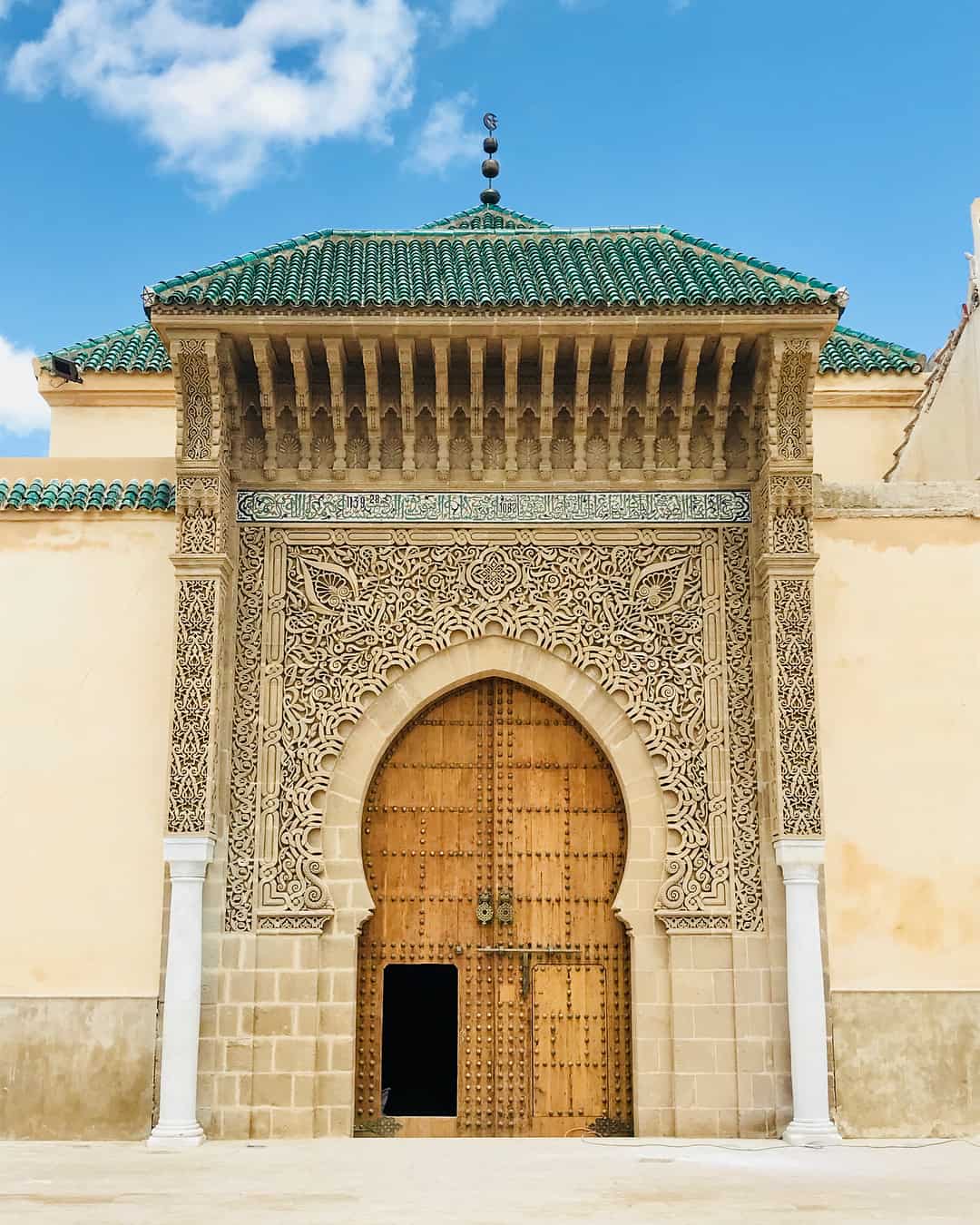 Once upon a time, Meknes was the capital city of Morocco. Today, the entirety of the old walled city is UNESCO protected.
The magnificent Islamic architecture, and the winding souks of Meknes are every bit as glorious as their counterparts in the imperial cities of Fes and Meknes. However, a major plus of visiting Meknes is the absence of tourists.
Many of the ancient fortifications and city walls that once stood to defend Meknes are still intact. El-Hadim is the city's main plaza. This is essentially a smaller, more intimate alternative to Marrakech's Djemaa el-Fna square.
Best Things to do in Meknes
Pose for Photographs in front of the Bab Al-Mansour gateway. The gate was built by Sultan Moulay Ismail in 1732. It acts as the main gate to the Meknes medina


Visit the Mausoleum of Moulay Ismail. This ornate tomb is the final resting place of one of Morocco's most famous Sultans


Step inside the eerie Prison de Kara – a spooky underground prison that is said to be haunted by those who were trapped inside


Take the time to get lost among the narrow streets of Meknes Medina


Stop by Souk Sebbat for local artisanal products and crafts. Head to Souk Nejarine for fabrics and apparel

Suggested Meknes Tours
Where to Stay in Meknes
Morocco Itinerary Days 4 & 5:
Fes
The Imperial city of Fes comprises a labyrinth-like network of 10,000 narrow streets and passageways. It is incredibly easy to get lost here without a guide. However, that is all part of the fun.
Many of Fes' original 13th century walls and structures still stand today. A visit to Fes transports you back to the days of camel caravan traders and Bedouin desert wanderers. The city is commonly referred to as being Morocco's "cultural capital".
You should spend at least two days of your Morocco itinerary in Fes. If you have a flexible travel schedule, adding another couple of days and exploring the city at a more relaxed pace is preferable.
Best Things to do in Fes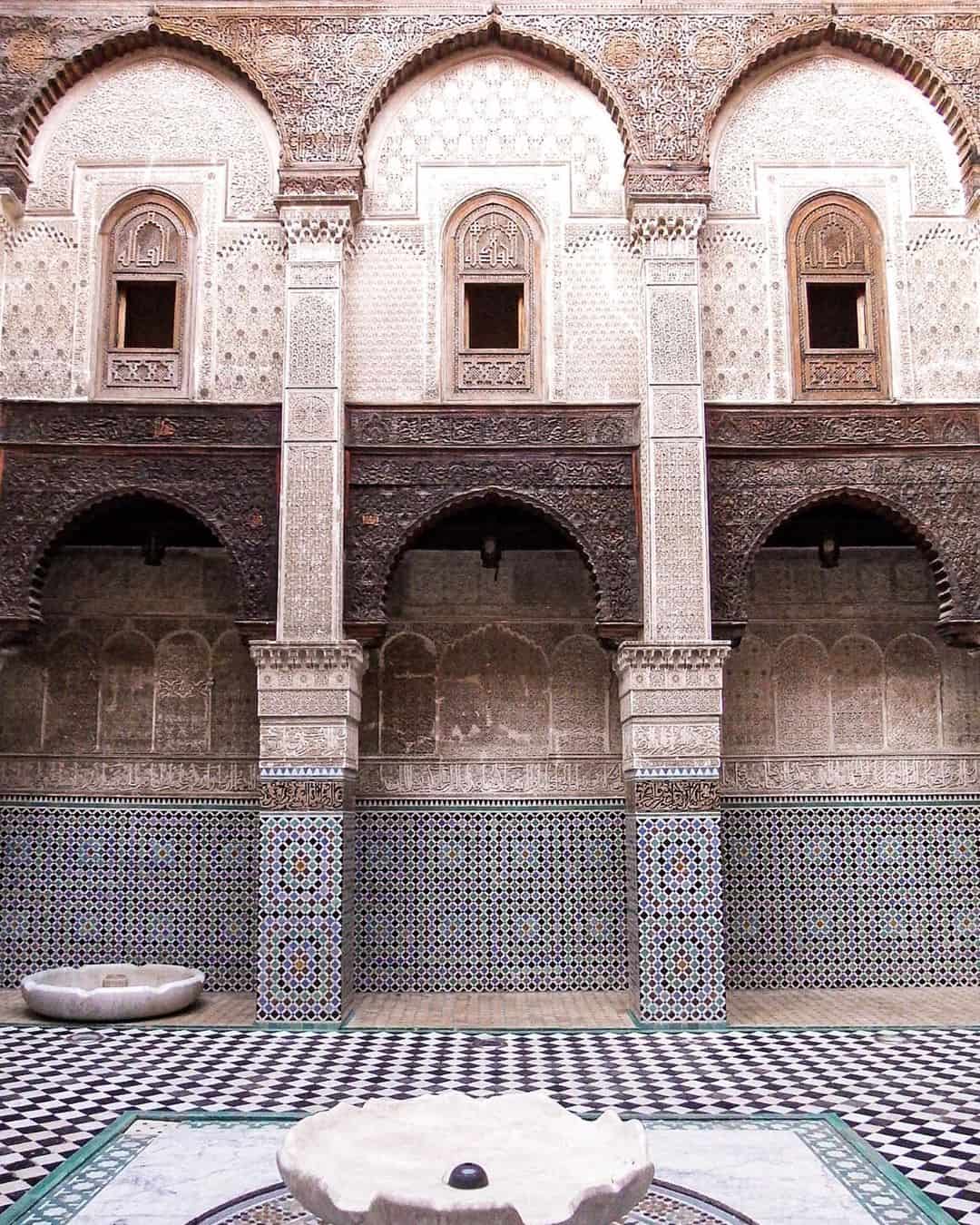 A selection of the best things to do in Fes are highlighted below.
Take a tour of the tanneries and learn about the process for the city's important leather trade


Shop for beautiful Arabian scarves and handwoven rugs in the Fes medinas


Step inside the Madrasa Bou Inania. This is the most extravagant Merenid monument and the only religious building in the city that non-Muslims can enter


Admire the zellij tilework and intricate designs of Fes' Islamic architecture. The Kairaouine Mosque, the Medersa-el-Attarine, and the Dar el Makhzen are all not to be missed


Spend a leisurely afternoon walking through the Jhan Sbil gardens. These gardens have provided respite from the hustle and bustle of city life for more than 1,000 years


Book a Moroccan cooking class
Suggested Fes Tours
Where to Stay in Fes
Morocco Itinerary Day 6:
Moulay Idriss & Volubilis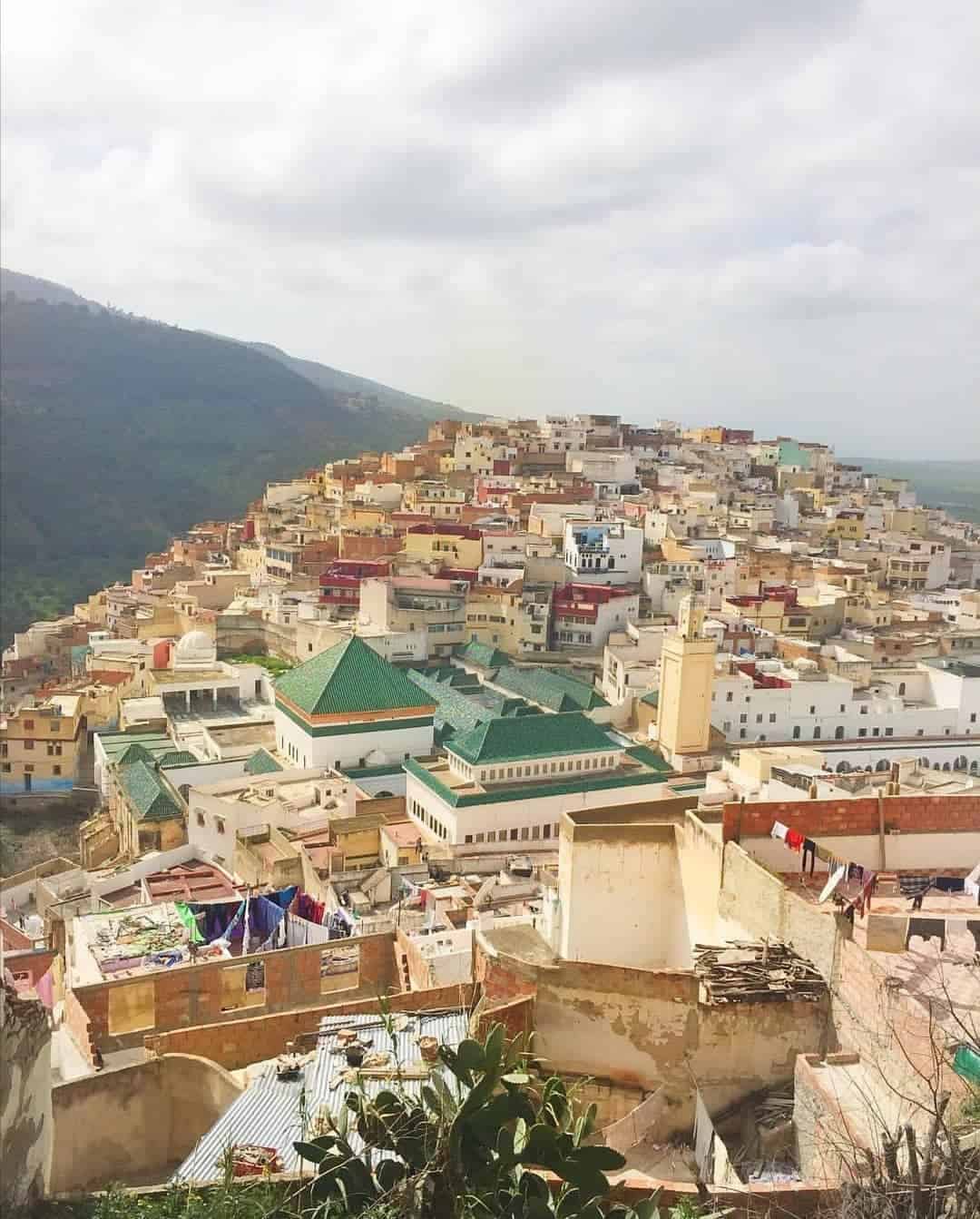 Volubilis and Moulay Idriss make a great combined day-trip from nearby Fes. Many local tour companies run private and group trips here every day.
Moulay Idriss is a small whitewashed village perched atop a hilltop. The site is significant to Moroccans because it is home to the tomb of Moulay Idriss, a prominent Moroccan Saint. Annual summer celebrations held here known as 'Moussem' have transformed the village into a Moroccan alternative to mecca.
Spend half a day at Moulay Idriss before travelling onwards to the sun bleached ruins of the Roman city of Volubilis.
Moulay Idriss & Volubilis Highlights
Conquer the 1,000 steps that lead you to the top of Moulay Idriss. You can enjoy breathtaking panoramas of the town, the nearby ruins of Volubilis, and the Moroccan countryside below


Organise a wine tasting at the little Berber town of Domaine Zouina. The winery boasts three Domaine wines that are said to be among the best in the country


Buy regional agricultural products in the little shops of Moulay Idriss – the area's award-winning olive oil, local goat's cheese, nuts, and dried fruits make great snacks or edible souvenirs


Muslim visitors can enter the tomb of Moulay Idriss – the most important site of the pilgrimage trail to Moulay Idriss town


Soak in the hammams of Moulay Idriss. These are some of the oldest bathhouses in Morocco


Observe the Idriss Madrassa. The 17th-century structure is unique in appearance as its minaret is cylindrical in shape


Look out for the donkeys and mules that Moulay Idriss residents use to get around the town. Moulay Idriss is a vehicle-free place


Check out the impressive mosaics on the floor of the House of Orpheus in Volubilis. The mosaics depict various scenes of traditional Roman life.

Where to Stay in Moulay Idriss
You can opt to stay overnight in the quaint village of Moulay Idriss. Alternatively, you can return to Fes and spend the night there. Some high-rated hotels that you may wish to consider in Moulay Idriss are detailed below. 

La Colombe Blanche (Mid-Range)
Morocco Itinerary Days 7 & 8:
Chefchaouen
Chefchaouen is a highlight of any Morocco itinerary. The entire town is painted a delicate shade of blue. Every twist and turn here provides a spectacular photo opportunity.
The hilltop town is nestled in the Rif Mountains. Chefchaouen is nicknamed "the Blue Pearl of Morocco". It takes just an hour to get here from Fes.
Why is Chefchaouen blue? Nobody is certain. Some people theorise that this was done in an attempt to keep the mosquitoes away.
However, others have suggested that the colour blue keeps residents cooler during the summer months. Regardless of the specific reasons, Chefchaouen residents still fix up their houses with a fresh coat of blue paint twice a year.
Best Things to do in Chefchaouen
Tuck into traditional Moroccan cuisine as you people-watch at Plaza Uta el-Hammam.


Hike to the stunning Akchour Waterfalls. Here, several cascading waterfalls that await just outside Chefchaouen.


Take the time to get lost among Chefchaouen's narrow passageways, crowded piazzas, and dead-end streets.


Stop by the Chefchaouen souk on Mondays and Thursdays to watch local vendors sell traditional herbs, spices, and farm produce.


Hike to the Spanish mosque for panoramic views over Chefchaouen and the Rif mountains


Follow one of the hiking trails in the Rif Mountains. Jeb al-Kalaa and the waterfall of the Ras elMa River are two popular choices


Treat yourself to a luxury hammam and spa experience at the Lina Ryad and Spa


Trek to Talassemtane National Park – the last of Morocco's fir forests
Suggested Chefchaouen Tours
Where to Stay in Chefchaouen 

Lina Ryad & Spa (Luxury)
Morocco Itinerary Days 9 & 10:
Merzouga
The small town of Merzouga, and the adjacent dunes of Erg Chebbi are an Arabian Nights fantasy come to life. Here, Berbers roam free, and miles upon miles of rolling golden sand dunes extend for as far as the eye can see.
Merzouga is a great place to base yourself in the Sahara as you can literally walk to the sand dunes from here. This is perfect for independent travellers that want to visit the desert in Morocco without the expense of having to go on an organised tour.
Merzouga Highlights
Watching the sunset from the Erg Chebbi sand dunes


Sleeping at a Bedouin campsite and watching stars illuminate the night sky


Visit a village occupied by Sudanese Gnaoua tribesmen


Birdwatch at the stunning Dayet Srji salt lake


Trek to the Merzouga Oasis


Rent an ATV and zip across the sand dunes
Suggested Merzouga Tours
Where to Stay in Merzouga
Morocco Itinerary Day 11:
Ait Ben Haddou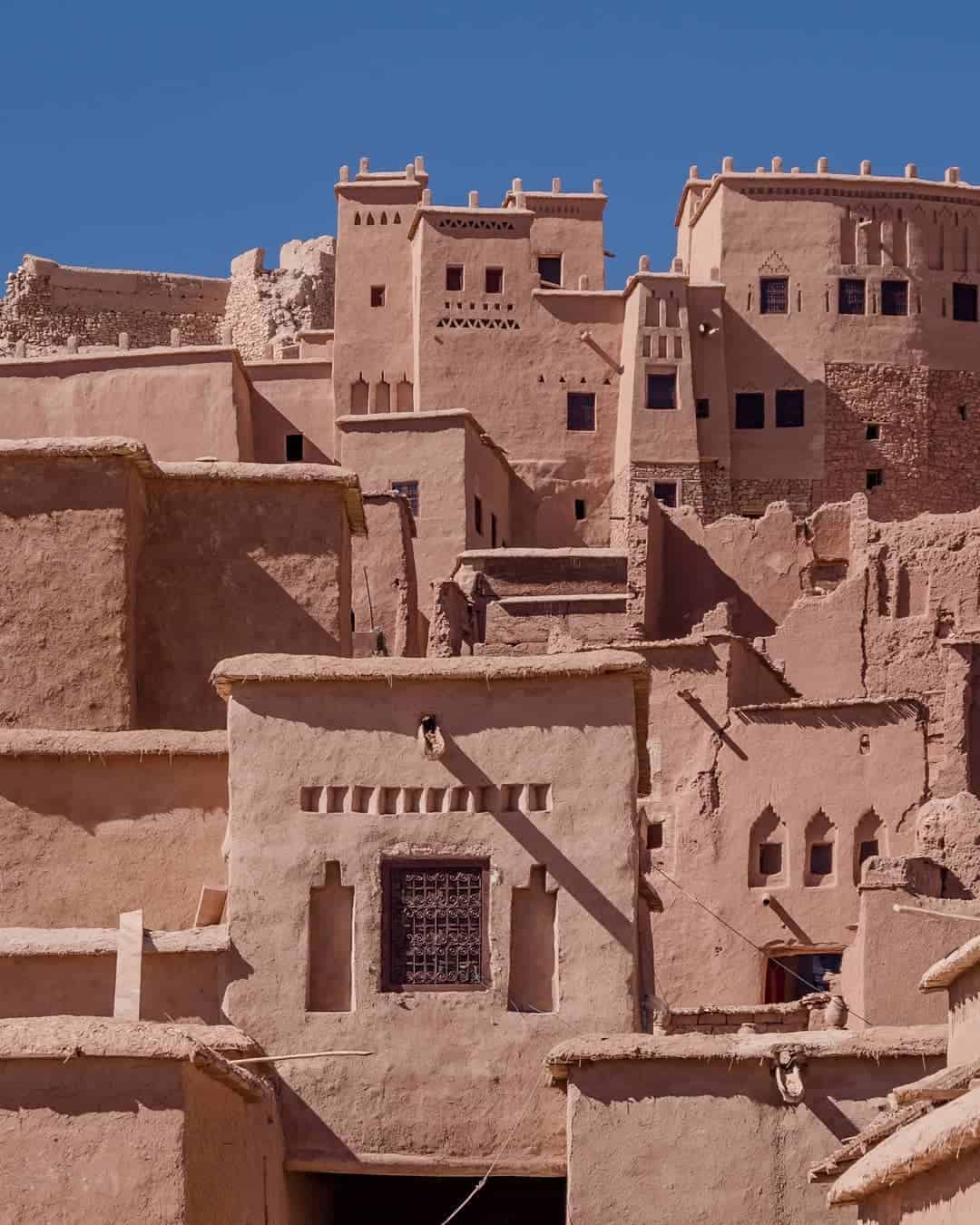 The buildings of Ait Ben Haddou are made out of a red clay that blends into the African desert scenery perfectly. The ancient city's structures almost look as though they are rising out of the ground.
Ait Ben Haddou was once an important stopping point for camel caravan traders who carried gold and other commodities from Sudan to Marrakech. You may also recognise this site as the city of Yunkai from Game of Thrones. Various movies have been filmed here over the years, including Gladiator.
Ait Ben Haddou Highlights
Explore the narrow streets of the fortified village


Enjoy a lunch at one of the scenic riverside restaurants


Climb to the top of the fortified village for the best views
Morocco Itinerary Days 12-14:
Marrakech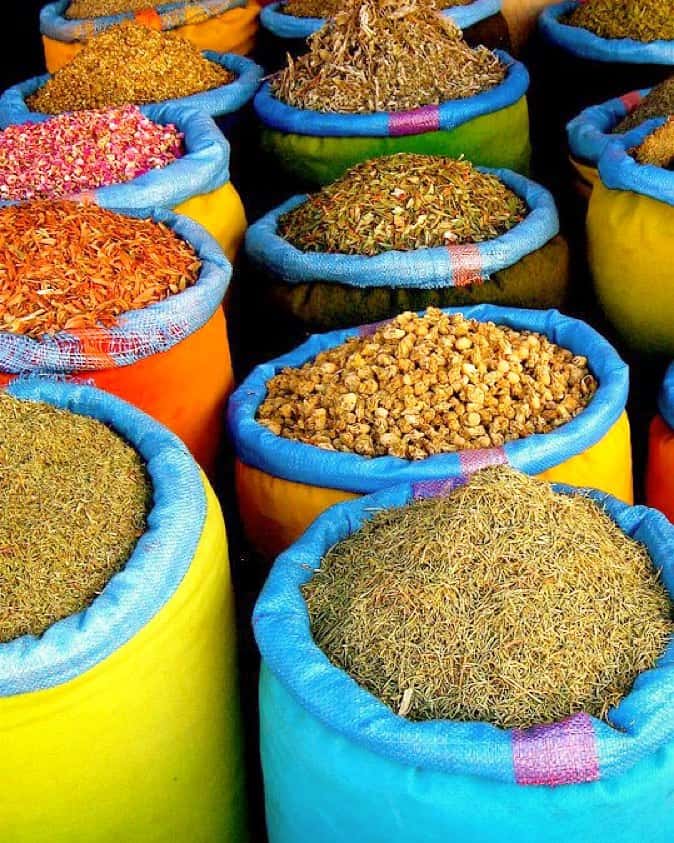 Morocco's red city of Marrakech is high on most travellers' bucket lists. The city is rich in history and culture, and makes a perfect place to end your Morocco itinerary.
The bustling Djemaa el-Fna square is the beating heart of old Marrakech. You can enjoy a lovely breakfast at one of the rooftop cafes overlooking the square.
When night falls, the city is encapsulated by a haze of smoke as Moroccan chefs finesse delicacies such as sheeps hearts and camel's heads. Crowds gather as the sun sets to watch snake charmers work their magic, and fortune tellers predict their future.
Marrakech may be one of Morocco's most popular tourist destinations; however that does not detract from its charm. There are plenty of things to do in Marrakech to keep you occupied.
Marrakech Highlights
Sample Moroccan delicacies at the street food stalls of the Djemaa el-Fna


Taste Mechoui (slow roasted lamb with salt and cumin) at Mechoui Alley


Meander down the Rue Semmarine and browse through the various Marrakech souks


Sip mint tea in the 1920's Majorelle gardens – a lovely spot dedicated to Yves Saint Laurent


Visit the Ben Youssef Madrasa – the largest madrasa in Morocco


Admire the traditional architecture and stunning courtyards of the Bahia Palace


Soak your cares away at a traditional Moroccan hammam


Take a Marrakech food tour
Suggested Marrakech Tours
Where to Stay in Marrakech
Possible Extensions for Your Morocco Itinerary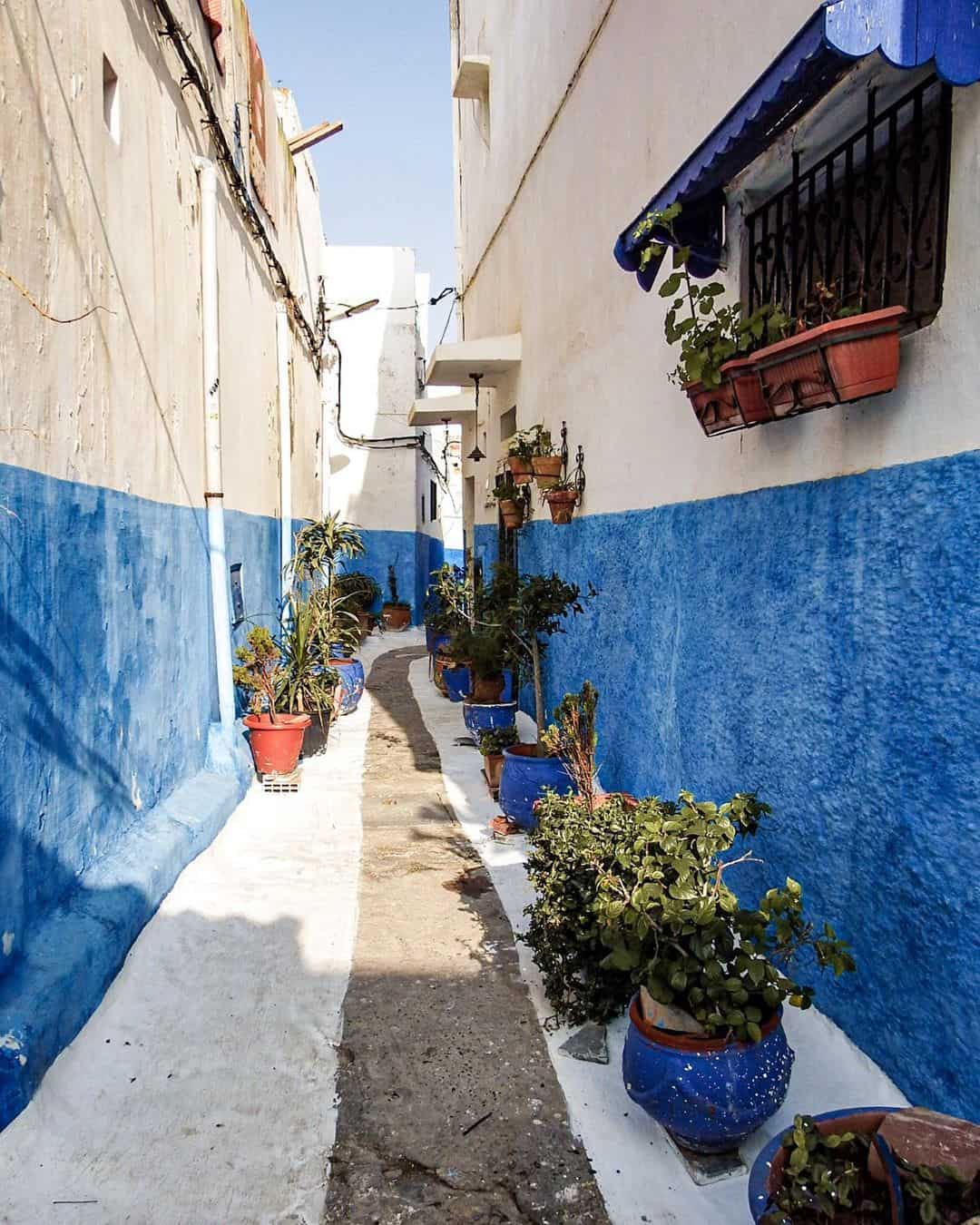 If you have more time to dedicate to your Morocco travel itinerary, you can consider extending the amount of time that you spend in each location. For example, you could easily spend two or three days in Casablanca, Rabat, and Meknes respectively. Some additional suggestions are provided below.
Essaouira
Essaouira is a charming port city on Morocco's west coast. Despite its size, Essaouira has something of a small-town atmosphere about it. It is, without hesitation, one of the most beautiful cities in Africa.
This is a lovely place to spend a relaxing few days. Most travellers bypass Essaouira so the city does not see the same amount of crowds as Marrakech or Fes.
Essaouira is a perfect blend of tradition and contemporary living. Ramshackle tea rooms sit beside modern art galleries, stylish boutique stores, and hip cafes. The restaurants that line the seafront provide a wonderful opportunity to watch traditional wooden fishing boats being constructed.
Tangier
Tangier is a vision. The coastal town comprises pastel coloured buildings that shimmer beneath the sunlight. The architecture here is quite unlike anywhere else in Morocco; Moorish arches are blended with French-inspired structures and ornate Islamic geometrics and tile mosaics.
The souks and medina of Tangier are worth exploring. However, the additional benefit of this coastal town is the opportunity to relax on its beaches and indulge in some much needed R&R.
Atlas Mountain Hiking
The Atlas Mountains are a great addition to your Morocco itinerary. This is especially the case if you love hiking and the great outdoors.
There are various Atlas Mountain hiking trails that you can attempt. There is something to suit people of all ages and fitness levels. Mount Toubkal is Morocco's highest peak. Sitting at 4,167m, conquering Mount Toubkal is a challenging yet rewarding experience.
Alternative Morocco Travel Itineraries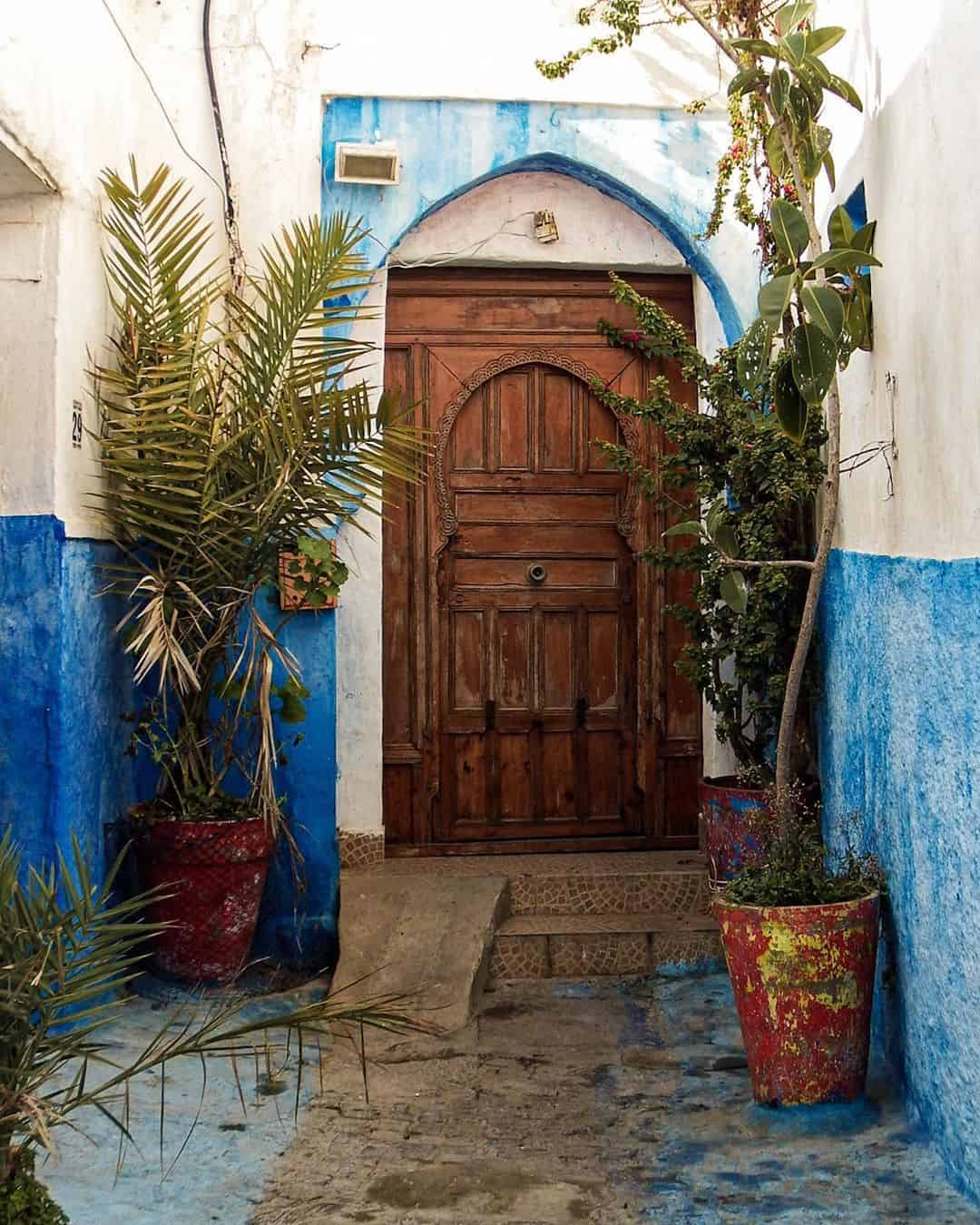 You may wish to chop and change certain elements of this Morocco itinerary. It is also possible to travel at a slower pace by reducing the number of stops on your itinerary and spending a little longer at each destination. A selection of alternative Morocco travel itineraries are detailed below.
Ultimate Morocco Itinerary
This ultimate Morocco itinerary is perfect for those who have a flexible schedule. It can be adapted for 21 days or even a month in Morocco.
2-3 days in Casablanca


2 -3 days in Rabat


2-3 days in Tangier


3-5 days in Fes


2-3 days in Meknes


1 day in Moulay Idriss


3-7 days in Chefchaouen (allow time to hike around the surrounding area)


2 days in Merzouga


1 day at Ait Ben Haddou


3-7 days in Marrakech


3-5 days camping and hiking at the Atlas Mountains


3-5 days in Essaouira
Whistlestop Morocco Itinerary
This whistlestop Morocco itinerary is perfect for those who only have a week to spend in Morocco. It is also suitable for those who have two weeks and do not want to spend long periods of time travelling from one place to another.
2-3 days in Fes


2-3 days in Meknes


1 day at Moulay Idriss


2-3 days in Chefchaouen


2-3 days in Marrakech
Getting Around Morocco
It is easy to get around Morocco independently. The public transportation network here is efficient and services run on a regular schedule. Trains connect most Moroccan cities while buses run to the majority of the smaller towns and villages.
Rail Travel in Morocco
Trains are the most comfortable and efficient way to get around Morocco. The Moroccan rail network is not all-encompassing. However, the cities of Rabat, Marrakech, Fes, Casablanca, Tangier, Meknes, and Oujda are all connected.
It is not possible to purchase train tickets from outside the country. However, on arrival in Morocco, you can purchase them at any local train station. It is generally okay to buy them a day or two before your intended day of travel.
ONCF is the official Moroccan rail website. You can check the routes and schedules here.
Bus Travel in Morocco
Moroccan buses help connect you to places such as Chefchaouen, Essaouira and the Atlas Mountains. Such places are not connected by rail lines.
CTM is the national Moroccan bus company. This is generally the most reliable option. SATAS and Trans Ghazala are the most reliable of the private companies.
Renting a Car in Morocco
Renting a car in Morocco is very cheap and not as daunting as you may think. You can expect to pay between $25-$40 per day for a rental car, depending on the season.
Morocco Multi-Day Tours
A wide range of companies offer multi-day or multi-week tours of Morocco. The benefit of such tours is that it takes a lot of the stress out of planning a trip. This also enables you to meet like minded travellers.
The only caveat of booking a multi-day tour is that it often works out more expensive. It all depends on your personal preference as to whether you would like to travel independently or on a tour
Morocco Travel Advice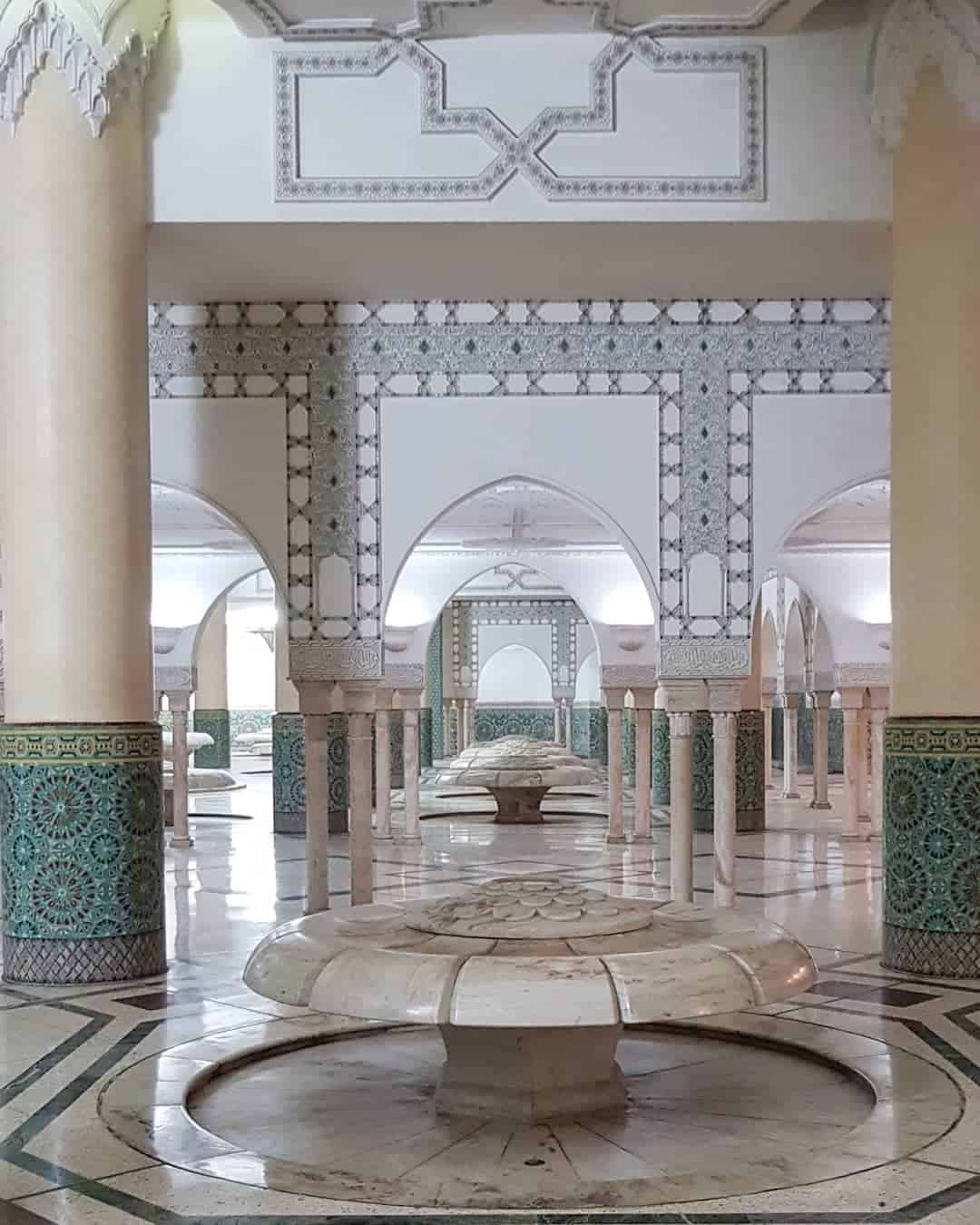 Purchase comprehensive travel insurance before your trip. A good insurance package should have at least $1million medical coverage.


Consider hiring a local guide to help you navigate through souks and cities


Be prepared to dress conservatively. This Morocco packing list provides some good indication of what to pack


Check your local government travel advice before you travel. The UK advice for Morocco can be found here


Ensure that your travel vaccinations are up to date before you travel


Arabic and French are the main languages of Morocco. However, English is widely spoken in tourist areas


Opt to stay in Moroccan riads instead of hotels. These are traditional Moroccan guesthouses that are centered around a courtyard.

Do you have any additional questions about this Morocco itinerary? Please don't hesitate to contact me. I've travelled to Morocco several times and I'm happy to assist with any queries that you may have. Safe travels! Melissa xo
---