If you're headed to Kyoto, no doubt Gion is one of the top places on your to-do list (if it isn't then it should be!) This is Japan's largest, and one of its only remaining Geisha districts.
Gion can turn you into a bit of a cosmopolitan David Attenborough as you prowl around the streets in a predatory manner, peering down the twisty alley ways hoping for a glimpse of this rare creature.
I popped along to a Couchsurfing event whilst in Kyoto – a local, Kazu, who has a passion for travelling himself organises weekly meets for travellers and locals and takes them on a free walking tour of Gion.
Though Gion is obviously a big site of interest for tourists and travellers in Kyoto, I was pleasantly surprised to find that the streets are not too crowded, and the ambience and architecture is as such that you really feel transported back to historic Japan. Navigating through the narrow pathways you see Japanese Business men just released from their shifts in the City waiting patiently outside the houses of Geiko (Geisha) and Maiko (apprentice Geisha) for their evening entertainment of parlour games and tea ceremonies.
An "Ochaya" is the traditional dining experience where guests can be entertained by Geisha but this still today remains shielded from tourism. Some hotels offer (very expensive) packages, but for the most part, the tradition remains that you cannot be entertained by Geisha unless you have a referral from an existing Client… so unless you speak fluent Japanese and have the gift of the gab, I doubt you'll be befriending any high flying Japanese business men clientele that can refer you during your trip.
So what is the next best thing?
Gion Corner offers a nightly show to introduce the Japanese Arts to tourists. It's a little pricey, at 3,150 yen but you can watch short showings of various traditional Japanese arts and theatre.
Bunraku 
 A (scary) Japanese traditional puppet show.
Gagaku
Music of the Japanese Imperial court)
Kyogen
Japanese stand up comedy. I didn't really know what was going on but the Japanese bloke next to me was having an absolute ball!
Kyomai
Traditional dances by real Maiko.
Japanese Tea Ceremony and Flower Arranging
The theatre wasn't really too busy. You have to buy your tickets for that evening just before the show (advanced bookings are not available. ) so be sure to get there early.
An introduction to each new act is given in English before it commences so you are not completely "Lost in Translation"
Have you visited Kyoto? Were you able to spot any Geisha?
Disclaimer: High Heels & a Backpack is in no way affiliated with Gion corner. I just found this experience intriguing and thought that you might too! 
Feeling Inspired? Find Great Deals on Hotels in Kyoto




Pin it For Later!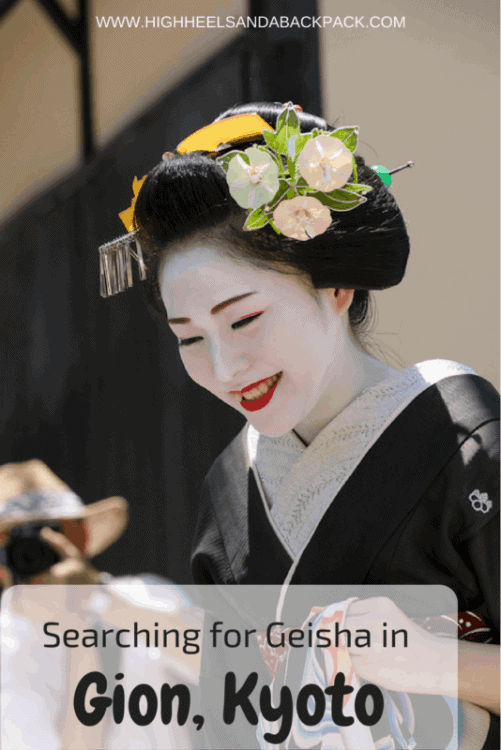 ---