I love Italy, and I love food – so what better way to combine my two passions than by taking a cooking class in Bologna?
One of my favorite things during my previous travels through Italy has been discovering and trialing different dishes, and bearing witness to the different spins that people place on traditional recipes.  (A 'traditional' dish can vary significantly from restaurant to restaurant, town to town.)
I've tried to replicate some of these at home in the UK but nothing seems to taste quite like the food in Italy – either there's some culinary voodoo going on, or there's some secret ingredient (and don't tell me it's 'love'!)
Each Italian region has its own specialty dishes and Italians take a lot of pride in their culinary endeavors.
That said, the Emilia Romagna region which encompasses Bologna is often referenced as having the 'best' food in Italy – even people from other regions will begrudgingly agree that ok, yes, their food is better.
You may have heard of a little thing called Ragu.. or Parma ham? or Parmesan? No? Well maybe you've perhaps heard of Tortellini? Balsamic Vinegar maybe? All of these delicious little pests originated in Emilia Romagna. *wipes drool off chin*.
No doubt immersing yourself in the Bolognese food culture is one of the best things to do in Bologna, and taking an Italian cooking class is a great way to immerse yourself in the local culture during your first trip to Bologna.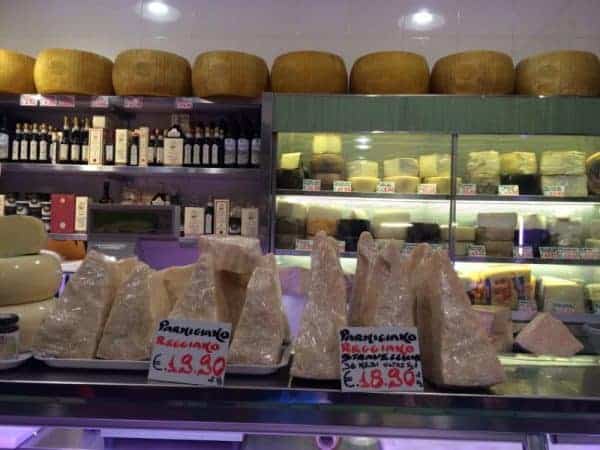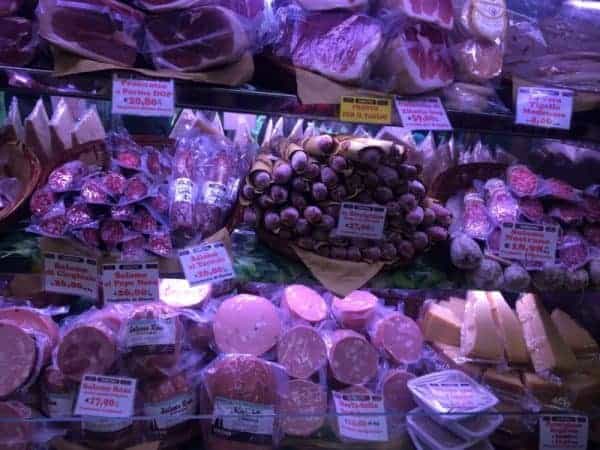 Finding Bologna Cooking Classes
My search for Bologna cooking classes found those that fell into two categories – cooking in the home of an Italian local, or a formal restaurant/cooking school environment. I opted for the former as I wanted to know the sorts of recipes that Italians really cook in their homes, the methods and dishes that have been passed on from their mother's mothers and so on.
I stumbled across the 'Taste of Italy' Bologna cooking class during my search and I am so pleased that I did. Taste of Italy is run by Italian local Maribel who teaches recipes in her beautiful home kitchen in the heart of Bologna. She has been featured in the New York Times so I knew that I was in good hands!
Bologna Cooking Classes with Taste of Italy
We met bright and early in the morning in Bologna's old town and started the day with a tour of the market place. Maribel took me to her favourite food stores in the area – from fromageries, to butchers selling the best cuts of meat and Mortadella, to patisseries that would make you drool at the scent of freshly baked chocolate salami as soon as you passed through the door.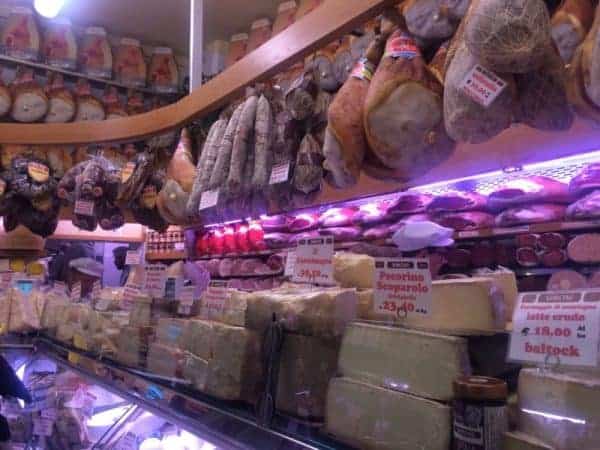 We discussed the vegetables and fruits that were in season, and from this made a decision on what recipes to make, sourcing our ingredients from the grocery stalls to find the best organic fruits and vegetables delivered from local farms earlier that same day
By the way… this is one thing I love about Italian cuisine – not only is everything hand-made, but the ingredients are extremely fresh, and the most explicit care is taken at every stage through the supply chain to ensure that only the very best food winds up on your plate and in your mouth.
There is also a beautiful sense of community – the market stalls and food shops have been passed down from generation to generation, elderly father and son pairings joked with customers as they selected their artichokes, and the locals choose to shop here rather than the supermarkets to keep these local businesses alive.
So, ingredients in hand it was decided… I would make two varieties of pasta, two sauces, an appetiser and a dessert.. Phew!
Step aside Martha Stewart! Let's take a look at what I rustled up…
My Bologna Cooking Class:
Our Culinary Concoctions
Appetiser – Stuffed Zucchini Flowers
What a lovely concept eh? Eating a flower. These turned out absolutely delicious. Zucchini flowers stuffed with a filling comprised of ricotta cheese, Parmigiano Reggiano and nutmeg and then lightly fried.
Bologna Cooking Class Main Course:
The Handmade Pasta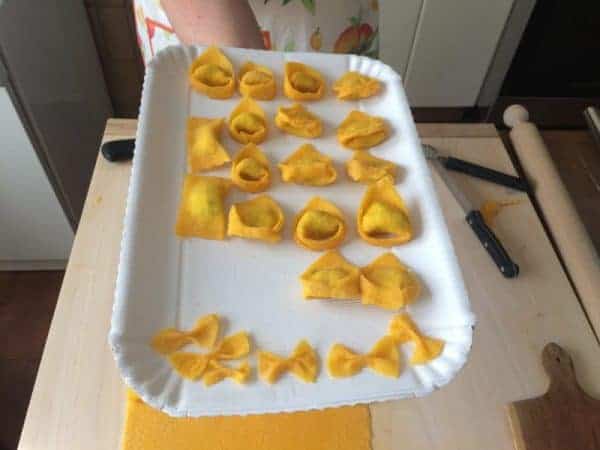 Actually… I am sure that there is more aesthetically pleasing pasta than mine… I mean my gosh just look at those childlike misshapen little tortellonis! Those bows weren't planned either, they were from bits I messed up. Pleased to let you know however, I survived the pasta class without horrifically spoiling the pasta in some way, or dropping it on the floor whilst rolling it out and flipping it around – hurrah!!!
Making the pasta was no walk in the park, lemme tell you that much – I had blisters by the end of the day like war wounds for my culinary endeavors! That said, as with anything it felt like one of those things where it would probably get easier with practice and experience and I'm not opposed to giving it another go should I host a dinner party any time soon.
Maribel was a very patient teacher and showed me a number of techniques for rolling out the dough as her mother and grandmother had taught to her.. She also ensured my glass was constantly topped with some very lovely local Vino which, in my personal opinion, is a great resolver of any problem!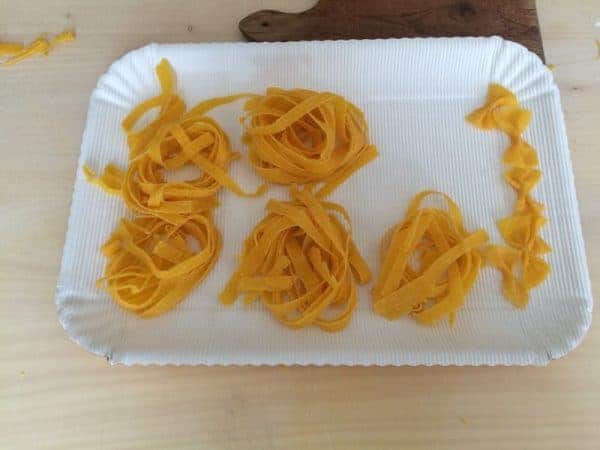 The tortelloni was filled with the same filling as that of the zucchini flowers – ricotta and parmesan cheese, and a hint of nutmeg. Once cooked, we made a lovely sage and butter sauce to serve them with.
For the second pasta dish prepared during my Bologna cooking class, I made tagliatelle which was served up with asparagus, shallots and, pancetta – a traditional dish from the region of Bologna and perhaps my favourite new recipe. So simple, yet so tasty!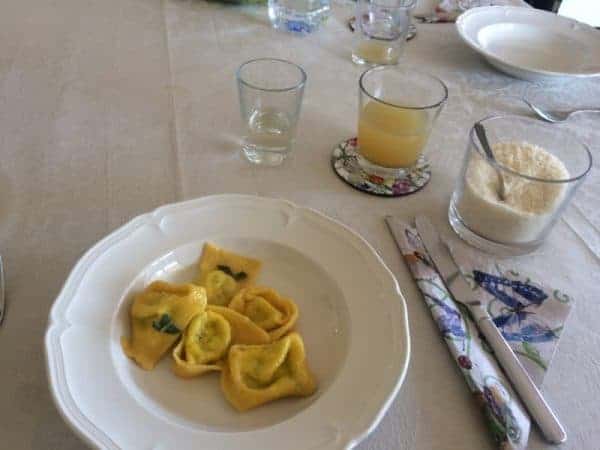 Bologna Cooking Class:
Finale and Conclusion
Finally, we have dessert! Panna Cotta topped with a fresh Raspberry sauce.
The great thing about cooking with a local like my class through Taste of Italy is that it's your own private lesson. It's not like a cooking school environment where you have to worry about keeping up the pace with everyone else. It also gives you the opportunity to ask questions, and have the support that you need from your teacher.
I loved Maribel's class because it was so flexible. Ahead of meeting for the lesson we discussed the foods I enjoyed to come up with recipes and a plan completely tailored for me. You don't have to make tortelloni – why not try the traditional Bolognese ragu? Instead of Panna Cotta, why not a traditional local cake? She also sent me a PDF of the recipes soon after the lesson so that I can easily replicate these myself on a day where I'm feeling brave!
Of course, the best part of cooking is obviously the eating – this isn't about laboring under false pretenses! We sat and enjoyed each course in Maribel's dining room which was a pleasure. She has lived and taught the art of Italian cooking all over the World yet is so humble and down to Earth. It really was a lovely experience that will always be a highlight of my time spent in Italy.
Organising a Bologna Cooking Class of your own
If you wish to find out more about cooking with Maribel in Bologna, you can find her site details here. As you can see from the photographs contained here, it was a wonderful experience whereby I learned how to prepare a lot of wonderful local delicacies from Emilia Romagna. I would certainly recommend these Bologna cooking classes.
Have you taken a Bologna cooking class or a class elsewhere in Italy on your travels? How did you find it?
Disclaimer: High Heels and a Backpack enjoyed these Bologna cooking classes at a reduced rate as a Blogger. That said, all views, photography, and opinions expressed throughout the article are my own and very honest. High Heels and a Backpack is in no way affiliated with Taste of Italy.
---