Vogue, Conde Nast Traveller, Time Magazine, and National Geographic all recommend Brown Hotel Tel Aviv as one of the most glamorous Tel Aviv boutique hotels to stay at in this trendy Israeli city so I was certainly pleased when I was invited to visit while in town. 

Effortlessly chic and sophisticated, Brown Tel Aviv stood out from the crowd of boutique hotels in Tel Aviv with its unique soul and sense of style. As my stilettos clip clopped through the lobby, the smooth rhythms of James Brown's "Get up offa that thing" played throughout this quirky entry way. Uniquely decorated with retro furnishings, and floor to ceiling Playboy magazine artwork, the boutique Tel Aviv hotel introduced itself with a funky first impression.


From the point of arrival, to my checkout, the attention to detail at Brown was second to none and the staff incredibly attentive. Customers can enjoy complimentary Prosecco on tap at the stunning Brown rooftop, complimentary coffee and a wide array of refreshments at  the ground floor bar, and a refreshing "welcome to Israel" bottle of quality red in the rooms and suites of this luxury Tel Aviv hotel.  
What to Know
With it's peaceful tree-lined street setting in the quirky Neve Tzedek district of Tel Aviv, Brown Hotel is perfectly located for whatever you wish to see in the city. The luxury Tel Aviv hotel is just a short walk from Carmel market and trendy Rothschild Boulevard and ten minutes from the white sandy beaches of Tel Aviv's coastline.
Popular among the local movers and shakers, Rothschild Boulevard is filled with chic cocktail bars, and sophisticated restaurants offering a range of cuisines from across the globe.
The boutique Tel Aviv hotel is just a 15 minute drive away from Tel Aviv's Sde Dov Airport, and 30 minutes from Ben Gurion International Airport.
The Rooms
Starting at 110 feet, the rooms are not the largest in the city, but they are certainly handsome in their appearance with chic upscale furnishings, plush bedding, and  sleek modern bathrooms.
All bathrooms come stocked with luxury Molton Brown toiletries and either whirlpool tubs, or rainforest shower heads.
Free wifi is present throughout the hotel and the signal is strong.
Complimentary wine and water upon arrival is a nice added touch.
Dining Options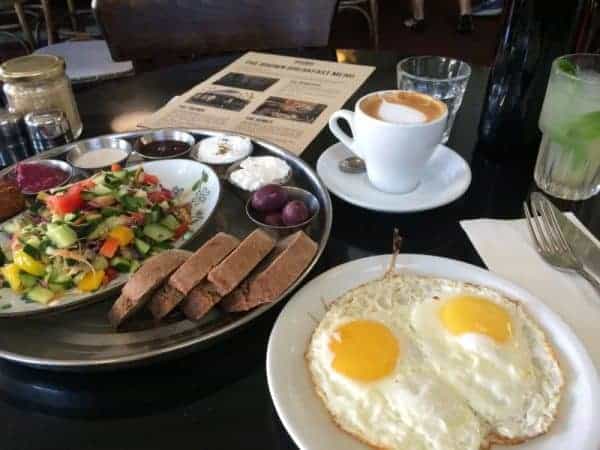 Since Brown Tel Aviv do not have a restaurant on site, they have more than compensated for this by teaming up with four trendy local eateries who offer a superb breakfast to Brown guests upon presenting the vouchers handed over during check-in.
Situated in the trendy Neve-Tzedek region of Tel Aviv – a neighbourhood filled with historic Ottoman architectural buildings which have been transformed into boutique clothing stores, art galleries and coffee bars, Brown TLV is within walking distance of the romantic 'Lulu cafe', or the homely Meshek Barzilay, an organic farm style eatery.
Also nearby are the Birenbaum Cafe, in the artsy neighbourhood of Nahalat Binyamin, and The Espresso Bar in trendy Rothschild Boulevard. An added extra is that many of these establishments serve breakfast until midday, perfect if you're not quite the early bird or you're recovering from a night out on the vino.
Brown Tel Aviv's ground floor Garden Bar serves light snacks and hot and cold beverages throughout the day in a pleasant setting.
The Spa
No trip to Brown Tel Aviv boutique hotel would be complete without indulging in one of the hotel's signature spa treatments. Peruse the spa menu and treat yourself to a hot stone massage, a Swedish massage or go all out with a relaxation package.
Additional Information
Address: Brown Tel Aviv Boutique Hotel, 25 Kalisher Street
Prices: Rooms available from £150 per night
Reservations: Click Here
Pin it For Later!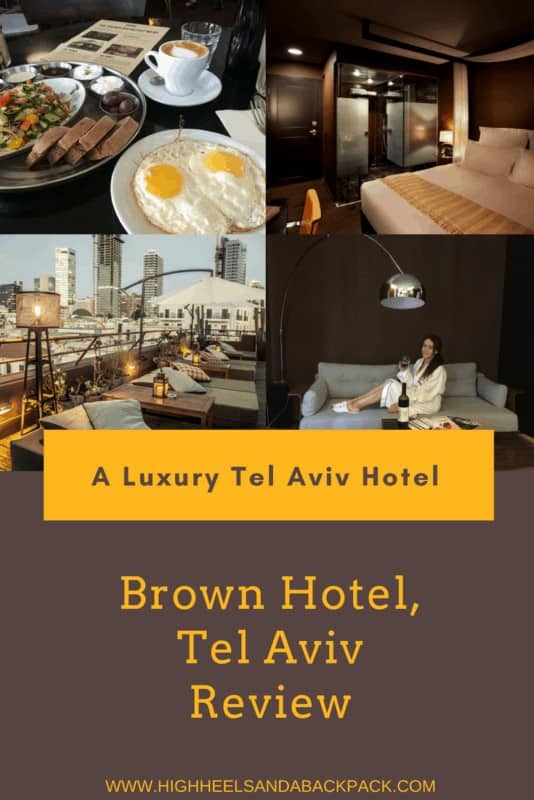 By the way, looking for ways to travel in style more frequently? Take a peek at this guide to luxury travel hacks.
Disclaimer: This article was sponsored by Brown Tel Aviv Boutique Hotel who kindly hosted me during my visit to Tel Aviv. That considered, I truly loved the experience and would never recommend something that I didn't believe in. I think that the pictures speak for themselves.  
---