Danyang is a beautiful, picturesque part of Korea famous for its lush greenery. Located just a few hours south of Seoul, it makes for the perfect weekend getaway from the city so, looking for a change of scenery, my friend Emma and I joined a group of hiking enthusiasts on a trip to explore this region.
Woraksan National Park
After around two hours of driving, we arrived at our first stopping point:  Woraksan national park – a beautiful space that encapsulates "Chungjuho lake" – a man made lake consisting of many rugged lush green islands, hence earning the lake its nickname "Agosom" or "crocodile island" by the locals.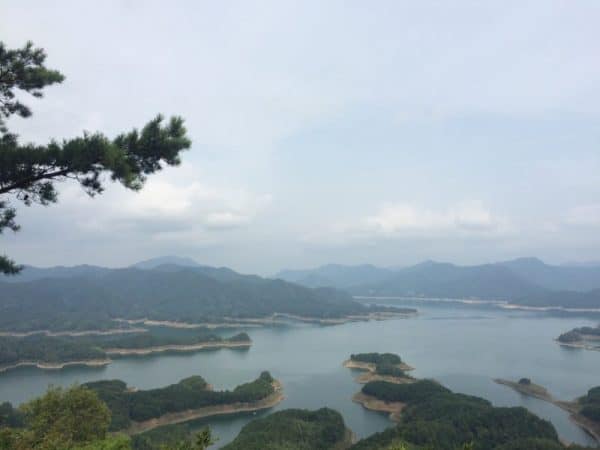 The park is mountainous and expansive, and the mountain peak provides a beautiful view looking down upon the lake. Our hiking guide recommended us his preferred route to the top – it was off the main trail but apparently offered the "best views" – so off we went, climbing over an overgrown fence and past the "no trespassing" signs.
What was described to us as "a quick thirty minute uphill walk… probably" was absolutely not the case – the hike was much longer and steeper than our guide envisaged – if I was not clambering on all fours like an animal, I was swinging from tree to tree like Tarzan attempting to pull myself upwards. I definitely don't need to worry any more about all of the Korean BBQ I've been gouging myself on since arriving in Korea, as I'm fairly sure that I burnt every calorie I have consumed since 1999 on this hike.

I had considered myself a fan of hiking when I thought of the term as being a fancy word for "a stroll" but I soon discovered how unfit I was when Emma and the others went bounding off into the distance like Bear Grylls and I was left behind panting after every few steps.
Panting, wheezing and dripping with sweat (and subsequently, no doubt making a great and sexy first impression on all of the hunky American hikers in our party!) I finally dragged myself to the peak to meet the others. The view was pretty darn beautiful and rewarding…

Of course, what goes up must come down and if you thought that an extremely steep, borderline vertical mountain (okay maybe I'm being dramatic) was difficult to climb up, then coming down was all the more treacherous. After a number of slips and near-falls, we concluded that it was in fact, much safer to shuffle down the remainder of the way on our arses (also very sexy and elegant) than attempt to walk it. Other highlights of our journey down the mountain included being followed by a group of giant asian hornets, fashioning a defensive weapon out of a big stick to brush through giant spider webs, and abandoning our arse shuffle method for an "every man for himself" stampede when we spotted a snake.
In all, a great and relaxing day out, wouldn't you agree?
Sainam
From Woraksan, we made a short drive to Sainam stream. The stream was in the centre of a small Danyang village and was filled with Korean families enjoying picnics, swimming and jumping across stepping stones.
Crossing the bridge from the stream, we stumbled across a small local temple. Buddhist chants and traditional music played from the speakers. To the right of the temple, a small and winding stone staircase carved out of the cliff face lead upwards.
Upon ascending the stairs, we found Samseong-gak – a small buddhist shrine where people can come and pray. Many had left offerings to Buddha and placed them within the small cracks on the cliff face, or tied paper containing their wishes to old strings that criss-crossed the wall. We made our offerings, returned back down the stairs and enjoyed lunch by the stream before heading on to our next and final destination – Ondal cave.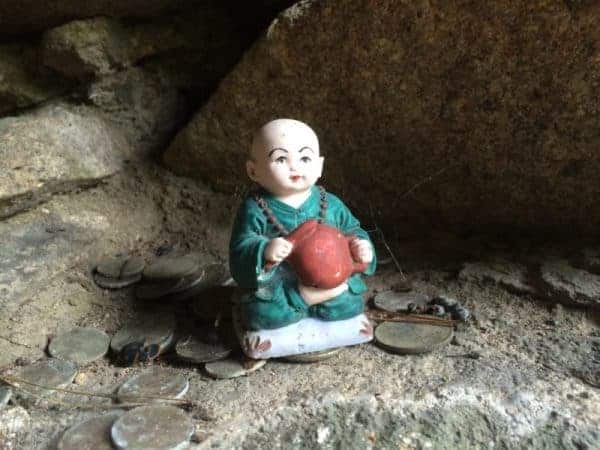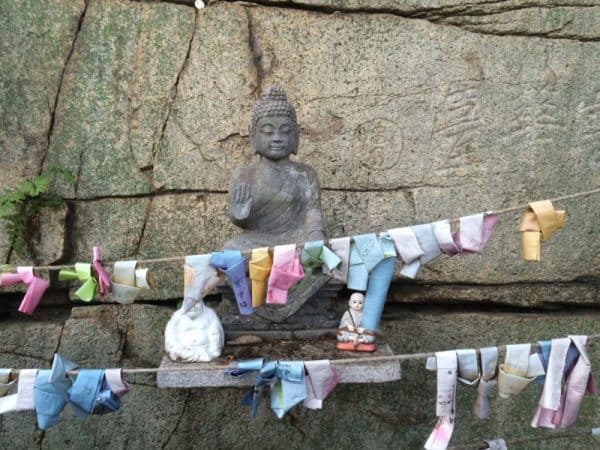 Ondal Cave
Ondal cave is a natural limestone cave that began forming 450 million years ago. I'm a little claustrophobic and not really the biggest fan of squeezing through tight spaces so it wasn't really my cup of tea as I was spending a lot of time on my stomach, pulling myself along with my arms like the girl off the grudge. Also, for whatever reason, I noticed a lady selling slushies outside the cave entrance and, in my excitement of not having seen a blueberry slushie for years, decided that in fact, this was the time to revisit my love of slushies and had to push that damn thing along with me through the tight spaces, much to the amusement of my fellow explorers.
The entrance to Ondal was lined with street vendors selling an array of foods. I picked up a colossal (and delicious!) 5L bottle of locally brewed Danyang Makgeolli (Korean rice wine) from a local man for just 5,000 won and some sweet red bean pastries for our return journey back to Seoul.
Danyang is beautiful, and I would no doubt like to return here for some more hiking (or at least, once enough time has passed for me to get over that trauma!) before I leave Korea.
Have you been to Danyang? What did you think?
---